Best Distance Irons 2022
If you want to hit your iron shots further, consider the best distance irons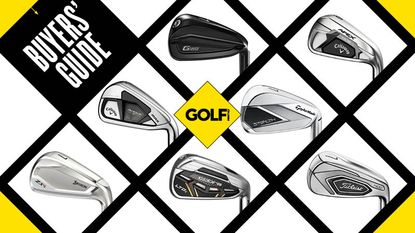 (Image credit: Golf Monthly)
Golf Monthly Newsletter
Golf tips and expert instruction, golf club reviews and the latest golf equipment.
Thank you for signing up to . You will receive a verification email shortly.
There was a problem. Please refresh the page and try again.
Best Distance Irons
It should come as no surprise that distance is a huge factor in the modern game of golf. If you can hit the ball further than you have a distinct advantage over everyone else at pretty much every level of the game. Bryson DeChambeau for example has an advantage at every event he tees it up.
In this video Joel Tadman tests and compares 10 of the latest distance irons
One avenue manufacturers have realized that distance can be gained is in the irons sector, and as such they have made huge leaps forward in technology to help players hit the golf ball as far as possible.
Within this particular category of the best golf irons (opens in new tab) for distance, you'll find clubs featuring technologies to maximize clubhead and ball speed in order to generate maximum distance. That being said, distance is obviously not the only factor to consider when choosing an iron because if there is no control over that distance, then what is the point?
As such we have looked at some models below that not only help maximize yardage, but also have a degree of control and feel too. Alternatively if you want something a little bit different, or you want something other than distance from your irons, take a look at our guides on the best compact mid-handicap irons, best golf blade irons, or the best game improvement irons (opens in new tab).
Best Distance Irons
Reasons to buy
+
Incredibly accurate
+
Noticeably longer than outgoing SIM2 Max
+
Lively but pleasant sound and feel
Reasons to avoid
-
Low spin limits stopping power
The Stealth iron become the single game-improvement iron option in 2022, which simplifies the TaylorMade iron range nicely for golfers that want even more distance and forgiveness than what is on offer in the P790 model. While the enclosed cavity concept continues, the Cap Back design has evolved to where the mid section of the toe has been completely removed to lower the CG of the iron, assisting with both ball speed and launch.
TaylorMade has made across-the-board improvements in Stealth as its game-improvement offering for 2022 over the SIM2 irons. Golfers should notice the extra forgiveness at play while being drawn in by the premium, elegant look on the shelf. The low spin might be a concern but should be able to be managed via a custom fitting. We love the accuracy and distance this club provides, which should help mid and high handicappers find more greens.
Reasons to buy
+
Long and consistently so
+
Very user friendly for golfers that utilise a lot of the face area
Reasons to avoid
-
Flat ball flight limits stopping power
The design of the LTDx looks similarly complex. In fact, it has a floating steel bar completely separate from the body and face suspended in a lightweight polymer to get the centre of gravity right behind the preferred striking area. This is said to encourage the face to flex more while also aiding the feel and sound.
Down at address, you'll notice the cut out section from the topline we saw in Radspeed has gone, which will please the traditionalists. It certainly looks inviting to hit although the rear of the sole is visible in the playing position from 7-iron and down, which we'd rather not see. This is likely a product of the fact the lofts have got even stronger here - the 7-iron is 26.5°.
For golfers that want to hit longer, straighter iron shots, the LTDx from Cobra delivers. The number on the bottom of irons has never meant so little, with lofts here getting even stronger to produce a penetrating flight, which could limit playability for those golfers that struggle to launch the ball. Comes with Arccos Smart Sensors and is available in One Length.
Reasons to buy
+
Fast ball speed
+
Greater consistency from off-centre strikes
Reasons to avoid
-
Not as workable as Pro option
The JPX921 Hot Metal is the longest iron in the JPX range, thanks to the use of Chromoly 4140M and a re-engineered Cortech face, now 0.2mm thinner across the centre point, creating faster ball speeds.
These are assisted by a Seamless Cup Face featuring a variable thickness sole design that allows the leading edge to act as a hinge, generating more face flex. Three additional sound ribs produce a more solid sensation at impact while extreme perimeter weighting and toe bias in Mizuno's Stability Frame help to deliver greater consistency from off-centre strikes.
Reasons to buy
+
Forged like soft feel
+
Consistent distances
Reasons to avoid
-
Flat flight limits stopping power
This iron is built around the DualCor (DC) system that comprises two types os polymer inside the hollow head. The inner core polymer provides energy return while the outer core high COR polymer provides increased structural stability to support the thin steel face.
The standard 7-iron loft is 28°, so clearly this is a distance-orientated iron but through custom it can be built two degrees stronger or weaker. Our testing told us that this is a cast game improvement iron that sounds and somewhat feels like a forged club. The ball flat is quite low but the spin is high, which creates a balance of distance, a strong trajectory and stopping power that golfers of all abilities look for but especially the higher handicapper.
Reasons to buy
+
Most forgiving of the Apex irons
+
Improved sound
Reasons to avoid
-
Perhaps minimal different between DCB and standard Apex
A new model to the Apex range, the DCB is the iron for those seeking distance but still want the look and feel of a forged design. Despite the shape clearly being the one most revolved around distance, the look is still fairly traditional with a slightly thicker topline compared to the Apex, Apex Pro and Apex MB designs.
From a technology standpoint, distance comes from the deep cavity back design, and the 50 grams of tungsten in the longer irons to help players get the ball in the air. The enhanced sole width has been engineered for easy launch and solid turf interaction out of a variety of lies as well.
Importantly there are also urethane microspheres to improve the sound of the irons which can be an issue in the best distance irons. Overall, the lure of the extra distance and forgiveness in the Apex DCB in a package that still looks appealing and feels good will make these very popular.
Reasons to buy
+
Suited to wide range of players
+
Explosive distance
Reasons to avoid
-
Lightweight feel may take a bit of time getting used to
An iron that made our Editors Choice (opens in new tab) list for 2021, the Wilson D9 is one of the longest irons we've tested. This is thanks largely to Power Hole technology. The Urethane-filled pocket arrangements increase deflection and allows more energy to transfer to the ball across the entire face for higher balls speeds and increased distance.
The irons also have a new ultra-thin face which incorporates a larger sweet spot for more forgiveness. During testing we felt the feel also stood out massively – the D9 feels as hot as a three-wood or a driver out of the middle and feels nearly as good on slight mishits too. Importantly, the irons offer up a clean, traditional look at address, and they inspire confidence too with the generous topline width and wide sole.
Reasons to buy
+
Explosive feel
+
Very forgiving off center
Reasons to avoid
-
Strong lofts means shot come in hot into greens
The Rogue ST Max irons have the strongest lofts in the new family, suited to a wide range of players looking for speed and distance with forgiveness. Added distance also comes from the combination of High Strength 450 steel with the A.I. designed Flash Face Cup optimized for speed, spin, launch and descent angle. There is also a tungsten weight port that is significantly heavier than prior ranges that allows for precise CG location for optimal launch throughout the set.
Replacing Mavrik was never going to be an easy task but the Rogue ST Max looks to offer market-leading distance in a visually-appealing package for the mid-to-high handicapper. For golfers that want maximum assistance, this is the model in the Callaway iron range to go for - it feels supremely easy to hit and the strong lofts are offset by the impressive launch and ball speed, suiting the slower swing speed that struggles to achieve decent carry distance.
Reasons to buy
+
Striking black finish
+
High ball flight with good distance
Reasons to avoid
-
Minimal gains in distance over G700
With its black PVD coating, the Ping (opens in new tab) G710 is a standout iron designed to help improving players get the most from their games. With flexible maraging steel face, the design is intended to replicate the feel of a fairway metal and the speed and power produced by the G710 is impressive.
The addition of high density tungsten toe and heel weights further increases Moment of Inertia and helps maximize club head and ball speed. We found the G710 produced a satisfyingly high ball flight and some good distances, even on the off-centre strikes. The addition of Arccos shot-tracking sensors embedded in the grips as standard bolsters the appeal. This is a great option for an improving golfer looking to improve consistency and distance.
Reasons to buy
+
Top turf interaction
+
Clean looks
Reasons to avoid
-
Hollow construction not the best for feel
The ZX4 is Srixon's iron built for distance, whereas the ZX5 and ZX7 models are for more control and feel. In terms of how they provide more distance, MainFrame technology is a variable thickness pattern milled into the backside of each face, and it helps increase ball speed. More distance is the logical result of that.
The irons also help in terms of strike too with the Tour V.T. Sole which helps the iron move through turf rather than dig down into it. Of course there is also a fully hollow construction too which helps players hit shots further regardless of where they hit it across the face.
Reasons to buy
+
Long performance on offer
+
Subtle, good-looking irons
Reasons to avoid
-
Wide sole may put some off
The Honma T//World GS irons are all about gaining speed across the face to create more distance with less effort. The irons feature an L-Cup structured face which helps enlarge the sweet spot whilst a deep cavity and wide soles help inspire greater confidence at address.
Overall we think there are clear performance gains to be had here and we are also fans of the look of these irons because they are not hugely chunky, and the red and black accents in the cavity look good in the bag too.
A hybrid-style design that offers the most forgiveness in the Titleist range
Reasons to buy
+
Max distance in Titleist iron range
+
Most forgiving iron in Titleist range
Reasons to avoid
-
Back of the sole is visible at address in the long irons
The Titleist T400 iron has been designed to be the most forgiving and longest iron in Titleist's popular T series. It has the strongest lofts in the Titleist iron range (opens in new tab), but the launch is not compromised with a strong, high ball flight produced.
The split sole design delivers smooth turf interaction, while super-thin face and hollow head are fortified by high-density tungsten weighting making this a powerful and supremely forgiving iron. The set is progressive with blade lengths, sole widths and hosel lengths decreasing towards the shorter irons. Overall, we think the T400 is a great distance iron that could really help higher handicappers get the most from their games.
How we test golf irons
Our testing procedure for golf irons is built upon a comprehensive process combined with the knowledge and expertise of the Golf Monthly test team. Before the testing begins, the team will attend product launches to gain an understanding of the new technology. We would then get sent a sample to try and this is where the testing begins. We start indoors first to try the irons in a controlled environment. This usually takes place on an indoor simulator at Foresight Sports, with premium balls and the GCQuad launch monitor.
We then move outside, usually to West Hill Golf Club to use on the range and on the golf course itself. We think it is vitally important to do both and continue to test the irons so they have been comprehensively put to the test in different conditions. It should also be mentioned that manufacturers cannot pay for a good review and we make our conclusions from the testing and our experiences. This is because we strive to give the best reviews possible so you can get a greater understanding of the irons themselves.
How to choose the best irons for you
As you have seen, the market for golf irons is crowded and confusing and being sure you're getting the most suitable iron for your game can be a minefield.
Hopefully, this piece has given you an idea of what the best options are out there right now when it comes to getting as much distance as possible, but here is some more advice to help you in your quest to find the best golf iron for your game in this crowded and dense marketplace.
Your Handicap And Ability
This is probably the most important first step: knowing which type of iron best suits your game. This is by no means gospel, the higher handicap players will tend to be looking in this guide for distance irons, because they usually need an offering with as much forgiveness as possible and a large head. While mid-low handicappers tend to use more bladed irons that are forged, offer more feel and control but less forgiveness.
You'll know how good or perhaps not so good your ball striking tends to be, so make sure you invest in a set of irons that matches where your game is out now, not where you'd ideally want it to be. We have great guides that go into more detail on this, so check out our guide on the most forgiving irons (opens in new tab) if you're a higher handicapper or maybe our guide on the best golf irons for beginners. (opens in new tab)
Price
This will be a major factor in anyone's decision of what irons to go for. As you'll have seen in this list, the price can vary dramatically between irons. With many of the models above, ones that provide distance and forgiveness, you'll be looking between $600-$800 for a set of seven irons in most cases.
This obviously can fluctuate between brands, and we've highlighted in this list the ones we think give the best value (opens in new tab) for money in this category. The price jumps quite significantly when looking at the forged and bladed options - up to and above $1000 - but this is par for the course and you'll be getting a high quality, premium product in return.
Custom Fit
This is probably the most essential part of the iron buying process, no matter the irons you're after or how good you are at the game. A custom fit session will make sure you get the right flex and length of shaft, correct lie angle and correct iron head for your game, meaning you'll finish with a set of irons that will be as suitable as possible for you out on course.
Custom fits can be a daunting process if you're a true beginner or you aren't that confident hitting golf balls in front of people, but they're a vital part of the club buying process. We recommend having a shortlist of three or four iron heads you like the look of before entering a custom fit and then whittling them down to the best for your game during the custom fit process. Custom fits are provided by a number of golf retailers or club professionals at your local golf club.
FAQ's
What irons are best for distance?
The best irons for distance are designed to help players hit the ball as far as possible. The way this is achieved tends to be with technology to ensure high ball speeds and forgiveness across the face so that players with inconsistent strike patterns can still produce solid distance. Thankfully most brands offer a variety of irons that cover all bases and pretty much every brand out there makes an iron to help players with distance.