Best Golf Irons For Beginners 2022
We take a look at the best golf irons for beginners on the market to help you get started and improve your game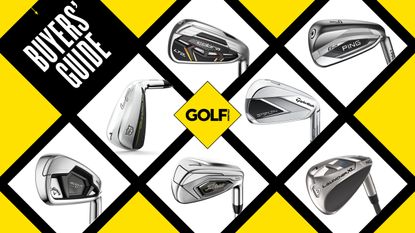 (Image credit: Future)
Best Golf Irons For Beginners
If you're new to the game of golf or in the early stages of your playing career, you need to find the best irons to help you progress. Within this category of the best golf irons for beginners, you'll find clubs designed to get the ball up in the air quickly to give you longer carries.
They also tend to be larger in order to be the most forgiving irons (opens in new tab) possible, giving you the best chance of getting the ball away, even with off-centre hits. Some of these iron sets will include the option of switching out the 3, 4 and even 5-irons for easier-to-hit hybrids, which could help your game in the trickier end of your bag.
So to help you narrow your iron search, below we have taken a look at some of the best beginner irons in the golf world right now. We also recommend taking a look at our other iron guides on the best distance irons (opens in new tab), best game improvement irons (opens in new tab), or also the best budget irons (opens in new tab) if you want great value.
Best Golf Irons For Beginners
Why you can trust Golf Monthly Our expert reviewers spend hours testing and comparing products and services so you can choose the best for you. Find out more about how we test.
The longest, most forgiving iron in Titleist's range
Reasons to buy
+
Outstanding forgiveness and distance
+
Confidence-inspiring shape
Reasons to avoid
-
Very strong lofts limit stopping power
The Titleist T400 iron has been designed to be the most forgiving and longest iron in Titleist's popular T series. It has the strongest lofts in the Titleist range, but the launch is not compromised with a strong, high ball flight produced.
The split sole design delivers smooth turf interaction, while super-thin face and hollow head are fortified by high-density tungsten weighting making this a powerful and supremely forgiving iron.
The set is progressive with blade lengths, sole widths and hosel lengths decreasing towards the shorter irons. Overall, we think the T400 is a great game improvement iron that could really help beginners and high handicappers get the most from their games.
Mizuno JPX923 Hot Metal HL Iron
Reasons to buy
+
Effortless launch for slower swing speeds
+
Very forgiving off center
+
Powerful feel
Reasons to avoid
-
Some may want to look down on a bigger head
Excellent for lower swing speeds, this iron set delivers greater forgiveness for lower handicap golfers (opens in new tab). Helping you produce greater ball flights and extra distance, this is a very forgiving game-improvement iron perfect for force-limited golfers. Plus they deliver a lot of shaft lean at impact that will help you achieve a more optimum ball flight for more distance and better stopping power. Aesthetically this iron looks great and has a wider sole, offering a deeper CG and greater forgiveness compared to the standard Mizuno Hot Metal iron. (opens in new tab) In testing, the ball launched higher compared to other Mizuno JPX923 offerings but is certainly suited less experienced players who are looking for a confidence inspiring iron that will help them play more consistently.
Ideal for slicers seeking a straighter ball flight
Reasons to buy
+
Looks inviting to hit
+
Strong, high draw bias trajectory
Reasons to avoid
-
Offset limits visual appeal
The Callaway Big Bertha B21 irons are the first Big Bertha irons to be designed using Artificial Intelligence. The irons feature a generous offset, wide soles and a thick topline to inspire confidence.
Flash face technology delivers high ball speeds and a strong ball flight and tungsten toe weighting moves the centre of gravity to the middle of the score-lines for extra forgiveness. Callaway's urethane microspheres provide a soft feel. These are over one million tiny air pockets that absorb unwanted vibration without slowing the face.
Overall, after testing, we thought the Big Bertha B21 iron to be ideal for beginners and high-handicap golfers who struggle with launch and strike. There is a good deal of technology to help you get the ball up with more speed while the feel off the face is also pleasing on the senses.
Inesis 500 Irons
Another impressive, low price option with good all round performance
Reasons to avoid
-
Not the most attractive iron on the market
A worthy inclusion on this list of the best golf irons for beginners, this great value Inesis set of irons has been designed for higher handicap golfers to offer great forgiveness and distance. The ultra slim face gives good ball speed and power while the perimeter weighting means even off-centre hits get good flight and distance.
Inesis has come up with an interesting way for you to find the right irons for you without having to do the traditional custom fit. Within the Inesis iron range you have 6 different setups to choose from and the first thing you need to do is figure out your hand to floor measurement which will give you an idea on the length of golf clubs you need.
The second thing you do is you select the iron set you want based on your swing speed. After you have been through this process via the Decathlon website, you will get a set that is slightly more tailored towards you. In testing we found these irons easy to flight and with a good feel at impact. There is plenty of forgiveness on offer, packed into a package that looks good too.
High levels of forgiveness in a mid-sized chassis
Reasons to buy
+
Striking black finish
+
High ball flight with good distance
Reasons to avoid
-
Not the most workable iron in the Ping range
Ping irons that don the 'G' moniker are known for being a forgiving distance iron that is well built and stylish. The Ping G425 delivers on all these fronts and has a classy and understated look compared to the bolder red colours featured on the G410. Of course the look is completely subjective, but we think this new design gives the G425 an altogether more premium look. The overall size of the blade is slightly smaller than the G410 too, creating a slightly more compact look at address, but the shape has pretty much stayed the same.
Off the face, the G425 feels fast, making a nice loud sound without being too clicky. It is very stable off the face too, with toe and heel strikes maintaining a strong line through the air. The strong descent angle through most of the set also means it's nice and easy to control these irons when approaching greens.
Arccos sensors are now embedded in the grips throughout the G425 family and the premium shot tracking technology is another way these irons can directly improve your game. By resisting changing the lofts for even more distance, Ping has evolved the G425 into a forgiving, controllable and classy looking iron suited to a wide-range of golfers.
A stunning game-improvement iron that offers unparalleled accuracy
Reasons to buy
+
Incredibly accurate
+
Noticeably longer than outgoing SIM2 Max
+
Lively but pleasant sound and feel
Reasons to avoid
-
Considerably low spin limits stopping power
The Stealth iron become the single game-improvement iron option in 2022, which simplifies the range nicely for golfers that want even more distance and forgiveness than what is on offer in the P790 model. While the enclosed cavity concept continues, the Cap Back design has evolved to where the mid section of the toe has been completely removed to lower the CG of the iron, assisting with both ball speed and launch.
TaylorMade has made across-the-board improvements in Stealth as its game-improvement offering for 2022 over the SIM2 irons. Golfers should notice the extra forgiveness at play while being drawn in by the premium, elegant look on the shelf. The low spin might be a concern but should be able to be managed via a custom fitting. We love the accuracy and distance this club provides, which should help mid and high handicappers find more greens.
A hybrid iron designed for clean turf interaction with accuracy and power
Reasons to buy
+
Easy launch
+
Option of a shorter spec for greater accuracy
+
Feels effortless to swing fast
Reasons to avoid
-
Not all will like the chunky looks
Cleveland's Launcher XL Halo irons are said to help develop a better, consistent strike. Gliderails on the long irons deliver excellent turf interaction, while the mid-to-short irons feature V-Shaped Soles to cut through the turf more effectively for cleaner contact. Meanwhile, a new 8g weight placed inside the end of every grip delivers better balance, control, and a smoother swing without extra effort to help square up to the ball at impact.
If precision is what is desired above all else, Cleveland is offering a new Accuracy Build, a custom configuration that is half an inch shorter without counterbalancing to focus on maximum control. Much like the Wilson Launch Pad, this iron is noticeably easy to swing fast and each good distance and accuracy - something beginners crave.
A game improvement model that is excellent for beginners and high-handicappers
Reasons to buy
+
Feel easy to swing fast
+
Inviting looks at address
+
Forgiving off center
Reasons to avoid
-
Not available in One Length
Perhaps one of the best game-improvement iron sets on this list, the Cobra Air-X irons are an impressive and lightweight offering that provides excellent forgiveness for off-centre shots. Having tested these clubs, we found them an absolute pleasure to hit and can help players looking for greater consistency in their golf game should certainly look to use these clubs. These irons also really impress on their looks, with their red and black colorways contrasting nicely with the silver sheen of the golf club to give off a very professional look.
If you've been struggling to get good ball flights in your approach play, you'll be glad to hear that this club really can offer stability off the clubface. That again makes it great for improving your consistency. You'll find its deep undercut design helps to make miss-hit shots, struck low on the face, still rise to ample launch angles. What's even better about this set of clubs is that they are very affordable too! That makes them a great option for senior golfers (opens in new tab) and high handicappers (opens in new tab).
A metalwood-like iron that helps achieve a cleaner strike
Reasons to buy
+
Confidence inspiring looks
+
Easy to launch and swing faster
+
Effective in reducing the impact of heavy strikes
Reasons to avoid
-
Wide soles limit ball striking progression
-
Will look too chunky for some
A recent addition to this best golf irons for beginners guide, the 2022 Launch Pad irons are hollow like a metalwood for speed and boast maximum forgiveness through the turf thanks to the wide sole, helping achieve smaller and shallower divots and rescue a heavy contact by keeping the leading edge up. The back wall of the iron has been thinned out to move more weight lower in the head for added launch.
It's an ideal iron for the beginner and high handicapper that is inconsistent with where they contact the ground and ball. Gets the ball in the air easily, with good distance and a solid, powerful feel. For the golfer that wants an iron that is easy to hit, the Launch Pad delivers. It's a great starting option for those new to the game that can then progress into something more traditional in design once their ability has improved.
Callaway Rogue ST Max OS Lite Iron
A forgiving, lightweight option that inspires confidence at address
Reasons to buy
+
Easy to swing fast
+
Consistent off center
The Callaway Rogue ST Max OS Lite irons are built with wide soles, enhanced offset, and a thicker topline versus the Rogue ST Max iron. The Lite version features more loft, lighter shafts and lighter swingweights to make them easiest-to-swing model in the family.
Precision tungsten weighting features up to 46g of high-density tungsten, a 188 pervent increase over Mavrik, which provides improved launch conditions and also maximizes speed across the face. Callaway's patented urethane microspheres are now pushed further up the face in Rogue ST irons (up to the 6th groove) to enhance sound and deliver pure feel while maintaining fast ball speeds.
How We Test Irons
All golf irons, and golf gear, goes through a thorough and comprehensive testing process at Golf Monthly. Before testing, the Golf Monthly team will usually attend product launches and meet with the manufacturer's R&D experts to understand the new technology. Usually, when it comes to hitting the clubs, we use an indoor simulator at Foresight Sports so we can hit in a controlled environment using premium balls and a launch monitor.
We then look to test the clubs outside and this usually takes place at West Hill (opens in new tab) because of the awesome practice facilities available. When it comes to actual reviews, we should say that no company can buy a good review because our testers tell it how they see it. Technical Editor Joel Tadman oversees all iron testing at Golf Monthly because he has years of experience in club testing.
How To Choose The Best Golf Irons For Beginners
It can be a daunting task buying a set of golf clubs for the first time and chances are - if you are a pure beginner to the game - you are not very good at swinging a golf club yet, which makes the task even more daunting.
And that is okay - no one is expecting you to stripe it off the tee like Tiger Woods at your first range session. The best golf irons for beginners are ideally a set that will offer as much help as possible as you begin the long journey to perfecting the game of golf.
Budget - Our first recommendation is to think about price. How committed are you to playing golf? Are you recently retired and will soon have a lot of time on your hands? Are you only going to start out by going to the range once a week? Are you only going to play twice a year with work? Deciphering how much you'll be playing to start out can really help narrow down the options. If you're going to be playing a lot, then spending nearly $1000 on golf clubs is a sound investment, but if you're only going to play a few times a year a much cheaper but equally forgiving set will suffice.
This also helps if you don't know how committed you are to golf yet. The last thing you want to do is spend thousands on clubs only to find them collecting dust in the garage six months later.
Custom Fit - Next, do you need your beginner set of irons custom fit? This depends entirely on your build, specifically how tall you are. If you are anywhere between 5ft 6" and 6ft 2", a standard set of clubs will be fine as a beginner set.
However, we'd recommend if you are taller or shorter than these numbers, getting custom fit for a set of irons will help you out massively. Custom fitters will stake static measurement to decipher how much longer or shorter the clubs need to be to suit your height; having the right length clubs is essential to starting out right. Again, it may be a daunting task as a total beginner having a custom fit session, but getting clubs that are the correct size will help you in the long and short run to enjoy the game and learn the correct fundamentals from the get go.
If you don't need a custom fit, then why not look at our list of the best package sets of golf clubs as a way to get a quality beginners set of clubs.
Shape - Beginner set of golf irons come in all different shapes and sizes. Some are shaped in what we would consider a conventional iron head (see Ping G425 and Callaway Big Bertha) and others with a much wider, more forgiving sole (see Wilson Launch Pad and Cleveland Launcher HB Turbo).
If you feel as though you have good hand-eye coordination or have already used a set of similar conventional shaped iron heads, then these are the best to go for as your beginner set.
If you are less confident in your ability, the less conventional head shapes of the Wilson Launch Pad and Cleveland Launcher HB Turbo irons are a great place to start as they offer ample forgiveness and will help you get the most enjoyment out of golf as early as possible. It can also be as simple as which you like the look of the best!
Shafts - This is the territory where beginners to golf often get confused and it is a very important factor in getting the right irons from the outset. The choices of shaft type are either steel or graphite material, all of which come in different flexes - regular, stiff or senior.
The difference between steel and graphite shafts is simply how much they weigh. Graphite shafts are aimed at those with a slower swing speed who need help getting the ball in the air and steel for those with quicker swing speeds. Many beginners suit a graphite shafted club as they start, but be aware that clubs with graphite shafts are more expensive
Flexes of shaft are also dependent on how quickly you swing the club. Senior flex is self explanatory and is aimed at senior golfers who have a slow swing speed, stiff flex is for those who swing the club quickly and regular flex sits somewhere in the middle.
If you are not sure how fast you swing the club, this is where a custom fitting comes in handy where a specialist can tell you how fast you swing your irons and which material and flex of shaft suits you best.
FAQs
What kind of irons should a beginner use?
A iron that will provide stability across the face through perimeter weighting. This offsets the quality of strike by keeping distance levels consistent through resistance to twisting at impact. A golf iron for the beginner needs to feel relatively lightweight and therefore easy to swing while also being forgiving through the turf via a wide sole design.
What are the easiest irons to hit for beginners?
Ping G-Series irons are know for being easy to hit but also consider hybrid-like irons, including the Wilson Launch Pad and Cleveland Launcher XL Halo, which bring metalwood style speed and forgiveness to the table in an iron set. Cobra also makes excellent irons for the beginner at a reasonable price, including the King LTDx model for 2022.