Best Golf Drivers For Seniors 2022
Our guide to the best golf drivers for seniors on the market this year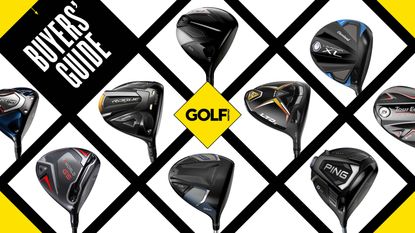 (Image credit: Future)
Best Golf Drivers For Seniors
Once you hit 50, you're technically a senior - in the golfing world at least, that age when you're eligible to play on most senior Tours. A look at the driving stats on the Champions Tour, where the top ten in driving distance all average over 290 yards, provides proof that power doesn't just vanish as soon as you wave goodbye to your forties.
That said, if you're becoming a little too used to seeing your younger playing partners smash the ball past yours, it might be time for a change. The good news is that manufacturers have senior golfers well covered - don't think you've been forgotten.
But what makes a good drive for a senior golfer? The best drivers for seniors will normally have a combination of lightweight heads and lightweight shafts. That means, even as your swing speed may start to decrease, the lightweight driver can still generate solid clubhead speed and, in turn, distance. Getting the right shaft is also vitally important for senior golfers. Finding that perfect combination of flex and weight in the best golf shafts could add a decent amount of yardage to your game without you having to swing any faster. Pair that with one of the driver heads in this list and you'll be on to a winner.
So, we've taken a closer look at the best golf drivers for seniors, clubs designed to help you keep that speed up. It's not all about speed, of course; there are other areas of performance senior golfers may need a little help with, such as a lighter feel, higher launch and extra forgiveness. Speaking of which, we also recommend checking out our other driver guides - such as the most forgiving drivers (opens in new tab), the best golf drivers for distance (opens in new tab), or even the best golf drivers for women (opens in new tab).
Best Golf Drivers For Seniors
Why you can trust Golf Monthly Our expert reviewers spend hours testing and comparing products and services so you can choose the best for you. Find out more about how we test.
Offset And Easy To Swing
Specifications
Lofts: 9°, 10.5° & 12°
Adjustable Hosel: Yes
Adjustable Weights : No
Stock Shaft: Callaway RCH 55 Graphite
Left Handed Option: Yes, in 9° or 10.5°
Reasons to buy
+
Stable feel
+
Blue carbon crown and red lines add modern touch
Reasons to avoid
-
Appeal limited to golfers with a slice
Callaway claims its use of Artificial Intelligence (AI), a new face material and Jailbreak has unlocked extra performance for the high handicapper who struggles with a slice. The larger A.I. Designed Flash Face SS21 has been made of a super strong, heat treated TA-15 titanium, which allows for the complex face architecture required to promote optimal speed, forgiveness, and spin characteristics.
Clearly this driver is designed for golfers who tend to utilize a large portion of the face over the course of a round.I t feels light, partly down to the 55g shaft, but when you find the middle of the clubface it also feels incredibly explosive and stable, even on mis-hits. While the scope of this driver is likely limited to those who are fighting a slice on the tee, we think it makes one of the best drivers for slicers available in 2022.
Best Lightweight Titleist Driver
Specifications
Lofts : 9°, 10° & 12°
Adjustable Hosel: Yes
Adjustable Weights: No
Stock Shaft: Aldila Ascent UL
Left Handed Option: Yes, only in 10°
Reasons to buy
+
Designed to be as forgiving and light as possible
+
Will help slicers
Reasons to avoid
-
Only designed for slower swingers
The Titleist TSi1, similar to what we saw with the previous TS1 driver, is the lightweight option engineered for the moderate (less than 90 mph) swing speed player seeking increased club and ball speed with control off the tee. This driver is best suited for beginners, seniors or those with a slower swing speed with their driver.
The 460cc TSi1 is almost 40g lighter than standard drivers. It is high launching with mid spin and is the most draw-biased Titleist driver available through its CG positioning. By reshaping the head, engineers were able to move the CG closer to the centre of the face, which results in more ball speed versus the outgoing TS1. It's one of the most lightweight drivers we've tested in years and it really is worth getting one in your hands to feel how truly light it is.
We found it to be noticeably higher launching, especially with the softer stock shafts helping increase dynamic loft at impact - ideal for senior golfers who lack speed but don't want to be lacking distance.
Best Ping Driver For Slicers
Specifications
Lofts: 10.5°
Adjustable Hosel: Yes
Adjustable Weight : No
Stock Shaft : Ping Alta Distanza (5 other options available at no upcharge)
Left Handed Option: Yes, in all available lofts
Reasons to buy
+
Impressive forgiveness levels
+
Perfect for slicers seeking a straighter flight

Reasons to avoid
-
Not suitable for golfers with a hook
For slicers of the ball, the SFT head in the G425 range is by far the best option. SFT stands for Straight Flight Technology and a consistently straighter ball flight is achieved by a fixed weight near the heel of the club for maximum slice correction. Ping (opens in new tab) claim that this weight should encourage an extra 25 yards of draw movement on your shots. While we didn't quite achieve this much during our testing, there was certainly more draw shape to be had when compared to the standard head.
It offers even more draw bias than the G425 Max in its draw setting, which means serial slicers of the ball will definitely want to opt for the SFT head. Yes you lose the adjustability of the Max head, but if you've been slicing the ball for years you'll want this locked-in heel weight.
The rest of the club performs the same as the G425 Max which we loved when we reviewed alongside the SFT and LST model. With that in mind, we'll again stress the need for a custom fit to understand best which combination of head and shaft will suit your game the most. One final point worth mentioning is that the whole G425 range comes with an Arccos sensor embedded in the grip, creating a very competitive package for 2022.
Refined Aesthetics
Specifications
Lofts: 9°, 10.5° & 12°
Adjustable Hosel: Yes
Adjustable Weights: No
Stock Shaft: Project X HZRDUS RDX Blue 60, HZRDUS Smoke iM1060 & UST Helium Nanocore.
Left Handed Options: Yes, in all available lofts
Reasons to buy
+
More refined aesthetics versus the last generation
+
Improved sound
+
Impressive forgiveness and consistency
Reasons to avoid
-
Marginal gains versus last year's Radspeed range
Launched right at the start of 2022 to replace the Radspeed range of the clubs, the new Cobra range of drivers features three heads: the LTDx Max we've featured here for beginners as well as the standard LTDx and LTDx LS, both draw bias and lower spinning models respectively.
We've highlighted the Max here as, with the right shaft, could suit a senior golfer with any sort of swing speed - it's a real all rounder. The Max head features a 3g weight positioned toward the heel of the head to help encourage a draw shape. The LTDx Max sits less closed behind the ball than some other draw-biased drivers you'll find this year. For us, that meant we were able to swing confidently at the ball without worrying about hitting a hook and ultimately, we were pleased by how consistent the Cobra LTDx Max was. If you're a beginner golfer who doesn't slice the ball too much, we think you'll find the standard LTDx head as useful so it's worth trying both.
The LTDx has a much lower pitched, quieter impact sound than the Radspeed. For us, it was significantly better - creating a satisfying 'crack' through impact that felt very powerful. As tends to be the case with Cobra drivers, the RRP is a decent chunk lower than the competitors from TaylorMade and Callaway, all with very little difference in performance between the three brands.
Modern Yet Classic Design
Specifications
Lofts: 9.5°, 10.5 & 11.5°
Adjustable Hosel: Yes
Adjustable Weights: No
Stock Shaft : Honma Speedtuned
Left Handed Option: No
Reasons to buy
+
Stunning looks from every angle
+
Noticeably forgiving on off-centre hits
Reasons to avoid
-
Will only suit those with a slice
The T//World GS driver is aimed at golfers across the handicap spectrum, with the emphasis on forgiveness and control over outright speed and distance. The driver looks really appealing behind the ball, with a classic looking shape and subtle alignment marks that help with lining up the ball at address. Our immediate first impression during testing was how stable this driver is. Indeed, the excellent stock shaft on offer feels light and flexible but we never lost control of the ball flight in our testing.
The variable thickness of the face helps to reduce spin on strikes low and out of the toe, both of which are common amongst mid and high handicap players. The Non-Rotating System in the hosel promotes consistency of strike and flight by ensuring the spine of the shaft remains in the six o'clock position when loft and lie are adjusted. Whilst it's a less recognised brand in the driver space, the T//World GS is certainly a frontrunner as the best driver for 2022.
Supreme Forgiveness, Great Value
Specifications
Lofts: 9.5°, 10.5° & 12°
Adjustable Hosel: Yes
Adjustable Weights : Yes (available separately)
Stock Shaft : Fujikura Ventus Blue, Fujikura Ventus Red & Mitsubishi Tensei AV Raw Blue 65
Left Handed Option: Yes, in 10.5°
Reasons to buy
+
The sleek look invites you to take a super-aggressive cut at the ball
+
Impressively forgiving
+
Impact sounds mighty
Reasons to avoid
-
Misses high on the clubface tend to rocket skyward and go short
Best known for selling "value" clubs, Tour Edge (opens in new tab)'s Exotics premium line aims to compete with the major brands. For this club, the company got feedback from its Champions Tour pros – including Bernhard Langer – while creating the design. The 460cc E722 (Extreme) offers high MOI via a 30-gram back weight, higher launch and maximum forgiveness, with more spin and slightly more offset.
The Tour Edge Exotics E722 driver also has a 30-gram weight at the extreme trailing edge of the sole for an extreme low-rearward CG that increases stability at impact and tightens dispersion - ideal for high handicap golfers looking for the most forgiveness possible. Additional weights are available in 20, 25 and 35 grams – individually or in a weight kit. With a recommended retail price of $399, we think that with the level of playability on offer, this represents excellent value for money.
Best Stock Shaft Option
Specifications
Lofts: 10.5 and 12°
Adjustable Hosel: Yes
Adjustable Weights: No
Stock Shaft: Yonex M55 Lite Graphite Shaft
Left Handed Option: No
Reasons to buy
+
Very stable off centre
+
Adjustable hosel allows loft and face angle to be optimised

Reasons to avoid
-
Blue crown design won't appeal to all
The Yonex Ezone Elite 3.0 driver uses In-Core Groove technology, which is designed to improve the flex of the face, crown and sole of the golf club, creating faster ball speeds across the face with lower spin rates. Updated Octoforce technology in the driver removes weight from the crown and upper face of the driver, lowering the centre of gravity to promote a high, forgiving launch and maximum carry for high handicap golfers.
The metallic blue isn't going to appeal so much to those who like a classic, black crown, yet it does have a way of helping you to focus on the ball at address, as do the two alignment arrows. In fact, the blue 'glow' actually starts a few centimetres back on the crown as you look down, which - and whether this was the idea we're not sure - actually frames the ball nicely.
Suits A Broad Range Of Golfers
Specifications
Lofts: 9°, 10.5° & 12°
Adjustable Hosel: Yes
Stock Shaft : Project X Cypher 50
Left Handed Option: Yes, in all available lofts
Reasons to buy
+
Very generous head size inspires confidence
+
Modern, premium finish
Reasons to avoid
-
Quite high pitched through impact
The Cleveland Launcher XL successfully replaces the popular Launcher HB model that was released in 2020. Aimed at mid handicap golfers and higher, the Launcher XL benefits from a larger driver head and an incredibly confidence inspiring look at address. The length of the head from front to back has increased by 6% and the contrasting crown and face finishes mean you can see all of the loft from address. Performance wise, the Launcher XL gave solid carry distance on an easy swing. For the wide range of players this driver is aimed at, the spin rates created with this driver will help keep the ball in the air and provide good carry distance.
Overall the Cleveland Launcher XL offers a significant saving over what you'll find from the likes of Callaway, TaylorMade and Titleist this year. But it still has plenty of competition from the likes of Cobra with its LTDx range of drivers.
Excellent Adjustability
Specifications
Lofts: 9°, 10° & 11°
Adjustable Hosel: Yes
Adjustable Weight: No
Stock Shaft : Kuro Kage Black DC 5G, Tensei AV Blue, HZRDUS Smoke Black RDX, Tensei AV White Raw
Left Handed Option: Yes, in all available lofts
Reasons to buy
+
Big improvement in looks and feel
+
High launching but can still be tuned to offer low spin
Reasons to avoid
-
One of very few models to breach the £500 barrier
One of the newest, and best Titleist drivers (opens in new tab) out right now is the TSi2. A crown shaping on both the TSi2 and TSi3 driver is said to reduce aerodynamic drag by up to 15 per cent versus the TS drivers to help increase clubhead speed.
The clubfaces are made of an exotic material called ATI 425. Made in the US, it is an aerospace grade titanium used in applications such as NASA's Phoenix Mars Lander and jet engines because of its high strength-to-weight ratio and elasticity and durability properties versus conventional titanium alloys used in golf. The TSi2 is the more forgiving model because it has a low and deep centre of gravity for speed and accuracy across the face thanks to a fixed flat 9g weight at the rear.
At address, we found the TSi2 to look generous in size but not too big that it looks chunky and unwieldy. It also has a more rounded toe compared to the previous TS2 which really adds to the inviting aesthetics.We also noticed how good it sounded through impact - a powerful acoustic thanks to the appealing 'thud' sound.As an overall package it neatly balances distance with forgiveness and consistency, making the Titleist TSi2 truly impressive. If you aren't fussed about having moveable weight and want a higher ball flight but still with low spin, it could be a good driver to explore further - especially if you already know your spec.
Great Value Performance
Specifications
Lofts : 9.5° & 10.5°
Adjustable Hosel: Yes
Stock Shaft: 23 options in custom fit
Left Handed Option: Yes, only in 9.5°
Reasons to buy
+
Easy to launch
+
Stable ball flight
+
Good value
Reasons to avoid
-
Minimal difference on the previous generation
Alongside the ST-Z 220, Mizuno has released the ST-X 220, a draw bias model for those struggling with a slice off the tee. The Z is a lower spinning model that should blend power and forgiveness and as such is aimed at the largest cross section of golfers. The Mizuno ST-X 220 driver is mid spinning and has a draw bias.
During our testing we found the ball speed is up there with the likes of Callaway, TaylorMade, PING and Titleist. With a good fitting we think this driver should help most golfers find some extra yardage. The other thing that struck us as we hit the ST-Z 220 was how easy it was to get in the air. It isn't as low spinning as we were expecting or as some other, similar drivers on the market.
All in all during our testing, we really enjoyed hitting this Mizuno driver. In all the key categories - from looks to forgiveness - it performs well. What's more, it comes in with a recommended retail price of £399 which positions it alongside the Cobra LTDx and Cleveland Launcher XL drivers at a slightly lower price point than the other premium metalwood brands.
Best For Simplicity
Specifications
Lofts: 9°, 10.5° & 13°
Adjustable Hosel: No
Adjustable Weights: No
Stock Shaft: Mitsubishi Tensei CK Blue A (50g), R (50g), S (60g)
Left Handed Option: Yes, 10.5° only
Reasons to buy
+
Satisfying impact sound
+
Ample off-centre forgiveness
The design of the D9 driver comes from computer modeling software used to simulate hundreds of different club head variations to find the most effective design. It also features a three-layer composite crown which helps deal with vibration and reduce the weight of the club. A 10-gram sole weight comes as standard or a super-lightweight 3-gram weight giving the player the option of adjusting and fine-tuning the moment of inertia and forgiveness on offer.
The impact noise was a pleasingly dull thud and the look at address was clean and unfussy. The sole is also understated but modern when it comes to appearance. The conclusion we made from testing was, if you want more forgiveness from your driver at a decent price point, then it is definitely a model to consider. It will also suit those players with below average swing speeds who want more consistent results too, whereas faster swingers who want as much distance as possible will perhaps best be suited to look elsewhere.
How we test
When it comes to product testing (opens in new tab), our reviews and buyers' guides are built upon a rigorous testing procedure as well as the knowledge and experience of the test team. Headed up by technical editor Joel Tadman, and assisted by Neil Tappin, both have been testing golf clubs for years and both play to a handicap of 5. Both are also able to efficiently test the vast majority of the biggest product releases and convey the pros and cons eloquently.
Getting into specifics for drivers, we first attend product launches and speak to manufacturers to understand the technology. We then hit the golf clubs indoors, usually at Foresight Sports and test the products with premium golf balls on a launch monitor.
Outdoor testing is the next port of call and this usually takes place at West Hill Golf Club, a course in Surrey with top-notch practice facilities. Ultimately, we aim to be as insightful and honest as possible in our reviews so it is important to acknowledge that no manufacturer can buy a good review. This is because our team tells it how it is.
What to consider when buying a new golf driver
You've probably already asked yourself whether you need to buy a new driver in 2022, but there's a few key things to consider when investing in a new driver, especially as a beginner.
When purchasing a new big stick, it is crucial to ask yourself just what you need from it. Is distance your main priority or are you looking for something to help you find more fairways? We'd always recommend a custom fitting with a PGA Pro but if you know what you're looking for you can make an informed decision.
If accuracy is what you're after, go for something with a high MOI or adjustable weights to help alter spin and flight characteristics. If distance is key to you, look at a low-spinning driver to help ensure your ball doesn't balloon too much. If you're after something in the middle, the so-called 'standard' heads in most driver ranges will suit you the best.
Two more facets to consider are the sound and the looks of the driver because you have to enjoy how it sounds and looks, especially down by the golf ball for the latter.
FAQs
What is the best driver for distance for seniors?
From our list, we'd recommend the Titleist TSi2 or Callaway Big Bertha 21 for out-and-out distance for senior golfers.
What is the best driver for forgiveness for seniors?
From our list, we'd recommend the Ping G425 SFT, Cleveland Launcher XL or Titleist TSi1 for the most forgiveness. Our guide on the most forgiving golf drivers takes a more in-depth look at what makes a forgiving driver as well as listing the most forgiving drivers across the handicap spectrum.