Best PXG Golf Clubs 2023
Interested in the best PXG golf clubs? Here are our picks for the best of what the company has to offer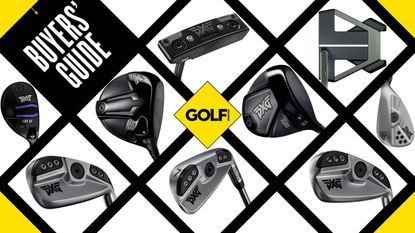 (Image credit: Golf Monthly)
Best PXG Golf Clubs
It's hard to believe that PXG has been around for less than a decade now given the splash that it has made in the golf club industry in such a short period of time. But when you make quality golf products, golfers are going to notice. And we've taken notice as well, which is why we put together this guide with our picks for the best PXG golf clubs that are currently available for players to choose from.
You can use the following information below to make great choices for your on-course needs when it comes to PXG golf clubs, and we have other guides that you can use as well in your search for the best gear. Among those that you might want to check out include the best Wilson golf clubs, best Tour Edge golf clubs, and best Ben Hogan golf clubs.
And if you're considering PXG irons, which the company is best known for, the following guides might also help as you research all of your options: the best Callaway irons, best Ping irons, best Titleist irons, and best TaylorMade irons.
Best PXG Golf Clubs
Sets
There are three options when buying these as a set. The 10 piece full bag costs $1695 and includes six hybrid irons (6-9 plus a pitching wedge and sand wedge), three woods (a 16° driver, 4 and 5 wood) and a 0211 Hellcat Putter along with the PXG Bag and a hat. This is what we were lucky enough to be testing. You can also buy just the three woods or six hybrid irons on their own for $795 each.
Asking a beginner for north of $1,600 means these fall firmly into the premium end of the market. Value is always subjective but it's a big investment for a category of player that may not be willing to spend so heavily with a low skill level, not knowing if it will improve enough to warrant it. You only have to take a look at our best club sets for beginners to see there are a number of options out there from the leading manufacturers, but we're confident in saying the 0211 Z is one of the best beginner sets on the market.
Woods
PXG as a brand are known for producing some of the most premium and best golf clubs on the market and while we were expecting big things from the 0311 XF Gen6 driver, it certainly delivered. The new range of Gen6 metalwoods boast new materials and manufacturing techniques that PXG claim help deliver sizeable performance gains over previous models. We were keen to put this to the test in the new XF Gen6 driver which, as with all the best PXG drivers, comes with a very sleek, sci-fi clubhead that oozes class as you address the golf ball.
It's a design that helps you feel confident over the golf ball, and combined with the performance it offers, that makes it one of the best high handicap drivers available right now. The XF stands for 'Xtreme Forgiveness' and comes with a large profile. That gives it an enticing shelf appeal to any beginner player, but it also delivers additional stability to provide straighter drives that will help you find the fairway. We loved how big the face looks on the club, and the strike zone is also much taller than that on the Gen5's face. That helps to create 12 percent more surface area to strike the ball with, meaning there is more chance on mis hits that you'll send the ball long and far. During our testing sessions, that made this club simply a joy to play with. It was so easy to launch the ball into the air, with the club delivering ultra-fast ball speeds making it one of the best drivers for slow swing speeds.
When we first struck this driver, what instantly impressed us was the rapid propulsion of the golf ball off the face. It is a real game changer for players who may struggle with muscle or power and that is in part due to the carbon fiber crown on the club. That material helps to save mass, allowing weight to be distributed to the perimeter of the club. The result is lower spin and higher launch angles and we certainly saw our shots carrying very satisfying distances because of that. The face also comes with varying degrees of thickness, which helped us when we didn't quite strike the golf ball off the middle. That increases the clubs durability, too, meaning that this driver will last the test of time.
The PXG 0211 2022 driver delivers aspirational aesthetics and solid performance at a more affordable price. It expands on what its predecessor, the 0211 achieved, and comes with a cool, stealthy look that will appeal to many kinds of players. The 2022 model comes with a matte black crown that is contrasted by some cool white detailing. On its sole, the club offers a shiny chrome look that gives it a very sleek design. It is a little more compact behind the ball compared to the original 0211 driver, but for us the refined and aspirational look was not a problem.
The feel was also very appealing too. The high-pitched sound on the original driver has been toned down here, with this club creating a more powerful and lively sensation on impact. And during testing, the gains were noticeable. The flight was lower in the new model and the carry distance was longer. That's impressive considering its fairly lucrative price point. And while it may not be as easy to get into the air, we did enjoy the strong ball flights it offered, that cut through the wind on blustery days.
When you see "XF" in the name of a PXG golf club, it's a clear sign that the club was developed first and foremost with forgiveness in mind. That was definitely the case with the 0311 XF GEN5 driver, which in our testing excelled from a forgiveness standpoint thanks to its high-MOI design and expanded sweet spot akin to many of the most forgiving drivers on the market.
That said, we also saw impressive distance numbers during testing, so this driver isn't solely about its performance on mis-hits. The 0311 XF GEN5 also features two movable sole weights to help players create the launch and spin conditions they're looking for, a process that's also aided by a loft sleeve that provides loft, lie angle, and face angle adjustability.
One of the best hybrid golf clubs on the market, the PXG 0211 2022 hybrid is an exciting club for any aspirational golfer that delivers a lot of versatility, power and performance. Visually it is one of the cleanest looking clubs we've tested in recent times, boasting a cool matte black crown that is contrasted by a shiny, chrome sole plate. The head itself isn't too bulky, but instills confidence behind the ball.
During testing, we were enamoured by how powerful this club was. The club averaged strong flights and even better carries, and on a blustery autumn day, we found the ball cut through the wind very nicely. From a range of lies, this delivered consistently powerful shots. For those in search of a truly versatile option for the top end of the bag, this is well worth considering.
There's plenty of technology incorporated into the design of the 0311 XF GEN5 hybrids, including a carbon fiber crown and high-strength HT1770 stainless steel face, and we were impressed with the performance they delivered in our testing. How impressed?
Well, it was basically point and shoot with these hybrids. They were incredibly forgiving, akin to some of the most forgiving hybrids on the market, delivered from a distance standpoint, and looked and sounded great. The 0311 XF hybrids also offer incredible customization options to help golfers fine tune performance. Two moveable sole weights and an adjustable hosel that allows for +/- 1.5 degrees of loft manipulation enable players to optimize their launch conditions and create the shot shape they prefer.
Irons
A brand known for their pursuit of golf club perfection, PXG design some simply stunning golf clubs that break the mold of traditional designs. Looking at this latest offering from the brand, the PXG 0311 Gen6 Iron reinforces that reputation offering some simply stunning visuals, thanks to its stainless steel clubhead. It offers a futuristic design, with multiple ports and different weights on the back of the clubhead that are contrasted against the black plate on the rear of the golf club. The performance lives up to the design too, with this club being one of the best compact mid-handicap irons around.
During our testing sessions, the 0311 Gen6 felt responsive off the face and offered a very soft feel on impact. That comes down to its design, with the face on these irons being 15 percent thinner than the Gen5 model. The face is supported by an XCOR2 polymer material hidden inside the cavity, helping increase face deflection and mishit performance, also making it a great club if you struggle with your consistency.
The power took us by surprise here too, with the ball rocketing of the club face into the air. The ball flights were also favourable in this offering, with the center of gravity of the club head sitting lower thanks to the adjustable weights in its heel. You can alter them to your requirements to help you improve ball flights and hit straighter, longer shots. Ultimately, despite its blade design, this is one of the most forgiving irons on this list.
An addition to the very affordable 0211 range, the PXG XCOR2 irons are an excellent set of clubs that match up to some of the best distance irons in the business. Having put this set to the test on the golf course, these powerful and springy irons delivered an excellent impact experience which we really enjoyed. We also loved the visuals on offer here and thought it was a step up from the the 0211 DC iron. It looks sleeker and comes with premium visuals thanks to the stainless satin chrome inserts on the heel of the club. It also comes in an 'Xtreme Dark' finish which gives the club a very sleek, stealthy design.
One of the biggest highlights of this club is how forgiving and playable it was, making it a fantastic option for any player looking to improve their ball striking consistency. The club sits with a generous amount of offset behind the golf ball, with the sole width and blade length being progressive throughout the set, giving a lot of confidence at address. According to PXG, the club has one of the thinnest faces in golf, measuring less than 1.5mm and behind the face there is a hollow cavity which features the new XCOR2 polymer. This helps to reposition the weight lower and to the back of the club.
That ultimately translates to greater forgiveness and a feel that we loved when struck pure. It feels, dense but bouncy and we loved how the ball felt fast off the face. On testing, we were very impressed with the distance on offer. The ball flights were a little flat but did fly higher than the 0211 DC iron, but we did enjoy that shots struck low on the face barely lost any height, making this one of the most forgiving irons available right now.
Perhaps one of the most playable blade irons on the market right now, the PXG 0317 is an excellent model that experienced players should definitely consider playing with. As with most PXG clubs, this offering is visually arresting. It is made from triple forged 8620 soft carbon steel and boasts a very cool milled pattern on its back that enhances the aesthetic. The tungsten weight that sits behind the hitting zone adds to the unique design on show here, and helps to make the face more forgiving on impact.
It's hard to fault the club's profile and the brushed satin finish on the blade too. Testing this iron on the course and on the range, it excels in the feel it produces, which is a dense, yet compressed feel that you'd expect from a muscle back club, but is married with a springy, energetic sensation. That is one of the highlights of this lively club, which strikes the ball as long as most other low handicap irons we've tested. And surprisingly, considering this is a blade iron, there's a lot of forgiveness and playability on offer here too, giving you that extra margin for error which is very welcomed here.
The 0311 P GEN5 would best be described as a players distance iron, as it provides golfers with the classic shaping and soft feel they want combined with an infusion of distance and forgiveness. And it was distance that was the standout feature in our testing, as these irons proved to be very long.
They do have stronger lofts than some other iron options in this best distance iron category (44-degree PW, 30-degree 7-iron), but the distance they generated was a result of more than just loft, as PXG's XCOR2 face technology delivered on its promise of ball speed. That said, the 0311 P irons also performed well on mis-hits, and we found them to be workable as well, making this the PXG iron that will fit the widest range of player.
As utility irons get more popular with golfers as potential replacements for traditional long irons and/or hybrids, manufacturers are putting more effort into the category. That has resulted in better performing products, and in testing the new PXG X GEN5 Driving utility iron, we found it to be a significant upgrade over the previous model in terms of the forgiveness it provided on off-center strikes.
The X GEN5 also offered a compact profile that was pleasing in the address position, as well as exceptional feel. It was also very fast off the face, delivering ample distance. The lone drawback we experienced was that launching the ball wasn't the easiest task and it could be an issue especially for players with slower swing speeds. If you're in the market for a new driving iron, why not also check out our guide on the best driving irons, that shows off a collection of some of the best models for distance money can buy!
Wedges
When it comes to wedges with higher toe sections and full face grooves, PXG has joined the party with its Sugar Daddy II models. It must be said, however, that we noticed immediately that the higher toe section was more subtle in the Sugar Daddy II than other similar options on the market. Where these wedges stood out in testing was in terms of the spin they provided and the forgiveness they offered - which we were so impressed by, that we rank them as some of the best wedges on the market.
That said, we did find that in spite of being forged from 8620 carbon steel the feel was on the firmer side. Sugar Daddy II wedges offer two sole grinds (C and BP) for players to choose from. The C-Grind was created for versatility and firmer turf and sand conditions, while the BF-Grind was developed for softer conditions and forgiveness. Both grinds performed well in our testing, but it should be noted that there are limited bounce options to choose from in the line.
Putters
A favorite of ours when it comes to the PXG putter lineup is the Battle Ready Brandon, which is a classic blade design. What stood out in on-course testing with the Brandon was how much more forgiving it was than many blades, which is the result of using tungsten weight to better balance the putter, as well as the implementation of a slightly wider putter head. It is by far one of the best looking blade putters around.
Along with the tungsten, the Brandon is constructed using soft 303 stainless steel, which provides excellent feel off the face. And golfers can also choose different hosel configurations to match their stroke, which is a huge bonus as most blades only work best for players with significant arc.
PXG has a number of putter options to choose from and the Battle Ready Blackjack is one of our favorites. It's a modern mallet design but it's more compact than many of the best mallet putters, which will appeal to purists who need the extra forgiveness that a mallet offers but don't want something oversized.
The Blackjack is constructed using aerospace grade aluminum and tungsten, with weight having been pushed to the perimeter of the head to increase MOI, and in our testing it fared well on off-center strikes. Additionally, one of the best things about PXG putters is the customization options offered, as there are different hosel designs available to create the proper amount of toe hang to match a player's putting stroke.
How we test
Here at Golf Monthly, we employ a rigorous testing procedure when reviewing any product. All of our writers are experienced golfers who know and understand how to use golf equipment and can ably analyze the benefits and drawbacks of any product. Essentially, we look to test gear to help you make the most informed decision when purchasing a set of clubs or a pair of golf shoes. Specifically, when it comes to the best PXG golf clubs, we look to test each club in a variety of conditions on the course to give us the best possible insight into what that club offers.
Whether we're testing a driver or a putter, we will look to assess the benefits and features each club offers to understand who it is best suited to. We test each club out on the course too, in order to give us accurate readings on the distance it offers, how much spin we can put on each club and the general feel of the ball against the clubface. One thing to note is that we only use premium golf balls when testing new golf clubs and that manufacturers cannot buy a good review. It should be noted that we also do indoor testing on launch monitors as well to get baseline data.
What to consider when buying PXG Clubs
Buying golf clubs can sometimes be a tricky thing to get right. Clubs come in all shapes sizes and with a ton of technology. While we always recommend players get custom fitted for their clubs, sometimes it's good to have a bit of advice knowing what to look out for on your clubs before you head down to your club shop. For that reason, we've set out below a couple of key points you should keep in mind if you're thinking about picking up a set of PXG golf clubs.
1. Price
The first thing to note about PXG clubs is that they can sometimes be expensive, particularly their irons. While the 0211 driver is a an excellent value club, you will find some of their other options can be a bit costly so make sure to assess what you're buying and your needs as a golfer before you invest.
2. Your experience level
Every golf club on the market right now is designed to cater to the needs of a particular player. From the best drivers for high-handicap golfers to the best game-improvement irons, each will cater to the needs of that player in their size, shape and technology on offer. For that reason, when buying any golf club you'll need to assess your experience level and aspirations as a player and attribute that to the club you're buying. For example, high-handicap players should look to buy more forgiving golf clubs, while experienced golfers may look to purchase clubs that offer a little more in terms of performance.
3. Visuals
Aesthetics aren't the most important thing to consider, but they can play a big factor in helping boost your confidence on the course. Playing with a good-looking gear always helps to boost the mental side of your game and that in turn can help you score better. Certainly there are some stunning options from PXG listed above on this list.
4. The clubs you already have
Take stock of the clubs you already have and the yardages they offer and try to fill the gaps in your bag that you might need. This is particularly important if you're buying a couple of new wedges or hybrids. You don't want to be purchasing the same club that you may have and be comfortable with, so try to ensure you have a good range of clubs.
For more advice on some of the best golf clubs on the market, take a look at our guides to the best Ping Putters, best Titleist irons and best Callaway drivers.
FAQs
Are PXG clubs any good?
PXG, which is short for for Parsons Xtreme Golf, was founded in 2014 by Bob Parsons and has been making high-quality golf clubs ever since. The company is probably best known for its irons, which have been among the very best in golf from a technology and performance standpoint. PXG also has done a quality job of developing irons to meet the needs of golfers of varying ability levels. While irons have been PXG's strength, its other products, most notably its drivers, have garnered increased acclaim in recent years, as have the company's putters and wedges. It should also be noted that almost exclusively PXG golf clubs come at a premium price point.
Do Any PGA players use PXG clubs?
PXG has worked hard to establish a presence on professional golf tours and has been able to sign some high-profile players to its stable of touring pros. Headlining the list is Zach Johnson, a two-time major champion and the 2023 U.S. Ryder Cup captain. Other PGA Tour players using PXG equipment include Jason Kokrak, Joel Dahman, Luke List, and Hudson Swafford. PXG also has a number of LPGA professionals on its roster, including Gerina Piller Mendoza, Celine Boutier, Christina Kim, and Brittany Lang. Nine-time major champion and World Golf Hall of Famer Gary Player is also a PXG brand ambassador.
What does PXG stand for?
PXG stands for Parsons Xtreme Golf.
A golfer for most of his life, Sam is a Senior Staff Writer for Golf Monthly.
Working with golf gear and equipment over the last six years, Sam has quickly built outstanding knowledge and expertise on golf products ranging from drivers, to balls, to shoes.
He combines this knowledge with a passion for helping golfers get the best gear for them, and as such Sam manages a team of writers that look to deliver the most accurate and informative reviews and buying advice. This is so the reader can find exactly what they are looking for.
Sam now spends most of his time testing and looking after golf gear content for the website, whilst he is also responsible for all content related to golf apparel.
He also oversees all Tour player content as well so if you need to know what clubs Tiger or Rory has in play, Sam is the person to ask.
Unfortunately, Sam is not a member of any club at the moment but regularly gets out on the golf course to keep up the facade of having a handicap of five.
Sam's What's In The Bag:
Driver: Titleist TS3 (9 degrees)
Fairway Wood: Callaway Paradym (15 degrees), Nike Covert Tour 2.0 (19 degrees)
Irons (4-PW): Titleist AP2
Wedges: Titleist Vokey SM7 54˚, 58˚
Putter: Scotty Cameron Phantom X 5.5
Ball: Srixon Z-Star Diamond
Shoes: G/FORE Gallivanter/Nike Air Zoom Infinity NEXT%/Cuater The Ringer/adidas Tour 360 22