Why Custom Fit Clubs Will Change Your Game For The Better
Carly Frost explains why investing in a set of golf clubs that are custom fit can bring dramatic improvements to your game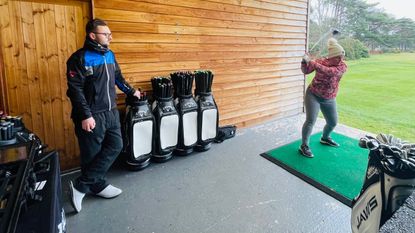 (Image credit: Carly Frost)
If I had to describe myself in two simple words it would be short and strong! I'm just over five-foot tall, yet I can bench press 80kg and have a driver swing speed of around 80-85 mph. On paper there is nothing standard about me, I certainly don't fall into the typical 'women's clubs' category and by no means am I suited to anything standard in the men's line either.
As a consequence, for years I played with golf clubs that were totally wrong for me. In fact, my first set of clubs as a junior were battered old hand-me-down irons and wooden woods from my dad! Even when I finally got a brand new set for my 18th birthday they were standard, off-the-shop-shelf women's clubs, because at the turn of the century custom-fitting was really in its infancy and only available to tour professionals or elite amateurs playing for their country.
Thankfully times have changed and nearly all the major equipment manufacturers now offer custom fit clubs, which means you really can get a new set of golf clubs that are perfect for you. Just like made-to-measure clothing from a tailor, they come with a slightly higher price tag, but be honest with yourself, if you are going to make an investment somewhere in the region of a £1000 plus, would you not rather pay a little bit extra and know that they are really going to work for you? I certainly think there's a lot of confidence that comes from knowing that.
What Exactly Does A Custom Club Fitting Involve?
Custom fitting is where a trained club fitter matches you and your unique golf swing to the ideal set of clubs. This includes getting the proper clubhead, loft, shafts, lie angle and grips that perfectly match your swing. A fitting can take place indoors using a golf simulator and launch monitor to capture your swing and ball data, or it can take place on a driving range where you can see the ball flight, alongside the use of a launch monitor to analyse your shots. Every club in the bag can be custom fit, from the driver right through to your wedges and even the golf ball.
The fitter will usually start by asking you a few general questions about your golf game. Things like what are your good and bad shot tendencies, your typical ball flight shape and height and which clubs do you struggle to hit the most? Then they will ask you to hit some shots and these will be tracked by a launch monitor, giving data including club speed, ball speed, spin rate, launch angle, club path, carry, and overall distance. Using the data, the fitter will then select a clubhead with a suitable loft and start to work their magic trying different shafts of different material, flex, and kick points until they find one that best fits your swing. Fine adjustments to weight, changing bias in the head to encourage draw/fade shapes and shot height, will all be part of the fit.
One Brand Or Every Brand?
This is an interesting question because, unlike tour professionals, as amateurs we are not 'signed' to a particular brand, therefore we are free to choose whatever products we want to play through our entire bag. If like me, you have a mixed bag of clubs from all different manufacturers, it's probably because you are fussy and fortunate enough to be selective. You prefer the look of a certain driver from one brand, a different set of irons from another, maybe a different putter and so on…If you go down this route then there are specialist fitters who offer a whole range of clubs on the market. My go-to man is Jason MacNiven at Club Champion Golf Principles, a former TaylorMade tour fitting rep who set up his own fitting studio 15 years ago, offering a comprehensive fitting service out of his state-of-the-art studio in Basingstoke. Club Champion Golf Principles offer what is known as brand agnostic fitting, meaning they do not just specialise in one club manufacturer. Instead, they have hundreds of shafts and clubheads from various brands. Therefore, regardless of the club manufacturer, you will get the best possible clubs for your swing style and needs.
Demo Days
A great way to experience club fitting for the first time is to look for the schedule of demo days across the UK. These are events held at golf clubs or driving ranges by equipment manufacturers where you can go along and test the latest clubs on the driving range, while getting expert advice from the fitter on the day. If you're undecided about a certain driver or a new set of irons, a hybrid or woods, this is a great way to try before you buy. The fitter at demo days will have a vast selection of different clubheads, shafts and other options.
Book A Solo Custom Fit
If you already have a brand preference and want a particular driver or set of irons then it is well worth booking direct with the manufacturer to get custom fit. Virtually all the main equipment manufacturers offer this service, including Titleist, Callaway, TaylorMade, Mizuno, Ping…the list is long. For the location of their nationwide fitting centres, refer to the individual brand websites. Callaway, for instance, is based in Chessington, Surrey, however I recently had a driver custom fit with Callaway as part of a demo day they were hosting at Ferndown Golf Club in Dorset, as I was eager to get the new Paradym driver into play.
Callaway's Product & Fitting Specialist Jamie Amor took me through a comprehensive driver fitting in around an hour. In that time, we tried three variations of the Callaway Paradym head, several different lofts, a few different shafts and shaft lengths. My shots were recorded by a Flightscope launch monitor and gave me instant feedback. By hitting shots on an outdoor range, I had the added benefit of being able to see my ball flight, with the validation of the statistics to back-up the improvements. I was staggered at how much difference the subtle changes made, like moving the heavy adjustable 14-gram weight in the Paradym to the very back of the head. The challenge fitters always face is getting my spin rate down, as I naturally launch the ball very high.
"A high launch angle with low spin combination is a winning formula for hitting the ball further," explains Jamie. The fact that I naturally launch the ball on the up is a good thing providing the spin rate can be kept low, so I was prescribed a lightweight Cypher fifty 5.5 low spin shaft, along with the Callaway Paradym Triple Diamond 10.5-degree head, which achieved some excellent numbers and results.
My ball speed increased from 106mph to 113mph, giving me an impressive overall distance boost. My carry distance jumped from just over 170 yards to 196 yards and all of these numbers with a range ball. I'm excited to see the difference out on the course with a real ball this season.
Are 'Women's' Clubs A Dying Breed?
With so many options in the custom fitting world available there really is no reason to compromise when it comes to your golf gear. That's why more and more brands are choosing to move away from making clubs they label as 'women's' and instead offer new equipment that is genderless. I was fortunate to spend a few days at Scottsdale National in Arizona, USA at the home of PXG at the start of the year. Bob Parsons and his wife Renee are the genius duo behind the brand. They truly are ambassadors for gender equality and growing the women's game. Since the very beginnings of PXG, the brand has stood firmly to the belief that there should be no such thing as women's golf clubs, rather high-performance clubs that will work for anyone, no matter their gender, age or ability. My custom-fitting experience with PXG was exceptional. The knowledge and attention to detail that my fitter, Clayton Hill, brought to my club selection was impressive. He didn't just look at the right loft and shaft for my driver, but he considered my swing fault tendency (a slight over-the-top fader's move), adjusting the weight in the head of the driver with precision. All-in-all, it took just under an hour experimenting with different driver set-ups to get to the perfect club and it really was incredibly easy to hit, long and reliable.
Are Custom Fitted Clubs Worth The Expense?
If you are serious about improving your golf game then I would say yes absolutely, custom fit clubs are worth their weight in gold, or should I say worth the shot-saving to your scorecard. They can increase distance, accuracy, and add consistency to your golf game. They will definitely give you an added boost of confidence when you're preparing to hit each shot, knowing that you have the right clubs to help you. However, if you're a social golfer who only plays a few rounds a year then you're better off saving your money and buying straight from your pro shop.
Carly Frost is one of the golf industry's best-known female writers, having worked for golf magazines for over 20 years. As a consistent three-handicapper who plays competitive club golf at Parkstone and the Isle of Purbeck courses in Dorset every week, Carly is well-versed in what lady golfers love. Her passion for golf and skill at writing combine to give her an unbeatable insight into the ladies game.
Carly's role at Golf Monthly is to help deliver thorough and accurate ladies equipment reviews, buying advice and comparisons to help you find exactly what you are looking for. So whether it's the latest driver, set of irons, golf ball, pair of shoes or even an outfit, Carly will help you decide what to buy.
Over the years Carly has been fortunate to play some of the greatest courses in the world. Her view 'from the ladies tee' is invaluable. She ranks Sea Island, Georgia, USA, where she met her husband, world-renowned golf coach Dan Frost, among her favourite golf resorts. Their aptly-named eight-year-old son Hogan is already hitting the ball as far as Mum and will undoubtedly be a name to watch out for in the future.
Carly is a keen competitor and her list of golfing achievements are vast. She is a former winner of the South West of England Ladies Intermediate Championship, a three-time winner of the European Media Masters and she once beat an entire start-sheet of men to the title of Times Corporate World Golf Champion. She has played for both the Dorset and Surrey County Ladies first teams and is known for her excellent track record at matchplay.
Carly holds the ladies course record (68) at her home club Parkstone and her lowest competition round (seven-under-par 65) was carded in the pro-am of the Irish Ladies Open at Killeen Castle, playing alongside Solheim Cup superstar Anna Nordqvist. Although her current handicap index has crept up to 3.7 since Covid she has her sights firmly set on achieving that elusive scratch handicap and hopefully playing for her country when she's 50.
Carly's current What's In The Bag?
Driver: Callaway Epic Max, 10.5°
Fairway wood: TaylorMade SIM2, 15°
Hybrids: Titleist TS2, 19°, 21°, 24°
Irons: Mizuno JPX900, 5-PW
Wedges: Cleveland RTX, 52°, 56° and 58°
Putter: Scotty Cameron Futura X5
Ball: 2021 Callaway Ladies SuperSoft