Best Ping Irons 2023
We take a look at the best Ping irons on the market, from workable players' irons to forgiving, game-improvement clubs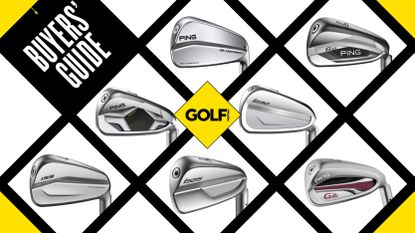 (Image credit: Golf Monthly)
Best Ping Irons: Quick Menu
When it comes to selecting your next set of golf irons, it is crucial that you find a set that will give you the maximum amount of performance out on the golf course. Some will increase your distance, while some will help your consistency but, as they are the most expensive investment in the golf bag, it's important you find the right ones.
One brand known for its irons is Ping, a brand that knows a thing or two about consistent, user-friendly irons. The best golf irons from Ping cover all types of player and levels of ability. From compact blades like the Blueprint irons, all the way down to the game improvement G430, Ping is definitely a brand to consider when looking at purchasing a new set of irons. Just ask Lee Westwood who has used Ping irons for pretty much the entirety of his successful career.
Below I have run through the best Ping irons on the market. However if Ping is not for you, check out our guides on the best Titleist irons, best Callaway irons, best Mizuno irons or the best TaylorMade irons too. Whatever you are looking for, I've got you covered.
The Quick List
Top pick
The G430 iron adds extra distance without compromising forgiveness or consistency. The feel is solid, lively and approach shots seem easier to execute.
Best for low handicaps
The i230 is an iron that can hit all the shots with a high margin for error given its compact size. Produces a stable feel with good distance and stopping power for competent players.
Best for wide range
The i525 offers a lively feel and greater margin for error on mishits as well as a slight increase in distance. As such it will suit a very wide range of players.
Best looking
Ping has created a faster feeling and more playable better player iron that delivers improved consistency across the face that in testing produced more accurate approach shots.
Best for top players
The Ping Blueprints are one of the best-looking and feeling bladed irons on the market. Competent players will enjoy being able to manipulate the flight and the premium feel.
Best for women
Players with a slow to moderate swing speed can't go wrong with this super forgiving set of irons that are not only easy on the eye, but effortless to swing consistently.
Best Ping Irons
Why you can trust Golf Monthly Our expert reviewers spend hours testing and comparing products and services so you can choose the best for you. Find out more about how we test.
Top pick
A user-friendly option for inconsistent golfers after a higher, straighter flight
Reasons to buy
+
Notably longer than G425
+
Impressive stopping power
+
Very consistent off center
Reasons to avoid
-
Badge appearance will divide opinion
The G430 has been billed by the brand as being 'distance competitive, scoring uncompromised'. How does it achieve this, you may ask? Well, thanks to multiple design changes, as well as some alterations in the set, the G430 is even longer and more playable than its predecessor, while providing multiple build options for golfers to get the right configuration for them.
Aesthetically, the shape hasn't really changed, but Ping have introduced an extra one degree of bounce on the sole which not only helps to lower the centre of gravity, but also provides a little more insurance on those extreme misses where the club makes contacts with the ground too early.
Best for low handicaps
An excellent choice for the better player seeking a soft, stable feel
Reasons to buy
+
Solid, stable and lively feel
+
Compact long irons match the set better
+
Consistent carry distances
Reasons to avoid
-
Limited shelf appeal
-
Some may want a softer feel
Perhaps the most complete iron for any low-handicap player, the Ping i230 is a reliable, versatile iron that can strike all the right shots while delivering an extremely low margin for error given its compact shape. Tour pros including Stewart Cink and Tyrrell Hatton use the i230 irons, and if that's anything to go by, then if you're a scratch golfer you should also take a look at these high-performance clubs.
At the address, these clubs boast a very slim profile that will appeal to the eye of the better player and improve your club delivery. The 431 stainless steel body, tungsten toe screw, shaft tip weight and concealed elastomer help the club to deliver a muscle style look, that helps players zip the ball off the clubface. While it looks incredible, the iron also feels great too, combining a lively, stable feel with a muted sound. Even poor swings felt responsive through the turf. Distance is plenty and I loved the trajectory these irons offered. In truth, it was hard to find flaws in these irons which are one of the best irons for low handicappers.
Best for wide range
A compact distance iron suitable for a broad spectrum of abilities
Reasons to buy
+
Beautiful looking iron
+
Strong ball speeds and distance
Reasons to avoid
-
Not especially easy to align
The i525 iron, which replaces the i500, occupies the space between the G425 iron and the old i210 as a hollow, distance-orientated iron in a slimline chassis. In i525 this theme continues but Ping claims that changes inside the head should elevate the distance, forgiveness and feel to new heights. Notably, there are tungsten toe and hosel weights, a new maraging steel face for ball speed, four extra grooves to minimize fliers from the rough and an EVA polymer inside the head to provide a softer feel.
But how did the iron test and how did it compare to the i500? Well looks wise it is very similar, aside from down by the ball because the extra grooves are noticeable. The topline is definitely thinner than on i500 and the hitting area looks a fraction larger while the overall shape looks similar.
When hitting I also felt the i525 did raise the bar slightly when it came to feel off the face and forgiveness. It may be one of the best mid-handicap irons out there, but it's built for speed and power too. For those seeking a classic looking club with modern performance, this could be the iron for you.
Best looking
A compact, traditional-looking iron for the better player
Reasons to buy
+
Surprisingly forgiving for its size
+
Delivers a controlled, consistent ball flight
Reasons to avoid
-
Doesn't feel as soft as some golfers may want
The i59 replaces the iBlade and the design has evolved significantly - we're now seeing a hollow head with an aluminum core that improves feel and moves more weight to the edges for added forgiveness. With the i59, Ping has created a faster feeling and more playable better player iron over iBlade that delivers improved consistency across the face that in testing produced more accurate approach shots. Shot making is still encouraged with a greater margin for error that will be received by all.
Down at address you instantly notice the new groove configuration - there are four more grooves on i59 versus iBlade more tightly spaced - and the shorter white bottom groove frames the ball well and narrows your focus on the strike. Off the face, the i59 feels more springy and solid than the iBlade but does have a slightly louder, more pingy sound to it too versus the softer thud of iBlade. I also enjoyed the stability, forgiveness and user friendliness of the iron as well.
Best for top players
Tour-played irons designed for very low handicap golfers
Reasons to buy
+
Exceptional Feel
+
Highly workable
The best golf blade irons are never for the faint hearted and the Blueprint fits into that idea too. It is a very attractive, blade-style iron that's been fully forged from 8620 carbon steel. In fact, I think this might be Ping's most aesthetically pleasing club.
With shorter blade length, less offset and narrower sole widths than any other Ping iron, this is really a club for the best ball strikers. The one-piece forging involved in constructing the Ping Blueprint makes for very tight tolerance control and that means maximum consistency when it comes to distance control. The machined tungsten toe screw weight and internal heel weight allow for precise swing weight tuning, while the hydropearl finish reduces glare on sunny days.
In testing I found, once you find a rhythm, even though the hitting area is relatively small, the results are pleasing and it's extremely easy to shape the ball and manipulate flight. It's a true blade that will suit the best players only, but for those seeking a great looking club and maximum workability, it's well worth considering.
Best for women
A game-improvement option for lady golfers that offers excellent forgiveness
Reasons to buy
+
Very forgiving
+
Consistent ball flight
+
Easy to control
Reasons to avoid
-
Won't suit stronger players
-
No 5-iron option, 6-iron to 5-hybrid
The Ping G Le 3 iron is specifically designed with women golfers in mind, but it could also help male players with a slower than average swing speed. It's a stylish looking club featuring a raft of technologies to deliver heightened consistency and distance.
Continuing the success of previous generations, the G Le3 is designed as an iron/hybrid combo solution, so golfers can create the ideal set makeup with optimal gapping. Although not obvious, compared with its predecessor, G Le2, these irons are lighter overall because the high-density heel and toe weights allow for light swing weights. We found them easy to swing, they're nicely weighted, not too head heavy.
Additionally we found these irons to be very forgiving, whilst shots flew high and were generally pretty accurate with decent and consistent distance.
How we test golf irons
Our testing and rating procedure for golf irons is built upon a comprehensive process combined with the knowledge and expertise of the Golf Monthly test team. As far as the specific procedure goes, before testing, the team will usually attend product launches and meet with the manufacturer's R&D experts to understand the new technology.
When it comes to testing, we often head indoors first to try the irons in a controlled environment. This usually takes place on an indoor simulator at Foresight Sports, with premium balls and the GCQuad launch monitor. Our outside testing normally takes place at West Hill Golf Club, a course with top-notch practice facilities.
We think it is vitally important to do both and continue to test the irons so they have been comprehensively put to the test in different conditions. It should also be mentioned that manufacturers cannot pay for a good review and we make our conclusions from the testing and our experiences. This is because we strive to give the best reviews possible so you can get a greater understanding of the irons themselves.
How to choose the best irons for you
As you have seen, the market for golf irons is crowded and confusing and being sure you're getting the most suitable iron for your game can be a minefield. Hopefully, this piece has given you an idea of what the best Ping options are out there right now, but here is some more advice to help you in your quest to find the best golf iron for your game in this crowded and dense marketplace.
1. Your Handicap And Ability

This is probably the most important first step: knowing which type of iron best suits your game. This is by no means gospel, but higher handicappers tend to use cavity back irons that offer maximum forgiveness in a larger iron head, while mid-low handicappers tend to use more bladed irons that are forged, offer more feel and control but less forgiveness.
You'll know how good or perhaps not so good your ball striking tends to be, so make sure you invest in a set of irons that matches where your game is out now, not where you'd ideally want it to be. We have great guides that go into more detail on this, so check out our guide on the best game improvement irons if you're a higher handicapper and our guide on the best irons for mid-handicappers.
2. Price

This will be a major factor in anyone's decision of what irons to go for. As you'll have seen in this list, the price can vary dramatically between irons. Typically, for a set of cavity back Ping irons - those that provide most distance and forgiveness - you'll be looking between $800-$900 for a set.
The price jumps quite significantly when looking at the forged and bladed options - up to and above $1000 - but this is par for the course and you'll be getting a high quality, premium product in return.
3. Custom Fit

This is probably the most essential part of the iron buying process, no matter the irons you're after or how good you are at the game. A custom fit session will make sure you get the right flex and length of shaft, correct lie angle and correct iron head for your game, meaning you'll finish with the best golf clubs that are as suitable as possible for you out on course.
Custom fits can be a daunting process if you're a true beginner or you aren't that confident hitting golf balls in front of people, but they're a vital part of the club buying process. We recommend having a shortlist of three or four iron heads you like the look of before entering a custom fit and then whittling them down to the best for your game during the custom fit process. Custom fits are provided by a number of golf retailers or club professionals at your local golf club.
FAQs
Which are the best Ping irons?
The Ping i525 iron arguably offers the best of everything - notably good distance with a solid feel and a hint of workability. This is alongside the Ping G430, which will offer a little more forgiveness because of its larger size and probably a slightly higher ball flight, although this will be player dependent. For the better player, you could make a case for the i230 being the best option.
Which Ping irons are the most forgiving?
The G710 is the most forgiving in the current Ping iron range, followed by the Ping G430, which offers similar levels of forgiveness but in a slightly smaller head.
Are Ping irons good for beginners?
Yes, absolutely. Ping is known for making some of the most forgiving irons on the market, which is an attribute beginner golfers look for. In the case of the G430 and G710 in particular, they are excellent options for the beginner golfer looking for as much help as possible.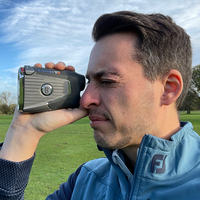 From clubs, balls and tees, to essential sportswear and fitness products, keep it affordable with a little help from our promo and coupon codes.