Best Drivers For Slow Swing Speeds 2023
Do you have a slow swing speed and are in need of a new driver? We run you through the leading options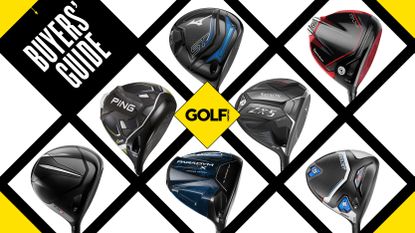 (Image credit: Future)
Best Drivers For Slow Swing Speeds: Quick Menu
Everybody wants to hit the ball as far as possible, but swinging the driver as fast as Rory McIlroy is a pipe dream for most of us. Even at club level, there is a great variety in the clubhead speed golfers can generate.
When it comes to defining a slow swinger, we are generally referring to golfers with a clubhead speed under 85mph. If you're unsure what yours is, book yourself a session on a reputable launch monitor with a PGA Pro to find out. However, manufacturers have thought about golfers that fall within this bracket, producing lightweight, high-launching models that will help those with low swing speeds maximize their carry distance off the tee.
So, how do brands eke out the distance despite the slow swing speed? Well, usually the drivers have a combination of lightweight heads, grips and shafts. Because of its weight, or lack of, it means you can generate the clubhead speed you need to get through the ball, thus creating distance. These drivers also tend to have extra launch and draw bias built in to help maximize distance potential.
Below, we have taken a look through some of the best drivers for slow swing speeds currently available on the market, with some of the drivers also falling under the category of most forgiving drivers, as well as the best drivers for seniors.
The Quick List
Top pick
For anyone who wants to take the right side of the course out of play, this driver has the technology to help. It strikes a good balance between being aspirational and user friendly. Not as eye-catching as other Cobra drivers but still has a premium look.
Best lightweight
Callaway Paradym X Driver
A beautiful-looking driver that has the performance to match. Fast, forgiving and consistent, this lightweight driver has the wow factor golfers crave along with the slice-correcting ball flight.
Most accurate
TaylorMade Stealth 2 HD Driver
The TaylorMade Stealth 2 HD driver is probably the most forgiving of the three models with wider appeal. The draw bias is subtle and the extra weight in the rear makes this a very easy driver to launch and a joy to hit.
Best for feel
An excellent all rounder that provides a good blend of distance and forgiveness. Add to that the aspirational aesthetics and powerful feel and you have another strong contender within the 2023 driver market.
Best for launch
The TSR1 is visually appealing, super lightweight and effortless to swing. It certainly helps players with a moderate swing speed to generate power for high-launching drives.
Best looking
The Srixon ZX5 Mk II driver combines a lot of forgiveness in a no-nonsense design that offers very good performance in a good looking head. Ideal for mid to slower swing speed players, the ZX5 Mk II also sounds better with the all titanium head.
Most forgiving
There's a lot to like about the Ping G430 SFT driver - it's easy to launch, forgiving and surprisingly long. It's a model that will have broad appeal, and is especially worth trying if you struggle with a slice.
Best for slicers
Wilson Launch Pad 2022 Driver
One of the easiest-to-launch drivers we've hit this year, this delivers impressively on its promise of making the game easier for people off the tee. The simple, sleek aesthetics make this a very desirable option.
Best value
Cleveland Launcher XL Driver
A driver that stands out for its feel, the Launcher XL will suit a wide range of golfers looking for a combination of forgiveness and carry distance off the tee. The high pitched noise won't suit everyone though.
Best Drivers For Slow Swing Speeds
Why you can trust Golf Monthly Our expert reviewers spend hours testing and comparing products and services so you can choose the best for you. Find out more about how we test.
Top pick
Specifications
Lofts: 9.0°, 10.5°, 12°
Adjustable Hosel: Yes
Stock Shaft: 2 options (MCA Kai'li Blue 60, UST Helium Nanocore 4)
Left Handed Option: Yes, in all available lofts - 12° is custom only
Reasons to buy
+
Effective in helping to straighten a slice
+
Confidence-inspiring profile at address
+
Surprisingly long
Reasons to avoid
-
Offset design won't suit everyone
Technologically, the company has created a more aerodynamic design to give golfers more speed and, rather kindly, there's also a bigger sweet spot to help improve performance, especially when the strike point is not in the centre of the clubface.
Importantly, it has a really generous profile down behind the ball and, for those golfers in search of a confidence-inspiring clubhead, this is definitely one to try. It's nicely stretched back, and has that same gloss finish to the crown with a grey carbon effect underneath, which gives it a premium look.
In testing, the slight draw bias meant the average dispersion was eight yards further left compared to the LS and standard models. Along with the left miss, it did spin more and, as a result, there was a slight loss of distance. However, those with slower swings may well benefit from the extra flight, helping the ball stay in the air for longer.
Best lightweight
Specifications
Lofts: 9°, 10.5°, 12°
Adjustable Hosel: Yes
Stock Shaft: 3 options (Aldila Ascent PL Blue 40, Project X Hzrdus Gen 4 Silver (50 & 60)
Left Handed Option: Yes, available in all lofts
Reasons to buy
+
Likely to experience additional overall distance versus your current driver
+
Control of direction should be maintained
+
Excels at reducing a slice
+
Arresting looks and feel
Reasons to avoid
-
Some may want a louder, more powerful sound
Possessing similar looks to that of the standard Paradym, the X is designed for the golfer who needs a bit more help. Callaway has achieved this with a stretched out head profile, more forgiveness and added draw bias.
All three models feature customisable weights, multiple standard shaft offerings and custom options, with our testing showing a significant distance increase. An example of this was with our tester who swings at around 80-85mph. Upon striking the ball, they managed to gain an extra 20 yards.
Another notable difference with the X is how it straightens up the ball flight. Certainly it is one of the best drivers for slicers anywhere on the market and this is due, in part, to the adjustable hosel, but also its semi-draw flight bias and 5g back weight.
Most accurate
Specifications
Lofts: 9°, 10.5°, 12°
Adjustable Hosel: Yes
Stock Shaft: Fujikura Speeder NX Red
Left Handed Option: Yes, available in all lofts
Reasons to buy
+
Easy to launch
+
High level of forgiveness
+
Rounded head best looking of Stealth 2 models
Reasons to avoid
-
Not for those who already hit a draw
TaylorMade introduced golfers to the 'Carbonwood Age' in 2022 and, for this year, they have refined the product, with the Stealth 2 range containing some of the best TaylorMade drivers on the market.
You still see the 60 layers of carbon, but the inverted cone variable face thickness on the back has been modified to increase the sweet spot by 20 percent. The majority of this gain is towards the heel side of the centre which makes it very forgiving, especially for those who mis-hit low and to the inside of centre.
What makes this a great club for slow swing speeds is that TaylorMade have given the HD a 0.25 inch shorter shaft at 45.5 inches, a 2° upright lie as standard and a deeper more rounded head. All these aspects will help promote a slight draw bias with a higher flight.
Best for feel
Specifications
Lofts: 9° & 10.5°
Adjustable Hosel: Yes
Stock Shaft: Aldila Ascent Red 50
Left Handed Option: Yes, only available in 9°
Reasons to buy
+
Powerful feel at impact
+
Impressive consistent playability
+
Classic head shape
Reasons to avoid
-
May not suit low spin players after a more compact shape
In our testing, the Mizuno ST-Z 230 produced more spin than the Mizuno ST-X 230, with the profile a little bigger from front-to-back. However, both models produce very similar performance so it reinforces the idea that with this range, a custom-fitting is really important.
Certainly there is ample power to this driver, with a CORTECH Chamber (highlighted by the blue strip on the sole) providing the required distance from a range of swing speeds. Reportedly, it encases a stainless-steel weight with elastomeric TPU, which then takes stress from the clubface and creates an additional source of energy. At the same time, it locates weight closer to the clubface to create a more solid, powerful sensation at impact.
Best for launch
Specifications
Lofts: 9º, 10º, 12º
Adjustable Hosel: Yes
Stock Shaft: MCA MMT SpeedMesh
Left Handed Option: Yes, available in all lofts
Reasons to buy
+
Impressive carry and distance
+
Effortless to launch
+
Confidence-inspiring aesthetics
Reasons to avoid
-
Best suited to a moderate swing speed
-
Fitting is key to maximize performance
One way in which players can gain more swing speed and distance is by using a more lightweight model and, currently on the market, there is no driver lighter than the TSR1, which is 40g less than the TSR2. This is thanks to a lightweight shaft and grip.
In our testing, we were impressed by the performance the driver delivered and, importantly, it possesses a low center of gravity that helps launch the ball into the air with ease.
Along with its traditional looks, the aerodynamics of this club are fantastic and the speed of the ball off the clubface through impact is extremely noticeable. It also meant we were able to produce stable drives and we saw some excellent carry distances. Certainly the latest face technology also helped maintain consistency in ball speed.
Best looking
Specifications
Lofts: 9° & 10.5°
Adjustable Hosel: Yes
Stock Shaft: Project X HZRDUS Smoke Red RDX 50 (Multiple options available)
Left Handed Option: Yes, available in all lofts
Reasons to buy
+
Simple design belies tech in head
+
Sounds better than pervious model
Reasons to avoid
-
Limited weight adjustability
In our testing, we felt the Srixon ZX5 Mk II was one of the best high handicap drivers of 2023 because of how easy it was to launch in the air. This is thanks, in part, to the weight that is saved by the crown being repositioned to improve the launch.
What's more, the driver also has a variable face thickness behind the face, which has been improved with Srixon claiming the ZX5 Mk II provides an extra 2mph ball speed at impact. This is because of the face flexing on the more rigid structure which brings the power.
Within the Srixon driver range, we found the ZX Mk5 II to be the higher spinning version. There is also a degree of adjustability to vary the loft and lie on the 9.5° or 10.5° heads, which will help users with slow swing speeds optimise performance off the tee box.
Most forgiving