Best Blade Putters 2023
Our guide to the best blade putters on the market this year - including models from the likes of Scotty Cameron, Odyssey and Ping.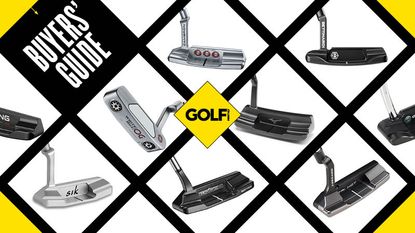 (Image credit: Golf Monthly)
Best Blade Putters: Quick Menu
This guide sifts through all the different blade options so you can make an informed choice. Blade putters are still extremely popular among traditional golf players looking for a more classic feel for their putting. Blade putters also tend to suit players with an arc in their putting stroke because of the heel weighted nature of the club-head. Though they might not offer as much alignment assistance, the levels of forgiveness are increasing every year. While this guide looks at the best blade putters, we also have specific guides on the best mallet putters, the best putter grips to accompany the club, or if you aren't sure on what you're looking for, the best putters in general.
The Quick List
The Ping 2022 Anser putter takes this classic shape and combines tungsten weighting with graphite shaft and sharp looks to create a precision putter.
Odyssey White Hot OG 1 Putter
The White Hot OG range combines the original face insert with today's technology. The original feel and sound of the White insert has been maintained here.
Wilson Staff Model BL22 Putter
The Wilson Staff Model BL22 putter is a very well put together blade putter that gives you everything you could want from this style of blade putter.
Cobra King Vintage Sport-60 Putter
Factoring in the price point, performance and the shot-tracking capability, the King Vintage Sport-60 putter becomes a mightily appealing option.
Mizuno M.Craft OMOI 01 Putter
The M.Craft OMOI 01 is a quality putter and the milled face on the forged 1025 carbon steel face provides good feedback for a steel head as well as a cool look.
Odyssey Tri-Hot 5K Putter
This is ideal for those who want more forgiveness from a blade thanks to its Stroke Lab shaft and peripheral weighted head that provides good feel.
PXG Battle Ready Brandon Putter
This offers comprehensive custom options for length, loft, lie, weights and hosel. As a take on a classic blade style, this is one of the best versions out there.
A near flawless putter that imparts a controlled and consistent roll to improve performance. The adjustable neck system adds another layer of detail as well.
Scotty Cameron Super Select Newport 2.5 Plus Putter
A confidence-inspiring, premium blade putter that provides forgiveness and alignment assistance through it's tungsten weighting and larger footprint.
TaylorMade TP Reserve B13 Putter
TaylorMade has created a very competitive in the milled putter space with the B13 offering a blend of feel and feedback as well as premium visuals.
Classy looking version of the timeless Anser head milled from forged steel. Excellent feel with graphite shaft for putting purists who prefer the clean look.
Bettinardi BB1 2022 Putter
This putter comes with premium price tag and is a precision instrument, so will suit better players who like traditional classic looks in a 100% milled steel design.
Best Blade Putters
Why you can trust Golf Monthly Our expert reviewers spend hours testing and comparing products and services so you can choose the best for you. Find out more about how we test.
Best Value Blade Putters
Blade putters come in many varieties and you can spend a lot if you want to go premium. However if you are looking for a solid blade putter that won't break the bank then here are some of the best choices from our putter reviews or read our list on the best cheap putters.
Reasons to buy
+
Silver top line is great for alignment
+
Graphite shaft feels light and stable
+
Great feel from the middle
Reasons to avoid
-
Not as forgiving as other models in range
The Anser putter is perhaps one of the most historic and successful putters in Ping's collection. Its classic design harks back to when it was first produced in the 1960s and since then, the brand has continued to celebrate the success of the putter, upgrading it and refreshing it in almost every new range of flatsticks they have released. The Anser is the flagship model of the 2022 Ping putter range, delivering something for everyone, from looks to feel.
Aesthetically, the putter adds an updated design to the classic Anser shape. It features a black trailing edge behind a silver chrome leading edge and that helps frame the ball against the clubface. The Anser comes with a black graphite shaft and a PP58 Mid Pistol grip that adds a premium look to the putter. It is really nicely balanced and the grip feels very nice in your hands too. And while it comes with a very premium look, the latest version of this classic is jam-packed full of technology, combining tungsten weighting at its heel and toe to make it a very forgiving putter. Those weights help to ensure off-center hits still rolled true and traveled towards the hole.
A clear alignment line dons the back of the clubhead, which is a handy addition that helped improve our accuracy on the greens. Plus, with a 3º loft and a milled pattern on its face, the 2022 Anser offers a firm feel when you middle the golf ball, which we thought was excellent. As it is a blade putter though, it's likely to be suitable more to better players than those just starting out.
Odyssey White Hot OG 1 Putter
Odyssey White Hot OG 1 Putter
Reasons to buy
+
Iconic face insert
+
Plenty of models to choose from
+
Stroke Lab shaft aids feel and timing
Reasons to avoid
-
Retro look might not appeal to all
The Odyssey White Hot OG range combines the original face insert with today's technology. The original feel and sound of the White Hot insert has been maintained with the two-part urethane insert bringing the putter right into the 21st century.
With the advancement in technology, the putter is very stable through impact and noticeably easier to use than some other models. There is also a much more premium aesthetic on these putters thanks to the silver PVD finish.
We loved the new 'candy apple red' color of the Stroke Lab shaft, although some may prefer the original black. The grey Odyssey DFX Rubber grip looks great against the red of the shaft and almost matches the head, and it's a very comfortable shape with a nice firm feel.
The family is available in several blade styles with the #1 and wide sole Double Wide and represent excellent value for money.
Wilson Staff Model BL22 Putter
Reasons to buy
+
Milled feel is very good
+
Classy looks
+
Great feeling grip
A classic Anser style blade putter that has been given the Wilson Staff treatment, the Model BL22 is a very well put together putter that delivers everything you could want from a classic blade. The club has been milled from 304 stainless steel that gives it a very classy look. It comes with a very cool milled face pattern that, in testing, delivered a soft feel, as it has less points of contact with the ball on impact. While it does come in at a rather hefty price, the milling on this club can justify that cost.
At the address it boasts a long profile with a short black alignment line that offers a very clear aiming guide. Out of the center of the club, the feel was excellent, but if you're slightly off, the quality of the milled head delivers instant feedback and still provides a nice roll on the ball. It comes with a standard Lamkin Deep Edge grip which has a pistol style and is made from a Genesis Material that feels like rubber and should stand the test of time.
Cobra King Vintage Sport-60 Putter