Best Women's Golf Shoes 2022
With a wide variety of styles, we run through some of the best women's golf shoes on the market, offering outstanding stability and performance.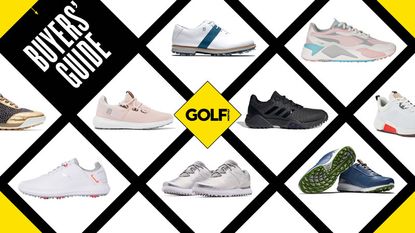 Best Women's Golf Shoes
Getting the best golf shoes for you is important because they form the base of the swing and 18 holes is usually a minimum three-hour walk. As such women want shoes that offer comfort and stability in equal measure and they must look great too.
As companies continue to push the boundaries of golf shoe innovation, the good news is that the latest technologies on offer mean that the best women's golf shoes fit like a glove straight out of the box. Soft leather, breathable insoles with foam cushioning, and a waterproof system that keeps your feet dry are just some of the features that guarantee a comfortable fit. Speaking of which we also recommend reading our guide on the best waterproof golf shoes (opens in new tab), if you're looking for a pair of shoes that will keep your feet dry on the course.
The best spikeless women's golf shoes (opens in new tab) are also really popular as they not only provide stability and traction throughout the whole year, but they also suit today's fast-moving lifestyles, allowing women to wear them in the comfort of their own home, at the course, in carpeted areas in the clubhouse, and beyond. With a variety of designs and colors to choose from - some even come with different colored laces - there's a pair to suit every outfit and personality that transfer effortlessly to the current off-course sneaker and trainer trend.
Bearing all of this in mind we've set out a list below that contains a selection of some of the best women's golf shoes that money can buy. Additionally, if you're looking to kit yourself out with other women's golf equipment, check our guides on the best women's golf clothes (opens in new tab) and best golf irons for women (opens in new tab).
Best Women's Golf Shoes
The FootJoy Women's 2022 Pro/SL Shoe is definitely worth considering if you're looking for a shoe that will provide you with greater stability. They are a comfy and spongy spikeless shoe that can be worn almost all year round thanks to their waterproof leather upper. These shoes give excellent grip on the turf and thanks to the shoe's new Infinity Outsole which provides 30 per cent more points of traction than its predecessor. Its bouncy Stratofoam midsole cushioning sole also gives excellent support as you traverse the fairways and comes in an array of widths and sizes that make it perfect for golfers of all foot shapes.
But it is the weight of the shoe that really impressed us, and while it may look slightly big compared to some of the lighter sneakers on offer in our best women's spikeless shoe guide (opens in new tab), the Women's Pro/SL shoes are so light that it felt like we weren't wearing anything on our feet. Perhaps the coolest feature about these shoes are the customization options available on FootJoy's MyJoy platform. If the SL's colorways aren't to your tastes, you can use the MyJoy design tool to alter the color of the shoes to make them truly reflect your style.
Codechaos is unlike anything else on the market. It offers a unique look but we have been fans since it was released - as such it made it into our guide to the best adidas golf shoes (opens in new tab). Performance-wise, a unique Twistgrip spikeless outsole with special lug shapes gave us plenty of grip whatever the conditions, and at the same time the full-length Boost cushioning across the midsole delivered a light and springy feel underfoot. We reckon we could play in these all day and not feel the strain on our feet.
The multi-layer mesh upper also makes them durable and breathable, while providing full protection from the elements. We particularly love the splash of coral on the side and sole of a shoe that's quickly become a go-to of ours.
This is a stunning full-grain pebble leather shoe that oozes refinement and a traditional golf look that has been blended well with some bright colors and cool graphics that add an extra element of flair to your outfit. One great addition we loved was the heart-shaped logo etched into the bright yellow sole of of the shoe. While were on the subject of the shoe's sole, let's talk about its grip, which doesn't look like it would offer much traction off the turf.
However we were greatly mistaken, as when we tried on the Gallivanter, we found the shoe's bespoke cleat design gave us the perfect amount of grip to hit long and confident golf shots. We did feel we needed a whole extra size with these shoes to get the best fit to ensure your foot is fully locked into the base of the shoe.
It also features a deep massaging innersole, that caresses the foot while you walk adding to the incredible support and comfort that this shoe provides. That sole is made from a triple-density memory foam sole and that massages your feet as you navigate your way around the fairways. Overall, this is a great all-round golf shoe that features on our best G/Fore golf shoes (opens in new tab).
Having put this shoe to the test, we were enamoured with how comfortable but also lightweight it is. Skechers really have designed a comfortable shoe that will ensure your feet feel as fresh as they did on the first hole right the way through to the 18th green, thanks to the spongey Goga Max insole embedded into these golf shoes. Skechers are well known in the trainer industry for the emphasis they place on making shoes as comfortable as possible and this is why the brand are so popular among many golfers.
On testing the GO GOLF Elite 4 Hyper shoe, we were impressed with the level of comfort and stability the shoe offered. While it can be worn year-round, it is designed a winter golf shoe that comes with waterproof protection and a one-year waterproof warranty. On its face, this shoe looks like a robust and highly durable offering that may be a little heavy on your feet, but is extremely light, and delivers excellent grip on the turf thanks to its toothy outsole. It is an excellent model that also comes at a great price and looks fantastic with many of the clothes featured on our best women's golf clothes (opens in new tab) guide.
A stylish golf shoe that we received many compliments on both on and off the course, the FootJoy Women's Links Golf Shoes are a fantastic golf shoe that delivers excellent comfort and high performance. FootJoy are really starting to make a name for itself in the golf shoe industry for the less traditional options it have in their line up and these summer golf shoes are a testament to that. They are a fantastic spikeless golf shoe (opens in new tab) and are made from a plush leather that is very easy to clean. We tested them in both wet and dry conditions and our feet remained dry and comfortable throughout.
The sole delivers excellent grip on the turf and while that perhaps might not be the same traction as some of the best spiked golf shoes (opens in new tab) on the market, it did allow us to plant ourselves nicely and get a good swing through the shot. Your feet will also be well cushioned by this shoe too, which features FootJoy's lightweight PU footbed that gives great support to your heel and the balls of your feet. But most of all, we loved how versatile these casual golf shoes (opens in new tab) were, offering style on the course and on the high-street.
Perhaps one of the best and trendiest summer golf shoes on this list, the adidas Summervent trainer is designed to help keep your feet warm on a hot day, and it does just that. These shoes are made of an air venting mesh fabric that really does allow your feet to breathe. While some mesh fabrics can be quite coarse, the fabric on the Summervent was soft to the skin and made the shoes feel almost feather-light to walk in.
The only downside about that is that the mesh fabric can let water in and can be stained with dirt pretty easily. One other thing to note about this material is that it is made from at least 50 per cent recycled material and that is certainly a refreshing feature about these shoes and proves adidas are one of the best when it comes to producing sustainable golf equipment. Take a look at our review on their recycled women's golf jacket (opens in new tab), a piece that could be styled excellently with the Summervent golf shoe.
Golfers will also not the chunky trainer-style sole that is designed to give great bounce and cushioning in your step as you walk along the fairway. Infact, adidas have incorporated their patented Boost technology, which you'd usually find in their running sneakers, in the sole of this shoe. That offered a lot of comfort and traction with the floor during our round.
The Duca Del Cosma Palazzo golf boot is just one of several new models from the Italian brand's extensive collection of shoes and boots, all of which are designed to keep feet warm and dry in winter conditions.
Featuring an outer cow leather that is exceptionally soft, it also has a faux fur lining around the top of the collar and inside the tongue which immediately gives these boots a stylish and a cosy appearance. Importantly, they are true to size, ultra-lightweight and comfortable to wear straight out of the box over 18 holes.
A premium pair of golf shoes that both looks the part on the course but feels great on your feet. This shoe is designed to add comfort and its massaging footbed inner sole, which is made from memory foam, certainly left us feeling like we were walking on air. But the shoe also gives you great swing support and we felt stable and well balanced as we ripped through our shots. While the shoe gives great support, it also provides great traction off the floor with its spikeless rubber sawtooth sole, providing excellent grip to the floor.
The shoe fitted very well and didn't also feel like it was rubbing on our feet or needed breaking in, despite being made of a synthetic material. On that note, the MG4+'s upper is made of a waterproof material that kept us dry on some very wet days on the course. They were also very easy to clean, but they admittedly didn't provide a lot of ventilation. Despite that, it is perhaps one of the best golf shoes (opens in new tab) on this list.
An impressive, lightweight summer trainer, the Puma Women's Laguna golf shoes are a very trendy addition to this list, that you should definitely consider testing out if you're in the market for a new golf sneaker (opens in new tab) for warmer climates. On first impressions, the Laguna is a very sporty, low-profile trainer, that feels and looks more like a plimsoll when you remove it from the box.
And while you might think their lightweight and thin material makes them slightly less comfortable or stable to wear, their fusion foam heel and forefoot and responsive rubber sole provide a spongey and responsive bedding for your foot. It also comes with a molded heel crash pad that absorbs some of the impact of your stride when walking, which helps to provide greater support to your achiles.
The only downside to this shoe is that its mesh upper is not the most waterproof material, so if you get caught in the rain, your feet will likely get wet. But as above, this shoe is designed for warmer climates and provides excellent grip on the turf thanks in part to the directional lugs on its rubber soles that give excellent traction to the floor. Overall, it is a very impressive golf shoe and stands out as one of the best puma golf shoes (opens in new tab) on the market.
As with many of the shoes that feature in our best Women's golf shoes guide (opens in new tab), the Skechers Women's Go Golf Pro 2 shoe really is a high-quality piece of apparel. Skechers provide some of the most comfortable shoes on the market and the Women's Pro 2 felt amazing over 18-holes. This is down to the Ortholite foam insoles made from five per cent recycled rubber that quite literally mold themselves to your feet.
These shoes are 100 per cent waterproof thanks to their H2GO shield waterproof protection that so many of the trainers in the Skechers range offer. That is also accompanied by the shoes' durable leather upper, which is very easy to wipe clean. The Pro 2 shoes also feature a set of removable spikes on their sole, which means you get the best of both a spikeless golf shoe and a spiked shoe with the Skechers Pro 2. They really are one of the most versatile and comfortable shoes on this list.
The FootJoy Women's Fuel shoes are designed to help improve your distances off the tee. Using their special Power Stabiliser outsoles, the shoes improve your foot's traction with the turf and your stability in your golf swing, giving you a more controlled feel over the golf ball.
The shoe feels well supported and grounded thanks to its synthetic leather upper, which was complemented well by the soft foam insoles that felt soft and sporty as you walk. They are also a very trendy shoe that comes in three different colors (white, navy and gray) and are super easy to clean after a muddy round on the golf course. It is one of the best spikeless golf shoes (opens in new tab) on this list.
A sporty, high-performance golf shoe, the 2022 Flex XP delivers excellent comfort over 18 holes of golf. We were big fans of FootJoy's previous Flex model (opens in new tab) but the 2022 shoe is an excellent upgrade on what is a fantastic summer golf shoe and will add an extra spring to your step. They feel like a running trainer more than a golf shoe but offer the same levels of traction as some of the very best women's golf shoes (opens in new tab).
They are a lightweight, yet waterproof offering, that offer great breathability thanks to the specially designed mesh that aligns the shoe's upper. While you might think that this mesh is not the best for rainy or dusty conditions, we were impressed with how easy it was to brush mud and sand off them. But it was the comfort levels of these shoes that really was a game changer for us.
The sole is so well cushioned and features an EVA midsole that helps to stabilize the foot and give more support as you swing the club. Even in wet conditions, we thought these shoes held their own. But we also loved how comfortable we felt wearing them shoes both on and off the course. Plus they also come with a one-year waterproof warranty, which is a great insurance to have if you regularly play in wet conditions.
Danish company Ecco has done it yet again with its latest iteration of the Biom Hybrid shoe. One of the first things we noticed was the premium feel on offer, with the leather upper and foam inlay delivering out-the-box comfort that is virtually unmatched. It is undoubtedly one of the best golf shoes of 2021 and likely beyond.
Of course, it's also hard to miss the vibrant TPU inserts on either side of the midsole. We love this feature as it strikes a perfect balance when it comes to modern aesthetics that have a broad audience appeal. And the same colors stand out on the outsole.
On the course, the grip of the three-section outsole impressed, while there is good stability on offer where it's needed most: around the midfoot and heel. This gave us a solid base from which to swing from any lie. Should you get caught in the rain, this shoe will keep your feet completely dry and it also comes in a range of colors. All this comes at a price but we think it's well worth it.
Winter Golf shoes don't need to be black, these are a prime example. They are very resilient in post downpour conditions and wipe clean fast, the outer sole gathers grass fast yet doesn't lose any of its impressive traction. They're fully waterproof yet they feel smarter than your average golf shoe. There are three different color ways to choose from and we're a huge fan of the Vanilla/Merlot. They coordinate perfectly with the plum tones of FootJoy's 2022 Autumn/Winter outerwear collection.
The high density Eva Fit-Bed is exceedingly comfortable although your foot may move about initially until properly bedded in. With the rounder toe design, they do offer quite a wide fit. Very smart and suitable for winter golf, yet light enough for Summer action too. A sophisticated all rounder that performs in all conditions.
Puma says that this shoe is for women who take their golf seriously. But we think it's wrong to exclude a host of players who would also enjoy the performance of the Ignite Blaze Pro shoe. For example, in testing we found them to be up there with the most comfortable models we've ever worn. While the leather upper feels slightly stiff, once your foot is secured in the shoe is deceptively comfortable and really holds firm to your feet. This is due to the heel lock window that cups around your heel to lock your foot into the sole of the shoe. That is a great bonus for those looking for a shoe that gives them greater contact points with the ground.
They are also waterproof so will provide full protection should the heavens open and are very grippy thanks to six well-placed spikes on the outsole. In terms of grip, the spikes on this shoe give excellent traction off the ground and are suitable to be worn year-round.
One thing we would say is that the Ignite isn't as stable as some of the other models on this list, but if you want comfort, grip and breathability in abundance, this is a great option. The shoes also come with a one-year waterproof guarantee which is a great addition to an already impressive shoe and is one of the best Puma shoes (opens in new tab) we have reviewed.
Inspired by Puma's popular RS series of shoes, first introduced in the 80s, the RS-G (Running System – Golf) is a combination of sport and street style. The outsole of this trainer-like shoe has a traction pattern with exaggerated and pronounced carbon rubber lugs that are strategically placed in different zones for stability, while the seam-sealed upper makes this shoe completely waterproof.
We found Puma's Fusion Foam cushioning in the midsole and Softfoam sock liner to provide exceptional comfort, even when tackling rough terrain. It's for this reason predominantly that the shoe makes the list. With more and more golfers prioritizing comfort above all else, you'll struggle to find a more suitable shoe than the RS-G. For more comfortable offerings from the brand, check out our best Puma golf shoes (opens in new tab) guide.
This shoe lives up to the reputation FootJoy has created for itself, through its exceptional range of golf shoes (opens in new tab). Making a splash in both the women's and men's spheres, the launch of the Premiere Series was one of the most hotly anticipated in recent memory. Straight away, we loved the overall look as it reminded us of the old FootJoy Classics. And in the white and blue colorway, we were in shoe heaven. Just feeling the leather upper out of the box is enough to know the upcoming experience is going to be an enjoyable one.
In saying this, with a product as classic-looking we did anticipate a blister on the first outing. However, the stability and OrthoLite FitBed ensure the main sensation is one of extreme comfort. When playing, we found the elements on the outsole - lots of multi-directional traction points and seven cleats - delivered grip in all conditions.
This is a spikeless shoe that is extremely light and breathable for women who like to enjoy the walk as much as anything else. But that's not to say they don't perform in other areas. Not only did we like the style on offer but we also found them to be really stable, locking the heel in place throughout the swing. From the EVA footbed and Charged Cushioning midsole, there is loads of comfort on offer and the Never-Wet treatment will keep your feet dry in damp conditions. One thing we would say is that we found this shoe to run a little big in testing so our advice would be to order half a size smaller than normal.