Best Women's Golf Shoes 2023
We take a look at the best women's golf shoes currently available on the market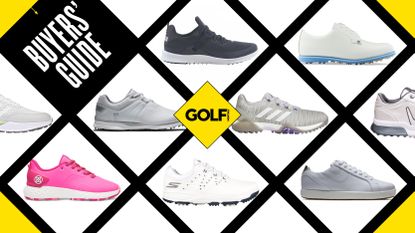 (Image credit: Future)
Best Women's Golf Shoes: Quick Menu
Golf shoes are some of the most underrated pieces of equipment you can purchase for your game, but it's crucial you find the right ones that will last you the full 18 holes. To begin with, they must provide comfort and stability in equal measure and also look great too and brands use an array of technology, materials and styles to enhance their offerings to the paying customer.
Another factor is protection from the elements. What we mean by this is whether or not they are waterproof. Some of the best waterproof golf shoes on the market not only protect your feet from getting wet, but also offer breathability to help in the summer months. The last noteworthy point is grip, something which will allow you to fully commit to all of your tee shots and approaches. Obviously, when it comes to this, the best spiked golf shoes will do a better job than the best spikeless golf shoes, but that's not to say a spikeless model is poor, far from it in fact!
Bearing all of this in mind, we've set out a list below that contains a selection of some of the best women's golf shoes that money can buy. Additionally, if you're looking to kit yourself out with other women's golf equipment, check our guides on the best women's golf clothes and best golf irons for women.
The Quick List
FootJoy Women's HyperFlex Golf Shoe
The HyperFlex is excellent spiked shoe that performs well in all conditions. You are greeted with a locked in yet comfortable feeling when slipping on this stylish pair.
G/Fore Women's Gallivanter Shoes
In the women's version of the Gallivanter, we were impressed with this stylish shoe that performed brilliantly when it came to playing on the course.
Puma Ignite Blaze Pro Shoe
At this price point, the Blaze Pro is a very attractive, modern-looking golf shoe that performs exceptionally well and is suitable to wear year-round.
FootJoy Women's 2022 Pro/SL Shoe
FootJoy have once again produced yet another stunning shoe, the women's Pro SL delivers on both looks and performance making it a top notch spikeless golf shoe.
Adidas Codechaos Women's Golf Shoe
These have quickly become our go-to pair because of the trendy looks and versatile performance. Invest in them and you won't be disappointed.
Duca Del Cosma Giordana Golf Shoe
This is a luxurious shoe and looks great in one all-over color (also available in white) with simple yet classy detailing that provides a modern appearance.
Skechers Go Golf Elite 4 Hyper Shoe
The Elite 4 Hyper shoe is very well made, so highly durable, comfortable, and combined with its simple styling, is a good investment for winter golf.
FootJoy Women's Links Shoes
The styling of the Links is such that they wouldn't look out of place away from the course and they perform on it too, especially in terms of comfort and grip.
Adidas Summervent Women's Golf Shoe
A summer shoe that offers superior trainer-like comfort, the Summervent is incredibly lightweight and designed to keep your feet cool on a warm day.
G/FORE Women's MG4+ Golf Shoes
A brilliant golf shoe, the MG4+ has a cutting edge design, with an innovative footbed inner sole that literally massages your feet as you walk.
FootJoy Women's Flex XP 2022 Shoe
The Women's Flex XP is a lightweight, sporty shoe that delivers on both performance and looks. The mesh upper is stylish, breathable and yet wipes clean easily
Ecco Golf Women's Biom H4 Shoe
The Biom H4 comes at a premium price, but in our opinion this is representative of the shoe's premium quality and performance, so a worthwhile investment.
Callaway Aurora Women's Golf Shoe
We think the Aurora is a thing of beauty. It feels more like a trainer than a golf shoe and has the benefit of being fully waterproof so you can wear it all-year round.
Best Women's Golf Shoes
Why you can trust Golf Monthly Our expert reviewers spend hours testing and comparing products and services so you can choose the best for you. Find out more about how we test.
Spiked
A visually stunning pair of shoes that deliver bags of comfort
Specifications
Sizes : 4-8
Waterproof: Yes
Colors: 2 (Pink; White)
Reasons to buy
+
Lightweight
+
Comfortable
+
Ultra-sporty appearance
Reasons to avoid
-
Fairly bulky looking
-
Unsuitable for winter golf
A stunning golf shoes that bridges the gap between style and performance, the FootJoy Women's Hyperflex is by far one of the best golf sneakers on the market. It boasts an athletic and sleek design that visually will appeal to a range of players. The sporty looks come from its high profile outsole and mesh saddle that comes with a moulded ribbed knit design. It does look a little bulky at first glances but it is really comfortable to wear, delivering added stability and control to help you power through your golf swing.
It has a fairly narrow entrance but we loved how it comes with a nice stretchy tab at the top you can pull back and slot your foot in, akin to a shoe horn. The additional padding around the ankle and heel area of the trainer combines nicely with the StratoFoam cushioning in the midsole which helps to make this one of the most comfortable golf shoes on the market.
We tested these on a wet day on the golf course and are really pleased to say that there was no slippage on the course. Female golfers will enjoy the lateral support on the outsole of the shoe, which combines nicely with the spikes on the outsole to help you really pull through each shot.
G/Fore Women's Gallivanter Shoes
A shoe that oozes class
Specifications
Size: 5.5-7
Waterproof: Yes
Color: 1 (White)
Reasons to buy
+
Comfy inner sole
+
Inner sole is washable
+
Very stylish
Reasons to avoid
-
Sizing comes up very small
This isn't just a stunning full-grain pebble leather shoe that oozes refinement, it's also a traditional look that has been blended well with some bright colors and cool graphics that add an extra element of flair to your outfit.
One great addition we loved was the heart-shaped logo etched into the bright yellow sole of of the shoe and, while we're on the subject of the shoe's sole, let's talk about its grip, which doesn't look like it would offer much traction on the turf. However, we were greatly mistaken as, when we tried on the Gallivanter, we found the shoe's bespoke cleat design gave us the perfect amount of grip to hit long and confident golf shots.
It also features a deep massaging innersole that caresses the foot while you walk, adding to the incredible support and comfort that this shoe provides. That sole is made from a triple-density memory foam sole and, as you navigate your way around the fairways, it's clear to see why this is one of the best G/Fore golf shoes money can buy.
Puma Women's Ignite Blaze Pro Shoes
Delivers a locked-in feel
Specifications
Sizes: 4-8
Waterproof: Yes
Colors: 2 (White, Black)
Reasons to buy
+
Extremely comfortable
+
Great grip
+
Stylish and sporty style
Puma says that this shoe is for women who take their golf seriously, but we think it's wrong to exclude a host of players who would also enjoy the performance of the Ignite Blaze Pro shoe. For example, in testing, we found them to be up there with the most comfortable models we've ever worn.
While the leather upper feels slightly stiff, once your foot is secured in the shoe it is deceptively comfortable and really holds firm to your feet. This is due to the heel lock window that cups around your heel to lock your foot into the sole of the shoe. That is a great bonus for those looking for a shoe that gives them greater contact points with the ground.
They are also waterproof, so will provide full protection should the heavens open and are very grippy, thanks to six well-placed spikes on the outsole. In terms of grip, the spikes on this shoe give excellent traction off the ground and are suitable to be worn year-round. Certainly, these are one of the best Puma shoes we have reviewed.
Spikeless