Best Women's Waterproof Golf Shoes 2023
Our pick of the best women's waterproof golf shoes on the market, keeping your feet dry, warm and comfortable on the wettest of days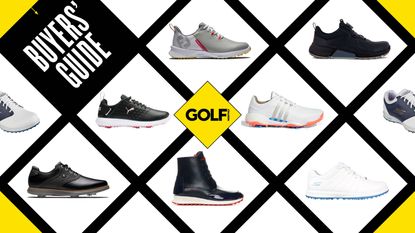 (Image credit: Future)
Best Women's Waterproof Golf Shoes
There's nothing worse than treading the fairways in a pair of golf shoes that leak, leaving your feet cold and uncomfortable on the course. The good news is that there are some cracking women's waterproof shoes out there, with market leader FootJoy among the brands launching innovative new shoes that will ensure you have plenty of choice.
Form and function are particularly essential in the best women's golf shoes (opens in new tab) as they get tested through the most severe weather conditions. Gone are the days when a waterproof shoe would be more rigid and less comfortable on the soles of your feet. Modern designs feature clever waterproofing technologies that seal the shoe from the water seeping in without compromising on comfort.
Comfort is key but so to is connecting with the ground in golf. The best players in the world now measure their ground reaction forces to create performance gains and this has influenced shoe manufacturers heavily in their designs. Golf shoes are increasingly performance-orientated, there's a lot of science in the soles and internal structure to help the foot spread and improve the connection with the turf, aiding balance and helping you feel more powerful. Put simply, your golf shoes can be a performance enhancer!
Let's not forget style, as we ladies love to look fabulous. Taking the high-street to the fairways has never been easier with some of golf's biggest brands producing some excellent styles, from the 'trainer-style' shoe to the 'high-top' boot. There really is now something for everyone! Who said it wasn't possible to co-ordinate your shoes to every outfit? Look great, play great!
To simplify your search, take a look at our selection of the best waterproof women's shoes below but also take a look at our other guides on the best golf shoes for winter (opens in new tab) and the best golf boots (opens in new tab).
Best Women's Waterproof Golf Shoes
Why you can trust Golf Monthly Our expert reviewers spend hours testing and comparing products and services so you can choose the best for you. Find out more about how we test.
Specifications
Sizes: 3-9
Colors: 3 (White and Brown; White; Gray)
Reasons to buy
+
Very stable when hitting full shots
+
Waterproof
+
Extremely lightweight
+
Highly customizable thanks to the MyJoy platform
Reasons to avoid
-
Not as versatile off the course
The FootJoy Women's 2022 Pro/SL Shoe is definitely worth considering if you're looking for a shoe that will provide you with greater stability. They are a comfy and spongy spikeless shoe that can be worn almost all year round thanks to their waterproof leather upper.
These shoes give excellent grip on the turf and thanks to the shoe's new Infinity Outsole which provides 30 per cent more points of traction than its predecessor. Its bouncy Stratofoam midsole cushioning sole also gives excellent support as you traverse the fairways and comes in an array of widths and sizes that make it perfect for golfers of all foot shapes.
But it is the weight of the shoe that really impressed us, and while it may look slightly big compared to some of the lighter sneakers on offer in our best women's spikeless shoe guide (opens in new tab), the Women's Pro/SL shoes are so light that it felt like we weren't wearing anything on our feet. Perhaps the coolest feature about these shoes are the customization options available on FootJoy's MyJoy platform. If the SL's colorways aren't to your tastes, you can use the MyJoy design tool to alter the color of the shoes to make them truly reflect your style.
The premier women's waterproof shoe this season
Specifications
Sizes: 4-8 (inc. half sizes)
Colours: 2 (White/white/pink, Grey/yellow/pink)
Reasons to buy
+
Superior performance
+
Trainer-style comfort
+
Wipes clean easily
Reasons to avoid
-
Not available in dark colours - not ideal in winter conditions
-
No wide fit option
Power is the big buzz word in golf and your feet are the stabilisers of the golf swing that can transfer energy to the ball if you're wearing the right shoes. Step forward the FootJoy Fuel with its new Power Stabiliser outsoles, literally designed for incredible traction and stability to give you the ultimate support and control.
The Fuel looks and feels a lot like a premium pair of trainers. Your foot feels very supported inside these shoes and they're instantly comfortable to wear thanks to the soft Stratolite foam cushioning, genuinely putting a bounce in your step. Keeping the uppers synthetic (rather than leather) is very sensible as it gives that total waterproof protection when you're playing on a rainy day, while also allowing you to easily wipe the shoes clean after a round, so they stay looking like new for longer.
Adidas Tour 360 22 Women's Golf Shoe
A high-performance waterproof women's golf shoe
Specifications
Sizes: 3.5-8.5 (inc. half sizes)
Colors: Two
Reasons to buy
+
Superior foot support
+
Power generation through clever cleat technology
Reasons to avoid
-
Might feel too snug for those with wide feet
It's been nearly two decades since Adidas first launched their ground-breaking Tour 360 shoe design. Such has been the success of this innovative shoe, not only are we still talking about it 17 years on but we're genuinely excited by the improvements.
The 2022 model has literally been designed from the ground up with a special traction system (a pretty set of pink spikes on the sole) that has been designed to help you feel 'locked in' - giving better stability, better traction and amazing comfort. The last (shape) of the shoe has been designed using Adidas's innovative 'Feet You Wear' concept, which mimics the natural shape of the foot, accommodating the natural movements of your foot in all directions in the swing.
That's just two of the fancy technologies packed into the Tour360 22. Add to that a Geofit collar pad, 3D Torsion System, Boost and EVA chasis and Insite sockliner and you've got a pretty incredible shoe. The proof, as they say, is in the performance and we think you'll love how this shoe really cradles and supports your foot. It certainly made an instant impression on LPGA Tour champion Danielle Kang, who said she could 'feel the difference' the moment she put the shoes on. We're sure you will too.
Specifications
Size: 5.5-7
Color: 1 (White)
Reasons to buy
+
Comfy inner sole
+
Inner sole is washable
+
Very stylish
Reasons to avoid
-
Sizing comes up very small
This is a stunning full-grain pebble leather shoe that oozes refinement and a traditional golf look that has been blended well with some bright colors and cool graphics that add an extra element of flair to your outfit. One great addition we loved was the heart-shaped logo etched into the bright yellow sole of of the shoe. While were on the subject of the shoe's sole, let's talk about its grip, which doesn't look like it would offer much traction off the turf.
However we were greatly mistaken, as when we tried on the Gallivanter, we found the shoe's bespoke cleat design gave us the perfect amount of grip to hit long and confident golf shots. We did feel we needed a whole extra size with these shoes to get the best fit to ensure your foot is fully locked into the base of the shoe.
It also features a deep massaging innersole, that caresses the foot while you walk adding to the incredible support and comfort that this shoe provides. That sole is made from a triple-density memory foam sole and that massages your feet as you navigate your way around the fairways. Overall, this is a great all-round golf shoe that features on our best G/Fore golf shoes (opens in new tab).
Specifications
Sizes: 4-7
Waterproof: Yes
Colors: 3 (Black; Blue; White)
Reasons to buy
+
Waterproof protection
+
Very comfortable for easy walking
+
Good choice of colour options
Reasons to avoid
-
Simple styling so some might prefer a more dynamic looking shoe
Having put this shoe to the test, we were enamoured with how comfortable but also lightweight it is. Skechers really have designed a comfortable shoe that will ensure your feet feel as fresh as they did on the first hole right the way through to the 18th green, thanks to the spongey Goga Max insole embedded into these golf shoes. Skechers are well known in the trainer industry for the emphasis they place on making shoes as comfortable as possible and this is why the brand are so popular among many golfers.
On testing the GO GOLF Elite 4 Hyper shoe, we were impressed with the level of comfort and stability the shoe offered. While it can be worn year-round, it is designed a winter golf shoe that comes with waterproof protection and a one-year waterproof warranty. On its face, this shoe looks like a robust and highly durable offering that may be a little heavy on your feet, but is extremely light, and delivers excellent grip on the turf thanks to its toothy outsole. It is an excellent model that also comes at a great price and looks fantastic with many of the clothes featured on our best women's golf clothes (opens in new tab) guide.
Comfort-based waterproof golf shoe for women
Specifications
Sizes: 36-42 (3-8)
Colors: Ombre, White, Limestone & White/Silver Grey (laced option only), Black, White/Silver Grey (BOA)
Reasons to buy
+
Amazing cushioned feel
+
Made from high-quality soft leather
Reasons to avoid
-
BOA lace system not for everyone
Danish company Ecco has done it yet again with its latest iteration of the Biom Hybrid shoe. One of the first things we noticed was the premium feel on offer, with the leather upper and foam inlay delivering out-the-box comfort that is virtually unmatched. It is undoubtedly one of the best golf shoes of 2021 and likely beyond.
Of course, it's also hard to miss the vibrant TPU inserts on either side of the midsole. We love this feature as it strikes a perfect balance when it comes to modern aesthetics that have a broad audience appeal. And the same colors stand out on the outsole.
On the course, the grip of the three-section outsole impressed, while there is good stability on offer where it's needed most: around the midfoot and heel. This gave us a solid base from which to swing from any lie. Should you get caught in the rain, this shoe will keep your feet completely dry and it also comes in a range of colors. All this comes at a price but we think it's well worth it.
Stylish design makes for superb performance
Specifications
Sizes: 36-42EU/ 3-9UK
Colors: : 3 (Black, Cognac, Taupe)
Reasons to buy
+
Practical and comfortable for winter golf
+
Warm and waterproof
+
Modern styling
Reasons to avoid
-
Faux fur styling won't appeal to everyone
The Duca Del Cosma Palazzo golf boot is just one of several new models from the Italian brand's extensive collection of shoes and boots, all of which are designed to keep feet warm and dry in winter conditions.
Featuring an outer cow leather that is exceptionally soft, it also has a faux fur lining around the top of the collar and inside the tongue which immediately gives these boots a stylish and a cosy appearance. Importantly, they are true to size, ultra-lightweight and comfortable to wear straight out of the box over 18 holes.
Specifications
Size: 4-7
Color: 2 (Pink, Stone)
Reasons to buy
+
Stylish
+
Provides great stability
+
Waterproof
+
Great grip
Reasons to avoid
-
Doesn't provide great ventilation
A premium pair of golf shoes that both looks the part on the course but feels great on your feet. This shoe is designed to add comfort and its massaging footbed inner sole, which is made from memory foam, certainly left us feeling like we were walking on air. But the shoe also gives you great swing support and we felt stable and well balanced as we ripped through our shots. While the shoe gives great support, it also provides great traction off the floor with its spikeless rubber sawtooth sole, providing excellent grip to the floor.
The shoe fitted very well and didn't also feel like it was rubbing on our feet or needed breaking in, despite being made of a synthetic material. On that note, the MG4+'s upper is made of a waterproof material that kept us dry on some very wet days on the course. They were also very easy to clean, but they admittedly didn't provide a lot of ventilation. Despite that, it is perhaps one of the best golf shoes (opens in new tab) on this list.
Skechers Women's Go Golf Pro 2 Shoe
Perhaps one of the most comfortable golf shoes going
Specifications
Sizes : 2.5-8
Waterproof: Yes
BOA Option: No
Colors: 4 (Black/White, Charcoal/Pink, White/Navy, Navy/Turquoise)
Reasons to buy
+
Wide range of sizes available
+
100 percent waterproof
+
Super lightweight
Reasons to avoid
-
Can come up small - try on before buying
As with many of the shoes that feature in this best women's waterproof golf shoes guide, the Skechers Women's Go Golf Pro 2 shoe really is a high-quality piece of apparel. Skechers provide some of the most comfortable shoes on the market and the Women's Pro 2 felt amazing over 18-holes. This is down to the Ortholite foam insoles made from five per cent recycled rubber that quite literally mold themselves to your feet.
These shoes are 100 per cent waterproof thanks to their H2GO shield waterproof protection that so many of the trainers in the Skechers range offer. That is also accompanied by the shoes' durable leather upper, which is very easy to wipe clean. The Pro 2 shoes also feature a set of removable spikes on their sole, which means you get the best of both a spikeless golf shoe and a spiked shoe with the Skechers Pro 2. They really are one of the most versatile and comfortable shoes on this list.
Skechers Go Golf Elite Tour SL Women's Golf Shoe
Trainer-like in style with tour-level performance
Specifications
Sizes: 4-7 (including half sizes)
Colors: Gray/Pink, White/Blue
Reasons to buy
+
Comfortable and waterproof
+
Added traction boosts your swing stability
Reasons to avoid
-
Limited choice of sizes and only available in medium fit
When Skechers first entered the golf shoe market back in 2014 it made an instant impression on the ladies game. Our naturally more problematic feet were crying out for a pair of golf shoes that fitted like trainers and most importantly supplied all-day comfort. Fast forward nearly a decade and Skechers Go Golf are now the second best-selling golf shoe for women. We love the wide range of choices in the 2022 range with the sportier Go Golf Elite Tour SL is definitely styled to help you make a statement on the course.
It's a trainer-like shoe that features the same Skechers Goga Max comfort insole and lightweight cushioning as the Elite 4 Hyper (above) but with a bit more added structure (thanks to the use of an Ultra GO material in the midsole) to provide you with a really stable base to hit from. With a whopping 236 points of contact per pair of shoes, you'll really feel the grip with the ground. This was definitely something on the wish-list of LPGA Tour professional Brooke Henderson who will be sporting the Go Golf shoe on the ladies circuit this season.
Under Armour Charged Breathe Women's Golf Shoe
A sporty waterproof golf shoe from athletic brand Under Armour
Specifications
Sizes: 3-7 (inc. half sizes)
Colors: White/Silver, White/Academy
Reasons to buy
+
Noticeably lightweight
+
One-year waterproof guarantee
Reasons to avoid
-
Style won't suit traditionalists
These super sleek golf shoes look like something straight from the space age. We love the silver detail on the microfibre leather upper. They're made to feel really light, super breathable and have a Never-Wet treatment so your feet stay dry even when the ground is covered in dew on your early morning rounds.
The UA Charged Breathe Spike-less has a footbed that's been moulded for complete comfort. This combines with a charged cushioning midsole to ensure that the shoe is comfortable from the first tee to the 18th green.
Excellent traction with the turf comes thanks to UA's rotation resistant outsole. So you'll feel very grounded in your set-up and your foot will be stable and resist twisting as you swing.
At less than £100 they're excellent value-for-money, especially as they come with a one-year waterproof guarantee for that added peace of mind.
A waterproof golf shoe that looks and feels great
Specifications
Sizes: 4-8
Colors: White/High Rise (neon pink)
Reasons to buy
+
Sporty, lightweight comfort
+
A neutral shoe that will go with any outfit
Our final pick in this best women's waterproof golf shoes guide comes from Puma, a brand that has a developed a super-sporty image in golf thanks to the likes of Lexi Thompson wearing the shoes on the LPGA Tour every week. Known for fun and funky color ranges Puma certainly stay true to this with the new Ignite Blaze. Styled in White with High Rise (neon pink) these shoes will look particularly great worn with a summer golf dress.
The nice thing is they're fully waterproof so your feet will stay dry rain or shine. The Ignite Blaze Pro is one of only a handful of shoes in our buyer's guide to be made from a premium full-grain leather upper. Not only does this look luxurious it will also feel super soft across the bridge of your foot and those often problematic toes.
Performance-wise, the shoes have a special 'heel lock', which cups your heel and locks your foot securely into the shoe for great support as you walk and stability as you swing. On the outsole a revolutionary foam provides energy return, responsive feel, stable cushioning and superior step-in comfort. Added to this a really clever Tornado fast twist system cleat gives you excellent traction on all lies the course can throw at you. These shoes are certainly made to last.
How we test golf shoes
Our golf shoe testing methodology (opens in new tab) revolves around putting models to the test over a number of rounds and in different conditions. This is so we can gain a better idea of overall performance in terms of factors like grip comfort, grip, stability, waterproofing and how they actually look on the golf course. Each of the shoes listed above has been personally used by a member of the Golf Monthly team while our writer Katie Dawkins (opens in new tab) heads up all testing on women's golf apparel.
This is the best way of testing a women's golf shoe as using it in the real world over a number of weeks allows us to see how they perform when variables change like weather, ground conditions, different stances and lies, and so on.
We think this also gives us information on the little details as well like which brands come up small or large, which models start to rub a bit too much after 36 holes, which designs can be used off the golf course and for the drive home? We are very comprehensive in our tests to the point where we will regularly attend product launches and meet with the manufacturer's R&D experts to understand the new technology. That isn't to say manufacturers can buy a good review though, as all our reviews are made by golfers, for golfers.
What to consider when buying golf shoes
Golf shoes come in many different shapes and have a ton of different features. From waterproofing outer shells to different grip styles, there is a lot to consider when purchasing your next pair of golf shoes. For that reason, we've put together a list of handy tips that you need to consider when purchasing your next pair of golf shoes. Check them out below
Spiked or spikeless?
The best golf shoes above are split into spiked (or cleated) and spikeless designs and there are pros and cons of each. Spiked golf shoes offer better grip and stability but don't sit as low to the ground as spikeless models.
Spikeless golf shoes offer off-course versatility. They are perfect for driving in the car to the golf course, playing a round, and then driving home again because they are usually light and comfortable, but most won't offer as much traction as a spiked shoe.
Waterproofing
If you live somewhere that gets a lot of rain then a waterproof shoe is a must. The best designs will keep your feet bone dry however if you play golf in glorious sunshine most of the time, then you may view other factors as more significant.
Many players choose to have one pair for winter and another, lighter pair for summer to keep them fresh and suit different requirements.
Getting the right fit
When picking out golf shoes getting the right fit is important because otherwise blisters can build up. Or your feet may slide around inside, which limits your stability.
When trying a pair on for the first time, listen for the 'whoosh' sound when you slide your feet in - that's the sound of all the air leaving the shoe to confirm it is the correct size, but do a walking test to be sure. They shouldn't pinch anywhere, nor should your feet be moving around inside.
When it comes to the right fit it is also worth considering different laces. Normal laces are good for most but for some golfers, BOA laced shoes provide more convenient fastening and shouldn't loosen during the course of a round, but are usually a tad more expensive.
Comfort and support
Similar to getting the right fit, you need to get a shoe that is going to give you ample comfort and support during your round. As you'll be walking a long way in these shoes, it is vital that you get a pair that will give your ankles, feet and knees the best level of support possible. Look for shoes that have padded-out soles and are cushioned on the inside, to give your feet a spongey ride.
Styling
Thankfully modern golf shoe design has seen many brands not just create traditional, classic-looking shoes, but also modern styles that can be used off the golf course too. Therefore it is important to think about what your shoes look like and what style suits you. Whatever you like or dislike, there is something for everyone these days.
Golf shoes come in all shapes sizes. There are so many different options out there to consider and while the best women's waterproof golf shoes are some of the top shoes on the market, there are plenty of other golf shoes you should try before you buy. For example, take a look at our guides on the best golf sneakers (opens in new tab), the best golf boots (opens in new tab) or even the best golf shoes for under $100 (opens in new tab).
FAQ's
How do you keep your golf shoes waterproof?
It's simple, if you want to keep your golf shoes looking and playing like new for longer, then look after them. Make sure you wipe your shoes clean or use a machine to blast the wet debris off your golf shoes after you play and put them somewhere warm to dry. Some waterproof sprays can offer an extra layer of protection but, to be honest, most waterproof golf shoes are so good now that just giving them a clean after you play should suffice.
What is the difference between 'water-resistant' and 'waterproof' golf shoes?
When it comes to golf shoe waterproof protection the material the shoe is made from is key. There are many leather and synthetic golf shoe materials that are water resistant (they will ensure that water struggles to soak through to your socks) so if you're just caught out in a quick shower or the grass is wet from dew or similar they will act as a decent barrier. Waterproof golf shoes, on the other hand, are made from materials that act as a complete barrier to rain. So you can play an entire round of golf in wet conditions and your feet will remain dry. Waterproof shoes tend to come with a waterproof guarantee (1 year is the standard) while water-resistant shoes do not offer guarantees.
What is the difference between mens and women's waterproof golf shoes
In short there is not much difference between men's and women's waterproof golf shoes. This is because all the waterproof technology and design features brands use go into every design of shoe. For example the protection elements used in the adidas Tour 360 22 men's model will also be used in the women's design. The only real difference between the two is that women's shoes tend to come in smaller sizes, and slightly different colors.
How often should I clean my golf shoes?
You should try to clean your golf shoes as often as possible, particularly if you've been out in wet and muddy conditions. Grab a bucket of warm water and a brush and gently remove the debris from the shoes and spikes. If your shoes are wet, you should also give them ample time to dry.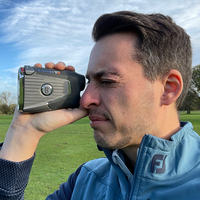 (opens in new tab)
From clubs, balls and tees, to essential sportswear and fitness products, keep it affordable with a little help from our promo and coupon codes.
Carly Frost is one of the golf industry's best-known female writers, having worked for golf magazines for over 20 years. As a consistent three-handicapper who plays competitive club golf at Parkstone and the Isle of Purbeck courses in Dorset every week, Carly is well-versed in what lady golfers love. Her passion for golf and skill at writing combine to give her an unbeatable insight into the ladies game.
Carly's role at Golf Monthly is to help deliver thorough and accurate ladies equipment reviews, buying advice and comparisons to help you find exactly what you are looking for. So whether it's the latest driver, set of irons, golf ball, pair of shoes or even an outfit, Carly will help you decide what to buy.
Over the years Carly has been fortunate to play some of the greatest courses in the world. Her view 'from the ladies tee' is invaluable. She ranks Sea Island, Georgia, USA, where she met her husband, world-renowned golf coach Dan Frost, among her favourite golf resorts. Their aptly-named eight-year-old son Hogan is already hitting the ball as far as Mum and will undoubtedly be a name to watch out for in the future.
Carly is a keen competitor and her list of golfing achievements are vast. She is a former winner of the South West of England Ladies Intermediate Championship, a three-time winner of the European Media Masters and she once beat an entire start-sheet of men to the title of Times Corporate World Golf Champion. She has played for both the Dorset and Surrey County Ladies first teams and is known for her excellent track record at matchplay.
Carly holds the ladies course record (68) at her home club Parkstone and her lowest competition round (seven-under-par 65) was carded in the pro-am of the Irish Ladies Open at Killeen Castle, playing alongside Solheim Cup superstar Anna Nordqvist. Although her current handicap index has crept up to 3.7 since Covid she has her sights firmly set on achieving that elusive scratch handicap and hopefully playing for her country when she's 50.
Carly's current What's In The Bag?
Driver: Callaway Epic Max, 10.5°
Fairway wood: TaylorMade SIM2, 15°
Hybrids: Titleist TS2, 19°, 21°, 24°
Irons: Mizuno JPX900, 5-PW
Wedges: Cleveland RTX, 52°, 56° and 58°
Putter: Scotty Cameron Futura X5
Ball: 2021 Callaway Ladies SuperSoft