Best Women's Golf Clothes 2022
Take a look at some of our favourite women's golf clothes in this buyers guide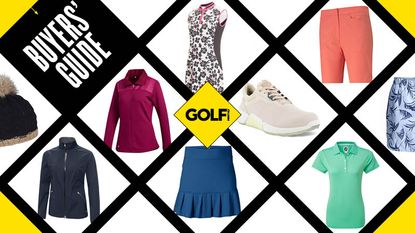 (Image credit: Golf Monthly)
Best Women's Golf Clothes
Golf fashion has come on in leaps and bounds in the women's game over recent years, and the best women's golf clothes are now high in technology with plenty of variety of styles and colors to be had. From the catwalks to the fairways, brands follow trends so they can offer women versatile clothes that can be worn on and off the golf course.
Long gone is a simple pair of shorts or trousers matched with a polo shirt and plain sweater. Instead, we have the best golf tops (opens in new tab), base layers (opens in new tab), short, sleeveless and long-sleeved shirts (opens in new tab), capris, skorts, dresses, gilets, jackets, and so the list goes on. Even jumpsuits have made an appearance in the latest collections.
Women's dress codes at most golf clubs require collard shirt or polo and a pair of non-denim trousers, shorts or a skirt. Of course, many golf clubs have relaxed dress codes and it is worth checking with the club you're playing at if they have a more specific dress code before you go and play. As for shoes, it's the same as men, so no boots, street shoes or sandals, and we'd recommend a specific golf shoe with good grip to help you out on course. Check out our guide on the best women's golf shoes (opens in new tab) for more examples.
Using technologically advanced fabrics, there are many different styles and colors on offer. Below we have put together a list of the best women's golf clothes to help more women perform at their best. We also recommend taking a look at some of our other buying guides such as the best golf accessories (opens in new tab), the best women's golf bags (opens in new tab), or if you are in the market for clubs, the best golf drivers for women (opens in new tab).
Best Women's Golf Clothes
Why you can trust Golf Monthly Our expert reviewers spend hours testing and comparing products and services so you can choose the best for you. Find out more about how we test.
Polo Shirts
FootJoy Women's Cap Sleeve Print Interlock Polo Shirt
Sizes: XS-XL
Colors: 4 (White; Navy; Pink; Blue)

+ Great for warmer temperatures
+ Helps alleviate golfer's tan
- Not a great option if you're looking for sleeves

It's almost a hybrid of a shirt and sleeveless, which many athletic golfers will find very flattering on the arms and will also minimize the golfer's tan somewhat. If you are larger in the arms, then we'd recommend going up a size as the capped sleeve is well-fitted. This will make a great match with FootJoy's Interlock Skort and features the same levels of comfort and practicality you've come to expect from a FootJoy garment. With plenty of colors to choose from, we love the versatility of this polo offering. Why not match it up with a pair of the best FootJoy golf shoes.
Adidas Women's Performance Primegreen Polo
Sizes: XS-XL
Colors: 7 (Pink; Royal Blue; Clear sky; Red; Navy; Black)
+ Lightweight
+ Comfortable
+ Seven stylish color options
- Won't keep you overly warm

Adidas is making waves with its use of recycled materials in its shoes and clothing – this new Primegreen polo shirt being no exception. This shirt was so super light to wear and its moisture-wicking ability meant it was fresh as a daisy after a round or two of golf. The shirt feels soft on your skin and is really comfortable to wear. The stretchiness of the material means you can swing unimpeded and essentially not notice it unless you look in the mirror. Twin it with best Adidas golf shoes (opens in new tab) and you'll look like a professional athlete on the course.
Puma Polka Dye Polo Shirt
Sizes: XS-XXL
Colors: 2 (Red; Green)
+ Subtle yet elegant styling
+ dryCELL technology makes it very comfortable
- V-neck is not great for every player

Spots are a style trend and the all-over polka dot tie-dye design of this Puma shirt makes it an attractive option. One of the best women's golf shirts, we particularly like the open V-neck and the subtle signature PUMA cat patch on the left hip. The stretchy and lightweight material, along with the effect of dryCELL technology makes it comfortable to wear, and at a great price point, this shirt ticks all the right boxes. If you're thinking of grabbing some new PUMA golf gear, you should definitely pick up this shirt, but why not also grab a pair of PUMA golf shoes (opens in new tab) to go with it.
FootJoy Ladies Stretch Pique Solid Polo
Sizes: S-XL
Colors: 3 (Pink; Green; Blue; White)
+ ProDry cooling technology keeps you cool on the course
+ Excellent comfort and freedom of movement
- Maybe a little too lightweight

This polo is designed to offer maximum comfort and freedom of movement during play. With ProDry cooling technology, the garment helps with moisture and feels lightweight too. We particularly liked the four different colors on offer too, each of which offered something a little different.
Sizes: XS-XL
Colors: 3 (Yellow and white; Black and white; Blue and white)
+ A full dress made of stretchy fabric
+ Contoured side panels offer great mobility
- Petal design might be too much for some
If you are a dress convert, then you will love Green Lamb's Eliza dress. It is made in a silky, crease-resistant, stretch fabric with sun protection UPF30+. Whatever your shape and size, the bold floral and butterfly print covers a multitude of sins and combined with contoured side panels; it is a very flattering dress. Other features include removable inner shorts, two pockets for golfing essentials, and a zip neck opening to a mandarin-style collar.
Rohnisch Achieve Polo Shirt
Size: S-XL
Colors: 2 (Blue; Navy)

+ Long sleeves are great for those needing shelter from the sun
+ Provides excellent freedom of movement
- Animal print may not be for everyone

The best women's golf clothes can stand out from the crowd. Take this Rohnisch Achieve long-sleeved polo shirt which features an all-over animal print and therefore an eye-catching on-trend look. It is an ideal base layer and made in a thermo jersey fabric with a brushed inside for warmth. The construction of the sleeves provides complete freedom of movement. See our guide to the best women's golf shirts (opens in new tab) for more excellent options.
Puma Ladies Cloudspun Tropical Polo Shirt
Sizes: XS-XL
Colors: 1 (Grey and white)
+ Fantastic value for such high-quality, soft fabric
+ Looks good and feels comfortable
- Tropical print only available in two color options

The fabric is also exceptionally stretchy, so it is really comfortable to wear. Whilst it has a feminine cut, we noticed that is not particularly skimpy, so this shirt will suit women of all shapes and sizes. The all-over tropical flowery print combines lovely shades of greyish blues on a white background. We love the striking design and come next spring when you can show off this top in its full glory, it will definitely catch the eye and admiration of fellow golfers. It is also very reasonably priced, eye-catching polo shirt that is made in an incredibly soft fabric. Ladies won't be disappointed as the high-quality styling and performance makes you look good, feel good and play better.
Sizes: 6-10
Colors: 3 (Light blue; Dark blue; Papaya)

+ Great fit
+ Freedom of movement
+ Cool colorways
- Shorter cut sleeves feel slightly restricting when swinging
Ping are managing to thrive in the women's golf apparel market and it's garments like this that make me understand why. It manages to make stylish, appealing clothes that look good on all shapes and sizes which is a tricky feat to achieve. One of the reasons I enjoyed playing in this polo was because it had something which is so often missing from women's tops and that is…length! I wore this underneath their mid-layer, tucked in and at no point did I need to re-tuck or feel it coming up when hitting a shot.
The stylish cut also means it's not too long to be worn untucked if desired. The polo features an attractive, discretely blended houndstooth jacquard pattern which for the uninitiated is a type of traditional duotone chequered pattern.
Mid Layers
Sizes: XS-XL
Colors: 3 (Red; Black; Navy)

+ Great styling
+ Excellent material keeps you warm
+ Brilliant pockets
- Not waterproof

Take the chill away in this regular-fit full-zip jacket. The soft and lightweight insulated fabric keeps you warm and you can lock the heat in by drawing the cord on the stand-up collar. The fabric is also stretchy for ease of movement and the top panel at the front has a lovely sheen. It has two zipped pockets and a scooped bottom hem that provides added coverage and gives that little bit of extra feminine style. Why not pair this up with one of the excellent pairs of shoes featured on our best adidas golf shoes guide (opens in new tab).

Galvin Green Adele Waterproof Jacket
Sizes: XXS-XXL
Colors: 5 (Red; Lavender; Orange; Navy; Dahlia)

+ Waterproof jacket
+ Very stylish
+ Lightweight yet durable
- Zips can be hard to open and shut at times

Consider this full-zip jacket from Galvin Green, as it is well worth investing in a high-performing waterproof and windproof jacket that will stand the test of time in adverse weather. It is lightweight, highly breathable and the stretch fabric and shaped sleeves means that your swing is not restricted. Elastic cuffs and an elastic drawstring at the hem allows for a snug fit to keep you completely dry. You can also find a couple of cool Galvin Green hats on our best women's golf hats guide (opens in new tab).
PUMA Ladies Cloudspun Jacket
Sizes: XS-XL
Colors: 5 (Pink; Grey; Red; Navy Blue)

+ Relaxed styling in a choice of colors for a modern look
+ Super easy-to-wear on and off the golf course
- The body does ride up slightly after hitting a shot

The PUMA ladies Cloudspun jacket is a great example of modern athleisure, as it is an ideal mid-layer to wear when the temperature drops on the golf course, or it can just as easily be worn for a visit to the gym or any other leisure activity. If you are looking for a versatile, easy-to-wear jacket that suits a modern-day lifestyle, then this Puma Cloudspun mid-layer is a great value wardrobe essential that will see you through this season on and off the golf course.
Adidas Equipment Recycled Women's Jacket
Sizes: XS-XL
Colors: 1 (Crew navy)

+ Made from recycled materials
+ The color and bomber jacket style are very easy to match with most outfits
+ It can be worn off the course and looks great with jeans
- It felt shapeless worn over only one shirt - as an extra winter layer it fits better

Performance-wise, this jacket is seriously impressive, offering warmth, comfort and plenty of stretch. What's more is that its one of few sustainable jackets on the market right now, being made from recycled materials. While weren't overly enamored by the style of this jacket, after a couple of wears it softens to reveal a very sporty appearance. What makes it even better is the versatility of the top. You can wear this with a pair of Codechaos Shoes (opens in new tab) on the course, or twin it with a pair of jeans if you're planning on heading out to the shops.
FootJoy Women's Full-Zip Lightweight Tonal Stripe Midlayer
Sizes: XS-XL
Colors: 3 (Navy; Bright Coral; Sky; Grey)

+ A great layering piece that is very flattering
+ Super light and easy to swing in
- Very thin layer so may not keep you as warm

I'm a big fan of FootJoy's mid-layers, this one especially is so lightweight and stretchy it makes is a useful bit of kit. The four-way stretch material made swinging in it easy and at no point is it at all restricting. The sizing is flattering. I'd say this top kept me warm enough though I'd expect it to be super useful on a hotter day, maybe a breezy Summer's day. Great layering qualities and thumb holes to keep the wind off your hands. The coral accent on the neck, cuffs and zip of the top sets the navy option off beautifully. The FJ logo in coral on the back of the neck stands out well and you know with FootJoy this is built to last.
FootJoy Women's Full Zip Knit Mid Layer
Sizes: XS-2XL
Colors: 3 (Black; Red; White)
+ Flattering and practical design
+ Nice zip pockets and side panelling
+ Comfortable, versatile and stretchy
- Could be a little thicker

Mid layers are hard to get right. But the FJ Full Zip Mid Layer has fast become one of our favorite garments. It is one of the most comfortable mid-layers we've tested. A marvellous mixture of extra protection and practicality makes it a very versatile top. Some mid layers make you too warm and this is not one of those - the thick material is deceptive as it wicks moisture really well. It's pretty much a perfect women's mid-layer option. We love the colors, styling, practicality and comfort and find it hard to fault it in any meaningful way. Why not combine this with one of the best FootJoy golf gloves (opens in new tab).
Galvin Green Lorene Jacket
Sizes: XS-2XL
Colors: 4 (Black; Pink; White; Red)

+ Extremely luxurious feel and has a flattering cut
+ Super lightweight, yet provides impressive warmth
- The cut only allows for a base layer underneath, so it will only act as a mid-layer during very cold weather
The Lorene jacket is available in navy, black, red, deep pink or blue and is principally designed for women to wear comfortably over a polo shirt or lightweight roll neck for ultimate warmth and breathability during chillier months. The windproof and water-repellent fabric makes this jacket one of the lightest we have felt, it is silky soft to touch with horizontally stitched padding in the body.
It is impossible to fault the quality, style and performance of this jacket, and these qualities, combined with the fact that it will become a wardrobe staple for many years to come, justifies the expensive price tag. Take a look at our guide on the best golf wind jackets (opens in new tab) for more waterproof jackets.
Footjoy Hydroknit Women's Jacket
Sizes: XS-XL
Colors: 2 (Navy; Grey)

+ Lightweight and really easy to swing in
+ 100 per cent waterproof
+ Flattering fit with princess seams
- Limited to 2 fairly safe color choices in this year's offering

A fully waterproof jacket with the feel of a mid-layer, the FootJoy Women's Hyrdoknit jacket is an excellent option for anyone looking for something that's a little more than a mid-layer but is as protective as a waterproof. It is light and easy to swing in and is comfortable to wear. Particularly if you're playing in the autumn or winter months, this jacket comes with excellent features that will keep you dry and protected from the elements.
It has a three-year waterproof warranty too that we certainly didn't turn our noses up at. It also comes with enough room underneath that allows you to fit another fleece, jumper or just a polo shirt too. For more excellent wet weather clothing, check out our best golf waterproof jackets guide (opens in new tab).
Puma Cloudspun WRMLBL Women's Golf Jacket
Sizes: XS-L
Colors: 2 (Black; Navy)

+ Modern styling
+ Ultra comfortable
+ Provides generous warmth
- Limited color options

Puma's Cloudspun WRMLBL jacket is designed to offer warmth and the internal bright orange label that reads "Stay Warm, Enjoy Golf" reaffirms this. This is an ideal jacket to take the chill away, worn over a polo shirt, or equally as a mid-layer during colder weather. As well as providing warmth, the Cloudspun soft fabric with Primaloft Gold quilting is super lightweight, so aside from being comfortable to wear, it's easy to store the jacket in your golf bag.
It has a Dassler-inspired quilted pattern at the front and back and this gives it a modern and stylish look along with the subtle Puma Cat branding at the bottom of the left sleeve. The stretchy side panels provide added comfort, and we like the fact that the zippered side pockets have plenty of room with a soft, brushed lining.
Shorts/Skorts
FootJoy Interlock Print Skort
Sizes: XS-2XL
Colors: 4 (Gray; Navy; Blue; Pink)
+ Great length that isn't too short
+ Match it up with its sister shirt to create a dress-look
- The back pocket can only hold light items

Available in four colors these FootJoy skorts are very comfortable. The intricate pattern is of interlocking design and not too in your face. This subtle design feature offers an extremely flattering appeal, hiding a number of sins.
It sits nicely around the waist and can be pulled up to be higher waisted, flattening the stomach somewhat or if sized up it can sit on the hips depending on the fit you prefer. All in all, it's a well-designed, stylish and comfortable skort. Take a look at our guide on the best golf skorts (opens in new tab).
Sizes: XS-2XL
Colors: 2 (Navy; Pink)

+ Great design and stylish pleated bottom
+ Excellent for mobility
- Only comes in two colors

The Rita skort from Daily Sports - that is available in two lengths - stands out from the crowd because the bottom is pleated, creating a particularly feminine look. It is a pull-on style with inner shorts and made in a jacquard-weave jersey stretch fabric, so you can move freely around the course. Additional features include a concealed in-seam waist pocket and a zipped back pocket for any essentials. While skirts are great for hot summer weather, you may also want to pair this skirt up with one of the excellent shirts featured on our best women's golf shirts (opens in new tab) guide.
Under Armour Links Printed Women's Golf Skort
Sizes: 6-18
Colors: 2 (Blue; Orange)

+ Cool pattern
+ Stretch fabric allows for mobility
- Not the best pockets

This striking skort is exceptionally soft to touch and the four-way stretch fabric allows you to walk and swing a golf club comfortably in every direction. The built in shorts give added coverage and comfort, and there are four convenient pockets and the waistband provides added comfort thanks to inner elastic, which makes for a pleasing fit. Under Armour produce some of the best golf apparel on the market, including their shoes which you can see here.
Puma Pounce Bermuda Ladies Shorts
Sizes: XS-XL
Colors: 8 (Black; Navy; White; Pink; Orange; Blue; Charcoal; Red)

+ Allows for great mobility
+ Very stylish
+ Elastic waistband
- Not the best pockets

Puma's Bermuda shorts are packed with style and thanks to the array of colors, there is a design for any top you have. They feature a half-elastic waistband for added stretch, comfort and unrestricted range of motion. By using an incredibly stretch dryCELL moisture-wicking fabric Puma have been able to produce a short that will enhance your range of motions and quickly wick away any unwanted sweat from your body leaving you more comfortable. A UV-resistant finish has also been applied to protect your skin from the summer sun.
How we test women's golf clothes
Here at Golf Monthly, our testing for women's golf clothes is built upon a comprehensive process (opens in new tab) combined with the knowledge and expertise of the entire Golf Monthly test team, headed up by Katie Dawkins (opens in new tab) and Alison Root (opens in new tab), who lead all female golf equipment reviews. As far as the specific procedure goes, prior to testing, the team will usually attend product launches and meet with the manufacturer's R&D experts to understand the new technology in each item of clothing.
When it comes to testing golf clothes, we head out to the course to each item on over a number of rounds on the UK's best courses. We look to try to use each item in as many different conditions as possible to give us the best feel of how it performs in sun, rain and snow. We think it is vitally important to do both and continue to test the clothes so they have been comprehensively put to the test in many different conditions. It should also be mentioned that manufacturers cannot pay for a good review and we make our conclusions from the testing and our experiences.
What to consider when buying women's golf clothes
There is a lot to consider when purchasing new golf clothes but we have some handy tips on several things you need to look out for to make sure you make the best purchase possible for you.
1. Size
The first thing to consider is the size and fit of the clothes that you're buying. Obviously, you don't want your clothes to be too tight as that will restrict your movement on the course preventing you from playing your best golf. Whatever piece of clothing it is, pick a size that looks good, isn't too loose fitting, but also gives you a full range of movement.
2. Colors
As golf styling is becoming more modern, brands are designing clothes that have a wide variety of colors, designs and fabrics that suit every golfer. From bright colorways to traditional patterns, there are plenty of colors available to you, so pick the one you like the most.
3. Mobility
This is a vital consideration for any golfer as if you're constricted in your mobility then you're going to struggle to perform a full swing. Look for clothes that aren't too tight-fitting, but are also made of stretchy fabrics that can expand with your movements. One good thing to keep an eye out for is t-shirts and mid-layers that have panels on the sides that help you stretch up and down with the arc of your swing.
4. Breathability
Particularly if you're playing in warmer climates, having shirts, mid-layers and jackets that are breathable and keep you feeling fresh and aerated on the course are important to helping you stay cool and play your best golf. There's nothing worse than being hot and uncomfortable during your round, so for that reason, look to buy clothes that can keep you cool on the course.
5. Waterproofing
You never know when you'll get rain, snow or sun on the golf course, so it's always best to plan ahead to ensure you're ready to play in any condition possible. For that reason, buy clothing that is durable and resistant to the elements. Especially if you're purchasing a jacket or a mid-layer, look to buy clothing that is water resistant and can provide you with ample protection from the elements.
Some of the best golf clothes (opens in new tab) on the market provide players with a stylish look have practical features that can be used on the golf course. For more advice on what to wear on the course, take a look at our guides on the best women's golf polos (opens in new tab), best women's golf pants (opens in new tab) and the best women's golf shirts. (opens in new tab)
FAQs
What should you not wear when golfing?
While golf dress codes are being somewhat relaxed, there are still a few big no-no's that you shouldn't wear on the course. Some of those include denim shorts and jackets, jeans, cargo shorts, flip flops, vests or tank tops.
Do I have to tuck my shirt in for golf?
No, you don't always have to tuck your shirt in. Some traditional courses may demand it as part of their rules, but the majority of courses will not mind. If in doubt, check the local club rules before you play.
Are leggings okay to wear when playing golf?
Wearing leggings is generally considered okay to wear at most golf courses. You may not be able to wear them at some traditional golf courses, but generally they are considered to be acceptable golfing attire by most clubs.