Best Women's Golf Clothes 2023
Take a look at some of our favorite women's golf clothes in this buyers guide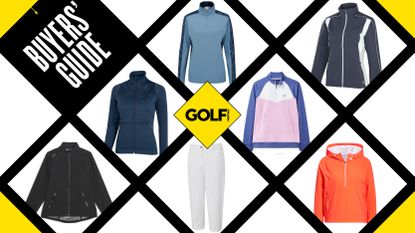 (Image credit: Golf Monthly)
Best Women's Golf Clothes
Golf fashion has come on in leaps and bounds in the women's game over recent years and the best women's golf clothes are now packed full of technology with plenty of variety, styles and colors to be had. From the catwalks to the fairways, brands follow trends so they can offer women versatile clothes that can be worn on and off the golf course. Long gone is a simple pair of shorts or trousers matched with a polo shirt and plain sweater. Instead, we have the best golf tops, best golf base layers, best golf shorts, pants and dresses, gilets, jackets, and much, much more. Even jumpsuits have made an appearance in the latest collections.
Women's dress codes at most golf clubs require collard shirt or polo and a pair of non-denim trousers, shorts or a skirt. But of course, many golf clubs have relaxed dress codes and it is worth checking with the club you're playing at if they have a more specific dress code before you go and play. As for shoes, it's the same as men, so no boots, street shoes or sandals, and we'd recommend a specific golf shoe with good grip to help you out on course. Check out our guide on the best women's golf shoes for more great examples.
Using technologically advanced fabrics, there are many different styles and colors on offer. Below we have put together a list of the best women's golf clothes to help more women perform at their best. We also recommend taking a look at some of our other buying guides such as the best golf accessories, the best women's golf bags, or if you are in the market for clubs, the best golf drivers for women.
Best Women's Golf Clothes
Why you can trust Golf Monthly Our expert reviewers spend hours testing and comparing products and services so you can choose the best for you. Find out more about how we test.
Polo Shirts
Original Penguin Women's Long Sleeve Color Block Polo Shirt
Sizes: XS-XL
Colors: 2 (Bright White, Black Iris)
+ Sustainable Option made from recycled materials
+ Moisture wicking makes it great for layering
- Side detailing can make look unflattering
A beautifully fitted top and one perfect for layering up this winter. The material is super stretchy and fits to your shape, it also wicks moisture so will keep you at an optimum temperature.
This is a sustainable option (something brands like Adidas were early to the party with) as it's made up from 40% plastic bottles so you're doing your bit environmentally on this one. What's more, we though that the collar is super smart and the detailing on the bust area is really flattering. As this goes lower the white on the black iris colorway shows any lumps and bumps and, with the fit, we would recommend going up a size.
Ping Zenya Long-Sleeve Top
Sizes: 6-20
Colors: 3 (Black Multi, Purple Plum Multi, Stone Blue Multi)
+ Useful layer
+ Exceptionally soft fabric
- Might not like pattern
Ping's Zenya long-sleeve top is designed in three seasonal colors – black multi, purple plum multi, and stone blue multi - It has an eye-catching pattern on the side and sleeve panels, as well as inside the collar, with the top really complementing Ping's Lola reversible vest, which has the same all-over pattern on one side.
An embossed silver Ping logo on the right shoulder is also a nice touch, with another big positive being that the fabric is extremely soft and noticeably stretchy. We liked the half zip because, depending on the weather, you can use this to help regulate your body temperature. While this top feels very comfortable over 18 holes and will come in very useful during the autumn/winter season, it's fairly loose fitting, so if you prefer a more fitted top, we would suggest down-sizing.
Galvin Green Ladies Malena Golf Polo Shirt
Sizes: XS-XXL
Colors: 2 (Cool Gray/Coral/White, Navy/White/Blue Bell)
+ Exceptionally comfortable
+ Good quality and eye catching design
- Only two color options
The Malena polo shirt in cool gray/coral/white surprisingly looks so much better on than off! Probably best worn tucked in, it's a loose-fitting shirt, but really nicely styled with open end sleeves and side panels that give it a sporty and relaxed appearance. The stretch fabric, which also offers UV protection 20+, is incredibly fine and light, and feels soft against the skin, so you couldn't ask for a more comfortable shirt to play golf in.
It has a three-button placket, and the only other notable detail is 'Galvin Green' embossed on the back of the tailored collar. The colorway and all-over pattern are unusual and, while this shirt won't suit everyone, it will definitely draw positive attention. Another plus is that it's machine washable and quick-dry, so low maintenance.
Macade Women's Kayla Air Sleeveless Top
Sizes: XS-XL
Colors: 3 (White, Sage, Instaria print)
+ Chic stying
+ Versatile
+ Alternative to a normal sleeveless shirt
- Clever bra choice is needed
This is a gorgeous top and extremely chic with a beautiful mock neck and racer back design. The colors of the Macade range are beautiful. The sage green in this is my favorite. The material is quite easily wrinkled and any spills (this had a hit of coffee) are hard to shift without washing it. It feels very decadent and up market, fabric that you'd find in Reiss garments. But do not be fooled… this feels super delicate yet thanks to being Nylon and Viscose it washes like an absolute dream.
The fabulous thing about these beautiful pieces is that you could wear this sweater and the Macade Joggers with heels and have yourself a killer going "out out" get up. I'd definitely size up on this top as the color and material begs to be a bit more generous in fit. It is one of the smartest looking tops around that delivers lots of comfort, style and breathability and is certainly one of the best women's golf shirts on the market right now.
Ping Women's Iona Polo Shirt
Sizes: UK 6-20
Colors: 4 (Black Multi, White Multi, Flamingo Multi, Laguna Multi)
+ Excellent fitting shirt
+ Comfortable material
- Print might not suit everyone
Ping are one of the most exciting and impressive golf brands in the game, designing and building some of the best golf irons and best golf drivers on the market. And while the brand are so well known for their clubs, they have also started to branch out into the apparel market, to produce some of the best golf clothing on the market including the Iona polo shirt that comes in four print designs. We tested the Laguna Beach print that comes with textured aqua tones and a contrasting hot Flamingo pink that makes for an extremely eye-catching shirt. The pattern is vibrant and cool, and is certainly a winner for any golfer looking to make a statement on the course.
It's made in a polyester and elastane mix incorporating PING's SensorCool technology for moisture management, which means this lightweight and stretchy shirt allows you to swing freely.
FORELSON Stow Sleeveless Polo Shirt
Sizes: XS-XL
Colors: 3 (Coral, White, Navy)
+ Luxurious feel
+ Easy to move in
- Not a great option if you prefer sleeves
A great golf polo shirt for warmer climates, the FORELSON is a new brand for spring/summer 2023 and includes the Stow Sleeveless polo shirt. It forms part of the collection's navy/orange combo and offers up a very breathable and mobility enhancing top that we loved playing in. It is certainly a summer golf shirt that we figured would make a great option if you're planning on going on a golf trip.
The silky-smooth fabric is impressive, and while it feels slightly thicker compared with other shirts on the market, the quality is first-class and is satisfyingly lightweight and stretchy, so it doesn't restrict your swing. It also provides UPF50 sun protection and the mesh panel down the spine, as well as around the front of each armhole, not only makes this shirt highly breathable, but adds to its attractive design. Pair this up with one of the best golf skorts and you'll have a great combo that looks fantastic on the golf course.
FootJoy Women's Cap Sleeve Print Interlock Polo Shirt
Sizes: XS-XL
Colors: 4 (White, Navy, Pink, Blue)

+ Great for warmer temperatures
+ Helps alleviate golfer's tan
- Not a great option if you're looking for sleeves

It's almost a hybrid of a shirt and sleeveless, which many athletic golfers will find very flattering on the arms and will also minimize the golfer's tan somewhat. If you are larger in the arms, then we'd recommend going up a size as the capped sleeve is well-fitted. This will make a great match with FootJoy's Interlock Skort and features the same levels of comfort and practicality you've come to expect from a FootJoy garment. It's made with an interlock stretch fabric which delivered bags of comfort and did not restrict our movement.
Adidas Women's Performance Primegreen Polo
Sizes: XS-XL
Colors: 7 (Pink, Royal Blue, Clear Sky, Red, Navy, Black)
+ Lightweight
+ Comfortable
+ Seven stylish color options
- Won't keep you overly warm

Adidas is making waves with its use of recycled materials in its shoes and clothing – this new Primegreen polo shirt being no exception. This shirt was so super light to wear and its moisture-wicking ability meant it was fresh as a daisy after a round or two of golf. The shirt feels soft on your skin and is really comfortable to wear. The stretchiness of the material means you can swing unimpeded and essentially not notice it unless you look in the mirror. Twin it with best Adidas golf shoes and you'll look like a pro!
Puma Ladies Cloudspun Tropical Polo Shirt
Sizes: XS-XL
Colors: 1 (Grey/White)
+ Fantastic value for such high-quality, soft fabric
+ Looks good and feels comfortable
- Tropical print only available in two color options

The fabric is also exceptionally stretchy, so it is really comfortable to wear. Whilst it has a feminine cut, we noticed that is not particularly skimpy, so this shirt will suit women of all shapes and sizes. The all-over tropical flowery print combines lovely shades of greyish blues on a white background. We love the striking design and come next spring when you can show off this top in its full glory.
Mid Layers
Galvin Green Darlena Insulating Mid Layer
Sizes: XS-XXL
Colors: 2 (Cool Gray/White, Navy)
+ Exceptionally warm
+ Stylish design
- Recommend opting for navy if you prefer subtle logos
The Darlena is described as a mid-layer, but with a full zipper. In testing, we found that it can easily be worn over a long-sleeve shirt, as a jacket, in autumnal weather because it is surprisingly much warmer than you first think thanks to the padding on the chest and back.
Along with the padding, the collar is also lightly padded for extra coziness and, overall, the fabric is soft and stretchy so there's no bulk. Aesthetically, its shape and two-tone color styling (also available in all-over navy) gives it a luxurious look and feel, as you would expect in this price category. It also has a flattering silhouette especially around the waist, and there's a nicely concealed zippered pocket on each side. For this color option, there's a Galvin Green logo on the right arm and Galvin Green is printed vertically on the lower back, which might not be to everyone's taste.
FootJoy Women's Full-Zip Fleece
Sizes: XS-XL
Colors: 2 (Black, Peach)
+ Unusual design is eye catching
+ Can act as a waterproof layer
- Asymmetrical zip may be off putting to some
This fleece performed brilliantly out on the course and offered excellent thermal properties. Such was the performance, we would also trust this in some fairly moderate rainfall as, in testing, when caught out a few times wearing this walking and playing, it kept us bone dry. Because of this, we believe that it will be one of those items that you use a lot. Something that will go with everything.
Looks wise, it didn't blow us away and our tester did have slight trouble with the asymmetry of the zip, which we know will divide opinion. However, we did think the pockets on the fleece are lovely and deep and we could swing really freely in it. Lastly, with just two color options, it will vary on tastes, but we think the peach one stood out more, with a pop of colour and interesting design a winner.
Crew Clothing Women's Chevron Golf Sweatshirt
Sizes: 6-18
Colors: 1 (Blue/Pink)
+ Comfortable fit
+ Relaxed yet smart, with an eye-catching design
- Only one color combination
Crew is still relatively new to the golf market, with the Chevron sweatshirt a new addition this season. The fabric is really soft and smooth, but the first thing we noticed was it felt slightly weighty, although this is not a negative, as the deep ribbed hem detail at the bottom and the cuffs helped to provide an overall comfortable and flattering fit.
We also loved the block color combination of blue, pink, and white; a half zip gives you the option to allow your neck to breathe, plus the two Crew logos are sensibly subtle. This is not a sweatshirt in the traditional sense, other than the kangaroo pocket at the front, which we found to be a cozy place to warm both hands. If you like the color, this will be a very practical and stylish addition to your wardrobe.
Pure Golf Sorrell Cable Knit Jumper
Sizes: XS-XXL
Colors: 7 (Lilac, Navy, Champagne, Black, Tourmaline Blue, Clementine Orange, Pink Topaz)
+ Warm and comfortable
+ Fantastic choice of colors
- Design and pattern won't suit everyone
As soon as you pick up Pure Golf's Sorrell jumper, you can tell it's going to keep you warm thanks to the quality of the yarn and the inside silky-to-touch lining. It has a classic design with cable knit sleeves and a diamond pattern on the front and back. We particularly liked the ribbed hem, cuffs, and neckline, as well as the ribbed pattern effect that runs down the middle on either side of the quarter zip, as these details give the jumper an overall smart appearance.
It's true to size, and the ribbed hem allows it to sit neatly without any gapping. There are many things to like about this jumper; it's perfect to throw on for winter golf and, with 7 different color options to choose from, there's a shade to suit everyone.
FootJoy Full-Zip Lined Sweater
Sizes: XS-XL
Colors: 3 (Red, Heather Grey, Charcoal)
+ Great colour choices
+ Windproof and water resistant
+ Washes extremely well
- Might look a little too traditional
This is one of my go to staple outer layers. I've worn it so many times when it's not been cold enough for an actual jacket. Thanks to the shell lining this top keeps the wind out and the odd shower, so I've been caught in. It's amazingly breathable also yet you don't get too hot. A brilliant option on a slightly cooler evening. I actually have this in a couple of different colors, the red is one of my favorites. On the hanger the shape isn't particularly appealing once on its extremely flattering. I love the knitted cuffs. If you are partial to pulling up your sleeves when you're about to really hit it like you mean it, then these sleeves do this brilliantly. Sometimes lined tops can mean less stretch and movement but this top is extremely manoeuvrable.
Macade Women's TR Tour Mock Neck Top
Sizes: XS-XL
Colors: 2 (Grey, Slate)
+ Casual looking top
+ Striking design
+ Very Flattering
- Worth sizing up
The fabric has a very expensive feel to it and it and it is beautiful on. I feel the Macade range is made for the athletic figure yet when you look on the website the model who wears this actually has sized up and is in a medium. Great to know and I will definitely be adding some Macade into my golfing wardrobe. And my going out wardrobe for that matter. This top is great over a skort or low waisted hipster trousers, it will hug the top of a mid waist so if you're not into hugging I'd recommend sizing up. It's just as beautiful in a size larger than you'd usually take. I spilt coffee on this sweater before I'd even taken the labels off. It washed out so easily and the top actually looks even better after the first wash. Easy care with a delicate appearance. What's not to love.
Ping Women's Oria Mid-Layer
Sizes: UK 6-20
Colors: 3 (Navy/Laguna Multi, Flamingo/Flamingo Multi, Black/White Multi)
+ Attractive, modern styling
+ Extremely lightweight
- Would have to be worn with additional layers in colder weather
Described as a mid-layer, Ping's Oria from the Laguna Beach collection, can easily be worn as an ultra-lightweight summer jacket with its two-way front zip, complementing the Iona polo shirt, which has the same print. The fabric, a polyester and elastane mix that features Ping's SensorCool technology to keep you cool and dry whatever the weather, is extremely soft to touch, which gives it a luxurious feel and the stretch provides complete freedom of movement. A dropped back hem, shaped cuffs, and a good overall length, combine for a flattering and comfortable fit. It is also crease resistant and quick-drying too, making it a perfect seasonal jacket.
Puma Womens YouV Cloud Quarter Zip
Sizes: UK 10-16
Colors: 3 (Orchid Shadow, Navy Blazer, Day Dream)
The first thing that struck me about this log-sleeve polo is how lovely and light it was to wear. The fabric has a luxurious quality feel that's delicate against the skin and super soft to touch. So light, in fact, that you hardly notice you are wearing it. This is ideal on both warm days or a cooler day if you like to wear long layers. The shape of the polo is perfect for golf, it is fitted yet flowing, allowing total swing freedom and doesn't sag or bag around the waist when you putt. The 1/4 zip closure allows you to wear the zip a little down to stay cool and refreshed. Don't let the name "cloud" fool you; this polo is perfect for the sunniest days. What's impressive is that there's in-built hidden UPF 50+ sun protection built into the fabric - hence the clever, twist on the name 'YOU-V'. I absolutely love the mottled pink pattern there are three other fantastic color choices.
Puma Ladies Cloudspun Jacket
Sizes: XS-XL
Colors: 5 (Pink, Grey, Red, Navy, Blue)
+ Relaxed styling in a choice of colors for a modern look
+ Super easy-to-wear on and off the golf course
- The body does ride up slightly after hitting a shot
Puma is one of the best brands when it comes to producing stylish and modern golf gear. The Puma ladies Cloudspun jacket is a great example of modern athleisure, as it is an ideal mid-layer to wear when the temperature drops on the golf course, or it can just as easily be worn for a visit to the gym or any other leisure activity. If you are looking for a versatile, easy-to-wear jacket that suits a modern-day lifestyle, then this Puma Cloudspun mid-layer is a great value wardrobe essential for all seasons.
Adidas Equipment Recycled Women's Jacket
Sizes: XS-XL
Colors: 1 (Crew Navy)
+ Made from recycled materials
+ The color and bomber jacket style are very easy to match with most outfits
+ It can be worn off the course and looks great with jeans
- It felt shapeless worn over only one shirt - as an extra winter layer it fits better
Performance-wise, this jacket is seriously impressive, offering warmth, comfort and plenty of stretch. What's more is that its one of few sustainable jackets on the market right now, being made from recycled materials. While weren't overly enamored by the style of this jacket, after a couple of wears it softens to reveal a very sporty appearance. What makes it even better is the versatility of the top. You can wear this with a pair of Codechaos Shoes on the course, or twin it with a pair of jeans if you're planning on heading out to the shops.
FootJoy Women's Full Zip Knit Mid Layer
Sizes: XS-2XL
Colors: 3 (Rose/White, Jade Stone/White, Heather Blush Pink)
+ Flattering and practical design
+ Nice zip pockets and side panelling
+ Comfortable, versatile and stretchy
- Could be a little thicker
Mid layers are hard to get right. But the FJ Full Zip Mid Layer has fast become one of our favorite garments. It is one of the most comfortable mid-layers we've tested. A marvellous mixture of extra protection and practicality makes it a very versatile top. Some mid layers make you too warm and this is not one of those - the thick material is deceptive as it wicks moisture really well. It's pretty much a perfect women's mid-layer option.
We love the colors, styling, practicality and comfort on offer here and found it hard to fault it in any meaningful way. Why not combine this with one of the best FootJoy golf gloves or one of the best FootJoy golf shoes.
Abacus Kinloch Mid Layer Jacket
Sizes: XS-XXL
Colors: 5 (Black/White, White/Black, Turmeric, White Iris, Navy/White)
+ Lightweight
+ Comfortable fit
+ Versatile layer
- White sleeves are not the easiest to keep clean
What you first notice about the Kinloch mid layer jacket from Abacus is the stretchy and soft-to-touch fabric, which has a lightly brushed feel on the inside for extra warmth. There are 5 colour options to choo