Most Comfortable Golf Shoes For Women 2023
We run through some of the most comfortable golf shoes currently on the market for women golfers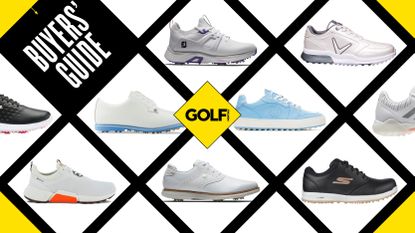 (Image credit: Golf Monthly)
Get the Golf Monthly Newsletter
Thank you for signing up to Golf Monthly. You will receive a verification email shortly.
There was a problem. Please refresh the page and try again.
We all relish that wonderful feeling of slipping our feet into a really comfortable pair of shoes, whether it's a pair of padded trainers, a soft, spongy flip-flop or a fancy set of heels that have been cleverly designed with hidden support and padding to make a night out of dancing or dinner infinitely more enjoyable (and manageable). Until recent times the golf shoe has lagged shamefully behind in the design department and simply not catered to our female feet. So what are we looking for in out of the best women's golf shoes?
First and foremost it's comfort and that means looking at the longevity of the support for 18-holes, round after round. Taking into account the typical women's complaints like bunions. Then there's the style of the shoe, because we want to look fashionable and feel feminine on the course. Where in the past we were simply sold a 'female version' of say the most comfortable men's golf shoe, women's golf shoes are assuredly more feminine nowadays and designed to suit the shape and style of our feet in a range of width options. Not only will your shoes then feel great, but look great when paired alongside some of the best women's golf clothing. This handy buyer's guide should hopefully help you identify some of the key criteria to consider before you make your purchase.
The Quick List
Most Comfortable Golf Shoes For Women
Spiked
We are huge fans of the Hyperflex golf shoes from FootJoy. The men's and Carbon versions tested extremely well and so did the women's model too. It boasts an athletic and sleek design that visually will appeal to a range of players. The sporty looks come from its high profile outsole and mesh saddle that comes with a moulded ribbed knit design. It does look a little bulky at first glances but it is really comfortable to wear, delivering added stability and control to help you power through your golf swing.
The additional padding around the ankle and heel area of the trainer combines nicely with the StratoFoam cushioning in the midsole which helps to make this one an unquestionable inclusion in this guide.
We tested these on a wet day on the golf course and are really pleased to say that there was no slippage on the course either. Women will enjoy the lateral support on the outsole of the shoe, which combines nicely with the spikes on the outsole to help you really pull through each shot.
G/Fore Women's Gallivanter Shoes
If you are a woman who wants to take their golf style to the next level then the Gallivanter's from G/FORE are definitely a model to consider. This isn't just a stunning full-grain pebble leather shoe that oozes refinement, it's also a traditional look that has been blended well with some bright colors and cool graphics that add an extra element of flair to your outfit. (Also we love the small details on this shoe - the heart-shaped logo etched into the sole of of the shoe for example).
Speaking of the sole, the grip was excellent. The outsole design doesn't look like it will offer significant traction but we were wrong. We found the shoe's bespoke cleat design gave us the perfect amount of grip to hit long and confident golf shots.
It also features a deep massaging innersole that caresses the foot while you walk, adding to the incredible support and comfort that this shoe provides. That sole is made from a triple-density memory foam sole and, as you navigate your way around the fairways, it's clear to see why this is one of the best G/Fore golf shoes money can buy.
FootJoy Women's Traditions Golf Shoe
One of the more traditional-looking golf shoes on this list, the FootJoy Traditions golf shoe is an iconic golf shoe that is one of the best women's FootJoy golf shoes on the market. In recent years, manufacturers have gone more towards creating trainer-like and sporty looking shoes like the FootJoy women's Hyperflex above, but this shoe, as the name suggests, stays true to the traditions of golf.
The shoe offers up a premium look with its classically styled stitching which brings with it an unfussy and elegant design. In terms of performance, they are seriously lightweight and being made of leather, we were very impressed with the comfort on offer here too. The soft collar and moulded bed cushioning go a long way in helping your foot feel secure and comforted inside the shoe. It's a snug fit but offers up total support.
We should note that the shoe comes in several colors and it also comes as a cleated, or non-cleated version too.
Puma Women's Ignite Blaze Pro Shoes
Puma says that this shoe is for women who take their golf seriously and in our testing, we found them to be up there with the most comfortable models we've ever worn.
While the leather upper feels slightly stiff, once your foot is secured in the shoe it is deceptively comfortable and really holds firm to your feet. This is due to the heel lock window that cups around your heel to lock your foot into the sole of the shoe. That is a great bonus for those looking for a shoe that gives them greater contact points with the ground.
They are also waterproof, so will provide full protection should the heavens open and are very grippy, thanks to six well-placed spikes on the outsole. In terms of grip, the spikes on this shoe give excellent traction off the ground and are suitable to be worn year-round. Certainly, these are one of the best Puma shoes we have reviewed.
Spikeless
The adidas Codechaos is unlike anything else on the market as it offers a unique look that we are huge fans of. It ranks as one of the best adidas golf shoes on the market and, performance-wise, there is a unique Twistgrip spikeless outsole with special lug shapes that gave us plenty of grip whatever the conditions.
The comfort was also outstanding thanks to the BOOST cushioning which really gave us a light and springy feel underfoot. We played in them all day and didn't feel the strain on our feet which can occur with new golf shoes.
The multi-layer mesh upper also makes them durable and breathable while providing full protection from the elements, and we particularly love the splash of coral on the side and sole of the shoe that's quickly become a go-to of ours. (A quick note is we have not tested the latest version of the Codechaos shoes but we are looking to rectify this in the not too distant future). That being said, they will have to perform very well indeed to knock the previous model off this guide.
Duca del Cosma Giordana Golf Shoe
Our final pick in the style section of this guide is the Giordana from Duca del Cosma, a model we are confident can be used on and off the course. Visually, this shoe comes with a very eye-catching design that will suit anyone looking for one of the best casual golf shoes on the market. It comes in two colors, a light blue shade or an all-white color and boasts a premium look thanks to the high-quality Italian Nappa leather on the upper.
The sleek and modern profile really delivers an athletic look and they could be easily mistaken as a lifestyle shoe. So how did we find them on the course? We noticed first that these shoes are seriously lightweight and once we put them on and took them for a spin, the comfort became clear quickly as well. Looking closely, this is due to the ARNEFLEX memory foam that has been inserted into the sole of the shoe that helps to deliver superior comfort.
Overall, this is a fantastic shoe that delivered plenty of performance and grip from a variety of lies. You should certainly grab a pair if you're looking for style and comfort in your golf shoes.
Ecco Golf Women's Biom H4 Shoe
As usual with Ecco golf shoes, we couldn't not include a model from the Danish brand when talking about comfort. Right out of the box the comfort is right at the top of the market thanks to the leather upper and foam inlay, whilst there is a premium feel to the shoe as well. They are roomy with ample cushioning underfoot and we particularly liked the soft padding around the ankle area.
Of course, it's also hard to miss the vibrant TPU inserts on either side of the midsole, and we loved this feature as it strikes a perfect balance when it comes to modern aesthetics that have a broad audience appeal.
Out on the course grip was solid too. Stability is provided where it's needed most, around the midfoot and heel, and this gave us a solid base from which to swing from any lie. Finally the shoes are completely waterproof which is a must for any golfer and there are five cool colors to choose from.
Callaway Aurora Women's Golf Shoe
These Callaway Aurora Women's golf shoes are some of the best golf shoes for wide feet, with their sporty, lightweight high-shock absorption design, offering the type of athletic support you'd expect from a really decent pair of comfortable running shoes.
In testing, we loved that the Aurora has a high back, which gives extra heel support where you need it as you walk and swing, yet unlike shoe designs that been tested this year, the back is not rigid. It's made from an 'Opti-soft' foam material that has plenty of give, so there's very little chance that these shoes will rub and give you blisters.
The Auroras are fully waterproof and also have a mesh liner allowing your feet to breathe, so they won't get hot and sticky on a warm day. They also feature in multiple color choices, meaning there should be something for everyone.
Skechers GO GOLF Elite 4 Hyper Shoe
Having put this shoe to the test, we were enamored with how comfortable and lightweight the Elite 4 is, with Skechers designing a comfortable piece of footwear that will ensure your feet feel as fresh as they did on the first hole right the way through to the 18th green.
The technology used is a spongy Goga Max insole that is embedded into these golf shoes. The company are well known in the trainer industry for the emphasis they place on making shoes as comfortable as possible, and this is why the brand are so popular amongst many golfers.
In testing, we were also impressed with the level of stability the shoe offered. Whilst it can be worn year-round, it is designed to be a winter golf shoe that comes with waterproof protection and a one-year waterproof warranty. On its face, this shoe looks like a robust and highly durable offering that is extremely light. It also delivers excellent grip on the turf thanks to its toothy outsole.
How we test
When it comes to testing golf shoes, especially for comfort, Golf Monthly has a strong testing procedure that revolves around putting them to the test over a number of rounds and in a variety of different conditions. Our female staff will often play multiple rounds in one day in the same shoe to ensure we are covering all grounds on giving advice on the most comfortable women's golf shoes.
By the likes of Golf Monthly's Women's Golf Editor Alison Root doing this, our female staff have a clear understanding of which shoes are more comfortable than others, whilst also making note of things like grip, stability, versatility, looks and overall performance.
Before the testing even begins we often attend product launches and have discussions with the manufacturer's R&D experts to understand the new technology. That way we know what the technology is supposed to do, and can test for whether it does so. The final point to make here is manufacturers cannot buy a good review because we tell it how it is for all golf product reviews, not just golf shoes.
How to choose golf shoes
Style
Manufacturers are increasingly aware of the importance of making the women's golf shoe stylish. We are certainly a fashion-conscious sex and coordinating our shoes with our outfit plays a big part in the shelf appeal of a pair of shoes when we shop. That's why we've included a category based purely on what women's golf shoes we think look the best.
Spiked or Spikeless
Depending on what conditions you play most of your golf in, you may want to opt for shoes that either have spikes or do not. Typically on wetter ground, having spiked shoes will provide more traction and balance, helping you hit more consistent shots. However on firmer ground having spikeless shoes will tend to provide more comfort and give you better grips through cleverly designed rubber nubs on the sole.
Versatility
There are many different styles of sole. Along with the traditional spike (or cleat) there are modern spikeless designs and in the last few years we've seen an increasing trend towards the trainer-style of golf shoe. These athletic women's golf shoes will look just as appropriate when worn to the shops or the gym and many more clubs are embracing the fashion and allowing them to be worn in the clubhouse for those after-round drinks.
Waterproofing
One of the most important factors to consider if you play golf in all seasons is the waterproof protection that your shoes give to your feet. Even on a spring morning the ground can still be damp with dew and when searching for a ball in the rough your toes can get rather wet if your shoes don't offer any waterproof barrier.
FAQs
How should women's golf shoes fit?
Much like most other athletic footwear, you should look to have about half an inch of room between the end of your biggest toe and the end of your golf shoe. Your foot should feel secure and snug, yet not completely restricted.
Do golf shoes make a big difference?
Ultimately yes. Wearing golf shoes will provide you with the traction and stability needed in differing ground conditions. Spiked shoes will work better for softer ground and spikeless golf shoes will provide enough support in firmer conditions.
Which professionals wear Skechers?
The leading LPGA Tour player that wears Skechers is Canadian Brooke Henderson. Former men's U.S Open champion Matt Fitzpatrick also wears Skechers shoes.
Get the Golf Monthly Newsletter
Tips on how to play better, latest equipment reviews, interviews with the biggest names and more.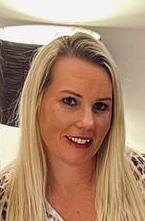 Carly Frost is one of the golf industry's best-known female writers, having worked for golf magazines for over 20 years. As a consistent three-handicapper who plays competitive club golf at Parkstone and the Isle of Purbeck courses in Dorset every week, Carly is well-versed in what lady golfers love. Her passion for golf and skill at writing combine to give her an unbeatable insight into the ladies game.
Carly's role at Golf Monthly is to help deliver thorough and accurate ladies equipment reviews, buying advice and comparisons to help you find exactly what you are looking for. So whether it's the latest driver, set of irons, golf ball, pair of shoes or even an outfit, Carly will help you decide what to buy.
Over the years Carly has been fortunate to play some of the greatest courses in the world. Her view 'from the ladies tee' is invaluable. She ranks Sea Island, Georgia, USA, where she met her husband, world-renowned golf coach Dan Frost, among her favourite golf resorts. Their aptly-named eight-year-old son Hogan is already hitting the ball as far as Mum and will undoubtedly be a name to watch out for in the future.
Carly is a keen competitor and her list of golfing achievements are vast. She is a former winner of the South West of England Ladies Intermediate Championship, a three-time winner of the European Media Masters and she once beat an entire start-sheet of men to the title of Times Corporate World Golf Champion. She has played for both the Dorset and Surrey County Ladies first teams and is known for her excellent track record at matchplay.
Carly holds the ladies course record (68) at her home club Parkstone and her lowest competition round (seven-under-par 65) was carded in the pro-am of the Irish Ladies Open at Killeen Castle, playing alongside Solheim Cup superstar Anna Nordqvist. Although her current handicap index has crept up to 3.7 since Covid she has her sights firmly set on achieving that elusive scratch handicap and hopefully playing for her country when she's 50.
Carly's current What's In The Bag?
Driver: Callaway Epic Max, 10.5°
Fairway wood: TaylorMade SIM2, 15°
Hybrids: Titleist TS2, 19°, 21°, 24°
Irons: Mizuno JPX900, 5-PW
Wedges: Cleveland RTX, 52°, 56° and 58°
Putter: Scotty Cameron Futura X5
Ball: 2021 Callaway Ladies SuperSoft