Best Skechers Golf Shoes 2023
Check out some of the best Skechers golf shoes currently on the market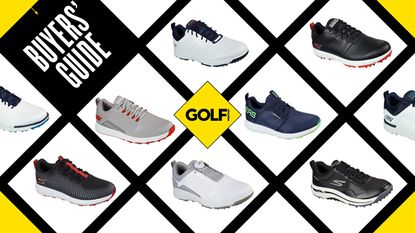 Best Skechers Golf Shoes: Quick Menu
Skechers is renowned for its comfortable lifestyle and athletic shoes, so when it moved into golf shoes in 2015 it brought all the same successful technologies to the course. The best Skechers golf shoes are renowned for being very comfortable through the use of responsive cushioning design and soft materials on the upper. They are without a doubt some of the most comfortable golf shoes we've tried in recent years. Skechers are generally a lower profile shoe than most and some of the current range now sees the addition of the Arch Fit insole that is designed to mould to your foot to reduce shock and improve weight distribution.
We have listed below some of the stand out men's and women's Skechers Golf shoes with their main features and benefits so that you can make the best choice for your feet. Alternatively, if it's a certain type of shoe you are after, check out our extensive guides on the best golf shoes for walking, the best golf shoes for winter and the best golf shoes for wide feet.
The Quick List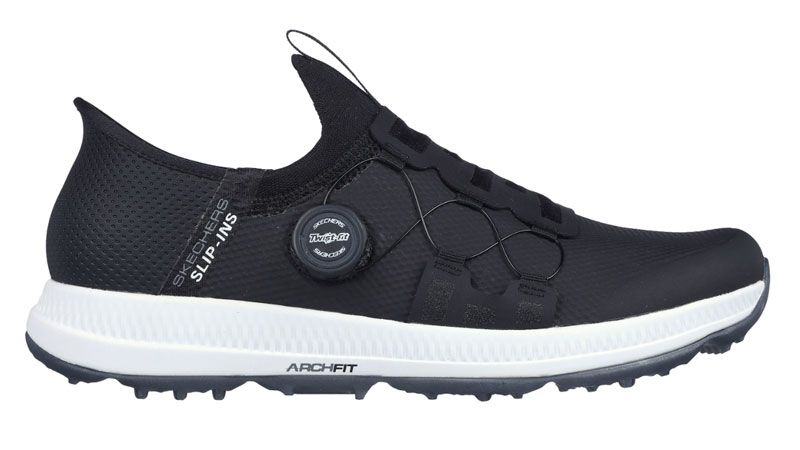 Skechers Go Golf Elite 5 Slip 'In Shoe
What this shoe lacks in terms of aesthetics, it makes up for in comfort and practicality. If you struggle with sore feet and/or back, put this on your must-try list.
Skechers Go Golf Drive 5 Golf Shoe
The Go Golf Drive 5 may be an understated design but it is a decent offering from Skechers that delivers on all its performance promises out on the course
Skechers Pro 5 Hyper Golf Shoe
The Pro 5 is a technology packed spiked golf shoe that delivers on Skechers renowned comfort thanks to some excellent proprietary technology.
Best Skechers Golf Shoes
Why you can trust Golf Monthly Our expert reviewers spend hours testing and comparing products and services so you can choose the best for you. Find out more about how we test.
Spikeless Models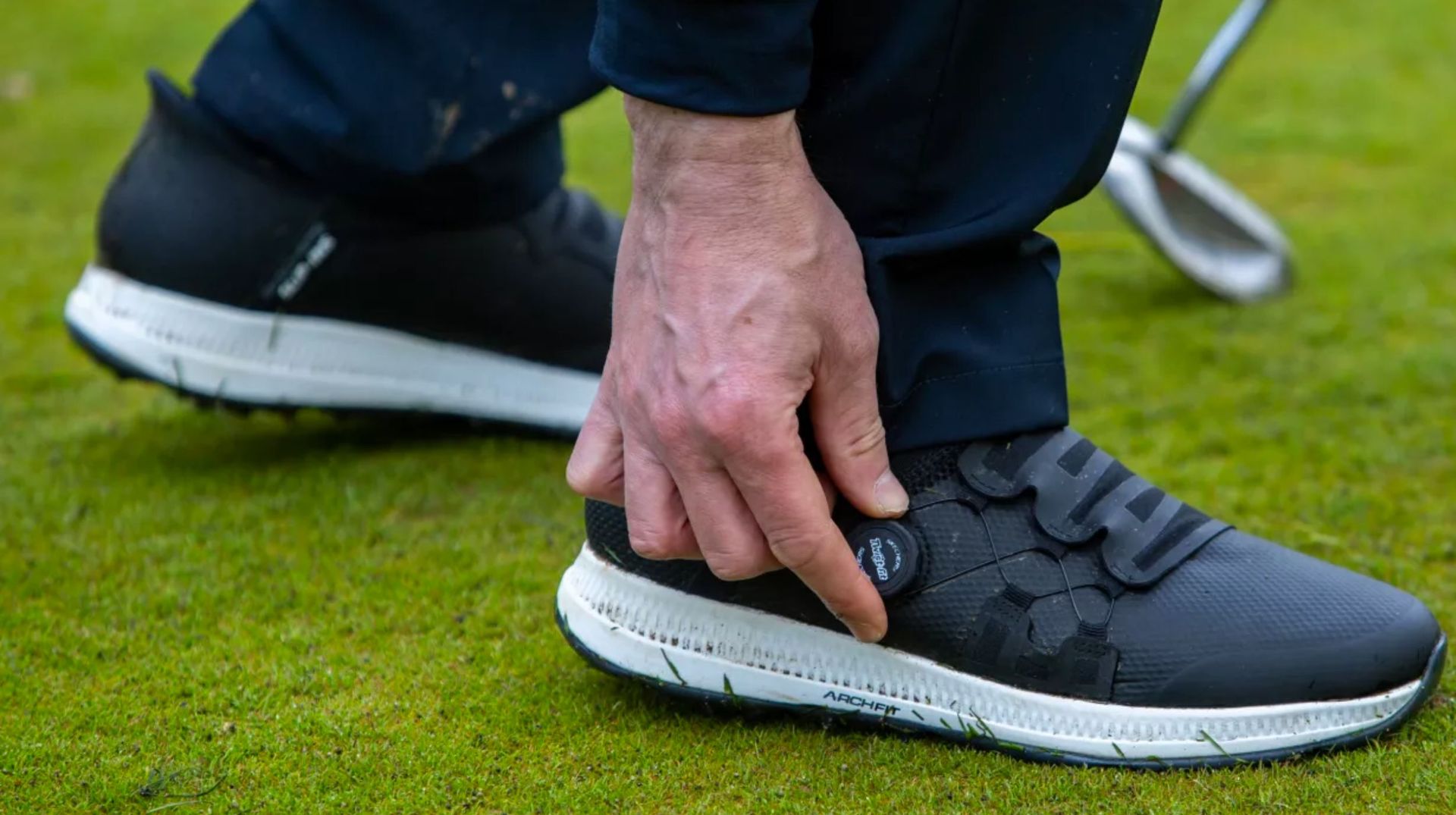 A stunning and easy to put on golf shoe
Specifications
Sizes: 6.5-12
Waterproof: No
BOA Options: Yes
Colors: 1 (Black)
Reasons to buy
+
Extremely comfortable
+
Hands-free-slip-in design
+
Nice and light
Reasons to avoid
-
Maybe lacks a premium look
Skechers are one of the most well known show manufacturers in the world and they produce some of the best golf shoes around. The Go Golf Elite 5 Slip 'In Shoe is perhaps one of the coolest additioins to the brand's excellent range of golf sneakers. While they don't scream premium, they offer a very cool sporty aesthetic and and in our opinion a versatile look that will look fantastic both on the golf course and when worn out-and-about in your day-to-day life.
The highlight of this shoe is their very functional and easy to put on design that is perfect for any golfer who likes to quickly slip their shoes on and get playing. They slipped on just like a comfy pair of slippers and felt just as nice. That makes them one of the best golf shoes for seniors, with it taking just a few seconds to kneel down and slip these shoes on and off. Meanwhile, the Twist-Fit dial system located on the side makes them easy to fasten. Again, we can see the appeal for those who suffer with a stiff back in the morning, as there's no need to struggle with lacing up, plus you haven't got to worry about the laces gradually loosening over time and needing to be retied at the most inconvenient of moments.
What's even better is that these shoes come with a removable Arch Fit insole that helps to deliver podiatrist-certified support to the balls of your feet. That is combined with the shoes Heel Pillow that delivers a very comfortable and 'locked in' feeling, something that is very welcomed. Interestingly, while they look like they may not be that durable in the elements, these shoes offer impressive waterproof protection and come with a one-year warranty. That's how confident Skechers are of their performance and durability. Lastly, we really enjoyed the grip on offer here and had no problems with the traction, particularly in wet conditions.
Skechers Go Golf Drive 5 Golf Shoe
One of the most versatile golf shoes on this list
Specifications
Sizes: 8-11
Waterproof: Yes, 1 year warranty
BOA Option: No
Colors : 3 (Black/White; Grey/White; White)
Reasons to buy
+
Extremely comfortable from the start, with excellent cushioning around the heel
+
Good waterproof properties and very good grip in the wet for a spikeless golf shoe
Reasons to avoid
-
Styling perhaps errs a little on the safe rather than eye-catching side
Combining a relaxed design with Skechers patented Arch Fit technology the Skechers Men's Go Golf Drive 5 Golf Shoe is a comfortable spikeless golf shoe that offers great performance on the course. Firstly there is ample cushioning on offer here, and these shoes almost felt like slippers the moment we put them on. Walking and playing in, these shoes were very nice and didn't rub on our heels.
They were also totally waterproof and kept our feet dry during a rather wet round. on the course. That also gave us a great opportunity to test the shoe's grip and again, the shoe proved it could withstand the elements, providing us with excellent traction off the turf with no sliding issues. The lack of spikes on the shoe and its cool style mean it is a very versatile on-course/off-course shoe that can also help improve your playing performance. For that reason, the Skechers Men's Go Golf Drive 5 Golf Shoe is one of the best spikeless golf shoes on the market.
Ideal for golfers that want a spikeless shoe with a little more room
Specifications
Sizes: 6.5-12
Waterproof: 100%
BOA Option: No
Colors: 3 Men's (Black, Grey & White)
Reasons to buy
+
Roomy fit ideal for wider feet
+
Comfortable shoe
+
Provides good grip
Reasons to avoid
-
Could be more breathable
The Skechers Go Golf Elite Tour SL golf shoe features a premium full grain leather upper that combines with a H2GO Shield waterproof membrane to keep the water out and your feet dry. Skechers say that this upper is also breathable, which it is, but our review felt it could be a little better compared to others in the premium end of the market. The TPU outsole comes in some bright colors and provides excellent levels of grip with a wide range of traction points that should hold you secure in a variety of conditions.
The Goga Max cushioned insole is based on the GOwalk Max design and aims to rebound your foot as you walk, which means these are very comfortable shoes to wear. The shoe also has an excellent fit making it an excellent golf shoe for players with wide feet. Combine that with some classy and understated designs and you have a premium shoe that ticks a lot of boxes for comfort and performance.
Ideal for golfers that want a comfortable, lightweight shoe
Specifications
Sizes: 6.5-12
Waterproof: Water-repellant
BOA Option: No
Colors: 3 Men's (Black, Charcoal & Navy)
Reasons to buy
+
Ample grip even in damp conditions
+
Very comfortable insole
+
Sporty design
Reasons to avoid
-
Not waterproof and could be more breathable
For those on the go, the Max Sport offers a slip-on design with the option of normal laces you can adjust to get a tighter fit. The Max Sport is a very lightweight shoe that uses the GOGA Max insole for extra cushioning and support. The sole on the Go Golf Max shoe features a durable TPU spikeless outsole which is one of the best in the market for grip in all conditions.
The mesh upper is water repellent rather than waterproof, but the shoe does a good job of wicking dew water off during an early morning round. If you are in the market for a fully waterproof shoe, then make sure to take a look at our guide on the best waterproof golf shoes.
Spiked Models
A shoe so good we decided to put it in our Editors Choice list for 2022
Specifications
Sizes: 7.5-13
Waterproof: Yes
BOA Option: No
Colors: 3 (Black/Red; Grey/Red; Blue/White)
Reasons to buy
+
Arch Fit technology offers class-leading cushioning
+
Softspikes are easily replaceable
+
Low profile look with excellent grip
Reasons to avoid
-
Would be nice to have a full-leather upper
Skechers' flagship model at the moment, the Pro Golf 5 Hyper shoe takes comfort to the next level by incorporating Skechers Arch Fit technology that provides podiatrist certified support to your feet, with cushioning across the midsole. I thought this made the shoe one of the most comfortable golf shoes on this list. That Arch Fit technology is designed to reduce pressure on your foot by distributing weight over a wider area, thus reducing foot fatigue. Admittedly, it's a strange feeling at first as it feels like the arches of your feet are being pushed up, but I was soon very much used to - and enjoying - the sensation beneath my feet.
The shoe also boasts Skechers Hyper Burst and Resamax cushioning which work in tandem to offer excellent rebound in your step. Other elements we liked were the breathable mesh that helped keep my feet cool, and the Softspikes provided excellent grip for me.
Ideal for golfers that want a spiked waterproof golf shoe
Specifications
Sizes: 6.5-12
Waterproof: 100%
BOA Option: No
Colors: 3 Men's (Black, Grey & White)
Reasons to buy
+
Waterproof
+
Spiked for increased grip
+
Very stable
Reasons to avoid
-
Colors might not be for everyone
If you want a spiked waterproof leather upper shoe then the Go Golf Torque Pro brings this to the course with the usual Skechers comfort. Full-grain leather is combined with the synthetic upper and Skechers Waterproof Membrane Protection to keep your feet dry.
The flexible traction sole features a 'Dynamic Diamond' design with 7 replaceable Softspikes to ensure that you have as much grip as possible. The comfort comes from the Ultra Go midsole and GOGA Max insole combining to provide cushioning. An excellent all-around waterproof golf shoe with some flashes of color from the sole brightening up the understated styling.
Women's Models
Specifications
Sizes: 4-7
Waterproof: Yes
BOA option: No
Colors: 3 (Black; Blue; White)
Reasons to buy
+
Waterproof protection
+
Very comfortable for easy walking
+
Good choice of colour options
Reasons to avoid
-
Simple styling so some might prefer a more dynamic looking shoe
Having put this shoe to the test, we were enamoured with how comfortable but also lightweight it is. Skechers really have designed a comfortable shoe that will ensure your feet feel as fresh as they did on the first hole right the way through to the 18th green, thanks to the spongey Goga Max insole embedded into these golf shoes. Skechers are well known in the trainer industry for the emphasis they place on making shoes as comfortable as possible and this is why the brand are so popular among many golfers.
On testing the GO GOLF Elite 4 Hyper shoe, we were impressed with the level of comfort and stability the shoe offered. While it can be worn year-round, it is designed a winter golf shoe that comes with waterproof protection and a one-year waterproof warranty. On its face, this shoe looks like a robust and highly durable offering that may be a little heavy on your feet, but is extremely light, and delivers excellent grip on the turf thanks to its toothy outsole. It is an excellent model that also comes at a great price and looks fantastic with many of the clothes featured on our best women's golf clothes guide.
Perhaps one of the most comfortable golf shoes going
Specifications
Sizes : 2.5-8
Waterproof: Yes
BOA Option: No
Colors: 4 (Black/White, Charcoal/Pink, White/Navy, Navy/Turquoise)
Reasons to buy
+
Wide range of sizes available
+
100 percent waterproof
+
Super lightweight
Reasons to avoid
-
Can come up small - try on before buying
As with many of the shoes that feature in our best women's golf shoes guide, the Skechers Women's Go Golf Pro 2 shoe really is a high-quality piece of apparel. Skechers provide some of the most comfortable shoes on the market and the Women's Pro 2 felt amazing over 18-holes. This is down to the Ortholite foam insoles made from five per cent recycled rubber that quite literally mold themselves to your feet.
These shoes are 100 per cent waterproof thanks to their H2GO shield waterproof protection that so many of the trainers in the Skechers range offer. That is also accompanied by the shoes' durable leather upper, which is very easy to wipe clean. The Pro 2 shoes also feature a set of removable spikes on their sole, which means you get the best of both a spikeless golf shoe and a spiked shoe with the Skechers Pro 2. They really are one of the most versatile and comfortable shoes on this list.
Skechers GO GOLF Max 2 Golf Shoes
An extremely comfortable pair of golf shoes
Specifications
Sizes: 2-8
Waterproof: Yes
BOA Option: No
Colors: Black - with another 3 stunning colours dropping this Summer!
Reasons to buy
+
Exceedingly comfortable
+
Incredible grip
+
Waterproof
Reasons to avoid
-
Currently available in one colorway, although there will be another 3 colors coming this Summer
There are plenty of excellent shoes in the Skechers range to choose from but this one has something a bit extra. At present they are only available in black, but we love the flash of sea blue from the sole and the piping and detailing. They look great with a skort. The traction is second to none with an outsole that is peppered with firm nubbins which really screws you into the ground as you hit shots.
Let's talk comfort for a second. The Skechers Arch Fit insole system with podiatrist-certified arch support literally gave my feet a much-needed hug. For good reason too, the shape was developed with 20 years of data and 120,000 unweighted foot scans so that would be why then. I won't lie these shoes made me smile. Great job Skechers. Plus they're 100% waterproof making them an excellent pair of spikeless women's golf shoes.
How We Test Our Golf Shoes
Our golf shoe testing methodology revolves around putting models to the test over a number of rounds and in different conditions. This is so we can gain a better idea of overall performance in terms of factors like grip comfort, grip, stability, waterproofing and how they actually look on the golf course. Each of the shoes listed above has been personally used by a member of the Golf Monthly team.
This is the best way of testing a golf shoe as using it in the real world over a number of weeks allows us to see how the sneakers perform when variables change like weather, ground conditions, different stances and lies, and so on. We think this also gives us information on the little details as well like which brands come up small or large, which models start to rub a bit too much after 36 holes, which designs can be used off the golf course and for the drive home?
As these shoes are sneakers, we also used many of them in other settings around the clubhouse, or on our way to the course. That also gave us a good indication of their versatility and how well they can be styled with everyday clothing. Here at Golf Monthly, golf shoe testing is headed up by Staff Writer Dan Parker who is ably assisted by our Technical Editor Joel Tadman and Digital Editor Neil Tappin
We are very comprehensive in our tests to the point where we will regularly attend product launches and meet with the manufacturer's R&D experts to understand the new technology. That isn't to say manufacturers can buy a good review though, as all our reviews are made by golfers, for golfers. If you're looking to find out more about the methodology behind our golf shoe testing process, take a look at our how we test guide, which also provides information on how we rank each product.
How to choose golf shoes
There are a number of factors to consider when picking out your next pair of golf shoes, particularly if you have wider feet than others. Let's take a look at them below.
Comfort
Comfort is one of the key things any golfer should think about when purchasing a new golf shoe. You're going to be wearing this for 18-holes multiple times per week, so you want to ensure that what you're putting on your feet is a comfortable shoe that has
When trying shoes on, listen for a 'whoosh' sound which should indicate air leaving the shoe which usually suggests a good fit. Walk around in the shoes too so you can feel any pinching and whether your feet are moving around inside them. A correctly fitted shoe should do neither of these things.
This is important because if your feet slide around inside, or you get rubbing and blisters, you won't want to wear them again and they could damage your feet and hinder your performance.
Support
Similarly, when purchasing a pair of golf sneakers you need to make sure you buy the shoe that provides you with the most support. This is especially vital if you're planning on playing regularly in these shoes with it being very easy to twist and turn your ankle while walking on an undulating course.
Likewise, it is also very easy to put additional strain or stress on your knees or hips, if you're not wearing a well-supported pair of shoes. For that reason, you need to consider buying sneakers that keep your feet well locked into the shoe, provide good ankle support and superior cushioning underfoot.
Waterproofing
Waterproofing is always important in a good golf shoe. Us golfers are outside all day sometimes and that means the occasional bit of rain is inevitable, and your shoes need to be able to deal with this. Therefore always check if a model is waterproof. While golf sneakers are mostly designed for summer use, you will find some that are waterproof, as the weather can be very unpredictable, it might be a wise decision to purchase a shoe that will always keep your feet dry. It's also worth noting that some shoes are 'water-resistant' and they will survive in a short shower, but will struggle to keep the water out in significant rain.
Grip
Golf sneakers are designed to be worn during the summer months as their lack of spikes means they are not great for use in wet or muddy terrain. But it is still always important to buy the shoe that gives you the best grip. Grip is so important as the better connection you have with the ground, the greater your performance on the course will be. Plus with a spikeless golf shoe you'll get greater versatility to wear the shoe not just on the course but off it as well.
Spiked golf shoes offer better grip and stability but don't sit as low to the ground as spikeless models. Spikeless golf shoes offer off-course versatility but might not offer as much traction. Have a think about which factor is most important to you here.
As you have seen in this guide, most of the best casual golf shoes are spikeless, so check out our best spiked golf shoes guide for a comprehensive look at some spiked options.
5. Budget
Finally, be aware of your budget because you can find a casual golf shoe at any price point. Sneakers can be some of the more expensive models on the market because they combine greater style elements from some of the biggest and best apparel brands on the market. But as they are made of slightly less material compared to a spiked golf shoe, you can find some great deals on golf sneakers on the market if you shop around.
Skechers produce some of the best golf shoes on the market, but why not take a look at some of the other great shoes that other brands have to offer also. We've put together several buying guides on the best FootJoy golf shoes, the best adidas golf shoes and the best Under Armour golf shoes that you can purchase right now!
FAQs
Do any professional golfers wear