Best Golf Grips 2023
We take a look at some of the best golf grips on the market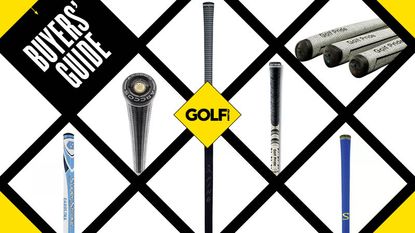 (Image credit: Golf Monthly)
Best Golf Grips
The golf grip is the only thing that remains in contact with your hands throughout the swing. So, if the grip isn't performing well, the chances are that your shots aren't going where you want because your hands might be slipping or the grip may not be suited to your hands. As such we've compiled some of the best golf grips on the market right now - all of which look great and perform well in their own ways.
Of course, it makes sense to understand exactly how to place your hands on the club so following a step-by-step guide to the perfect golf grip (opens in new tab) makes sense. Beyond that ideally, you'll get custom fitted for every club and your grip will be perfect from day one. But that's not always the way and when you buy something off the shelf, online or just borrow a club from a friend then the likelihood is that the grip might not be right.
The best golf accessories (opens in new tab) make life on the course easier and getting a new grip can breathe new life into a club. And they can also be colour-coordinated to match your favorite sports team or match your on-course style too. But, of course, there are also clear performance benefits available when using a new grip. So, let's take a look at our picks of some of the best golf grips on the market. And for more buying advice then be sure to check out some of our other guides - like the best golf drivers (opens in new tab) or the best golf irons (opens in new tab).
Best Golf Grips
Why you can trust Golf Monthly Our expert reviewers spend hours testing and comparing products and services so you can choose the best for you. Find out more about how we test.
Club Grips
+ Good combination of material
+ Grip in all conditions
+ Good color choice
- Putting them on all your clubs can cost a fair bit
The New Decade MultiCompound is another stellar offering from Golf Pride and a winner of multiple majors. This blends Brushed Cotton Technology in the top half of the grip, to help with better traction with the glove hand, with rubber in the lower half to add more feel and forgiveness.
There has also been a 'sand bar' texture pattern added to the whole grip to tune the firmness of the rubber. The only drawback of these grips is that they are slightly expensive compared to some of the other best golf grips on this list, but for that you are getting a quality golf grip that will give you excellent grip and feel on the shaft of the club. The hybrid MCC is such a winner that it also comes in the ALIGN line and you can even include your favorite team colors to brighten up your clubs and get you into a winning frame of mind.
+ Tacky feel is outstanding
+ Grip can be fitted both ways
+ Oversized one great for arthritis
- They might not appeal at first (but don't let that put you off)
The Golf Pride CPX grip is unlike any other grip that I've ever tried before and this is the market leader's softest performance grip yet. The new tech behind this includes the company's first-ever raised EXO diamond-quilted pattern. This soft and tacky material features a 45-degree pattern that has been inspired by the grips on BMX bikes. So, with the elevation in design, it maximises your contact area with the club.
This is complemented with Golf Pride's Control Core technology which is located at the top of the grip where the greatest amount of swing pressure is received so you get the best of both worlds here; maximum softness and maximum control. In fact we liked the performance so much the CPX made our 2022 Editor's Choice (opens in new tab) list as well.
Read our full Golf Pride CPX Grip Review (opens in new tab)
Lamkin Sonar+ Tour Calibrate Grip
+ Soft but tacky feel
+ Good for golfers who don't wear a glove
+ Promotes improved clubface control
- Limited color choices
The Sonar+ Tour Calibrate Grip is packed with all manner of technology. The Calibrate is a pronounced reminder strip to promote better hand placement, clubface awareness, feel, and results. So, rather than a round grip, there is a strip on the underside of the grip that it puts the hands in the right place. It's so helpful that it's almost like cheating.
It also has Fingerprint Technology which enhances traction and feel, and encourages a lighter grip pressure. And if you don't like playing with a glove, this grip will be good for you. The last bit of innovation is Lamkin's Genesis Material, which is a hybrid compound that delivers unparalleled performance and durability in all conditions. If you prefer a softer, tacky grip, this material is ideal.
Read our full Lamkin Sonar+ Tour Calibrate Grip Review (opens in new tab)
+ Soft and comfortable
+ Excellent absorption
- Grip lines seem purely cosmetic
Winn is the first manufacturer to bring premium polymer golf grips to the market and they are specialists in fishing rods, tennis and bicycle grips. The grips are tackier than traditional rubber and they're also comfortable, so a day of 36 holes (or maybe even a lot of hitting balls) will put less strain on your hands. This is their most popular grip and it comes in five different colors, including red, blue, pink, navy and gray colorways.
(opens in new tab)
+ Grip in all weather conditions
+ Great quality at great value
+ Both Standard & Midsize
- No Jumbo size
Carver prides itself on producing high-quality golf equipment at great value for money and that is certainly the case when it comes to their golf club grips. Taking inspiration from some of the best grips in the game, Carver's grips (opens in new tab) deliver maximum performance and comfort for players. These grips are tacky and provide an excellent feel on the club allowing you to play your best golf. Thanks also to the non-slip grip technology that has been incorporated in the grip, the Carver grips are also excellent for wet weather conditions or for players who get sweaty hands (opens in new tab).
Golf Pride Tour Velvet ALIGN Grip
+ Aids hand alignment
+ Non-slip texture
+ Available in big Golf Pride lines
- Bland design compared to others
ALIGN technology features a dedicated raised ridge which encourages more consistent hand placement and better clubface awareness so the days of shifting your hands around and wondering if you're too weak or strong will be over.
It also has the most up-to-date rubber blend and non-slip surface pattern to get rid of any unwanted moisture. Comes in standard and midsize. The ALIGN technology comes in the big four Golf Pride lines; MCC Plus4, MCC, ZGrip and the Tour Velvet.
+ Engineered rubber for softness and tackiness
+ Good color choice
- More sizes are needed for such a simple-looking design
This is brilliant value and is the grip of choice for Jordan Spieth, Sergio Garcia and Jason Dufner. The beauty of this grip is that it provides just the right amount of softness and tack and, with the cross-traction technology, it means that it will stick work perfectly when the heavens open. It comes in standard and midsize and there are four colour options, including green, black, blue and red.
+ Iconic look and feel
+ Relatively good value
- Only one color available
This is a particularly popular grip, is another great value offering and has every size imaginable. They have the distinctive densely-spaced surface pattern which is great for stability and traction and has more of a firmer and less tacky feel. We think this is particularly useful with the big stick which is why we also included this model in our best golf grips for drivers guide.
The feedback from these is that they will last forever so, while we should all re-grip our clubs more regularly than we do, these will keep performing for years.
Arccos Caddie Smart Grips
+ Automated shot-tracking
+ Available on best-selling grips from Golf Pride and Lamkin
- Sensors can occasionally fall out
This is a great addition to your shot tracking and general improvement of play. Inside the butt end of each grip is a GPS sensor that tracks the distance and direction of every shot you hit. Additionally, you can connect any set of clubs to the Arccos app and capture all your shots.
Why is this good? Well, it is so you know how far you really hit all your clubs, identify your true strengths and weaknesses rather than your general perception of them and the app has a GPS rangefinder that works in real-time so, whatever the weather or slopes, you'll get the right number.
Putter Grips
+ Different shapes and sizes for different players
- Firm feel may put some golfers off buying this grip
Golf Pride have just launched their Pro Only range which is a collection of corded putter grips. In 2019 they brought out the all-rubber Pro Only series and they've followed it up with this sleek, white styling. There are three shapes in the collection and they are defined by a colour-coordinated star on the end cap.
The Red Star has a horseshoe shape with an arched paddle for thumb placement and is the smallest and lightest in the range. The Blue Star has an angled profile with a wide, flat paddle for the thumb while the biggest and heaviest is the Green Star. This has an oval shape and has been designed for optimum finger comfort and hand positioning.
(opens in new tab)
+ Affordable
+ Variety of colors
- Lack of size options
Saplize are an American company that specialises in excellent grips. This light, anti-slip grip has a pistol shape so your hands will settle nicely on the club and features a unique boomerang-shaped embossing pattern which brings extra traction which you'll quickly notice and appreciate. These are good-looking grips with a variety of great looks and these include a Stars and Stripes option.
And for those who like to customize their golf apparel, Saplize also engrave and add different colors to their golf grips, with the brand also boasting a very trendy grip that comes with an American flag printed on it. If you're into personalizing your golf equipment, check out our best-personalized golf balls guide (opens in new tab) and our best golf headcovers guide (opens in new tab).
+ Designed to help square the putter at impact
- Takes a bit of time to get used to it
This is the original in the range and you'll recognise it from being in the hands of Justin Rose (opens in new tab) whose putting has been on a real upward curve in recent years and it's helped him to reach the heady heights of World No. 1. The premise is that the sides run parallel to each other and feature a flat front and the polyurethane compound gives you a soft, comfortable feel.
If you like a larger grip then have a look at the Fat and Bog Boy sizes or, on the other end of the scale, is the Slightly and Svelte sizes. In the middle comes the Standard. It's all about keeping the putter square and your wrists and hands quiet through the stroke.
Ping Golf PP58 Classic Standard Putter Grip - Blackout
+ Classic, simple design
+ Tiger Woods approved
- Not as stable as other grips
Look familiar? This of course is the legendary putter grip used by Tiger Woods (opens in new tab) and it's been a factor behind all those big tournament-winning moments, think Torrey Pines in 2008, but it's been around since the 1970s. Need we say why as to why it's on this list of the best golf grips?
This is proper old school with less attention on thickness and stability but more on feel and maybe those looking for the sound of a good putt. If you've got a Newport 2 then you might want to go full Tiger and slip this on.
SuperStroke NCAA Putter Grip
+ Quality grip
+ Variety of colour options
- Quite Niche
If you're a big NCAA fan then you can have a nice reminder every time you pull out your putter. SuperStroke's patented No Taper Technology design is the foundation of this grip so there is plenty of quality in there as well as the appeal to college sports fans. The tech has a uniform lower hand profile to minimise your grip pressure which will hopefully lead to a more consistent stroke and putter path. It also features excellent playability in all weather conditions via its non-slip pattern.
How we test golf equipment
We test golf gear with an ethos built upon several key ideals. To start, the products get thorough extensive testing from good club golfers because we believe that's more useful than the opinions of PGA pros or robots.
Our review process consists of us using each product over several rounds and in different conditions to ascertain how each product performs in wet, dry, hot or cold conditions. By using the products in this manner we are able to provide reliable advice and feedback to you on how they perform. In terms of grips, that means using them for practice, range sessions and proper rounds to gauge performance, durability, feel and so on. We would also attempt to use these grips in different conditions to see performance as well. Finally, manufacturers can't pay for a good review – we tell it how we see it.
How to choose the best golf grip
Golf grips come in a wide variety of different shapes and sizes. Modern grips boast a ton of technology that can help improve your grip and feel on the club, allowing you to make a better connection with the golf ball. So how do you know which golf club grip is right for you? Well, there are several things you need to keep in mind when buying a new set of grips to make sure you get the right product for your needs. For that reason, we've set out a list of key considerations that you need to bear in mind when purchasing your next set of golf grips.
1. Size
First things first, you need to have an idea of how big your hands are and do some research on what the ideal corresponding grip size would be. Additionally, lots of grips come in different shapes ,too, so get your hands on some different models and see how they feel, especially with some of the newer and more unique putter grips out there.
2. Feel
Feel is arguably the most important factor when it comes to grips because your hands will be touching the grip throughout the golf swing. Therefore think about what you like your grips to feel like. Do you like the feel of corded grips or perhaps you want a softer feeling model, a more velvet kind of touch on your hands? Or, do you want the best of both of those worlds? Getting your hands on some grips to see how they feel is the best way of deciphering which model to go for and which will be the best model for your hands. You can do that by heading down to your local pro shop, where you'll be able to hold and sample a variety of different club grips.
3. Moisture management
Linking with the above point, be aware of how different some grips are and how they deal with sweat and wet weather. This is because some models, like the Golf Pride MCC for example, cope with water very well because they've been designed to, whereas some other models haven't. Also, it is worth considering how often you play in the rain because if you live in the USA and never play in the rain, there is no need to be concerned with this factor.
4. Color
As we have shown above there are loads of different colors of grips these days so it is simply a case of picking a model you like the look of. For example, if you want to show your team support there is the NCAA College Putter grip or maybe you want a Golf Pride MCC in different colors instead.
5. Budget
Finally, grips can be expensive so we would recommend being aware of how much you want to spend here. We would always suggest investing a bit more on a grip that is durable and will last a long time rather than going for a cheaper option and having to re-grip the clubs again sooner than you should have to.
While it is wise to think about replacing your golf club grips as they start to get worn out, you should also think about replacing your clubs too as they get older. For that reason, take a look at our guides on the best golf irons (opens in new tab), the best golf drivers (opens in new tab) and the best golf putters (opens in new tab).
FAQs
How can you make grips last longer?
Grips will naturally wear down from exposure to the elements and play. Golf Pride recommend cleaning your grips throughout the season to remove oils and dirt that have built up. It is also recommended to store your clubs inside as extreme temperatures can prematurely break down the rubber.
When is it time to re-grip your clubs?
Market leader Golf Pride recommend all players re-grip their clubs every year and more for frequent players. The oils on your hands, sweat, dirt, UV rays, temperature changes and other elements can all contribute to grip wear. Worn grips will become firmer and lose their original tackiness and therefore make it harder to square the clubface.
Is a putter grip worth it?
In a word, yes. Definitely. You're going to be playing almost half your shots on the greens and there are so many fantastic and different options to help instil more confidence on the greens. We are all unique in all facets of the game but never more so than how we feel with a putter in our hands and there's nothing better than feeling great and hopeful when standing over a putt.
Mark has worked in golf for over 20 years having started off his journalistic life at the Press Association and BBC Sport before moving to Sky Sports where he became their golf editor on skysports.com. He then worked at National Club Golfer and Lady Golfer where he was the deputy editor and he has interviewed many of the leading names in the game, both male and female, ghosted columns for the likes of Robert Rock, Charley Hull and Dame Laura Davies, as well as playing the vast majority of our Top 100 GB&I courses. He loves links golf with a particular love of Royal Dornoch and Kingsbarns. He is now a freelance, also working for the PGA and Robert Rock. Loves tour golf, both men and women and he remains the long-standing owner of an horrific short game. He plays at Moortown with a handicap of 6.