Best Waterproof Golf Bags 2023
A waterproof bag is crucial for protecting your equipment out on the golf course and, in this guide, we've taken a look at the very best.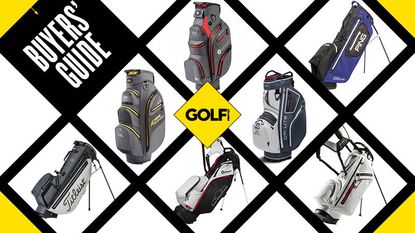 (Image credit: Golf Monthly)
Best Waterproof Golf Bags: Quick Menu
It's no secret that playing golf in wet and challenging conditions is tough, with the rain often penetrating your golf bag and getting your clubs and necessities soaked. However, help is at hand with these waterproof golf bags, an item which can keep your equipment protected and stored correctly as you battle the elements out on the course. Not only are these waterproof models some of the best on the market, but also some of the best golf bags money can buy, making the difference when it comes to organizing and planning for your game. If your equipment etc is well protected from the weather then you can focus on what matters most - your golf.
Whether you carry or use a cart, trolley or buggy, a waterproof golf bag will help you get the most from your game. Stand or trolley bag, the best models will be constructed from waterproof fabric, have sealed seams and zippers and will come with a neatly fitting, easily attached rain hood. Waterproof stand bags should still be super-lightweight and comfortable to carry, while waterproof cart/trolley bags should be robust and stable, providing easy access to all pockets.
WATCH: Dan Parker gives his verdict on what he thinks is the best stand bag of 2023
So, what are the best waterproof golf bags currently available? Well, we've reviewed, tested and selected our favorites below. We have also checked out the best lightweight golf bags and the best golf push cart bags that money can buy.
The Quick List
Big Max Dri Lite Hybrid Plus Stand Bag
The Dri Lite Hybrid Plus from Big Max is waterproof, versatile for use on push or powered carts and well suited for all kinds of golfers. There's plenty of storage too.
Cobra Ultradry Pro 2023 Stand Bag
There is a lot to like about the Cobra Ultradry Pro stand bag, with its waterproof protection keeping your necessities dry in the harshest conditions.
Callaway 2023 Fairway C HD Stand Bag
A supremely lightweight and comfortable golf bag, this is a great option if you're looking for a carrying option that will keep all your gear dry in inclement weather.
Titleist Players 5 StaDry Stand Bag
The Players 5 StaDry is a premium, stylish, versatile and robust stand bag that offers practical features, excellent protection and looks great too.
Ogio All Elements Hybrid Stand Bag
There is a lot more to the All Elements range than just the looks. It is both highly functional and versatile and is ideal for anyone who wants to carry all 14 clubs.
Sun Mountain H2NO Lite Stand Bag
The H2NO Lite stand bag ticks every conceivable box, from style to functionality. It's hard to fault. There are a raft of useful features and it's 100 per cent waterproof.
Ping Hoofer Monsoon Stand Bag
This is an excellent bag for any golfer who plays regularly in wetter conditions or is looking for a lightweight, ergonomic stand bag they can carry around the golf course.
Motocaddy 2022 Dry Series Cart Bag
The Dry Series is highly functional in terms of its storage options, it's exceptional in wet weather, and it has an incredibly lightweight design.
Big Max Dri Lite Sport 2 Golf Bag
This is a very good cart bag and the 14 way divider plus additional putter well provides easy access to your clubs in a lightweight bag that will keep your gear dry.
MacGregor 15-Series Water Resistant Cart Bag
This cart bag is really impressive. Lightweight and easy to hook in and out of the car and we think it is extremely practical when it comes to pocket formation.
Motocaddy Pro Series Cart Bag
One of the best cart bag currently on the market. But for it's cumbersome weight, the Pro Series is a high quality cart bag with great storage and great club organisation.
Sun Mountain H2NO Lite Cart Bag
An innovative bag that is lightweight, versatile with pockets galore to store everything fashionable, functional and best of all - it's completely waterproof.
Best Waterproof Golf Bags
Why you can trust Golf Monthly Our expert reviewers spend hours testing and comparing products and services so you can choose the best for you. Find out more about how we test.
Stand Bags
A versatile stand bag that offers great waterproof protection
Specifications
Weight : 2kg
Pockets: 8
Waterproof: Yes
Colors: 7 (White/Red/Blue; White/Merlot; Blue/Navy; Green/Grey; Grey/Black; Black/Grey/Green; Black)
Reasons to buy
+
Works well for walkers and riders
+
Waterproof technology
+
Spacious pockets
Reasons to avoid
-
14-way dividers aren't for everyone
If you don't mind playing in wet weather but want a golf bag that will help keep your clubs dry then the Dri Lite Hybrid Plus is designed to keep the water out. In fact, the material and zippers will hold firm against a rainstorm that produces the equivalent of 78 inches of precipitation a day. It is one of the best golf stand bags in the game right now, thanks to how easy it is to use, carry and the storage options it delivers.
It's also a fairly lightweight option and comes in at around 2kg. It features a lovely dual padded strap system that makes it very easy and comfortable to carry, plus we had no issues with the legs on this option which unfolded nicely when setting it down to play your ball. It comes with a 14-way divider system for your clubs, which, depending on whether you're a fan of this system or not, is a big bonus that we don't often see on the best golf stand bags. But like a cart bag, it will also easily attach to any of the best golf push carts or electric trolleys thanks to its flat bottom. Storage options are not an issue here either and this bag comes with eight large pockets that provide ample storage space for all your golf equipment.
Cobra Ultradry Pro 2023 Stand Bag
One of the best waterproof golf bags around
Specifications
Weight : 2kg/4.5lbs
Pockets: Six
Waterproof: Yes
Colors: 4 (Red; Black/White; Black/Yellow; Black/Grey)
Reasons to buy
+
Fully waterproof
+
Five-way top allows for ease of use with clubs
+
Smart shoulder strap system
Reasons to avoid
-
Pockets aren't the most accessible or biggest
-
Legs slightly droop when in use
There is a lot to like about this excellent, high-performance golf bag from Cobra. The Ultradry Pro, as the name suggests, is a waterproof and easy to carry golf bag that will keep all your golf gear well protected in the harshest of conditions. It is one of the best lightweight golf bags around and worked really well to keep all our golf gear dry on the golf course. It's made of a lightweight material that is combined nicely with dry-sealed zippered pockets that, once again, help to keep your gear completely dry.
At the top of this bag, you'll see it comes with a very handy five-way divider which works really well on the course. One interesting and rather unique addition here was the well-padded Swivel Straps on the bag that make it very easy to carry around the golf course. Essentially, as you put the bag on, it will move to the adjusted height, something which worked really well on sidehill and undulating lies and walks.
There are six pockets to choose from on the UltraDry Pro which, although sufficient, aren't necessarily practical, with the largest pocket quite difficult to access, especially when there's a large bottle of water, or a pair of waterproofs in it. Above the large pocket, there is a smaller one which, it seems, is only there to hold the waterproof top that goes over the clubs, although you could use it for other necessities if needs be. Overall, this is one of the best golf stand bags available right now!
Callaway 2023 Fairway C HD Stand Bag
Lightweight materials
Specifications
Weight: 2kg/4.4lbs
Pockets: 5
Waterproof: Yes
Colors: 5 - (Black, Black Camo, Charcoal, Navy/Red, White)
Reasons to buy
+
Excellent top storage with no club crowding
+
Comprehensive and comfortable straps
+
Deep, fleece-lined valuables pocket
+
Lightweight and fully waterproof materials
Reasons to avoid
-
Cooler pocket is poorly designed
At 2kg (4.4lbs), this is one of the best lightweight golf bags you can get that still holds all 14 golf clubs and more. Th