Best Golf Rain Jackets 2023
Rain often strikes when we are out on the golf course so here are our favorite rain jackets so you can keep on playing your best.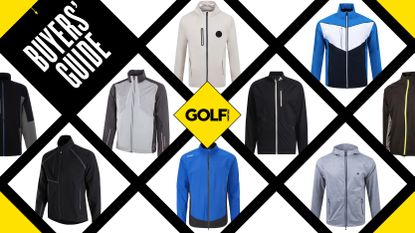 (Image credit: Golf Monthly)
Best Golf Rain Jackets: Quick Menu
Golf shouldn't stop when the weather turns inclement, it is one of very few sports that can be played in pretty much anything. That being said, you must be prepared. No matter where you are playing, you should always have the best golf waterproofs to protect you from the elements. Whether that be rain pants, waterproof shoes or rain gloves and so on and so forth.
Arguably the most important waterproof element to your golfing setup is the jacket because not only will a good model shelter you from the rain and wind, but it will also make the golfing experience infinitely more comfortable despite the conditions. The best golf rain jackets do this to a high level thanks to high-tech fabrics and materials which bead the water off the player. Additionally a big signifier of a good golf jacket is how easy it is to move in. The golf swing is a fluid movement and being able to do it whilst wearing several layers is important, so the best models stretch and don't hinder the body or swing at all.
We also think a good golf jacket needs to provide a degree of protection from the wind, warmth in the cold, and also cool design features and colors that either stand out or aid versatility to be able to use the jacket off the course. Models these days should also be easy to wash if necessary too and it's plain to see that there is a lot of technology crammed into some of the best golf jackets making them a fantastic present if you want to spoil an avid golfer in your life.
Bearing that in mind, we have put together a list of the best golf rain jackets out right now. Alternatively if you need more golf gear when the weather gets cold and wet, check out our other guides on the best golf rain gear and best golf wind jackets too.
Best Golf Rain Jackets - Best Waterproof Golf Jackets
Why you can trust Golf Monthly Our expert reviewers spend hours testing and comparing products and services so you can choose the best for you. Find out more about how we test.
The List
adidas Rain.Rdy Hooded Jacket
Sizes: XS-2XL
Colors: 2 (black, collegiate navy)
+ Addition of the hood
+ Extremely lightweight and versatile
- Doesn't feel as thick as non-hooded model
I tested the standard Rain.Rdy Jacket last year and I was a huge fan, the only thing missing was a hood. Enter this latest version which firstly looks absolutely fantastic and is versatile enough to be worn literally anywhere. The new design feels a lot lighter and the materials aren't as thick, so on those colder days I needed to pair it with more layers, but this was also a benefit because it didn't take up a lot of room in my bag, and added next to no weight.
The waterproof protection hasn't been compromised either as I was caught in several downpours in testing and it performed brilliantly. It also felt comfortable and I liked the adjustability of the hood and elasticated cuffs. More colors needed though!
Read our full adidas Rain.Rdy Hooded Jacket Review
Under Armour Stormproof Cloudstrike Stretch Golf Jacket
Sizes: S-2XL
Colors: 1 (black)
+ Superb stretch and mobility
+ Customized fit via side straps
- Only available in a black colorway
A superb waterproof jacket that repelled water effortlessly throughout an entire round. The customized fit via the straps on the side saves the jacket causing any disruption while swinging and the stretch material allows you to swing with freedom.
The Storm technology worked excellently well in shielding me from the rain and repelled water just as it was designed to. Despite the relentless rain and wind, the temperature was fairly mild and so I was pleasantly surprised to discover how breathable the Cloudstrike Stretch jacket was. It would be nice to see it in more colorways, but aside from that there is very little Under Armour has failed to achieve with this jacket.
Read our full Under Armour Stormproof Cloudstrike Stretch Golf Jacket Review
Sunderland Whisperdry Pro-Lite Jacket
Sizes: S-2XL
Colors: 7 (Airforce, Evergreen, Blue, Navy, Gunmetal, Camo, Silver)
+ Lightweight feel
+ Adjustability everywhere
- Small pockets
This is a very good rain jacket thanks to its overall protection and design features. First it is ultra-lightweight and stretchy which made it very easy for me to swing in, and it folded down to next to nothing so storage was easy. Whilst this does mean more layers are needed in colder weather, the lightweight fabric didn't compromise on waterproofing.
Water beaded off excellently thanks to the seam-sealed construction and I loved all the other adjustable features too including the inner storm flap, chin guard and cord-adjusting high neck, and the Velcro adjusters at the cuffs and waist. The only negatives for me were the pockets were a touch small, and the design could probably be described as a bit bland. However that does also make it versatile so that's a subjective point.
Read our full Sunderland Whisperdry Pro-Lite Jacket Review
Galvin Green Armstrong Jacket
Sizes: S-XXL
Colors: 6
+ Extremely lightweight
+ Modern design not over the top
- Could feel softer to touch
Updated for 2023 with some fresh colors and stylish details, this lightweight Gore-Tex waterproof jacket continues to impress. Not only does it keep water and wind at bay with consummate ease, but it also has those important design details that ensure you can swing in total comfort - notably the Velcro cuffs, three zipped pockets and the elasticated drawstring at the waist, which creates a tailored fit.
The thin Paclite stretch material ensures you're able to swing unimpeded and also allows you to fold it away compactly for easy storage. Perhaps most importantly, it's up there as one of the best-looking golf rain jackets around, so you'll look and feel like a million dollars strolling the fairways, even when the heavens open.
Read our full Galvin Green Armstrong Jacket Review
Peter Millar Rain Walker Jacket
Sizes: S-XXL
Colors: 1 (Navy)
+ Premium quality in every aspect
+ Superb look and feel
- Only one color
Having played golf for 45 years, I could immediately see that the new Rain Walker jacket is a step up yet again. It's all-new construction is windproof, waterproof and exceptionally breathable, with the give in the material adding to the comfort and ease of movement. There are three layers including a hydrophilic membrane which allows moisture to escape. The external surface is water repellent, and the latest improvements in seam technology mean that the stitching is robust and reliable.
I found both comfort and maneuverability while playing to be first-class, and it even comes with a waterproof bucket hat. I love the way that the overall look is so smart and understated, somehow classic and yet still modern at the same time. I have owned many waterproof jackets over the years, and this is quite simply the best one yet.
Read our full Peter Millar Rain Walker Jacket Review
Sizes: S-2XL
Colors: 2 (Navy/Black, Charcoal/Lime)
+ Extremely comfortable and warm
+ Able to withstand the worst the winter can throw at you
- Can get hot on the inside
The headline garment in FootJoy's HydroSeries range is this, the HydroTour. It comes with a premium price point but you undoubtedly get premium performance here starting with the waterproofing.
It has a three-panel construction and dual-sealed seams to stop any rain getting to your body and it also has a innovative feature called a DrySeal double collar system, which has a cinch cord on the inner layer to keep the rain out and two small holes on the outer layer that help the water run down the back of the jacket, thereby keeping the neck dry.
(Oh and if this isn't enough, it also comes with a three-year waterproof warranty). The material itself felt premium and the styling looked good too.
Read our full FootJoy HydroTour Jacket Review
Galvin Green Alister Jacket
Sizes: S-XXXL
Colors: 2 (Grey; Black)
+ Uber customisable fit
+ Exceptional protection
+ Comfortable and playable
- All this tech and features comes with a premium price
No-one likes playing in the rain but the Alister jacket certainly makes it feel like you're getting the better of the elements. This comes down to the market-leading Gore-Tex protection but also the customization on offer via the Velcro cuffs, tabs that adjust the chest volume and drawstrings at the hem and waist.
These all combine to create a comfortable, playable fit, helped by the stretch panels at the back and elbows. Golf bag carriers will also appreciate the reinforced sections at the shoulders. Yes, this waterproof jacket is one of the most expensive on the market, but none come close when totting up the performance-enhancing features.
Read our full Galvin Green Alister Jacket Review
Puma DRYLBL Waterproof Golf Jacket
Sizes: S-2XL
Colors: 2 (Grey, Black)
+ Water protection up there with the top models
+ Versatile design
- Not the best with only polo underneath
The DRYLBL Rain Jacket from Puma is a continuation of the performance we saw in the Ultradry jacket. Thanks to the 2.5 layer fabric, seam sealed design, and waterproof zips, the protection from this jacket was up there with some of the top models we have tested. Movement was also uninhibited and it felt lovely and light too, despite still offering a degree of warmth and breathability.
We also liked the adjustability on offer such as the Velcro cuffs so we could get the perfect fit, and another huge plus was the aesthetic because whilst some may say it was a touch bland, I think it added to its versatility. This jacket can be used anywhere.
G/Fore Repeller Weather Resistant Jacket
Sizes: S-XXL
Colors: 1 (White)
+ Lightweight but offers warmth and protection
+ Washes well and gets back in pristine white
- Very easy to get dirty marks on it
This ultra stylish design that can be used anywhere is actually an incredibly comfortable high performance golf jacket that does a great job of keeping you dry thanks to the water repellant DRY-TEX fabric and heat bonded seams. Wearing the jacket in winter where it's so easy to get mud and grime on your outfit is a little risky but the garment washes really well and in our experience comes out looking box fresh so long as you follow the care instructions. The magnetized front pockets are really clever and keep the lines of the jacket very clean and the full zip is super high quality.
Adidas Rain Rdy 2022 Jacket
Sizes: XS-2XL
Colors: 2 Full Zip (Black, Hemp)
+ Weather protection really top notch
+ Can be used anywhere
- Collar is quite high
The adidas Rain.Rdy is an outstanding model to help you be prepared for any weather when out on the golf course. Specifically designed to deal with the worst conditions, you can get a full zip design (pictured), and a half-zip in a couple of different colors each.
We tested the black full zip and the protection was really up there with the best models on the market. It has a three layer design with a waterproof, breathable membrane that not only keeps out the rain and wind, but it is also very light, durable and stretchy. The jacket is also quiet when moving and we love a jacket with pockets too. The only minor quibble was the collar is quite high, but that might be a blessing in disguise!
Read our full Adidas Rain Rdy 2022 Jacket Review
Puma Ultradry Waterproof Golf Jacket
Sizes: S-3XL
Colors: 2 (Black, Blue)
+ Competes with the best in terms of protection
+ Ventilated back is a nice touch
- Double zip can be a touch fiddly
Highly waterproof, breathable and lightweight, the Puma Ultradry jacket is a great garment at a very competitive price in this space. The material is lightweight enough to not make you too warm inside and waterproof enough to keep up to 10,000mm of rain out. At this price, such high quality material is hard to come by.
The best part about Ultradry jacket is that is has adjustable cuffs and zippered side pockets. The adjustable cuffs were especially useful in wet conditions where tightening the cuffs meant no rain could get in through to the arms. The side pockets are really comfortably placed to leave your hands in and the waterproof zippers mean you can keep accessories like balls, tees and pitch mark repairers dry.
Read our full Puma Ultradry Waterproof Golf Jacket Review
Nike Hypershield Rapid Adapt Jacket
Sizes: XS-4XL
Colors: 3 (Olive, White, Black)
+ 2 jackets in 1
+ Very good range in sizes
- The material is a little thick
Built with Hypershield fabric to block wind, water and provide a comfortable experience, this model is two jackets in one as the jacket can be changed into a vest. The removable upper/arms are held in place with snap button closure points and whilst that sounds cumbersome, the HyperAdapt technology combines a vent along the back of the shoulders for extra mobility through your swing.
The material is a little thicker than some other rain jackets and water doesn't bead off overly quickly, but the ventilation provides enough breathability and comfort. It certainly looks very smart and doesn't really look like a golf jacket which some will enjoy.
Ping SensorDry 2.5 Graphene Jacket
Sizes: S-2XL
Colors: 2 (Blue, Black)
+ Fully waterproof and quick drying
+ Supremely lightweight and stretchy
- Zips are a bit stiff
The SensorDry 2.5 Graphene Jacket is a big innovation from Ping as it is the first time the brand has used Graphene in its apparel range. Ping has incorporated a Graphene print to the inside of the fabric for this jacket, which helps conduct and retain heat.
It also makes the jacket incredibly lightweight, comfortable, it has a good amount of stretch and comes with adjustable wrist cuffs to ensure a nice snug fit. The material is fully waterproof and repels water, drying remarkably quickly.
We held it under a tap and the jacket was bone dry almost immediately. A special jacket indeed.
Read our full Ping SensorDry 2.5 Graphene Jacket Review
Under Armour Stormproof 2.0 Jacket
Sizes: S-2XL
Colors: 2 (Black, Blue)
+ Lightweight and stretchy
+ Styling is great
- Adjustable cuffs don't go tight enough
The level of research and development conducted by Under Armour is astounding and you can see the fruits of that labor in this Stormproof 2.0 Jacket. It does feel very well made and has a very unique feel inside that gives you good peace of mind that no water will come through.
When we tested it over a number of rounds, we found it to be a functional garment that will keep you nice and dry when the heavens open. It is also very lightweight and stretchy for a good comfortable wear that comes up ever-so-slightly on the big side, so if you like a tighter fit we'd recommend sizing down. We also liked the warmth and breathability on offer.
Read our full Under Armour Stormproof 2.0 Jacket Review
Callaway Stormguard III Waterproof Rain Jacket
Sizes: S-3XL
Colors: 2 (Lapu Blue, Tobacco Brown)
+ Allows you to swing freely
+ Clever inner hem stops it riding up
- Two-way main zipper a little fiddly
The first thing you'll notice about the Stormguard III is that it is a good-looking jacket with strong colors and lots of little details that catch the eye. The Swing Tech technology does the job of allowing the wearer to swing uninhibited and this jacket also delivers on the waterproof front too, having been tested to the full during one particularly heavy downpour.
The lightly elasticated black inner sleeve cuffs are another real plus point for me. The beauty is that they fit snugly enough for you to not have to overly worry about how tight or loose you set the external Velcro cuff adjusters. I was also very impressed with the drawcord waist adjuster's rubbery inner hem, which helps to prevent the jacket riding up as you swing.
Read our full Callaway Stormguard III Waterproof Rain Jacket Review
ProQuip StormForce PX7 Jacket
Sizes: S-3XL
Colors: 3 (Black, Surf Blue/Pewter, Black/Pewter)
+ High-quality protection
+ Lifetime waterproof guarantee
- Feels bulkier than other models
Building on the success of the PX5 and PX6 models, ProQuip has now introduced the PX7 which is the brand's highest specification and best-in-class men's rain jacket with a lifetime waterproof guarantee.
Available in three colors, the jacket has extreme waterproof protection, and yet still feels breathable. It does feel more bulky than other models on this list however when the conditions are really bad, this is no bad thing as it does not feel cumbersome and limiting during the golf swing. The swing silent technology is an added bonus too because it minimizes any noise during play.
Stuburt Evolution Tech Waterproof Jacket
Sizes: M-3XL
Colors: 2 (Black, French Navy)
+ Simple and effective design
+ 2-year waterproof guarantee
- Mid Layer needed for a cold day
The Stuburt Evoloution Tech waterproof is a product that will tick many boxes for any golfer looking for a product to help them stay dry. It cleverly uses a ¼ zip to allow for golfers to quickly put on the jacket if caught in a rain shower. The product is very lightweight and would be perfect to store in your golf bag until it was required.
The garment is obviously designed with the other Stuburt apparel range in mind, with it being a thin and breathable product, a mid-layer would be required if it is wet and cold. It should be noted the pockets do have a nice fleecy inner lining.
Oscar Jacobson Eastwood Waterproof Jacket
Sizes: S-XXXL
Colors: 2 (Black, Navy)
+ 3-year waterproof guarantee
+ Excellent adjustability to reduce restriction
- Side pockets are a little high and awkward to access
As waterproof jackets go this is one that has certainly had a huge amount of thought go into its design. There is an incredible amount of adjustability, particularly the cuffs, collars, waistline and really good body adjusters. This means that no matter what under layers you are wearing, you will be able to adjust the jacket so that it doesn't interfere with your swing. The jacket itself is very lightweight, and would need a mid layer to be used if playing on a cold day.The jacket is part of Oscar Jacobson's Weather Protection System, which means it comes with a three-year guarantee on the garment's waterproof qualities.