Best FootJoy Golf Shoes 2023
FootJoy are arguably the biggest golf shoe brand in the world and, in this guide, we have taken a look at their best models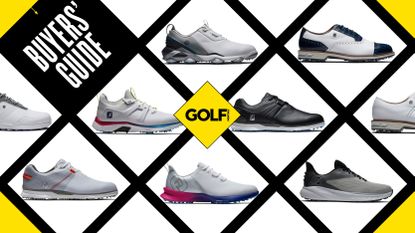 (Image credit: Future)
Get the Golf Monthly Newsletter
Thank you for signing up to Golf Monthly. You will receive a verification email shortly.
There was a problem. Please refresh the page and try again.
If you were to ask a golfer their favorite manufacturer of golf shoe, it is likely they would say FootJoy, with the company involved in producing some of the most iconic models in golf for over 150 years. Purveyors of some of the best golf shoes currently available on the market, FootJoy also make some of the best spiked golf shoes and best spikeless golf shoes that money can buy. Don't just take our word for it, take a look at the number of professionals donning the footwear on the PGA, DP World and LPGA Tours.
Currently, there are a variety of styles available in the FootJoy range and, below, we have tested out the very best the company has to offer. Whether it's comfort you are after, or perhaps a certain style, there are plenty of options available.
Dan Parker takes a look at the best golf shoes currently available on the market
However, if FootJoy is not for you, we have also created guides on other brands available on the market. For example, we have scoured the current golf shoe market to create buying advice on the best Puma golf shoes, best Under Armour golf shoes and also the best Nike golf shoes.
The Quick List
Best FootJoy Golf Shoes
Spiked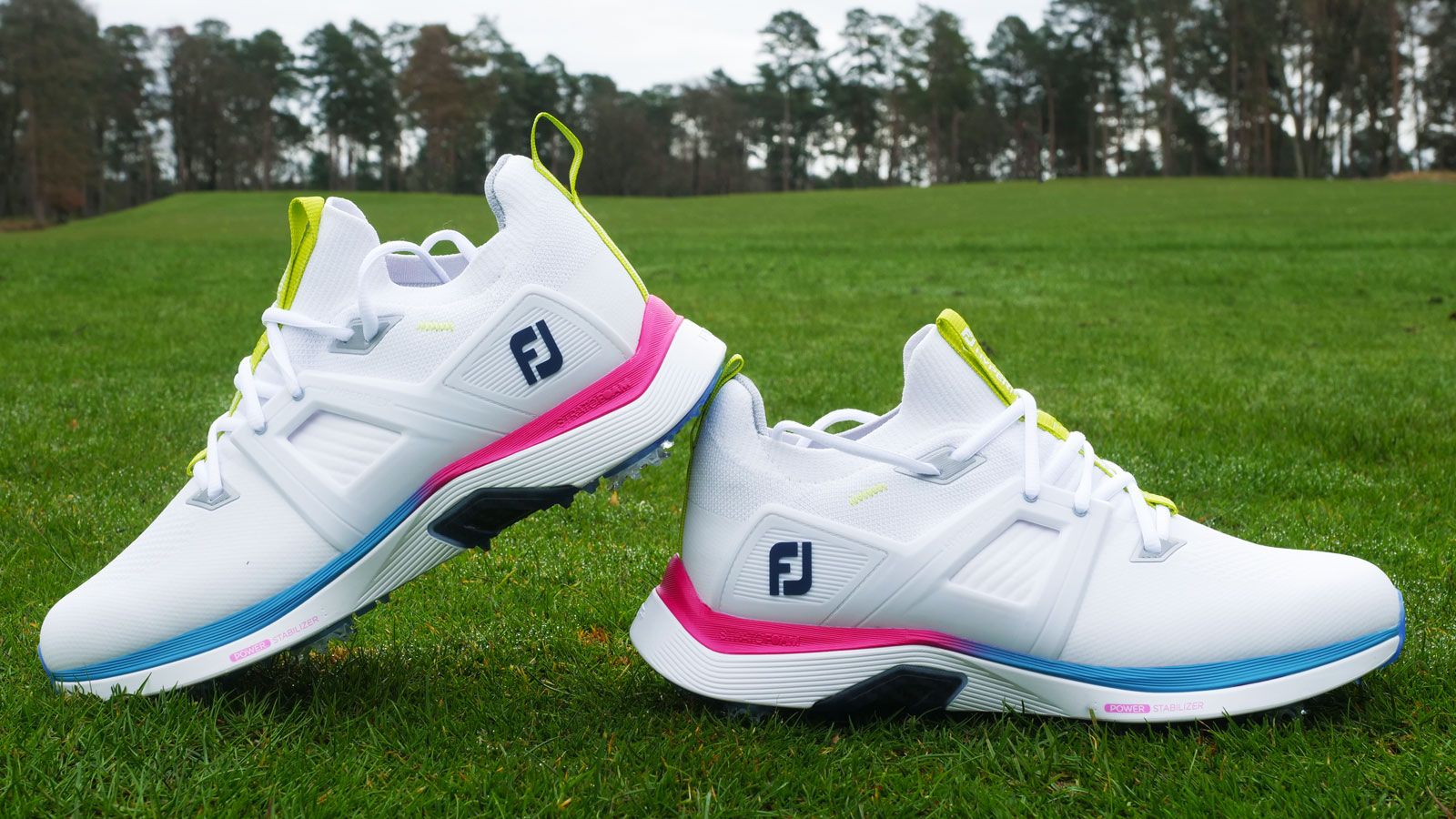 Updated for 2023, the new HyperFlex range comes in three men's models - HyperFlex, HyperFlex BOA, and HyperFlex Carbon, with the Carbon version containing a carbon fiber construction which makes it incredibly lightweight.
There's a lot to like about this model and, from a performance perspective, the absolute highlight we thought was the Ortholite Impression Footbed. This technology has elevated the HyperFlex Carbon from a good golf shoe to a great golf shoe because, as soon as we slipped our foot inside, we could feel the technology at work.
Aesthetically, the HyperFlex Carbon has stuck to the similar blueprint of its predecessor, but this time around, FootJoy has included some new splashes of color that elevate the overall shelf appeal. It's part of a clear effort by FootJoy to go a bit bolder and brighter with some of its color options.
FootJoy Premiere Series Wilcox Golf Shoe
A shoe that will certainly catch the eyes of your playing partners, the FootJoy Wilcox is the latest addition to the brands excellent range of Premier golf shoes and cuts the balance right between being a traditionally styled golf shoe and one that just oozes class. It is certainly one of the best spiked golf shoes on the market right now thanks mostly to its visuals, which if you couldn't tell already, we loved. The brand has retained a 'classic' FootJoy golf shoe look but with modern day technology to keep your feet dry and comfortable thanks to premium leathers, lightweight materials and a modern, grippy outsole.
Speaking of the grip on offer, the shoe comes with what FootJoy call a Versatrax outsole that boasts nine stable cleats, which raise you above mud and wet grass and helps to deliver plenty of traction. That helped us feel very confident when putting our full power through each golf shot. While they're not the most comfortable golf shoes offering a firmer feel to other options available they still come with a locked-in feel that helps to keep your feet nicely secure throughout your swing. FootJoy are also so confident that they'll keep your feet bone dry, that they offer a one-year waterproof warranty with these shoes too, making them some of the best waterproof golf shoes available.
FootJoy HyperFlex 2023 Golf Shoe
The HyperFlex shoe comes to market in 2023 as the ultimate shoe for what FootJoy is calling the 'modern golfer athlete'. Looks-wise, it is certainly sporty and, when we looked more into the design and technology, we certainly understood why this shoe will be especially popular among those seeking comfort and stability while taking their shot.
We begin with the integrated thermoplastic side wrap and saddle, which constricts your foot but in a snug, comfortable way to provide a really secure and stable feeling throughout the swing. Certainly, it is one of the most comfortable golf shoes we have worn recently, and this was largely thanks to the StratoFoam which sits in between the midsole and sole to provide a cloud-like cushion.
One of things that we particularly enjoyed about the HyperFlex was the sock-like design around the tongue and heel - being able to pull the tab forward made the shoe easier to get on, with what is a fairly narrow entrance. It is worth noting that the HyperFlex did come up slightly narrow, so we would recommend ordering the wide fit for people who have had previous struggles with narrow fitting shoes.
FootJoy Premiere Series Packard Golf Shoes
This model is inspired by Frederick Packard, FootJoy's founder and a shoe pioneer who drove the adoption of many modern manufacturing and design innovations that are still used today. Another stunning-looking shoe, the Packard features premium detailing like the pebble grain leather as well as the calfskin croc print in the saddle area.
If you need proof of the quality of the Packard, then it is worth noting that these shoes are worn by none other than 15-time Major winner, Tiger Woods, with the American donning them when he returned to competitive action in April 2022.
It is a cleated shoe, so the VersaTrax+ pattern combines with nine Pulsar low profile cleats to provide impressive grip. Even when testing on a damp morning, at no point did our feet slide laterally or give way. In fact, stability is a key performance attribute of the Packard, as it provides a firm and locked in feel, which helps forge the strong connection with the ground that is so crucial to the golf swing and in generating speed.
FootJoy Premiere Series Tarlow Golf Shoe
Featuring in three colors, the Tarlow series is also fully customisable, with the design being FootJoy's modern interpretation of the timeless cap toe. Constructed with a natural grain leather in the vamp (the middle part of the upper above the foot) and the quarter (the back part of the upper), the aesthetic will garner a mixed response, with some loving it and some hating it. However, this is something which you could probably says about many of the best golf shoes on the market.
Like the Flint and Packard models listed in this guide, it's not just the looks that are impressive, as the soft, supple sheepskin linings provided immense comfort out on the golf course and, rather importantly, it didn't cause any uncomfortable rubbing or blisters either in testing, which is something that can often occur when we have taken shoes right out of the box and onto the golf course.
For grip, the Tarlow has nine Pulsar low profile cleats, which also provide an immense amount of stability throughout the swing and, at no point did the shoe feel like it was going to slip. The last thing of note is the waterproof leather construction, which performed very well indeed when we got caught in a couple of downpours. In testing, our feet felt nicely cocooned against the elements.
FootJoy Tour Alpha Golf Shoe
If you're looking for comfort and stability in your golf shoes, then you should definitely consider trying out the FootJoy Tour Alpha. Firstly, they're packed to the brim with golfing technology and, while they may look slightly big, they are surprisingly light.
The stand-out feature is arguably the padding around the ankle and underfoot. In testing, we thought it was excellent, with the fit helping you keep fully locked into the shoe giving you greater control with your golf swing.
This shoe stands out as one of the best golf shoes because it is a strong, grippy trainer that gives off more confidence, control and greater power in your golf shots. A lot of that is driven through the nine cleats that are spread out on the bottom of the shoe. That enhanced grip helps you to form a great connection between your feet and the ground, providing greater control over golf shots, even on wetter or muddier terrain.
Spikeless
We have been fans of the Pro SL range since it was released back in 2016. In its newest edition, the fourth generation, we see the iconic model take some of the comfort from the FootJoy Stratos golf shoe and the brand's Hyperflex design added to the midsole of the new 2022 Pro SL.
In testing, this provided comfort whilst also returning energy to our feet as we stepped, with the Pro SL providing comfort straight out of the box and an on-course performance that we've gotten to know and love.
Certainly the sole design alone puts this as one of the best spikeless golf shoes we have worn on the course, as it also provides all the traction you need, even in wet, wintery conditions. Because there are multiple versions of the Pro SL, there should be something for everyone's tastes.
FootJoy Pro SL Sport Golf Shoe
The latest iteration of the Pro SL franchise sees an all-new upper material used for the first time, giving the shoe the sportier, more athletic look the name suggests. The shoes are much more lightweight and breathable than the 'standard' Pro SL thanks to the performance material upper, utilizing mesh and using an ultra-thin TPU hotmelt top layer.
It's worth noting that the loss of the all-leather upper from the standard version does not correlate a loss in breathability and waterproofness and, when testing these on a couple of very warm days on the golf course, we found our feet remained at a comfortable temperature for the entirety of both rounds.
From our testing, we would go as far as to say that the Pro SL Sport is probably more breathable than the standard version, such is the brilliance of the new upper, with the Pro SL Sport one of the most breathable golf shoes on the market.
FootJoy Fuel Sport 2023 Golf Shoe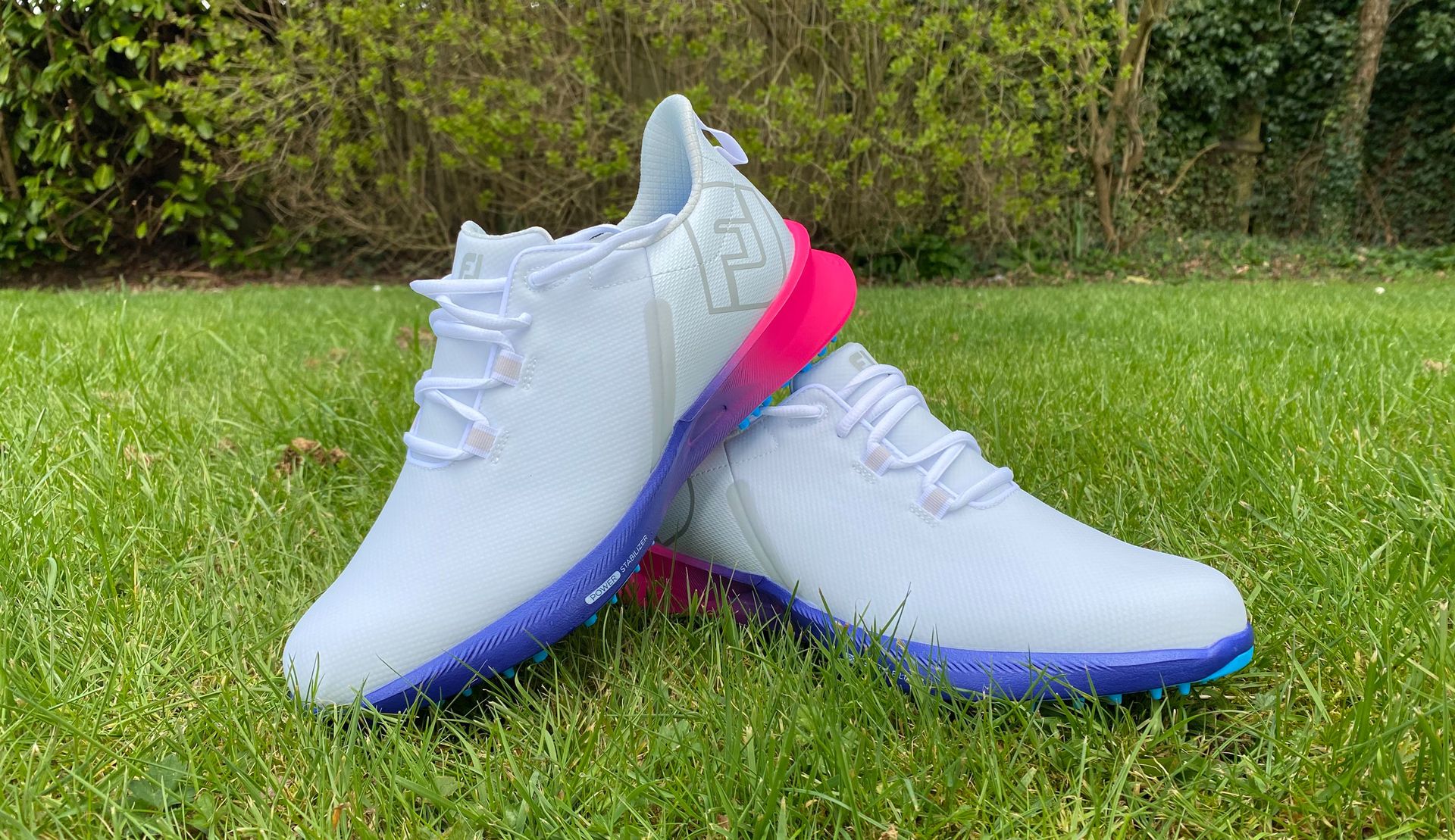 The main standout of the FootJoy Fuel Sport is the grip. Although it isn't as strong as the best spiked golf shoes, it's as good as, with a Performance Infinity Outsole and Stability Bridge working wonders over an array of lies and conditions.
In our testing, we used these on a day where there was heavy rainfall just prior to going out on the course and, despite being very wet underfoot, we didn't experience any slips at any point during the round.
There is a lot to like about the Fuel, with the overall comfort and stability something which will provide confidence. This is because our foot remained firmly locked in place throughout 18 holes, with the lightweight cushioning from the Stratolite Foam working its magic when hitting full shots and walking between them.
FootJoy Stratos 2022 Golf Shoe
The strapline for the FootJoy Stratos 2022 shoe boasts of offering the golfer 'luxurious comfort'. This is in no small part down to the use of Pittards NappaLuxe leather for the upper, and the brand's StratoFoam under the foot.
When you first pick up the shoe, the first thing you will notice is the styling, which is designed to offer a classic look. There are no flashes of bold color or overly aggressive spikeless designs here, it is all very simple and understated.
Away from its looks, it also offers ample grip as the sole provides lots of contact points with the ground. This is impressive given that the Stratos is a spikeless golf shoe but, what's perhaps more impressive, is the comfort. These really are some of the most comfortable golf shoes on the market, with the Stratos living up to its tagline of 'luxurious comfort.'
Women's Golf Shoes
A sporty, high-performance golf shoe, the 2022 Flex XP delivers excellent comfort over 18 holes of golf, with it proving to be a fantastic summer golf shoe that will add an extra spring to your step. In testing, we felt they were almost like running trainers rather than golf shoes, but they still offered the same levels of traction as some of the very best women's golf shoes.
They are also lightweight, yet waterproof, and offer great breathability. This is thanks to the specially designed mesh that aligns the shoe's upper. While you might think that this mesh is not the best for rainy or dusty conditions, we were impressed with how easy it was to brush mud and sand off them, but it was the comfort levels of these shoes that really was a game changer for us.
The sole is so well cushioned and features an EVA midsole that helps to stabilize the foot and give more support as you swing the club. Even in wet conditions, we thought these shoes held their own. They can also be worn off the course, with the comfort and design appealing to a wide range of players plus, rather nicely, they come with a one-year waterproof warranty, which is a great insurance to have if you regularly play in wet conditions.
FootJoy Women's 2022 Pro/SL Shoe
The FootJoy Women's 2022 Pro/SL Shoe is definitely worth considering if you're looking for a shoe that will provide you with greater stability. In testing, we thought that, overall, they are a comfy and spongy spikeless option that can be worn almost all year round thanks to their waterproof leather upper.
These shoes provide excellent grip on the turf and, thanks to the shoe's new Infinity Outsole, it provides 30% more points of traction than its predecessor. It also has a bouncy Stratofoam midsole cushioning sole that gives excellent support as you traverse the fairways and comes in an array of widths and sizes that make it perfect for golfers with all foot shapes.
It's the weight of the shoe that really impressed us though and, while it may look slightly big compared to some of the lighter sneakers on offer in the best women's spikeless shoe category, the Women's Pro/SLs are so light that it felt like we weren't wearing anything on our feet. Perhaps the coolest feature is the customization options available on FootJoy's MyJoy platform. If the SL's colorways aren't to your tastes, you can use the MyJoy design tool to alter the color of the shoes to make them truly reflect your style.
How we test golf shoes
Our golf shoe testing methodology revolves around putting models to the test over a number of rounds and in different conditions. This is so we can gain a better idea of overall performance in terms of factors like grip comfort, grip, stability, waterproofing and how they actually look on the golf course. Each of the shoes listed above has been personally used by a member of the Golf Monthly team and golf shoe testing is headed up by Golf Monthly Staff Writer Dan Parker.
This is the best way of testing a golf shoe as using it in the real world over a number of weeks allows us to see how they perform when variables change like weather, ground conditions, different stances and lies, and so on. We think this also gives us information on the little details as well like which brands come up small or large, which models start to rub a bit too much after 36 holes, which designs can be used off the golf course and for the drive home? We are very comprehensive in our tests to the point where we will regularly attend product launches and meet with the manufacturer's R&D experts to understand the new technology. That isn't to say manufacturers can buy a good review though, as all our reviews are made by golfers, for golfers.
How to choose golf shoes
There are a number of factors to consider when picking out your next pair of golf shoes so to help you narrow down your search and inform your buying decision, below we have put together some key points.
1. Spiked or spikeless?
The models above are split into spiked (or cleated) and spikeless designs and there are pros and cons of each. Spiked golf shoes offer better grip and stability but don't sit as low to the ground as spikeless models. They are perhaps better suited to wet weather and colder climates where the terrain may be slightly slippery under foot.
Spikeless golf shoes offer off-course versatility. They are perfect for driving in the car to the golf course, playing a round, and then driving home again because they are usually light and comfortable, but most won't offer as much traction as a spiked shoe. Spikeless shoes are perhaps better for warmer climates where the ground is a lot harder. While they don't provide as much grip as a spiked shoe, on firmer ground you will get a lot of traction off the floor with spikeless golf shoes.
2. Waterproofing
If you live somewhere that gets a lot of rain then a waterproof shoe is a must. The best designs will keep your feet bone dry however if you play golf in glorious sunshine most of the time, then you may view other factors as more significant.
Many players choose to have one pair for winter and another, lighter pair for summer to keep them fresh and suit different requirements.
You may also want to think about how easy to clean your waterproof shoes are. Some shoes can be made of a waterproof fabric that can sometimes get dirty with mud and be hard to clean. But if you play a lot in the summer months, then a lighter more breathable pair of shoes might be for you.
3. Getting the right fit
When picking out golf shoes getting the right fit is important because otherwise blisters can build up, or your feet may slide around inside, which limits your stability.
When trying a pair on for the first time, listen for the 'whoosh' sound when you slide your feet in - that's the sound of all the air leaving the shoe to confirm it is the correct size, but do a walking test to be sure. They shouldn't pinch anywhere, nor should your feet be moving around inside.
When it comes to the right fit it is also worth considering different laces. Normal laces are good for most but for some golfers, BOA laced shoes provide more convenient fastening and shouldn't loosen during the course of a round, but are usually a tad more expensive.
The better fit, the more control you'll have in your swing and that means you'll be more confident when it comes to putting more power on your golf shots.
4. Styling
Thankfully modern golf shoe design has seen many brands not just create traditional, classic-looking shoes, but also modern styles that can be used off the golf course too. Therefore it is important to think about what your shoes look like and what style suits you. Whatever you like or dislike, there is something for everyone these days.
5. Support
Over a round of 18 holes, an average golfer will walk approximately five miles and burn up to 2,000 calories. That is a lot of time spent on your feet, so as it goes without saying, you're going to always want to have something on your feet that is comfortable.
If you do get sore feet or knees during your round, it's best to get a shoe that has a spongey yet supple sole that can cushion your feet while you walk. That being said some shoes can often sacrifice performance for comfort, so it's best to always try your shoes on and have a little walk around your club shop before you buy.
You may also want to think about the support you get around the ankles as many golfers traversing the undulating terrains of their local club will know that it is often very easy to turn over on one of your ankles if you misplace your step. For that reason, if you can get a pair of shoes with good support around their opening, your ankles will be much better off for it.
If you enjoyed this guide on the best FootJoy golf shoes, be sure to check out the Golf Monthly website for more reviews and guides, such as the best Nike golf shoes, or best adidas golf shoes.
FAQs
Is FootJoy a good brand?
FootJoy are highly regarded as being one of the premium footwear brands in golf, with PGA Tour professionals, like Tiger Woods, Justin Thomas, Patrick Cantlay, Louis Oosthuizen and Adam Scott all choosing to use FootJoy.
Does Tiger Woods wear FootJoy golf shoes?
While Tiger Woods has previously played in Nike golf shoes, in recent years, the 15-time major winner has been seen wearing a pair of FootJoy's Premiere Series Packard golf shoes.
Is it better to wear spiked or spikeless golf shoes?
That depends on your preferences as a golfer. Spiked golf shoes offer more grip on the ground and help players perform on softer surfaces, where the turf might be slippy. Spikeless golf shoes are better for summer conditions when the ground may be a little harder and are regularly seen being used by professional PGA Tour players in America.