Best Golf Balls For Women 2023
In this golf equipment guide we look at the best golf balls for women.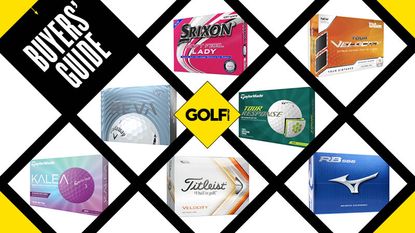 (Image credit: Golf Monthly)
Best Golf Balls For Women
There are so many golf balls to choose from so it is important to think about which will benefit your game the most to help improve your score. Are you seeking greater distance, accuracy, feel or spin? A golf ball is made of a core and a cover, but can consist of several layers, hence why they are referred to as one-piece, two-piece, three-piece balls and so on. For many women golfers, a two-piece ball is ideal as it provides a blend of distance, spin and feel, however, better golfers will want to use the very best for the feel and spin the ball delivers around the greens.
There are some vibrant colors in a matte finish to choose from, so whatever your color preference and type of ball, you will find one in our list below that will suit you. Also, if you have other gaps in your equipment that need filling, then we have a wide range of buyer's guides for women in golf. For example, if you need shoes then go to our best women's golf shoes (opens in new tab) post. If you need a new bag, take a look at our guide on the best women's golf bags (opens in new tab) guide. Whatever you need, we have got you covered.
Best Golf Balls For Women
Why you can trust Golf Monthly Our expert reviewers spend hours testing and comparing products and services so you can choose the best for you. Find out more about how we test.
Specifications
Construction: Two-piece
Colors: 3 (white, purple, peach)
Reasons to buy
+
Low compression will help slower swings create more ball speed and distance
+
Available in white or eye-catching matte purple and peach
Reasons to avoid
-
Medium to fast swings speeds will not reap maximum benefits from its design
The Kalea is essentially designed for ladies who, on average, won't swing the club as fast as men. But its performance attributes could work for anyone towards the slower end of the swing spectrum. That includes perhaps kids or more senior golfers. If you fall into this category, it might also be worth looking at our best golf balls for slow swing speeds (opens in new tab).
The slower you swing a golf club, the more compression you need in the ball, so that's where the Kalea's low 60 compression really helps it stand out from the pack. It helps it to generate more lift for more yards, with the High-Energy REACT core maximizing driving distance. TaylorMade have also inserted a soft ionomer cover to the ball which provides a soft feel into the greens along with excellent greenside spin. While we tested several cool colorways of this golf ball, it also comes in a white offering for the traditional players,
Specifications
Construction: 2-piece
Colors : 1 (White)
Reasons to buy
+
Impressive distance in the long game
+
Softer feel from the face on the chip shots
+
Plenty of value for money
Reasons to avoid
-
Cover marks up fairly quickly
A great value-for-money golf ball that is excellent for mid handicap players, the Wilson Women's Duo Soft+ is a fantastic 2-piece golf ball that offers great responsiveness around the greens. They also offer great distance, with a low compression Velociticor Core, which is perfect for players who swing the club under 95mph. The core works to keep general spin down on the ball and help you carry your shot further.
One other thing to note about these golf balls is how durable they are. We noticed they didn't mark up easily and delivered great performance all-around. And you can really rip through these golf balls and put all kinds of shape on your shots, from towering drives to shaped iron shots. We also really liked how much stopping power you can get on chip and pitch shots, akin to many of the best premium golf balls (opens in new tab) on the market.
Specifications
Construction: Two-piece
Colors: 2 (white, pink)
Reasons to buy
+
Impressive all rounder
+
Good price
Reasons to avoid
-
Not as much greenside spin as Srixon's premium offerings
The key to the Srixon Soft Feel Lady ball's performance is its softness and very low compression of just 58. The softness starts with an Energetic Gradient Growth Core that's softer near the centre and firmer around the perimeter, for a blend of softness with maximum ball speed. This design helps to bring added distance to ladies, whose average swing speeds are typically slower than men's, along with a higher launch for more carry. Srixon produce a wide variety of balls (opens in new tab) that are designed to deliver optimal aerodynamic flights and this is no different. It features a Speed Dimple pattern that also reduces drag at launch and increases lift during descent, which is particularly useful in windy conditions.
In testing, we loved the responsive feel off the face, especially on the greens. Its design elements seemed to help our distance as well off the tee, which is a massive bonus. The dazzling pink packaging gives the Soft Feel real shelf appeal and most importantly makes it easy for ladies to spot. The ball itself just has a very simple Fuchsia pink alignment line to help you aim your putter precisely.
Specifications
Construction: Two-piece
Colors: 4 (white, green, orange, pink)
Reasons to buy
+
Good distance
+
Loved the different matte color options
Reasons to avoid
-
Lacks short-game spin versus other models in the range
The 2022 Titleist Velocity golf ball features a firmer higher-speed LSX core that boosts ball speed on all full shots while keeping the spin down for optimum distance. The cover has been improved to create a better feel and the aerodynamics updated to provide a higher trajectory.
It is this combination of ball speed, low spin and high flight that makes the Velocity ball the longest in the Titleist range which will help many women get the ball out there a little further. Additionally, we loved the color options too as the ball is available in white or matte pink, green and orange. Overall we think the Velocity is not just one of the best distance golf balls (opens in new tab) out there, but also one of the best golf balls for high handicappers (opens in new tab) too.
Specifications
Construction: Three-piece
Colors: 3 (white, yellow, plus Stripe version)
Reasons to buy
+
Fairly soft feel on the greens
+
Good greenside spin control
+
Consistently strong ball flight
Reasons to avoid
-
Not quite as long for the faster swinger off the tee than some premium urethane balls
Sitting just below the TP5 (opens in new tab) and TP5x (opens in new tab) models is the new Tour Response golf ball. We noticed several improvements when compared to the previous model. For example, the new ball was faster off the face by about 3 mph versus the previous generation with a fraction less spin. This created six extra carry yards and seven additional yards in total. We noticed it spun a little less with the irons and wedges as well and yet there was no loss of control or feel. We also thoroughly enjoyed the feel off the putter as well because it gave a lovely soft touch off the blade.
Overall the long game performance in particular has been taken up a notch. For a relatively low-compression ball, we were impressed by the strength of the flight and the overall distance. When you couple that with the spin control offered by the cast urethane cover, you have a solid all-rounder that provides many golfers with a good value-for-money alternative.
Specifications
Construction: Two-piece
Colors: 3 (white, yellow, orange)
Reasons to buy
+
Good durability and all round performance
+
This ball launches and flies higher than most
Reasons to avoid
-
The cover is highly durable but not the softest
The RB566 golf ball has been engineered to suit golfers with mid and slower swing speeds in warm, dry conditions, and all speeds during winter months or when the ground is soft. This ball features a unique 566 micro-dimple pattern for prolonged flight and a large, soft-compression high-energy core that allows driver spin to be reduced for a more efficient and straighter ball flight. The ionomer cover offers a blend of feel for greenside control and year-round durability. If you're looking for a reliable golf ball, then this is your best bet, considering that Mizuno craft some of the most durable and best golf irons (opens in new tab) in the industry.
Specifications
Construction: Two-piece
Colors: 1 (white)
Reasons to buy
+
Delivers eye popping distance
+
15 in a pack means excellent value for money
+
Superb distance
Reasons to avoid
-
Feels very firm around the greens especially off the putter face
This low-compression addition to Wilson's excellent range of golf balls (opens in new tab) promises extreme distance through a hard ionomer cover material that optimizes trajectory for maximum yardage and roll. From our testing, we can vouch that this ball certainly delivers. The enhanced aerodynamic dimple pattern really does add to the power potential from the tee and, as a result, we were very impressed.
These are very durable and won't mark up easily, even when it bounced off the cart path. Although the Wilson Velocity Distance is a low-compression ball, its mid-compression core introduces an element of greenside playability too. The Velocity Distance is up there in terms of value, too, thanks to the three extra golf balls you'll find in the box. While most other brands provide only 12, we were surprised to find 15 in the Wilson Velocity Distance package. Overall, it is the perfect golf ball that can help female golfers reach much greater distances off the tee.
Bridgestone Lady Precept Golf Ball
Specifications
Construction: Two-piece
Colors: 2 (White; Pink)
Reasons to buy
+
Soft feel
+
Great distance
+
Reasons to avoid
-
Not the best greenside spin on offer
Bridgestone are well known for producing distance-enhancing golf balls, just take a look at some of their offerings that are featured on our best golf balls for distance guide (opens in new tab). In this instance, they have created a soft-feeling golf ball designed for female players that travels very fast and far through the air. Collected data from over 15,000 fittings with female golfers, Bridgestone have engineered a woman-specific model to add to their excellent range of golf balls (opens in new tab).
The Bridgestone Lady Precept golf ball features a traditional core that is much softer than some of the balls you'll find on our best golf balls guide (opens in new tab). That means it has a lower compression which will help the ball travel further and deliver a better feel on impact. 330 seamless dimples are dotted around the ball which help this ball fly better through the air. It is for that reason, a fantastic golf ball for anyone with a slightly slower swing speed.
Specifications
Construction: Two-piece
Colors: 2 (white, pink)
Reasons to buy
+
Slightly larger than the standard ball, so instills confidence
+
Easy to launch and forgiving on mishits
Reasons to avoid
-
Better players with a faster swing speed will not reap the benefits in terms of carry and distance.
This ball complements the latest Big Bertha Reva (opens in new tab) family of clubs and is designed for beginners or players with slow to moderate swing speeds for increased distance, higher launch and straighter shots. Was that the case in our testing?
Well, the first thing to notice is the size. Conforming to the Rules of Golf, the overall construction of the Reva ball, which comes in white or pink with a subtle sparkle finish, is actually 9% larger than a standard ball. The larger diameter, 1.73 inches as opposed to 1.68 inches, means that the center of gravity is higher to help launch the ball more easily with greater forgiveness on mishits. Carry and distance off the tee was generous too and the technology Callaway have built into this golf ball makes it one of the best in the brand's entire range (opens in new tab). It boasts a low compression with an ionomer cover that is designed to reduce spin. That allowed our shots to fly a lot straighter and further. We also enjoyed the performance on offer around the greens as well, and on them with the feel off the putter being good as well.
Honma A1 golf ball
Specifications
Construction: Two-piece
Colors: 3 (White; Yellow; Orange)
Reasons to buy
+
Extremely soft feel off the face
+
Great distance
+
Excellent value
Reasons to avoid
-
Limited spin control around the greens
-
Choice of colors in the multipack won't suit everyone
Having tested this golf ball on the course and on the range, we were very impressed at how well the Honma A1 golf ball performed. Honma are renowned for producing high-end golf clubs and feature regularly on some of our best drivers guides (opens in new tab). But this golf ball is an exciting new offering from the brand that is marketed as an anti-slice golf ball. That is thanks to its new super-soft rubber core which is 20 per cent lighter than the Honma D1 ball and is designed to minimize sidespin and the chance of a slice. For that reason, we were really impressed with how this ball flighted and performed, especially considering its low price tag.
On long-game shots, it felt soft on the club face and offered a lot of run when the ball landed on the fairways. That obviously became more evident during summer when the ground was harder. Short game is slightly sacrificed here for the distance the ball offers you but that makes it fantastic for players with a slow swing speed.
Great golf ball for mid-range handicappers
Specifications
Construction: Two-piece
Colors: 6
Reasons to buy
+
Ideal all-round ball for those with average swing speeds
+
New hybrid cover boosts distance and durability without sacrificing feel
+
Construction and cover are engineered for straighter shots
Reasons to avoid
-
Faster-swinging seniors won't get the most out of the low-compression core
Callaway's low-compression Supersoft ball has undergone several improvements. Principle among these is a new hybrid cover featuring what Callaway has christened a Paraloid Impact Modifier. The benefits are improved distance and durability without sacrificing feel and short-game control. Callaway's famous HEX Aerodynamics cover pattern reduces drag and increases lift to help you launch the ball better. The Soft Compression Core then enhances energy transfer for more ball speed and a high-launch, low-spin combo in your longer clubs.
In our testing, we definitely felt this was the case and we also saw some receptiveness with approach shots, especially longer irons and hybrids. Another feature of the ball that we were particularly impressed with was the black background on the Supersoft name which provided a great alignment tool. It is also available in six colors - white and yellow plus matte orange, green, pink and red. This is one of the best soft golf balls on the market and features on our guide to the best soft feel golf balls (opens in new tab) .
How we test golf balls
The quality of Golf Monthly's reviews and buyers guides is built upon a rigorous testing procedure as well as the knowledge and experience of the test team that has a sterling reputation in the industry, known for delivering the key points you want to know in a concise, easy-to-digest manner.
The first port of call to test golf balls (opens in new tab) is usually our category leader Neil Tappin (opens in new tab) but he is also ably assisted by members of the Golf Monthly including Alison Root (opens in new tab) and Katie Dawkins (opens in new tab) who oversee all women's equipment. Our specific golf ball testing is built upon this procedure so we can get controlled data inside, and then see how the golf ball performs on the golf course. That way we can get a more complete picture and greater feedback to pass on to you. We think golf balls have to be tested over a number of rounds because that is how you can test for things like distance, feel, durability, spin and so on. Additionally, we should make it clear that no manufacturer can buy a good review because we tell it how it is.
What to consider when buying golf balls
The most technical piece of equipment in golf is the golf ball. Brands are innovating all the time to see how they can make their golf balls carry further, spin more and help the modern-day golfer shoot lower cards. For that reason, there is an awful lot of technology crammed into your average ball, whether that's in terms of the ball's dimpled casing or its construction. That means there are a lot of things to consider when purchasing your next box of golf balls and that can sometimes be quite overwhelming for players who are relatively new to the game. To help you purchase the best golf ball for your game, we've set out a few points below that you should bear in mind when you head down to your local golf shop.
1. Soft or firm?
The best premium golf balls (opens in new tab) come in alternative versions that spin slightly less for players who prefer a firmer feel or more control off the tee. We recommend you try both kinds of feel from various distances to find your preferred feel.
2. Cover material
Urethane-covered balls offer the best spin control and feel but do cost more. Experiment with each to see if you notice enough of a difference to justify the extra cost, or whether the best mid-price golf balls (opens in new tab) might be an option.
3. Long game or short game?
Which aspect of the game is most important to you? Are you looking for maximum distance or something that allows your short game to shine around the greens? If you put a real premium on feel, perhaps our best soft feel golf balls (opens in new tab) guide might be a good next step.
4. Color/visuals
Are you very much a classic white ball player, or someone open to playing something a little different as the golf ball world evolves? There's more choice than ever in this regard and if you're planning on outdriving the course, there's a strong chance that you will want your golf ball to have a bit of color on it, to help you see where it falls on the course.
5. Price
No buying guide would be complete without at least mentioning price. Thankfully most brands make models at different price points and you can rest assured there is decent performance on offer across the price spectrum. It is also worth considering that personalized balls cost a little more money.
For more advice on buying golf balls, we have a ton of information on our website that will help you make the right choice for you. If you're after colored balls in particular, take a look at our guide on the best-personalized golf balls (opens in new tab) and our guide on the best 10 golf balls with matte finishes that offer high performance (opens in new tab).
FAQs
What's the difference between mens golf balls and women's balls??
There isn't a great deal of difference between men's and women's golf balls. Perhaps the clearest signifier of a women's golf ball these days is color because models like the TaylorMade Kalea come in pink and purple colors and those colors are more normally associated with women. One thing we've noticed about women's golf balls is that they often have a lower compression than standard golf balls. The reason is that women generally tend to have lower swing speeds than men and therefore require a little more compression in their golf balls to help them get the ball up and into the air. On the other hand, there are a lot of women who can quite easily use premium models or ones that are designed to cover a variety of abilities. So for that reason when picking a golf ball always see which is the best option for you before buying one.
Do women's golf balls make a difference?
That depends on your swing. If you have a slower swing speed, then yes they will make a difference. Ladies golf balls tend to be designed with a lower compression core than most other golf balls that enabling the player to strike the ball longer and harder despite having a slower swing speed.
What golf ball does Nelly Korda use?
Olympic gold medallist Nelly Korda uses a Titleist Pro V1 Golf Ball.
Alison Root has over 25 years experience working in media and events, predominantly dedicated to golf, in particular the women's game. Until 2020, for over a decade Alison edited Women & Golf magazine and website, and in addition to writing, overseeing all content and developing industry relationships, she was the go-to voice for TV and radio to comment on breaking women's golf stories. Alison is also the Editorial Director of Glorious, the new digital platform devoted to elevating women's sport and that includes golf! She is a 14-handicap golfer (should be better) and despite having had the fantastic opportunity to play some of the best golf courses around the world, Kingsbarns in Scotland is her favourite.