Best Golf Training Aids 2023
A look at some of the superb training aids on the market that could help improve your game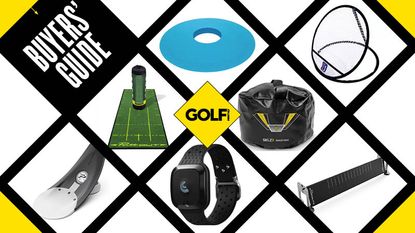 (Image credit: Golf Monthly)
Get the Golf Monthly Newsletter
Thank you for signing up to Golf Monthly. You will receive a verification email shortly.
There was a problem. Please refresh the page and try again.
Best Golf Training Aids
Golf is one of the most technically challenging sports out there and playing just once a week is certainly not enough to see you make big improvements. It's therefore wise to think about practicing more. And while we all have very busy schedules that restrict us from getting out on the course perhaps as much as we'd like, a comprehensive golf training aid is an excellent way to improve your skills. Manufacturers produce a whole variety of equipment, including some of the best golf accessories on the market, that can help you improve all parts of your game. You can use these tools to work on everything from your putting to your driving to help you become a more accomplished player.
You can also implement many of these tools both at home or on the driving range. And whether the training aids are designed to help you improve your swing or to perfect your putting, a little bit of work goes a long way and could see you knocking shots off your handicap. Below we've set out some of the best golf training aids on the market that we think will help you improve as a player. Be sure to also check out our guides on the best golf launch monitors, best golf simulator and our picks for the best golf net.
VIDEO: Watch Joel Tadman and Dan Parker talk through the 10 best training aids you can buy right now
Best Golf Training Aids
First up is the Devil balls from PuttOUT, a product we thought was so good, we chose to include it in our Editors Choice Awards for 2023. Putting is perhaps the hardest part of the game to get right. Golfers of all abilities know that this is where shots can be won or lost around the course and this brilliant putting training aid can give you instant feedback on the face angle of your club at impact. It's a technologically advanced golf ball that comes with a flat-edged impact zone. While that may at first seem weird, it works to exaggerate the face angle that is delivered at impact to help golfers get the right feel, keep the putter face square through impact and strike through the golf ball.
Something we really loved here was that this ball has has half the tolerance of a normal golf ball. That means those three-foot putts become doubly difficult and when you go back to putting with a normal ball, you'll certainly feel the distance. In testing the feedback was pretty clear and instantaneous - it was unlike anything we have used to practice putting before. Quickly we gained a better understanding of face angle and this has most definitely helped when the putts matter. The ball also has three difficulty levels that slowly reduce the tolerance of face angle you can present for the ball to roll properly which is a nice feature. Finally it's worth noting that the alignment marker that comes in the pack also works as a brilliant training aid to encourage you to hit up on the ball.
The Sure-Strike Training aid, designed and produced by Dan Frost, is an excellent way for golfers to eliminate bad habits from their swing to achieve better body positions and movements. It is a movement trainer to help inform the player how to locate the correct positions to be in when you swing through the golf ball. All golfers want to improve their ball striking, and this excellent swing trainer can help you better both your short game and long game.
Putting it simply, this is a feel-based tool that works to help you perfect your swing mechanics by increasing shaft lean and establish impact fundamentals professionals are able to produce. Perhaps you might have found too much face rotation in your swing, a bit of a slice or are hitting the ball slightly off-centre, then the Sure-Strike can help you refine your action to make better contact with the golf ball. The innovative handle design mimics the perfect grip on the golf club. There is also bonus footage and additional features when purchasing the product to keep your interest stimulated and your progress ongoing - a great added extra that not many other training aids can boast!
While there aren't that many short game training aids on the market, the Wedge Trainer is certainly one tool that can help you get the most out of your chippers. While some of the best golf wedges in the game can be quite unforgiving, the Wedge Trainer can really help you cure the yips in your short game. It is a nicely packaged one-piece bit of kit that is designed to reduce movement in your wrists when your play with your wedges.
It is designed for use from within 100 yards out and there is a great degree of flexibility when using it. We felt we got the most out of it when playing from around the greens, but you can also attach the Trainer in the one o'clock position, move the ball a little further back and play more full pitch shots with a shallower angle of attack and lower launch. It is a seriously reliable product that has been developed with input from PGA and DP World Tour players, and has been tested and put into the hands of professional golfers for the past two years before coming onto the market. That makes it a very reliable and easy to use product that we really enjoyed testing!
A solid training aid that is designed to help you build more control over the club by improving your grip. Essentially, the SuperSpeed Squeeze Training Aid slots over the top of your club's grip, to create a thicker and larger rubber handle that players can clasp. While some of the best golf grips in the market provide ample traction and support for your hands, this grip works to help players create significantly more grip strength than less-skilled amateurs. They can then generate greater speed but also improve the control you can get on the club, create more lag and stabilize the clubface.
The rubber grip helps to create less tension and means players can optimize your hands and arms more in your swing. SuperSpeed claims this product can lead to more control, consistency and speed – and that you should see huge gains in grip strength in as little as four weeks of regular training. That in turn will help to improve the way you hold the club while also reducing the amount of pressure you need to clasp the club with.
An excellent value product that can help you work on several elements of your game, from your putting to your long irons, these mirrors are a great way for players to gain immediate feedback on their swing. There are two mirrors included in the package, one for full swing and one alignment mirror for the short game, and they come with a storage pouch and adjustable stand. Both mirrors feature a convex design for enhanced visibility and is of the best putting training aids around with one mirror featuring several alignment lines that can help you keep the putter square through impact.
The other great thing about this product is that it also comes with a range of videos from Me And My Golf who will walk you through how to get the most out of the mirrors and its adjustable stand. There is also a very good tip for your chipping set-up and to get your shoulders in the right position and to square them up. The detail here is so helpful as the videos will tell you exactly which notch to have the stand at so you're not constantly adjusting things and throwing a lot of guesswork at it.
Looking to improve your fitness and play better golf? Well this might be the product for you! We rated it so highly that we chose to include it in our Editor's Choice Awards for 2023 with this excellent swing trainer enabling golfers to improve their power, control and general swing mechanics from the comfort of their own home. While it looks like it might be a complex system to use on first inspection, it is actually pretty easy. It uses resistance bands that connect you to a 44.5-inch bar that allows you to work through different positions in your swing.
Adjusting your hands and anchor point on the shaft of this trainer can help you vary the difficulty of your workouts, as well as use the Swing Trainer as a warm-up tool before rounds. You'll be able to access a variety of workouts online through the GolfForever App, which will start you out with a fitness assessment and build a specific program that is specific to your strength and golfing abilities, as well as your ambitions. In the few months that we've been using it, we've definitely seen an increase in clubhead speed and our own flexibility and we're seeing those gains translate into on-course wins too. We're starting to reach more par 5s with our second shots more frequently and score much better.
The PuttOUT Pressure Trainer is the perfect tool to pair with the PuttOUT mat along with a mirror and gate. The trainer works on its own well, too, as it will help you hit your putts at the perfect speed to get it resting in the indentation. Simply set it up on one of the excellent PuttOUT putting mats and start hitting your ball towards the target.
We found it to be frustratingly difficult but, once you've mastered it, you'll be a demon on the greens. You can also get Premium and Platinum versions which are made from slightly different materials and are just as fun to use. It is by far one of the best putting aids on the market and is an addictive training aid many players will enjoy using to improve their game around the greens.
An innovative training aid that caters to a wide range of ability levels. The GForce 7 Swing Trainer is designed to help rectify any swing faults and transitionary problems while helping golfers improve their rhythm and speed. While it looks a little whippy on first inspections, this is a great club that'll help you warm up ahead of your round too and is USGA approved - meaning you can also use it on the golf course. We loved this club because the feedback on it is instantaneous.
The flexibility of the shaft helps playes better understand the weight of the clubhead and using this club over time will help you learn how to not throw yourself at the ball or flick your hands square too early to square the clubface. A lot of us can tell what sort of swing we've put on a shot and this is a brilliant way to exaggerate both feel and shot shape to help you better understand and feel through what you've just played. The midsize grip is fantastic and while the shots won't go as far as one of the best golf irons in the game, the 7-iron is very satisfying that you might actually want to consider using it on the course.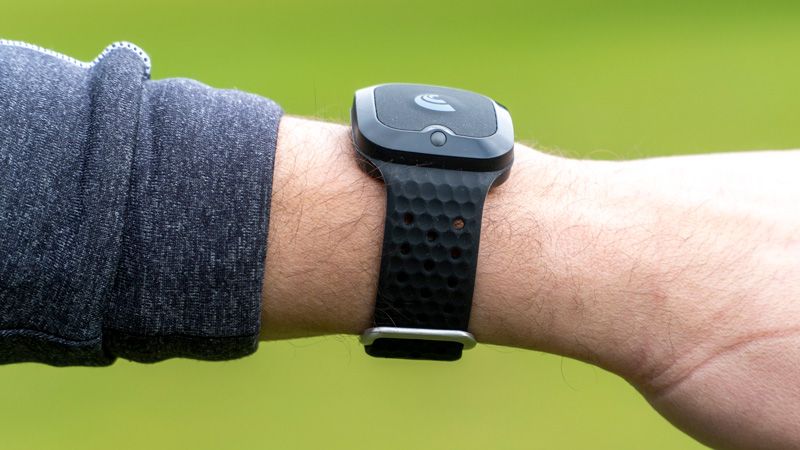 The Dewiz uses real time biofeedback to help golfers modify their swing and implement changes quickly and more effectively. It comprises this wristband, which you wear on your lead arm and features an internal motion sensor chip that analyses movement in three dimensions. It generates a 3D image of your swing and displays it in the app, which you pair to via Bluetooth.
In our testing the app was an easy process and the wristband is comfortable to wear and stays in position securely. You're able to set certain numerical parameters for elements of your swing like the transition, tempo, length of backswing to encourage a new and improved movement or feel. Overall, the Dewiz is a highly effective tool that allows golfers to feel what they are doing in their swing and get real-time feedback on whether they are implementing changes in movement, perhaps prescribed by their coach.
Me And My Golf duo Piers Ward and Andy Proudman are very good at producing products that are both great value and highly versatile, demonstrating plenty of thought behind each offering. This double-sided alignment towel has one side to focus on improving your shotmaking and the other your trajectory control. There are five videos, courtesy of a QR code, to give you some handy pointers on your irons, chipping, using the bounce, your chipping arc and varying your ball flight.
The feedback is simple and visual and it's great to help you improve your striking of the ball. For instance if you tend to get very shallow on your downswing you will soon understand a lot better on how you need to be coming into the ball. What we really enjoyed about the Ball Striker is the simple and very effective in helping you to vary your ball flight with markings on where your feet should be positioned and what your swing path should be. Take away any markings and it can be a real guessing game what you and the club are doing so this is some very sound and cost-effective instruction. You may also want to pair this up with a set of the best golf alignment sticks to help you hit the ball straighter and truer.
This putting mat comes with three revolutionary breaking balls that are weighted differently to replicate three severities of break. The green ball has a slight break, the red ball has a medium break and the blue ball has a heavy break. Inside the ball is a screw and, if the screw is on the right, the ball will break left to right and vice versa.
Previously, golfers have only been able to practice straight putts from the comfort of their own home, which you can of course do here using a normal ball, but the breaking balls add another dimension to your practice which should stand you in better stead when over a tricky six-footer on the course next time out.
The balls, despite the weights, aren't clicky and don't feel alien to other golf balls that you might use on the course and the mat is medium to fast – it should also be added that it comes in some excellent packaging, is of very high quality and is easily packed away.
This double-sided towel offers plenty of versatility to help you improve your game. One side fits round a hole and can be securely fastened by standard tee pegs to set up an ideal target for your chipping and putting. While it's possible to put some tees down or have that imaginary dustbin lid, this is a great visual tool to really sharpen up your short game. This is particularly good for adding a bit of pressure to your practice which will only benefit you on the course.
On the other side there is the ability to fold the towel to encourage you to shape the ball both ways as well as some great visual feedback on your alignment. What we think we do and what we actually do can be two very different things and this is a very straightforward way to instil the feeling of what the club should be doing. Via a QR code the Me And My Golf duo of Andy Proudman and Piers Ward demonstrate five training drills to help you make the most of this versatile product.
Complete with printed alignment guides, target points and distance markings, the mat replicates a medium-to-fast green. It is designed to help you improve your putting stroke and work on drills in the comfort of your own home which is convenient to say the least.
We also like the fact it comes in slim, medium and large designs, and you can also get them in different colors as well, such as the Patriot range in blue, red and white. Additionally, for more putting mats, have a read of our best golf mat guide.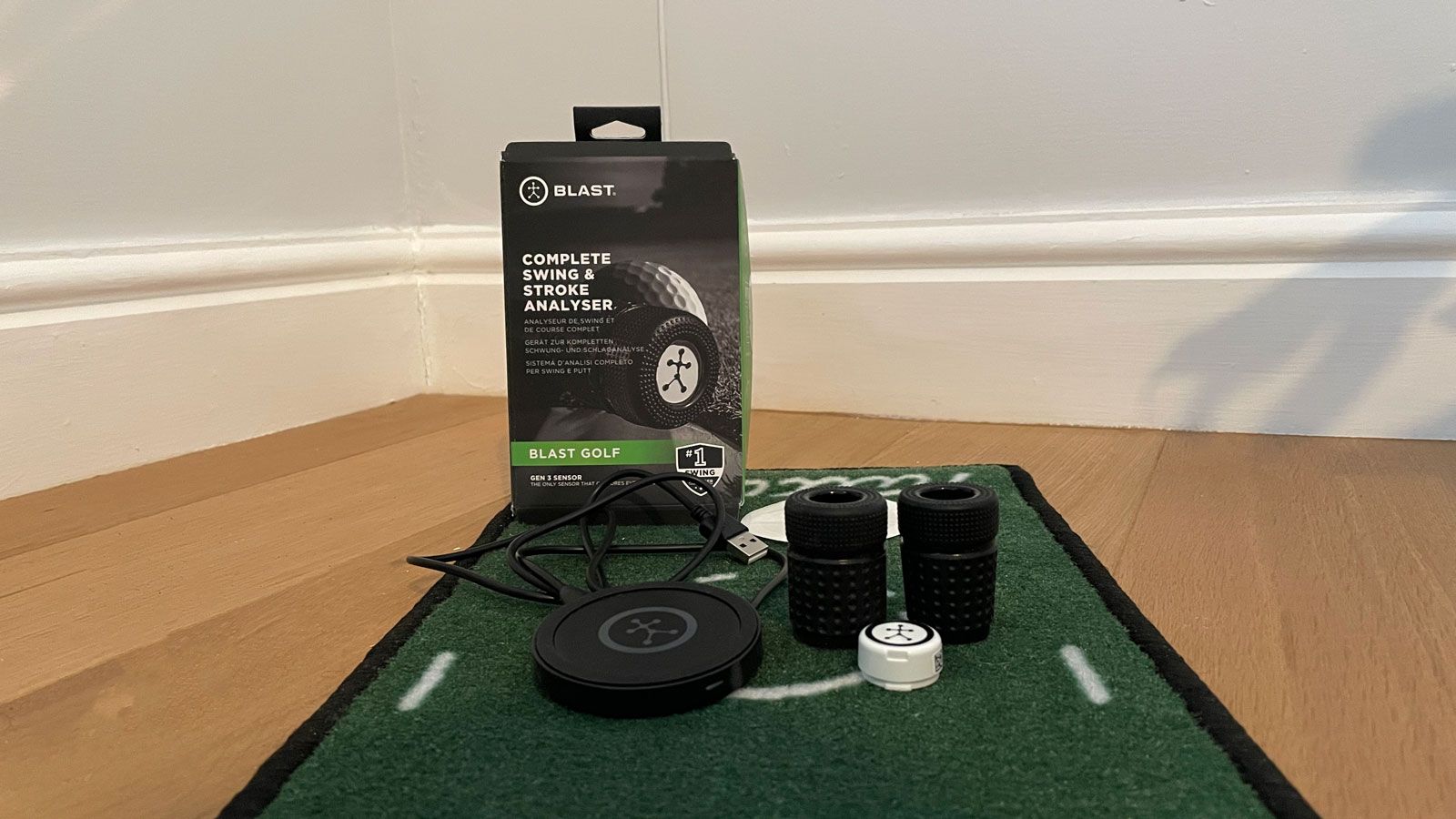 A recent inclusion in our 2022 Editor's Choice List, the Blast Golf Swing Analyser is designed to help golfers improve all elements of their swing and ball striking. Alongside the free app, the swing analyser captures an incredible amount of data about your golf swing and quickly feeds back that information so you can work on things like tempo and attack angle to achieve a better swing. The speed of the feedback, the accuracy of the data and the way it feeds it back is incredibly intuitive making it one of the best golf swing analyser's on the market.
The number of statistics and numbers can be overwhelming to some, but there are videos led by brand ambassador and putting guru Brad Faxon. The videos range from simple explainers on what each metric on the app means, to useful drills on putting and chipping. Finally while a few things need to be ironed out from a user experience point of view, the Blast Golf Swing Analyser has the potential to transform the way you practice.
The Live View Pro 2 is a training aid which connects feel versus real by effectively live streaming a video of your swing to your smart device. This is a crucial advantage because you're able to watch your movement while in your golf posture, something golfers often lose when looking in a mirror.
Akin to some of the best launch monitors, this swing mirroring device connects to your phone or iPad using WiFi, then all you need to do is place it wherever you want to view your swing from - down the line at around thigh-height is one of the more popular positions. From there, you can use the flexible tripod to either rest it on a bag stand on the driving range or attach it to the top of your golf bag. It's that simple!
Easily attach and detach this device to your clubs to help keep your hands in the correct position before, during and after your swing. A perfectly-neutral grip is arguably the most important part of the golf swing - for a very reasonable price this can help you achieve that.
It is comfortable to use and can be clipped on and off very easily. You'll also find that this grip tool helps to create muscle memory in your hands. We recommend using it on practice rounds or while you warm up on the course! If your grips need an upgrade, we also created a best golf grips guide so why not have a read of that as well if your clubs need a refresh.
A cheap and more simple alternative to heading to your club's short game area to work on your chipping is this PGA Tour pop up chipping net. It has one large target that is still very useful to help keep your short game in shape at home. It pops up to easily be set up and is very small to store.
Some of the best golf nets on the market can be very tricky to erect or take down, but this fantastic offering is very efficient and easy to use. It pops up very easily and is also a handy net that can be disassembled and stored away pretty quickly when you're finished practicing. For those looking for a simple way to practice their chipping, this is a fantastic option!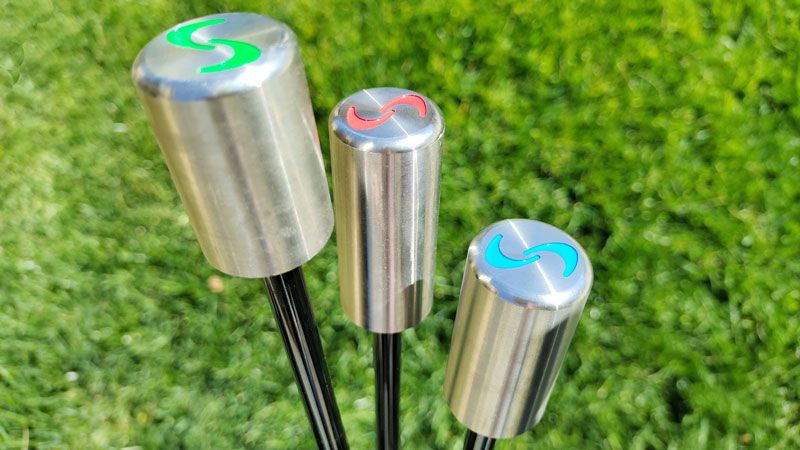 The SuperSpeed Golf training set is said to help you add a whopping 30 yards to your overall driver distance - quite a claim! To do this, the manufacturer says it takes at least six weeks of patient and persistent to help get that club head speed up.
Out of the box you get three golf shafts of varying color and weight that each have a grip on the butt end. Essentially, once you've done some stretching to prepare your body, the idea is to start with the lightest stick and swing as hard as possible a few times on your dominant side, before switching to do the same on the opposite side.
In our testing, we couldn't devote that kind of time to try this to the fullest. But what we can tell you is that after two weeks of testing, we felt better about our swing speed and, more importantly, our flexibility to make a bigger shoulder turn. The SuperSpeed Golf men's training set essentially works off your muscle memory, so the more time you put into it, the better and more permanent your results will be.
Built to help improve the rhythm and tempo of your golf swing, the Champkey Golf Swing Trainer is an excellent tool you can use to develop your timing and sequencing. Everyone can struggle with tempo sometimes and that's why a swing training aid like this, can help you strike through the ball more fluidly. This training aid can be used both in the garden and indoors - if you have the room. Using a high traction rubber grip, a flexible shaft and a silica gel head, you can improve your golf swing tempo and build muscle strength with this swing trainer.
We found it did take a little time to get used to, but after a couple of sessions using this you should gain a better understanding of how to release the club at the correct moment. On reflection, we think this will really benefit mid-to-high handicappers who might lose their tempo more easily in pressure situations and slice the ball. That's where the weighted ball on the end of the Champkey Trainer comes in. And while you may also want to think about picking up one of the clubs on our best drivers for slicers guide, the Champkey Swing Trainer will help to correct the plane of the clubhead on the downswing and reduce the chance of a slice.
Endorsed by none other than Dustin Johnson, the Perfect Practice Putting Mat is another great putting mat that can help you get better pace control of the greens and become more consistent at address. The putting mat essentially comes in three main parts. There is the mat itself which is attached to the raised, wooden end part with two holes, of different sizes in it, a wooden backstop and four wooden slats that fit together to create a channel for the ball to roll back to back the player (which worked really well). Assembly was straight forward, only taking a couple of minutes in total and the end result looked good.
There are various different lines on the mat to help with both the path of your stroke and the start line of your putts. These are the elements that really matter when it comes to consistency on the greens and finding the best putter for your stroke. Clear visual aids like these (which also help with alignment) are a great way to practice golf indoors and making any putting stroke improvements improvements you need. For more aids like this, check out our best putting aids guide.
The PlaneSwing seeks to help players take the club back on the correct path at takeaway because the player will have a much better chance of consistency if the swing path starts on the right plane straight away. It is perhaps one of the best ways to eliminate a hook or a slice. It works by showing you the correct plane your club should travel on in every phase of the swing to help create a more neutral path and produce straighter shots. With practice, the feeling of an on-plane swing becomes engrained.
With the PlaneSwing you get the Power Slider, which is the weighted training club to be used within PlaneSwing to build and condition the muscles used in your golf swing. You also get the Plane Guide, Plane Checker and Alignment Mat, along with an instructional video on how to use the aid. Now it is quite a large training aid and takes a bit of time to set up but we liked the fact it can be packed away pretty easily!
Great for use at home or on the practice range, the smash bag looks to seeks to help you learn the feeling of the correct impact position with your hands ahead of the ball for a powerful, descending blow. This smash bag can really help you stop flipping your hands at the point of impact, keep the club head as square as possible and learn to keep the handle ahead of the club head at impact. It can also help you improve your power, with players able to strike through on the bag very hard to hone in on their club head speed.
Yet another fantastic addition to PuttOUT's extensive range of putting training aids that can be used indoors or outdoors, this alignment stick pack will help you improve your putting thanks to its inventive technology. Combine it with one of PuttOut's excellent putting mats featured on our best putting mats and you'll have yourself a comprehensive putting training system that'll help you swing much more consistently.
How we test training aids
We think the best way to see if a training aid is any good is by using it. That sounds like an obvious statement to make but it is only by using a product a lot, and often, that we can gain an idea of usability, versatility, durability, value for money, and above all else, does it actually have a positive impact on our game? We use products at home, at the range, on the putting green, etc to see if specific training aids are actually worth buying. We should also mention that no manufacturer can pay for a good review because our team tells it how it is.
What to consider when buying a training aid
There are several factors to consider when looking at buying a training aid. Let's go into them here.
1. What do you want to work on?
First things first, what is the part of your game that needs work? Putting? Short-game? Grip? Whatever it is there will be a training aid to help so this is obviously the first question you have to consider. Indeed be very specific with this, because the more detailed you can be, the more a specific aid will help.
2. Usability
Do you want a training aid to be simple to use, or do you want something that can be complicated so you can really delve into the process and fine-tune your game to minute detail? Ultimately there are models above and elsewhere in the golf world which are both.
3. Versatility
Do you want to be able to carry around the training aid? Do you want to be able to use it at home as well as the local course? Many aids slot nicely into your bag whilst others are more difficult to pack away and store. So have a think about how versatile and portable you want your training aid to be.
4. Durability
A good golf training aid should also be strong as well so be aware of what certain models are made from and whether brands offer warranty's on their products in case they break from use.
5. Price
Golf can be an expensive sport right and given the choice of buying new clubs, balls, bags or clothes, a training aid might be the bottom of that list despite it helping maybe the most. However it is important to realise that there are aids at lots of different price points so if you do decide to invest in one, be aware of how much you are willing to spend.
6. Lessons?
Our final point here is to have a good think about whether a training aid is the right way to go in solving a problem in your game. Perhaps investing in lessons may be a better way to go because a professional coach will be able to point out the issue and look at solving it, whereas a training aid may not get to the root of the issue. Whereas if you just want to gain more confidence by playing putting games or seeing the ball go in the hole, then a training aid like a model we picked above will be perfect for this and a lesson won't be needed. We cannot recommend thinking about this enough.
If you're after more golf training aids, why not check out some of the best putting aids on the market, best alignment sticks and best putting mats.
FAQs
What training aids do golf pros use?
When we cover Tour golf we tend to see lots of different players using different training aids to help them practice. This is because every single golfer on the planet is different and swings the club in unique ways. However, despite this was tend to see a lot of professionals carry alignment sticks and putting mirrors for their work on the driving range and putting greens.
Are golf training aids worth it?
The simple answer to this question is yes. We have found there are aids to help in every aspect of the game and most golfers can benefit from a quality model, and yet it is worth saying that training aids don't solve every problem. We have rarely found a training aid that doesn't work but no single aid is perfect for every golfer either.
Are alignment sticks useful?
Yes, a golf alignment stick is a handy tool that many players should keep in their bags. They can be used in a variety of drills to help players improve their aim, swing stroke and their connection on the golf ball.
Coupon Discount Codes