Best Golf Balls for Slow Swing Speeds 2023
Most club golfers aren't blessed with tour pro swing speeds, hence the need for our guide to the best golf balls for slow swing speeds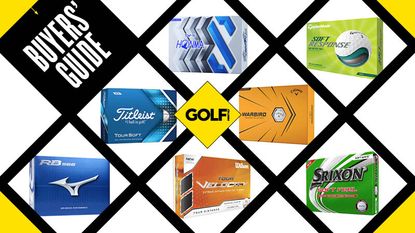 (Image credit: Golf Monthly)
Best Golf Balls for Slow Swing Speeds
Although swing speed is talked about more than ever before, many golfers won't really know what theirs is. So, what might be considered a slower swing speed? How far you hit it off the tee with a driver is certainly a major clue. TrackMan data accumulated over several years has revealed that the 'average' mid-teen-handicap, male golfer has a swing speed of 93.4mph with the driver and hits it 214 yards. If you don't hit it as far as that, your swing would be in the slower half of golf's swing speed spectrum, and you could be just the sort of golfer to benefit most from the ball models we showcase here.
While many club golfers lean towards the best golf balls (opens in new tab), their slower swing speeds won't reap maximum benefit from those models when it comes to distance. The superior short-game performance those balls also offer may still make that a price worth paying for some, but for others, getting as much distance as possible out of their swings will be a more pressing priority. Thankfully nearly all ball manufacturers make models designed to help them do just that.
If you're aware that you're not up there with the big boys (or girls) in terms of swing speed, whether that's down to age (old or young), technique or perhaps injury, there are plenty of balls on the market that will help you squeeze a little more mileage out of what you do potentially have in the tank. And the good news is that, because these are typically not the tour-calibre models, you'll be shelling out less for your ammo too.
Read on to find out more about nine of the best golf balls for slow swing speeds. You might also find other models of interest in some of our other ball guides, such as the best distance golf balls or the best golf balls for beginners.
Best Golf Balls for Slow Swing Speeds
Why you can trust Golf Monthly Our expert reviewers spend hours testing and comparing products and services so you can choose the best for you. Find out more about how we test.
Specifications
Construction: Three-piece
Colors: 3 (white, yellow, red)
Reasons to buy
+
Excellent feel off the putter face
+
Superb short game spin control
Reasons to avoid
-
Faster swingers may see a drop off in driver distance
The TaylorMade Soft Response is one of two Response models (Tour Response is the other) sitting beneath the brand's premium TP5 models. Soft Response has been designed with mid to slow swing speeds in mind, offering all-round performance with a softer feel, courtesy of a soft but durable ionomer cover.
When we managed to get testing done on the ball, we thought the feel off the putter face was sublime and the performance with the wedges was excellent as well. But from a distance perspective, those players who swing a little slower will enjoy good performance here, whilst faster swinger may see a drop off in yardage.
Overall the TaylorMade Soft Response 2022 is a product that promises plenty of performance. Whilst faster swingers may see a drop off in distance at the top end of the bag, slower swingers will still be able to benefit from the superb short game performance without seeing the same drop off.
Specifications
Construction: Two-piece
Colors: 3 (white, yellow, orange)
Reasons to buy
+
Extra hang time keeps the ball in the air for longer
+
Ideal choice for mid to low swing speeds in warm conditions
Reasons to avoid
-
The cover is highly durable but not the softest
A large, high-energy core, the unique 566-dimple cover and a soft-compression design hold the keys to the Mizuno RB566's excellent distance credentials and prolonged ball flight. The core generates a straighter, more stable ball flight while the 566 micro-dimple design delays the rate of descent to eke out more yards.
In testing with driver, on course and on the range, we noticed a significant change in ball flight. The RB566 flew high and straight, with less right to left shape. It's fair to say it straightened our tester's ball flight and gave him the confidence to swing more freely. Around the green, this ball comes off the face with a nice soft click and has a responsive feel. It grabbed quickly on mid-range pitches and full wedge shots but released more on shorter chips.
One of the best golf balls for slow swing speeds, the RB566 is available in white, yellow or orange.
Specifications
Construction: Two-piece
Colors: 2 (white, yellow)
Reasons to buy
+
Impressive hang time and strong ball flights
+
The T-shape side stamp helps with alignment
+
Provides excellent distances
Reasons to avoid
-
Doesn't offer the short-game spin of Pro V1
From tee-to-green, there is a lot to like about the Titleist 2022 Tour Soft golf ball. It is the third generation in the brand's soft compression offerings and provides impressive distances and a great feel. While golfers who can generate faster clubhead speeds may be skeptical about using a softer golf ball, we were pleasantly surprised at how much control and consistency the Tour Soft offered.
Recent updates to the ball include the addition of a large fast core and thin grafted cover, which are accompanied by a new aerodynamic dimple design on its casing. Titleist say this is designed to help deliver stronger ball flights and we noticed that the ball did not dip out of the air on longer shots, while it traveled distances that were not too far off those of a tour-quality golf ball.
As for its feel, the Tour Soft was very responsive but didn't feel quite as soft as the TaylorMade Soft Response (opens in new tab), something to consider if you're looking for an all-out soft feel. The golf ball also has stamped on its casing a T-shaped alignment tool which is a very useful addition that can help improve your putting accuracy and your accuracy off the tee. We've ranked the Tour Soft as one of the best golf balls for seniors (opens in new tab) that can help to deliver longer distances and more consistent golf shots.
Specifications
Construction: Two-piece
Colors: Four
Reasons to buy
+
Greater carry for slower swing speeds
+
Good feel around greens for a two-piece ball in this category
+
Value for money
Reasons to avoid
-
White writing on pink ball hard to pick out
The Diawings Max Distance golf ball is named from a hybrid of diamonds and wings and is the first model from this Korean company that was founded in 2016. The brand makes bold claims about the Max Dsitance going 20% further off a driver and one club longer in the irons as well as being more accurate.
It is designed for those with slow-mid swing speed, with the Power Core producing a lower compression and a higher flight with less spin for more stopping power and accuracy. Priced at around $35 for 12 balls, it really is a great value option for those wanting to maximise their distances off the tee and with their irons.
Specifications
Construction: Two-piece
Colors: 2 (white, yellow)
Reasons to buy
+
This 12th generation model is the longest Srixon Soft Feel to date
+
Thin cover improves greenside feel and spin.
Reasons to avoid
-
May feel a little too soft off the face for some
Srixon's latest Soft Feel model has been engineered to help slower-swinging golfers max out their distances while retaining excellent greenside feel. At the heart of the Soft Feel lies Srixon's softest FastLayer Core, which is soft in the centre and firmer around its outer edges. Srixon says this design snaps the ball back into shape more quickly after impact for added ball speed.
We found the Soft Feel really lives up to its name as it feels and sounds very soft in the long game and short game. It performed well too. It's impressively long and it produced a pretty stable flight not just because of the core design mentioned above but also because of the 338 Speed Dimple Pattern which reduces drag and increases lift for better performance in windy conditions. The ball also launches at a nice height through the bag and offers good control on approach shots.
Specifications
Construction: Two-piece
Colors: 2 (white, yellow)
Reasons to buy
+
Impressive distance combined with a degree of greenside feel
+
Excellent value for money
Reasons to avoid
-
For some, it won't offer quite enough spin around the greens
Callaway has used the Warbird name for several decades now, and it has become synonymous with distance and speed in its ball range. The latest model uses a two-piece construction with an extra-large, high-energy core to promote distance with a high launch at different swing speeds.
All of that sounds ideal for the golfer seeking more yards and who struggles to get the ball in the air, but what was the performance actually like? Well in our testing we found there were extra yards to be had, especially on iron shots into the greens, but its firmish ionomer cover provides less check and control than some might want greenside. However, we feel this tradeoff is worth it because of the distance on offer. For more golf ball offerings from Callaway, check out our best Callaway golf balls guide.
Specifications
Construction: Three-piece
Colors: 1 (white)
Reasons to buy
+
Specifically aimed at swing speeds of around 85mph
+
Particularly good in windy conditions
Reasons to avoid
-
May launch a little low for some golfers
Honma has launched the TW-S ball as a sister product to the TW-X model, targeting those with slightly slower swings speeds (around 85mph rather than 90mph+ for the TW-X). Its fast core promises faster ball speeds off the clubface.
The TW-S differs from the TW-X is two key ways. It has a softer feel, which many golfers prefer particularly as they get closer to the green. And it offers higher spin with a lower launch, making it a good choice for slower swingers who typically find themselves battling the wind at their home course.
Inesis Soft 500 golf ball
Specifications
Construction: Two-piece
Colors: 6 (white, orange, yellow, green, red, pink)
Reasons to buy
+
Low compression helps slower swinger create better energy transfer
+
An extremely inexpensive option
Reasons to avoid
-
Only claims to offer moderate grip around the greens
This Inesis Soft 500 two-piece ball from Decathlon has a low compression, so those not blessed with the fastest of swings can optimise their distances. The low compression allows them to generate better energy transfer at impact, which then translates into those added yards.
Despite its name, it's not the softest ball, but is eminently playable around the greens. Perhaps the biggest attraction, though, is its price – less per dozen than some lake balls! This makes it a good option for those who prefer to play with new balls but don't have a limitless budget. It is available in six nice colors ranging from classic white, to bright pink.
Pinnacle Soft golf ball
Specifications
Construction: Two-piece
Colors: 1 (white)
Reasons to buy
+
Designed for added distance off both driver and irons
+
Should go slightly further than the sister Rush model at slower swing speeds
Reasons to avoid
-
Slightly softer than previous generations which may not appeal to all
The Pinnacle name has long been associated with good-value distance golf balls and the latest Rush and Soft models are no exception. The high-energy core drives performance, generating faster ball speeds with every club. The icosahedral dimple design, with 332 dimples in a soft, durable ionomer cover, promises a consistent, powerful ball flight.
Slower swingers may eke a little more distance out of the Soft model, while also enjoying its softer feel around the greens.
Specifications
Construction: Two-piece
Colors: 1 (white)
Reasons to buy
+
Excellent value for those starting out
+
Dimple pattern enhances power
+
Great distance all-round
+
Very durable
Reasons to avoid
-
Cover may feel too hard on putts
This low-compression Wilson ball promises extreme distance through a hard ionomer cover material that optimizes trajectory for maximum yardage and roll. From our testing, we can vouch that this ball certainly delivers. The enhanced aerodynamic dimple pattern really does add to the power potential from the tee. These balls are very durable and won't mark up easily, even when it bounced off the cart path. Although the Wilson Velocity Distance is a low-compression ball overall, its mid-compression core introduces an element of greenside playability too.
The Velocity Distance is also up there as one of the best value golf balls (opens in new tab)on the market, thanks to the three extra golf balls you'll find in the box. While most other brands provide only 12, we were surprised to find 15 in the Wilson Velocity Distance package. Overall, it is the perfect golf ball that can help recreational golfers reach higher distances off the tee.
Specifications
Construction: Three-piece
Colors: 1 (white)
Reasons to buy
+
Impressive long game distance
+
High, powerful ball flight
+
Incredibly durable
+
Excellent value at its price point
Reasons to avoid
-
Not the most workable golf ball
Having made big strides in the golf ball market in recent years, OnCore are continuing to innovate and produce an excellent range of high-quality golf balls. And the Elixr is one of their best offerings yet. It is their Tour-standard golf ball and boasts impressive gains off the tee and exceptional ball flights. It is also very durable and comes at a great price compared to other balls on this list, making it one of the best value golf balls (opens in new tab) on the market.
On testing, we thoroughly enjoyed playing with this three-piece golf ball. It boasts a urethane cover that delivers a Tour-quality feel and performance from tee to green. It is a little firmer than previous models and has a new dimple pattern that is designed to deliver a higher ball flight. And that's where the Elixr really stood out. It was impressively long off the driver and when hitting full approach shots. The ball has a strong flight and travels pretty straight for the most part. Around the greens, the Elixr performed very well too and generated pretty adequate amount of stopping power too. Overall, we were very impressed with this high launching golf ball, which offered great distance off the tee.
How we test golf balls
Our testing procedure for golf balls (opens in new tab), as well as all other golf gear, revolves around several key commitments;
First, if we say we have reviewed a product, then we would have done so fairly and comprehensively. In terms of golf balls that means we have used it out on the golf course and on launch monitors where applicable. Additionally we will always endeavor to use the latest and best equipment to assess performance. Another crucial point we want to make is no manufacturer can pay for a good review because the entire Golf Monthly team tell it how they see it.
In terms of specifics for golf balls, we use several members of the Golf Monthly team, who play at a variety of levels, to put golf balls to the test out on the golf course. The entire team are regular golfers and therefore balls are tested indoors and outside, and then over a number of rounds because that is how you can test for things like distance, feel, durability, spin and so on. We then seek to be as honest and insightful as possible in reviews and guides to help you be more informed
What to consider when buying golf balls
We think the first thing to consider when buying golf balls is you having a think about your game.
First you ultimately need to pick a golf ball designed to help you. This means having a clear indication of what level you are and what are your strengths and weaknesses. It is totally pointless using a golf ball that will dampen and limit your strengths, whilst also accentuating your weaknesses. In terms of swing speeds, you need to hit golf balls on a launch monitor or with a coach so you can have an idea of how fast you swing the golf club. This will then give you an idea on how to narrow your search on finding the best golf ball to work for you.
Distance
As players swing slower, distance can be a big issue. A golf ball can help here though because a golf ball with a lower compression can allow players to still compress it a decent amount and maintain more of their former distance. Additionally we have found the best models for distance tend to have simple two or three-piece constructions as well.
Launch
Another thing we have seen is slower swingers may struggle to launch the golf ball which can make it difficult when faced with a forced carry over a penalty area, or hitting into a green which is guarded by bunkers for example. Thankfully there are golf balls out there, many of them above, which have been designed to launch higher which gets the ball in the air.
Control
Of course there is some focus on distance with slower swinging players but good models should also give a degree of feel and control as well. The best way of finding the best model for you in this regard is to try different balls out and hit different shots with them to see which you like the most.
Colors
Golf balls these days come in lots of different colors and have varying alignment aids on as well so have a think about what kind of golf ball you want here
Budget
The final point to mention would be about budget. If you want the cheapest dozen possible with a degree of performance then a couple of models will suit you above, whereas if you want to spend a little more then we have got you covered there too.
FAQ's
What golf ball should I use with slow swing speed?
Most brands make golf balls for slower swinging players these days and we have found the common design features include - low compression, simple two or three-piece construction, aerodynamic dimple design, and often the best golf balls for slow swing speeds often have soft in the model name! As far as specific models go, the Titleist Tour Soft, TaylorMade Soft Response and Srixon Soft Feel are three of the best.
If you found this guide on the best golf balls for slow swing speeds informative, browse the Golf Monthly website.
Jeremy Ellwood has worked in the golf industry since 1993 and for Golf Monthly since 2002 when he started out as equipment editor. He is now a freelance journalist writing mainly for Golf Monthly across the whole spectrum from courses and Rules to equipment and instruction. He also edits The Golf Club Secretary Newsletter, a highly regarded trade publication for golf club secretaries and managers, and has authored or co-authored three books and written for a number of national papers including The Telegraph and The Independent. He is a senior panelist for Golf Monthly's Top 100 UK & Ireland Course Rankings and has played all of the Top 100 plus 91 of the Next 100, making him well-qualified when it comes to assessing and comparing our premier golf courses. He has now played well over 950 golf courses worldwide in 35 countries, right across the spectrum from the humblest of nine-holers in the Scottish Highlands to the very grandest of international golf resorts, but put him on a links course anywhere and he will be blissfully content.
Jezz can be contacted via Twitter - @JezzEllwoodGolf
Jeremy is currently playing...
Driver: Ping G425 LST 10.5˚ (draw setting), Mitsubishi Tensei AV Orange 55 S shaft
3 wood: Ping G425 Max 15˚ (set to flat +1), Mitsubishi Tensei AV Orange 65 S shaft
Hybrid: Ping G425 17˚, Mitsubishi Tensei CK Pro Orange 80 S shaft
Irons 3-PW: Ping i525, True Temper Dynamic Gold 105 R300 shafts
Wedges: Ping Glide 4.0 50˚ and 54˚, 12˚ bounce, True Temper Dynamic Gold 105 R300 shafts
Putter: Ping Fetch 2021 model, 33in shaft (set flat 2)
Ball: Varies but mostly now TaylorMade Tour Response