Best Mid Price Golf Balls 2023
We take a look at the best mid price golf balls currently available on the market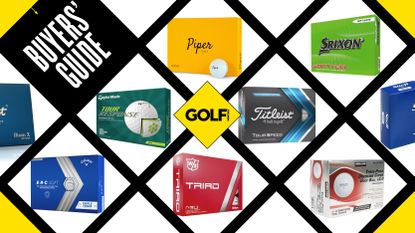 (Image credit: Future)
Best Mid Price Golf Balls: Quick Menu
It's no secret that golf balls can be expensive, with some models costing upwards of $50 for a dozen. These are obviously some of the best premium golf balls that money can buy but, in the current climate, many golfers don't want to pay high-end prices for their golf balls, some will much prefer spending a little bit less whilst also getting a performance that will still benefit their game.
That is why we have taken a look at the best mid-price golf balls that are currently available, with there being loads of choice in this sector because every brand makes one or two golf balls at this price point. Also, rather importantly, we have found these golf balls to offer performance that is as close to the top premium models as ever before.
Now, we all know how important it is for you to get the best golf balls for your game, and you may feel that you're at a stage where you want more all-round performance than even the best value golf balls can offer. However, if you aren't quite ready for the more significant investment required to stock up with premium balls then it is good news as that is where the mid-price range comes in.
We have tested a lot of mid-price golf balls and we think our selections below symbolize everything that is good in this sector. What's more, we have also created guides on specific aspects of the game, with our other articles focusing on the best distance golf balls and best soft feel golf balls on the market.
The Quick List
Titleist Tour Speed 2022 Golf Ball
A superb all round performer at a very appealing price. This particularly impressed in the long game where it offered consistently impressive distance.
Srixon Soft Feel Golf Ball 2023
With a low compression and a reasonably responsive cover, the Soft Feel is an ideal ball for those who like a good quality softer ball at a competitive price.
TaylorMade Tour Response 2022 Golf Ball
Impressive all rounder that offers good distance for the faster swinger. With impressive greenside spin and a soft feel, this is a fine alternative to the urethane-covered alternatives.
Bridgestone e12 Contact 2023 Golf Ball
The e12 Contact is solid but it comes with a lot of game-enhancement promises that make it sound cheap and all-encompassing - which may turn off more serious golfers.
An impressive all-rounder, the Wilson Triad delivers good distance in the long game and a great feel on and around the greens.
Callaway ERC Soft Golf Ball
The Callaway ERC Soft ball offered excellent distance and easier alignment. All in all, the value for money is competitive here, especially given how durable we found it to be.
Kirkland Signature 3-Piece Urethane Cover 2.0 Golf Balls
If you are looking for an all-out budget urethane golf ball, this one offers excellent performance in the short game, although for us.
A solid performer at a fair price, the Carver delivers impressive spin control around the greens and good consistency throughout the bag. Faster swingers may find it spins a little too much off the tee.
For those looking for a non-Tour, urethane-covered ball, the Piper Gold is worthy of consideration - especially if short game spin control is at the top of your list of priorities.
Best Mid Price Golf Balls
Why you can trust Golf Monthly Our expert reviewers spend hours testing and comparing products and services so you can choose the best for you. Find out more about how we test.
Top pick
Specifications
Construction: Three-piece
Colors: 2 (White & Yellow)
Reasons to buy
+
Excellent all-round performer
+
Sub-premium price point
+
Similar feel to tour-quality balls
+
Excellent distance from drivers and irons
Reasons to avoid
-
Doesn't provide as much spin as Tour quality models
Titleist's second-generation Tour Speed golf ball is an impressive update to an already high-performing mid-priced golf ball. The Tour Speed delivers in all areas of the bag but, in the long game department, it can really help improve performance for those looking to gain more distance. Price wise, it costs around $10 to $15 less per dozen than Titleist's Pro V1 golf ball and provides very similar levels of performance and feel to the Tour models.
Featuring a high flex casing layer and reformulated core that gives high speed and low spin on longer shots, we found that, in testing, we gained an extra 2 mph of ball speed over the previous Tour Speed model, with the ball also launching a lot higher than its previous model. The difference was even more noticeable when we tested it with our 7-iron, as the ball speed increased by 7 mph while spinning around 1000 rpm more than the 2020 model. Well-struck shots were rewarded with strong ball flights that hung in the air and the ball didn't feel too soft off the clubface in comparison to other mid-priced urethane golf balls.
The only drawback this ball has compared to some of the best premium golf balls is the amount of spin on offer. Short pitch shots will grab, but don't check quite as much compared to Titleist's Pro V1 or Pro V1x offerings. However, it did offer greater levels of spin compared to the slightly less expensive Tour Soft model and, overall, it is a high-performing golf ball that is a great option for all-year performance.
Best soft feel
Specifications
Construction : Two-piece
Colors: 2 (White & Yellow)
Reasons to buy
+
Soft feel at impact
+
Good control around the greens
Reasons to avoid
-
Soft feel might not give enough audible feedback on putts
Featuring a two-layer construction, the Soft Feel golf ball has a soft centre core that gradually gets firmer as you move towards the cover. This construction enables it to snap back into shape more quickly and it is this process that has been improved over previous models.
Thanks to the 338 dimple cover, the Soft Feel is designed to maximise flight performance by reducing drag and creating the launch conditions to get the ball flying high with enough spin and height to land and stop within a reasonable distance. In testing, it did this very well, with it particularly suiting those with slower swing speeds.
Along with the long game performance, there is also a decent amount of grip around the greens, with the Soft Feel doing exactly what is says on the tin by being one of the best soft golf balls on the market. Certainly, there is a fair amount of control, which comes from a 1.6mm ionomer cover, but it's worth noting that it doesn't stop as quick as the urethane covered, more premium Srixon Z-Star.
Best ball flight
Specifications
Construction: Three-piece
Colors: 3 (White & Yellow) Stripe version also available
Reasons to buy
+
Fairly soft feel on the greens
+
Good greenside spin control
+
Consistently strong ball flight
Reasons to avoid
-
Not quite as long for the faster swinger off the tee than some premium urethane balls
TaylorMade updated the Tour Response golf ball in 2022 and we noticed several improvements when comparing it to the previous model. For example, the new ball was faster off the face by 3 mph versus the previous generation, with a fraction less spin being. In total, this created six extra yards of carry and, what's more, we noticed it spun a little less with the irons and wedges as well but yet there was no loss of control or feel.
Another new aspect to talk about is the unique Stripe option, which features a lime green and grey coloured band that wraps around the ball. Now, this look won't be for everyone, but we felt it created a very clear alignment aid off the tee and on the green. When you putt, the stripe clearly shows how effectively the ball is rolling end-over-end.
Overall, the long game performance, in particular, has been taken up a notch. For a relatively low-compression ball, we were impressed by the strength of the flight and the overall distance and, when you couple that with the spin control offered by the cast urethane-cover, you have a solid all rounder that provides regular golfers with a good value for money alternative.
Best matte model
Specifications
Construction: Three-piece
Colors: 4 (White, Yellow, Red, Green)
Reasons to buy
+
Solid feel
+
Good distance
+
Price feels just right
Reasons to avoid
-
Better players may want to look at a more premium offering
Bridgestone have crammed a lot of technology into the e12 Contact golf ball, with the main adaptation being the FLEXATIV Surlyn cover, which is the fourth generation of "contact science" technology. This cover helps create 46% more surface contact with a clubface at impact, with it also containing modifiers that allow it to react to the amount of force applied at impact.
In testing, we felt it was aimed at those seeking maximum distance with a straighter ball flight and, in our testing, we certainly it felt it was one of the best distance golf balls on the market, with the dimple design featuring an outer portion that slowed sidespin during flight. There is also a raised center area, which creates more surface contact with the clubface at impact than traditional dimples, giving you a more efficient energy transfer and better core activation.
Along with the distance, the extra short game spin was also apparent and, one nice surprise, was that the ball felt notably softer using a putter than other balls in this guide.
Best value