Best Srixon Golf Balls 2023
A well-known and well-respected brand in the golf ball market, we run through Srixon's current range of golf balls, from the Z-Star, to the Soft Feel.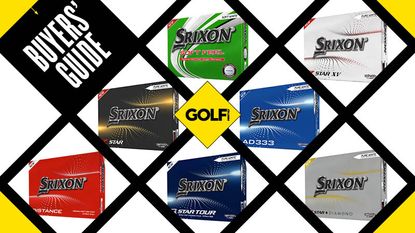 (Image credit: Golf Monthly)
Best Srixon Golf Balls
You use the same golf ball on every shot you hit, so it pays to get the right golf ball that suits your all-round game. Whether you're an experienced golfer with a fast swing speed or are a newcomer to the sport, the golf ball is probably one of the most important pieces of equipment in your bag. And while they come in all different kinds, you need to assess which golf ball delivers what you're looking for on drives, iron shots, wedge shots and putts.
Japenese manufacturer, Srixon, has many top professionals playing its premium Z-Star and Z-Star XV models out on tour, including 2021 Masters champion Hideki Matsuyama and 2019 Open Champion Shane Lowry. But the brand also offers a comprehensive range of some of the best golf balls on the market (opens in new tab), including the ever-popular AD333 model (opens in new tab) that has been in the range for nearly two decades.
The latest Srixon ball range has plenty of options for golfers of all abilities and swing types. Whether you're after the best premium golf balls (opens in new tab), a ball that offers all-out distance (opens in new tab), or models specifically engineered to help ladies (opens in new tab) or those with slower swing speeds (opens in new tab) get the most out of their game, there's an option for you. Check out my round-up of Srixon's current range below, and be sure to click the links through to our reviews to further inform your decision about which models will prove the best Srixon golf balls for your game. Alternatively, if you prefer a different brand than Srixon then take a look at our guides on the best Titleist golf balls (opens in new tab), best TaylorMade golf balls (opens in new tab) and best Bridgestone golf balls (opens in new tab).
Best Srixon Golf Balls
Why you can trust Golf Monthly Our expert reviewers spend hours testing and comparing products and services so you can choose the best for you. Find out more about how we test.
Specifications
Construction: Three-piece
Colors: 2 (White, Yellow)
Reasons to buy
+
Mid-soft feel with premium performance
+
Yellow colour option
Reasons to avoid
-
Cover could be more durable
Ideal for mid-to-high swing speed players who prefer a softer feeling golf ball that delivers more control around the greens, the 2023 Z-Star is the eighth-generation of this fantastic ball and provides excellent performance in all conditions. With the best premium golf balls (opens in new tab) it is all about the cover and the urethane casing on the updated Z-Star gives excellent control around the fringes of the greens. That is down to the new Spin Skin+ coating Srixon have added to this ball, which digs deeper into the grooves of your wedges, helping you put more spin on the ball.
The 2023 Z-Star has a mid-launch flight which is a little lower than the Z-Star XV and the Z-Star Diamond but the 338 dimple pattern on this ball helps it quite literally cut through the air. The Z-Star has a compression of 92 making it an excellent golf ball for those with swing speeds of under 90mph. The Z-Star feels softer than the other two, but I would characterise it as mid-firm and there is enough about it to give you great sound feedback with your short game. What shouldn't be ignored here is the price because the Z-Star can often be found for less than other premium models on this list, making it an excellent value golf ball (opens in new tab) if you're looking to save a bit of cash too.
Specifications
Construction: Three-piece
Colors: 2 (White, Yellow)
Reasons to buy
+
Firm feel for putting
+
Good distance
+
Moderate levels of spin
Reasons to avoid
-
Cover could be more durable
The Goldilocks ball in the Z-Star range, the Diamond is back in 2023 and it is better than ever, combining the compression and firmer core of the Z-Star XV (opens in new tab) with the softer feeling cover and better spin of the Z-Star (opens in new tab). Ultimately, it strikes the balance as a premium ball with both distance and feel. It is ideal for mid to high swing speed players and plays brilliantly in breezy conditions, delivering the control of some of the best premium golf balls (opens in new tab) on the market. One thing to note is the cover did scuff a little after a few rounds, but it wasn't the worst out there.
The improvements made here though, combining the best aspects of two of Srixon's most impressive golf balls, makes this a real winner if you're looking for distance. The 0.6mm cover thickness is the same as the Z-Star and combined with a mantle layer that is also the same as the original Z-Star, this gives a lot of fire power off the tee. Around the green, the Diamond wasn't too soft on the putter but wasn't too firm on chips, delivering what I felt, was the right feedback to get the correct distance on each shot. Ultimately, this is a great option that strikes a balance between being a firm feel golf ball and a soft feel ball that delivers excellent levels of control, distance and spin.
Specifications
Construction: Four-piece
Colors: 2 (white, yellow)
Reasons to buy
+
Firm feel with consistent spin
+
Tour yellow colour option
Reasons to avoid
-
Cover could resist scuffs better
The latest Srixon Z Star XV offers a firmer option to the Z-Star and is fantastic for those with higher swing speeds. Despite the firmer feel, it does offer plenty of spin and if you chose to use this in the yellow colorway, you'll see that this is an excellent winter golf ball (opens in new tab). It is packed with technology, with its upgraded FastLayer DG Core, that is softer in the middle and progressively firmer towards the mantle layer, which allows it to deliver excellent ball speeds off the clubface. The compression comes in at 102 which is 10 points more than the Z-Star and the same as the Diamond, making this a great ball for those who swing faster and are looking for extra rigidity.
It is one of the best premium golf balls (opens in new tab) on the market and can offer excellent spin thanks to its revised Spin Skin+ coating, which is a huge bonus when chipping around the greens. It does feel firm when putting, which is great if you use a soft insert and like to hear the ball at impact. While it's casing did scuff up a little after a few rounds, looking at its performance, I was impressed with what this ball offered out on the course
Specifications
Construction: Two-piece
Colors: 4 (White, Red, Orange and Green)
Reasons to buy
+
Soft feel at impact
+
Good control around the greens
Reasons to avoid
-
Soft feel might not give enough audible feedback on putts
This is the 13th generation of Srixon's Soft Feel model (opens in new tab) and is the softest ball they've ever created. Akin to the Srixon Soft Feel 2021 golf ball (opens in new tab), it is designed to help slower-swinging golfers maximize distance without compromising on feel. It features Srixon's softest FastLayer Core, which has a soft center that gradually transitions to a firm outer edge. This construction allows it to snap back into shape faster, delivering more ball speed at impact. Comparing it to the previous model, I found my Trackman numbers were pretty similar but the 2023 version did have better flight performance.
The 338 Speed Dimple Pattern gets the ball cutting through the wind better by reducing drag at launch and increasing lift during the ball's descent. I got some great yardages with this ball, and with its compression rating of 60, it is great if you have a swing speed of around 90mph or less. On the greens, the control from the 1.6mm ionomer casing gives a soft feeling, so if you like your golf balls to be a bit quieter when putting this is a great option for you. For more information about some of the most soft-feeling models on the market then be sure to read our guide on the best soft-feel golf balls (opens in new tab) too.
Specifications
Construction: Three-piece
Colors: 2 (white, yellow, plus Divide version)
Reasons to buy
+
Impressive short-game spin
+
High launch
+
Low spin long game performance delivers good height and distance
+
Soft feel off the putter
Reasons to avoid
-
Minimal price difference with Srixon's tour level balls
The beauty of the Srixon Q-Star (opens in new tab) is that it promises a tour-caliber performance with a very soft feel and at a much friendlier price! In testing, I immediately noticed the short-game spin which was comparable to more premium models out there. This is thanks to the Slide-Ring Material (SeRM) coating, helping the ball to dig deep into the grooves of wedges and irons. In the long game, the ball offered up a high launch and low spin which delivered a good peak height and solid distance which became immediately apparent during my outdoor testing, and alongside my SkyTrak launch monitor.
Overall the Q-Star Tour is an excellent golf ball that nearly performs as well as any other golf ball for a low-spin golf ball (opens in new tab), but comes without the larger price tag. That being said the price is only slightly lower than the Z-Star and Z-Star XV so you yourself should decide whether you want to spend a little more on those models. I would definitely recommend testing both all three models to see which performs best for you.
Specifications
Construction: Two-piece
Colors: White
Reasons to buy
+
Excellent soft feel, most noticeable on and around the greens
+
Consistently strong ball flights
+
Good durability
Reasons to avoid
-
Faster swingers may struggle for distance
Delivering a soft feel and excellent ball flights through the bag, the 2022 Srixon UltiSoft is an excellent value golf ball for any golfer who prioritizes a soft feel. This ball has been upgraded from its predecessor (opens in new tab) to improve its performance from tee to green, with its FastLayer core being the headline feature of this golf ball. That is something we've seen in many of the premium offerings on this list, which are also some of the best golf balls (opens in new tab) on the market. The core means it is softer in the center delivering a very low compression of 42, the lowest of any Srixon golf ball. That makes it an excellent golf ball for those with relatively slow swing speeds.
We wanted to see how soft this golf ball really was, so I put it to the test on the course and on the range with a launch monitor and was very impressed by its performance. It offered decent launch angles and good distances in the longer irons, but those with faster swing speeds will struggle with this golf ball. I also found it didn't offer as much spin as premium golf balls, which checked noticeably more on the greens. Yet, the feel was fantastic off the face of all of my clubs, including the putter. It boasts a silky soft feel through impact, which is something I really liked about the ball.
Specifications
Construction: 3-Piece
Colors: 3 (Yellow/White; Yellow/Blue; Yellow/Red)
Reasons to buy
+
Divide colour design creates different alignment options
+
Premium ball performance
+
Easy to see in flight and find
Reasons to avoid
-
Would prefer logo across Divide line to allow plain white/yellow view option too
The Srixon Z-Star Divide golf ball offers all the performance benefits of the Z-Star with a twist. The two-color design creates multiple options for aligning the ball towards the target or parallel to the club face. Akin to many other balls like the TaylorMade TP5 Pix (opens in new tab) or the TaylorMade Stripe (opens in new tab) that deliver alignment technology, the divide also delivers instant feedback on the spin you're putting on the shot. Underneath the colorway, it is a standard Z-Star ball (opens in new tab) that comes in a 3-piece construction and boasts its excellent performance thanks to the balls' soft center core.
Srixon have also added the new Spin Skin+ coating to the Divide, which aims to deliver more control and make it more aerodynamic. But the Divide is solely about the look. The two-tone colorway can be used to help you keep a parallel face when putting or even be used as an alignment tool if you're struggling with your accuracy on the green. Srixon claim there can be a strobe effect on fulll shots as the colors rotate, which does make it easier to see in the sky and when in the rough. Ultimately, that all combined makes it an excellent golf ball for high handicap golfers (opens in new tab).
Specifications
Construction: Two-piece
Colors: 2 (white, yellow)
Reasons to buy
+
AD333 has been offering economical, good all-round performance for 17 years
+
A particularly good performer in crosswinds
Reasons to avoid
-
Cover perhaps scuffs up a little quicker than some
Srixon's AD333 was first launched in 2003 and is now in its ninth generation. Such longevity is a testament to its rightly gained popularity. It's a great option for those who can't justify premium prices but want as much all-around performance as a lower budget allows. The latest AD333 features a new FastLayer Core that maximizes speed and keeps spin low by being softer in the center and then progressively firmer towards its edges. Closer to the green, Srixon's Spin Skin technology and Slide Ring Material (SeRM) increase friction at impact to maximize spin.
During my testing sessions distance was solid and the flight was strong and consistent which was a pleasure to see. With the wedges, the lower compression was more obvious. It feels more jumpy and springy off the face than the previous AD333, with a quieter sound contributing to a softer feel. On the greens, I also enjoyed the blue alignment stamp on the side of the ball too. The AD333 is a big favorite of mine and also features in our guides on the best golf balls for beginners (opens in new tab) and the best value golf balls (opens in new tab) too.
Specifications
Construction: Two-piece
Colors: 2 (white, pink)
Reasons to buy
+
Very low compression boosts ball speed and launch at slower swing speeds
+
Soft, thin cover ensures more than adequate greenside feel and control
Reasons to avoid
-
Not for faster-swinging ladies – it's more about swing speed than gender!
The key to the Soft Feel Lady ball's performance is its softness and very low compression of just 58. The softness starts with an Energetic Gradient Growth Core that's softer near the center and firmer around the perimeter, for a blend of softness with maximum ball speed. This design helps to bring added distance to ladies, whose average swing speeds are typically slower than men's, along with a higher launch for more carry.
We loved the responsive feel off the face when I tested this ball. It performed particularly well on the greens and its design elements seemed to help us with distance too. The dazzling pink packaging gives the Soft Feel real shelf appeal, compared to some of the other best golf balls for women (opens in new tab)and, most importantly, makes it easy for ladies to spot. The ball itself just has a very simple Fuchsia pink alignment line to help you aim your putter precisely.
Specifications
Construction: Two-piece
Colors: 1 (white)
Reasons to buy
+
The ideal distance ball for anyone with an 80+mph swing speed
+
Generates a high penetrating ball flight
Reasons to avoid
-
Durable cover may feel too hard to some, especially greenside
The latest Srixon Distance model boasts a softer compression than the previous version. It delivers optimum distance via greater initial velocity and a higher launch angle for a penetrating ball flight. The dimple count is down significantly too (108 fewer), which Srixon says will reduce drag and increase lift for better performance in all conditions. I did see a good increase in distance and penetration of the air in windy conditions so these claims seem to stack up. As such it also features in our best distance golf balls (opens in new tab) guide.
High handicap players will also enjoy the durable cover which is engineered for greater cut-proof durability. So these are good value as well. Obviously, the trade-off is the lack of feel compared to other Srixon golf balls in this guide, but that being said it did not feel like a rock which is often an issue when testing distance golf balls.
How we test Srixon golf balls
Here at Golf Monthly, our highly experienced team of testers play a lot of golf in different conditions throughout the year. While our Digital Editor Neil Tappin (opens in new tab) heads up golf ball reviews on our site, most of the Golf Monthly team have been working in the golf industry for more years than they care to remember, so have a wealth of experience to offer. Through our rigorous testing procedures (opens in new tab), our collective goal is to test every golf ball model on the market as soon as it becomes available to us, putting in the hours in all weathers out on the golf course, the practice ground, the short-game area, the practice bunker and the putting green.
We want to get an idea of how each ball performs in all areas of the game so we can tell you what its strengths and weaknesses are, allowing you to make an informed choice about your next golf ball purchase. Whenever possible, we will also seek to acquire launch monitor data for a more detailed analysis of each ball model's performance. Specifically, when it comes to Srixon golf balls, we put each ball through its paces on the range and out on the course. We try and assess the difference between these golf balls compared to balls made by other brands, with a view to ensuring that these balls can provide great value and have as many performance-enhancing features as possible.
What to consider when buying Srixon golf balls
Perhaps the most technical piece of equipment in golf is the golf ball. Brands are innovating all the time to see how they can make their golf balls carry further, spin more and help the modern-day golfer shoot lower cards. For that reason, there is an awful lot of technology crammed into your average ball, whether that's in terms of the ball's dimpled casing or its construction. That means there are a lot of things to consider when purchasing your next box of Srixon golf balls and that can sometimes be quite overwhelming for players who are relatively new to the game. To help you purchase the best golf ball for your game, we've set out a few points below that you should bear in mind when you head down to your local golf shop.
1. Soft or firm?
The best premium golf balls (opens in new tab) come in alternative versions that spin slightly less for players who prefer a firmer feel or more control off the tee. We recommend you try both kinds of feel from various distances to find your preferred feel.
2. Cover material
Urethane-covered balls offer the best spin control and feel but do cost more. Experiment with each to see if you notice enough of a difference to justify the extra cost, or whether the best mid-price golf balls (opens in new tab) might be an option.
3. Long game or short game?
Which aspect of the game is most important to you? Are you looking for maximum distance or something that allows your short game to shine around the greens? If you put a real premium on feel, perhaps our best soft feel golf balls (opens in new tab) guide might be a good next step.
4. Color/visuals
Are you very much a classic white ball player, or someone open to playing something a little different as the golf ball world evolves? There's more choice than ever in this regard and if you're planning on outdriving the course, there's a strong chance that you will want your golf ball to have a bit of color on it, to help you see where it falls on the course.
5. Price
No buying guide would be complete without at least mentioning price. Thankfully most brands make models at different price points and you can rest assured there is decent performance on offer across the price spectrum. It is also worth considering that personalized balls cost a little more money.
For more advice on buying golf balls, we have a ton of information on our website that will help you make the right choice for you. Why not also take a look at the range of balls other manufacturers produce on our best Titleist golf ball guide (opens in new tab), best Callaway golf ball guide (opens in new tab) and best TaylorMade golf ball guide (opens in new tab).
FAQs
Which Srixon ball is best?
The best Srixon ball will vary from player to player. At the Tour level the different models in the Z-Star range get used the most because of the combination of feel and distance. Whereas if there is a player who wants out and out distance, the Srixon Distance will be the best ball for them. Ultimately, because Srixon make golf balls for every level of player, whatever level you find yourself, the best golf ball will help your specific game.
Do any pros use Srixon golf balls?
Yes Srixon has a lot of top players on its roster at the moment. Leading the way are Brooks Koepka and Hideki Matsuyama, whilst Shane Lowry, Cameron Champ and Ryan Fox amongst others.
Srixon also has a number of top female players use its golf balls as well - such as Minjee Lee, Nasa Hataoka, Inbee Park and Hannah Green.
Which Srixon Ball is best for low handicap golfers?
The Srixon Z-Star XV is perhaps the best premium golf ball on this list, offering all-round performance and excellent distance off the tee. It has a high compression rating, making it great for those with fast swing speeds but also delivers a great amount of wedge spin around the greens.
A golfer for most of his life, Sam is a Senior Staff Writer for Golf Monthly.
Working with golf gear and equipment over the last five years, Sam has quickly built outstanding knowledge and expertise on golf products ranging from drivers, to balls, to shoes.
He also loves to test golf apparel especially if it a piece that can be used just about anywhere!
As a result he has always been the one family and friends come to for buying advice and tips.

He is a graduate of Swansea University where he studied History and American Studies, and he has been a part of the Golf Monthly team since December 2017. He also previously worked for World Soccer and Rugby World magazines.
Sam now spends most of his time testing and looking after golf gear content for the website. He also oversees all Tour player content as well.
Unfortunately, Sam is not a member of any club at the moment but regularly gets out on the golf course to keep up the facade of having a handicap of five.