Best Golf Balls for Seniors 2023
Our guide to the best golf balls for seniors will help steer the more mature golfer into the best golf balls for his or her game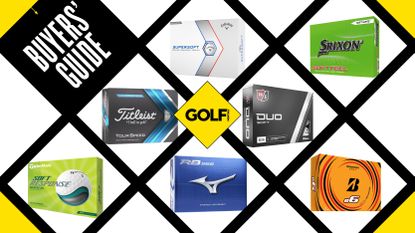 (Image credit: Golf Monthly)
Best Golf Balls for Seniors : Quick Menu
Some senior golfers break the mould, of course, but for most, swing speed gradually declines with the passing years. Many older golfers won't be able to swing it as fast as they once did or hit it as far as they once could.
Regardless of ability or age, playing the best golf balls for your game is important. Thankfully most brands offer different models that have been specifically designed for different types of player, so what are the best golf balls for seniors and what is it about them that makes them a good choice for the older player? Swing speed is a major factor in determining distance, but the ball's design and construction has a bearing too. As swing speed declines, many senior golfers find that they benefit from a ball with a lower compression. This allows them to still compress it a decent amount and maintain more of their former distance.
Others may not be able to launch the ball as high as they once did, which can make it harder to stop the ball as quickly on the greens. Many brands offer a ball designed to launch higher, and therefore come down steeper to help on that front. Vision often deteriorates with age too, and for some seniors, the modern breed of brighter-colored balls from Volvik and, increasingly, many other brands can be a real godsend, especially in gloomier light.
Bearing all of this in mind, below we have taken a look at some of the best golf balls for seniors currently on the market. We also recommend having a read of some of our other golf ball guides too, such as the best distance golf balls and best golf balls for slow swing speeds.
The Quick List
For a quick way to check the best balls for seniors available now, we have pulled together this quick list to roundup the best choices. Click to view a more details review of each product, and we also have a price comparison tool to help you make the right purchase.
Titleist Tour Soft 2022 Golf Ball
The Titleist Tour Soft 2022 balls come with impressive air time and offer a strong ball flight, while the T-shape stamp helps you line those shots up perfectly. Also expect excellent distance.
Wilson Duo Soft 2023 Golf Ball
Wilson's Duo Soft 2023 golf balls perform well throughout the bag, but will certainly appeal to players who like a high ball flight and are looking for a soft feel. They also felt superb off the face for those longer clubs.
Callaway Supersoft Golf Ball
A fantastic value ball with outstanding performance, we definitely recommend these for senior players who don't want to spend lots on premium balls. They maintained distance for long clubs and had notable control around the greens.
Srixon Soft Feel Golf Ball 2023
A soft feel at impact and great control approaching the greens make this ball a real contender for seniors. With a low compression and a reasonably responsive cover, the Soft Feel is an ideal ball for those who like a good quality softer ball at a competitive price.
TaylorMade Soft Response 2022 Golf Ball
A highlight for putting and with remarkable short game spin control, the TaylorMade Soft Response 2022 golf balls will offer great performance for mid or slower swingers. Outstanding for a ball that comes in at around the $30 per dozen mark.
Wilson Duo Soft+ Golf Ball
For modest swing-speed players, the Wilson Duo Soft+ balls are noticeably soft and are good value for money, while the new design of the core helps gain that extra bit of distance. Also have a decent amount of control around the green.
For high balls speeds, the Bridgestone E6 is a great option thanks to its low-compression core. The newer model is also easier to compress at moderate swing speeds. This is a great value two-piece ball that feels like an expensive multi-layer model.
Looking for extra hang time to keep your ball in the air that bit longer? Try the Mizuo RB566 golf balls. It stays in the air longer and flies higher. Its innovative 566 micro dimple design looks unusual but is aerodynamically sound. This ball will help any golfer who struggles to get the ball in the air and wants more carry in the long game.
Best Golf Balls for Seniors
Why you can trust Golf Monthly Our expert reviewers spend hours testing and comparing products and services so you can choose the best for you. Find out more about how we test.
Top Pick
Specifications
Construction: Two-piece
Colors: 2 (white, yellow)
Reasons to buy
+
Impressive hang time and strong ball flights
+
The T-shape side stamp helps with alignment
+
Provides excellent distances
Reasons to avoid
-
Doesn't offer the short-game spin of Pro V1
From tee-to-green, there is a lot to like about the Titleist 2022 Tour Soft golf ball. It is the third generation in the brand's soft compression offerings and provides impressive distances and a great feel. While golfers who can generate faster clubhead speeds may be skeptical about using a softer golf ball, we were pleasantly surprised at how much control and consistency the Tour Soft offered.
Recent updates to the ball include the addition of a large fast core and thin grafted cover, which are accompanied by a new aerodynamic dimple design on its casing. Titleist say this is designed to help deliver stronger ball flights and we noticed that the ball did not dip out of the air on longer shots, while it traveled distances that were not too far off those of a tour-quality golf ball.
As for its feel, the Tour Soft was very responsive but didn't feel quite as soft as the TaylorMade Soft Response, something to consider if you're looking for an all-out soft feel. The golf ball also has stamped on its casing a T-shaped alignment tool which is a very useful addition that can help improve your putting accuracy and your accuracy off the tee. Overall, this is one of the best Titleist golf balls that can help deliver longer distances and more consistent golf shots.
Wilson Duo Soft 2023 Golf Ball
Specifications
Construction : Two-piece
Color: 5 (white, green, red, orange, yellow)
Reasons to buy
+
Long distance for a soft ball
+
Very high ball flight
+
Affordable price point
Reasons to avoid
-
Feels a little springy off the face around the greens
The 2023 Wilson Duo Soft is dubbed by Wilson to be the 'world's softest golf ball' and with a compression rating of 40, it's hard to argue against that. Akin to many of the best soft golf balls on the market, the Wilson Duo Soft is an ionomer covered golf ball that has been designed to allow for maximum energy return, meaning this ball flies further and launches higher with much less effort. We found this was the case when we took it out on the course, where we found it delivered towering, high trajectories with every club in the bag, an ideal element for senior players in getting the ball in the air.
While it may not suit players with faster swing speeds the Duo Soft was an excellent ball for slower swinging players looking for a little bit more speed from their equipment. It was also extremely soft on the face but still felt springy when struck off the middle. We were very surprised with this golf ball and considering its price tag, this is definitely one of the best value golf balls going. What's even better is that it comes in several different colors, including fluorescent yellow and red.
Callaway Supersoft Golf Ball
Specifications
Construction: Two-piece
Colors: 6 (white, red, yellow, green, orange, pink)
Reasons to buy
+
Ideal all-round ball for those with average swing speeds
+
Maintained distance with longer clubs.
+
Superb control around the greens.
Reasons to avoid
-
Faster-swinging seniors won't get the most out of the low-compression core
Callaway's low-compression Supersoft ball has undergone several improvements, making it an even better choice for seniors whose swings aren't as fast they once were.
Principle among these is a new hybrid cover featuring what Callaway has christened a Paraloid Impact Modifier. The benefits are improved distance and durability without sacrificing feel and short-game control. Callaway's famous HEX Aerodynamics cover pattern reduces drag and increases lift to help you launch the ball better. The Soft Compression Core then enhances energy transfer for more ball speed and a high-launch, low-spin combo in your longer clubs. In our testing we definitely felt this was the case and we also saw some receptiveness with approach shots, especially longer irons and hybrids.
Two more features we liked were the black background on the sidestamp which made it easy to align, and the fact it is available in six colors - including white, yellow plus matte orange, green, pink and red.
Srixon Soft Feel Golf Ball
Specifications
Construction: Two-piece
Colors: 4 (white, red, orange and green)
Reasons to buy
+
Soft feel at impact
+
Good control around the greens
Reasons to avoid
-
Soft feel might not give enough audible feedback on putts
This is the 13th generation of Srixon's Soft Feel model and is the softest ball they've ever created. Akin to the Srixon Soft Feel 2021 golf ball, it is designed to help slower-swinging golfers maximize distance without compromising on feel. It features Srixon's softest FastLayer Core, which has a soft center that gradually transitions to a firm outer edge. This construction allows it to snap back into shape faster, delivering more ball speed at impact. Comparing it to the previous model, we found our Trackman numbers were pretty similar but the 2023 version did have better flight performance.
The 338 Speed Dimple Pattern gets the ball cutting through the wind better by reducing drag at launch and increasing lift during the ball's descent. We got some great yardages with this ball, and with its compression rating of 60, it is great if you have a swing speed of around 90mph or less (which most senior players do). On the greens, the control from the 1.6mm ionomer casing gives a soft feeling, so if you like your golf balls to be a bit quieter when putting this is a great option for you.
Best 3-Piece
Specifications
Construction: Three-piece
Colors: 3 (white, red, yellow)
Reasons to buy
+
Excellent feel off the putter face
+
Superb short game spin control
Reasons to avoid
-
Faster swingers may see a drop off in driver distance
The TaylorMade Soft Response is one of two Response models sitting beneath the brand's premium TP5 product, along with the Tour Response ball. Soft Response has been designed with moderate swing speeds in mind, offering all-round performance with a softer feel, courtesy of a soft but durable ionomer cover.
In our testing we found players with mid-slow swing speeds will enjoy the long-game performance here but those with faster swing speeds will see a drop off. However the trade-off here is the stunning soft feel you get especially around the greens and with the putter. With the wedges it also produced slightly less spin than the best golf balls on the market so this is a big plus-point.
Overall, whilst faster swingers may see a drop off in distance at the top end of the bag, slower swingers will still be able to benefit from the superb short game performance without seeing the same drop off. Therefore it is important for you to know how fast you swing, and what elements of golf ball performance are most important to your and your game.
Wilson Duo Soft+ Golf Ball