Best Golf Balls for Seniors 2022
Our guide to the best golf balls for seniors will help steer the more mature golfer into the best golf balls for his or her game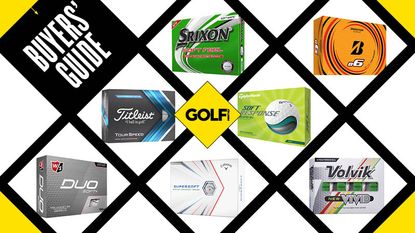 (Image credit: Golf Monthly)
Golf Monthly Newsletter
Golf tips and expert instruction, golf club reviews and the latest golf equipment.
Thank you for signing up to . You will receive a verification email shortly.
There was a problem. Please refresh the page and try again.
Best Golf Balls for Seniors
Some senior golfers break the mould, of course, but for most, swing speed gradually declines with the passing years. Many older golfers won't be able to swing it as fast as they once did or hit it as far as they once could.
Regardless of ability or age, playing the best golf balls for your game is important. Thankfully most brands offer different models that have been specifically designed for different types of player, so what are the best golf balls for seniors and what is it about them that makes them a good choice for the older player? Swing speed is a major factor in determining distance, but the ball's design and construction has a bearing too. As swing speed declines, many senior golfers find that they benefit from a ball with a lower compression. This allows them to still compress it a decent amount and maintain more of their former distance.
Others may not be able to launch the ball as high as they once did, which can make it harder to stop the ball as quickly on the greens. Many brands offer a ball designed to launch higher, and therefore come down steeper to help on that front. Vision often deteriorates with age too, and for some seniors, the modern breed of brighter-colored balls from Volvik and, increasingly, many other brands can be a real godsend, especially in gloomier light.
Bearing all of this in mind, below we have taken a look at some of the best golf balls for seniors currently on the market. We also recommend having a read of some of our other golf ball guides too, such as the best distance golf balls and best golf balls for slow swing speeds.
Best Golf Balls for Seniors
Specifications
Construction: Two-piece
Colors: 2 (white, yellow)
Reasons to buy
+
Impressive hang time and strong ball flights
+
The T-shape side stamp helps with alignment
+
Provides excellent distances
Reasons to avoid
-
Doesn't offer the short-game spin of Pro V1
From tee-to-green, there is a lot to like about the Titleist 2022 Tour Soft golf ball. It is the third generation in the brand's soft compression offerings and provides impressive distances and a great feel. While golfers who can generate faster clubhead speeds may be skeptical about using a softer golf ball, we were pleasantly surprised at how much control and consistency the Tour Soft offered.
Recent updates to the ball include the addition of a large fast core and thin grafted cover, which are accompanied by a new aerodynamic dimple design on its casing. Titleist say this is designed to help deliver stronger ball flights and we noticed that the ball did not dip out of the air on longer shots, while it traveled distances that were not too far off those of a tour-quality golf ball.
As for its feel, the Tour Soft was very responsive but didn't feel quite as soft as the TaylorMade Soft Response, something to consider if you're looking for an all-out soft feel. The golf ball also has stamped on its casing a T-shaped alignment tool which is a very useful addition that can help improve your putting accuracy and your accuracy off the tee. Overall, this is one of the best Titleist golf balls (opens in new tab) that can help deliver longer distances and more consistent golf shots.
Specifications
Construction: Two-piece
Colors: 6 (white, red, yellow, green, orange, pink)
Reasons to buy
+
Ideal all-round ball for those with average swing speeds
+
Maintained distance with longer clubs.
+
Superb control around the greens.
Reasons to avoid
-
Faster-swinging seniors won't get the most out of the low-compression core
Callaway's low-compression Supersoft ball has undergone several improvements, making it an even better choice for seniors whose swings aren't as fast they once were.
Principle among these is a new hybrid cover featuring what Callaway has christened a Paraloid Impact Modifier. The benefits are improved distance and durability without sacrificing feel and short-game control. Callaway's famous HEX Aerodynamics cover pattern reduces drag and increases lift to help you launch the ball better. The Soft Compression Core then enhances energy transfer for more ball speed and a high-launch, low-spin combo in your longer clubs. In our testing we definitely felt this was the case and we also saw some receptiveness with approach shots, especially longer irons and hybrids.
Two more features we liked were the black background on the sidestamp which made it easy to align, and the fact it is available in six colors - including white, yellow plus matte orange, green, pink and red.
Specifications
Construction: Three-piece
Colors: 3 (white, red, yellow)
Reasons to buy
+
Excellent feel off the putter face
+
Superb short game spin control
Reasons to avoid
-
Faster swingers may see a drop off in driver distance
The TaylorMade Soft Response is one of two Response models sitting beneath the brand's premium TP5 product, along with the Tour Response ball. Soft Response has been designed with moderate swing speeds in mind, offering all-round performance with a softer feel, courtesy of a soft but durable ionomer cover.
In our testing we found players with mid-slow swing speeds will enjoy the long-game performance here but those with faster swing speeds will see a drop off. However the trade-off here is the stunning soft feel you get especially around the greens and with the putter. With the wedges it also produced slightly less spin than the best golf balls on the market so this is a big plus-point.
Overall, whilst faster swingers may see a drop off in distance at the top end of the bag, slower swingers will still be able to benefit from the superb short game performance without seeing the same drop off. Therefore it is important for you to know how fast you swing, and what elements of golf ball performance are most important to your and your game.
Specifications
Construction: Two-piece
Colors: 1 (white)
Reasons to buy
+
Ultra-low 36 compression is perfect for more modest swing speeds
+
It's very soft
+
Good value for money
+
New core design promotes added distance
Reasons to avoid
-
Not much sound at impact
The VelocitiCOR is the powerhouse behind the performance of the Duo Soft+ ball, which Wilson claims to be the softest and longest premium two-piece ball on the market. That is arguable depending on the player, but we loved the ball regardless.
As with most soft golf balls there is an upper limit on the speed that can take advantage of low compression balls so if your driver swing speed is under 90mph then this could be the ball for you.
Additionally we felt the cover was surprisingly responsive for a 2-piece ball and the control was surprisingly good on pitches and chips. The only real negative, and this will vary from player to player, is the softness of the ball can create very little sound, and this may put some players off who want more audible feedback.
Specifications
Construction: Two-piece
Colors: 3 (white, yellow, orange)
Reasons to buy
+
Extra hang time keeps the ball in the air for longer
+
Ideal choice for mid to low swing speeds in warm conditions
Reasons to avoid
-
The cover is highly durable but not the softest
Mizuno's soft-compression RB566 ball promises superb distance and a prolonged ball flight thanks to a large, high-energy core and a unique cover featuring no fewer than 566 dimples. In testing with driver, on course and on the range, we noticed a significant change in ball flight. The RB566 flew high and straight, with less right to left shape. It's fair to say it straightened our tester's ball flight and gave him the confidence to swing more freely.
The feel around the greens was also nice, offering good grab on full shots and pitches, whilst rolling out more on chip shots which we think senior players will enjoy. Finally the ball is available in three bright colors - white, yellow and orange. We would also recommend senior players try out the RB566V model as well which may help some players launch it a little higher.
Specifications
Construction: Two-piece
Colors: 2 (white, yellow)
Reasons to buy
+
The longest Srixon Soft Feel ball to date
+
Thin cover improves greenside feel and spin.
Reasons to avoid
-
May feel a little too soft off the face for some
One of the best golf balls for seniors, this is the 12th generation of Srixon's Soft Feel model, a ball which should help slower-swinging senior golfers maximise distance without compromising feel. It features Srixon's softest FastLayer Core, which has a soft centre that gradually transitions to a firm outer edge. Srixon says that it is also resilient, snapping back into shape more quickly after impact for added ball speed, while reducing long-game sidespin for increased accuracy.
The 338 Speed Dimple Pattern gets the ball cutting through the wind better by reducing drag at launch and increasing lift during descent.
We found the Soft Feel really lives up to its name as it feels and sounds very soft in the long game and short game. It performed well too. It's impressively long and it produced a pretty stable flight. It launches at a nice height through the bag and offers good control on approach shots. Admittedly it does not spin as much as premium models but for senior players we would argue that this is not as important as the distance, stability and overall performance on offer here.
Specifications
Construction: Three-piece
Colors: 8 (white, yellow, blue, purple, green, red, orange, pink)
Reasons to buy
+
Empty Designed for a high-launch, low-spin driver flight
+
Vibrant color options can improve visibility
Reasons to avoid
-
Matte finish may not be to everyone's taste
Volvik's Nano Bi high-energy, resilient core paves the way to the low-spin, high-launch recipe that leads to more distance off the tee at low to mid swing speeds. The brand says that the matte finish reduces glare and can therefore help to reduce unwanted distractions and improve concentration.
They are available in a whole rainbow of vibrant colors developed to improve visibility in flight and on the ground, so this should make it easier for those with unclear eyesight to track the golf ball in the air, and also find it when it has landed.
Specifications
Construction: Three-piece
Colors: 2 (white, yellow)
Reasons to buy
+
Low-compression core is designed for high ball speeds
+
New model is now easier to compress at moderate swing speeds
Reasons to avoid
-
Not the softest feel on delicate greenside shots
The Bridgestone e6 is another golf ball that is engineered to provide the best of both worlds to those with moderate swings speeds - the extra distance they crave but with plenty of feel. It achieves this via a reformulated two-piece construction that makes the ball easier to compress. This will help those with more modest swing speeds reap maximum benefit. Like some of the other models in this list, it may not stop dead on chip shots, but given the modest price tag, it is a top performer not just for seniors but a wide range of abilities too.
How we test golf balls
Our testing procedure (opens in new tab) for golf balls, as well as all other golf gear, revolves around several key commitments;
First, if we say we have reviewed a product, then we would have done so fairly and comprehensively. In terms of golf balls that means we have used it out on the golf course and on launch monitors where applicable. Additionally we will always endeavor to use the latest and best equipment to assess performance. Another crucial point we want to make is no manufacturer can pay for a good review because the entire Golf Monthly team tell it how they see it.
In terms of specifics for golf balls, we use several members of the Golf Monthly team, who play at a variety of levels, to put golf balls to the test out on the golf course. The entire team are regular golfers and therefore balls are tested indoors and outside, and then over a number of rounds because that is how you can test for things like distance, feel, durability, spin and so on. We then seek to be as honest and insightful as possible in reviews and guides to help you be more informed.
What to consider when buying golf balls
We think the first thing to consider when buying golf balls is you having a think about your game.
First you ultimately need to pick a golf ball designed to help you. This means having a clear indication of what level you are and what are your strengths and weaknesses. It is totally pointless using a golf ball that will dampen and limit your strengths, whilst also accentuating your weaknesses. In terms of this guide for seniors, additionally there are also some age-specific things to consider as well.
Distance
As players get older, chances are swing speed will go down which makes getting distance an issue. A golf ball can help here though because a golf ball with a lower compression can allow players to still compress it a decent amount and maintain more of their former distance.
Launch
Another thing we have seen is senior players may struggle to launch the golf ball which can make it difficult when faced with a forced carry over a penalty area, or hitting into a green which is guarded by bunkers for example. Thankfully there are golf balls out there, many of them above, which have been designed to launch higher which gets the ball in the air.
Colors
One final point to mention is vision can deteriorate for some people but golf is no longer just a white ball affair. Now most brands make bright golf balls which stand out better, especially in gloomier light.
FAQ's
What golf ball should seniors use?
The answer to this question is entirely dependent on two things - what a particular senior player likes from their golf ball, and what level are they playing at. There is no one definitive golf ball that all senior players should play because no senior player plays the game the same way. However we do think there are some models that have been designed to help stay in the air longer, and get the ball up in the air, which are two aspects many senior players struggle with.
What are the longest golf balls for seniors?
The longest golf balls for seniors are ones that combine to offer distance without sacrificing feel completely. Our guide on the best golf balls for seniors has many models like this from well-known brands like Titleist, Callaway, Srixon, TaylorMade and more.
We hope you liked this guide on the best golf balls for seniors.