Best Titleist Golf Bags 2023
We take a look at some of the best golf bags from one of the best brands in all of golf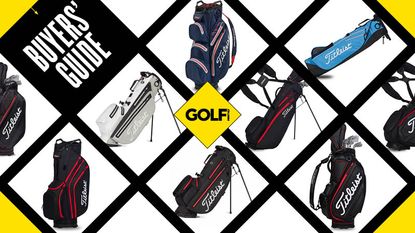 (Image credit: Golf Monthly)
Best Titleist Golf Bags: Quick Menu
Titleist has been at the forefront of equipment innovation for decades and are known for quality of design and production in all areas of the game. From the best golf clubs to the best golf bags, Titleist is a company synonymous with top-of-the-range golf equipment. The golf bag is an essential item of equipment and finding the right one could help make the difference when it comes to organizing and planning your game. You need a bag that will protect your equipment, provide the right level of storage with easy access to clubs and accessories, as well as one that delivers the best possible ergonomic fit for you.
Get all these things right and you can reduce on-course stress and direct all your energy to what's important: playing the best possible game you can.
WATCH: Dan Parker gives his verdict on what he thinks is the best stand bag of 2023
As you would expect from such an iconic brand, Titleist makes some excellent golf bags, but what are some of the best models in the current range? Well we've reviewed and tested them and have selected our favorites below to help you make the right choice when selecting your next bag.
However, if Titleist is not for you though, also make sure you check out some of our other bag guides from other brands – such as the best TaylorMade golf bags, best Sun Mountain golf bags, or the best Callaway golf bags.
The Quick List
Titleist Players 5 StaDry Stand Bag
The Players 5 StaDry is a premium, stylish, versatile and robust stand bag that offers practical features, excellent protection and looks great too.
Titleist Players 4 Carbon Stand Bag
A durable stand bag that offers decent storage and great comfort from a double strap. It is well-balanced on the back and easily adjustable and compact.
Titleist Hybrid 14 Stand Bag
A really good option for golfers who don't want to be caught short on space when weather conditions demand a fuller load. Probably better as a trolley/cart option.
Titleist Players 4 Plus StaDry Stand Bag
This premium bag offers the right level of storage space and pockets for most days out on the course. It will keep your kit safe and dry while being lightweight.
Titleist 14 StaDry Cart Bag
The star of the show here is the waterproof protection whilst it also offers generous storage, lightweight feel, and for a cart bag it looks pretty good as well.
Titleist Cart 14 Lightweight Bag
At just 2.5kg, this is one of the lightest cart bags on the market right now, which is seriously impressive given the amount of storage on offer.
Titleist Premium Carry Bag
Considering the relatively modest price, the Titleist Premium carry bag is feature rich, lightweight and well worth considering as a second bag.
Titleist Players Travel Cover
A very solid and reliable golf travel cover with an air of quality that allows you to fly with confidence knowing your clubs and gear are safe and secure.
Best Titleist Golf Bags
Why you can trust Golf Monthly Our expert reviewers spend hours testing and comparing products and services so you can choose the best for you. Find out more about how we test.
Stand Bags
Reasons to buy
+
Comfortable strap system
+
Plenty of storage
+
5-way top limits club crowding
Reasons to avoid
-
Tee pocket is fiddly
-
Bag clip sometimes get caught during lifting
The Titleist Players 5 StaDry Stand Bag is one of the best golf stand bags that money can buy, with the brand carrying on their stylish, robust and reliable range of carry options.
Adding a new 5-way top, which helps organisation and accessibility, we noticed the premium feel with the high quality YKK zippers and a horseshoe style tee pocket. Visually, this bag is smart yet relatively simple, which we think broadens the appeal. In testing, we had the black with red trim option, but there are three other color options if that doesn't float your boat.
Along with the looks, the bag has plenty of practical features like a Sharpie holder and two external lined cooler pouches to store your beverages either side of the spacious ball pocket, but it is the ease of carrying the bag which is the standout, with the experience faultless. In testing over 10 rounds of golf, we had no problems with the straps tangling or twisting and, because the padding is not too thick on the shoulder straps, it disperses the weight evenly, boosting the comfort on offer.
Titleist Players 4 Carbon Stand Bag
Reasons to buy
+
Supremely lightweight at just 1.3kg
+
Comfortable to carry
Reasons to avoid
-
Minimal design means less storage
The Titleist Players 4 Carbon Stand Bag is ideal for those who like to walk the fairways without suffering a sore back at the end of it. To begin with, this super-light stand bag weighs in at just 1.3kg, making it one of the best lightweight golf bags on the market. How have they kept the weight down you may ask? Well, it has a minimal design plus carbon fibre legs which provide great strength and stability to boot.
With ergonomically designed double straps, we thought that it was comfy to carry and the grab handles made it easy to move around. There's also a 4-way top cuff that keeps clubs easily accessible and the rip stop material the bag is constructed from makes the Players 4 Carbon pretty durable.
Five pockets give reasonable storage but, as you would expect from a bag of this type, the objective is not to pack for an expedition but to keep things minimal. As such, we think this is one of the most functional Titleist Golf Bags – Ideal for those seeking a lightweight but robust carry bag that will accommodate enough kit for a standard day on the course.
Titleist Hybrid 14 Stand Bag
Reasons to buy
+
Very spacious
+
Lots of useful features with everything in the right place.
+
Comfortable and adjustable straps
Reasons to avoid
-
Slightly heavier than other models
The Titleist Hybrid 14 stand bag is hailed as a hybrid, so it performs extremely well on a trolley and on your back. In testing, we were impressed by the bag's 14-way divider top, as well as the space in the main double pockets for clothing (two of nine pockets in total).
Overall, we thought that the Hybrid 14 probably favours space over weight, with the bag crammed with pockets like the ball pocket and 'bits and pieces pocket'. These are a really good size and well positioned.
Along with the pockets and amount of space is the double strap system, which we found to be comfortable and easy to adjust. Although it's not the most padded on the market, this does mean it will absorb less moisture when the weather conditions take a turn.
Titleist Players 4 Plus StaDry Stand Bag
Reasons to buy
+
Lightweight at under 2kg
+
Seam sealed zips
Reasons to avoid
-
Could be more separation in pockets
The best Titleist golf bags always look great and this Players model is no exception. It is a stylish offering that provides a high level of performance on a number of levels. Thanks to the seam sealed zippers, it's impressively waterproof, while the wider stand delivers great stability on uneven terrain or on windy days.
There's also good, accessible storage with a four-way top divider, ample clothing pocket plus five further pockets for balls, accessories, water bottle, valuables and range finder.
One of the standout features is how lightweight the stand bag is, weighing just 1.95kg. Not only does the weight make this extremely comfortable to carry but, thanks to a self-balancing convertible strap system, it moves the weight around evenly. They can even be easily detached if you opt to use a cart, making it one of the best golf stand bags and best waterproof golf bags money can buy.
Cart Bags
Titleist 14 StaDry Cart Bag
Reasons to avoid
-
Not the easiest to carry if you do need to use the single strap
The Titleist StaDry has been a popular bag for a few seasons now and it's easy to see why, as it performs from a practical perspective on a number of levels. Firstly, StaDry waterproof technology will help you keep your equipment dry in wet conditions – It's made from a waterproof fabric and the zips are seam sealed.
It also offers excellent, managed storage with a 14-way top divider plus dedicated putter well. There are also seven generous pockets, with the large apparel pockets and spaces for accessories and valuables a particular stand out.
Designed to sit snugly on a trolley, which we found it does well, the weight is well distributed to ensure it doesn't shift going over bumps or across slopes. There's also a useful channel for strapping the bag down to a trolley or cart and the pockets are all easily accessible when the bag is sitting on a trolley. It weighs just 2.7kg and is easy to lift out of a car and onto a trolley thanks to the well-designed grab handles. As such, we also included it in our best golf cart bags list.
Titleist Cart 14 Lightweight Bag
Titleist Cart 14 Lightweight Bag
Reasons to buy
+
Strap loop for solid attachment to cart or trolley
+
Cart accessible pockets
At just 2.5kg, this is one of the lightest cart bags on the market right now, which is seriously impressive given the amount of storage the Titleist Cart 14 Lightweight offers.
There are no fewer than 11 pockets on the bag, including two good sized apparel pockets and large beverage pocket. There are dedicated spaces for all your accessories and valuables, with all these accessible when this bag is sitting on a cart or trolley. This allows you to organize your equipment easily and focus on your game.
The bag offers a 14-way divider together with large putter well to keep clubs separated and accessible, while grab handles make it easy to move the bag from the car to a cart or trolley and back again. Overall, this is a practical, robust and supremely lightweight bag that's well worth considering if you're in the market for a new cart or trolley bag.
Pencil Bags