Best Sun Mountain Golf Bags 2022
We take a look at the best stand and cart bags Sun Mountain has to offer right now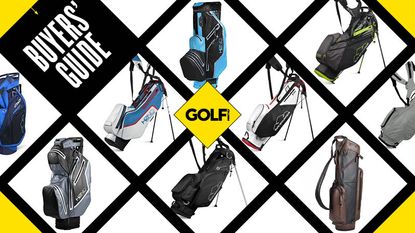 (Image credit: Golf Monthly)
Best Sun Mountain Golf Bags
Sun Mountain has been one of the leading golf bag manufacturers in recent years, with the brand producing some of the best golf bags in the business. Engineered to suit differing on-course requirements, they offer a range of stand and cart bags that will help your performance out on the course.
The golf bag is an essential item of equipment, so finding the right one is crucial for your game. Firstly, you need a bag that will protect your clubs and apparel, provide the right level of storage with easy access to clubs and accessories and one that delivers the best possible ergonomic fit for you. Get all these things right and you can reduce on-course stress and direct all your energy to what's important: playing the best possible game you can.
In this piece, we take you through the best bags from Sun Mountain, with the Golf Monthly team reviewing, testing and selecting our favorites below to help you make the right choice when selecting your next bag.
If Sun Mountain is not for you, we've also produced guides on bags from other brands, such as the best Ping golf bags, best TaylorMade golf bags (opens in new tab), best Ogio golf bags (opens in new tab), or the best Titleist golf bags (opens in new tab).
Best Sun Mountain Golf Bags
Why you can trust Golf Monthly Our expert reviewers spend hours testing and comparing products and services so you can choose the best for you. Find out more about how we test.
Stand Bags
Reasons to buy
+
Incredibly lightweight
+
Comfortable carry straps
+
Quality club protection
Reasons to avoid
-
Limited color options
-
14-way divider will split opinion
For golfers who like to carry their clubs, having a bag that is lightweight is vitally important and the Eco-Lite from Sun Mountain is one of the best for this. It weighs just 4lbs and provides superb comfort whilst carrying, this is thanks to the padded straps, which can be adjusted easily as well.
In weight, it's akin to a Sunday or pencil bag, but in storage, it rivals anything in the stand bag arena. It has a full-length apparel pocket, which we found offered more than enough space for additional layers or waterproofs.
Although it isn't fully waterproof, it is made using water resistant fabric, which we found offered really extensive protection. It wasn't until the heavens really opened that some water began to penetrate the fabric and even then it was minimal.
Finally, it's also available at a really competitive price point, providing golfers with excellent value for money.
Reasons to buy
+
Very lightweight and comfortable
+
Has a modern, sporty design that will appeal to most tastes
Weighing in at under 3lbs, the Sun Mountain 2.5+ stand bag has been designed specifically for those who like the freedom to walk around the golf course. It's very light, minimal and comfortable to carry, thanks to the excellent X strap system and cushioned shoulder pads. A hip pad on the bag again adds to the comfort levels.
There's a 4-way 9" top that provides good club separation and protection, while storage comes through six well-placed pockets. These include an apparel pocket, valuables pocket and beverage pouch.
The carbon fiber legs help keep weight down, but are also super-strong and durable. Available in nine color options, this is a sleek, stylish and functional stand bag that we think is one of the best available from the brand right now.
Reasons to buy
+
Extremely lightweight
+
Stylish design
+
Very sturdy legs
+
Ample storage space
Reasons to avoid
-
Some may feel there are cheaper viable alternatives
There's no question the H2NO Lite is one of the best golf bags in the Sun Mountain range and indeed one of the best waterproof golf bags on the market. Testing the H2NO Lite over a series of rounds, in differing weather conditions, we found it to be a bag that's difficult to fault.
Providing great looks, with the color being not too garish, it really is a unique aesthetic. The quality of construction is also immediately obvious, as it's made from a TPU-coated waterproof fabric that ensures no rain penetrates the interior, which is a significant advantage wherever you are in the world. What's more, all the seams are taped and sealed and the high-quality YKK waterproof zippers further bolsters protection.
The first thing you notice when picking the bag up is how light it is. Weighing in at just 2.3kg, it's easy to carry, even when it's packed to the rafters with your golf gear. There's also plenty of storage space, as six pockets provide ample space for your belongings.
Reasons to buy
+
Complete waterproof protection
+
Comfortable strap system
Reasons to avoid
-
4-way top might not be enough separation for some
This is a mid-sized stand bag that, although not as light as some, provides great versatility given it is 100% waterproof and offers impressive storage options.
The fully waterproof and lightweight H2NO Lite Speed stand bag weighs in at 4.4lbs and features a 4-way divider with plenty of club storage for a bag of this size. There is also plenty of storage elsewhere too, with six pockets providing ample space.
Featuring a full-length clothing pocket, several accessory compartments and an easily accessible beverage pouch, there is also a fully adjustable X-Strap Dual Strap System, which guarantees comfort and ease of use, with the carry straps being attached to the top of the bag for a more balanced carry.
Sturdy aluminum legs add stability and activate quickly, while the Velcro leg lock system ensures seamless application on trolleys. As with all bags in the H2NO series, it is fully waterproof to the highest specification with TPU coated fabric, sealed seams and a matching rainhood, meaning all of your belongings will be protected as and when the heavens open.
Reasons to buy
+
Incredibly lightweight and easy to carry
+
Storage is ample
+
Stand provides excellent balance and stability
Reasons to avoid
-
14 way divider won't be for everyone
Going a step further than the Eco-Lite, Sun Mountain also introduced an EWP version of the bag too. The difference between the two models is the EWP moniker in the product names. EWP stands for Enhanced Weather Protection and, as such, it is fully waterproof, making it a bag you can use all year round. The rest of the EWP design performed just as well as the regular model too.
Comfortable, lightweight, convenient to use and providing ample storage, this really is a top performer in the stand bag market. One final positive worth mentioning is the bag is made from Repreve fabric, which is made using recycled plastic bottles. Approximately twenty-five 20-oz bottles go into the material, which is a design element worth applauding.
Sun Mountain Eco-Lite Stand Bag
Reasons to buy
+
Made from recycled plastic
+
Comfy carrying
Reasons to avoid
-
There are lighter stand bags available
For the environmentally conscious golfer, the Sun Mountain Eco-Lite stand bag is a strong option. However, it isn't just an eco-friendly bag, but also superb performer too, as it weighs in at just under 3lbs.
It also delivers ample storage in five roomy pockets and offers comfortable carrying thanks to the E-Z Lite dual strap system. Those apparel pockets are also a good size and big enough for full waterproofs and at least one other garment.
Featuring a velour lined valuables pocket and a water bottle sleeve, the Eco-Lite comes in five color options, ranging from standard black to striking rush green.
Sun Mountain 4.5 LS 14-way Supercharged Stand Bag
Reasons to buy
+
Charging capabilities
+
Good storage in 10 pockets
Reasons to avoid
-
More features means more weight
The standout feature of this bag is that you can charge your electronic devices when on the move. This is thanks to a Philips Power Bank lithium battery that is stored in an internal pocket, with the Power Bank having two USB ports, one standard and one rapid-charging, allowing the recharging of multiple devices at once. If you've forgotten to charge your distance measuring device, or your phone – problem solved!
There's much more to this bag though, as the 14-way divider means ultimate protection for your clubs and, because they're well separated, they're also easy to see and access.
Importantly, there's great storage for a stand bag, with no fewer than 10 pockets at your disposal. You'll be able to take as much equipment as you need out on course and organize it efficiently to be easily found and utilized as required.
The E-Z Fit dual strap system is easily adjusted to ensure a comfortable fit and the straps themselves deliver comfy carrying. Overall – this is a feature-packed stand bag that's great for the golfer who wants to be prepared for anything.
Cart Bags
Reasons to buy
+
Total waterproof protection
+
Easy to lift in and out of your car
Reasons to avoid
-
Only really works on a trolley
There's an awful lot to love about the Sun Mountain H2NO Lite cart bag, especially if you're looking for a lightweight but spacious option to fit on your trolley. For starters, there's the fact that this bag is completely waterproof, with the thick nylon fabric making the rain run off the surface.
What's more, the zips and seams are cleverly taped to ensure that all your belongings remain dry in even the harshest of weather conditions, making it one of the best waterproof golf bags we've tested in recent times.
At just 2.6kg, when empty, it's only a little heavier than lifting two bags of sugar and, even after you add your clubs, golf balls, waterproofs, drink and accessories, it's more than light enough.
Reasons to buy
+
Optimized for cart use
+
11 color choices
Reasons to avoid
-
Significant storage means it's bulky to store
It's not surprising that the C130 is Sun Mountain's best-selling cart bag as it delivers all the features you would expect from a high-performance product, with the bag designed exclusively for cart use.
Storage is extensive, with 13 well-placed and ample pockets, and you could even pack to go for a two-week vacation using the storage space in this bag. All the pockets are also front-facing, meaning they're easily accessible, with that accessibility guaranteed by the cart strap pass-through system.
In addition, a smart strap system attaches the bag more firmly to a cart with two Velcro straps to prevent twisting and movement. Moving to the 14-way top, which also has an oversized putter well, that means clubs will be fully separated and prevent shafts clashing.
This sturdy bag may be bulky, but it delivers the ultimate in storage and protection for your equipment.
Sun Mountain H2NO Lite Golf Cart Bag
Reasons to buy
+
Lightweight yet spacious
+
Outstanding waterproofing
Reasons to avoid
-
14 way dividers aren't for everyone
Another model from Sun Mountain is the H2NO Lite cart design, which has a 12-way top with individual, full length dividers, as well as a specific putter slot.
Weighing in at just 2.7kg, it is easy to move around from the garage, to the car, to your trolley and even has seven spacious pockets for all your needs (including 2 full length pockets and a valuables pocket).
When fitted with the matching rain hood, the lightweight 2000mm coated fabric will keep everything in the bag safe and dry. Like all H2NO bags, the Lite is constructed using fully waterproof fabrics, high-quality YKK waterproof zippers and all seams are then taped and sealed.
Sun Mountain H2NO Staff Cart Bag
Reasons to buy
+
Modern looking design
+
Plenty of storage in forward facing pockets
Reasons to avoid
-
Negligible performance gains over above model
This cart bag offers premium features in a mid-to-large sized design and fully waterproof fabric that will keep your possessions dry in the worst weather conditions.
The H2NO Staff cart bag features a 10.5" inch, 14-way top with full-length dividers and nine forward-facing pockets, making access easy and convenient when you are out on the course.
The 11 pockets include two full-length apparel pockets, velour-lined valuables pockets, a rangefinder compartment, beverage pocket, plus an array of accessory pockets.
The cart strap pass through system ensures the high-quality seam-sealed pockets are easy-to-access, when in use, and the H2NO staff is available in five colour options with a style to suit every taste.
Travel Bags
Reasons to buy
+
Legs and wheels are a game changer
+
Outside pockets are spacious
+
Padding at the top end is very thick
Reasons to avoid
-
Can be tricky to put legs/wheels back up
In our opinion, the ClubGlider Meridian is easily top of the tree when it comes to the best golf travel bags. For starters, the experience of airport queuing was made easier thanks to the bag having wheels and legs. This means that you don't have to constantly keep picking it up and moving it a couple of yards to progress.
Just like the name suggests, it simply glides around the airport and takes away any stress from your back, arms and wrists when manoeuvring it. The legs are also very sturdy and the wheels roll excellently.
The frame of the legs is housed in the hard back, that gives you peace of mind that your clubs are protected in a safe shell, whilst the padding around the top of the bag is very thick and should mean that there are no accidents with your driver and fairway woods.
How we test golf bags
Our testing process for all golf gear, let alone golf bags, is rigorous and comprehensive.
As far as our methodology goes, if we say we have reviewed a product, that means we have used it out on the golf course and put it through its paces in different conditions. We also endeavour to use all the features on the golf bag, for example, if the valuables pocket claims to be waterproof, we pour water on it to find out.
We should also say that manufacturers cannot pay for a good review because we tell things how we see it.
As far as the testing team goes, the Golf Monthly team is a mixture of ages and handicaps, and most are members at golf clubs so regularly put golf gear to the test in fun rounds as well as competitions.
What to consider when buying a golf bag
There are several key factors to consider when thinking about buying a golf bag and we have gone into those below...
Bag Type - What kind of bag do you want? Stand bag? Cart model? Pencil bag? All of these types of bag have their positives and negatives and you should think about what you think is important to your golf.
Stand bags are built for those who want to carry their clubs around the golf course which means factors like comfort and weight are very important. Stand bags also have to offer waterproofing as well as strength and robustness. The two negatives most associated with stand bags are they require more effort to use, and they usually don't offer as much storage as cart bags.
However, that being said there are several stand bags above that can also be used on golf carts as well so maybe that is a way of killing two birds with one stone.
Cart bags are for those who want to use golf carts on the golf course. If this is you, then you'll likely want a stable model that is not only easy to lift and move around, but also one that sits firmly on your cart. One big advantage we have found is that cart bags also tend to offer ample storage for accessories, apparel, valuables and all the other golf paraphernalia you might need during the round.
The main negative is they are just bulkier and have to be taken off the cart before and after the round, whereas stand bags offer a bit more freedom.
Pencil bags are obviously very light and perfect for quick rounds but obviously limited in terms of storage.
Storage - Speaking of storage, it is important because a good golf bag has to offer pockets for lots of different things as we mentioned above. Cart bags tend to have larger pockets because they are just that, larger. They also require less effort to use too which means players are able to carry more stuff with them if needed.
Stand bags on the other hand usually have enough to house the essentials.
However there are also golf bags out there that keep the game simple with only a few pockets so have a think about how much gear you want to take onto the golf course, and pick a bag accordingly.
Waterproofing - If you live or golf somewhere that gets a lot of rain then this is a no-brainer really, get a bag that offers protection from the rain. Whereas if you don't, then this factor won't be as important. We should acknowledge that some models above are better than others in this regard because they have been designed as such.
Weight - Across all types of bag, weight is important. Stand bags obviously have to be lightweight because players will be carrying them on their backs and shoulders all day, whilst cart bags should also have a degree of lightness too so they are easy to manoeuvre on the golf course, and from the car to the cart itself.
Thankfully most brands these days make lightweight models because not many players want to use a heavy bag.
Looks - How do you want your golf bag to look? Whether it be a stand or cart model, brands try their best to create design aesthetics that stand out, or blend in on the golf course. Therefore have a think about which models you like the look of, or if some bags have different color schemes.
Budget - Our final factor to consider is of course price. There are golf bags at every single price point so if you want to go for a premium cart model you can, or if you want a cheap stand bag you can also do that too.
FAQs
What is the difference between a stand and cart bag?
The most notable difference when it comes to a stand and cart bag is the size and storage space, with a cart bag providing that little bit extra when it comes to storage. Another difference is the fact that a stand bag can be carried on the course, whereas a cart bag is usually used on an electric or push trolley.
Who makes the best golf bags?
When it comes to golf bags there are an array of companies that produce premium performing kit. Sun Mountain ranks amongst the best, as do the likes of Titleist, Ping, Callaway and Wilson.