Best Sun Mountain Golf Bags 2023
We take a look at the best stand and cart bags that Sun Mountain has to offer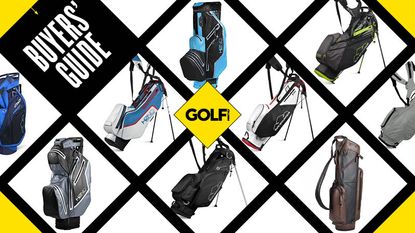 (Image credit: Golf Monthly)
Best Sun Mountain Golf Bags: Quick Menu
Sun Mountain has been one of the leading golf bag manufacturers in recent years, with the brand producing some of the best golf bags in the business. Engineered to suit differing on-course requirements, they offer a range of stand and cart bags that will help your performance out on the course. A golf bag is a crucial part of your golfing set up as, not only does it house your clubs, but also provides storage for your clothing, golf balls and other accessories needed out on the golf course.
In this piece, we have tried and tested the best bags from Sun Mountain, with their models ranked as some of the best golf trolley bags and best waterproof golf bags anywhere on the market.
WATCH: Dan Parker gives his verdict on what he thinks is the best stand bag of 2023
However, if Sun Mountain is not for you, we've also produced guides on bags from other brands, such as the best Ping golf bags, best TaylorMade golf bags, best Ogio golf bags, or the best Titleist golf bags.
The Quick List
Sun Mountain H2NO Lite Stand Bag
The H2NO Lite stand bag ticks every conceivable box, from style to functionality. It's hard to fault. There are a raft of useful features and it's 100 per cent waterproof.
Sun Mountain H2NO Lite Speed Stand Bag
This does pretty much everything you'd want from a carry bag. It's genuinely light to carry, there's plenty of space for clubs and accessories and it is supremely waterproof.
Sun Mountain Two5 Plus Stand Bag
An excellent stand bag that has lightness and comfort as its two leading plus points. The only thing holding it back from five stars was the waterproofing.
Sun Mountain Eco-Lite EWP 14 Way Stand Bag
This EWP version not only has an environmental element to it but performance is not compromised - it is lightweight, stable and can cater to all your storage needs.
Sun Mountain Eco-Lite 2023 Stand Bag
The Sun Mountain Eco-Lite 2023 stand bag is a fantastic option for golfers who prefer to walk the course without being weighed down unnecessarily.
Sun Mountain H2NO Lite Cart Bag
An innovative bag, the H2NO Lite Cart model is lightweight, incredibly versatile, fashionable, functional and best of all - it's completely waterproof.
Sun Mountain C-130 Cart Bag
Designed for golfers who ride when they play, the Sun Mountain C-130 delivers everything that its target audience could want in a cart bag.
Think of this as a really good bag that happens to have built-in speakers. After the freshness of playing music on the fairways fades, you're still left with a spacious cart bag.
Sun Mountain ClubGlider Meridian Travel Cover
The ClubGlider Meridian is a joy to use and you will be the envy of the airport when wheeling it around whilst other golfers continually pick up their travel covers.
Best Sun Mountain Golf Bags
Why you can trust Golf Monthly Our expert reviewers spend hours testing and comparing products and services so you can choose the best for you. Find out more about how we test.
Stand Bags
Reasons to buy
+
Extremely lightweight
+
Stylish design
+
Very sturdy legs
+
Ample storage space
Reasons to avoid
-
Some may feel there are cheaper viable alternatives
There's no question the H2NO Lite is one of the best golf bags in the Sun Mountain range and indeed one of the best waterproof golf bags on the market. Testing the H2NO Lite over a series of rounds, in differing weather conditions, we found it to be a bag that's difficult to fault.
Providing great looks, with the color being not too garish, it really is a unique aesthetic. The quality of construction was also immediately obvious, as it's made from a TPU-coated waterproof fabric that ensures no rain penetrates the interior, which is a significant advantage wherever you are in the world. What's more, all the seams are taped and sealed and the high-quality YKK waterproof zippers further bolster protection.
Once again, it has a lightweight feel and weighs in at just 2.3kg. Certainly it's easy to carry, even when it's packed to the rafters with your golf gear. There's also plenty of storage, as six pockets provide ample space for your belongings.
Sun Mountain H2NO Lite Speed Stand Bag
Reasons to buy
+
Plenty of storage space for necessities
+
Extremely lightweight
+
Easy to carry
Reasons to avoid
-
Two-way zip would be handy for the main golf ball pocket
Within the range, there are five colours to choose from, with this very striking electric blue and white option being the choice for our test. The first thing to appreciate though is quite how light this bag is. Weighing just 2kg, there are still bundles of space with a four-way top.
Using this bag, we were seriously impressed by the layout, with it seemingly designed by someone who plays golf. Everything was in the correct place and we were very pleased with the particularly sizeable 'hydration pouch', which has room for a large bottle of whatever takes your fancy.
To carry, it has an X-Strap fitted dual strap and there's even a padded hip part so the clubs aren't constantly clanking against your body. Other nice touches are a small hook to attach your club-cleaning brushes or your bag tags, and your umbrella can easily be hidden away.
Sun Mountain Two5 Plus Stand Bag
Reasons to buy
+
Very lightweight
+
Comfortable
+
Modern, sporty design will appeal to most tastes
A brand synonymous with high-quality, Sun Mountain's Two5 Plus bag is a model that certainly lives up to the premium, performing name. In testing, the first thing we noticed was the styling, which is modern and looks great. As you can see, the model we tested was finished in white, black and red, a more muted design, but there are several other funky finishes too.
There is a lot to like about this bag, with one of those things being how lightweight it is. Despite being equipped with a full set of golf clubs, golf balls and the pockets bursting with other pieces of golf gear, it was incredibly easy to carry and is easily one of the best lightweight golf bags around. Speaking of carrying, the X-Strap system was another excellent feature.
Equipped with five pockets, it has a 4-way divider and a very reliable stand that won't cause any issues out on the golf course. Too often, we have tested bags that have stands which do not protrude out far enough. This means, in windy conditions or uneven lies, they lose balance and fall over easily. We had no such issues here.
Sun Mountain Eco-Lite EWP 14 Way Stand Bag
Reasons to buy
+
Incredibly lightweight and easy to carry
+
Storage is ample
+
Stand provides excellent balance and stability
Reasons to avoid
-
14 way divider won't be for everyone
Going a step further than the Eco-Lite, Sun Mountain have also introduced an EWP version of the bag. The difference between the two models is the EWP moniker in the product names. EWP stands for Enhanced Weather Protection and, as such, it is fully waterproof, making it a bag you can use all year round.
The EWP design performed just as well as the regular model, with it being extremely comfortable, lightweight and convenient to use. Importantly, it provided ample storage, making this a top performer in the stand bag market.
One final positive worth mentioning is that the bag is made from Repreve fabric, which is made using recycled plastic bottles. Approximately twenty-five 20-oz bottles go into the material, which is a design element worth applauding.
Sun Mountain Eco-Lite 2023 Stand Bag
Reasons to buy
+
Incredibly lightweight
+
Comfortable carry straps
+
Quality club protection
Reasons to avoid
-
Limited color options
-
14-way divider will split opinion
For golfers who like to carry their clubs, having a bag that is lightweight is vitally important, and the Eco-Lite from Sun Mountain is one of the best for this. It weighs just 4lbs and provides superb comfort whilst carrying. This is thanks to the padded straps, which can be adjusted easily.
In weight, it's akin to a Sunday or pencil bag but, in storage, it does compromise a touch when compared to other stand bags. The bag has four pockets, including a valuables pocket and larger pocket on the outer side. The pockets aren't particularly large, so for golfers who like to carry lots of extra layers or drinks, the pocket space fills up very quickly.
Although it isn't fully waterproof, it is made using water-resistant fabric, which we found offered reasonably extensive protection. It wasn't until the heavens really opened that some water began to penetrate the fabric, and even then it was minimal.
Cart Bags