Best Golf Waterproofs 2022
We take a closer look at the best golf waterproofs currently on the market.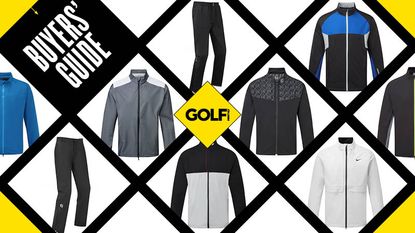 (Image credit: Golf Monthly)
Golf Monthly Newsletter
Golf tips and expert instruction, golf club reviews and the latest golf equipment.
Thank you for signing up to . You will receive a verification email shortly.
There was a problem. Please refresh the page and try again.
Best Golf Waterproofs
Somewhere along the line, pulling on a set of waterproofs didn't become such a pain. Years ago it was like wrapping yourself in a bin bag. However, the best golf waterproofs these days don't just keep you extremely dry, but they are designed to help you swing unhindered.
We wouldn't quite say it's ever a joy to reach for the waterproofs, but today's technology-packed suits are not just more effective than ever at keeping us dry and comfortable while also looking the part on the fairways. Nowadays the research that goes into making garments built to withstand the harshest of conditions is truly mind-boggling. It pays off too because golf waterproofs these days are lighter, keep you drier, remain breathable, and look great.
We've picked out a selection of the best golf waterproofs that are well worth checking out and we also recommend checking out our posts on the best golf tops (opens in new tab), best golf wind jackets, and best golf base layers (opens in new tab) to truly complete your outfit and leave you best prepared for the wind and rain.
Best Golf Waterproofs
Waterproof Jackets
Image 1 of 2
Specifications
Sizes: S-XXL
Colors: 5 (Navy, Black, Royal, Red, Grey)
Reasons to buy
+
Extremely lightweight and breathable, allowing for total freedom of movement.
+
Able to withstand a substantial amount of water
+
Available in some nice colorways
Reasons to avoid
-
Warmer models out there when temperature drops
The middle garment in FootJoy's HydroSeries range is this, the HydroLite Jacket. From a performance and feel perspective, it was outstanding during our testing. It is very light which we felt allowed us total freedom of movement and getting it on/off is very easy because it's a full-zip jacket and comes without loose fabric or mesh on the inside. It's just one high-quality feeling material that slid over whatever I was wearing underneath with ease.
From a rain protection perspective, it performed well despite us getting caught in several long showers, however the one small nitpick we do have is that because it is so light, there is a tradeoff in terms of warmth. There are better models for keeping you warm below. One last thing to mention is the styling. The jacket comes in five colors and each offer something a little unique and different, which is a welcome sign in modern golf.
Specifications
Sizes: XS-4XL
Colors: 4 (Red, Olive, White, Black)
Reasons to buy
+
2 jackets in 1
+
Very good range in sizes
Reasons to avoid
-
Flaps in the midrift don't look the best
This jacket is basically two jackets in one because the traditional look can be transformed into a vest easily. The removable upper/arms are held in place with snap button closure points and whilst that sounds cumbersome, the HyperAdapt technology combines a vent along the back of the shoulders for extra mobility through your swing. The Hypershield technology is also present to block wind, rain and anything else Mother Nature wants to throw at you. Water may not bead off as quickly as other models on this list, but the protection is still excellent.
The cuffs can be tightened with Velcro and the neck and zips are well designed so water can't seep in. The flap around the middle of the body and along the back of the shoulders also offers good ventilation while keeping the damp out and allowing a little extra mobility.
Specifications
Sizes: S-XXXL
Colors: 4 (Navy, Iron Grey, Grey, Black)
Reasons to buy
+
Front pockets are a welcome addition
+
Excellent lightweight waterproof protection and breathability
+
Great styling, fit and range of motion.
Reasons to avoid
-
The premium price may be difficult for some golfers to justify
As far as the best golf waterproofs go, the Action from Galvin Green is right up there. It is lightweight, looks great, soft and comfortable, stretchy and the fit can be tailored nicely. The waterproofing and protection is also high-quality thanks to the GORE-TEX C-knit fabric.
Galvin Green has also implemented GORE-TEX 'Super Stretch' too which are a series of inserts on the jacket that provide extreme stretch in key areas like the back and elbows. The TECHSTEEL fabric also reinforces the shoulder and lower back areas too, making these sections more durable. This is particularly important for those bag carriers out there. There are four colors available in black, navy, iron grey and grey.
Specifications
Sizes: S-XXXL
Colors: 3 (Black, Blue, Grey)
Reasons to buy
+
Competes with the best in terms of protection
+
Ventilated back is a nice touch
Reasons to avoid
-
Double zip can be a touch fiddly
Highly waterproof, breathable and lightweight, the Puma Ultradry jacket is a great garment at a very competitive price in this space. The material is lightweight enough to not make you too warm inside and waterproof enough to keep up to 10,000mm of rain out. At this price, such high quality material is hard to come by.
The best part about Ultradry jacket is that is has adjustable cuffs and zippered side pockets. The adjustable cuffs were especially useful in wet conditions where tightening the cuffs meant no rain could get in through to the arms. The side pockets are really comfortably placed to leave your hands in and the waterproof zippers mean you can keep accessories like balls, tees and pitch mark repairers dry.
Under Armour Stormproof Rain Jacket
Specifications
Sizes: S-XXL
Colors: 3 (Black/Grey, Blue/Black, Black/Mechanic Blue)
Reasons to buy
+
Stylish and high-quality performance
+
Several nice details golfers will like
Reasons to avoid
-
Slightly coarse material could be fairly audible when swinging
As expected with Under Armour, the level of research and development in this jacket is right up there. A stylish offering available in several colors it is one of the best performing waterproofs out there because of its Storm technology, which repels water nicely, the Hydropel zippers and the windproof construction.
This is another jacket on this list that can be used on and off the golf course and we also included it in our guide on the best waterproof golf jackets. (opens in new tab)
Ping SensorDry 2.5 Jacket
Specifications
Sizes : S-XXXL
Colors: 1 (Blue)
Reasons to buy
+
Simple but high-quality
+
Nice storage options with different pockets
This lightweight, windproof jacket is fully seam-sealed throughout, the suit offers advanced levels of waterproof protection and breathability. It also includes a two-way centre front zip, two front zipped pockets, an inner security pocket and adjustable hem and cuffs. There may be only one color choice available in this Ping jacket but the blue looks great so should appeal to most.
Adidas Rain .Rdy Jacket
Specifications
Sizes: XS-XXL
Colors: 2 (Black, Navy)
Reasons to buy
+
Has everything a golf waterproof jacket should have
+
Use on and off the course
Reasons to avoid
-
Shiny look won't be for everyone
A jacket you will undoubtedly have seen players like Dustin Johnson (opens in new tab) wear whilst playing on the PGA Tour, the Rain.Rdy jacket from adidas is ready for all kinds of bad weather. Built with adidas Rain .Rdy fabrics and materials which have been specifically designed to deal with the wind and rain, this jacket looks great, performs well and one of its biggest appeals is its versatility.
More so than any other jacket on this list, this model would look well at home in any situation you find yourself in both on and off the golf course. Additionally if you are covered for a jacket, why not make sure your feet are protected too with the best waterproof golf shoes (opens in new tab) as well.
Specifications
Sizes: S-XXXL
Colors: 5 (Grey, Black/Sharkskin, Navy/Lime, Navy/Blue, Navy/Red))
Reasons to buy
+
Extremely lightweight
+
Easy to achieve a snug, comfortable fit
+
Modern design without being over the top
Reasons to avoid
-
Could feel softer to touch
Galvin Green has been pushing the boundaries of waterproof design for a while now and with the Armstrong it continues to develop. It is 100% waterproof thanks to a Gore-Tex Paclite stretch fabric construction, and importantly this fabric is also characterised by its lightness, breathability and also packability. So you can swing freely, you don't get too hot, and the jacket can fold down to nothing in your golf bag. It also has lots of adjustability and the the fabrics used are Bluesign approved which means harmful substances have been removed from the manufacturing process.
Finally, design wise the jacket is available in five colors and looks modern without being over the top. The graphics really stand out but we think the jacket can be used off the course as well which is a huge plus point.
Specifications
Sizes: S-XXL
Colors: 4 (Grey, Black, Navy, Blue)
Reasons to buy
+
Well respected brand in terms of waterproofing
+
Clever design features
Reasons to avoid
-
Perhaps lacks versatility
We all hate garments that hinder our ability to swing properly especially when it is raining and we have to don the waterproofs. Thankfully this Valberg doesn't hinder anything because of its 4-way stretch panels, giving you all the freedom in the shoulders and arms that you need to achieve a consistent end-to-end swing path.
The two-layer jacket has excellent waterproof protection along with a mesh lining for breathability. A couple of really cool features are the fleece lined side pockets for those extra cold days, and the corded groove cleaner secured on the inside too.
Image 1 of 4
Specifications
Sizes: S-3XL
Colors: 3 (Black, Surf Blue/Pewter, Black/Pewter)
Reasons to buy
+
High-quality protection
+
Lifetime waterproof guarantee
Reasons to avoid
-
Feels bulkier than other models
Building on the success of the PX5 and PX6 models, ProQuip has now introduced the PX7 which is the brand's highest specification and best-in-class men's rain jacket with a lifetime waterproof guarantee.
Available in three colors, the jacket has extreme waterproof protection, and yet still feels breathable. It does feel more bulky than other models on this list however when the conditions are really bad, this is no bad thing as it does not feel cumbersome and limiting during the golf swing. The swing silent technology is an added bonus too because it minimises any noise during play.
Specifications
Sizes: S-XXL
Colors: 2 (Navy/Black, Charcoal/Lime)
Reasons to buy
+
Extremely comfortable and warm
+
Able to withstand the worst the winter can throw at you
+
Fits really well while allowing for total swing freedom.
Reasons to avoid
-
Can get hot on the inside
The top jacket in FootJoy's latest line is the HydroTour pictured above. As you would expect with FootJoy, the waterproofing is right up there with the best, thanks to a three-panel construction and dual-sealed seams to stop any rain getting to your body.
It also has a DrySeal double collar system which helps keep the neck dry thanks a cinch cord, and two small holes on the outer layer. To sweeten the deal further it also comes with a three-year waterproof warranty. From a looks perspective we liked both finishes in navy/black, and charcoal/lime as they looked stylish but had a pop of color where needed.
The only nitpick we found was that it could get slightly hot when the weather was wet, but also warm. At these moments a lighter model may be more suitable but aside from this we felt it was a brilliant waterproof jacket.
Waterproof Pants/Trousers
Specifications
Sizes: S-XXL
Colors: 2 (Black)
Reasons to buy
+
Tapered fit looks great
+
Three-year waterproof warranty
Reasons to avoid
-
Some might prefer a more roomy fit
A new introduction this season from FootJoy, the HydroTour Rain Trousers have been designed to help you compete in any weather conditions. Design features include 4-way stretch fabric, zippered leg closures and reach through pockets. The three-year waterproof warranty is a bonus too.
In our testing we also liked the fact they can either be worn over another pair of trousers or on their own. As for waterproof protection, they performed really well in this department. Perhaps more impressive is the quality of the material - they certainly feel like a quality pair of waterproof trousers. They are lightweight without being flimsy and they stretch with your body as you swing and walk.
If you want to see more waterproof trouser models, also take a look at our guide on the best waterproof golf trousers (opens in new tab).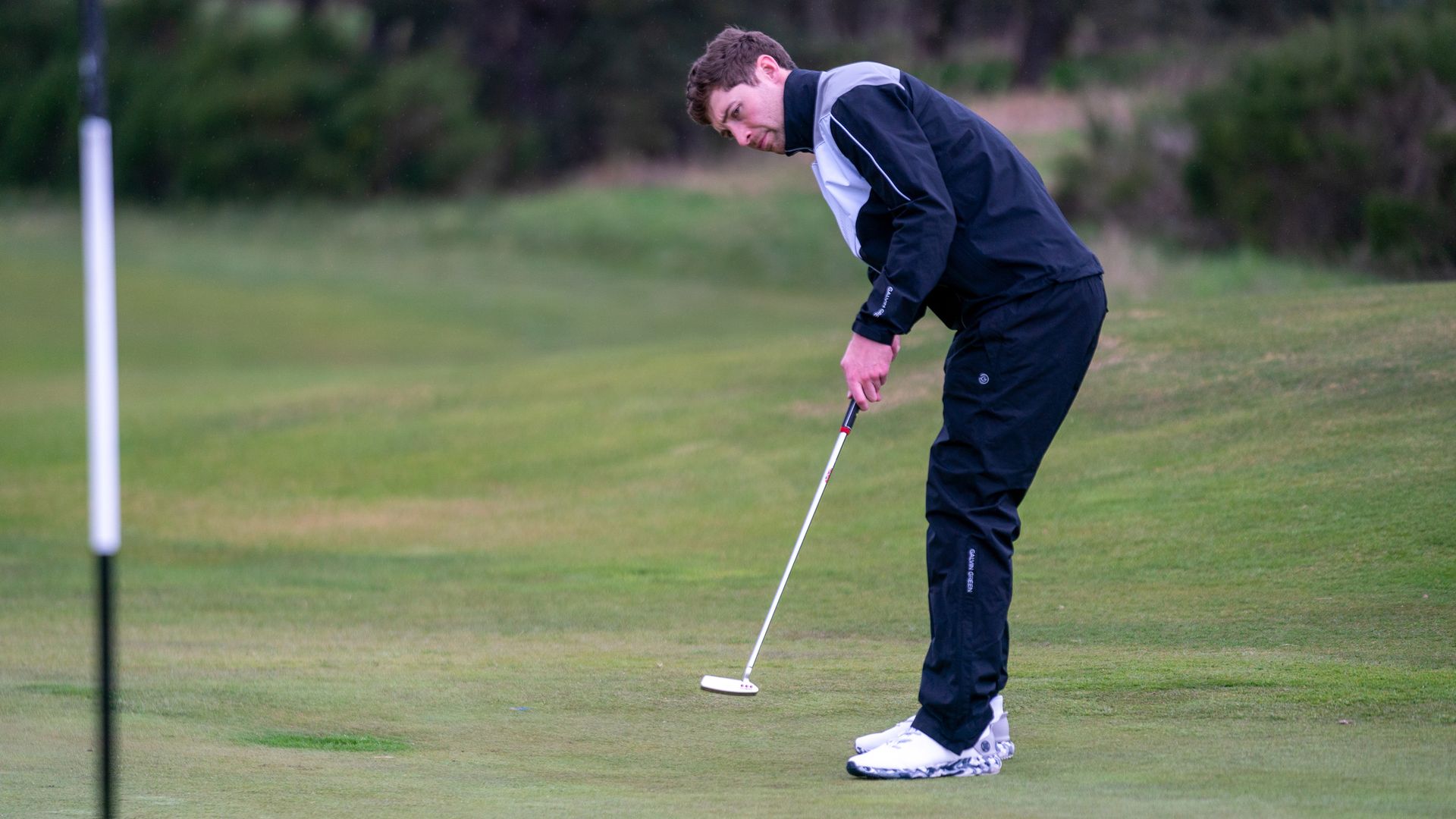 Specifications
Sizes: S-4XL
Colors: 2 (Black, Navy)
Reasons to buy
+
High-quality protective fabric
+
Breathability
Reasons to avoid
-
To some these could feel a touch heavy
The best-selling trousers Galvin Green makes, the Andy trousers provide excellent water and wind protection because of the seam-sealed construction and water repellent fabric. And yet somehow they find a way to be breathable and comfortable too.
With an elasticated buttoned waist for a perfect fit, the Andy trouser features front pockets along with a back pocket. The base of the legs have also received a lot of attention as they can often take a lot of punishment as we go searching for balls in bushes, heather and such. As a result the legs have easy to use fasteners to adjust the width of the leg, and they are also made from an abrasion resistant fabric at the hem for top durability.
How we test golf waterproofs
At Golf Monthly we pride ourselves on our honest, insightful and comprehensive content, and our testing procedure (opens in new tab) reflects that for all golf products, not just waterproofs. We will usually attend product launches and meet with the manufacturer's R&D experts to understand the new technology.
At this point we would be given samples and put them to the test out on the golf course in different conditions. This is particularly important for waterproof clothing because this means we can properly gauge the protection on offer. Admittedly that means playing golf in a lot of rain but this is what we do to give you key insight!
Given how unpredictable the weather can be, if it isn't raining we would also do other things to test protection, like pouring water onto the jacket or trousers to check how seam-sealed the product is. This testing often takes place over a number of rounds, and we often put products to the test off the golf course as well to see how versatile they are.
The final point we wanted to mention is no manufacturer can buy a good review because our testing team seeks to be as honest, and transparent as possible.
How to choose the best golf waterproofs
What are some of the factors you need to consider when trying to get the best waterproof products for you? We have taken a look below.
Jacket/Trousers
First things first are you after a jacket, pants (trousers), or both? Knowing this will therefore inform your buying decision.
Waterproofing
Once you know the answer to the above question, the next step is waterproof protection. Pretty much all of the models above provide excellent protection from the rain because this is what they have been designed to do.
Specifically, the two main things to be aware of here are whether the jacket construction is seam-sealed because this is usually a good indication of how waterproof a piece of clothing is. And second, it is always worth checking if there is a waterproof warranty on the garment too.
Protection
Good waterproofs also help keep you warm when needed too, so when looking at product specifications check if the product is made from warm materials and has features like fleece lined pockets to keep your hands warm.
Freedom of movement
As vital as the protection is, it isn't good when a piece of clothing limits the golf swing. Therefore most good models move with the body throughout the swing and have stretchy sections around the hips and arm areas so you can commit to a proper golf swing. To check for this and how well you can move in a model, we would recommend trying it on first and making some practice swings in it to gauge movement and comfort.
Color
Gone are the days when golf waterproofs look drab and boring. No you can now get different cutting-edge designs in different colors. It is just a case of picking one you like the look of.
Budget
Finally be aware of your budget so you can find a jacket that fits into it nicely. Importantly there are models above which come with premium, and value price points so there is something for everyone.
FAQ's
What is the best golf waterproof?
There are lots of excellent models of golf waterproofs on the market at the moment. These can be from big brands like Nike, FootJoy and adidas, as well as smaller brands like Oscar Jacobson or Sunderland.
We hope you enjoyed this guide on the best golf waterproofs, and for more gear for bad weather check out our guides on the best golf umbrellas.