Best Ogio Golf Bags 2023
We run through the best Ogio stand, cart and travel bags currently available on the market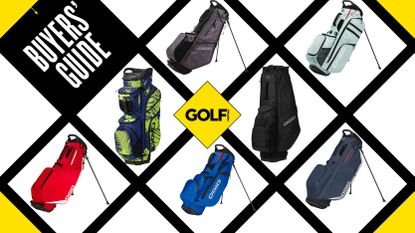 (Image credit: Golf Monthly)
Best Ogio Golf Bags
Ogio has been one of the leading golf bag manufacturers in recent years and are known for quality and innovation of design. They produce some of the best golf bags (opens in new tab) engineered to suit requirements for men and women and, whether you prefer to carry or take a cart, Ogio has you covered, as do we with our selections below.
WATCH: Dan Parker gives his verdict on what he thinks is the best stand bag of 2023
The golf bag is an essential item of equipment and finding the right one could help make the difference when it comes to organising and planning your game. You need a bag that will protect your equipment, provide the right level of storage with easy access to clubs and accessories, as well as one that delivers the best possible ergonomic fit for you. Get all these things right and you can reduce on-course stress and direct all your energies to what's important - playing the best possible game you can.
As we mentioned above, the best Ogio golf bags do all of those things but the question is - which are the best models? Well, below, we have taken a look to help you narrow your search. If Ogio is not for you though, also make sure you check out some of our other bag guides from other brands - such as the best Titleist golf bags (opens in new tab), best TaylorMade golf bags (opens in new tab), or the best Ping golf bags (opens in new tab).
Best Ogio Golf Bags
Why you can trust Golf Monthly Our expert reviewers spend hours testing and comparing products and services so you can choose the best for you. Find out more about how we test.
Stand Bags
Reasons to buy
+
It's rock solid
+
Ideal for carrying and on a trolley
+
Fully waterproof pockets
Reasons to avoid
-
The colour options won't be for everyone
Perhaps one of the coolest, stylish and eye-catching bags currently on the market, the Ogio All Elements Hybrid Stand Bag combines exceptional looks with performance. Ogio have broken the mold in terms of their fresh and funky designs and we salute them for their innovative styles, which are perfect for any golfer looking to make a statement on the course.
However, there's a lot more to this bag than the fancy patterns printed on its waterproof lining. To begin with it is fully waterproof, with its seam sealed zips keeping our belongings protected whilst they store nicely in the bag's nine roomy pockets.
If you're the type of player who likes to have all your clubs neatly organised but doesn't want to carry around a tour bag, then the eight-way divider on the top of this bag, which features a separate section for four big clubs, is the perfect way to keep your sticks all organised and dent free. That, in turn, makes it very easy to pull out your next club without drawing with it, your five iron, pitching wedge, and 52º. One other cool thing about this bag is that it houses a ball silo on the back, which, while seeming slightly gimmicky, was so handy to house a full packet of the best premium golf balls (opens in new tab).
Ogio Fuse Aquatech 304 Stand Bag
Reasons to buy
+
Ergonomic weight distribution when carrying
+
Good storage
Reasons to avoid
-
Only just under the magic 5lb mark (4.85lb)
With its fit disc strap system, we found this bag to be one of the comfiest on the market for carrying. Weight is distributed evenly across the shoulders and you'll notice that difference towards the end of 18 holes.
There are no fewer than eight pockets and they've been placed so it can be accessed easily. What's more, you can grab the accessories or the drink you need without putting the bag on the ground.
Constructed from Ripstop Polyester, it's a durable piece of kit and one, we feel, which can take anything you throw at it. In fact, we liked this model so much we also included it in out best golf stand bags (opens in new tab) guide too.
Ogio Alpha Aquatech 514 Stand Bag
Reasons to buy
+
Fully waterproof with a 14-way divider
+
Large insulated beverage pocket
This is Ogio's fully loaded stand bag model with a 14-way top, fully waterproof material and seam sealed zips making this an all-year round carry bag.
Weighing just 2.25kg, the Aquatech 514 is a good weight for a bag of its size and, even when fully packed, it is comfortable to carry for a full 18 holes. The 14-way divider is excellent for club storage and also stops the club shafts from banging together in the bag as you walk along.
The pockets are cleverly placed and the large, insulated cooler pocket on the side of the bag is a particular highlight. In the black colourway, we think this is an ideal bag to use all year round in any conditions.
Ogio Shadow Fuse 304 Stand Bag
Reasons to buy
+
Super lightweight
+
Comfortable carrying
Reasons to avoid
-
Slightly reduced storage options
The Shadow Fuse 304 is a high-performance carry/stand bag. It's extremely lightweight at just 4.2lbs and incredibly comfy to carry thanks to Ogio's Fit Disc Strap System and ergonomically designed hip pad.
The weight distribution is excellent and we found it sits very nicely on the back and, after a while, it's hard to even notice you're carrying! Constructed from a non-rip 200D Polyester fabric, it's also highly durable and protects equipment well.
Lastly, we thought that the pockets were easily accessed while we were walking, with a water bottle, range finder or mobile phone being easy to grab while striding the fairways. Overall it is a compact, lightweight and robust stand bag that will suit those looking to carry their clubs, to move quickly from car or locker room out onto the course and back again.
Ogio XIX 5 Women's Stand Bag
Reasons to buy
+
Easy to carry
+
Lightweight
Reasons to avoid
-
Little less room in apparel pocket
Ogio has produced this superb women's stand bag in the XXIX. It's been designed to suit female golfers both ergonomically and from an organisational point of view, with it being supremely comfortable to carry thanks to an array of technologies – The co-axial strap system and quick lock anchors provide a good, consistent fit both vertical and horizontal, while the Fit Disc technology relieves weight and pressure.
An ergonomically designed hip cushion pad has been designed to further improve comfort levels and the storage has been well thought out to offer a selection of pockets to accommodate clothing, valuables and accessories while the 5-way top offers easy access to clubs.
As Ogio say – the thought process behind this bag was clearly not to simply take a men's bag and making it pink – it's a bag that's been designed with a woman's requirements in mind.
Ogio Convoy SE 14 Stand Bag
Reasons to buy
+
Huge amount of storage for a Stand Bag
+
Highly robust piece of kit
Reasons to avoid
-
Not the most lightweight offering
The Ogio Convoy SE 14 Stand Bag is a versatile piece of equipment and that's what makes it so appealing. OK, it's not a super-lightweight stand bag, but it's comfortable to carry if you want to, and it's super stable and well set up for use on a push cart or a golf cart.
Storage is excellent with 11 accessible pockets providing ample space for apparel and accessories, with the 14-way top divider allowing for the clubs to keep well separated and organised. There are also load balancing double straps and a padded hip pad.
Ogio Fuse 4 Stand Bag
Reasons to buy
+
Lightweight
+
Good weight distribution when carrying
The Fuse 4 Stand Bag is super lightweight at just 4.8lbs and is one of the best lightweight golf bags (opens in new tab) money can buy. We particularly like the integrated Fit Disc strap system that distributes weight across your shoulders and the bag sits well on the back, with the hip pad helping take the strain.
The pocket design is such that key items are easily accessible, and we found often that you didn't need to take the bag of your shoulder to reach a change of glove or your range finder.
It's also lightweight and minimal, but there is decent storage for apparel, accessories and features like an insulated water bottle pocket, Velcro glove patch and webbed tee holder add to the convenience. The stand also operates effectively, and the bag is stable sitting on uneven terrain.
Cart Bags
Reasons to buy
+
Functionality is off the charts
+
Eleven pockets leave nothing to chance
+
It will last you a lifetime
Reasons to avoid
-
The color options will divide opinion
The eight color options that are available will divide opinion, but we think they are very fresh and funky as Ogio look to provide something very different in the golf bag category.
Featuring 11 pockets, it has a huge amount of space, with two large side ones for your waterproofs and other larger items of clothing, then there's options galore for your valuables, balls, umbrella and drinks (with an insulated cooler pocket). Along with pockets, there are 15 dividers, with each of them particularly roomy for each of your clubs, and there's even room for an extra slot where any alignment sticks can go.
Although it is slightly more expensive than some of the best golf bags (opens in new tab) on the market, we believe that Ogio really have thrown everything at this bag and we can say with some confidence that this will last you forever. The detailing inside the pockets and the feel and ease of the zips are obvious signposts that this is a step up when it comes to functionality, durability and quality.
Ogio Convoy SE 14 Cart Bag
Reasons to buy
+
Significant storage in multiple (13) pockets
+
Packed with features

Reasons to avoid
-
So much storage means bag is inevitably on the bulky side
The Ogio Convoy SE 14 Cart Bag is a definite hard-hitter, with 13 pockets and a simply incredible amount of storage weighing in at just 5.9lbs. It's been designed with those who like to really ramp it up in terms of equipment in mind and there's enough space for a full change of clothes, a picnic lunch and about four dozen golf balls… it's impressive.
The 14-way top delivers great protection for club heads and shafts while the integrated grab handles make the bag easy to manoeuvre in and out of a car and onto a cart. Further helping in that regard is the weight. Without any kit in it, the bag weighs less than 6lbs, which is incredible for a bag of this scale.
The 13 pockets include a soft-lined valuables pocket, a cooler pocket, an insulated water bottle pocket and a removable ball pocket and, put simply, we think this is an excellent cart bag delivering on all levels, making it one of the best golf push cart bags (opens in new tab) on the market.
Ogio XIX 14 Women's Cart Bag
Reasons to buy
+
Cart bag designed specifically for women
+
Stylish finish and colour options

Reasons to avoid
-
Not hugely versatile – cart bag only
What's most impressive with the Ogio XXIX 14 Women's Cart Bag is the variety and volume of storage available. A model that also featured in our best women's golf bags (opens in new tab) list, there are no fewer than 15 pockets and a dedicated, obvious place, for everything.
There's no more stuffing everything in together and rummaging around to find the desired item with this bag – There's space to organise effectively and keep all your kit in perfect order, allowing you to focus on getting on with the important thing – playing golf.
The 14-way top provides good protection for clubs while valuable are protected in a fleece lined pockets and super-valuable items can be concealed in a "stash" pocket. There's also an insulated cooler pocket, apparel pockets and magnetic accessories pocket.
Ogio Fuse 14 Golf Cart Bag
Reasons to buy
+
Lots of storage space
+
Easy to carry
+
Lightweight
Reasons to avoid
-
14-way top may not be to everybody's taste
Ogio claim that the Fuse 14 Golf Cart Bag is the lightest model that they have ever made, with the bag weighing just 4.6lbs! That puts it as one of the lightest bags that money can buy.
What's more, there are eight spacious pockets that will store your necessities and waterproof apparel with ease and, another easy touch, is the three integrated handle system, which makes the Fuse 14 simple to load in and out of the car.
There is a lot to like about this cart bag, with its 1,000mm water resistant fabric ensuring that your clubs remain dry in the most extreme conditions.
Ogio Alpha Convoy 514 Cart Bag
Reasons to buy
+
Premium feel
+
Very durable
+
Environmentally friendly
Reasons to avoid
-
Not the most eye-catching bag
Ideal to go on some of the best golf carts (opens in new tab), the Alpha Convoy 514 Cart Bag's simplistic looks go hand-in-hand with its premium feel, quality and performance, as a premium 600D Cordura EcoMade polyester gives it superb protection in rainy conditions.
Featuring 10 pockets, there is also a lot of storage for your golf balls, tees and necessities, as a quick access cart strap pass through design means it secures comfortably on a trolley or cart.
Travel bags
Reasons to buy
+
Enough space to store everything you'll need
+
Eye-catching styling
+
Easy to manoeuvre
Reasons to avoid
-
Will be too bulky for those who want to travel light
First and foremost, Ogio's Rig 9800 travel bag is big enough to hold everything you'll need for an extended period of travel. In cubic inches this comes in at 7500. What this means in real life is enough storage for more than one pair of shoes and a mix of different outfits.
Despite its size, it is very easy to manoeuvre. In testing, the large, heady duty wheels and telescoping pull handle both work well to ensure you can navigate through the airport without hassle, with the Rig 9800 very cleverly laid out. The main compartment is huge but there's also an adjustable divider and a padded helmet compartment.
Lastly, it will stand out when on the luggage carousel if you choose 'sugar skulls' color option. However, if it isn't your thing then there are a range of characterful alternatives as well as some more muted options.
Reasons to buy
+
Easy to maneuver
+
Plenty of storage
+
Cover looks great and easy to spot in the airport/baggage claim
Reasons to avoid
-
Perhaps could do with thicker padding at the top end
-
Larger tour bags may struggle to fit
The Ogio Alpha travel bag is a very roomy option that can store shoes, clothes, balls and still have space left over for a souvenir or two. With all of this equipment in it, the bag does not feel overly cumbersome or heavy, which makes it a fantastic lightweight option when lifting it into cars, or from an airport carousel.
That makes it a great cover for golfers looking to put as little strain on their backs as possible and it features two strong wheels that make this bag very easy to maneuver and pull behind you while you're out walking. It features a skid plate on the bottom which protects the bag from any abrasions, but it is also made of a durable material that is well padded around your club heads for additional protection and structure.
The D-shaped opening makes it easy to gain access to your clubs and the bag also features some handy compression straps which keep your clubs well secured inside the cover. The last thing to note is the eye-catching colors that the Ogio Alpha comes in. We tested out the Cover's 'Warp Speed' colourway and it was very easy to spot in the airport. But you can also get it in other colors like 'Terra Texture', 'Black', and 'Mid Haze'.
How we test
When it comes to product testing, our reviews and buyers' guides are built upon a rigorous testing procedure as well as the knowledge and experience of the test team. Product reviews on golf bags are headed up by Golf Monthly writer Andrew Wright (opens in new tab). Other members of the Golf Monthly team contribute to golf bag testing too and all of our writers are able to efficiently test the vast majority of the biggest product releases while conveying the pros and cons of each item eloquently. Getting into specifics, we test golf bags outdoors on premium golf courses to get a thorough understanding on what design features each bag offers.
Ultimately, we aim to be as insightful and honest as possible in our reviews, so it is important to acknowledge that no manufacturer can buy a good review. This is because our team tells it how it is. To learn more about our methodology, see how Golf Monthly tests products (opens in new tab) in our guide.
What To Consider When Buying A Golf Bag
There are several things you should think about before buying a golf bag and we have laid out the most important below...
Bag type: Put simply, what kind of bag do you want? And it normally boils down to two options: stand bag or cart bag? Both have their positives and negatives, so you should think about what is most important to you.
Stand bags are built for those who want to carry their clubs, so factors like comfort and weight are very important. Added features like waterproofing, as well as the strength and robustness on offer might also be a consideration many have.
The two negatives most associated with stand bags are they require more effort to use, and they usually don't offer as much storage as cart bags. However, that being said, there are several options above that can also be used on golf carts, so maybe that is a way of killing two birds with one stone.
Cart bags are for those who want to use golf carts on the golf course. If this is you, then you'll likely want a stable model that is not only easy to lift and move around, but also one that sits firmly on your cart. One big advantage we have found is that cart bags also tend to offer ample storage for accessories, apparel, valuables and all the other golf paraphernalia you might need during the round.
The main negative is they are just bulkier and have to be taken off the cart before and after the round, whereas stand bags offer a bit more freedom.
Storage: These days a good golf bag has to have pockets for the many different reasons mentioned above. Cart bags tend to have larger pockets because they are just that, larger. They also require less effort to use, which means players are able to carry more stuff with them if needed.
Stand bags on the other hand usually have enough to house just the essentials. But this might be all that's required depending on your round-to-round requirements. So, have a think about how much gear you want to take onto the golf course, and pick a bag accordingly.
Waterproofing: If you live or golf somewhere that gets a lot of rain, then getting a waterproof bag is a no-brainer. If you don't, however, this factor won't be as important. We should acknowledge that some models above are better than others in this regard because they have been designed as such.
Weight: Across all types of bag, weight is important. Stand bags obviously have to be lightweight because players will be carrying them on their backs and shoulders all day, while cart bags should also have a degree of lightness so they are easy to manoeuvre on the golf course, and from the car to the cart itself.
Thankfully most brands these days make lightweight models across their ranges because not many players want to use a heavy bag.
Looks: How do you want your golf bag to look? Whatever the model, brands try their best to create design aesthetics that stand out, or blend in on the golf course. Therefore have a think about which models you like the look of, or if some bags have different colour schemes.
Budget: Our final factor to consider is of course price. There are golf bags at every single price point, so if you want to go for a premium model you can, or if you want a cheap stand bag you can also do that too.
If you enjoyed this guide on the best golf bags, check out the Golf Monthly website for more buying advice.
FAQs
What bags do most golfers use?
The majority of amateur golfers use golf stand bags. They are lightweight, generally easy to carry and you can stand them up pretty much everywhere on the course. The majority of professionals use tour bags as they are larger, can fit more equipment and are typically carried by caddies.
Is it important to get a golf bag with a good strap?
Yes, particularly if you suffer from back pain. Golfers should always look to take care of their posture by buying a golf bag that disperses the weight of their clubs out over their shoulders. A golf bag with a full set of clubs inside of it can be very heavy to carry over 18 holes. So it is important to remember to buy one that is comfortable and supportive on your back.
Should I buy a stand bag or a pencil bag?
A stand bag typically is a bit heavier than a pencil bag, but allows you to carry more clubs and equipment. A pencil bag is better for players who carry fewer clubs or dont want to be burdened by carrying a large weight on their back. That's why they're often called Sunday bags as they can be great to load a few clubs in for a quick round on a Sunday. Depending on what type of golf you want to play, either can be great options for amateur golfers.
Coupon Discount Codes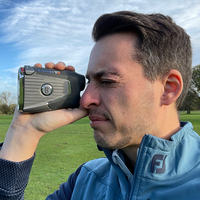 (opens in new tab)
From clubs, balls and tees, to essential sportswear and fitness products, keep it affordable with a little help from our promo and coupon codes.
Dan is a Staff Writer and has been with the Golf Monthly team since 2021. Dan graduated with a Masters in International Journalism from the University of Sussex and primarily looks after equipment reviews and buyer's guides, specializing in golf shoe and golf cart reviews. Dan has now tested and reviewed over 30 pairs of golf shoes for the website and magazine with his current favorite pair being the Ecco Biom C4. A left-handed golfer, his handicap index is currently 8.5 and he plays at Fulford Heath Golf Club in the West Midlands. His best day in golf so far was shooting 76 at Essendon Golf Club on his first-ever round with his Golf Monthly colleagues. Dan also runs his own cricket podcast and website in his spare time.
Dan is currently playing:
Driver: Ping G425 Max
Fairway: Ping G425 Max
Hybrid: Ping G425
Irons: Ping i59 (4-PW)
Wedges: Ping Glide Forged Pro
Putter: Wilson Staff Infinite Buckingham
Ball: TaylorMade TP5 Pix