Best Golf Gift Cards 2022
The best golf gift cards are great for those who are not sure what to give a golfer in their life as present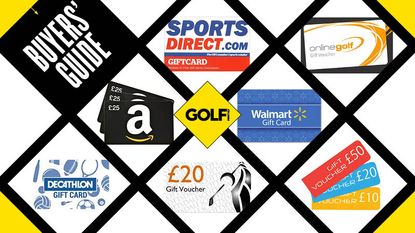 (Image credit: Golf Monthly)
Best Golf Gift Cards
Golf gifts cards are a neat way to avoid having to winkle out of someone what they want - is it a new driver, a new putter, some better waterproofs, a handy training aid that has caught their eye, or perhaps just some tees and golf balls? An easy way is to let the golfer choose for themselves: simply give them one of the best golf gift cards on the market.
Also for more gift ideas have a look at some of our other guides on the best golf gifts (opens in new tab), best golf club sets for beginners (opens in new tab), or maybe even some funny golf gifts. (opens in new tab)
Best Golf Gift Cards
Why you can trust Golf Monthly Our expert reviewers spend hours testing and comparing products and services so you can choose the best for you. Find out more about how we test.
Amazon gift cards come in a number of different styles and denominations, from standard cards to gift boxes and E vouchers. The retailer boasts that the gift cards are redeemable towards millions of items on Amazon so they don't have to just be spent on golf items.
But if the intention is that you recipient will get themselves something for their golf, then Amazon have more than 100,000 golf-related products on each of their US and UK sites.
All vouchers are emailed to the recipient. They come in denominations from £5 to £100. Online Golf stock products from 110 manufacturers, so there should be no worries about people finding their favorite brand.
RockBottomGolf.com Gift Card
Rock Bottom Golf offer either traditional or electronic gift cards. The traditional cards come in $10, $25, $50 and $100 denominations. Or you can choose your own value with an e-card. As well as new equipment, Rock Bottom Golf also offers some pre-owned equipment. Its '30-Day Playability Guarantee' allows buyers to return the selected pre-owned items for store credit if the purchaser does not find it suits their game.
Walmart's golf section is huge and there is also an endless amount of non-golfing products that can be bought at the store, too, using these gift cards. But they also stock literally thousands of golf items, many of which are at quite modest prices. There are lots of different Walmart gift card options to help you choose the perfect gift.
Scottsdale Golf Gift Voucher
Scottsdale Golf is an excellent golf retailer with loads of golf equipment especially through the online store. The vouchers range from £10 to £250 whilst you can also get these cool Fit-Build-Play vouchers too which is basically a club-fitting. These range from £50 to £200 and cover nearly every golf club in the bag.
These are valid for use online or in the Manchester, UK store. Vouchers have to be spent within 12 months from the date of purchase.
UK retailer Sports Direct has a range of golf products as well as many general sports and leisure ones, including an extensive clothing department. Although they are carry an extensive range of Slazenger equipment, they also stock several other well-known golf brands such as Callaway, Mizuno, Titleist and TaylorMade. Their gift cards are available to spend both in store and online. The gift cards range from £5 to £250 and are valid for 24 months.
This card gives you more than 70 sports to chose products from. But on the golfing front as well as a range of clothing, Decathlon stocks a full range of equipment and accessories. The Decathlon gift card is valid for two years from the date of purchase.
Gift cards start at £10 and go up to £200. A £20 gift card could get the recipient a dozen Decathlon Inesis Tour 900 balls, which Golf Monthly has found to be one of the strongest performers in the low-cost ball category.
What to consider when buying a gift card
There a few factors you need to consider when buying a golf gift card and we have gone into those below.
Retailer
First things first it is important you think about which retailer you want to use when purchasing a gift card. Some websites have a lot more stock not just when it comes to specific sections like apparel, but also a good range across the board whether that be clubs, balls (opens in new tab), bags, shoes (opens in new tab), accessories (opens in new tab) and so on. This is important because when gifting the card, you want to know that the person can buy whatever they want or need on the retailer you picked.
Additionally is the retailer golf specific? Because we have included gift cards from Amazon, Walmart and Decathlon, all of which offer lots of different products inside and outside the world of golf.
Price
Of course have a think about how much you want the gift card to be and obviously choose a retailer that offers lots of different gift cards so you are covered regardless of price point.
FAQ's
What do you get someone obsessed with golf?
We have found this to be a very common question and there are several ways to answer it. For a start, it would be wise to ask the person what they would like because this is a sure fire way to get them what they want. However if you are very unsure, a good way of solving this issue is to invest in a gift card or voucher at a golf retailer. This shows you know they love their golf and yet you are giving them the opportunity to pick out anything they want from that store or retailer.
Which gift card is the most popular?
From a golf perspective we have found that Amazon gift cards prove very popular because of the choice on the website, and the ability to pick something from outside of the golf world. Walmart is the same really. In terms of specific golf retailers, Scottsdale Golf and Rock Bottom Golf both offer a wide range of cards and have a lot of stock from clubs, to bags, to accessories.
We hope you enjoyed this guide on the best golf gift cards.