Best Golf Polo Shirts 2023
From classic designs to ones that stand out from the crowd, we collate our favorite golf polo shirts on the market.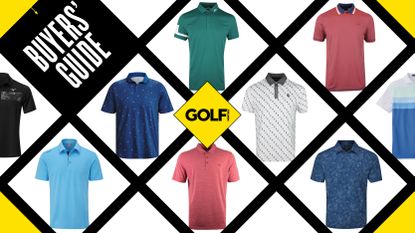 (Image credit: Golf Monthly)
Best Golf Polo Shirts
Nowadays, the best golf polo shirts look very different to how they did ten or even five years ago, with a whole range of new performance fabrics and technologies used in construction. This is because golf polos have to be able to do a lot of things these days. The best models give a lot of mobility so the athletic movement of the golf swing is not compromised, whilst they also sit comfortably on your torso and arms. A good model will also be lightweight, breathable on those hot days, and even help in terms of wicking sweat, blocking UV rays, and maybe even anti-odor technology.
Finally, they have to look good as well. Some brands and models decide to really push the boat out which is great, whereas some look to have a more understated design so they can be worn anywhere. Acknowledging all of this, below we take a look at some of the best designs on the market. These are shirts that will help you feel and look good on the fairways, allowing you to focus on your game and play your best. Additionally, if you want to complete the ensemble, we recommend checking out some of our other buying guides on the best golf tops and also best golf trousers, so you can get the entire outfit right.
Best Golf Polo Shirts 2023
Why you can trust Golf Monthly Our expert reviewers spend hours testing and comparing products and services so you can choose the best for you. Find out more about how we test.
FootJoy Confetti Print Pique Polo Shirt
Sizes: 5 (S-2XL)
Colors: 4 (Racing Red; Violet; True Blue; Aqua Surf)
+ Modern styling
+ Can be worn with a range of colours
- Some will prefer a less busy pattern
One of the best features of this polo shirt is the modern, technical fabric. While some of the options in this guide provide a very lightweight but synthetic feel, there's more substance to this pique polo. It has a fairly athletic fit and will suit those who want a summery look from a slightly more structured polo.
At first sight, this busy-looking polo shirt might seem less than versatile. However, the blue and white version we tested works well with a range of other colours. We wore this with brown trousers for a smart, modern look but you could easily pair it with white or navy trousers or shorts. The overall effect is the same - a trendy, sharp look that will help you stand out on the fairways.
Sizes: XS-XXL
Colors: 3 (Onyx; Navy; Sky Blue)
+ Unique styling
+ Soft, stretchy fabric
+ Flattering fit
- Outlandish design won't suit all
British sports apparel manufacturer Castore has recently broken into the golf apparel market to produce some of the best and trendiest golf clothing we've seen of late. The brand have recently featured heavily on our guide to the best golf tops too. And this polo shirt continues to showcase the brand's brilliance in this space.
For those looking to stand out on the fairways without compromising performance, the Castore Colour Block polo is a standout option in 2023. The vibrant block colors will catch the eye for the right reasons, and there's a choice of three designs depending on your preference. The material has four-way stretch so your mobility isn't affected and the lightweight overall feel makes it super comfortable.
G/FORE Two Tone Rib Collar Tech Jersey Polo Shirt
Sizes: S-XXL
Colors: One (navy)
+ Subtle yet smart
+ Lightweight
+ Soft and stretchy
- Only one color option
G/FORE may be a brand known for its eye-catching designs but this polo is somewhat more subdued, which makes it a more versatile and broadly-appealing piece. I really like the asymmetrical color pops on the collar that match the sleeves and the super soft hand feel. It's one of the stretchiest polos we've tried, ensuring you can swing with complete freedom. It comes in just the navy option, which is somewhat limiting, but it can be paired with plenty of pant options given the no-frills design. If you like the look of this excellent polo, why not also check out some of the best G/FORE golf shoes available right now.
Under Armour Iso-Chill Edge Polo
Sizes: S-XXL
Colors: 2 (Blue Mirage/Midnight Navy & Glacier Blue/Blue Mirage)
+ Keeps you extremely cool in hot conditions
+ UPF 50+ helps with sun protection
+ Varying styles gives players personal style options
- A 'loose' fit may not be to everyone's preference
The Iso-Chill polo is one of the standout garments from the 2023 Under Armour range with the Iso-chill fabric working rapidly to remove heat away from the body and cool you down in hot conditions.
Featuring a loose fit and a four-way stretch material, it also allows for freedom of movement when you're swinging the golf club, with the sweat wicking and anti-odor material allowing you to play 18 holes and remain comfortable enough to go straight for a refreshing beverage after.
Adidas Ultimate 365 Tour Primeknit Golf Polo
Sizes: XS - 2XL
Colors: 2 (Preloved Red/White & White/Collegiate Navy)
+ Breathable, moisture wicking fabric
+ Stretch and comfortable fabrics
- Limited color choices
Adidas is one of the most visible golf clothing brands with the likes of Collin Morikawa, Xander Schauffele and Tyrrell Hatton all wearing its extensive range of clothing on Tour. For 2023, the brand has launched the Ultimate 365 Tour range with this Primeknit polo being of the highlights.
There's a lot to like about Tour Primeknit, such as the fact it is constructed of 70% recycled materials, dries incredibly quickly due to moisture-wicking fabrics, and the fact it oozes class with its simple, but effective, design. All-in-all, it is a superb performer and excelled in every department.
Original Penguin Swinging Pete Novelty Print Polo
Sizes: S-2XL
Colors: 2 (White, Caviar)
+ Lightweight and perfect for summer
+ Comfortable
- Print will divide opinion
This Novelty Print polo is a favorite of ours from Original Penguin's newest range of golf apparel. It depicts the brand's mascot, 'Pete', swinging a golf club in an all over print pattern which I really liked (but it may put some off). It is available in two colors, white and caviar, with the former being my top pick of the two.
The shirt is made from a mix of recycled polyester, polyester and elastane, which gave me a comfortable fit along with easy freedom of movement. What's more, it is also very lightweight making it the perfect polo for those warm days and, I found it simple to wash clean as well, making it an all-round top polo shirt.
Sizes: XS-2XL
Colors: 5 (different prints)
+ Feels very premium and well made
+ All over print looks cool
- Can be a little tight around arms
A brand you may not have heard of, Chervo makes premium, high-quality apparel and this polo, which made our Editors Choice list, most definitely continues that theme. To start all over prints can be pretty hit and miss in golf apparel but this dot design looks pretty cool in the white and blue design we tested. There are also four other colors to choose from and there are loads of sizes from XS to 2XL.
The polo feels very premium indeed as well as well made and comfortable. It is also ideal for when the sun comes out thanks to Sunblock technology which protects the wearer from UV rays, and we thought the Dry-Matic treatment of the fabric ensured freshness and breathability.
Sizes: S-2XL
Colors: 1 (Green)
+ Modern aesthetics and smart fit
+ Made from recycled plastic
- Bright, botanical pattern might be too much for some
The first thing to mention is the major selling point behind this Reflo polo - that this is made from recycled plastic. The brand takes single-use plastics, melts them down and then spins them into a lightweight yarn that is certified by the Global Recycled Standard. What's more, Reflo pledges to plant a tree for every product sold.
What's more the performance was good. We like the look (but it will divide opinion), and the fabric felt lightweight and stretchy, a perfect polo for the summer months. Additionally the fabric itself is a technical design that should keep you cool while protecting you from harmful UV rays. Given all of this, we had to include it in our Editor's Choice list!
TravisMathew The Heater Polo
Sizes: S-2XL
Colors: 6 (Black, Heather, Sleet, Blue, Indigo, Scooter)
+ Lightweight
+ Flexible material allows for movement
- Slim fit won't suit all
The Heater polo from Travis Mathew is about as good as a polo gets. The four-way stretch allows you to feel mobile and athletic while playing, while the lightweight fabric made from 70 percent recycled polyester helps keep you cool and comfortable for the duration of your round.
The enhanced quick-dry material is quick drying and keeps you cool, whether you're on for your lowest round of the season or on the clubhouse patio in the sun. With an abundance of fantastic color options for all kinds of golfers.
FootJoy Thermolite Long Sleeve Shirt
Sizes: S-2XL
Colors: 4 (Grey, Black, White, Navy)
+ Simple, clean styling goes with anything
+ Lightweight material, easily worn with other layers
- Athletic fit may be restrictive for some
FootJoy's Thermolite long sleeve shirt is a garment that should see plenty of use outside of the warmest summer days. It has a very simple design but the athletic fit and smart collar create a modern look that we liked.
The first thing we noticed was how lightweight this garment was. It can easily be worn with or without other layers on top, ideal for changing conditions. The cuffs are nicely fitted too, so there is no excess material around your hands, with a 'temperature regulating fabric' helping keep golfers stay warm and dry. We really liked how it naturally stretched with our swing.
Crew Clothing Technical Color Block Polo Shirt
Sizes: XS-3XL
Colors: 3 (Blue/White, Blue/Pink, White/Teal)
+ Classic polo with smart, modern styling
+ Lightweight, stretchable fabric moves with the golf swing
- Technical fabric makes it more of an on course garment
The technical color block polo shirt provides golfers with some sport-specific benefits in a design that's both smart and versatile. We are big fans of this garment, and believe it can easily be worn with a range of different colored trousers or shorts.
Featuring a zip-up collar, which is a point of difference to most of the other polos you'll find in this guide, the first thing you will notice is how lightweight it is. As a result, it can easily be worn under thicker garments during the winter months without restricting your swing. It also aided by the stretch technical fabric, which also makes this more applicable for on course wear than off course.
Galvin Green Makai Polo Shirt
Sizes: S-XXL
Colors: 4 (Navy/Blue bell/White, Grey/light pink etc)
+ Lightweight, with a good fit
+ Soft and comfortable
- Not the warmest garment
The Makai polo shirt from Galvin Green is very flashy, which may split opinion, but it's something we liked. What else we liked was the sizing. Galvin Green products have a tendency to run small but that was not the case here, which added another layer of comfort.
The material is very lightweight and breathable, allowing for total swing freedom, which is another plus, but it perhaps makes it better suited to warmer conditions. It comes in four colors and features a host of retro-looking triangle patterns, so if you like to make a statement when you're on the course, this polo is definitely one to consider.
Sizes: S-3XL
Colors: 3 (Blue, Red, Navy)
+ Soft, lightweight fabric
+ Made from recycled materials
- Collar is quite thick
Having been fans of the Angus and 1A Putter polo, this newer Cillian model is another polo from Ping apparel that is a worthy inclusion in this guide. Firstly, the aesthetic is understated but subtle, thanks to the square design that you can only really see when up close. As such we think it could probably suit both traditionalists and those looking for something a little different. It comes in three colors (we do wish there were more though.)
It offered a good fit and was comfortable. SensorCool technology is involved here, which enhances moisture management and we noticed good airflow as well. We also liked the fact it was made with 97% recycled polyester because any attempt at environmentally friendly manufacturing should be applauded.
Flag & Anthem Kiawah Camo Performance Polo
Sizes: S-3XL
Colors: 1 (White)
+ Extremely lightweight and breathable
+ Built in stretch for mobility
- Not available outside the U.S.
The Kiawah Camo Performance Polo is ideal for those hotter summer days on the course. This is a breathable and lightweight polo that is made from a moisture wicking material to ensure you remain cool the whole way through your round. The UPF protection helps keep you safe from the sun while the four-way stretch provides superb mobility to make sure you're never restricted on the course.
The tailored athletic fit is fairly tight so it would be worth ordering a size up if you prefer a slightly more loose fit when on the course. The only logo MadeFlex performance patch on the back of the neck improving the versatility of this polo, although we see this one to be worn more on the course than off it.
Peter Millar Cornwell Performance Polo Shirt
Sizes: S-XXL
Colors: 1 (White)
+ Premium quality
+ Distinctive looks
- Only one color
This is a polo shirt that oozes quality – one of those that you can't wait to pull on for the first time but, at the same time, are a little afraid to wear for fear of snagging it in the brambles. This style comes in just the one color, white, but it's 80 per cent blue with white and pale green completing a striped look in what is a fairly sharp and distinct style – very summery.
It has a silky appearance and feels wonderfully smooth, and is finished with a self-fabric collar and two-button placket with the Peter Millar logo on the rear just below the neck. Such is its premium quality, you're sure to wear this smart, tailored garment off the course, too – and it goes perfectly with a pair (we recommend navy) of Peter Millar trousers that can be found on our best golf trousers guide.
Abacus Monterey Polo Shirt
Sizes: S-3XL
Colors: 3 (Sunset, Navy/Fairway, Black/Stone)
+ Super smart
+ Silky, comfortable feel
- Embossed logo requires some care
Some polo shirts you know are going to be comfortable to wear just to look at – and the Abacus Monterey is definitely one of these. If you like your summer polos to feel silky and light, you'll love this. It features DryCool, which makes it extremely cool in hot conditions. Something that is also very cool is the detailing.
The brand's motto 'count on it' sits alongside the buttons in raised letters, with a logo also on the rear just below the collar. The striped sleeves at the bottom are also an appealing design touch. Meanwhile, the colors work really well, too – not too bold but with an appealing splash of color. When golf polo shirts are this smart, it's hard not to wear them off the course, too.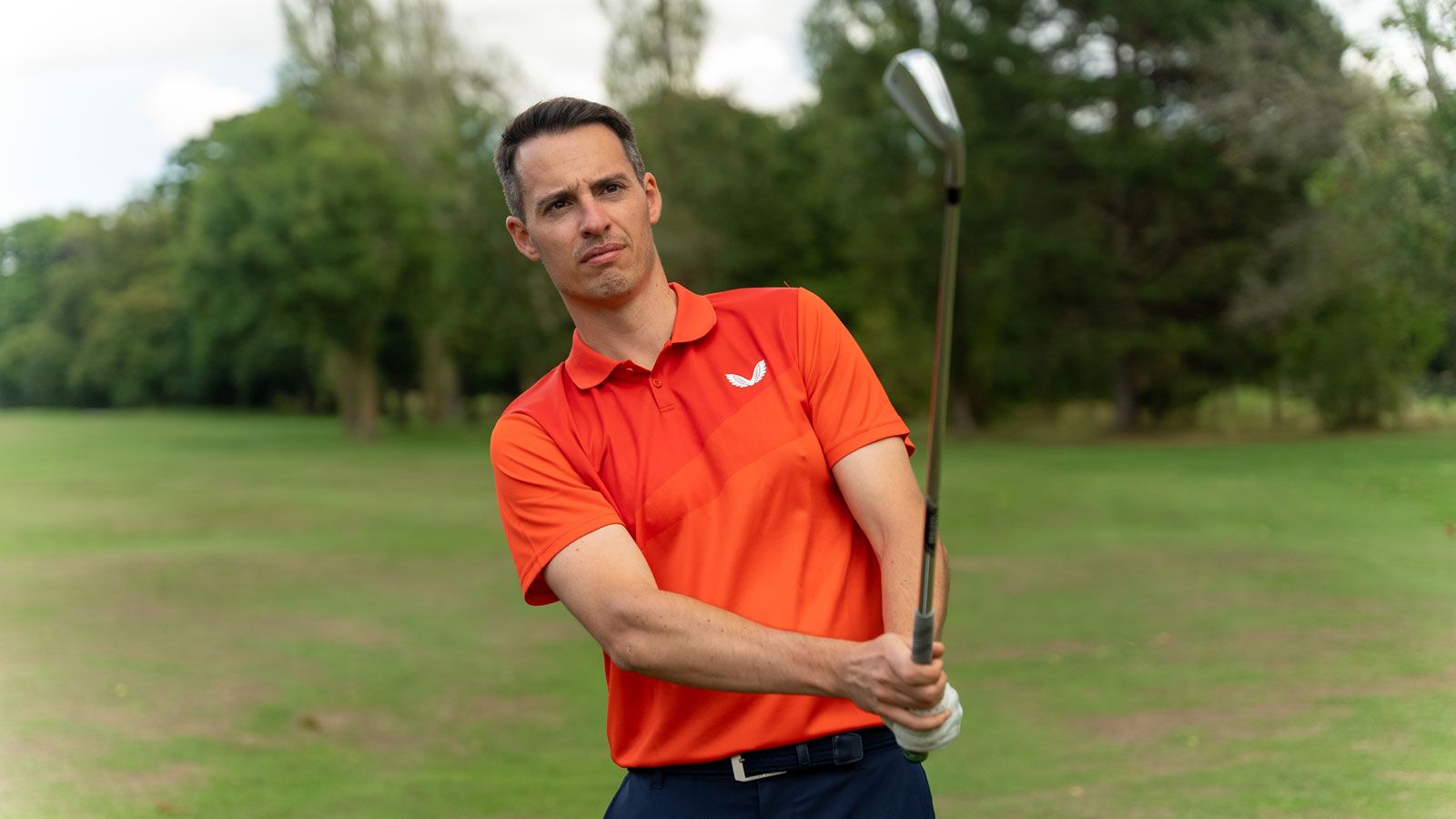 Castore Fiesta Golf Vita Polo Shirt
Sizes: XS-XXL
Colors: 4 (Green, Dark Blue, Orange, Light Blue)
+ Stylish and comfortable design
+ Lightweight and breathable
- Sleeves come up quite short
Castore is making a splash in the golf market with ambassadors like US Open champion Matthew Fitzpatrick and it's no wonder with shirts like the Fiesta Golf Vita. It is extremely lightweight, so ideal on hot summer days, and stylish too.
It's very breathable also and you certainly won't overheat or feel uncomfortable in any way playing in this shirt. In testing, we felt that the styling is such that you probably wouldn't wear it much away from the course, but it looks the part on the fairways and comes in four color options. In terms of the fit, it comes up a little short in the arms, but elsewhere it is neither too tight or baggy and the perfect length.
Oscar Jacobson Wellington All Over Print Polo Shirt
Sizes: S-3XL
Colors: 3 (White, Black, Electric)
+ A perfect summer polo with personality
+ Comfortable
- Design won't be to everyone's taste
The Oscar Jacobson Wellington All Over Print polo shirt will be very appealing to those who prefer to eschew more traditional styles in favor of clothing with a bit more pizzazz.
This polo looks the part and delivers impressive performance, too. The garment is comfortable and fits well without clinging too aggressively to the body, and it's made from a technical polyester blend, which provides moisture management, breathability and UV protection. Ideal for those summer rounds when the sun is shining, it's hard to fault the Wellington polo and the three color options mean it can be matched with any outfit.
Farah Golf Starkey Print Polo Shirt
Sizes: S-3XL
Colors: 3 (Black, Blue, Green)
+ Very comfortable
+ Stretchy and good value
- Limited color options
The Farah Starkey polo shirt is made from a lovely stretch fabric that is supremely comfortable to wear and lightweight, making it a perfect polo shirt for those hot summer days.
Due to the stretch properties and fit, we'd recommend sizing down if you're usually between sizes and like a tighter fit. We loved the styling and print, with this model coming in three different colors - we'd certainly like to see more as it's got a very broad appeal.
We also loved the blue version that we were testing. It's both bold and subtle, with just the Farah 'F' logo. Given the price we'd also say it's good value for money, too.
Mountain Warehouse Fairway IsoCool Polo
Sizes: XXS-4XL
Colors: 2 (Black, Blue)
+ Moisture Wicking material
+ Loads of sizes
- Slim fit may not please all
The Mountain Warehouse IsoCool polo is the ideal Polo for Golf and all things outdoors. This versatile polo that comes in a navy blue with lighter blue striped pattern is made from a quick drying and very breathable fabric, that is lightweight and moisture wicking. A three-button design allows for this polo to be as tight or loose as you want around the neck and is also made from anti-odor Pologiene fabric, that keeps you fresh no matter how many holes you are looking to play. To really make this the ultimate summer polo, the fairway IsoCool polo contains a sun protection factor treatment of 50+ meaning your skin is well protected. This polo does fit fairly tightly and so ordering a size up would be recommended for those seeking a looser fit.
Callaway Soft Touch Microprint Polo
Sizes: S-XXL
Colors: 3 (Black Heather, Magnetic Blue, Peacoat)
+ Lovely soft feel
+ Attractive pattern
- Sleeves come up a little short
First thing you'll notice with this Callaway polo is how soft it feels on the skin. It's extremely comfortable to wear. It's also very lightweight and the stretch properties add to the comfort factor.
It's a good-looking polo too with a nice polka-dot style pattern, tidy and soft collar plus three button placket. Moisture-wicking technologies help regulate your temperature making it a strong garment in most weathers. Given it's so lightweight, it works well as an under-layer and finally the polo is made in part from recycled materials (30%) so is eco-friendly. That makes it a great top for anyone looking to be more sustainable.
Sizes: S-XXL
Colors: 11
+ Clean and smart finish
+ Comfortable material
- The regular fit may not be for everyone
Choosing to wear the J.Lindeberg Heath polo shirt you can feel the premium quality that has been used to put this highly sort after shirt together. With sweat wicking technology the polo shirt also offers TX Jersey fabric which allows for a four-way stretch within the fabric making it one of the most comfortable golf shirts on the market, albeit not the lightest golf shirt out there in terms of weight, which some golfers may prefer.
The polo shirt comes as a regular fit and is very much true to size with very little excess material intruding the swing. J.Lindeberg offer this shirt in 11 different colors so there is one for every occasion.
Sizes: S-XXL
Colors: 6 (Black, Dream Blue, Grey, Lilac Sachet, Red, White)
+ Lightweight and breathable
+ Subtle styling
- Design may be a little bland for some
The Mizuno Floral ST is an extremely lightweight and comfortable polo, with its subtle design meaning it will work with most outfit choices and the large number of colours available means there should be something for everyone.
The material is 95% Polyester and 5% Spandex, making it perfect for the summer months when you're looking for something breathable in the higher temperatures. It offers an understated style but the floral strip across the chest does give a point of difference if you're looking to stand out. Overall, the comfort is the main attraction with this polo and it won't let you down when the thermometer starts to rise.
Stuburt Active Tech Coal Polo Shirt
Sizes: S-3XL
Colors: 3 (White, Blue, Yellow)
+ Easy movement during swing
+ Remains tucked in to trousers
- Cotton polos smoother on skin
The Stuburt Active-Tech Coal Polo proved to be a comfortable fit. Its long body makes it stay inside the trousers throughout the swing and round and the generous armhole space allows the club to be swung easily. The material's stretchiness also aids through the swing.
If you are someone who tends to fall between sizes, these aspects probably mean that the smaller of the options would suit better. The downside is that, made of 100% polyester, this polo shirt is not as smooth on the skin as some cotton ones. The front of the shirt is patterned, but the back body is all white in all three color pattern options.
How we test golf apparel
We test golf apparel in the same way we test all golf equipment, by using products properly. In relation to polo shirts this means putting them to the test out on the golf course to see if the design is well thought out, if it moves nicely throughout the swing, and simply is the polo is usable. Additionally, wearing it on the course in different conditions gives us an idea on breathability, warmth if needed, and looks.
We would also wear the polos off the golf course as well because versatility to use a garment anywhere is a great way to get value for money. The final point we wanted to mention here is no manufacturer can pay for a good review because our thorough testing team tells it how it is.
How to choose the right polo shirt
As mentioned, there is a lot to think about when picking the right polo shirt for you. With that in mind, we have come up with several things for you to think about before purchasing.
1. Length
During the golf swing if you find your shirt coming untucked often, or your belly starts to show then you should think about a polo with a longer length. That way it will remain tucked in throughout the round and beyond.
2. Fit
Do you want a more loose fitting polo or something with more of an athletic fit? Slim fit or classic fit? Most polos come in lots of sizes so be wary of getting something that isn't fitting correctly for you.
3. Sleeves
It doesn't sound that important, but a polo with sleeves too long or too short can be annoying. They should come to the middle of the upper arm, and the seam should align with the middle of the shoulders.
4. Fabric
Have a think about what fabric you would like the polo to be made from. For example, there are loads of materials used these days such as polyester, spandex, lycra, nylon and cotton. Often polos are made with a combination of these.
5. Technology
Most brands make polo shirts that offer technology to help in a variety of ways. For example, many help with moisture management and sweat wicking which keeps the body dry and comfortable. Some also offer UV protection and anti-microbial properties too, so it is worth thinking about what aspect you find important here. Of course, several of the models above have been designed with all of these facets in mind.
6. Design
Striped? Floral? An all-over print? Gone are the days of drab boring polo designs and in modern golf most brands really push the boat out. The sheer array of polo shirts we picked out above shows this clearly. Whatever fashion sense you have, there will be a polo for you.
7. Price
Of course the price is always something people should think about. There is great value to be had with the models above but there are also more premium models for those wanting to spend a little more. Put simply, there is something for everyone.
FAQs
What is the difference between a polo shirt and a golf shirt?
The main difference between a normal polo shirt and a golf shirt is the fabric used in construction. Most polos are made from fabrics like cotton and linen whilst golf polos are often made with a combination of fabrics like spandex, polyester and also cotton. After all, the golf polo has to be able to stretch and deal with the athletic movement of a golf swing.
Can you wear golf polos casually?
The short answer here is yes but it has to be the right shirt. Many of the models we selected in our best golf polos guide have understated designs that would look at home off the golf course, whilst others are perhaps best suited for the links and not many other places.
What makes a good golf polo?
A good golf polo does a lot of things. It has to be breathable, lightweight, help with sweat, protect from the sun, feel comfortable, and also look good as well. We also think the best designs can be versatile enough to be used anywhere.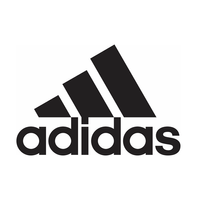 adidas coupon codes to get all kinds of branded golf gear for less, including hats, polos, trainers, bags & balls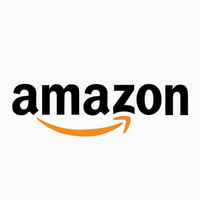 Get saving on those Amazon orders with these coupon codes to help reduce the price in your basket.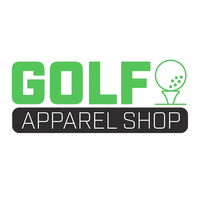 Look through these Golf Apparel Shop coupon codes to get all your golf equipment like balls, clubs, bags & clothing for better prices.
A golfer for most of his life, Sam is a Senior Staff Writer for Golf Monthly.
Working with golf gear and equipment over the last six years, Sam has quickly built outstanding knowledge and expertise on golf products ranging from drivers, to balls, to shoes.
He combines this knowledge with a passion for helping golfers get the best gear for them, and as such Sam manages a team of writers that look to deliver the most accurate and informative reviews and buying advice. This is so the reader can find exactly what they are looking for.
Sam now spends most of his time testing and looking after golf gear content for the website, whilst he is also responsible for all content related to golf apparel.
He also oversees all Tour player content as well so if you need to know what clubs Tiger or Rory has in play, Sam is the person to ask.
Unfortunately, Sam is not a member of any club at the moment but regularly gets out on the golf course to keep up the facade of having a handicap of five.
Sam's What's In The Bag:
Driver: Titleist TS3 (9 degrees)
Fairway Wood: Callaway Paradym (15 degrees), Nike Covert Tour 2.0 (19 degrees)
Irons (4-PW): Titleist AP2
Wedges: Titleist Vokey SM7 54˚, 58˚
Putter: Scotty Cameron Phantom X 5.5
Ball: Srixon Z-Star Diamond
Shoes: G/FORE Gallivanter/Nike Air Zoom Infinity NEXT%/Cuater The Ringer/adidas Tour 360 22