Best Golf Simulator 2023 - Cutting Edge Technology At Home
If you want to find a way to practice your golf game at home then we've listed the best golf simulators currently available right now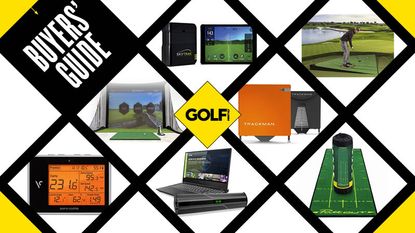 (Image credit: Golf Monthly)
Get the Golf Monthly Newsletter
Thank you for signing up to Golf Monthly. You will receive a verification email shortly.
There was a problem. Please refresh the page and try again.
Best Golf Simulator: Quick Menu
Best Golf Simulator
Over the last few years, more and more people have been investing in equipment and technology that allows them to practice at home. Thanks largely due to the coronavirus pandemic, golfers across the world were not willing to stop playing and wanted to keep practicing their swing, while in lockdown. Many chose to purchase one of the best golf nets, which allow people to hit golf balls whenever they like from their living room to their back yard. Some even went a step further, buying technology that allows them to simulate golf in their homes or gardens in the form of a golf simulator.
This is a piece of technology that is designed to help you practice in a virtually simulated golf environment, which mimics the real game. While it won't provide the player with a completely accurate simulation of the course, you can get real time feedback on some of the best simulators on how you're striking the ball. This is a great way to help players analyze their swing and work on ironing out weaknesses in their game.
Simulators are extremely handy to have and allow players to get the perfect home or indoor setup to improve their golf swing. There are definitely some expensive options, such as the model Tiger Woods has in his home, but they really are incredible pieces of technology and can be custom-built to your preference for the ultimate golf experience.
However, they don't have to break the bank and you can put together your own with a budget launch monitor and practice net or a cool training aid. To help you decide, we have listed some of our favorite simulator designs to help you get the most out of your game. Also be sure to take a look at some of our other golf gear guides too, such as the best golf GPS, best golf mat, or the best golf rangefinders.
The Quick List
Full Swing Golf Simulator
Given its versatility, accuracy and attention to detail, you could make a case for Full Swing Golf being the best indoor simulator experience that exists.
Foresight Sports Simulator
With Tour level accuracy and analytics, Foresight have created a unit which has a clear, built in display that provides accurate data quickly.
The SkyTrak+ is a big step forward versus the prior model and continues to represent great value for money in an increasingly competitive space.
The Trackman launch monitor is perfect for golfers of all abilities and provides accurate and reliable data that will help improve your game.
Foresight Sports GC3 Launch Monitor
The GC3 is a comprehensive and versatile launch monitor that looks to offer decent value for money given all the features on offer.
Rapsodo MLM2PRO Launch Monitor
A good value and easy to use, the MLM2 Pro is a great practice tool that provides accurate data and doubles up as a decent golf simulator.
Garmin Approach R10 Launch Monitor
An enjoyable and highly accurate launch monitor that gives you vast amounts of data at your fingertips, with the price tag extremely competitive.
Exputt RG Putting Simulator
The Exputt RG Putting Simulator is a fantastic and innovative piece of kit that offers incredible feedback on your stroke as well as endless fun at home.
Phigolf 2 Portable Simulator
A superb alternative to having to go to the driving range to work on your swing. The Phigolf 2 simulator provides extensive feedback on a range of data.
The Zen Swing Stage will almost certainly take your golf game to the next level with the ability to recreate the same uneven lies found on the golf course.
The Golfzon WAVE launch monitor system is fully portable and is the first of its kind to use a Hybrid Sensor. It also detects long shots and shots in and around the green.
Carl's Place C-Series Pro Golf Enclosure
With a range of launch monitors available, the Golf Enclosure is made of high-quality materials and is arguably the safest home experience set-up out there.
aboutGOLF provide multiple packages to cater for your needs, with their products providing one of the most accurate and immersive golf experiences around.
Best Golf Simulator
Why you can trust Golf Monthly Our expert reviewers spend hours testing and comparing products and services so you can choose the best for you. Find out more about how we test.
Tiger Woods' Model
Tiger Woods' simulator
Specifications
Data: Club and ball
Technology: Dual sensor technology, Ion3 camera, Infrared sensors
Portable: No
Courses: 80+
Reasons to buy
+
Offers accurate and realistic ball flight graphics
+
Exceptional course-playing experience
+
Wide range of features enhances versatility
Reasons to avoid
-
Limited locations
-
Lots of space required
Popular among many leading PGA Tour players in the USA, the Full Swing Golf Simulator has now made its way to the UK, with the first installation of this piece of technology located at the Silvermere Golf & Leisure centre in Surrey. We paid it a visit recently and tested out the top-of-the-range Pro Series, the same 16-foot widescreen option used by Tiger Woods himself. The technology is as cutting edge as it gets with patented dual sensor technology that uses an overhead ion3 high-speed camera with line tracking infrared sensors. This allows the user to easily see ball's flight and path. We could see accurate trajectories on the screen in real time with no delay and after every shot, a replay of the overhead views shows you your strike and club path from an angle most golfers never see.
When fitted the simulator also comes with a solid wood enclosure, cinema-quality projector, an energy-absorbing diffuser screen and an industrial-grade carpet. You can also play up to 84 simulated golf courses on the simulator as well as other games and then there's the option to practice your penalties, rugby conversions or even your cricket bowling action along with being able to watch films or play video games like a cinema experience. In testing we loved the variety in golf courses we could play and the island green 17th hole at TPC Sawgrass was one of many holes we tested ourselves on.
Our favorite
Foresight Sports Simulator
Our favorite pick
Specifications
Data: Club and ball
Technology: Dependent on launch monitor chosen
Portable: Launch monitors are but not full simulator
Courses: 20+
Reasons to buy
+
Tour level accuracy and analytics
+
Clear, built in display that provides accurate data fast
+
GCQuad is portable
Foresight is one of the biggest players in the simulator market, with its hugely popular GCQuad launch monitor being used by many professionals out on tour. You can bring the GCQuad (or the Hawk, GC3, GC2 or GC2 HMT) to your own home with a Foresight Simulator package, where you can have a lower-priced Sim-In-A-Box or Net-Ready package or the Performance Simulator premium package.
You'll get a launch monitor of your choice as well as a performance laptop and much more to ensure your home simulator setup is as perfect as you want it to be. You can also buy the launch monitor separately, including more affordable pre-owned options. As you would expect with Foremost, the detail on offer here is outstanding as the GCQuad in particular gives precise club information such as path, lie angle, angle of attack and strike location. With the addition of the home setup you can practice how you like, or play golf courses around the world as well as fun games.
SkyTrak+ Launch Monitor
An appealing prospect at its price
Specifications
Data: Club and ball
Technology: Doppler radar system
Portable: Yes
Courses: 100,000 virtual golf courses
Reasons to buy
+
Simple to use
+
Increased data points and accuracy
+
Excellent app experience
+
Can play upwards of 100,000 virtual golf courses
Reasons to avoid
-
Access to the full feature suite requires an annual fee
-
No carry case included
The original SkyTrak Launch Monitor was released way back in 2014 and has popular among consumers looking for a cost-effective way to track their ball flight and get data on their shots. Such are the improvements made with their newest model that it actually secured a spot in our Editor's Choice Awards for 2023.
Featuring a new dual doppler radar system, you can now measure a number of factors on the SkyTrak+, such as clubhead speed, smash factor (how efficiently the ball is struck), spin and launch angle among others. The SkyTrak+ also offers additional club data points, including path and face angle, with proprietary machine-learning algorithms to the data for even greater accuracy, making it comparable with the very best golf launch monitors.
Not only is the SkyTrak+ extremely lightweight and easily portable, but the new camera system allows the device to be as accurate at the driving range as it is when used hitting into a net at home. What's more, the SkyTrak+ software, when synced with a tablet or computer, means you can play upwards of 100,000 golf courses virtually, making those monotonous range sessions more interactive and purposeful. World-renowned courses such as Pebble Beach, Bandon Dunes and Torrey Pines are all available to play on the software, enabling you to make your practice sessions competitive with friends anywhere in the world.
Trackman
Tour proven performance
Specifications
Data: Club and ball
Technology: Dual Radar sensors and camera sensors
Portable: Yes
Courses: 145
Reasons to buy
+
Accurate, fast and informative data
+
Can get this as a complete home set up
+
Huge feature list
Reasons to avoid
-
Need a tablet or phone to display data
Another huge name in the golf simulator world is Trackman. Its devices are used by a number of the world's best players and the new Trackman 4 - which is also featured in our best golf launch monitors guide - offers up accurate data thanks to its patented multi-sensor technology that synchronizes an inbuilt camera with two bespoke designed ultra-sensitive radars.
It also comes with over 160 courses installed on its system which you can play, full putting analysis, club fitting software, swing video software, online tournaments, skills testing, kids games and an on-course practice suite… all from one device. No other launch monitor offers this extensive list of features. You can buy a single launch monitor and also get a complete home setup as well.
Foresight Sports GC3 Launch Monitor
A slightly more affordable photometric option from Foresight Sports
Specifications
Data: Club and ball
Technology: Photometric
Portable: Yes
Courses: N/A
Reasons to buy
+
Incredibly accurate and reliable
+
Relatively portable
+
Easy to set up and use
Reasons to avoid
-
Limited putting analysis
More than a decade after the debut of its GC2, Foresight Sports has announced the product's successor, the GC3. The latest addition to the Game Changer (GC) family will provide more golfers than ever before with unmatched data accuracy and a true-to-life simulation experience guaranteed only with Foresight.
Built on the same advanced photometric technology found in the company's flagship launch monitor, the GCQuad, the GC3 features a three-camera system that measures ball and club performance data, both outdoors and indoors, with precision and accuracy. One of the things that make the GC3 so accurate is its Barometric Sensor, which takes into account temperature, humidity and even altitude. It delivers accurate data based on these real-time factors helping you to prepare yourself as best as possible for the golf course. We loved this in testing because we felt we could really trust the numbers and information it produced, whilst the ease of use and setup was an added bonus as well.
Rapsodo MLM2PRO Launch Monitor
Great value from a reliable name
Specifications
Data: 13 metrics - 6 measured metrics - including spin rate and spin axis
Technology: Dual optical camera + Radar processing
Portable : Yes
Courses: 30,000+
Reasons to buy
+
Easy to set up
+
Can be used indoors or outdoors
+
Integrated video, including slow motion Impact Vision camera
+
Works well as a simulator

Reasons to avoid
-
Spin and rotation metrics aren't a given
-
Requires a membership after the first year to retain the best features
We found that the Rapsodo MLM2PRO can be placed snugly inside a protective case, which will easily fit inside a golf bag. The package also includes a cleverly designed tripod, a user manual, and a sleeve of specially-marked Callaway RPT Chrome X golf balls. The golf balls are meant mostly for indoor use, so we would recommend purchasing a net to get the spin rates and axis rotation numbers.
There's a lot to like about the MLM2PRO, especially the fact that, when you purchase it, you receive a year of its Premium Membership, which provides access to 30,000 simulator courses and other special features like "Virtual Driving Range," and its unique "Impact Vision" camera, which is a major upgrade over the original Rapsodo Mobile launch monitor.
In testing, we were particularly impressed with how easy it was to use. Simply download the new and improved Rapsodo app, register the unit, connect the mobile device or tablet to the unit, which has a WiFi connection then, once connected, three different modes will appear - Practice, Combines, which is a 24-shot test designed to determine a golfer's strengths and weaknesses, and Simulation, which we think might be the real golden nugget.
Garmin Approach R10 Launch Monitor
A simulator that delivers at home and on the range
Specifications
Data: Wide mix of club and ball data plus distances
Technology: Radar Technology
Portable: Yes
Courses: 42,000