Best Electric Golf Trolleys 2023
Read our guide to the best electric golf trolleys on the market this year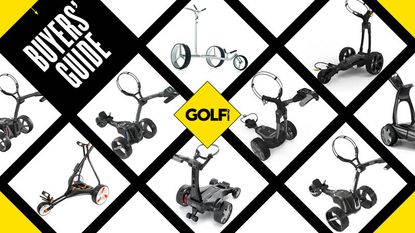 (Image credit: Golf Monthly)
Best Electric Golf Trolleys
As light as some golf bags are these days one of the best ways to save your body from aches and pains is through purchasing a golf trolley. The best golf carts and trolleys can do all the hard work for you, taking the stress off the legs or shoulders and preserving energy for the last few holes so you can finish your rounds strongly.
VIDEO: Watch Dan Parker's verdict on the best push carts and best electric trolleys of 2022
For our gadget-obsessed generation, they now connect to phones and provide GPS information on the screen. These embedded GPS devices are accurate and convenient, meaning you don't have to invest in a separate GPS device. Some can even be described as remote control golf trolleys because they can be controlled by a handset while others will even follow you around the course! The last few years have also seen an industry-wide overhaul of frame styling, from thick and clunky to sleek and shiny, so it's easy to see why most amateur golfers now use one.
Of course regarding the model for you, you should consider several things like storage, battery life, and overall features when looking to buy an electric trolley. Starting prices for entry-level electric trolleys are around $450/£450, so if your top budget is below this, we'd recommend investing in one of the best golf push trolleys (opens in new tab) as a great alternative. Alternatively, if you are in the United States, we recommend taking a look at our guide on the best push carts, or if space is at a premium at home, then we have created a guide on the most compact golf trolleys too.
Benefits of an electric trolley
So what are some of the benefits of an electric trolley? Well the biggest one is they limit strain on the body thanks to electric motors with multiple speed options and occasionally remotes. Additionally modern designs are made from lightweight, and yet strong materials so not only are they easy to get in and out of the car (ideal for older golfers), but also they can deal with the trials and tribulations of general golf use with ease.
Modern electric trolleys are also very easy to maneuver and most models can fit a wide variety of bag styles and sizes. Finally, for you technology fans out there, many of the models above have a multitude of features available as well, such as touch screens, GPS information, shot-tracking, Bluetooth capabilities, and so much more. In short, electric trolleys are designed to make your life easier so you can focus on your golf and preserving your energy for the vital final few holes.
Best Electric Golf Trolleys
Why you can trust Golf Monthly Our expert reviewers spend hours testing and comparing products and services so you can choose the best for you. Find out more about how we test.
Top pick
Specifications
Weight: 10.5kgs/23lbs
Pre-loaded Courses: 40,000
Screen: 3.5" LCD touchscreen
Battery: Super lightweight, waterproof Lithium
Reasons to buy
+
Folds down compactly and quickly
+
Distances displayed on a crystal clear touch screen
+
Ability to move the pin position enhances strategy
Reasons to avoid
-
Folding latches are quite stiff
The M5 GPS features a hi-res 3.5" LCD touchscreen display that can be controlled in all weather conditions, even when wearing a glove. The screen can also give yardages, track scores and the time of your round. Soon, new buyers and existing users will have access to full hole maps and cellular capability.
It is powered by a 28.8V drive system – also found on every M-Series model in the range – to enhance efficiency and performance reliability. Also Motocaddy make some of the best golf push trolleys (opens in new tab) too so if these electric models seem a bit steep, then push trolleys offer excellent value.
Excellent Entry Level Model
Specifications
Weight : 9.6kg/21.2lbs (without battery)
Screen: 2.3" full-color widescreen
Battery : Lightweight lithium (18 or 36 holes)
Reasons to buy
+
Excellent, simple folding system
+
Clear, bright display
+
Thin and lightweight battery easy to use
Reasons to avoid
-
Front wheel doesn't fold in
The FX3 is PowaKaddy's 'entry-level' model, meaning it offers golfers the simplest form of an electric trolley with a 9-speed power system, a 2.3" color display, lightweight lithium battery and one click folding system. It may be bare bones when it comes to features, but this is all a lot of golfers want and need.
The FX3 benefits from super-simple one click folding system. It really is as simple as it sounds and by clicking on one button mid-way up the chassis of the FX3, you can guide both sections of the the trolley down into its folded up state
Overall, it's a very solid entry-level electric trolley. While it lacks the excitement of more expensive models, the FX3 does what it was set out to do perfectly. The one click folding system is a massive highlight and the FX3 is proof that electric trolleys can be a hassle-free addition to your golf equipment.
Best for hands free maneuverability
Specifications
Weight: 14kg/31lbs
Pre-loaded Courses: N/A
Screen: None
Battery: Smart Power lithium
Reasons to buy
+
Genuine hands-free functionality unique to the market
+
Easy to assemble and operate + Battery lasts for 36 holes, even on hilly courses
Reasons to avoid
-
Still quite heavy to lift
Stewart Golf has been making some of the best electric golf trolleys for years now so it comes as no surprise the Q Follow is in this list. It can follow you around the course at your walking pace from a safe distance thanks to the unique functionality built into the Bluetooth handset.
A completely new frame design, which has a unique marble-effect finish, allows it to fold down much more compactly while an integrated carry handle makes it easier to lift into your car. There's also a new retractable stabilizer comprising two wheels, which automatically deploys as the trolley is unfolded.
Classic Trolley Revamped
Specifications
Weight : 9.4kg/20.7lbs without battery
Screen: Full-color LCD widescreen
Battery : Lithium (18 or 36 holes available)
Reasons to buy
+
Quick 1-step folding system
+
Whisper quiet motor
+
Sporty design
+
Excellent battery location
Reasons to avoid
-
Folds well, but not super-compact like the M1
The new look Motocaddy S1 for 2022 has revived the iconic moniker from Motocaddy and created a simple but powerful electric trolley that is 16% smaller than previous models in the S Series. It is incredibly easy to fold this trolley up and down and the new S1 uses Motocaddy's easiest every folding system, with the trolley completing folding up and down in one step.
One of the highlights of this trolley is the newly positioned Click 'N' Connect battery which is cable-free and automatically disconnects when the trolley is folded up. This allows the battery to be charged without having to ever take it off the chassis. It's as reliable and easy-to-use as you'd expect from a Motocaddy, with a clear display and ergonomic control knob making for a very enjoyable experience out on course.
Specifications
Weight : 9kg/19.8lbs
Screen: None
Battery: Lithium 18 holes
Reasons to buy
+
Premium look and feel
+
Lightweight
+
Easy folding system
+
Two-year warranty as standard
Reasons to avoid
-
Rudimentary battery
-
Not as compact as some
Out of the box, the Blue is extremely user-friendly. Already fully assembled and with a one-step folding system, you can have it up and running in seconds. It comes as standard with an 18-hole lithium CaddyCell LifePO4 battery which, when compared to its competitors like the PowaKaddy FX3 or Motocaddy S1 looks a bit rudimentary.
The folding system is a simple one-step system, pressing a button once on the folding mechanism as the trolley collapses into a folded state. There, an in-built magnet holds the trolley in position. The back-to-basics mantra is most visible in the lack of a screen on the handle. Most of the best electric golf trolleys include a basic screen showing you things like speed and battery charge. The Blue has done away with this however and features just a dial that you push in to turn on and off and turn clockwise or anti-clockwise for more and less speed respectively. Overall this is a great value electric trolley for those looking for a fuss-free experience on the course.
Best PowaKaddy model
Specifications
Weight: 9.6kgs/21lbs
Pre-loaded Courses: 40,000
Screen: 3.5" OCA full color touch
Battery: Lithium 30v Max™ battery
Reasons to buy
+
Folds up and down with incredible ease
+
Impressive display that is easy to navigate
Reasons to avoid
-
Adjusting the handle height is a fiddly process
The FX Series, which is headlined by the flagship FX7 GPS, benefits from a simple, one-click folding system and thanks to the removal of the central pillar, folds down 20 per cent smaller than the previous versions. It now comes complete with an upgraded 3.5" full-color widescreen display that allows the user to easily swipe between screens. If you want GPS technology without compact folding, this could be the option for you.
Motocaddy M1 Golf Trolley
Highly convenient design
Specifications
Weight: 9.9kgs/22lbs
Pre-loaded Courses: N/A
Screen: Anti-glare LCD widescreen
Battery: Super-lightweight, waterproof Lithium
Reasons to buy
+
Simple to use
+
Reliable, compact folding
The new M1, which is also available in DHC version, comes with new five-spoke sporty wheels and a USB port that is ideal for charging a phone or GPS while out on the course. It's the option for golfers who want simplicity in transporting clubs from A to B, while still folding down compactly for easy storage and transportation. If you're looking to invest in your first electric trolley and are seeking simplicity, this is the model for you.
Smallest Trolley With Touchscreen GPS
Specifications
Weight : 9.9kg/21.8lbs without battery
Pre-loaded courses: 40,000
Screen : 3.5" full color touch screen
Battery : Lithium (18 or 36 holes available)
Reasons to buy
+
Superb, responsive touchscreen GPS
+
Compact folding, lightweight and easy to carry
+
High quality finish
Reasons to avoid
-
Handle height takes a lot of effort to adjust
Brand new for 2022, the Powakaddy CT8 GPS is the world's smallest touchscreen GPS golf trolley. It folds down a whopping 35% smaller than its nearest competitor and is ideal for those with small car trunks or minimal space to store a trolley at home.
The GPS system is the same one we've become used to in Powakaddy devices, but it's on a new and very clear 3.5" full-color touchscreen display. This makes the GPS very intuitive to use and has some really useful features such as scorecard, stroke index information, active green view and drop flag to give you accurate yardages on course. It comes preloaded with over 40,000 courses worldwide and requires no subscription.
MGI Zip Navigator Remote Electric Trolley
Budget remote option
Specifications
Weight: 13kg/28.6lbs
Pre-loaded Courses: N/A
Screen: N/A
Battery: Lithium (36 holes only)
Reasons to buy
+
Very stable across all terrains
+
Remote is responsive
+
Folds to an impressively small size.
The Zip Navigator is very stable across all terrain and we quickly grew confident that, whatever part of the golf course we sent it scurrying across, we'd arrive next to our ball with our trolley and bag waiting.
The excellent stability is in part thanks to the rear 4th wheel which keeps the trolley from tipping backwards if it goes up a steep incline. It also features downhill speed control – a feature that stops it going too quickly down steep hills – which adds to the confident stability of the trolley. The remote has a 'lock' button that stops any buttons being unwillingly pressed while in your pocket and you can invert the wheels when folding it down to save on storage space. All in all, it's a very well rounded offering at a competitive price.
Easiest remote model to use
Specifications
Weight: 14.4kgs/31lbs
Pre-loaded Courses: N/A
Screen: Anti-glare LCD widescreen
Battery: High-capacity, waterproof Lithium
Reasons to buy
+
Simple to use and compact footprint
+
Good value compared to other remote trolleys
Reasons to avoid
-
Folding latches are quite stiff
Replacing the original S7 Remote is the M7 which is the eighth model in the compact M-Series range. Features include an anti-glare LCD screen, a pair of anti-skid rear wheels and an extra (removable) anti-tip wheel at the back to provide stability on all terrains. As with all M-Series models available, its integral compact-folding SlimFold system makes it possible to fit into the smallest car boots.
In terms of the remote, it is easy to use and fully rechargeable – using the trolley's USB charging port if needed. It can move the trolley forward, left, right and in reverse, with an additional pause and resume feature. The handset range is up to 50 meters.
Golfstream Vision Golf Trolley
Best for simplicity
Specifications
Weight: 9kgs/20lbs
Pre-loaded courses: N/A
Screen: Caddy White display screen
Battery: CaddyCell Lithium
Reasons to buy
+
Unique screen design
+
Simple assembly process
Reasons to avoid
-
Lacking features compared to other models
Addressing the problem of reading the screen on electric trolleys, the aptly named Vision golf trolley comes with a new Caddy White display screen that can be read in even the brightest, most direct sunlight, much like an e-Reader. Another new feature is the patented one-touch, easy-fold mechanism that allows the Vision to fold down quickly, easily and compactly. There's also a magnetic latch that holds the trolley together in the folded position to make it easier to transport it.
How we test for the best electric golf trolleys
When it comes to testing golf gear (opens in new tab), let alone golf trolleys and carts, Golf Monthly has a comprehensive testing procedure built around using the products properly, thoroughly, and over a number of rounds and golf experiences. That way we can produce proper reviews that help you make an informed decision regarding possibly buying a certain model. Getting down to specifics, we should first say that no manufacturer can pay for a good review, because we tell it how it is.
We should also say that before testing even begins, the Golf Monthly team will usually attend product launches and meet with the manufacturer's R&D experts to understand the new technology. With how much technology is in electric trolleys these days, we think having an understanding of what a particular model can do is very important. The team then takes models to do testing which is a simple process because everyone in the team plays golf regularly.
What to consider when buying an electric trolley
When it comes to buying a new electric trolley, it can be quite the investment so there are several key factors to consider before purchasing. Let's go into those now.
Manual/Remote/Follow
What we mean by this factor is what level of usability do you want your trolley to be? Manual electric trolleys are powered by a battery and then maneuvered by yourself especially in terms of direction and speed.
Remote-control trolleys, as the name suggests, can be controlled wirelessly with the use of a handset. Most remotes have four directions (forward, reverse, left, right), and because of this enhanced technology, these tend to cost a little bit more than manual models.
Finally, follow models are designed to follow you around the golf course through wireless communications like Bluetooth. This means you don't really have to operate anything.
Battery
Have a think about how powerful you want your trolley to be, which means have a think about the battery. If you want really powerful models then these are likely to cost more. Most models these days are fitted with lithium batteries because of how powerful they can be over a long period of time.
Features
At a very basic level a good electric golf trolley should transport your clubs around the golf course easily, however in modern golf many electric models have a lot more features too so it is definitely worth having a think about which ones are important to you. Do you want your trolley to have a screen? Do you want GPS information? Do you want it to track your score?
Foldability
Alternatively do you want a model that can fold down easily and conveniently when the time comes to store it away? Models like the PowaKaddy CT8 GPS in particular have been designed for this very purpose.
Accessories
Because of how popular electric trolley's are, there are lots of accessories you can get now, such as proper covers, winter wheels, holders for GPS devices and drinks, and so on. Therefore when purchasing your trolley, have a think about your setup and what trolley accessories you might want with your model.
Budget
The final factor to think about is budget, what can you afford? With the variety of models above, you can find models that offer more value if that's what you want, but if you really want to go all out then there are also models for that too.
FAQ's
Are electric golf trolleys worth it?
There is no sugar-coating it, electric trolley's are a big investment but we have found that the models above have really helped golfers physically. Going from carrying a heavy bag on the shoulders and back, to using an electric trolley is truly illuminating as to how much effort it saves. Indeed this point can also be applied to people differently not only because of golfers wanting to spend money at different price points, but also we all have varying physical capabilities and all play on contrasting courses. For example if a player has a bad back and plays on a hilly golf course, then an electric trolley will definitely be worth every penny. Whilst a golfer who is fit and healthy and plays on a flat course, despite undoubtedly also saving physical exertion, may not get as much out of an electric model.
That being said we believe every golfer will see the benefits of an electric trolley, especially when you add in the other features like GPS, Bluetooth and so on.
What accessories should I get with my electric trolley?
There are a wide range of accessories available on electric trolley's these days and there are some we regard as more important than others. First we would always recommend a rain cover, as well as an umbrella holder for when the weather turns nasty. A holder for a GPS device and a drink is also a must have because we should always remain hydrated on the course.
We hope you enjoyed this guide on the best electric golf trolleys.
Joel has worked in the golf industry for over 12 years covering both instruction and more recently equipment. He now oversees all product content here at Golf Monthly, managing a team of talented and passionate writers and presenters in delivering the most thorough and accurate reviews, buying advice, comparisons and deals to help the reader find exactly what they are looking for. So whether it's the latest driver, irons, putter or laser rangefinder, Joel has his finger on the pulse keeping up to date with the latest releases in golf. He is also responsible for all content on irons and golf tech, including distance measuring devices and launch monitors.
One of his career highlights came when covering the 2012 Masters he got to play the sacred Augusta National course on the Monday after the tournament concluded, shooting a respectable 87 with just one par and four birdies. To date, his best ever round of golf is a 5-under 67 back in 2011. He currently plays his golf at Burghley Park Golf Club in Stamford, Lincs, with a handicap index of 3.3.
Joel's current What's In The Bag?
Driver: Titleist TSR3, 9°
Fairway wood: Titleist TSR3, 15°
Hybrid: Titleist TSi2, 18°
Irons: TaylorMade P770, 4-7 iron, TaylorMade P7MC 8-PW
Wedges: Titleist Vokey SM8, 50°, 54° and a Titleist Vokey SM9 60° lob wedge
Putter: Evnroll ER2V
Ball: 2021 Titleist Pro V1x