Best Remote Control Golf Trolleys 2023
We showcase the best remote control golf trolleys on the market right now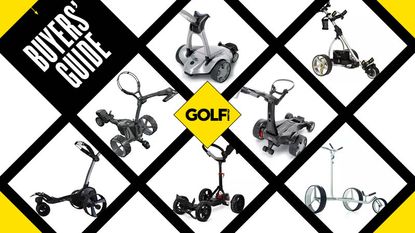 (Image credit: Golf Monthly)
Best Remote Control Golf Trolleys
The best golf trolleys make your life on the course easier. Over the past few years popularity for these products have soared as more and more people have taken to walking the golf course. Of course, not all of us can carry our bags so an electric golf trolley is easily the most convenient way to transport your golf clubs. Going one level above the standard electric golf trolley are models that offer remote control functionality, allowing you to control the speed and direction of your trolley through the use of a remote.
VIDEO: Watch Dan Parker's verdict on the best push carts and best electric trolleys of 2022
These top-of-the-range designs can be controlled with a pocket-sized handset and there are even some models that follow you around the golf course too. Using a remote on a golf trolley truly frees you from the shackles of having to guide your trolley yourself and allows you to freely walk the fairways. Remote trolleys are slightly more expensive than their non-remote counterparts, but when you experience the ease and freedom of a remote, you'll soon see that investment paying off on course. Also, like with any trolley, remote versions takes strain off your back and shoulders and allows you to get the most from your body and swing on the golf course.
Below we have taken a look at some of these trolleys which can arguably be defined as some of the best electric golf trolleys money can buy. You can read our full, in-depth reviews of some of the best remote golf trolleys to get a deeper understand of how user friendly and enjoyable these models are. Of course given the incredible technology on display these models can be quite expensive so if you want more of a budget option, we recommend taking a look at our guides on the best golf push trolleys (opens in new tab), or if you are in the US, the best golf push carts (opens in new tab).
Best Remote Control Golf Trolleys
Why you can trust Golf Monthly Our expert reviewers spend hours testing and comparing products and services so you can choose the best for you. Find out more about how we test.
Offers unique follow functionality for a completely hands-free experience
Specifications
Battery : Lithium (18 or 36 holes available)
Weight : 31lb (14.1kg)
Battery Weight : 6.6lbs (3kg)
Folded Dimensions: 545mm (H) x 318mm (D) x 600mm (W)
Reasons to buy
+
Genuine hands-free functionality unique to the market
+
Easy to assemble and operate
+
Battery lasts for 36 holes, even on hilly courses
Reasons to avoid
-
Still quite heavy to lift.
One of the best golf carts (opens in new tab) you can buy, the Q Follow can follow you around the course at your walking pace from a safe distance thanks to the unique functionality built into the Bluetooth handset.
A completely new frame design, which has a unique marble-effect finish, allows it to fold down much more compactly while an integrated carry handle makes it easier to lift into your car. There's also a new retractable stabiliser comprising two wheels, which automatically deploys as the trolley is unfolded, and you can monitor the battery life in real time via an app on your smartphone.
An excellent all-rounder that will tackle any terrain
Specifications
Battery : Lithium (18 or 36 holes available)
Weight : 31.7lbs (14.4kg)
Battery Weight : 6.6lbs (3kg)
Folded Dimensions: 650mm (L) x 470mm (W) x 420mm (H)
Reasons to buy
+
Marked improvement on previous generation
+
Simple to use and has a compact folded footprint
+
Good value compared to other remote trolleys
Reasons to avoid
-
Folding latches are quite stiff
Motocaddy is unquestionably one of the leading brands when it comes to new technology and impressive designs in the golfing world. A clear example of that is the M7 Remote trolley above which built on the success of the previous generation S7 and improved it further.
The new 'ergonomic' remote control handset is easy to use and fully rechargeable – using the trolley's USB charging port if needed. It can move the trolley forward, left, right and in reverse, with an additional pause and resume feature. The anti-tip rear wheel will keep you in control during those undulating rounds, as will the automatic downhill control, which acts just like EBS (Electronic Braking System) to control your descent too. Importantly this trolley also folds down very nicely too so it doesn't take up lots of room in the car, garage or wherever you keep your golf gear.
Budget remote option
Specifications
Battery : Lithium (36 holes only)
Weight: 28.6lbs (13kg)
Battery Weight : 6.4lbs (2.9kg)
Folded Dimensons : 700mm x 470mm x 420mm
Reasons to buy
+
Folds down relatively compactly
+
Stable and easy to navigate
Reasons to avoid
-
Size and weight makes it awkward getting it in and out of the car.
The Zip Navigator is very stable across all terrain and we quickly grew confident that, whatever part of the golf course we sent it scurrying across, we'd arrive next to our ball with our trolley and bag waiting.
The excellent stability is in part thanks to the rear 4th wheel which keeps the trolley from tipping backwards if it goes up a steep incline. It also features downhill speed control – a feature that stops it going too quickly down steep hills – which adds to the confident stability of the trolley. The remote has a 'lock' button that stops any buttons being unwillingly pressed while in your pocket and you can invert the wheels when folding it down to save on storage space. All in all, it's a very well rounded offering at a competitive price.
Stewart Golf X10 Follow Trolley
A less expensive following option versus the newer Q Follow
Specifications
Battery : Lithium 18 or 36 hole
Weight: 31lbs (14.1kg)
Battery Weight: 6.6lbs (3kg)
Folded Dimensions: 320mm (H) x 660mm (W) x 820mm (L)
Reasons to buy
+
Fun and enjoyable to use
+
Follow function leaves your hands free
Reasons to avoid
-
Heavy weight makes it difficult to lift into your car
British trolley manufacturer Stewart Golf has incorporated some under the bonnet improvements to its X Series, now be badged as the X10. Available in Follow and Remote versions, it benefits from the same EcoDrive motor technology that was launched with the Q Follow, meaning they are up to 40 per cent more efficient than the outgoing version. This means that the X10 battery will give users 40 per cent more golf than previous versions for each charge.
A new electronics assembly area at the Stewart Golf factory ensures each handset is optimised and matched to the trolley's main electronics system using a bespoke autotuning system.It looks great too thanks to the unique chassis design which gives a futuristic, high-end look, and this is combined with sporty wheels with red receivers, reminiscent of brake discs on a sports car. It's small touches like these, along with the head-turning Follow functionality, that help the design stand out from the crowd.
Bat-Caddy Golf X3R Lithium Remote Control Electric Caddy
Strong and stable frame design with plenty of accessories
Specifications
Battery : Lead Acid or Lithium options available
Weight : 22.4lbs
Battery Weight: Lead Acid 25 lbs, Lithium 4lbs
Folded Dimensions: 37" (L) x 25.5" (W) x 14" (H)
Reasons to buy
+
Sturdy and durable frame design
+
Easy to use and navigate the functions
Reasons to avoid
-
Not the tidiest to look at
This has motor resistance to ensure it doesn't get away from you when going down hills. If you ever run out of battery power you can push it just like a manual push cart, a feature that many other remote control trolleys don't offer. It only has a 10-20 yard recommended operating range but you can adjust the speed on both the handle and remote control. The newly designed T-Handle controls include a 3 LED battery charge indicator, an On/Off button, the timed advance function controls and cruise control function. The frame is made of aerospace aluminium alloy, so it's going to be sturdy and durable, and the remote itself has proven to be responsive and easy to use in our testing.
There are three battery options here which all vary in price. First is the cheapest (and considerably heavily) lead acid battery. These are a great low cost option if you're looking to get into the market on a budget, but the drawbacks are the weight and the shortened life cycle versus lithium batteries. Luckily the X3R comes with two lithium options with 18 and 36 hole editions available. We'd recommend the the lithium battery for ease of use and lifespin, but the lead acid battery still has its place.
Stewart Golf Q Remote Trolley
Offers the same look and design of the Q Follow without the Follow functionality
Specifications
Battery : Lithium (18 or 36 holes available)
Weight : 31lb (14.1kg)
Battery Weight : 6.6lbs (3kg)
Folded Dimensions : 545mm x 600mm x 318mm
Reasons to buy
+
Fun and enjoyable to use
+
Takes the stress out of trolley navigation
Reasons to avoid
-
It is quite large when folded down and heavy too
The Q Remote is one of the most compact-folding (opens in new tab) remote controlled golf trolleys, folding small enough be lifted one-handed and designed to stand vertically or horizontally. It comes with either 18-hole and 36-hole SmartPower lithium batteries - both are plug-and-play and come with a free smartphone app that lets golfers monitor usage and capacity in real time. Handset-charging is via a USB cable.
A scorecard holder, soft-touch silicone handle and bag strap, handset storage, anti-twist locking bag key, four accessory points, cruise control, quick release wheels, and an umbrella holder mount all come as standard.
How We Test
We test all golf trolleys (opens in new tab) with the same ethos as all other golf gear – rigorously and comprehensively. Models get taken out onto the golf course and tested in different conditions as a way for us to gauge overall performance in terms of maneuverability, robustness, ease of use, and so on. We think the only way to learn about products is to put them in play because that is where you are going to be using them.
The different conditions is particularly important too when it comes to a trolley because you will want your model to perform as well in the winter as it does in the summer. The entire Golf Monthly team plays golf regularly so can put golf gear to the test with ease and it should be acknowledged that no manufacturer can buy a good review. Our team tells it how we see it.
What to consider when buying a golf cart
Push or electric cart?
Push carts are more appropriate for golfers that play mostly on flatter courses. They're also less expensive than the best electric carts, so are a more cost-effective way of getting your clubs around the course. Push carts also tend to offer better storage solutions on the handle console for items like balls and tees.
Additionally you have remote and follow models. Remote-control trolleys, as the name suggests, can be controlled wirelessly with the use of a handset. Most remotes have four directions (forward, reverse, left, right), and because of this enhanced technology, these tend to cost a little bit more than manual models.
Finally, follow models are designed to follow you around the golf course through wireless communications like Bluetooth. This means you don't really have to operate anything. Have a think about which model is for you and have a look at our corresponding guides.
Weight
You want a remote golf trolley but you should still think about weight. It should not be difficult to get in and out of the car and some models above are better than others. However if you want the most lightweight trolley possible, we would recommend going for one of the best push carts out there instead of models on this list.
Folding
There are lots of models these days that can fold down to nothing so have a think about how important this is to you, especially if you are short on space. Push carts often fold down more compactly than electric carts because the simpler design (no electrics) provides more freedom with the design of the frame. This means they often fold down flatter, which can be more convenient for golfers that need to also fit their golf bag in the trunk.
Maneuverability
All golf trolleys need to be able to move well and this is especially important for remote models, with stability being vital as well. In our testing we have found three-wheel models to offer both of these factors however there are some good four-wheeled models too, such as the Stewart Golf trolleys we mentioned above.
Storage
How much storage do you want on your cart? If it is a lot then pick a design with a large central console, whereas if all your golf gear is going to be kept in your golf bag itself, then go for a trolley that doesn't specifically need storage in its design.
Budget
Our final factor for you to think about is budget. As you can see above there are lots of models from different companies, that all come in at different price points so be aware of how much you can, or want, to spend.
FAQs
How much does a remote control golf cart cost?
A remote model is certainly more expensive than a non-remote. The cheapest remote model start at around $800 and will go up to around $2500.
We hope you enjoyed this guide on best remote golf trolleys. For more trolley guides like the best value golf push carts (opens in new tab), or best affordable golf carts (opens in new tab), check out the Golf Monthly website.
Dan is a Staff Writer and has been with the Golf Monthly team since 2021. Dan graduated with a Masters in International Journalism from the University of Sussex and primarily looks after equipment reviews and buyer's guides, specializing in golf shoe and golf cart reviews. Dan has now tested and reviewed over 30 pairs of golf shoes for the website and magazine with his current favorite pair being the Ecco Biom C4. A left-handed golfer, his handicap index is currently 8.5 and he plays at Fulford Heath Golf Club in the West Midlands. His best day in golf so far was shooting 76 at Essendon Golf Club on his first-ever round with his Golf Monthly colleagues. Dan also runs his own cricket podcast and website in his spare time.
Dan is currently playing:
Driver: Ping G425 Max
Fairway: Ping G425 Max
Hybrid: Ping G425
Irons: Ping i59 (4-PW)
Wedges: Ping Glide Forged Pro
Putter: Wilson Staff Infinite Buckingham
Ball: TaylorMade TP5 Pix