Best Golf GPS 2022
We take you through the best golf GPS devices on the market this year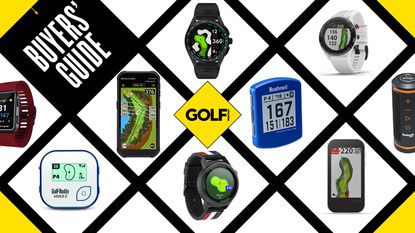 Golf Monthly Newsletter
Golf tips and expert instruction, golf club reviews and the latest golf equipment.
Thank you for signing up to . You will receive a verification email shortly.
There was a problem. Please refresh the page and try again.
Best Golf GPS
Distance measuring devices – or DMDs as they are often known – come in various guises nowadays, including compact GPS units and stylish GPS watches, each of which offer something a little different and at different price points.
The main benefit you'll get for your investment is quick, accurate distances, which can provide new levels of confidence at address because you're sure you've chosen the right club. In turn, that'll help you commit to shots much more easily.
With many of the GPS devices' you also get hazard information and overhead maps of the hole, which will hopefully guide your strategy and thusly save you shots, especially on blind holes and at courses you've never played.
If you would rather go for a rangefinder, we also recommend checking out our guide on the best golf laser rangefinders, or if you want to take your game to the next level, the best golf launch monitors (opens in new tab) is for you.
Best Golf GPS
Golf Watches
Wide range of features
Specifications
Courses preloaded: 41,000
Battery life: 20 hours
Screen size: 3.3cm
Weight: 61g
Straps: Two
Reasons to buy
+
Modern, cutting-edge styling
+
Wide ranging features suitable for off-course use
Reasons to avoid
-
Hole map graphics look dated
The S62 leads the way in the latest Garmin range of GPS watches and it is not hard to see why. It's easy and intuitive to get the watch set up and the touch screen works well alongside the side buttons to navigate through the various options. With a larger screen compared to the S60, it is easy to navigate around and see hole details more clearly on the colour maps.
Additionally, it comes with a built-in virtual caddie function where it can detect where the wind is coming from, gives information on shots from the past, in regards to clubbing, and therefore suggests to you the strategy on the course. Once paired with your phone, the watch can also take into account the wind conditions in real time when suggesting a club, which is next-level.
It looks great off the golf course too because it is so sleek and stylish, with there also being loads of fitness tracking options if you wanted to use it as a more rounded sports watch too. It can also receive email and text notifications. As far as the best Garmin golf watches (opens in new tab) go, this is right up there.
Best large screen
Specifications
Courses preloaded: 35,000
Battery life: Up to two rounds
Screen size: 3.5cm
Weight: 65.2g
Straps : One
Reasons to buy
+
Large colour screen brings out the finest details
+
Hole maps are ground verified on foot
Reasons to avoid
-
Lacks off-course versatility
The stand-out feature on the LX5 is the touchscreen. Bright and crystal clear, it is easy to read in different conditions and without having to hold it close to your face. From the main screen you can see clear front, middle and back yardages, and then swipe in different directions to see the hole map, hazards, score entry or measure your shot distance.
Arc lines help improve strategy while you can zoom in on the green and move the pin position for a more precise distance, with over 35,000 courses, which have been ground-verified on foot, coming preloaded. This watch is lightweight (65g) and comfortable to wear. The styling, along with the fitness features, encourage you to wear it away from the course, too.
Simple but highly accurate and easy to use
Specifications
Battery Life: 15 hours
Screen Size: 5.4cm
Weight: 32.5g
Straps: 2
Reasons to buy
+
Yardages are clear to read
+
Highly accurate
+
Allows you to mark pin locations
Reasons to avoid
-
Temperamental touchscreen
The iON Edge GPS Watch offers supreme accuracy, with the front-middle-back yardage function, in conjunction with the moveable flag function, allowing you to be more precise when gauging distance to the flag for your approach shots.
Along with the accuracy, it also allows the individual to input their scores and some basic stats which, although not as in-depth as say the Arccos Caddie Smart Sensors (opens in new tab), will certainly help your game in the long run, with it being possible to pinpoint what is letting you down within your game.
Good fitness features
Specifications
Courses preloaded: 42,000
Battery life: 15 hours
Screen size: 3cm
Weight: 43g
Straps: Three
Reasons to buy
+
Stylish watch that can be worn on and off the course
+
A host of features like strokes gained stats and fitness tracking
Reasons to avoid
-
Takes a few rounds to get the hang of all its uses
Another great watch from Garmin is the S42. It looks great and, like the S62 above, we thought it worked nicely off the golf course. Heading onto the golf course, one button click puts you in golf mode and, from there, it is very easy to scroll through features. As always, front, middle and back yardages are available, but if you know the pin locations, you can click on the display to move the flag and get an exact yardage.
Other great golf-related features include things like the AutoShot round analyser that tracks and records shot distances, as well as yardages to bunkers, hazards and ideal lay-up zones. You can also pair the watch with the Garmin app to look through strokes gained stats. Finally, the watch also gives you data on steps taken, distance covered, calories burned and other fitness related information.
Highly versatile
Specifications
Courses preloaded: 40,000
Battery life: 13 hours
Screen size: 3.3cm
Weight: 50g
Straps: Two
Reasons to buy
+
Packed with shot-saving features
+
Looks at home off the course
Reasons to avoid
-
Touchscreen can lag slightly
The Aim W11 has been improved in a number of ways from the popular W10 model. The first noticeable difference, versus the W10, is the new ceramic bezel that adorns the outside of the Aim W11. This is an excellent aesthetic improvement and creates an altogether more premium look that is much less distracting on the eye than the previous bezel. The accuracy of the Aim W11 is also excellent, with 40,000 courses already preloaded.
We first tested the W11 on the new course at Essendon Country Club, a course that has been designed with two greens on each hole. Despite this unique course design feature, we were pleasantly surprised to find the aim W11 was aware of this and in fact has a dedicated feature that allows you to switch between greens depending on which you are playing.
In terms of innovation, features include a full-colour touch screen display, plus green undulation and slope-adjusted distance readings (where available) to give the golfer better, real-life views and more control around the course. There are also excellent new zoom in/out functions around the green.
Best for shot tracking
Specifications
Courses preloaded: 36,000
Battery life: Two plus rounds
Screen size: 3.4cm
Weight: 41g
Straps: Four
Reasons to buy
+
Combines GPS distances with performance tracking
+
Compact, streamlined design is very comfortable
Reasons to avoid
-
A small number of shots can go undetected
The V3 is 60 per cent smaller than the V2 and also has a new daylight-readable colour screen. In GPS + Performance Tracking mode, the V3 will automatically detect shot locations using tags placed in the tops of your grips.
The PinCollect feature means golfers can also input the pin position with the touch of a button to provide enhanced approach and short game statistics, which are displayed within the free Shot Scope app. This streamlined, everyday design makes it instantly appealing and the tacky rubber strap is comfortable to wear and stays in position when walking and swinging a club so, once it's on, you really don't notice you're wearing it.
Excellent hole graphics
Specifications
Courses preloaded: 40,000
Battery life: 60 hours
Screen size: 3.45cm
Weight: 30g
Straps: Three
Reasons to buy
+
Thin and neat strap design
+
Choice of two types of hole map graphics
Reasons to avoid
-
Fiddly to access certain features
Samsung has joined forces with GolfBuddy to create this GPS watch, which features a rotating touch digital bezel to make it even more convenient to navigate while maximising the screen size.
It comes pre-loaded with the Smart Caddie app pre-installed and with a lifetime premium subscription worth £76. You can see if you're within range of the green with Dual Arc and read how to drain putts with the Green Undulation feature. The partnering app also provides real-time information to help users elevate their performance on the course.
Much of the navigation and functionality on this watch is unique to the market, which makes it an appealing prospect to the gadget lover. It also doubles as a versatile fitness watch and you can get incoming emails too.
Ultra-premium model
Specifications
Courses preloaded: 40,000
Battery life: 24 hours
Screen size: 3.5cm
Weight: N/A
Straps: Nine
Reasons to buy
+
Offers seamless shot measurement with no need for tags in clubs
+
Bright, detailed display and partnering app
The best golf GPS devices have to look good and this model more than delivers on that front. This premium, luxury watch features an ultra-lightweight 45-mm black titanium case and a matte black ceramic bezel with 18 engraved and lacquered graduations that serve as a reference for the performance at each hole.
The crown is now flanked by two functional pushers at 2 and 4 o'clock, which are used alongside the TAG Heuer Golf app to record shots and shot distances with optimal precision in action. Another thing worth mentioning is the graphics. The hole maps are really clear and, now that you can twist the main dial to scroll, it's really straightforward to pick out certain points you want to hit to.
One of the most interesting features on this is the 'driving zone' feature. Once you've connected the watch to the app, this feature will plot all your drives on a certain hole and colour code the positions based on your scores. Over time, this means that golfers will be able to get a clear picture of what the ideal strategy is unique to them.
Best Golf GPS Handhelds
Top handheld pick
Reasons to buy
+
Very easy to use thanks to the large touchscreen
+
Undoubtedly the most detailed offering out there
Reasons to avoid
-
Oversized design could be inconvenient for storage
The SX550 features a 5.5" full HD colour touch screen and uses in-built WiFi to download the latest, ground-verified courses on foot from more than 35,000 available for improved accuracy. The green view will also dynamically rotate to show full IntelliGreen Pro information from the golfer's own angle of attack.
All of the courses on the SX550 have all been walked and mapped by one of SkyCaddie's half a dozen or so trained course mappers. Using professional grade satellite equipment, the team at SkyCaddie have personally walked every hole on every course loaded onto the SX550, mapping out the exact size of fairways, shapes of greens and distances to hazards.
You can feel this extensive course mapping at play as soon as you load the device and the range of information on offer gave us the clearest and most detailed picture of a golf course as we have seen on a GPS device. The SX550 features in our 2022 Editor's Choice awards (opens in new tab) and could well be one of the best golf GPS devices ever made but, be weary of the annual membership costs that apply after your first year.
Launch monitor functionality
Reasons to buy
+
Great array of features
+
Can even be used as a launch monitor
Reasons to avoid
-
Screen could be easier to see in bright sunlight
Another quality offering from Garmin is the Approach G80 which is at the premium end of the GPS spectrum. When you consider the number of features available, this comes as no surprise.
Obviously you get distances to the front, middle and back of the green, but they take it one step further with features such as Garmin's PlaysLike Distance. This gives you distances to not only the target, but it is also adjusted for uphill or downhill shots, which can be easily turned off for tournament play. There is also Green View, which allows you to zoom in on the green to get precise yardages according to wherever the pin is on the day.
Keeping pace with the social world, the Garmin Approach G80 works with the free Garmin Golf app, which lets you compete, compare and connect with fellow golfers – great fun if that's your thing. All this comes in a slim device with a 3.5″, sunlight-readable, colour, touchscreen display.
- Read our full Garmin Approach G80 GPS review
SkyCaddie SX400 GPS Rangefinder
Exceptional detail
Reasons to buy
+
Vivid display
+
Ground verified course maps for enhanced accuracy and updates
Reasons to avoid
-
Arguably still too bulky to be pocket sized
The SX400 is SkyCaddie's attempt to make a more compact handheld compared to the SX500. Featuring SkyCaddie's Pin Position feature, which provides the ability to get distances to the day's pin positions, Dynamic HoleVue technology is also present as well as the IntelliPath Technology, which gives yardages to targets along and beyond your target line.
Perfect for the pocket
Reasons to buy
+
Well sized
+
Clear yardages
Reasons to avoid
-
Smaller screen can be fiddly
The Approach G30 has a 2.3-inch colour touchscreen for users to see features like Green View and Touch Targeting which provide more accurate yardage information. Thanks to its Big Numbers Mode, it displays yardages in a large font for at- a-glance viewing and also displays a hole view with a moveable pointer.
The Approach G30 can be mounted in a multitude of ways, like on a user's belt, trolley or golf bag, and is compatible with the Garmin TruSwing analyser to improve swing consistency. Users can also get smart notifications for incoming calls, texts.
Simplicity
Reasons to buy
+
Simple to use
+
Fantastic value for money
Reasons to avoid
-
Magnet isn't the strongest
The original Phantom was a very popular model because of how simple it was to use and now Bushnell has gone a step further with the Phantom 2 Slope GPS. It comes preloaded with 38,000 courses and up to six hazard yardages per hole.
One of the most significant new features is Dynamic Green Mapping, which provides front, centre and back distance measurements no matter which direction the user approaches the green. This is especially useful when you find your golf ball well off the beaten track and conventional 100 or 150 yard markers are well out of sight.
Whether you're playing your home course for the umpteenth time or you're playing a new track for the first time, we found having these accurate yardages from any angle gives you the confidence to pull out the correct club and execute the shot. The screen is slightly larger than its predecessor and because the text is 40 per cent larger, it's easier to read, and should give users no problems even in bright sunlight.
A pocket-sized, versatile GPS unit
Reasons to buy
+
Simple to use
+
Accurate and reliable
+
Can be worn in different ways
The handy Approach G12 is a small and simple solution to getting accurate distances at your fingertips. Its compact size allows you to clip it anywhere on your golf bag, trolley or hat. It's very easy to operate and also pairs with the excellent Garmin app to give you a hole-by-hole overview. It is ideal for golfers on a budget that want simple but accurate distances to various points of interest.
There are a host of display options - we love the 'big numbers mode' where the middle distance is displayed bigger than the others and, despite the screen's modest size, it is clear and easy to read in different light conditions.
You'll get up to 30 hours of usage on a single charge, which is impressive and you can pair it with your smartphone. Download the Garmin Golf app for free and you'll be able to keep your scores, stats and compete with other users in the virtual golf world while also gaining access to full color hole maps. At just under £130/$150 we think the Garmin Approach G12 offers great value and would make a perfect golf gift too.
Best Golf GPS Speakers
Ultimate Ears Wonderboom 2 Speaker
Awesome color choice
Reasons to buy
+
Waterproof and shockproof
+
Use on and off the course
+
Good range
Reasons to avoid
-
Really struggled to find a negative here, but perhaps it is a bit small
One of the best golf speakers (opens in new tab)on the market is the Wonderboom 2, with the sound quality absolutely crystal-clear. We also liked the 'Outdoor Boost' mode which allows you to crank-up powerful audio that's engineered to be heard outside.
It is also a very convenient size, waterproof, dust-proof and shockproof, with a range up to 30 metres. What's more, there are loads of cool colors to choose from as well. We also like how you can clip it onto your golf bag as well. If not for the Wingman, this would've been our top pick.
Top speaker pick
Reasons to buy
+
Built in GPS that calls out yardages to the green as you play
+
Great sound quality
Reasons to avoid
-
GPS only offers front, middle and back yardages
The Bushnell Wingman is a speaker that provide golfers with audible front, middle and back distances with the ability to listen to the music of their choice from their smartphone.
It comes with Bushnell's Magnetic Bite technology, which allows the speaker to be secured to any golf buggy without the need for an aftermarket accessory. It also offers Auto hole advance, 10+ hour battery life and a USB charging port. It's pretty easy to set up as you simply pair your phone with the Wingman using Bluetooth and the app is free to download when you buy a Bushnell product.
From there, you can play any audio from your phone, whether that's music podcasts or anything in between. The sound quality is excellent and it's very easy to adjust the volume, play and pause. A simple push of the detachable button gives you audible front, centre and back of the green distances for the 36,000+ courses that are available on the app. We found the yardages to be accurate and helpful, although you naturally don't get an exact yardage to the pin.
Easily one of the best golf speakers (opens in new tab) on the market, this device is great benchmark to others and a trend that will likely catch on soon.
JBL Clip 3 Portable Bluetooth Speaker
Best for portability
Reasons to buy
+
Integrated carabiner clip gives clip-and-go functionality
+
Loads of colour options
JBL are a rightly well recognised brand in the portable speaker market and the JBL Clip 3 speaker is an ideal golf course companion for those looking to supplement their round with some music.
The integrated carabiner clip makes this incredibly easy to clip on and off bags, buggies or belts depending on where you want the music coming from. Don't be fooled by its size though, the Clip 3 still comes with JBL's signature quality sound.
It is also Siri and Google compatible, meaning you can change tracks, change volume and even take phone calls hands free while you play golf. Add the fact it is IPX7 waterproof, comes in eight colour options and a year's warranty and you have one of the best golf speakers out there right now.
How we test the best golf GPS devices
At Golf Monthly we have a comprehensive testing procedure around GPS devices. As you would expect, this involves using different models out on the course, over a number of rounds and importantly in different conditions too because this gives us an idea on how particular models deal with sunlight, rain and wind.
As the entire team are regular golfers, GPS devices usually get a thorough testing and often get compared to one another side by side to test for things like accuracy, waterproofing, durability and other features. That way we can give honest and insightful feedback to you, the reader. The final thing we wanted to mention in this section is no manufacturer can buy a good review. Our testing team reviews golf equipment and makes its own opinion on how good or bad the product is, for information on how Golf Monthly tests its products (opens in new tab), click here.
What to consider when buying a golf GPS device
Your routine - The best golf watches only require a quick glance so they are much quicker than taking a device out of its case, so weigh up if extra detail or less disruption is most important to you.
Your course - If your course has lots of doglegs, blind tee shots, or you play at other clubs in matches or socially, then you might want the extra information a GPS offers over a laser.
Type - As the list above shows, there are different types of GPS device to use and they all have positives and negatives affixed to them.
GPS Watch - Simplicity and convenience are the key here. If you are the type of player who would rather have a quick glance at their wrist to know the yardage rather than using a larger GPS or laser, then a watch could be the way to go. GPS watches nowadays are a lot more compact, slim-lined and light making them ideal because they do not hamper the swing or distract in any way.
Handhelds - The chief bonus here is the large screen which gives a lot more detail and the touch screen functionality will be familiar to most users because of modern phones. You get clear hazard information and overhead maps of the hole too which could guide your strategy and save you shots.
Features - There is also a difference in device when it comes to features. Below is a list of some of the ones we consider to be useful to the GPS wearer.
Clear and accurate distance information - this is a no brainer really but some models are more accurate and clear than others.
Pre-loaded courses - there is some variation in how many courses are pre-loaded onto some models compared to others.
Scorecard - rather than have to write down or log scores into an app, on some GPS devices you can mark your score down with ease.
Stat tracking - particularly useful to those wanting to know more about their game and where they earn or give away shots.
Green mapping and pin location - some devices give the user the ability to map the green and place the pin in the correct place. This often gives more information to the user on yardage and what club to hit.
Waterproofing - a waterproof device is very important, especially if you play somewhere that gets a lot of rain
Battery power - GPS devices normally need charging via a USB after two to four rounds, so consider which would be easiest for you on a week-to-week basis.
We hope you enjoyed this guide on the best golf GPS devices. Also make sure you research the best golf simulator, best golf GPS apps (opens in new tab) and the best smart phone for golfers (opens in new tab) too because they can truly add to your golfing experience.
FAQs
Are GPS devices worth it?
We think GPS devices are definitely worth it. They save a lot of time, last a long time, are convenient and simple to use, offer in-depth detail of the shot you face, and can sit easily on your golf bag. With a GPS device no longer do you have to find a sprinkler, or guess yardages because you can simply look at the screen to help you plot your way around the course.
Are there GPS devices which you can use for golf and other activities?
Yes, many GPS devices, specifically watches, offer users the freedom to check out yardages on the course, as well as use it for running or work off it. Many brands offer superb options, with many being used for golf, running, gym, emails and calls.
Do golf GPS devices require a subscripton?
Most of the time GPS devices will already have thousands and thousands of courses already preloaded when you first fire it up. However, in some cases, companies will offer a subscription if you are to keep the courses updated. This will either be in the form of a free subscription or a monthly/yearly subscription.