Best Golf Carts 2022
We run through some of the best golf carts out there right now, ranging from remote, electric and push golf carts.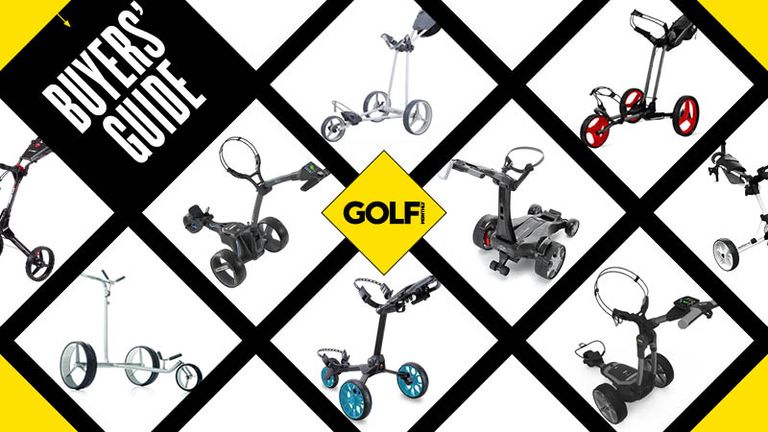 (Image credit: Golf Monthly)
Golf Monthly Newsletter
Golf tips and expert instruction, golf club reviews and the latest golf equipment.
Thank you for signing up to Golf Monthly. You will receive a verification email shortly.
There was a problem. Please refresh the page and try again.
Best Golf Carts
Golf carts have grown sharply in popularity over the past few years. Golf carts - or trolleys if you're in the UK - make walking the golf course that little bit easier, making 18 holes a lot less tiring than if you carry your clubs. Brands like Motocaddy, PowaKaddy, Stewart Golf and other leading brands have manufactured, refined and developed push carts, electric carts and even remote control golf carts to make the job of walking the golf course more convenient and, importantly, easier on the body.
Indeed because of this growth, there are lots of different options to consider, and a lot of different models that cover a variety of price points. So the question remains which are the best golf carts?
We've split this guide up into two sections: electric carts and push carts. Electric carts come in a more premium price as you might expect, but the automatic power means even less stress on your body during a round of golf and allows you to freely walk on the open links. Electric carts are especially beneficial if you play on a particularly undulating course.
Push carts are a lot cheaper than their electric counterparts but still come with plenty of accessories and technology that offers a stress free walk on the course. These are ideal if you're looking to invest in a golf cart and play on a moderately flat golf course.
We recommend setting a budget and working from there. An entry level electric cart with cost around $450/£450 for reference and, if you really want to splash out, the best remote carts come in around $1000/£1000.
This guide should give you an idea on some of the best in the business in the remote, electric and push categories. If you want to be more specific then take a look at our guides on the best remote control trolleys, best electric golf trolleys and best push carts as well.
Best Golf Carts
Electric Golf Carts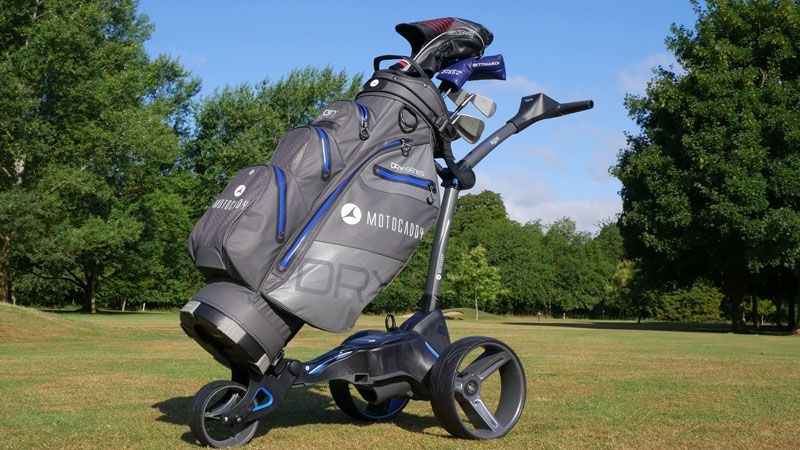 Drag-and-drop pin position
Reasons to buy
+
Compact and quick folding mechanism
+
Touch screen is crystal clear
Reasons to avoid
-
Folding latches can be stiff
Sitting at the top of the Motocaddy range right now is the M5 GPS cart. It looks great and we particularly liked the hi-res 3.5" LCD display that can be controlled in all weather conditions, even when wearing a glove. The screen can also give yardages, track scores and the time of your round.
The size of the screen allows users to see things like time and battery life, without hindering the ability to see the GPS distances and a view of the green. Indeed you can also move the pin position on the green so you can have greater confidence in choosing the right club.
It is also very easy to use thanks to the drive system which is very efficient and reliable.
The cart folds down very compactly, assisted by the ability to invert the wheels and the front wheel automatically folding underneath. The assembly process requires two latches to be undone, and while they can be quite stiff, with practice the trolley can be erected in under five seconds.
Integrated GPS
Reasons to buy
+
Folds up and down with incredible ease
+
Impressive display that is easy to navigate.
Reasons to avoid
-
Adjusting the handle height is a fiddly process
The FX7 GPS by PowaKaddy is a marked improvement on the last generation's model. It can fold down 20 per cent smaller thanks to the removal of the central pillar and we also found the high visibility full colour Touch Screen to be easy to use and clear to the eye.
The integrated GPS also gives yardages to the front, middle and back of the green too which could inform your club choices. We found the screen also worked excellently in changing light conditions.
It's no secret that some of the deterrents to power trolleys in the past were weight, size, ease of assembly and the charging process.
All of these are problems of the past with the PowaKaddy FX7 GPS electric trolley, which not only looks sleek and stylish, but also weighs a fraction of some of those trolleys of yesteryear.
Unique follow function
Reasons to buy
+
Genuine hands-free functionality unique to the market
+
Easy to assemble and operate
+
Battery lasts for 36 holes, even on hilly courses
Reasons to avoid
-
Still quite heavy to lift
Stewart Golf has been making some of the best electric golf trolleys for years now so it comes as no surprise the Q Follow is in this list.
It can follow you around the course at your walking pace from a safe distance thanks to the unique functionality built into the Bluetooth handset.
A completely new frame design, which has a unique marble-effect finish, allows it to fold down much more compactly while an integrated carry handle makes it easier to lift into your car. There's also a new retractable stabiliser comprising two wheels, which automatically deploys as the trolley is unfolded.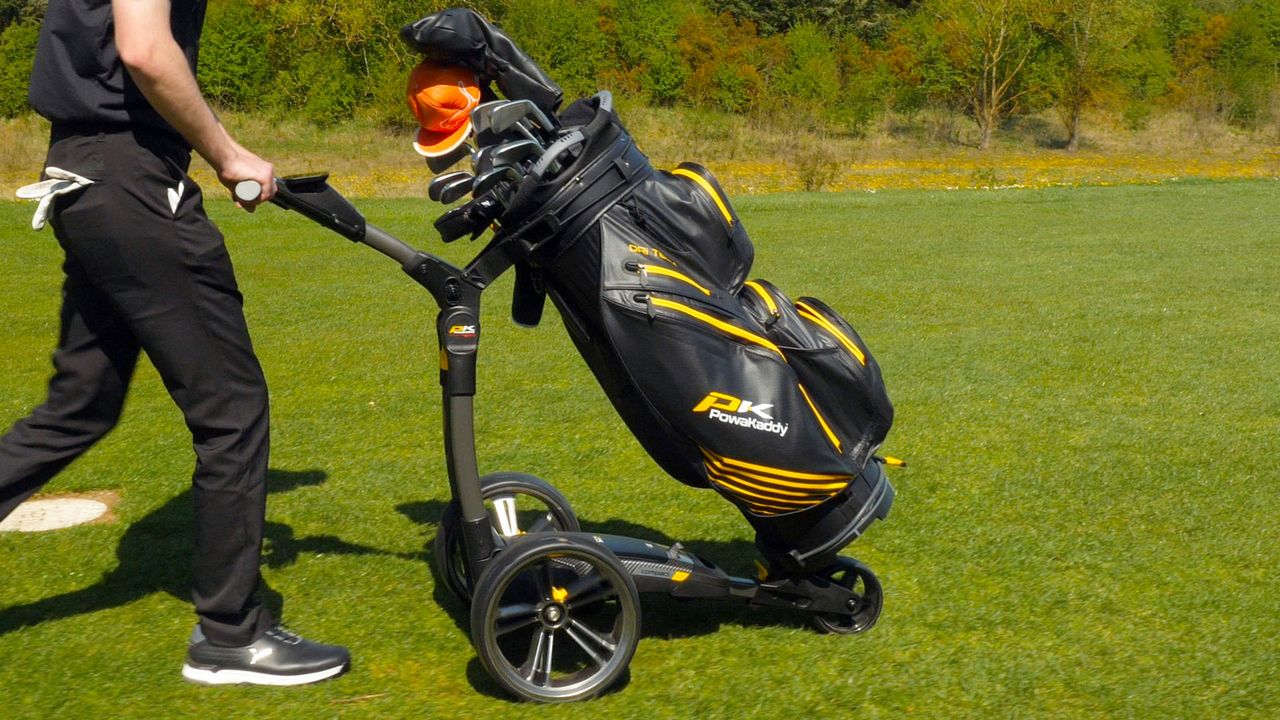 Compact folding
Reasons to buy
+
Superb, responsive touchscreen GPS
+
Compact folding, lightweight and easy to carry
+
High quality finish
Reasons to avoid
-
Handle height takes a lot of effort to adjust
-
Brand new for 2022, the Powakaddy CT8 GPS is the world's smallest touchscreen GPS golf trolley. It folds down a whopping 35% smaller than its nearest competitor and is ideal for those with small car trunks or minimal space to store a trolley at home.
The GPS system is the same one we've become used to in Powakaddy devices, but it's on a new and very clear 3.5" full-color touchscreen display. This makes the GPS very intuitive to use and has some really useful features such as scorecard, stroke index information, active green view and drop flag to give you accurate yardages on course. It comes preloaded with over 40,000 courses worldwide and requires no subscription.
Motocaddy M-Tech Golf Cart
Premium details
Reasons to buy
+
Feels superlight out on the course
+
Fantastic looking trolley
+
Full-colour LCD screen was a big plus
Reasons to avoid
-
Premium price will put some off
One of the best golf carts on the market, the M-Tech is cutting-edge in every way. The super-lightweight, high-capacity battery and next-generation electronics work seamlessly and it screams premium product with little touches like the carbon fibre styling, leather handle grips and cool wheels.
It's very smooth, it's powerful when it needs to be and it's also very, very quiet. Almost silent in fact.
Additionally it comes with Motocaddy's DHC (Downhill Control) which we put to the test on some steep slopes and it performed very well.
The full-colour LCD screen was a big plus and is one of the best features, which we could view clearly in bright sunshine.
Minimalist frame design
Reasons to buy
+
Robust and yet elegant frame
+
Remote control function worked well during testing
The JuCad Drive SL worked brilliantly during our testing. It is very light and can be folded away quickly and tidily into a small size, ideal if you have a small car or little storage space at home. Indeed because of this, and because it breaks down into a number of small pieces, it is also a cart that is ideal for taking abroad or on your next golf trip to Pinehurst or Bandon.
To some, the fact it needs to be broken down is a negative but once you are familiar with the process, it does not take very long at all.
With the electronics housed within the axle of the frame itself, the Jucad has a clean, minimalist look. Along with the satin finish, it certainly has the premium aesthetics you would expect.
Admittedly the rotary controller near the handle which selects the three modes of Drive, Reverse and Neutral, does take a little bit of time to get used to but once we did, the cart worked flawlessly.
Ergonomic handset
Reasons to buy
+
Simple to use and compact footprint
+
Good value compared to other remote trolleys
Reasons to avoid
-
Folding latches are quite stiff
Replacing the original S7 Remote is the M7 which is the eighth model in the compact M-Series range. Features include an anti-glare LCD screen, a pair of anti-skid rear wheels and an extra (removable) anti-tip wheel at the back to provide stability on all terrains. As with all M-Series models available, its integral compact-folding SlimFold system makes it possible to fit into the smallest car boots.
In terms of the remote, it is easy to use and fully rechargeable – using the trolley's USB charging port if needed. It can move the trolley forward, left, right and in reverse, with an additional pause and resume feature. The handset range is up to 50 metres.
Golf Push Carts
Manual powered golf carts that are less expensive than electric carts but still offer plenty of features and storage, ideal for slightly flatter courses of fair-weather golfers.
Reasons to buy
+
Lightning fast folding mechanism
+
Compact and lightweight
Reasons to avoid
-
Not as premium as other push models
Bag Boy might not be a household name to some but don't let that fool you, its Nitron Push Cart is packed full of performance. Suitable for golfers of all levels, the mechanism to fold and unfold is lightning fast, while it's also one of the most secure push carts we've ever trialled.
It's extremely lightweight and, when folded down, it's very compact, making it a dream in terms of storage. And while it may not be as heavy or bulky as other similar products, it remains robust and able to cope with any and all demands placed on it.
Other features include a scorecard console with integrated beverage holder, mobile device holder and golf ball storage, handle mounted parking brake and bungee straps to secure golf bag with ease.
Sun Mountain Pathfinder 3 Push Cart
Reasons to buy
+
Ample storage
+
Excellent colour choice
Reasons to avoid
-
Stability not as strong as other models
With 9 diverse colour ways to choose from you can truly forge your own path on the golf course with this Sun Mountain Pathfinder cart.
It only requires two simple steps to fold up and down whilst it also has ample storage with the accessory console, mesh basket, or the velour-lined valuables pouch.
Reasons to buy
+
Folding mechanism works well
+
Very easy to push around the course
+
Good colour choice
Reasons to avoid
-
May not work as well with a stand bag on it
Stewart Golf has improved its R1 Push cart with this R1-S model. During testing we thought the folding mechanism worked excellently and the ease of use when walking and pushing it makes it one of the best golf carts around. The splash of colour differentiates it further too.
It also comes with a strap system that works brilliantly at holding bags in place, while a footbrake also secures it on hilly terrain.
Clicgear 4.0 Push Cart
Reasons to buy
+
Feature packed
+
Improvements on previous design
Reasons to avoid
-
Assembly can be a fiddly process
The new 4.0 cart from Clicgear has an updated lid lock, silicone straps, umbrella strap along with a new and improved scorecard and pencil holder.
The choice of different colours is a chance to add some individuality to your cart, whilst it is also very compact when folded down making it good for storage as well.
Reasons to buy
+
Folds up incredibly compactly
+
Two click folding mechanism
+
Glides easily across fairway and rough
Reasons to avoid
-
Key Lock system only useful with a separate PowaKaddy bag
In 2022 PowaKaddy introduced the Micra which is arguably the standout model from the new range because of its compact-folding frame, super-stable ride and sheer number of features. We were very impressed with how compactly it folded together whilst the quick-folding mechanism only involved two simple steps. In no time our bag was on the cart and we were heading to the first tee.
As you would expect there are several areas for storage and one design feature more golf carts could do with is the dedicated water-resistant mobile phone storage area. We also think it looks great in the black, silver and yellow finish pictured above.
Reasons to buy
+
Lightweight, sturdy, robust
+
Minimal effort to move
Reasons to avoid
-
Doesn't fold down overly flat or compactly
One of the most slender designs on this list, Big Max has constructed this Ti Lite with a simple, quick fold mechanism that weighs just over 10 pounds. It also has ample storage, accommodates any size golf bag well and the five year warranty when registered with the brand adds to the value too.
As soon as we put our bag on the cart we noticed how easy it was to push – it really did take minimal effort to move it around the golf course, even when we had quite a lot of things in the pockets of our bag.
Reasons to buy
+
Compact and light
+
Easy to push even on hilly courses
Reasons to avoid
-
Be a little careful on side slopes
A model that featured in our best golf push trolleys guide, Motocaddy has created a top-notch cart design here.
The two-step folding system is simple and easy to use, whilst the manoeuvrability is excellent too. We do recommend being slightly careful on side slopes though because of the lightweight design (only 6.8kg), but realistically you could say this about most push carts.
A specific feature we noticed was the well-placed carry handle that makes it easy for anyone to carry when it's folded up. It also stayed folded up when carrying too which was a benefit because it didn't try and unfold itself.
Any bag sits nicely and is held in place with adjustable bag supports at the top and bottom. The footbrake is easy to use and there's plenty of storage too, so you don't have to fill your pockets or be diving in and out of your bag all the time
How we test golf carts
We test carts with the same ethos as all other golf gear - rigorously and comprehensively. If we say we have reviewed a golf product then we have done so out on the golf course, in different conditions. This is particularly important for carts because you want your model to perform as well in the winter as it does in the summer.
The entire Golf Monthly team plays golf regularly so can put golf gear to the test with ease and it should be acknowledged that no manufacturer can buy a good review. Our team tells it how we see it.
What to consider when buying a golf cart
What factors should you consider when thinking about buying a golf cart? We take a look below.
Electric/Push - Obviously the first thing you want to think about is whether you want an electric model, or a push cart. Electric designs are obviously more expensive but come with a lot more features and require less effort to manoeuvre. Push carts are cheaper, usually lighter and very easy to use.
Features - As we mentioned above lots of different models come with a wide range of features, and some look to simply perform as a trolley. For example some electric models come with GPS functionality, remote controls, shot-tracking and large LCD screens. Push carts also come with features like storage compartments, drinks holder, adjustable handle and so on. Therefore you should think about what extra features would be important to you when using a golf cart.
Ease of use - The whole point of a golf cart is to make life easier on the golf course when moving from shot to shot, so a cart that isn't easy to use is pointless. They have to be easy to manoeuvre on the course and getting it out of the car, and most designs fold away too so this foldable process has to be simple to put up and fold away as well.
Storage - Us golfers accumulate a lot of stuff whether it be tees, balls, scorecard, phone, wallet and so on and so forth. Sure it is easy to store this in the golf bag on the cart but for ease of access it is good to store things in the trolley too. As a result pretty much all trolleys come with storage compartments these days with some being larger than others.
Durability - A golf cart can be a large investment so it has to be able to last a long time, as well as deal with the rain, mud, and whatever general use gets thrown at it on the golf course. As such we recommend looking at models that are made from strong materials like aluminum.
Price - With so many brands making golf carts these days there is a model for everyone at every price point. If you want to go for the cheapest option which will just act as a cart, you can. Or if you want all the bells and whistles on an electric design, you can do that too. It is all a question of how much you want to spend.
FAQ's
What brand golf carts are the best?
This is a difficult question to answer because so many brands make high-quality models. Motocaddy and PowaKaddy are two of the best when it comes to electric and push carts, whilst there are also smaller brands like Bag Boy, Sun Mountain and Stewart Golf that also make top-notch golf carts.
If you enjoyed this guide on the best golf carts, check out the Golf Monthly website.
A golfer for most of his life, Sam started playing the game to prove he was the best player out of his father and two brothers.
He quickly became a golf equipment expert and has always been the one family and friends come to for buying advice, and spends a lot of his time putting golf gear, apparel and shoes to the test.
He is a graduate of Swansea University where he studied History and American Studies, and he has been a part of the Golf Monthly team since February 2018. He also previously worked for World Soccer and Rugby World magazines.
A jack of all trades across print and digital formats, Sam now spends most of his time testing and looking after golf gear content for the website. He also oversees all Tour player content as well.
Unfortunately, Sam is not a member of any club at the moment but regularly gets out on the golf course to keep up the facade of having a handicap of five.
Sam is currently playing:
Driver: Titleist TS3
Fairway Wood: TaylorMade M5 (15 degrees), Nike Covert Tour 2.0 (19 degrees)
Irons (4-PW): Titleist AP2
Wedges: Titleist Vokey SM7 54˚, 58˚
Putter: Scotty Cameron Circa 62 #6