Best Golf Push Trolleys 2023
We explore some of the best golf push trolleys currently available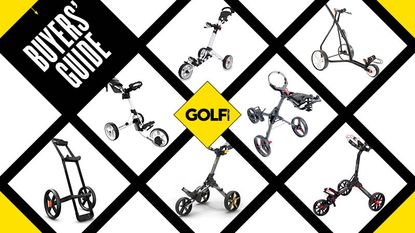 (Image credit: Golf Monthly)
Get the Golf Monthly Newsletter
Thank you for signing up to Golf Monthly. You will receive a verification email shortly.
There was a problem. Please refresh the page and try again.
Best Push Trolleys: Quick Menu
As golf has grown in popularity rapidly in recent years, the number of golf trolleys available has also grown, helping you travel around the course more easily than ever. Saving energy, making yourself more comfortable, and reducing the time between shots are just a few of the benefits of being a good golf trolley. But with so many options on the market, it can also be tricky to choose the perfect golf trolley for you.
Fortunately, we have pulled together a very handy guide to the best golf trolleys currently available, after we have carried out extensive testing on a huge number of the products currently available on the market. With some major brands available on the market, from Motocaddy, to PowaKaddy, and Stewart Golf, it's worth considering whether a push trolley, an electric trolley, or even a remote control trolley, will be the best option for you.
To test golf trolleys, we put each product through a rigorous process out on the course, comparing the ease of use, the weight, the trolley's interaction with a carry bag, along with overall quality and of course value for money. Modern push trolleys can be lightweight, easy to use, and can be cheaper than electric golf trolleys.
VIDEO: Watch Dan Parker's verdict on the best push carts and best electric trolleys of 2023
But trolleys often vary in their carrying ability, their size, and their look, so we have delved into some of the best products on the market to help inform your decision. For golfers in the US, we recommend checking out our guides on the best golf cars, and push carts currently on the market.
The Quick List
If you want a quick way to check the best golf trolleys currently available, we have pulled together a handy quick list to roundup the best choices. You can click to view a more details review of each product, and we also have a price comparison tool to help you make the right purchase.
Eze Glide Smart Fold Push Trolley
This Eze trolley is lightweight and so easy to push uphills, but is also robust and reliable. Plenty of storage options on the handle too.
Golfstream Express Push Trolley
The Golfstream Express is super lightweight and is very easy to set up, with a stand-out design.
Caddymatic 360˚ Swivelease Three-Wheel Push Trolley
The Caddymatic features tonnes of features all at a great price, and is very agile on the course thanks to the swivelling front wheel.
The Bag Boy Nitron stands out for its folding mechanism, and its lightweight and compact frame design.
PowaKaddy Micra Push Cart
The PowaKaddy Micra has good looks, a compact folding size and light frame - a valid contender for any trolley on the market.
Motocaddy Cube Push Trolley
The Motocaddy Cube model push trolley is easy to use and is very compact and lightweight.
The Kaddey Switch has a great design for saving space, is lightweight and features premium materials throughout.
PowaKaddy DLX Lite FF Push Cart
The Powakaddy DLX trolley is lightweight but maintains stability, and folders down easily for super-compact storage.
ClicGear 4.0 3-Wheel Push Golf Cart
Packed with features and a vast improvement on the previous design, the ClicGear 4.0 is a solid option.
Ram Golf Deluxe FX 4 Wheel Trolley
Very good stability is offered by this Ram Golf trolley, and the choice of three colours only adds to the value for money from this piece of kit.
Best Golf Push Trolleys
Why you can trust Golf Monthly Our expert reviewers spend hours testing and comparing products and services so you can choose the best for you. Find out more about how we test.
Best value
Reasons to buy
+
So easy to assemble
+
One push of a button easy
+
Super light weight and folds neatly
+
Holds a carry bag easily
Reasons to avoid
-
Not as compact when folded down
A game-changer when it comes to pushcarts, the Eze Glide Smart Fold Push Trolley is a very manoeuvrable three-wheeled trolley that can be packed away very easily. As its name suggests, it quite literally glides down the fairways and, while some trolleys can be very clunky and hard to lift, the Glide is very lightweight and easy to lift out of the car.
What's really great about the Glide is that it comes with a variety of accessories as standard. Usually, you would have to purchase a lot of these extras but, with this trolley, you get a scorecard holder, dry space for valuables and equipment, an umbrella holder and two wheel covers to keep the trunk of your car clean and tidy.
The trolley is a very versatile bit of kit and can hold a variety of different golf bags from a slender carry bag to a larger stand bag. In testing, we found that the bags could be locked into place via the trolley's adjustable brackets, which kept the bag secure and meant it did not wiggle when we walked over undulating terrain. Whilst it doesn't fold down into one of the most compact golf trolleys we have tested, it is a very stylish piece of equipment that can be placed in the back of your car.
Golfstream Express Push Cart
Reasons to buy
+
Incredibly lightweight
+
Easy and quick set up process
+
Bag stays secure whilst out on the course
+
Minimalistic, premium frame design.
Reasons to avoid
-
Takes up a lot of room once flat
-
No locking device so unfolds easily if not lifted in a certain way
Another model that made our 2022 Editor's Choice list was the Golfstream Express trolley. In our testing, we loved the simplistic looks, the weight (or lack of it) and the ease of assembling.
At just 3.9kg, it takes no effort whatsoever to pick up and it has a patented one-touch folding mechanism which is incredibly easy to use. It also has a bag system which means any type of bag can be attached conveniently without having to adjust it as the round goes by.
Admittedly there is no storage on the main console and it can take up a bit of room in the car but, overall, the Express is a simple and effective push trolley.
Caddymatic 360 Swivelease Three-Wheel Push Cart
Reasons to buy
+
Lots of features at a great price
+
Highly manoeuvrable thanks to the swivelling front wheel
+
Feels sturdy and reliable and rolls nicely
Reasons to avoid
-
Lower assembly/breakdown mechanism can be a bit baulky
Aesthetically, there is one particular stand out when it comes to the Caddymatic, and that is the swivelling wheel at the front. If it's not for you, it can be turned off via a switch and, it will of course divide opinion, but it is a very neat bit of kit that gave us free rein when out on the golf course.
The amount of features you get is also impressive, with the upper assembly clip working really well and very quickly. This may not sound like much, but we were able to find the ideal handle height for maximum ease and comfort.
Another part that is easy to manage are the wheels, which are free-rolling and easy to attach and detach pre- and post-round and, when you remove them, the trolley takes up minimal space in the car trunk.
Best Folding Models
Reasons to buy
+
Outstanding folding mechanism
+
Compact and lightweight
This Bag Boy Nitron trolley has a lightning-fast folding mechanism that easily unfolds in one simple step. This is, in part, because it is so light whilst maintaining a level of robustness necessary for the game of golf.
The compact size when folded down is another huge bonus because it can be stored anywhere, with other features including a scorecard console with integrated beverage holder, cell phone holder and golf ball storage, handle mounted parking brake and bungee straps to secure the golf bag with ease.
In fact, we liked this model so much that it also made our guides on the best value push carts and best affordable golf carts.
Motocaddy Cube Push Cart
Reasons to buy
+
Compact and light while folded and simple to unfold
+
Easy to push even on hilly courses and provides ample storage
Reasons to avoid
-
Lightweight design means you have to be a little careful on side slopes
The new version of the Cube is compact and simple to fold thanks to its two-step folding system. Packed with storage options, it also offers adjustable handle height and a foot parking brake.
Additional features include a new durable rubber handle and friction-free oversize wheels to easily manoeuvre around the course, along with a folding lock and compatibility with the Easilock bag-to-trolley connection system, removing the need for a lower-bag strap.
PowaKaddy Micra Push Cart
Reasons to buy
+
Folds up incredibly compactly
+
Two click folding mechanism
+
Glides easily across fairway and rough
Reasons to avoid
-
Key Lock system only useful with a separate PowaKaddy bag
PowaKaddy continued to develop its push trolley range in 2022 and, arguably, the best of the new bunch is the Micra. Built with a very compact folding frame, the trolley sits nicely in the car and folds out conveniently with the simple two-step system. The handle itself is very soft and can be adjusted nicely, whilst the trolley is very easy to move and glides around the golf course.
The practicality doesn't stop there, though. The multi-feature handle console provides ample storage for much of your paraphernalia, including a dedicated water-resistant cell phone storage area, a scorecard holder, a pen/pencil holder and storage for your balls and tees. Our last point is we think the trolley looks great as well.
Best 2-Wheel
Reasons to buy
+
Lightweight and space-saving design
+
Can be pushed or pulled
+
Premium materials used throughout
Reasons to avoid
-
Bag straps aren't elasticated
If you want a model that is a little unique, then the Kaddey Switch is the one for you. It is designed to be permanently attached to any golf bag, making assembly on arrival at the golf course as quick and seamless as possible.
Using the two large wheels on either side, which simply slot into the side of the chassis, the Kaddey Switch can either be pulled or pushed along the ground - it's all about preference. This ability to do both was especially convenient during testing, going up and down hills, in particular.
One final touch that sums up how thoughtfully the Kaddey Switch has been designed is that you can record your own golf swing. Using the elasticated phone straps on the centre console and positioning the handle closer to the ground, you've got your own cameraperson to hand to record your swings.
PowaKaddy DLX Lite FF Push Cart
Reasons to buy
+
Lightweight but stable
+
Folds down very compactly for easier storage
+
Adjustable handle height
Reasons to avoid
-
Wheels could offer more traction
The PowaKaddy DLX Lite FF has a brilliantly simple, flat-folding design that saves an awful lot of space. Aside from the excellent lightweight handling (this trolley is really easy to push, even when loaded with a heavy trolley bag on board, held in place with strong straps) the stand-out feature in our opinion is this folding system. In a few simple clicks the DLX Lite FF folds down nearly as flat as a pancake - and fast too.
The high quality aluminum frame is super lightweight to push and the wide wheel base keeps the trolley stable across all terrain. We particularly enjoyed the dual foot brake system and feature-packed handle console, too.
Clicgear 4.0 Push Trolley
Super stable
Reasons to buy
+
Feature packed
+
Improvements on previous design
Reasons to avoid
-
Can be fiddly to assemble
An update of the 3.5+ model, Clicgear have added several improvements to the original design. These include the new lid lock, adjustable upper saddle, silicone straps, adjustable front wheel, umbrella tube strap, improved scorecard and pencil holder.
The Lower Saddle on the Clicgear M4 is modified to move the lower bag support up and away from the front wheel. Working with the Adjustable Upper Saddle, this allows better clearance between the bottom of some stand bags when positioned on the cart. This finally eliminates an annoying issue for some customers.
It is extremely compact when folded down and is highly stable and easy to manoeuvre. It also comes in a choice of colors and looks as stylish as it is functional. Certainly it is one of the most feature-packed options you'll find on this list, with the Clicgear ideal for golfers that like to have everything they use at their fingertips in front of them.
Ram Golf Deluxe FX 4-Wheel Trolley Review
Reasons to buy
+
Offers very good stability
+
Available in three colours
+
Very good value for money
Reasons to avoid
-
Needs a bit of encouragement to negotiate sharp corners
-
Some golfers may desire a more premium look
Ram Golf is a brand that dates back to the 1940s and, in recent years, it's made something of a comeback with a whole line of affordable products being released by the company. One of those products is this, the Deluxe FX 4 Wheel trolley.
Easy to erect, the four wheels on this model provide really good stability. This means that you will never have to worry about the trolley tipping over at any point during your round of golf.
Along with the stability, the console includes a bottle holder, ball marker slot, scorecard/pencil holder, tee holes and an opening compartment for balls and other accessories. There's also a built-in umbrella holder that's easy to attach and, included with the FX 4, is a storage bag big enough to accommodate the folded-up trolley with the wheels on.
How we test the best golf push trolleys
We test all golf trolleys with the same ethos as all other golf gear – rigorously and comprehensively.
Models get taken out onto the golf course and tested in different conditions as a way for us to gauge overall performance in terms of maneuverability, robustness, ease of use, and so on. We think the only way to learn about products is to put them in play because that is where you are going to be using them.
The different conditions is particularly important too when it comes to a trolley because you will want your model to perform as well in the winter as it does in the summer.
The entire Golf Monthly team plays golf regularly so can put golf gear to the test with ease and it should be acknowledged that no manufacturer can buy a good review. Our team tells it how we see it.
What to consider when buying a golf trolley
So you've decided to buy a golf trolley, but what are some of the factors you need to know about before purchasing? Well we have taken a look at some below.
Push or electric? – This is the first question you need to ask yourself, do you want a push model, or an electric trolley, both of which have pros and cons.
Push trolleys are less expensive than electric models, so are a more cost-effective way of getting your clubs around the golf course. They also tend to be lighter, simpler to use and can be stored away easier. Push carts also tend to offer better storage solutions on the handle console for items like balls and tees.
Electric designs are more powerful, require less effort to use, and usually have a whole load of features built-in - such as GPS functionality or remote use. Of course whichever type of trolley you go for, the factors below will also play a role in your decision, particularly budget.
Weight – As we just mentioned, push trolleys tend to be lightweight, and they have to be because you are pushing it along. This obviously gets harder to do uphill as well so make sure you go for a model that is lightweight but also doesn't sacrifice stability or durability.
Also make sure the wheel bearings are nice and smooth, which will help reduce the amount of manual effort required.
Folding – If you want a model that folds down to nothing then a push trolley is the way to go. Most of the models above have clever folding mechanisms that allow them to fold down flatter, or just with a small footprint, which makes them highly convenient for the car or storage at home.
Maneuverability – With push carts, because you are doing some of the work in terms of propulsion and direction, good models have to be easy to maneuver. The lightness plays a role here but good models have to be able to turn easily and maintain balance on different lies and ground conditions.
Storage – Storage is another big factor and push trolleys tend to offer more than electric models. Some models then offer more than other push trolleys because they tend to have a large central console. If this is important to you then there are plenty of models above which will perform well here, however if you see yourself storing more stuff in the golf bag itself, then perhaps go for a model that doesn't have a large console.
Budget – Our final factor for you to think about is budget. As you can see above there are lots of models from different companies, that all come in at different price points so be aware of how much you can, or want, to spend.
If you enjoyed this guide on the best push carts for golf then check out the Golf Monthly website
FAQs
Is a 3 or 4 wheel push cart better?
There really isn't much difference between the two. In our opinion, three wheel push carts are easier to manoeuvre around the course. Three wheel push carts are also more commonly available. On the other hand, four wheel carts offer more stability over rough and hilly terrains.
Are push carts worth it?
Very much so, especially if you suffer from back and shoulder pain and can't carry clubs or you want to stop paying extortionate fees to use ride on carts at golf courses. Since the start of the pandemic, push cart ownership and usage has skyrocketed in the US as people have been forced out of ride on carts and have discovered the joys of walking the golf courses.
Are push carts better than pull carts?
There are many benefits to owning a push cart over a pull cart, with one of those being the fact that push carts roll much better and straighter over the fairways than pull carts. As well as the roll, there is also the health benefit, with a push cart much better for your back and shoulders, due to it putting less stress on those areas.
Do pros use push carts?
Put simply, no, professionals don't use push carts, not in tournament play at least. Under The R&A and USGA's rule book, push carts are prohibited and it's rare that you will see one on the professional circuit.
How much weight can a golf push cart hold?
A push cart has to hold a considerable amount of weight. Think about it, it must hold a golf bag, clubs, golf balls, waterproofs and any other necessities you carry. The average cart bag will hold between 1-3kg, but with the majority having aluminium frames and strong straps, they are built to withstand a considerable amount of weight.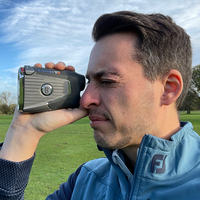 From clubs, balls and tees, to essential sportswear and fitness products, keep it affordable with a little help from our promo and coupon codes.
Get the Golf Monthly Newsletter
Tips on how to play better, latest equipment reviews, interviews with the biggest names and more.