Most Breathable Golf Shoes 2023
Check out some of the most breathable golf shoes on the market for the ultimate comfort in hot conditions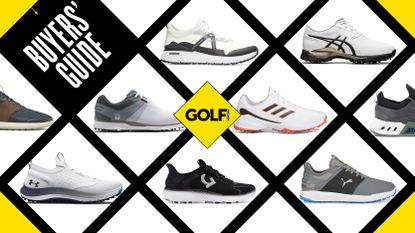 (Image credit: Future)
Most Breathable Golf Shoes
Playing golf on a hot summer's day is one of life's simple joys. With the sun on your back and your golf clubs in hand, nothing much else matters. What certainly is not so enjoyable is returning to the clubhouse with sodden, smelly feet that have been suffocated in a pair of unbreathable shoes. Not all of the best golf shoes are fully breathable, so you have to be careful which ones you pick and choose. The modern, seam-sealed, fully waterproof war horses that get us through the wet winter months are fantastic, but come the summer they can be cumbersome and get rather sweaty.
VIDEO: Watch Dan Parker's verdict on the 11 of the best golf shoes from 2023
That's why moving to a very lightweight - often mesh - golf shoe in the warmer months can leave your feet dry and comfortable on even the hottest summer days. Of course, you don't get as much waterproof protection from these shoes, but hopefully you won't need it at the height of summer or if you're on a golf holiday somewhere warm.
So what are the best breathable golf shoes on the market? Well we've been out on the fairways testing some of the best options going and have collated a list of the best best spikeless golf shoes and best spiked golf shoes that are both highly breathable and ideal to wear in warm weather. Check out our guide to the best casual golf shoes if you're looking for something to wear on or off the golf course and our guide on the best golf shoes for walking has you covered if you're after a slipper-like pair of golf shoes.
Most Breathable Golf Shoes
Best Breathable Spikeless golf shoes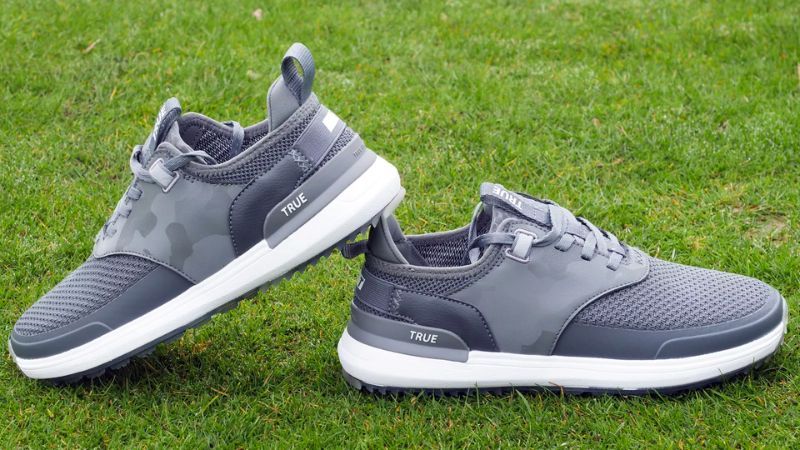 Perhaps one of the most versatile golf shoes on the market right now, the True Linkswear Lux Hybrid offers excellent visuals and comfort on the course. It comes with an athletic profile that will certainly catch the eye of any golfer looking for a more sporty golf shoe option, akin to some of the best golf sneakers available now. If you have never heard of True Linkswear before, they are a relatively up and coming brand from the Pacific Northwest, and are truly leaning into the market with commitments to casual golf shoes.
Having tested this shoe on the golf course, we think we can all agree this option would comfortably blend in pretty much any environment. But its performance on the golf course really was something to behold. It features a Wanderlux midsole, with the technology soft to the touch but still firm enough underfoot to offer a decent amount of support during your swing.
Aesthetically, we think it blends into any kind of environment and, at just 11.2oz, it's also one of the lightest best spikeless golf shoes we have tested. Another positive is the fully waterproof knit material on the upper which, although you might think would get soggy quickly, actually wicks off any water and keeps your feet bone dry. That being said, we would not recommend wearing these shoes in properly wet or muddy conditions as the overall grip isn't there. For those conditions, perhaps instead check out some of the best winter golf shoes.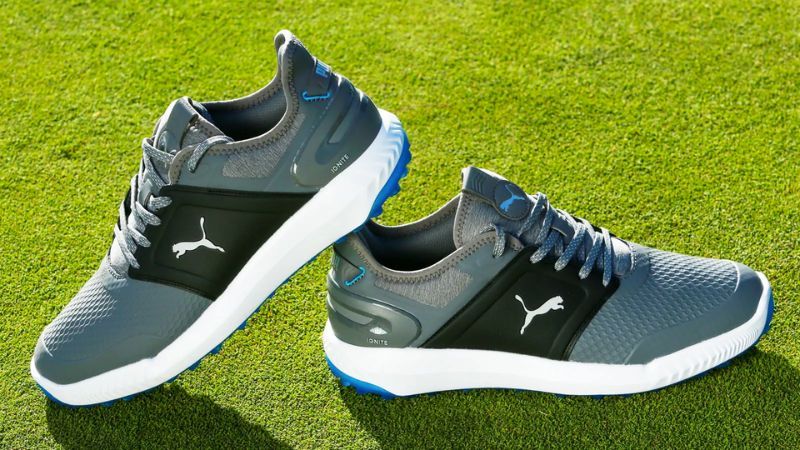 Thanks to their reputation as one of the best athletic-wear designers on the market, we were excited to try the brand new Puma Ignite Elevate golf shoes. These are an update on the impressive Puma Ignite Articulate but maintain the athletic profile and superb styling that we loved in the 2022 model, while but fine tuning a few things to make this shoe one of the best spikeless golf shoes available right now. The first thing that struck us here was the premium feel of the shoe. It boasts a range of different materials that look fantastic and give off a quality that you might find in some of the best designer golf clothing.
Taking them out to the course, we were very impressed with the comfort on offer here with this shoe's midsole being made from the classic Ignite Foam that is present throughout many of the best best Puma golf shoes. It delivers a ton of support and cushioning, and kept our feet feeling relatively unfatigued towards the later stages of our round. It provides both a soft and supportive feeling with plenty of energy return through the swing too. The material used on the inside of the upper - the place where your toes might occasionally push up towards - is also made with a very soft material that makes your foot feel snugly in place. The grip was also exemplary too and while we would probably steer clear of wearing these shoes in really wet conditions, they make a fabulous option for summer golf.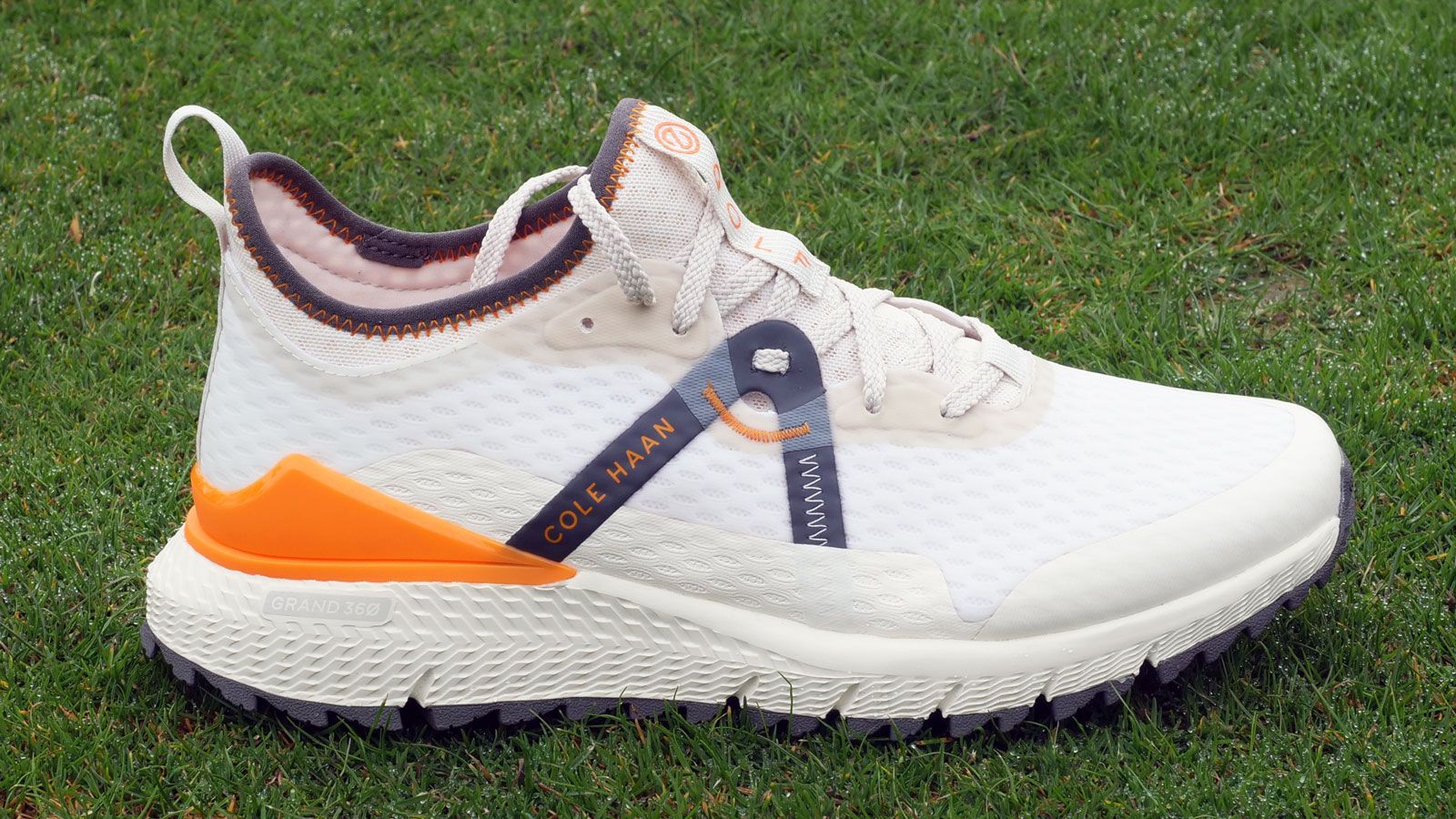 Cole Haan are best known for their work producing running trainers and athletic footwear, but they are now branching out into the golf market, with their latest release, the ZeroGrand, being one of the most exciting golf shoes to come out in 2023. It is one of the most lightweight offerings we've tested and is perfect for summer golf. Aesthetically, this shoe seriously has a lot of shelf appeal. That is partly due to the premium materials the brand have used to create the trainer, which will match some of the best golf sneakers on the market for visuals.
The best thing about this the ZeroGrand though is that it delivers comfort in spades. When we say lightweight, we mean these shoes weight quite literally next to nothing and that makes them perfect for summer golf. The upper and materials surrounding your feet are breathable and offer excellent moisture wicking properties that'll keep your feet cool on the hottest of days. They also come with a midsole that feels almost like a memory foam mattress to walk on. Cole Haan call this their GrandFoam midsole plate. It feels soft and full of bounce as you walk around the course and we felt it really hugged the bottom of our feet when walking - a fantastic sensation to say the least. In fact, we would even go as far as saying that this was one of the most comfortable golf shoes we've tested this year.
Cole Haan aren't a brand that you'd regularly come across on the course, but they're certainly shaking things up with aesthetics here. This shoe a great addition to those who are looking for a more easy-going look, something you might find from some of the best casual golf shoes on the market. The only downside here is this shoe is only water-resistant and not waterproof, so it doesn't quite match up to some of the best winter golf shoes for performance, but will come into its own when during the summer months.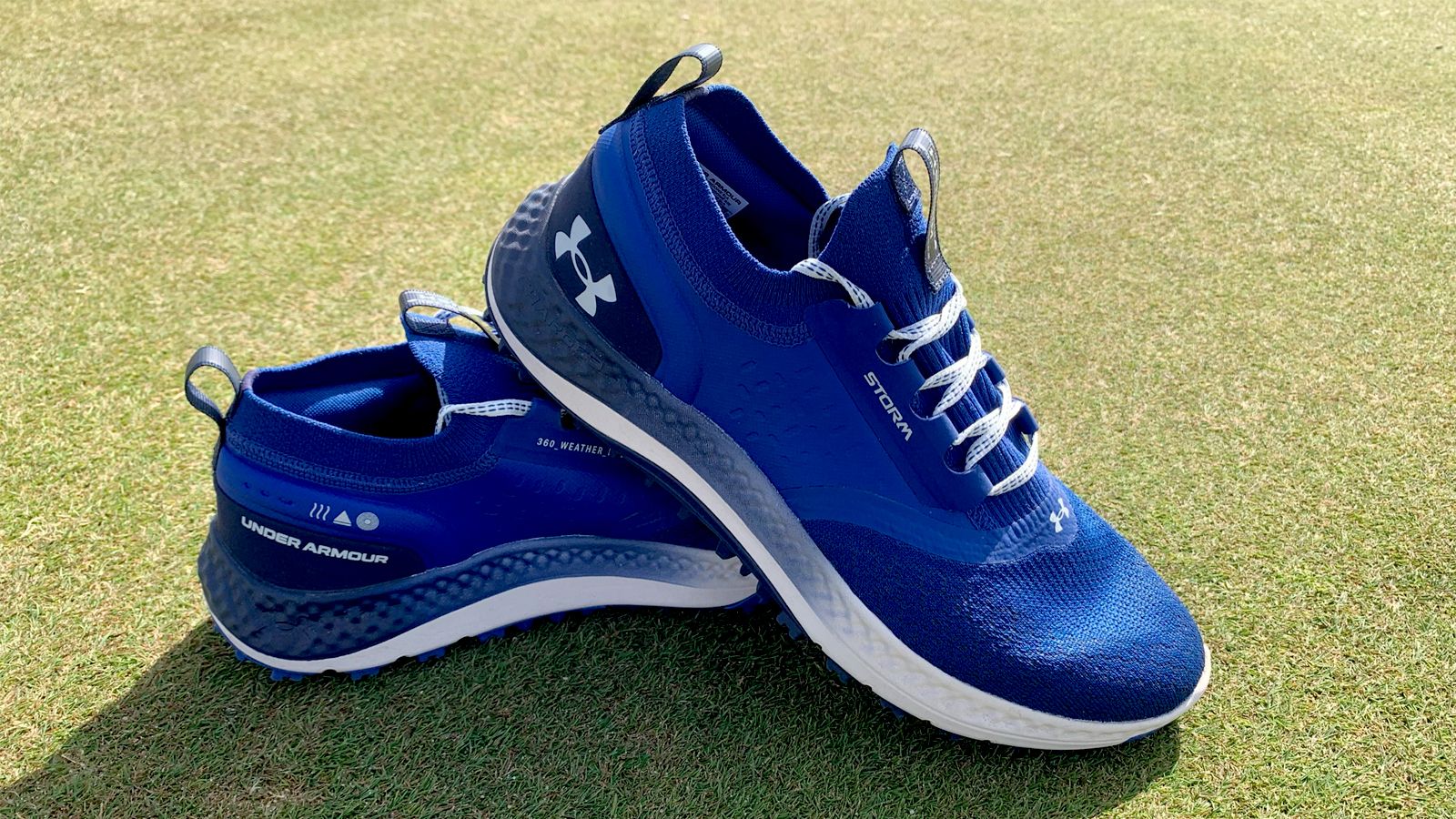 The best spikeless golf shoes offer versatility in spades and this excellent offering from Under Armour will caught our eye as a shoe we could wear both on and off the golf course. The Charged Phantom SL takes the profile and style of a running trainer but performs like a golf shoe. It is undoubtedly one of the best spikeless golf shoes on the market, purely for its visuals which we loved. We tested the blue colorway which comes with a very cool blue and white gradient around the midsole. That adds to the very cool design on offer here, blending nicely with the premium materials on the shoes upper.
Some of the best Under Armour golf shoes are jam packed with technology to help you play your best golf and have a comfortable and enjoyable round, and having tested these out over multiple rounds we can safely say they deliver on that basis too! The first thing to note here is the 'never wet' knit upper mesh that means your feet can breathe but will also wick any moisture or sweat away from your toes, and that kept our feet dry and cool on the course. It's also good to note that these shoes are machine washable, meaning we could wash them between rounds pretty easily, to keep our feet fresh for longer.
Putting them on, we felt they were very sung and delivered an excellent fit thanks to the Storm Flat Knit Collar situated around the ankle. That delivers a locked-in feel while and proves to be very comfortable. The Charged midsole that separates the footbed and the outsole delivers plenty of comfort and helps you transfer energy from pushing into the ground into your golf swing. The traction of the shoe is superb and performed well when we tested it on a damp driving range and, certainly, the Charged Phantom SL is one of the best Under Armour golf shoes on the market, as it provides great value for money with a premium performance.
The latest iteration of the Pro SL franchise sees an all-new upper material used for the first time, giving the shoe the sportier, more athletic look the name suggests. The shoes are much more lightweight and breathable than the 'standard' Pro SL thanks to the performance material upper, utilizing mesh and an ultra-thin TPU hotmelt top layer. The materials on offer here typify the excellent designs the brand includes in some of the best FootJoy golf shoes on the market. Known for using premium and durable materials, we love the technology in this shoe that helped our feet stay cool and dry on the golf course.
It's worth noting that the loss of the all-leather upper from the standard version does not correlate a loss in breathability and waterproofness and, when testing these on a couple of very warm days on the golf course, we found our feet remained at a comfortable temperature for the entirety of both rounds. From our testing, we would go as far as to say that the Pro SL Sport is probably more breathable than the standard version, such is the brilliance of the new upper, with the Pro SL Sport one of the most breathable golf shoes on the market.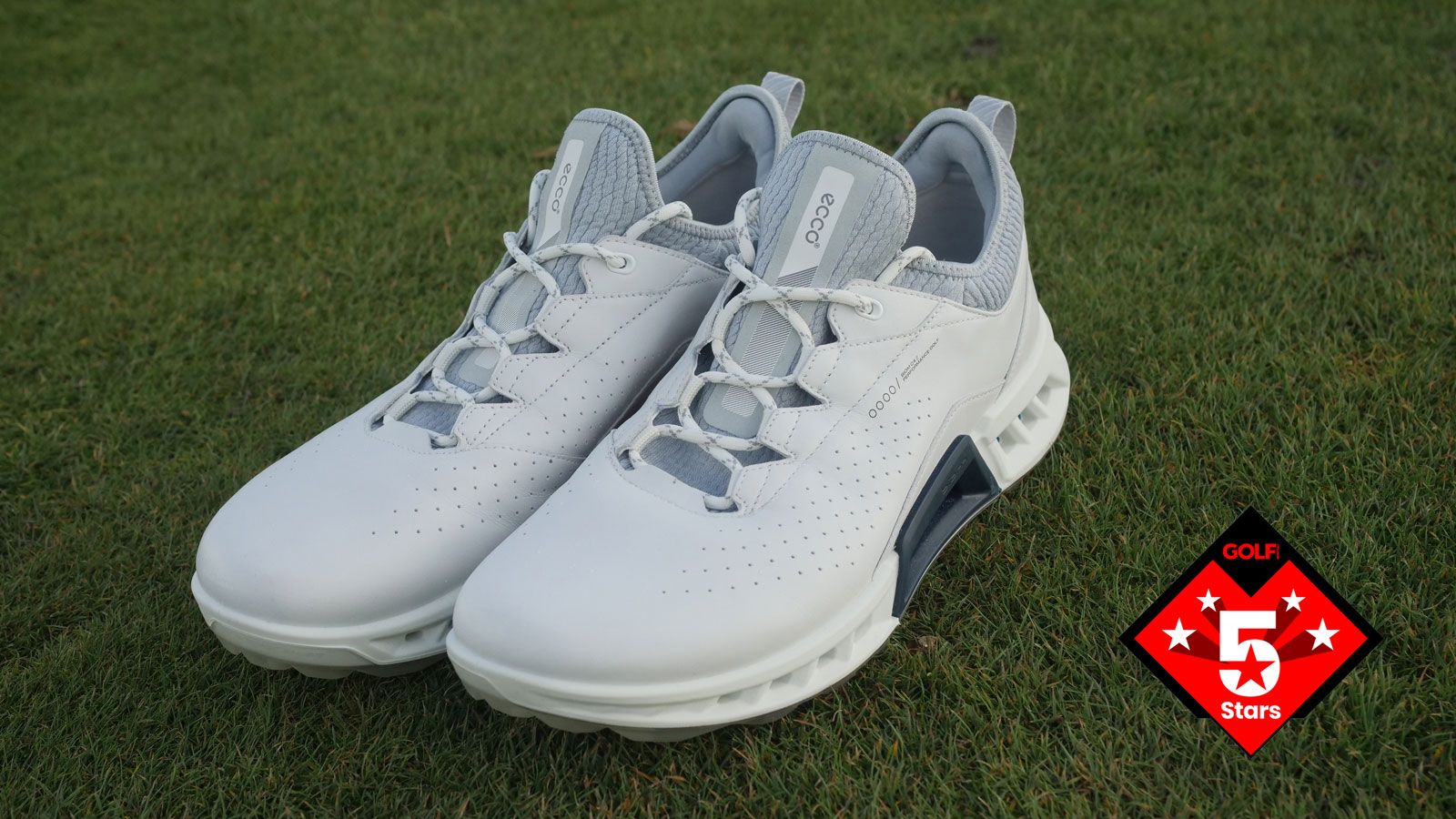 One of the most technology-packed spikeless golf shoes we've tested this year, the Ecco Biom C4 seriously impressed us with its overall comfort, grip, style and breathability. It's built nicely on the foundations of the excellent Biom H4, which carries over into 2022, but the new sneaker-style has won our hearts from a style perspective, and the performance is there to match.
The Biom C4 uses Ecco's Exhaust Grid technology that scoops fresh air towards the sole of the foot to keep it cool. This, combined with Gore-Tex surround and breathable Ortholite insole makes this the most breathable shoe we've tested in 2022 by some stretch. Another excellent touch from Ecco is that the insole is removable to allow for more width in the shoe. This makes the Biom C4 one of the best golf shoes for wider feet and there was still the same amount of comfort and cushioning with the first insole removed. It's certainly a step in the more athletic direction for an Ecco shoe, and we think this aesthetic move will attract golfers of all ages into Ecco shoes - we think these are some of the best looking golf shoes this year
Fashion and style underpin Duca del Cosma's brand ethos, but there's plenty of technology packed into the Flyer shoe that makes it a practical and looks similar to many of the best casual golf shoes. It comes with several key features, chief among those is the waterproof but breathable internal bootie membrane, meaning external water is kept at bay while internal moisture created can escape. Having taken these for a spin around the course ourselves we found it delivered the ideal combination for the best breathable golf shoes.
Not only this, but the memory foam Arneflex insole, which is also covered in cow leather, offers incredible comfort underfoot - which became a real help as we started to fatigue later on in our round. The fully waterproof leather feels high quality and the shoes are supremely comfortable with a soft, locked in feel, putting them up there with some of the most comfortable golf shoes on the market. The soft leather tongue of the shoe in particular has a lovely high quality feel to it. The grip was also very good in dry conditions but we think it may become an issue in the winter months when the ground is much softer. There is plenty of stability on offer here though!
G/FORE is a relative newcomer with tons of style and attitude to help you stand out from the crowd. We've seen this with models like the Gallivanter and MG4+, and the brand's flair is evident once again in the new spikeless MG4x2 shoes. This is a cross-trainer shoe, a multi-functional model designed for both on and off the course. A lot of golf shoes struggle to find the balance between on and off course versatility; many end up failing on one or sometimes both camps with either the style or performance being compromised. Not so with the MG4x2 shoes.
The upper is breathable and waterproof, meaning your feet will stay dry from rain and not get too hot when temperatures rise. The shoes kept our feet cool and dry during several hot and wet rounds of golf and the Sawtooth sole design offers one of the most compelling spikeless outsoles on the market - even in wet and soft underfoot conditions! They also feature a moulded heel cup that prevented our feet from slipping aorund in the shoe, helping us feel really secure.
The insole is uniquely designed to massage your foot as you walk – you truly have to experience the sensation of walking in one of the best G/FORE golf shoes to understand the comfort on offer. It took us a moment to get used to, but once we were into our round, we loved the comfort and massaging feel the shoe offered us. It comes in several different colorways so if you want to stand out on the course, there are plenty of ways to do so with the MG4x2.
Best Breathable Spiked Shoes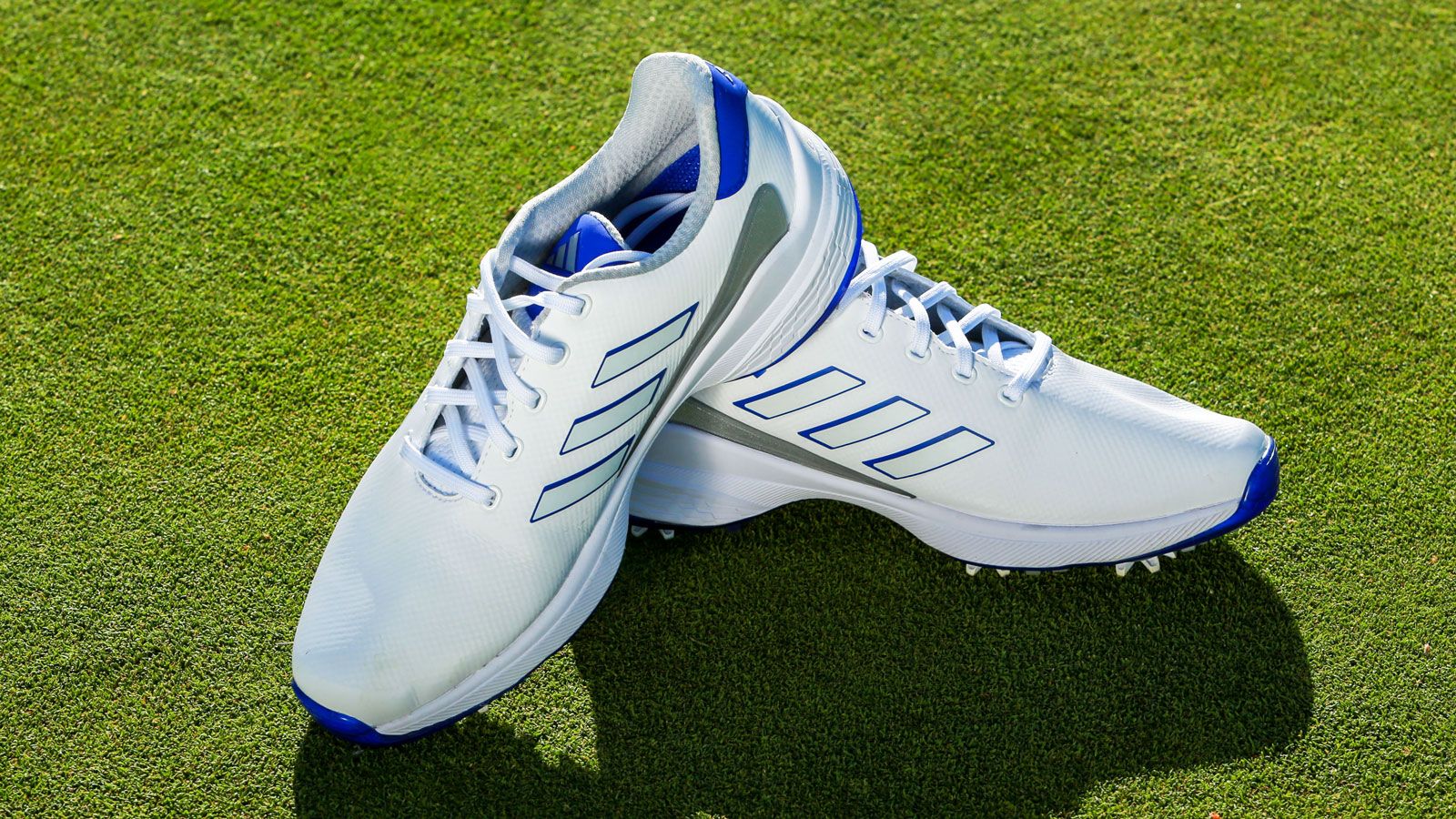 A stunning golf shoe that boasts several upgrades on its impressive predecessor, the adidas ZG21 golf shoe. Released in 2023 and marketed as a golf shoe that delivers bags of performance and comfort, the ZG23 really was a joy to play in. We put it to the test over during several rounds while on a visit to California, and found that it kept our feet nice and cool while playing on a particularly warm day.
The highlight of this shoe, and its biggest improvement from its predecessor is the addition of the new Lightstrike and Lightstrke Pro technology, that is replaces the Boost midsole found in many of the best adidas golf shoes. While we loved what the Boost foam offered, Lightstrike delivers a slightly different feel and excellent comfort which is a real winner that we really enjoyed. We were particularly impressed with the softness in the midsole and the cushioning and comfort underfoot, and paired with the softness of the upper, it was a real winner.
Ultimately this one of the most comfortable golf shoes out there and while it looks quite chunky, it really does offer a lot of breathability to your feet. Plus we also found the Stability Fin towards the heel of the shoe helped keep our feet locked-in and stable as our weight shifted through our golf swing. Lastly, because of the ultra-lightweight nature of the shoe, it really reduced foot fatigue after walking 18 holes.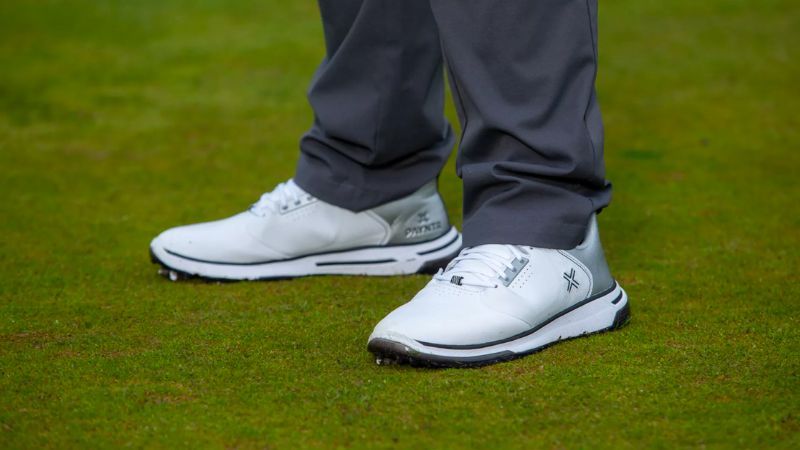 The Payntr X 006 RS Golf Shoe is one of the best spiked golf shoes in the game right now, offering excellent visuals and superb comfort. They were a real winner when we put them to the test out on the golf course and rank as one of the most breathable golf shoes in the game. Sliding our feet into the shoe, we immediately noticed the comfort on offer.
The Clarino Tongue offered plenty of stretch support that also cushioned our feet as we walked and committed to our shots. We think these shoes are one of the best golf shoes for wide feet on the market, with the Ventilated Dual Density PMX Foam, Patel Footbed and Open Cell Foam all combining brilliantly. These aspects help to provide a longer life span than some of the other best golf shoes money can buy, as the shoe moulded itself perfectly to the shape of our feet over multiple rounds, but not to the extent where the protection, fit and comfort were compromised.
The overall protection and breathability, though, was where we were most impressed. They kept our feet nicely dry on the golf course, even when the rain started to pour. Overall, these are a supremely comfortable and breathable shoe, and the minimalist styling is something that we really loved.
Skechers' flagship model for 2022, the Pro Golf 5 Hyper shoe takes comfort to the next level by incorporating Skechers Arch Fit technology that provides podiatrist certified support to your feet, with cushioning across the midsole. We thought this made the shoe one of the most comfortable golf shoes on this list. That Arch Fit technology also helps to reduce aches and pains in your feet as you navigate your way around 18-holes.
The shoe also boasts Skechers Hyper Burst and Resamax cushioning which work in tandem to offer excellent rebound in your step. Additionally the Hyper shoe is made from a breathable upper mesh which helped our feet remain cool and fresh during testing. We also enjoyed the grip on offer thanks to the Softspikes, which are easy to replace and prolong the life of the shoe. If you're looking for a replacement set of cleats to pair with your golf shoe, why not check out our guide to the best golf shoe spikes available right now.
The Gel-Ace Pro M Standard is the golf shoe that Hideki Matsuyama wears on the PGA Tour, and it's an impressive new spiked option from Asics and Srixon. Removing this shoe from the box reveals its traditional yet sleek profile, a design that we loved and feel comes with a ton of shelf appeal that will catch the eye of golfers of all ages. During our testing sessions, we found the Gel-Ace Pro M delivered insane comfort right out of the box, but that's to be expected from one of the best best Asics golf shoes.
It comes wiht Asics Gel technology that helps to absorb the impact of your step on the course and that meant our feet and knees didn't tire too easily, particularly when we got to later stages of our back nine. Also of note, the Gel-Ace Pro M Standard is fully waterproof and we found that the shoe delivered excellent breathability even on extremely hot days. It also cleaned up well after use, and the spikes on the sole were pretty easy to de-clog when encumbered with mud. If there's one downside to the Pro M Standard it's that there are only two color options available but otherwise it's a great shoe, one of the most comfortable on the market and one of the best options in the spiked category.
Best Breathable Women's Shoes
A sporty, high-performance golf shoe, the 2022 Flex XP delivers excellent comfort over 18 holes of golf. We were big fans of FootJoy's previous Flex model but the 2022 shoe is an excellent upgrade on what is a fantastic summer golf shoe and will add an extra spring to your step. They feel like a running trainer more than a golf shoe but offer the same levels of traction as some of the very best women's golf shoes.
They are a lightweight, yet waterproof offering, that offer great breathability thanks to the specially designed mesh that aligns the shoe's upper. While you might think that this mesh is not the best for rainy or dusty conditions, we were impressed with how easy it was to brush mud and sand off them. But it was the comfort levels of these shoes that really was a game changer for us.
The sole is so well cushioned and features an EVA midsole that helps to stabilize the foot and give more support as you swing the club. Even in wet conditions, we thought these shoes held their own. But we also loved how comfortable we felt wearing them shoes both on and off the course, a staple feature of many of the bs. Plus they also come with a one-year waterproof warranty, which is a great insurance to have if you regularly play in wet conditions.
How We Test Golf Shoes
The Golf Monthly team are not podiatrists but we do know a seriously comfortable and supportive shoe when we try one. The golf shoes above represent the cream of the crop when it comes to breathability and ventilation on the golf course, to help stop your feet from feeling hot and sweaty during your round. Using our extensive testing methodology, we look to wear each shoe over several rounds of golf to determine the comfort, grip, durability and breathability the shoe possesses. We also attend product launches with the respective brand's R&D experts to get a better understanding of the technology in each shoe and how the features built into each shoe can benefit you on the course.
How To Choose Golf Shoes
Buying golf shoes can sometimes be an overwhelming task. There are plenty of things to consider when looking to purchase your next pair of golf shoes and with all the technology that's on the market right now, it can be a really difficult job getting the right pair of shoes for your needs. From comfort right down to breathability, we've set out a few key points that'll help you in your buying decision.
1. Comfort
As you would expect, when it comes to the most breathable golf shoes, comfort is king. As we stride the fairways and greens, an uncomfortable pair can distract us from our game. We recommend trying on some models before you buy to see what you like the feel of, and be aware of some models that have specific foam technologies, or specific sole designs that are designed to house your feet in all day comfort.
2. Grip/Stability/Traction
All three of these things are important because they allow you to commit to golf swings and play with confidence. If a pair doesn't deliver on these then you may slip, causing a bad shot or even worse, a bad injury. As a result, many of the models above, in both spiked and spikeless designs, have specifically designed traction patterns and lugs to make sure your feet don't slip.
3. Looks
This is entirely subjective, but you need to make sure you like the look of your golf shoes. We've covered all shapes and sizes of golf shoe above and there's a style to suit everyone out there.
4. Waterproofing
If you are going to be walking in all weather conditions then you need a waterproof model too. Thankfully most of the models above provide 100% waterproof protection and we also recommend checking out specific brands that have long waterproof warranty's. This aspect is especially important for breathable shoes if they are made from mesh fabrics because if you wear those in wet conditions and they aren't waterproof, then that will be a bad experience.
5. Sizes
It sounds like an obvious thing to say but make sure you get the right size for your feet. It is worth trying models on and making note of brands that come up slightly smaller or larger. For example Nike often comes up half a size bigger than my normal shoe size.
6. Budget
Setting a budget will allow you to hone in on the most breathable golf shoes for you. Our list has covered a range of price points, but to really get an idea of a good budget golf shoe, check out our guide on the best budget golf shoes.
For more advice on some of the best golf shoes on the market check out our guides to the best waterproof golf shoes, best winter golf shoes and best budget golf shoes.
FAQs
What makes a golf shoe breathable?
Any golf shoe that uses Gore-Tex will be extremely breathable. Gore-Tex is a material that allows sweat and heat to escape from the shoe without letting water in. Lightweight shoes tend to be more breathable too, as lighter materials mean your feet will sweat less.
Why is it important to have a breathable pair of golf shoes?
Generally speaking, the hotter your feet get on the golf course, the more likely they are to sweat. And that can be a nightmare for any golfer, as if you've ever played in wet shoes, having saturated and damp feet or socks can inhibit your performance. Your feet will start to slide around as you play each shot and that can hinder your stability and prevent you from powering through each golf shot. For that reason, it's a great idea to ensure your golf shoes are breathable and offer great ventilation to your feet!
How can I protect myself from high temperatures on the golf course?
Playing in warmer climates can sometimes be dangerous so it is wise to always take precautions when you step out onto the course, to ensure you play well, enjoy your round and don't suffer from heat stroke. Hats are an essential on any sunny day as are sunglasses. Meanwhile it is important to stay hydrated too so bring plenty of water with you. You'll also want to ensure you have covered yourself in suncream too, as sun burns don't look good and can be very painful.