Best Golf Pants 2022
If you are in the market for a new pair of golf pants, take a look at some of our favorites here.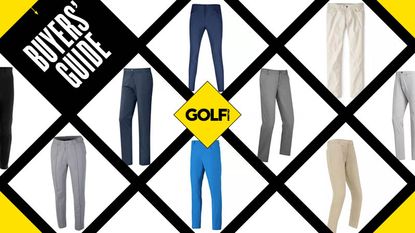 (Image credit: Golf Monthly)
Golf Monthly Newsletter
Golf tips and expert instruction, golf club reviews and the latest golf equipment.
Thank you for signing up to . You will receive a verification email shortly.
There was a problem. Please refresh the page and try again.
Best Golf Pants
Comfort is critical for peak performance on the course and finding the right golf pants is an integral part of that. More and more brands have recognized this over the years and the golf pant, and over that time, we have seen huge innovation take place in some of the designs and styles, features and technology on offer in some of the best golf trousers (opens in new tab). The quality and fit of the trouser has also changed to, to allow players to fluidly strike through the golf ball without fear of restricted movement or that their pants may start to slide down their waist. Nowadays, there is simply no excuse for wearing a pair of pants on the golf course that compromises your game.
Much like the best golf tops (opens in new tab), best golf polo shirts (opens in new tab), and every other piece of golf apparel you can think of, the golf pant has evolved into something much more in keeping with other areas of fashion, without compromising on functionality. Bearing that in mind, we've compiled a list of some of the best golf pants on the market, that will suit all types of golfers. Additionally, you should also take a look at our list on the best golf shorts (opens in new tab) too.
Best Golf Pants
Reasons to buy
+
Lightweight and comfortable
+
Water resistant
+
Wide choice of colors
Under Armour has become a go-to brand for golf trousers (opens in new tab) from Jordan Spieth down to amateur players. With models like the Drive, it is not hard to see why. Constructed from a high-performance fabric, they are light, durable and come with Storm technology to repel water away nicely. Finally, they come in six nice colors, and not only can you get them in the regular design above, but also Tapered Fit, and Five-Pocket designs as well.
Reasons to buy
+
Very comfortable
+
Lightweight and water resistant
Reasons to avoid
-
Tapered fit is slightly baggier than hoped
Adidas' Ultimate365 Tapered Trousers are a smart, comfortable option for golfers to wear out on the course. Flexibility comes from the stretchy fabric which also happens to be water-resistant. A staple pant out on Tour, these are designed with extra stretch in the waistband for full freedom of movement so you can truly unleash your mobility on the golf course. The moisture-absorbing fabric also helps keep you dry for the day's play too. Did we also mention that these trousers are made from 100 per cent sustainable materials? adidas are one of the best manufacturers when it comes to producing sustainable golf apparel and like some of the adidas tops featured on our best polo shirts guide (opens in new tab), these pants are a great option if you're wanting to do your bit for the planet.
Reasons to buy
+
Exceptionally comfortable
+
Great cut and styling
+
Keep shape really well
Reasons to avoid
-
Not everyone's tastes for off course wear
G/FORE products usually stand out from the crowd in outlandish ways, see our guide on the best G/FORE golf shoes (opens in new tab) for example, but the brand has kept things classically stylish here. These trousers are smart, casual, lightweight and extremely soft on the skin which makes them very easy to wear all day. They are made from a Japanese performance stretch twill fabric which is ideal for maximum mobility and comfort. When it comes to performance, you'll feel these trousers sit nicely on your waist, giving you a superb range of movement allowing you to fire away strong and high-quality golf shots.
Bonobos Performance Link Pants
Reasons to buy
+
Premium model that performed very well indeed
+
Colors offer something a little different
Reasons to avoid
-
Pockets could have been bigger
A brand you would've seen worn by Justin Rose (opens in new tab), Bonobos often makes shirts, in particular, that stand out from the crowd but this is not the case with the Performance Link Pants. Available in eight subtle colors, as well as a Cherry Malt Heather finish that will draw some looks, the pants are one of our favorites this year. Why?
Well, the fabric feels lovely on the skin, it is very soft and comfortable, but also enables you to move well throughout your golf swing. This fabric also provides UV resistance, making these a great trouser to wear if you're playing in hot conditions but also has moisture-wicking and quick drying properties if you do get caught in an unexpected shower. Bonobos has also got the little details right in this offering. From the logo slide snap closure to the silicone shirt gripper on the inside of the waistband, which will keep your shirt nicely tucked in when you're reaching high up in your follow-through, these trousers come with excellent functionality that encourages you to play good golf. Plus, the geo print pocket interior really adds a premium touch to this outstanding golf trouser (opens in new tab).
Puma Jackpot 5 Pocket Pants
Reasons to buy
+
Loads of colors to choose from
+
Well tapered around the leg
+
Stretchy material makes for comfortable movement
Reasons to avoid
-
Black color can fade after a few washes
Puma's Jackpot 5 Pocket pants have proved very popular for a while now and it is easy to see why thanks to the combination of style, comfort, and wearable sportswear technology. This new model has a lighter mesh stretch waistband along with a silicone Puma Golf logo gripper tape to keep things comfortable in the waist area. Puma's DryCELL technology, found in some of the Puma shorts featured on our best golf shots guide (opens in new tab), is also present which wicks moisture away well.
We tested them in black which we'd recommend if you're looking for a trouser that can match pretty much anything else in your wardrobe. They taper nicely around the leg which suits the current trend for golf trousers but the stretchy material means that you never feel like they're too tight. This stretch in the material is felt most significantly when you're bending down to mark your ball or tee it up and it's a welcome relief from some trousers that feel too tight. Our only qualm is that the black colorway went a bit dull after a few washes but there are plenty of other colors to choose from if black isn't your style.
Reasons to buy
+
Stretchy and extremely comfortable
+
Good color choice
Reasons to avoid
-
Premium price but you get what you pay for here
Peter Millar makes premium golf attire (opens in new tab) and these EB66 trousers are no exception. Available in a whopping nine different colorways and plenty of different sizes, they are lauded for the unique combination of technical features, like a two-way stretch, moisture management system or their weekend-ready five-pocket design. Whether you're playing 18 holes or headed to lunch in town, these trousers are also a versatile addition to any golfer's wardrobe. This really is a plus point and the little details that are dotted around these pants are a great touch too. These include the camo stitching dotted around the pants and the stretchy pockets.
Nike Flex Golf Pants
Reasons to buy
+
Used by the pros
+
Flex fabric offers really good performance
Reasons to avoid
-
Slightly tacky texture on inside could be more substantial
Transition from the course to the concrete seamlessly with these Nike Flex Player Pants. Featuring a timeless and classic look, they provide a good amount of stretch thanks to Nike's Flex fabric that is interwoven into these trousers and the tacky texture on the inner waistband that keeps the shirt tucked in nicely. Speaking of shirts, if you like Nike check out our guide on the best Nike golf shirts (opens in new tab) to complete the look.
TravisMathew Right On Time Pants
Reasons to buy
+
Versatile to be used in most situations
+
Stretchy comfort
Reasons to avoid
-
We would love more color choice
Part of TravisMathew's Performance Loungewear collection, these pants work perfectly in a variety of social situations whether it be on the course, in the clubhouse or out on the town. They feature a lightweight construction, a subtle texture and are made from a 4-way stretch material that will keep you comfortable all day on the course or even during a day out. For more TravisMathew apparel take a look at the best designer golf clothing (opens in new tab) guide we created.
J. Lindeberg Ellott Pants
Reasons to buy
+
Enjoyed performance of the DWR coating
+
Good all round performance
Reasons to avoid
-
J Lindeberg usually offer more colors
Recently updated, the Ellott pants from J. Lindeberg are one of the best models on the market right now (opens in new tab). From a functional standpoint, J. Lindeberg's new Micro Stretch fabrication gives the pants a high degree of stretch, breathability, comfort and a lightweight feel. The invisible DWR coating means that rain will bead off the fabric and dry quickly, making these a great pair of trousers for wet weather golf, while the different colors on these trousers provide an excellent selection of choice.
Reasons to buy
+
An excellent fit and lightweight feel
+
Cool and comfortable on the course
Reasons to avoid
-
Not overly suitable for wear away from the course
The Callaway Chev Tech II pants are made from nylon/spandex fabric with lightweight fabrication which gives comfort on and off the course. Add to that Opti-Dri technology to transport moisture away from the body, the spacious pockets and the breathable nature of these trousers and you have an excellent pair of golf pants. They also comes in four color options: asphalt, night sky, chinchilla and caviar, all of which are understated and give a classy look. Why not also take a look at some of the best golf belts (opens in new tab) because all good golf trousers need one!
Reasons to buy
+
These will suit any age
+
Any size and there are four colors
Reasons to avoid
-
You might not be used to spending this much on trousers
If you are a fan of Penguin golf gear, perhaps you have seen the No Laying Up guys wearing the apparel at some point, then these All Day Everyday Pants could be your perfect pair of pants this year. Penguin produces some of the best designer golf apparel (opens in new tab) on the market and these pants are no different. Made with stretchy and technologically advanced fabric, the comfort on offer here is exceptional. But it is the little details added to the trousers that we loved the most. Those included the elastic gripper waistband and Pete the Penguin logo on the back. Plus, the versatility on offer is also a huge plus point because, as the name would suggest, these can be worn all day and just about anywhere.
FootJoy Performance Tapered Fit Pants
Reasons to buy
+
Lightweight fabric is comfortable to wear
+
Modern fit, No ironing required
Reasons to avoid
-
Not as wearable off-course as a more traditional pair of chinos
FootJoy make some of the best golf shoes (opens in new tab) and golf glvoes (opens in new tab) in the game and these Performance Tapered Fit pants continue that trend. FootJoy has used a technical fabric that creates a smart, modern, specific look. The outcome is a fantastic-looking offering that comes in a variety of simple color options, that can be paired with a variety of t-shirts (opens in new tab) and mid-layers (opens in new tab).
These trousers are very lightweight which makes them ideal even if the temperature heats up. For us, the only downside was the technical fabric places you firmly on the golf course and as such, means these pants are less versatile than the more traditional chino that we'd wear away from the course. Overall, though, they allow for a comfortable fit whilst still providing excellent mobility and breathability because of the nylon fabric stitched into the trousers. The anti-microbial technology differentiates this pair further too.
adidas Go-To Five Pocket Pants
Reasons to buy
+
Sustainable construction
+
Freedom of movement
Reasons to avoid
-
Perhaps not the best for the colder months
A staple model out on Tour, and one that also featured in our best golf trousers (opens in new tab) guide, these adidas Go-To's are designed with extra stretch in the waistband for full freedom of movement. The moisture-absorbing fabric also helps keep you dry for the day's play too. The classic five-pocket design gives you plenty of room for tees, ball markers and a score card. We should also mention how adidas continues to develop its environmentally sustainable golf apparel and these trousers fit into that category as they are made with adidas' patented Primegreen technology, featured in some of the best adidas golf shirts and best adidas golf shoes (opens in new tab). This material is made from high-performance recycled materials and is an excellent fabric that is lightweight, breathable and can help you look and feel the part out on the golf course.
How we test golf apparel
When it comes to testing the best golf pants our comprehensive methodology (opens in new tab) revolves around, as you would expect, playing a lot of golf. We feel putting golf products to the test on the golf course, on the range and in practice is the best way to find out how usable and well-designed some trousers are.
On that note, we feel it is particularly important to use all golf trousers in different conditions, in the rain, in the snow and in the sunshine to ascertain how each performs. We also looked to use trousers off the course as well to see how versatile they were in social situations or when wearing them to work. Importantly, every member of the Golf Monthly team is a regular golfer so we put golf trousers to the test over a number of rounds. The final point we should mention is no manufacturer can buy a good review. This is because our testing team tells it how it is and we seek to be as insightful and honest as possible.
What to consider when buying the best golf pants
When it comes to buying golf pants, what are some of the key factors you need to consider? Let's take a look
Size - First things first you should know what size you are in terms of waist and leg. The best way of doing this is to go and try models on or find the best fitting pants you have and see what size they are.
Material - What kind of material do you want your golf pants to be made of and what kind of material do you like the most? Knowing this will narrow your search. Additionally be aware of which materials stretch more because us golfers have to get into different stances and positions on the golf course and a good pair of golf pants will stretch to help.
Color - Out on Tour you will undoubtedly have seen lots of players with different colored pants and more brands are offering us amateurs more pant colors too. Therefore it is just a case of finding the right one for you.
Budget - How much do you want to spend on a pair of golf pants? As you can see above there are models at different price points so have a clear idea of budget before starting your search.
FAQ's
What kind of pants are best for golf?
The best pants for golf are ones that offer good freedom of movement, are comfortable, look good, stretch nicely and don't break the bank. If you find a pair that delivers on all these things, then you are good to go.
If you enjoyed this guide on the best golf pants, then check out the buying advice section on the Golf Monthly website.