Best Nike Golf Shoes 2023
A guide to the best Nike golf shoes currently on the market, from classic looks to street styled footwear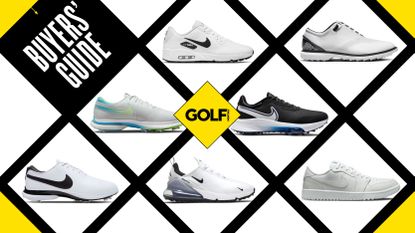 (Image credit: Golf Monthly)
Best Nike Golf Shoes: Quick Menu
Nike may not make any golf clubs, bags and balls anymore, but the brand, as you would expect, still continues to make some of the finest golf apparel. This undoubtedly includes a host of best golf shoes in the game and, in our opinion, Nike make some of the best casual golf shoes and best golf sneakers for those who prefer a more street-like style out on course.
Its apparel and footwear is seen on some of the world's best players including Rory McIlroy, Tiger Woods, Brooks Koepka, Jason Day and Tommy Fleetwood. The brand has plenty of styles including many inspired by its legendary street shoes including the Air Max. It has also shown a clear willingness to bring designs and technologies over from other aspects of the business, such as running shoes and basketball shoes. That way Nike continues to remain at the cutting-edge of golf shoe design not just in terms of looks, but in terms of performance. To help you choose which particular models are the right ones for you, here are the best Nike golf shoes on the market, ranging from spiked and spikeless shoes to more traditional and more street-styled silhouettes.
The Quick List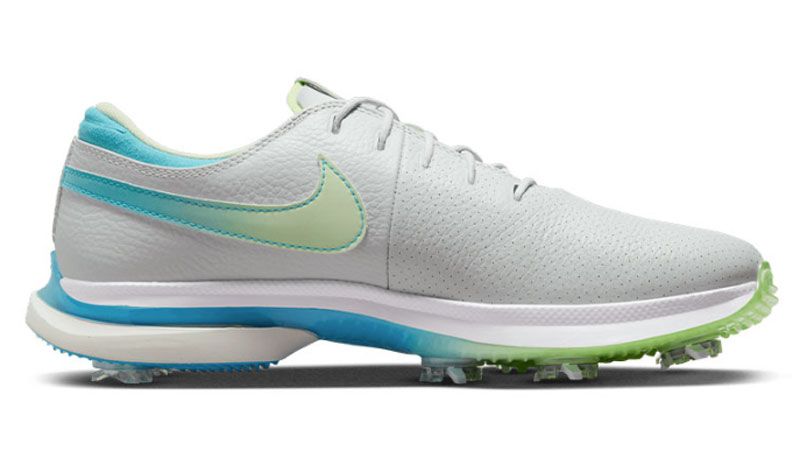 Nike Air Zoom Victory Tour 3 Golf Shoes
The 3 is one of the best golf shoes on the market. In every department the performance is excellent - comfort, grip, protection, looks and Rory uses them.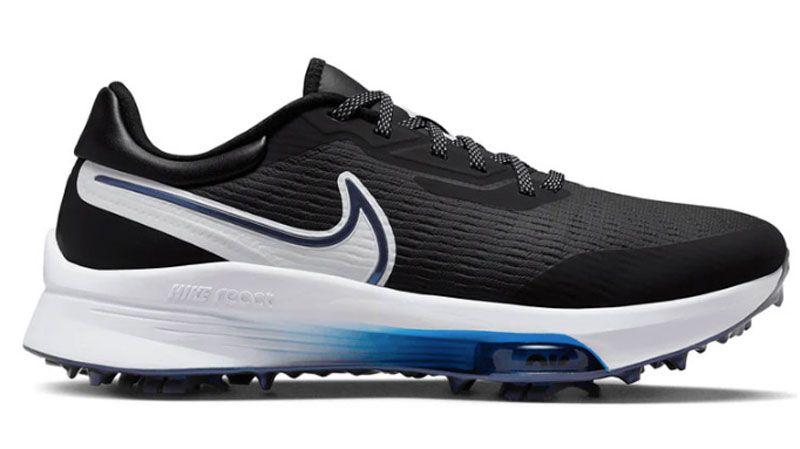 Nike Air Zoom Infinity Tour NEXT% Shoes
An outstanding shoe, the NEXT% from Nike looks great, felt very comfortable throughout testing, and they deliver in just about every way you would want.
Nike Air Zoom Victory Tour 2 Golf Shoes
Despite being replaced by the 3, the 2's are still an impressive spiked offering that give a modern look, and deliver superb traction and all round performance.
Nike Air Max 270 G Golf Shoe
An excellent sneaker-style golf shoe that offers the ample comfort and stability. The versatility of the Air Max 270 G golf shoe is hard to beat.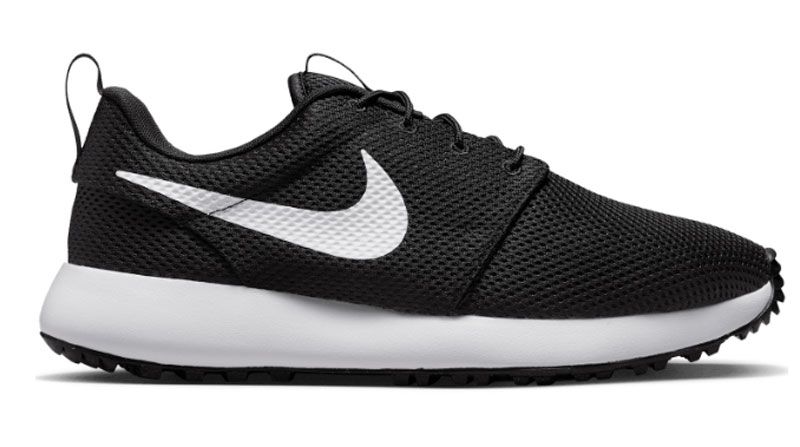 Nike Roshe G Next Nature Golf Shoe
A brilliant lightweight golf shoe to use during the summer months. The classic Nike design and range of colorways will suit a lot of golfers out there.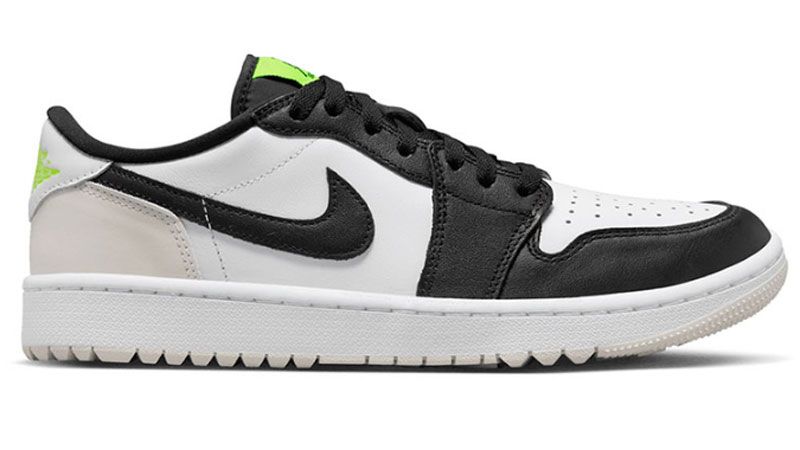 Nike Air Jordan Low 1 G Golf Shoe
A stand-out casual spikeless golf shoe that any sneaker fan should have in their locker. The grip and comfort surprised us out of the box.
Best Nike Golf Shoes
Why you can trust Golf Monthly Our expert reviewers spend hours testing and comparing products and services so you can choose the best for you. Find out more about how we test.
Spiked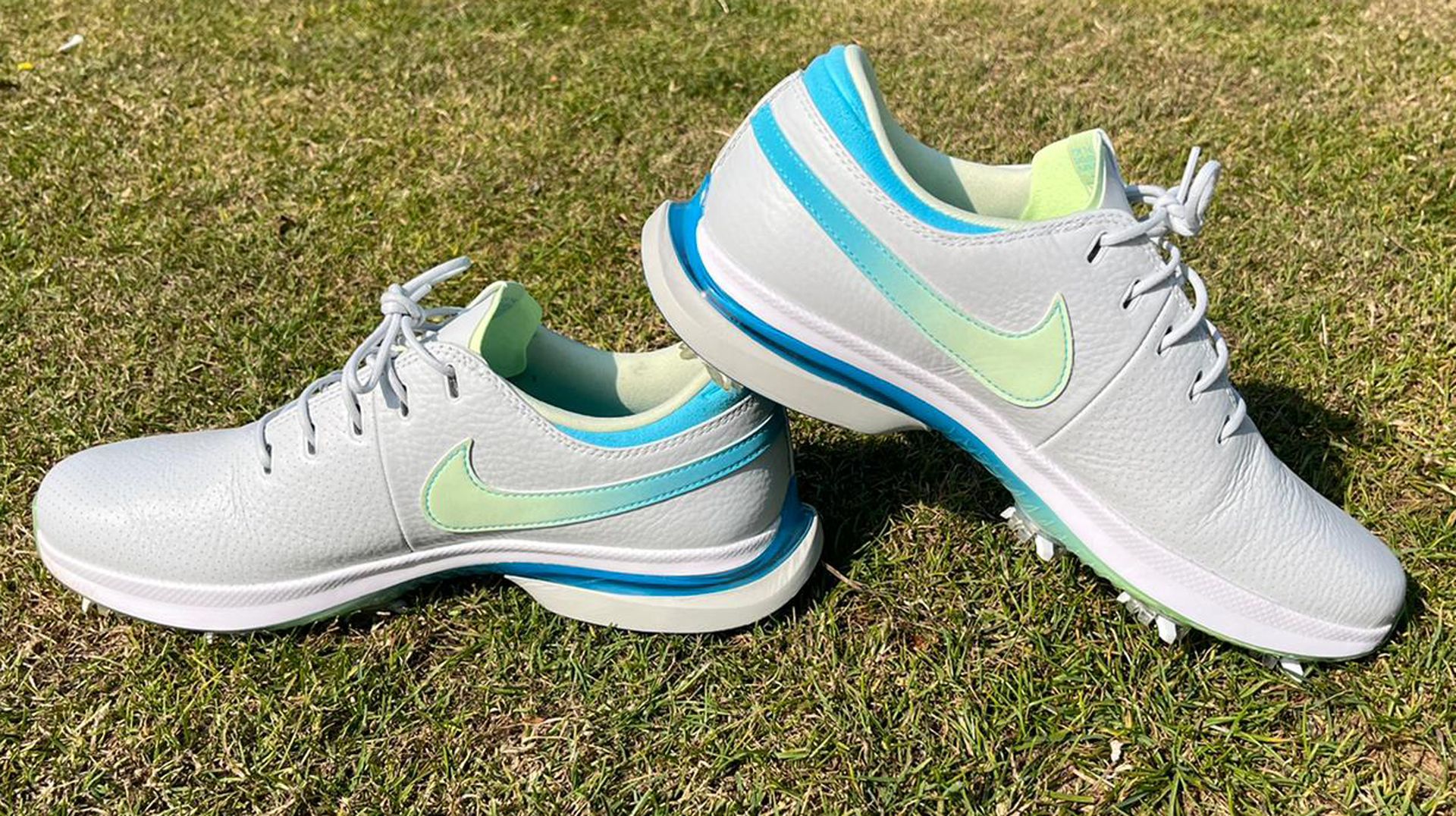 Rory's golf shoes are one of the best models in the game
Specifications
Size: 6-14
Colors: 4 (Black, Red, Blue, Photon Dust, plus several special editions)
Reasons to buy
+
Outstanding comfort and feel
+
Total performance
+
Look absolutely fantastic
Reasons to avoid
-
Laces feel a touch cheap
Replacing the Victory Tour 2 shoes below, (which I absolutely loved), the newer 3 model takes total performance even further, getting 5 stars in our review. Why? Well looks wise Nike improved the aesthetics in several subtle ways - the new Full-grain leather upper has a supple feel and sophisticated look. The swoosh and midsole sections look slightly different and better in my opinion, and overall I think the shoe looks more refined. I also absolutely loved the color I got sent and there are also several other colors to choose from, as well as special edition designs too for events like The Masters.
Comfort wise these are right up there with the best on the market thanks to the extra padding around the ankle, and the internal strap on the inside of the shoe which actually contours to your feet. Nike also stitched a Zoom Air unit directly to the upper which delivered exceptional feel, and the foam towards the heel felt very cushiony, almost bouncy when walking on the course.
Grip and stability was also good, and the shoes are 100% waterproof as well. In short, I love this shoe and it covers all the bases to a very high standard. It may come with a pretty punchy price tag, but I really do think it is worth it. (you can also find these shoes with money off sometimes as well so we do recommend keeping a look out for sales on them).
Nike Air Zoom Infinity Tour NEXT% Shoes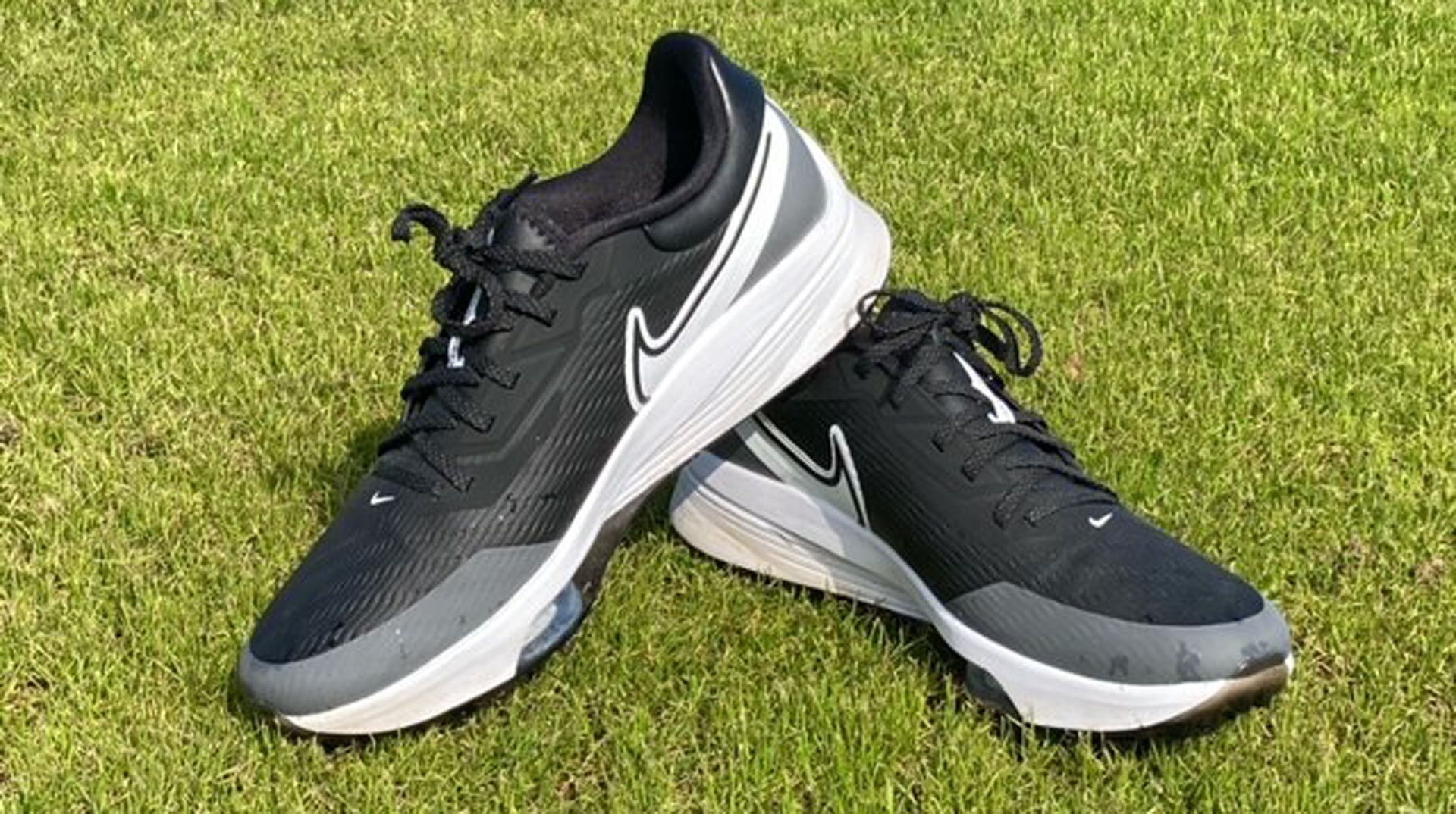 A model used by Brooks Koepka right now
Reasons to buy
+
Extremely comfortable
+
Sporty and modern look
+
Lots of sizes and colors
Reasons to avoid
-
A little tricky to clean
One of the most exciting shoes we've had the pleasure of testing recently, the Infinity Tour Next% is the choice of many golfers around the professional tours, including four-time major champion, Brooks Koepka. And if this year's Masters runner-up is wearing them, then that tellls you everything you need to know here. Having put these to the test on the golf course, we were impressed with how well these shoes fit and how comfortable they were. The design offers a sporty and modern aesthetic that has a profile that is akin to some of the best golf sneakers on the market. The black and white colorway maintains an understated and premium finish that makes it usable on most golf courses. But there are plenty of other options out there including the yellow pair Koepka was wearing at The Masters.
Taking them out on the course, the comfort was right up there with some of the most comfortable golf shoes on the market. The soft cushioning around the heel really felt nice and even when taking out of the box for the first time the comfort around the foot was excellent. They are very lightweight but this wasn't at the expense of stability because the two spikes on the forefoot and two on the heel deliver exceptional grip, especially when combined with the traction pattern on the outsole. The shoes are also waterproof and deliver excellent ventilation to your feet making them an excellent option to wear on the course in both summer and winter conditions.
Nike Air Zoom Victory Tour 2 Golf Shoes
Rory's old shoe is still a high-quality model
Specifications
Size: 3.5-14
Colors: 6 (Black; White; Blue/White; Turqoise; Grey; Masters Edition)
Reasons to buy
+
Incredible comfort from the box
+
Classy and sporty look
+
Grip and stability is solid
+
Waterproof
Reasons to avoid
-
Spikes can take a little getting used too
There's a reason why Rory McIlroy wore these shoes for so long, as they are a fantastic spiked offering from Nike that strikes an excellent balance between being a classy and sporty golf shoe. They were designed with McIlroy's swing in mind, taking data from the three-time FedEx Cup champion's swing and implementing that into designing this pair of high-performance shoes. They offer brilliant traction on the turf, helping golfers power through their shots from all kinds of lies and are 100 per cent waterproof, meaning they can be worn all year round.
The best part of these shoes, though, is the comfort they offer. Thanks to the Air Zoom insert on their sole, they combine well with a React foam heel to give you a stable and comfortable ride on the course. We were really grateful for this when walking on uneven surfaces during our testing rounds. The shoe also has additional ankle support around the top line, which again proved vital when we lost our ball in the long rough. Overall, these are a very stylish, performance-enhancing golf shoe that offers excellent comfort and stability on the golf course.
Spikeless
Ideal for those seeking a versatile pair of golf shoes
Specifications
Sizes: 4-9.5
Colors: 3 (White; White/Blue; White/Grey)
Reasons to buy
+
Extreme comfort and stability
+
Sneaker-style aesthetics offer versatility
+
Easy to clean synthetic uppers
Reasons to avoid
-
Snug fit, ordering a half-size up is recommended
Perhaps one of the best golf sneakers in the game, the Air Max 270 G shoe is a sporty and stylish option that can be worn both on and off the course. It comes in three different colorways with each delivering a clean and crisp aesthetic, that looks great paired up with some of the best golf trousers.
The shoe certainly appeals to a younger audience, but there is no mistaking that it is great for those looking for more comfort too. it does fit fairly snug so you may want to order a size up if you want a non-restrictive fit. It is extremely breathable and offers up plenty of ventilation thanks to the mesh covering around the upper, which is water-resistant and easy to clean.
Akin to many of the best spikeless golf shoes out there, the Air Max 270 delivers plenty of traction on the turf thanks to the rubber ridges and bumps on the sole of the shoe. We felt pretty stable in damp conditions and that also adds to the versatility of the shoe, which we felt could be worn in almost any situation, from the course to the shops.
Nike Roshe G Next Nature Golf Shoe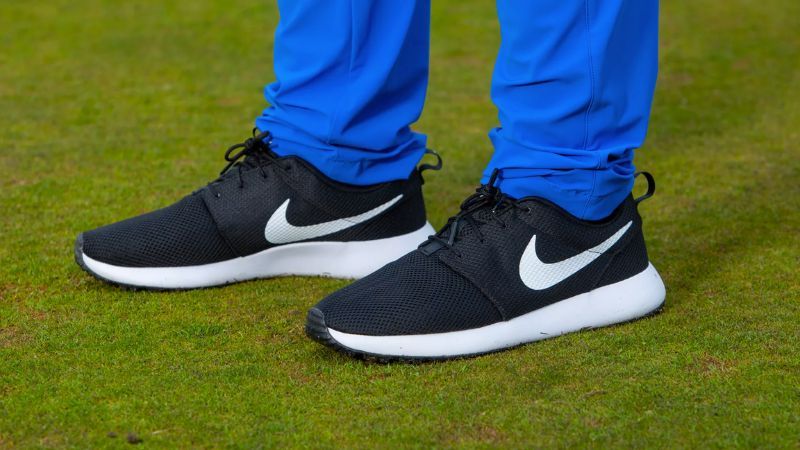 A lightweight summer golf shoe
Specifications
Sizes: 3-15
Colors: 5 (Black; Pink; Grey; Grey/Pink; Grey/Blue)
Reasons to buy
+
Classic Nike design
+
Sustainable materials
+
Brilliant grip for a spikeless shoe, even when damp underfoot
Reasons to avoid
-
What is the opposite of waterproof?
-
The sneaker look will not be to everyone's taste
An excellent golf shoe for summer golf, the Nike Roshe G Next Nature could help you nip around the golf course in record time. Styled on the classic Roshe shoes, these are some of the most lightweight sneakers we've ever tested and offer, being made of a mesh upper and spongey mid layer. We loved the cool, understated design on these shoes that epitomise Nike's styling as a brand. They are up there with some of the best spikeless golf shoes around thanks to their versatility, as the Roshe's can be worn both on and off the course on harder surfaces too.
The product also has some impressive green credentials, for those who like their golf gear to be sustainable. Nike claims that the shoe is crafted with at least 8% "Nike Grind" material, which are scraps from the footwear manufacturing process. Much like many of the other shoes on this list, it's good to see this model has a reduced carbon footprint in the production process. They deliver bags of comfort too and while the sole doesn't appear super grippy, we didn't slip once when wearing them which was really impressive. It must be noted that these are not waterproof at all, but they are not designed to cope for wet weather. They are focused on summer golf and are one of the best lightweight summer shoes you can buy!
Nike Golf Air Jordan 1 Low G Golf Shoes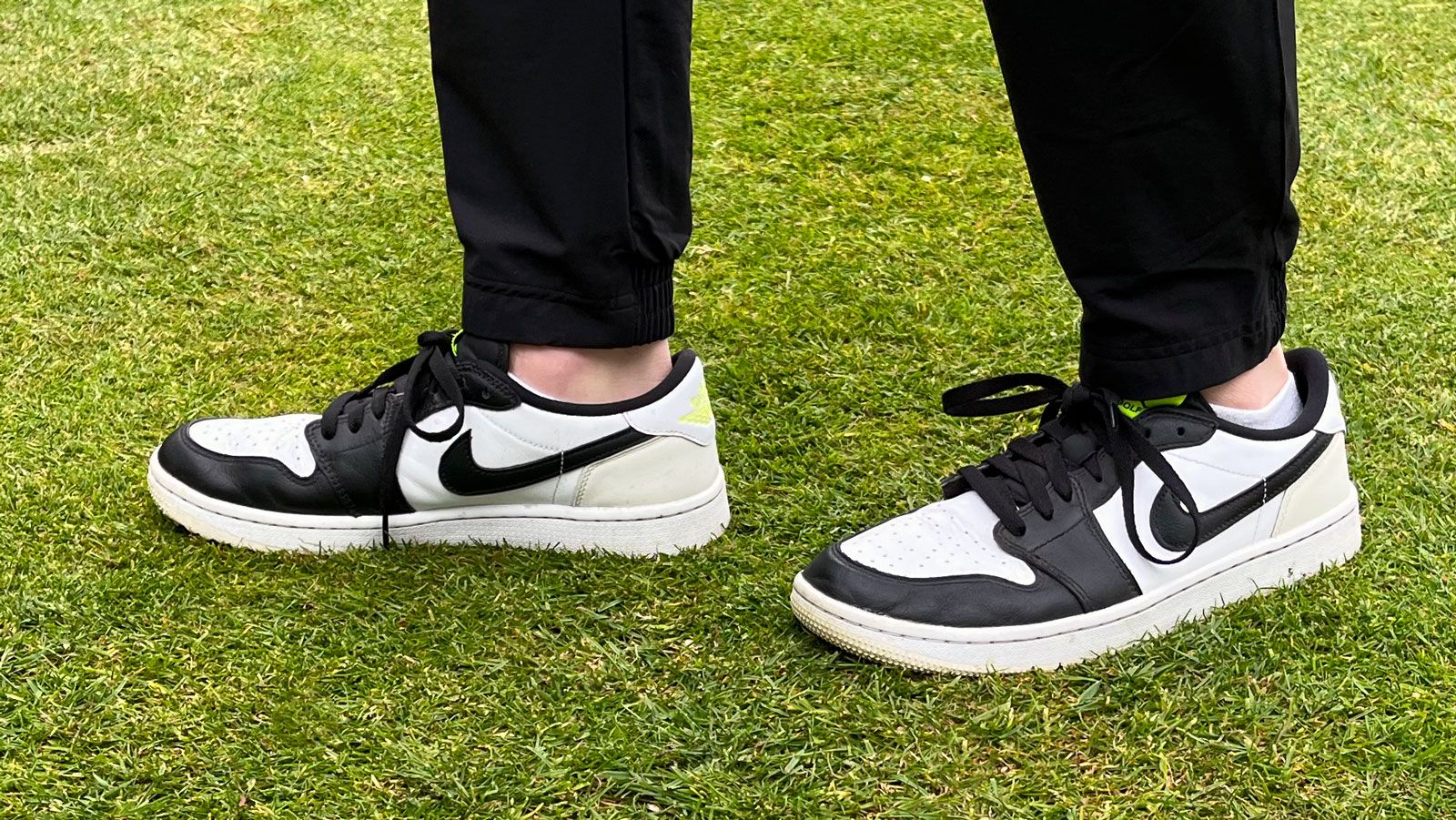 Stand out on the golf course in these low shoes
Reasons to buy
+
High quality construction and stitching
+
Comfortable leather is easy to walk in
+
Easy to clean
Reasons to avoid
-
May not deliver the same grip as other shoes on this list
A high-quality and stylish pair of golf shoes, the Air Jordan Low G Golf Shoes are built from genuine leather to deliver extreme comfort on the course. Their classic look pays tribute to the original Air Jordans, first released in the early 80s. But these have been re-designed for golf and feature encapsulated air in the heel cushions that make every step a joy.
While these shoes are designed for use in warmer conditions, they do also come with a 1 year waterproof warranty, which is a great addition as you can never predict when the heavens will open on the course.
Loads of unique colors to choose from plus special editions
Specifications
Sizes: 3.5-15
Colors: 7 (plus special edition versions)