Best Winter Golf Shoes 2023
If you want to play golf in the winter then you need to get the best footwear designed for the job. Here are our top picks.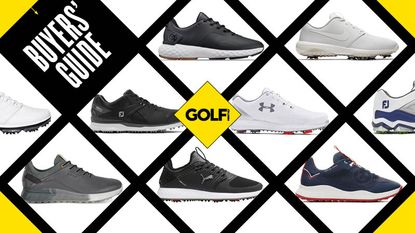 (Image credit: Golf Monthly)
Best Winter Golf Shoes
Golf is a game that can be played all year round so it makes sense to have clubs, apparel and golf shoes that can deal with winter conditions which usually means rain, wind and the cold. Most of the best golf shoes (opens in new tab) can do exactly that, but there are some that excel when the conditions get wetter, more slippery and just generally more miserable. In this guide, we will be walking you through some of our favorite golf shoes that get better in the winter months.
So, what factors are important to think about when picking a pair of winter golf shoes? Firstly, the shoes must have excellent waterproofing to keep any standing water or rain out. The wetter winter weather means that stability and grip are important too because the ground can be very soft and slippery. This guide lists both spiked and spikeless golf shoes and while spikes will ultimately provide better overall grip than spikeless, you'd be surprised with how well the modern spikeless shoe can handle wet ground. As we all know, lack of grip and stability means a lack in confidence during the swing, so the best winter golf shoe should give you plenty of confidence to swing hard during winter. We'd also suggest that the best black golf shoes (opens in new tab) are great for winter too, keeping those muddy stains at bay.
Acknowledging all of this, we have compiled a list of the best golf shoes to deal with winter conditions below. Also some other golf guides we recommend checking out are, the best waterproof golf shoes (opens in new tab), best spikeless golf shoes (opens in new tab) or the most comfortable golf shoes (opens in new tab).
Best Winter Golf Shoes
Spiked Winter Shoes
Under Armour's latest flagship model comes in the shape of the HOVR Tour SL, a shoe with a full-knit upper and the backing of bio-mechanist Jean-Jaques Rivet. It's a bold golf shoe with even bolder claims.
The highlight of this shoe is the spikeless outsole. By using a mixture of TPU on the centre of the outsole and rubber nubs on the toe and heel, Under Armour has built a shoe on one of the best spikeless outsoles currently on the market. We had to regularly remind myself I wasn't wearing spikes, such is the grip on offer from this outsole and I truly think this has all year round wearability.
the HOVR Tour SL uses Under Armour's proprietary Intelliknit technology that claims to overcome the performance shortfalls of a knit upper. Using 'stretch' yarns and 'lockdown' yarns combined, the shoe gives you support in the parts of the foot where you need it most, and flexibility elsewhere. There is a tendency in golf to forget that all of our golf swings - no matter where you are on the handicap spectrum - are highly athletic movements, and we need golf shoes to support those movements. This was certainly Under Armour's philosophy when crafting the HOVR Tour SL and it feels like it's been achieved
Two years in the making and designed to provide golfers with a high-performance shoe that is extremely lightweight and comfortable, the ZG21 from adidas is straight onto our list as it is comfortably one of the best golf shoes of recent times. It weighs just 13 ounces, making it 20 per cent lighter than adidas' Tour360 XT shoe and lighter than many of its competitor's models.
As well as the renowned Boost technology, the new Lightstrike cushioning, which has been used in other sports, provides comfort and stability throughout the swing. The four-layer upper is waterproof, while the ultra-thin TPU outsole features strategically placed cleats to optimize traction. adidas used heat-map studies to target the specific areas where stability is needed most, and whilst we're not experts on where spikes should go, we can attest to the excellent levels of grip and support this shoe offers. Check out our best spiked golf shoes guide (opens in new tab) for more golf shoes that offer excellent grip.
If you're looking for comfort and stability in your golf shoes, then you should definitely consider trying out the FootJoy Tour Alpha Shoe. This shoe is packed to the brim with golfing technology and while it may look slightly big, they are surprisingly light. The padding around the ankle and underfoot is excellent, while the fit aids to help you feel fully locked into the shoe, which feels almost like an extension of your foot, giving you greater control with your golf swing.
This shoe stands out as one of our best golf shoes in 2022 (opens in new tab) because it is a strong, grippy trainer that gives your more confidence, control and greater power in your golf shots. A lot of that is driven through the nine cleats that are spread out on the bottom of the shoe. That enhanced grip helps you to form a great connection between your feet and the ground, providing greater control over your golf shots even on wetter or muddier terrain.
In our opinion one of the best spiked shoes to be released in 2022, the adidas Tour360 22 golf shoes immediately impressed us when we tried them out on course. The upper features a premium rich leather which is 100 percent waterproof and you also get a one-year waterproof warranty as well which gives good peace of mind. adidas has also incorporated recycled materials into the design to continue the brand's goal of ending plastic waste.
The shoe mimics the natural shape of the foot and accommodates the movement of the foot in all directions, even throughout the golf swing. The Tour360 22 also has cleats directly injected into the base of the shoe which provide excellent grip with a low profile look. It also means you won't ever have to worry about losing spikes ever again.
If you want a spiked waterproof leather upper shoe then the Go Golf Torque Pro brings this to the course with the usual Skechers comfort. Full grain leather is combined with the synthetic upper and Skechers Waterproof Membrane Protection to make this one of the best waterproof golf shoes on the market (opens in new tab).
The flexible traction sole features a 'Dynamic Diamond' design with 7 replaceable Softspikes to ensure that you have as much grip as possible. The comfort comes from the Ultra Go midsole and GOGA Max insole combining to provide cushioning. An excellent all round shoe with some flashes of color from the sole brightening up the understated styling.
Ecco has put together one of the best winter golf shoes for in the form of the Biom G3 which is arguably the best spiked model (opens in new tab) the brand makes.
The Gore-Tex protection ensures your feet will stay dry and won't get sweaty thanks to the excellent breathability whilst we should also mention the underfoot stability too. It feels low to the ground and stable thanks to the eight Zarma-Tour spikes which work together with hybrid cleats on the toe and rotation line to offer optimal grip and a more stable footing.
Next up from FootJoy is the exceptional Packard model which is available in all black, or all white, the shoe is inspired by Frederick Packard, FootJoy's founder and a shoe pioneer who drove the adoption of many modern manufacturing and design innovations that are still used today. For more excellent offerings from the brand, check out our best FootJoy golf shoes guide (opens in new tab).
But let's talk about the Packard which is another simply stunning shoe from FootJoy and features premium detailing like the pebble grain leather as well as the calfskin croc print in the saddle area. The natural leather and contrast stitching further elevates the design of this shoe to be one of the best-looking winter golf shoes on this list. Additionally, FootJoy has combined the VersaTrax+ outsole with Pulsar Low Profile Cleats to give outstanding grip and traction when needed.
Stuburt's PCT II golf shoes feature microfibre uppers and are fitted with a lightweight midsole for long-lasting cushioning. They're certainly light, something you'll notice straight away, and they felt extremely comfortable straight out of the box. Of course, it's not an absolute given that they'll be that way for you, as much will depend on the shape of your foot, but there's plenty of cushioning where you need it, so that box gets a good tick. They also feature the brand's DRI-back technology for full waterproofing, and the shoes come with a one-year waterproof warranty.
The Gel-Ace Pro M Standard is the golf shoe that Hideki Matsuyama wears on the PGA Tour, and it's an impressive new spiked option from Asics and Srixon. In our testing, the Pro M Standard offered incredible comfort right out of the box and it also proved to be supportive and stable on the course, both while swinging and walking between shots. It also offers the classic, traditional aesthetics that will appeal to purists.
Also of note, the Gel-Ace Pro M Standard is fully waterproof and we found that the shoe provided excellent breathability even on extremely hot days. It also cleaned up well after use. If there's one downside to the Pro M Standard it's that there are only two color options available but otherwise it's a great shoe, one of the most comfortable on the market and one of the best options in the spiked category.
The headline with these spiked shoes is all about stability through the golf swing. The shoe has a super supportive insole and we could feel how still and stable our feet and ankles were throughout the golf swing. This technology in the insole means these shoes are incredibly comfortable out of the box and took us very little time to break in. The full-grain leather upper is soft and breathable too meaning this shoe will be as comfortable during the height of summer as they will be in the depths of winter.
Spikeless Winter Shoes
FJ has incorporated the Stratofoam that first appeared in the FJ Stratos shoe in the midsole of the new Pro SL Carbon. This provides a hint of softness underfoot but crucially, a subtle spring in your step as you walk. This isn't going to be the most comfortable golf shoe among FJ's expansive range. With the carbon fibre inlay that runs the length of the shoe, the overall feel remains firm to help with stability but the padded ankle collar really helps cushion every stride.
You're easily able to forge a strong connection with the ground in these shoes, which allows you to really go after every shot with full commitment. At no point did these shoes slip or slide - if you hit a bad shot, you've only got yourself to blame, not the shoes. The look is near faultless, too. The front half of the shoe is clean so when you're addressing the ball there are no distractions but then moving backwards, there are some design features that provide a modern, sleek look.
Again, don't be worried about the spikeless design here because the S-Three will deal with those tough winter months no problem. When we got sent a pair, the leather's thickness was immediately apparent and yet it was soft too which gave a really snug feel when we tried them on.
We also felt it molded to the shape of our feet too. The most notable innovation here is the Zonal Fluidform Technology with three distinct zones of softness to ensure the right balance of cushioning and stability exactly where you need it. We felt traction and grip were also good and the waterproofing was an added bonus. As far as looks go, we also think it is one of the best-looking shoes on this list.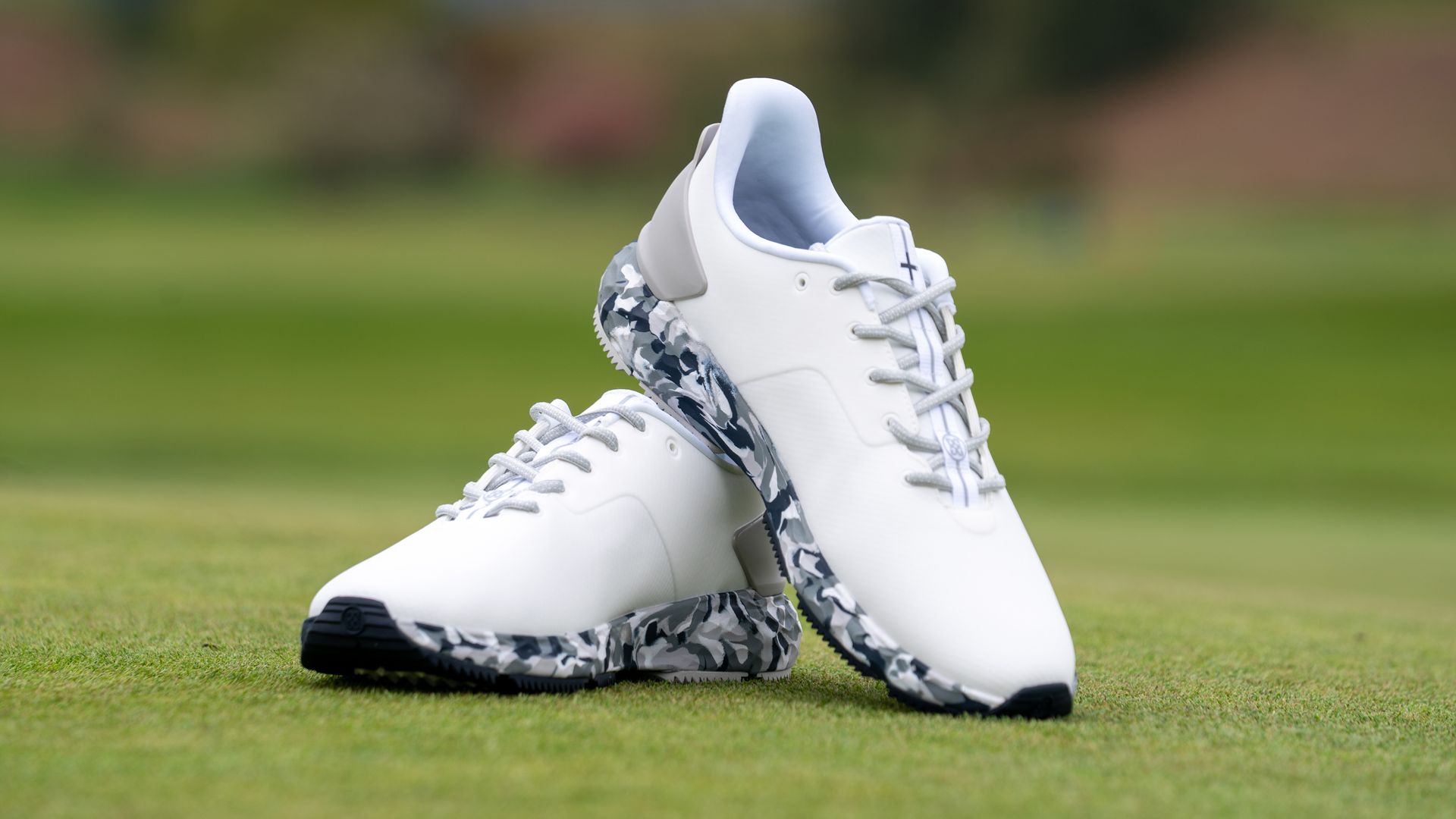 Lightweight and completely waterproof, this shoe does not compromise in terms of comfort thanks to ForeFoam cushioning and a triple density footbed which is, per G/FORE, "the ultimate massage for your soles." After playing 36 holes over consecutive days, we can safely say this was one of the most comfortable golf shoes (opens in new tab) on this list. There was no uncomfortable rubbing on our feet, and no blisters either despite taking them out of the box in the morning.
A common thing with spikeless shoes can be less stability and grip than spiked models but there was never a situation in which this came to fruition in these shoes. This is thanks to the non-slip outsole and the stability comes from the heel cup at the back of the shoe that really locks the foot in place without sacrificing any comfort.
Inesis is becoming a brand synonymous with outstanding value on golf products and it seems these shoes fit into that bracket too. It is not often you can get a pair of light, supportive, waterproof and super grippy shoes for less than £100 (opens in new tab) but that is exactly the case here. These are an excellent pair of golf shoes for anyone from beginner golfers to more experienced players, looking for a supportive and comfortable shoe that will help you hit the ball further. If you're looking to snag some top-quality golf gear on a budget, definitely take a look at this excellent option from Inesis.
This sporty new golf shoe is a stylish yet functional offering from the Japanese golf giant Mizuno. While Mizuno aren't best known for producing golf shoes this is a fantastic product that has a classy leather finish which makes it great for any player looking for comfort and style. It also comes in a BOA option, for those players looking for a little more comfort on the front of their shoes but both come in the style of a running shoe and offers great grip on the course. Comfort-wise, this shoe offers great support to your ankles and we really enjoyed the fit when we tested it out on the course.
Women's Winter Golf Shoes
This traditionally styled shoe by FootJoy boasts a super-cushioned foam under foot which is extremely light and gives great bounce as you walk. This we'd expect from a more sporty design but it's good to see it in these. Available in four color choices. All Black, all white, white/blue and the rather snazzy white/tartan. The tartan option are a grey tartan so would be a subtle vintage hint in an outfit but the all black stands out as the choice not just for winter but to match with any black themed outfit all year round. All in all, a really smart, versatile pair with great performance.
Puma says that this shoe is for women who take their golf seriously. But we think it's wrong to exclude a host of players who would also enjoy the performance of the Ignite Blaze Pro shoe. For example, in testing we found them to be up there with the most comfortable models we've ever worn.
They are also waterproof so will provide full protection should the heavens open and are very grippy thanks to six well-placed spikes on the outsole. One thing we would say is that it isn't as stable as some of the other models on the list, but if you want comfort, grip and breathability in abundance, this is a great option.
As worn by World No. 7 Brooke Henderson, this spiked model in the women's Go Golf range is not to be overlooked. In a classic style with side stitching and a perforation detail trim, the Pro 2 boasts a low-profile outsole with replaceable softspikes for unparalleled traction in all conditions. The brand's lightweight Ultra Go and Goga Max cushioning guarantees the renowned comfort we've come to expect from Skechers and the synthetic leather upper is waterproof so kept our feet completely dry.
How we test
Our golf shoe testing methodology (opens in new tab) revolves around putting models to the test over a number of rounds and in different conditions. This is so we can gain a better idea of overall performance in terms of factors like grip comfort, grip, stability, waterproofing and how they actually look on the golf course. Each of the shoes listed above has been personally used by a member of the Golf Monthly team while our writer Dan Parker (opens in new tab) heads up all shoe reviews.
This is the best way of testing a golf shoe as using it in the real world over a number of weeks allows us to see how they perform when variables change like weather, ground conditions, different stances and lies, and so on.
We think this also gives us information on the little details as well like which brands come up small or large, which models start to rub a bit too much after 36 holes, which designs can be used off the golf course and for the drive home? We are very comprehensive in our tests to the point where we will regularly attend product launches and meet with the manufacturer's R&D experts to understand the new technology. That isn't to say manufacturers can buy a good review though, as all our reviews are made by golfers, for golfers.
What to consider when buying winter golf shoes
Golf shoes come in many different shapes and have a ton of different features. From waterproofing outer shells to different grip styles, there is a lot to consider when purchasing your next pair of golf shoes. For that reason, we've put together a list of handy tips that you need to consider when purchasing your next pair of golf shoes. Check them out below!
Spiked or spikeless?
The best golf shoes above are split into spiked (or cleated) and spikeless designs and there are pros and cons of each. Spiked golf shoes offer better grip and stability but don't sit as low to the ground as spikeless models.
Spikeless golf shoes offer off-course versatility. They are perfect for driving in the car to the golf course, playing a round, and then driving home again because they are usually light and comfortable, but most won't offer as much traction as a spiked shoe.
Waterproofing
If you live somewhere that gets a lot of rain then a waterproof shoe is a must. The best designs will keep your feet bone dry however if you play golf in glorious sunshine most of the time, then you may view other factors as more significant.
Many players choose to have one pair for winter and another, lighter pair for summer to keep them fresh and suit different requirements.
Getting the right fit
When picking out golf shoes getting the right fit is important because otherwise, blisters can build up. Or your feet may slide around inside, which limits your stability.
When trying a pair on for the first time, listen for the 'whoosh' sound when you slide your feet in - that's the sound of all the air leaving the shoe to confirm it is the correct size, but do a walking test to be sure. They shouldn't pinch anywhere, nor should your feet be moving around inside.
When it comes to the right fit it is also worth considering different laces. Normal laces are good for most but for some golfers, BOA laced shoes provide more convenient fastening and shouldn't loosen during the course of a round, but are usually a tad more expensive.
Comfort and support
Similar to getting the right fit, you need to get a shoe that is going to give you ample comfort and support during your round. As you'll be walking a long way in these shoes, it is vital that you get a pair that will give your ankles, feet and knees the best level of support possible. Look for shoes that have padded outsoles and are cushioned on the inside, to give your feet a spongey ride.
Styling
Thankfully modern golf shoe design has seen many brands not just create traditional, classic-looking shoes, but also modern styles that can be used off the golf course too. Therefore it is important to think about what your shoes look like and what style suits you. Whatever you like or dislike, there is something for everyone these days.
If you're planning on playing golf through the winter months, why not also take a look at our guides on the best spiked golf shoes (opens in new tab), best waterproof golf shoes (opens in new tab) and our most comfortable golf shoes guide (opens in new tab).
FAQs
Are spineless golf shoes okay for winter?
Yes, but make sure you purchase a pair that are both waterproof and give you ample grip on the ground. Spiked golf shoes are much more preferable for winter golf conditions because their spikes provide golfers with more traction to the softer, wetter ground. But spineless golf shoes are equally as good, so long as they give you enough grip.
Can golf shoes be worn as everyday shoes?
Yes, they can. Spiked golf shoes are less preferable to be worn as everyday shoes as their spikes can be hard to walk in and can scratch delicate floor surfaces. But spineless golf shoes can be worn as casual shoes, so long as they are stylish and comfortable to walk in.
How can I make my winter golf shoes last?
Regular cleaning can ensure that your golf shoes will last longer. Particularly if the shoes are made from leather, you'll want to ensure you look after them properly to prevent the leather from going hard or creasing on you. While you may not have time to wipe them down after every round, you should certainly brush the mud off your spikes and let them dry properly if playing in wet weather.
Dan is a Staff Writer and has been with the Golf Monthly team since 2021. Dan graduated with a Masters in International Journalism from the University of Sussex and primarily looks after equipment reviews and buyer's guides, specializing in golf shoe and golf cart reviews. Dan has now tested and reviewed over 30 pairs of golf shoes for the website and magazine with his current favorite pair being the Ecco Biom C4. A left-handed golfer, his handicap index is currently 8.5 and he plays at Fulford Heath Golf Club in the West Midlands. His best day in golf so far was shooting 76 at Essendon Golf Club on his first-ever round with his Golf Monthly colleagues. Dan also runs his own cricket podcast and website in his spare time.
Dan is currently playing:
Driver: Ping G425 Max
Fairway: Ping G425 Max
Hybrid: Ping G425
Irons: Ping i59 (4-PW)
Wedges: Ping Glide Forged Pro
Putter: Wilson Staff Infinite Buckingham
Ball: TaylorMade TP5 Pix