True Linkswear Lux Hybrid Golf Shoe Review
A shoe balanced to perform as well on the course as it does off it, is the True Linkswear Lux Hybrid the perfect hybrid golf shoe?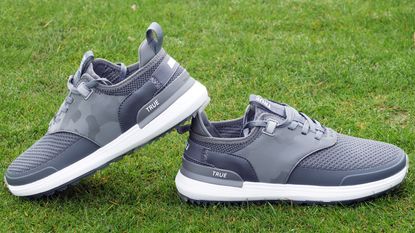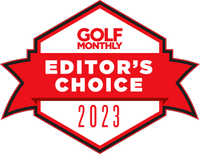 (Image credit: Future)
One of the best examples of a hybrid golf shoe currently on the market, the True Linkswear Lux Hybrid straddles the line of on/off course wearability. While it probably leans more toward the off-course wearability, during the summer months
Reasons to buy
+

Superb low-profile outsole

+

Sleek looks

+

Breathable

+

Lightweight
Reasons to avoid
-

Not as much support around the heel

-

Below par in muddy conditions
True Linkswear Lux Hybrid Golf Shoe Review
Those like myself who like to keep a keen eye on fashion trends in golf shoes will have noticed a move toward the 'hybrid' golf shoe over recent years - that is, a shoe that can be worn comfortably on and off the golf course. As golf fashion has started leaning more into the casual- think golf hoodies and golf joggers - so have the best golf shoes. True Linkswear - a relatively fresh brand out of the Pacific Northwest - has truly leaned into this part of the market with its commitment to casual golf shoes that can offer comfort, performance and that all-important wearability off the golf course. The Lux Hybrid is one of the brand's flagship models, promising a lightweight and fully waterproof knit golf shoe for all year round. Is it possible to create the perfect blend of performance on the course and comfort off it?
VIDEO: Watch the True Linkswear Lux Hybrid golf shoe in action on the course
From a looks perspective, I think we can all agree this shoe would comfortably blend in pretty much any environment. From the moment you step out of your front door to play golf, you can wear these shoes all day long and with pretty much any outfit thanks to the selection of neutral colors and smart-casual silhouette. More than just the looks, it's as comfortable as any standard sneaker is day-to-day too. The Wanderlux midsole is right up there with the midsole technology on some of the best spikeless golf shoes of the year. It's soft to the touch but still firm enough underfoot to offer a decent amount of support during the golf swing.
Weighing just 11.2oz, it's also one of the lightest spikeless golf shoes I have tested. There's no better feeling than slipping into a genuinely lightweight pair of golf shoes and during the 10,000 or so steps you'll take on average over 18 holes, a lightweight shoe really does reduce overall fatigue in your legs. The lightweight, low-profile nature of this golf shoe does mean it lacks a little support around on the sides of the feet than some of its competitors, however. Shoes like the Cole Haan ZeroGrand Overtake or Under Armour Charged Phantom SL have a little more support around the foot when you're swinging, so bare this in mind if you prefer a more 'locked-in' feeling from a spikeless golf shoe.
The rubber spikeless outsole on the Lux Hyrbid is useful in that it's incredibly low-profile and you can barely feel the nubs when walking on firmer surfaces off the course. As for grip on the course, it was great in dry conditions and surprisingly grippy in wet conditions. There's no doubt the outsole on shoes like the FootJoy Pro SL, Under Armour HOVR Tour, and Payntr X-003 F is much more comprehensive than that on the Lux Hybrid, but none of these examples are designed to also be worn comfortably off course.
I've tested the Lux Hybrid on golf courses here in the UK in pretty wet conditions this March, and the fully waterproof knit material on the upper is a huge positive. It looks like a material that is bound to get soggy quickly, but it actually wicks off any water and stays bone dry. That being said, I wouldn't actually wear these shoes in properly wet or muddy conditions as the overall grip simply isn't there and I can imagine the fabric getting ruined quickly in the mud. These are certainly a shoe for the summertime, but there is at least some real confidence that if you get caught in a rain shower or if there is some morning dew on the ground, your feet will stay bone dry. The performance of this shoe alongside it's versatility are what has earned it a place on our 2023 Editor's Choice.
A hybrid golf shoe has to get a lot right to warrant a place in a golfer's wardrobe. It has to give you grip, comfort, and support on the golf course while aesthetically blending in off it. The Lux Hybrid is one of the best examples of a hybrid golf shoe I have tested, straddling the line between comfort and performance impressively while offering a style that will suit a lot of golfers on and off-course fashion. Available in six stylish colors and coming in a very useful shoe bag instead of a cardboard box, the Lux Hybrid can tick a lot of boxes as your next golf shoe and next casual shoe purchase.
Does the True Linkswear Lux Hybrid fit true to size?
The Lux Hybrid comes up a touch small, so I would recommend going up half a size.