Best Golf Shoes For Seniors 2023
We take a look at the best golf shoes that are designed for seniors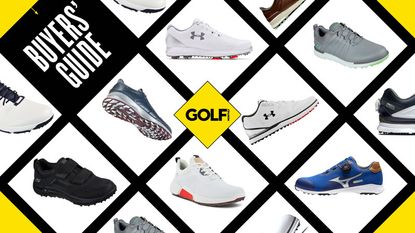 Best Golf Shoes For Seniors
When considering what to add in this guide, we did wonder if older golfers wanted anything different from their golf shoes than younger golfers. Obviously they would still want value for money, performance and comfort, but after some further investigation it turns out there are a few key areas.
Firstly, having been walking for 50 years or more, senior feet may not be as supple as in their youth so comfort, fit and the ability to incorporate orthotics with removable insoles have a higher priority. For some, a roomier fit also helps, but for if you are looking for some fairway slippers then soft uppers and responsive soles are the order of the day.
Performance will of course matter, but maybe not as much as before, as golf becomes more social. What's more, you are going to want a golf shoes that offers value for money, especially as some models can be upwards of $200.
Bright shoe styles, like white belts, are harder to carry of, so conservative styling and lacing convenience also feature high on our list below. Also, if you're a senior golfer looking to upgrade your kit in other areas, be sure to check out our guides on the best golf drivers for seniors, best golf irons for seniors and best golf balls for seniors.
Best Golf Shoes For Seniors
Why you can trust Golf Monthly Our expert reviewers spend hours testing and comparing products and services so you can choose the best for you. Find out more about how we test.
Best lightweight shoe
Specifications
Sizes: 6.5-12.5
Waterproof: 100%
BOA Option: Yes (also ZG21 Motion model)
Colors: 5 (Black, Grey, White/Silver, White/Green)
Reasons to buy
+
Extremely lightweight
+
Lots of performance on offer for the price
Two years in the making and designed to provide golfers with a high-performance shoe that is extremely lightweight and comfortable, the ZG21 from adidas is comfortably one of the best golf shoes of recent times.
To being with, it weighs just 13 ounces, making it 20 per cent lighter than adidas' Tour360 XT shoe and lighter than many of its competitor's models. As well as the renowned Boost technology, the new Lightstrike cushioning, which has been used in other sports, provides comfort and stability throughout the swing.
What's more, the four-layer upper is waterproof, while the ultra-thin TPU outsole features strategically placed cleats to optimise traction. adidas used heat-map studies to target the specific areas where stability is needed most and, whilst we're not experts on where spikes should go, we can attest to the excellent levels of grip and support this shoe offers.
Technical design that performs out on the golf course
Specifications
Sizes: 7-12
Waterproof: 100%
BOA Options: No
Colors: 2 (Grey, White)
Reasons to buy
+
Excellent traction in all conditions
+
Creates a 'locked in' and supportive feeling
+
One of the better looking spiked models in 2022
Reasons to avoid
-
Slightly firm out of the box
The new Hovr Drive 2 addresses the specific needs of golfers, supporting your feet during the very specific movement of the golf swing. As much as we may not think it, the golf swing is a highly athletic movement and we all need the right equipment and grip on our feet to aid those movements.
As such, the Hovr Drive 2 has applied the science of biomechanics in the design on its outsole to develop rotational, horizontal, vertical and internal traction. The most convincing of this traction comes from the new 3D moulded heel cup construction, which effectively creates a vacuum around the heel, locking it in for incredible levels of stability.
Alongside working on the four dimensional traction in the Hovr Drive 2, Under Armour has introduced a new upper silhouette which is much sleeker than previous models. The upper has been brought closer to the foot to help increase the locked-in feeling created by the heel cup and outsole while making for a more dynamic looking silhouette.
An understated, elegant look for the sophisticated senior seeking comfort
Specifications
Sizes: 6-12
Waterproof: 100%
BOA Option: No
Colors: 4 Men's (Cognac, White, Navy, Grey) 4 Women's (White, Blue, Silver, Red)
Reasons to buy
+
Soft and comfortable
+
Versatile off the course
Definitely one of the most versatile shoes on the list, the FootJoy Stratos offers no shortage of comfort. Featuring a StatoFoam midsole, it enhances the comfort provided by the PU FitBed that sits above to deliver an extremely soft feel underfoot that rebounds with each step.
There's also plenty of grip available thanks to an outsole that is packed with multi-directional nubs, while the soft leather upper rounds out the shoe in style. Importantly, there are also four color choices for both men and women which is good thinking from FootJoy.
Premium spikeless shoe with contoured insole
Specifications
Sizes: 6.5-12
Waterproof: 100%
BOA Option: Yes
Colors: Four (Men's)
Reasons to buy
+
Contoured Biom footbed
+
Waterproof and spikeless
Reasons to avoid
-
Not as soft as others underfoot
The Ecco Biom H4 shoe may be at the top end of the market in terms of price, but you get what you pay for. Renowned for some of the best spikeless golf shoes, Ecco has created the Biom H4 with a fairly neutral and classy style with a couple of color highlights.
The Biom contoured footbed is based on the movement of your foot and provides lots of support where you need it. The forefoot of the shoe is also roomy and the high quality leather upper is soft and breaks in easily for all day comfort.
A unique shoe that provides comfort straight of the box
Specifications
Sizes: 7-15
Waterproof: No
BOA Option: No
Colors: 8
Reasons to buy
+
Comfortable right out of the box
+
Lightweight but stable and supportive
+
Stylish looks
+
Exceptional breathability
Reasons to avoid
-
Not waterproof
-
Zero drop heel/feel might not appeal to all
True Linkswear may not be a household name, but it was in fact founded by five-time PGA Tour winner Ryan Moore and his brother, with the goal being to provide golfers with more comfortable, more stylish shoes that were intended primarily for walking.
To begin with the OG Feel shoes didn't come in a box but rather a reusable shoe bag, which was an unexpected but classy feature. Visually, the shoes are extremely sharp and, thanks to eight color options to choose from, there should be plenty of options for golfers to choose from.
Along with the looks, the main stand out is how lightweight the shoes are. They weigh less than nine ounces, with it feeling like you are connected to the ground and almost playing barefoot. Do not, however, misconstrue that description to equate to a lack of comfort or support. The shoes are incredibly comfortable right out of the box and the support they offered was highly impressive given their lightweight design.
For the young at heart senior golfer
Specifications
Sizes: 7-15
Waterproof: 100%
BOA Option: Yes
Colors: 4 Men's (White, Blue, Grey, Black)
Reasons to buy
+
Stylish and very comfortable
+
Excellent grip from a variety of lies
Reasons to avoid
-
Dirt can get underneath caged section
One of the best spiked golf shoes out right now, the Puma Ignite Pwradapt Caged Crafted footwear is said to deliver the optimum blend of comfort, style, and locked-in stability no matter how hard a golfer swings.
Comfort comes from the full-length Ignite foam cushioning that makes the underfoot experience very enjoyable. It definitely offers a more roomy fit in the forefoot area yet the design of the caged area ensures your feet are secure when you pull the laces tight, presuming you have the correct size of course.
Ideal for golfers that want a spikeless shoe with a little more room
Specifications
Sizes: 6.5-12
Waterproof: 100%
BOA Option: No
Colors: 3 Men's (Black, Grey & White)
Reasons to buy
+
Roomy fit, ideal for wider feet
+
Comfortable with good grip
Reasons to avoid
-
Could be more breathable
The Skechers Go Golf Elite Tour SL golf shoe features a premium full grain leather upper that combines with a H2GO Shield waterproof membrane to keep the water out and your feet dry.
Skechers say that this upper is also breathable, which it is, but our review felt it could be a little better compared to others in the premium end of the market. What's more, the TPU outsole in some bright colours provides excellent levels of grip with a wide range of traction points that should hold you secure in all types of conditions.
Known for producing some of the best budget golf shoes, the Goga Max's cushioned insole is based on the GOwalk Max design and aims to rebound your foot as you walk, which means these are very comfortable shoes to use. Combine that with some classy and understated designs and you have a premium shoe that ticks a lot of boxes for comfort and performance.
An Updated Classic
Specifications
Sizes: 6-12
Waterproof: 100%
BOA Option: Yes
Colors: 4 (White/Grey, White/Navy/Red, Grey/Charcoal & Black/Charcoal)
Reasons to buy
+
Excellent stability for a spikeless shoe
+
Clean, smart aesthetic adds versatility
+
Comfortable straight out of the box
Reasons to avoid
-
Minimal improvements over the previous generation
-
Upper could have more cushioning for added comfort
The newest iteration of the iconic Pro SL features the brand's Hyperflex design, which has also been added to the midsole of the new 2022 Pro SL. As a result, it provides comfort whilst also returning energy to your feet as you step.
In addition, the upper of the new version has been cleaned up and, as you can see from the pictures of the sample we tested, the colours have been simplified. So, how does it perform out on the course? Well, it certainly delivers as, out the box, the comfort is superb and the sole design is among the best spikeless golf shoes we have worn on the course. It provides all the traction you need, even in wet, wintery conditions.
A shoe that will give you confidence in any conditions
Specifications
Sizes: 7-12
Waterproof: Yes
BOA Options: No
Colors: 3 (Black, Grey and White)
Reasons to buy
+
Soft and comfortable
+
Offers excellent grip and stability on different lies
+
Modern, sporty styling looks the part
Reasons to avoid
-
Sizing comes up small
-
Could be more breathable
Although the looks may be slightly sporty, the Payntr X 001 F is a new brand name entering the golf market with a golf shoe that will certainly catch the eye. We specifically liked the lacing system and the various details and color blocks across the midsole, with it being neutral enough to match different outfits for versatility.
It's also extremely comfortable, with it being soft underfoot and around the ankle. Certainly you would have no issues walking for five hours on a hilly course or even carrying a heavy bag.
What's more, it is a spikeless shoe, but it does provide a cleated-level traction due to the configuration of the outsole. The size, shape, and configuration of the knubs varies across the length of the shoe to not only create a stable footing, but also prevent unwanted lateral movement.
A simple, modern style shoe for the senior that wants a sporty look
Specifications
Sizes: 7-12
Waterproof: 100%
BOA Option: No
Colors: 2 Men's (White, Black)
Reasons to buy
+
Excellent grip and stability
+
Lightweight and comfortable
Reasons to avoid
-
Laces can come undone easily
While packed with performance perks, the new HOVR Drive shoe from Under Armour also delivers when it comes to comfort. Specifically, the upper is both breathable and lightweight, ensuring external water can't get in while allowing internal moisture created to escape.
Additionally, UA's HOVR technology supports the natural movement of the foot during the golf swing and provides excellent underfoot cushioning. This is only enhanced by the compression mesh energy web that moulds foam to the wearer's foot shape to eliminate the impact felt step after step, with the HOVR Drive one of the best Under Armour golf shoes out there right now.
A classic look that provides excellent traction and versatility
Specifications
Sizes: 6.5-12
Waterproof: 100%
BOA Option: Yes
Colors: 2 (White & Black)
Reasons to buy
+
Very lightweight shoe
+
BOA laceless system
Reasons to avoid
-
Arguably looks more like a running shoe
Most people will not associate Mizuno with golf shoes, but they have a long history in running shoes and that technology is now on the fairways. Available in a BOA version also, the design of this shoe is very similar to that of a trainer or running shoe, albeit a particularly smart and upmarket one.
Although there are just two colours available, black and white, this is a very good performing shoe that brings comfort, versatility and excellent grip both during the swing and while walking - on and off the course. In fact, it can certainly be worn very happily away from golf, and it also comes with a 1-year waterproof warranty.
Value for money with a premium performance
Specifications
Sizes: 7-12
Waterproof: Not fully
BOA Options: No
Colors: 3 (Light Grey, Black, Navy)
The Urban 2.0 is a spikeless golf shoe with a mixed mesh and synthetic leather upper. It's a very casually styled shoe that we think lends it perfectly to being a more summer golf shoe.
While the styling isn't going to set the world alight, it's neutral and casual silhouette lends it to being worn on and off the course. The neutral look will also allow the Urban 2.0 to match most of the outfits you've already got in your wardrobe. This should hopefully mean you only need to invest in one pair of golf shoes, again cutting costs.
From a comfort perspective, the Urban 2.0 again puts up a solid performance versus similar shoes in the market. More premium models fair better, but the insole of the Urban 2.0 offers a decent amount of cushioning and doesn't leave your feet aching at the end of a round. It's also true to size and the width will suit a lot of different shapes and widths of feet.
How We Test Golf Shoes
Our golf shoe testing methodology revolves around putting models to the test over a number of rounds and in different conditions. This is so we can gain a better idea of overall performance in terms of factors like grip comfort, grip, stability, waterproofing and how they actually look on the golf course. Each of the shoes listed above has been personally used by a member of the Golf Monthly team.
This is the best way of testing a golf shoe as using it in the real world over a number of weeks allows us to see how they perform when variables change like weather, ground conditions, different stances and lies, and so on.
We think this also gives us information on the little details as well like which brands come up small or large, which models start to rub a bit too much after 36 holes, which designs can be used off the golf course and for the drive home? We are very comprehensive in our tests to the point where we will regularly attend product launches and meet with the manufacturer's R&D experts to understand the new technology. That isn't to say manufacturers can buy a good review though, as all our reviews are made by golfers, for golfers.
How To Choose The Right Golf Shoes
There are a number of factors to consider when picking out your next pair of golf shoes so to help you narrow down your search and inform your buying decision, below we have put together some key points.
Spiked or spikeless?
The best golf shoes above are split into spiked (or cleated) and spikeless designs and there are pros and cons of each. Spiked golf shoes offer better grip and stability but don't sit as low to the ground as spikeless models.
Spikeless golf shoes offer off-course versatility. They are perfect for driving in the car to the golf course, playing a round, and then driving home again because they are usually light and comfortable, but most won't offer as much traction as a spiked shoe.
Waterproofing
If you live somewhere that gets a lot of rain then a waterproof shoe is a must. The best designs will keep your feet bone dry however if you play golf in glorious sunshine most of the time, then you may view other factors as more significant.
Many players choose to have one pair for winter and another, lighter pair for summer to keep them fresh and suit different requirements.
Getting the right fit
When picking out golf shoes getting the right fit is important because otherwise blisters can build up. Or your feet may slide around inside, which limits your stability.
When trying a pair on for the first time, listen for the 'whoosh' sound when you slide your feet in - that's the sound of all the air leaving the shoe to confirm it is the correct size, but do a walking test to be sure. They shouldn't pinch anywhere, nor should your feet be moving around inside.
When it comes to the right fit it is also worth considering different laces. Normal laces are good for most but for some golfers, BOA laced shoes provide more convenient fastening and shouldn't loosen during the course of a round, but are usually a tad more expensive.
Styling
Thankfully modern golf shoe design has seen many brands not just create traditional, classic-looking shoes, but also modern styles that can be used off the golf course too. Therefore it is important to think about what your shoes look like and what style suits you. Whatever you like or dislike, there is something for everyone these days.
FAQs
What is the difference between spiked and spikeless golf shoes?
When it comes to the two, spiked golf shoes will provide you with more grip and are better suited for wet, winter conditions, whilst spikeless golf shoes tend to be lighter and ideal for summer conditions.
What makes a good golf shoe?
Firstly, they must be comfortable and the correct size for your feet. You don't want to be playing a round and, six holes in, find that you have blisters forming, as well as pains developing on your feet. What's more, it must be waterproof and, ideally, lightweight, as you will be wearing them for four hours in conditions that can change.