Best Budget Golf Shoes 2023
We take a look at some of the best budget golf shoes on the market - you might be surprised by some of the brands on here...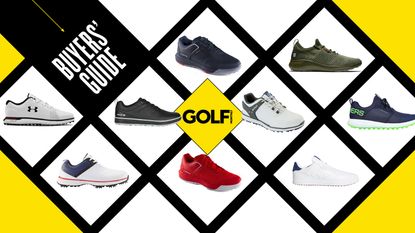 (Image credit: Future)
Best Budget Golf Shoes
Golf can be an expensive game and finding the best 'budget' item in each category is a tough take. Golf shoes is one area where you can save a good amount of money and still get plenty of performance, so we're going to look at a collection of the best budget golf shoes currently on the market.
Video: Best Golf Shoes 2022
Why you can trust Golf Monthly Our expert reviewers spend hours testing and comparing products and services so you can choose the best for you. Find out more about how we test.
We've defined budget as anything under $100 and although this is still a decent amount of money to be investing in golf shoes, these are considerably lower than some of the best golf shoes (opens in new tab) out there. There's also some great options for less than $50 in this list, so look out for those too.
Don't think that just because we're talking budget shoes here you won't be able to buy from some of the best golf brands. Some of the best FootJoy golf shoes (opens in new tab), best adidas golf shoes (opens in new tab) and best Skechers golf shoes (opens in new tab) appear in this list and offer the perfect mixture of performance and value for money. Other brands you may be unfamiliar with, like Inesis or Rife, are fantastic options when it comes to saving money on golf shoes. We've also been sure to find a mixture of spiked and spikeless shoes in this list as well as shoes that offer plenty of sizes and colour options too. Without further ado, check out our list of the best budget golf shoes currently on the market...
Best Budget Golf Shoes
Best Looking Budget Shoe
Specifications
Sizes: 7-12
Colours: 3 (Black, White/Blue, White/Yellow)
Reasons to buy
+
Extremely comfortable
+
Versatile on or off course
Reasons to avoid
-
Doesn't offer the best grip in winter
The adidas Adicross Retro shoe is just what it says on the tin, a retro take on a modern day golf shoe that many will think looks fantastic. We are certainly in that camp, with the shoe looking like a timeless classic that performs as a golf shoe as well as a street trainer too - that's why we included it in our 2021 Editor's Choice list. It's a leather shoe with water-repellent qualities, meaning it should keep your feet dry in most conditions and is easy to clean after your rounds. The spikeless outsole features the brand's Traxion outsole tread, which offered us absolutely fine grip on dry days.
Best Budget Spikeless Shoe
Specifications
Sizes: 7-12
Colours: 3 (Black, Grey, White)
Reasons to buy
+
Full grain leather upper
+
Three smart colour options
Stuburt is the brand well-known for making golf equipment and apparel that is excellent value for money and the Evolve 3.0 shoes are no different. Amazingly at this price, you get a full grain leather upper which provides excellent comfort and 100% waterproof protection - almost unheard of at this price. They're comfy with a cushioned midsole and rubber outsole and the insole is particularly protected and there's no chance of any unwanted rubbing. They're a smart looking shoe too and the three colourways and understated and classy.
Specifications
Sizes : 5.5-12
Colors: 2 (White; Black)
Reasons to buy
+
Provides off-course versatility
+
Good grip from the outsole
+
Water resistant
+
Impressive stability
Reasons to avoid
-
Style may split opinion among golfers
The Puma Golf RS-G sneaker has been one of the most talked-about golf shoes since it was launched in 2020. That's mostly due to its unique style, which Puma describes as a 'revolution', providing a bold alternative to many more traditional golf shoes on the market. depending on your taste you may find them a very trendy pair of golf sneakers that can help you perform better on the golf course. While they are a purpose-built golf pair of golf shoes, it must be said that their distinctive and contemporary style may not sit too well with more traditional golf clubs, and for that reason, they might be more suitable for use on social rounds compared to formal competitions.
After testing the shoe over several rounds, we found the RS-G's material is really soft and provides excellent comfort and stability as you walk down the fairway. As you might expect from looking at the thick sole on the sneaker, the RS-G offers good cushioning underfoot. The grip on the sneaker was sufficient and thanks mostly to its waterproof microfibre leather upper, the RS-G kept our feet dry during an unexpected rain shower. Although, in much wetter and muddier conditions, we feel this shoe may struggle to provide you with good traction compared to the best spikeless golf shoes on the market.
Specifications
Sizes: 7-15 (wide fit available)
Waterproof : Water Resistant
BOA Option?: No
Colors: 3 (Black, Grey and White)
Reasons to buy
+
Excellent value for money
+
Low profile outsole is comfortable and efficient on all ground types
+
Super lightweight
Reasons to avoid
-
Simple looks
-
Synthetic upper not as breathable as some
The Tech Response 2.0 has an intriguing mixture of materials used on the upper that allow the shoe to remain comfortable and very lightweight. There is some textile mesh on the direct upper of the shoe mixed with synthetic leather that then makes up the bulk of the shoe. Being so lightweight means there is little foot fatigue to be had at the end of walking 18 holes and the Cloudfoam sockliner and midsole provide plenty of medial support and cushioning underfoot. The impressive outsole uses a mixture of standard soft spikes and some additional plastic lugs for extra grip.
Looks-wise, the Tech Response 2.0 strikes a fairly standard silhouette that is a bit boxy and clumpy for my liking. It's only available in three colors too (black, white or grey) and we would've liked to see a few more funky color options available.
FootJoy Flex XP Golf Shoes
Premium Brand, Great Price
Specifications
Sizes: 6-14
Colours: 5 (Green, Blue, Black, Grey, Camo Grey)
Reasons to buy
+
Lightweight
+
Premium looking and feeling
+
Waterpoof mesh upper
Reasons to avoid
-
Limited grip in wet conditions
Who said the best budget shoes had to be from smaller golf brands? This excellent, lightweight, summer shoe from FootJoy is often on sale well below it's £109.99 asking price, putting it firmly in the category of a budget option.
We love how casual these look on and off the course and the five different colours should mean there's a style to suit everyone. The outsole provides ample grip in the dry and even damp conditions, it's just really wet condition where these will fall flat on the grip front.
Specifications
Sizes: 7-12
Colors : 3 (Black/White; Grey/White; White)
Reasons to buy
+
Extremely comfortable from the start, with excellent cushioning around the heel
+
Good waterproof properties and very good grip in the wet for a spikeless golf shoe
Reasons to avoid
-
Styling perhaps errs a little on the safe rather than eye-catching side
Combining a relaxed design with Skechers patented Arch Fit technology the Skechers Men's Go Golf Drive 5 Golf Shoe is a comfortable spikeless golf shoe that offers great performance on the course. Firstly there is ample cushioning on offer here, and these shoes almost felt like slippers the moment we put them on. Walking and playing in, these shoes were very nice and didn't rub on our heels.
They were also totally waterproof and kept our feet dry during a rather wet round. on the course. That also gave us a great opportunity to test the shoe's grip and again, the shoe proved it could withstand the elements, providing us with excellent traction off the turf with no sliding issues. The lack of spikes on the shoe and its cool style mean it is a very versatile on-course/off-course shoe that can also help improve your playing performance. For that reason, the Skechers Men's Go Golf Drive 5 Golf Shoe is one of the best men's spikeless golf shoes (opens in new tab) on the market.
Specifications
Sizes: 6-12
Colors: 4 (Black, White, Grey & Navy)
Reasons to buy
+
Lightweight
+
Good value for money
+
Fully waterproof
Reasons to avoid
-
Not as supportive as some shoes
-
Materials feel on the flimsy side
The first thing we noticed during testing is how lightweight the XT1 is. Having a golf shoe this lightweight is excellent if you're looking to avoid foot fatigue over 18 holes and the lightness of the shoe was accompanied nicely by the EVA cushioned midsole and arch supporting insole that offered a very comfortable walk during testing.
The grip is very impressive and the mixture of soft spikes and plastic nubs create a solid feeling under foot in all conditions. The shoe literally has waterproof in the name, so you'll be glad to know it is very much fully waterproof. We tested the XT1 during an almighty downpour and found it no signs of leaking while my feet stayed bone dry. Not even the fabric material around the top of the shoe stayed wet during the downpour, so the XT1 very much does what it says on the tin when it comes to waterproofness.
New Balance Fresh Foam Contend
For golfers looking for a comfortable fit, athletic look
Specifications
Sizes: 7-16
Widths: D, 2E, 4E
Reasons to buy
+
One of New Balance's most comfortable shoes
+
Comes in several great color combinations
Reasons to avoid
-
Outsole not suitable for all conditions
Another athletic-looking shoe from New Balance, the Fresh Foam Contend is a great walking shoe. Like the other Fresh Foam models, it features a proprietary midsole that's supposed to provide an "ultra-cush, cloud-like feel." The Fresh Foam Contend also comes with some nifty color combinations, including Grey/Charcoal, White, Black/Grey, Navy/Blue and a White/Green that really stands out in the crowd.
Coupled with a waterproof microfiber leather and performance mesh upper and "smart rubber" spikeless outsole, these shoes are good to go right out of the box. Since they're spikeless, however, they probably aren't the best performers in wet conditions, but they do come with a two-year waterproof warranty.
Reasons to buy
+
Comfortable
+
Superb grip
+
Excellent value for money
Reasons to avoid
-
Limited visual appeal
-
Not easy to keep clean
The spiked outsole provided excellent grip and traction that combatted wetter, muddier climates and conditions with ease. The cushioned insole and technical microfibre comfort upper did mean superb comfort throughout all 18 holes, with no rubbing or discomfort through the multiple rounds we tested these shoes for. The outside also performed well, with the cushioned midsole and rubber outsole not showing any signs of wearing. Another positive sign was the fact that the white trim along the bottom hadn't faded or marked an awful lot. There were slight grass stains, but the white finish was still very clear.
Overall, the XP IIs are good performers especially in winter conditions. The looks won't turn heads but, if that's not a problem there aren't many better spiked shoes out there in terms of value for money.
Best Spiked Budget Shoe
Specifications
Sizes: 7-12
Colours: 3 (White/Navy, Grey/Blue, Black)
Reasons to buy
+
Out-of-the-box comfort
+
Lightweight feel
Reasons to avoid
-
Waxy finishes takes away from premium look
Stuburt's PCT II golf shoes feature microfibre uppers and are fitted with a lightweight midsole for long-lasting cushioning. They're certainly light, something you'll notice straight away, and they felt extremely comfortable straight out of the box.
Of course, it's not an absolute given that they'll be that way for you, as much will depend on the shape of your foot, but there's plenty of cushioning where you need it, so that box gets a good tick. They also feature the brand's DRI-back technology for full waterproofing, and the shoes come with a one-year waterproof warranty.
Specifications
Sizes: 7-11
Colours: 2 (Black or White)
Reasons to buy
+
Solid grip and support
+
Neutral styling will appeal to most
Reasons to avoid
-
Lacks underfoot cushioninh
This is a modern, versatile spikeless offering with its neutral design able to match multiple outfits. It only comes in two block colours of black or white and in sizes 7-11, so options are fairly limited, but overall it's a good-looking shoe visually.
The grip from the clever and plentiful traction angles on the Ultra Track outsole was surprisingly good. It combatted the morning dew very well and on sloping lies, the tacky rubber ensured we didn't lose our footing during the swing. Great value for money, but a shoes we'd recommend for summer use only.
How We Test Golf Shoes
Our golf shoe testing methodology revolves around putting models to the test over a number of rounds and in different conditions. This is so we can gain a better idea of overall performance in terms of factors like grip comfort, grip, stability, waterproofing and how they actually look on the golf course. Each of the shoes listed above has been personally used by a member of the Golf Monthly team.
This is the best way of testing a golf shoe as using it in the real world over a number of weeks allows us to see how they perform when variables change like weather, ground conditions, different stances and lies, and so on.
We think this also gives us information on the little details as well like which brands come up small or large, which models start to rub a bit too much after 36 holes, which designs can be used off the golf course and for the drive home? We are very comprehensive in our tests to the point where we will regularly attend product launches and meet with the manufacturer's R&D experts to understand the new technology. That isn't to say manufacturers can buy a good review though, as all our reviews are made by golfers, for golfers.
What To Look For When Choosing A Budget Golf Shoe
There are a number of factors to consider when picking out your next pair of golf shoes so to help you narrow down your search and inform your buying decision, below we have put together some key points.
1. Spiked or spikeless?
The models above are split into spiked (or cleated) and spikeless designs and there are pros and cons of each. Spiked golf shoes offer better grip and stability but don't sit as low to the ground as spikeless models.
Spikeless golf shoes offer off-course versatility. They are perfect for driving in the car to the golf course, playing a round, and then driving home again because they are usually light and comfortable, but most won't offer as much traction as a spiked shoe.
2. Waterproofing
If you live somewhere that gets a lot of rain then a waterproof shoe is a must. The best designs will keep your feet bone dry however if you play golf in glorious sunshine most of the time, then you may view other factors as more significant.
Many players choose to have one pair for winter and another, lighter pair for summer to keep them fresh and suit different requirements.
3. Getting the right fit
When picking out golf shoes getting the right fit is important because otherwise blisters can build up. Or your feet may slide around inside, which limits your stability.
When trying a pair on for the first time, listen for the 'whoosh' sound when you slide your feet in - that's the sound of all the air leaving the shoe to confirm it is the correct size, but do a walking test to be sure. They shouldn't pinch anywhere, nor should your feet be moving around inside.
When it comes to the right fit it is also worth considering different laces. Normal laces are good for most but for some golfers, BOA laced shoes provide more convenient fastening and shouldn't loosen during the course of a round, but are usually a tad more expensive.
4. Styling
Thankfully modern golf shoe design has seen many brands not just create traditional, classic-looking shoes, but also modern styles that can be used off the golf course too. Therefore it is important to think about what your shoes look like and what style suits you. Whatever you like or dislike, there is something for everyone these days.
FAQs
Are expensive golf shoes worth it?
More expensive golf shoes will provide a few extras. Many of them will use soft, more expensive full-grain leather and incorporate more technology to add comfort in the midsole. Cheaper shoes will still offer plenty of comfort, grip and style, but more expensive golf shoes will come with some extra luxuries.
Dan is a Staff Writer and has been with the Golf Monthly team since 2021. Dan graduated with a Masters in International Journalism from the University of Sussex and primarily looks after equipment reviews and buyer's guides, specializing in golf shoe and golf cart reviews. Dan has now tested and reviewed over 30 pairs of golf shoes for the website and magazine with his current favorite pair being the Ecco Biom C4. A left-handed golfer, his handicap index is currently 8.5 and he plays at Fulford Heath Golf Club in the West Midlands. His best day in golf so far was shooting 76 at Essendon Golf Club on his first-ever round with his Golf Monthly colleagues. Dan also runs his own cricket podcast and website in his spare time.
Dan is currently playing:
Driver: Ping G425 Max
Fairway: Ping G425 Max
Hybrid: Ping G425
Irons: Ping i59 (4-PW)
Wedges: Ping Glide Forged Pro
Putter: Wilson Staff Infinite Buckingham
Ball: TaylorMade TP5 Pix