Best Under Armour Golf Shoes 2023
A brand synonymous with Jordan Spieth, we've looked at some of the best golf shoes currently made by Under Armour.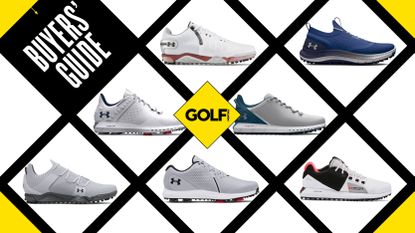 (Image credit: Golf Monthly)
Best Under Armour Golf Shoes: Quick Menu
Under Armour is one of the biggest apparel brands in golf and regularly leads the way when it comes to implementing cutting-edge technology into not only its golf shoes but apparel too. Acknowledging that, it should come as no surprise to you that we think the company makes some of the best golf shoes in the business. Why else would a superstar like Jordan Spieth wear them after all? He's not the kind of player to compromise in any part of his equipment setup let alone his shoes. So, from high-traction, Gore-Tex premium performance models to lightweight, spikeless options, the brand has your footwear needs covered.
At the moment Under Armour has honed in on providing golfers with some of the most supportive golf shoes on the market. Additionally they provide some of the sportier-looking shoes in golf, especially with models like the Charged Phantom which takes the word versatility to a new level. To help you choose which option is best for you, we've listed the best Under Armour golf shoes. Alternatively if Under Armour is not your thing, we have also created guides on the best FootJoy golf shoes, too, because they are also frequently seen out on Tour.
The Quick List
Under Armour HOVR Drive 2 Golf Shoe
Excellent grip, plenty of support and a new, sleeker look, Under Armour has upped its game once again with the HOVR Drive 2 spiked golf shoe.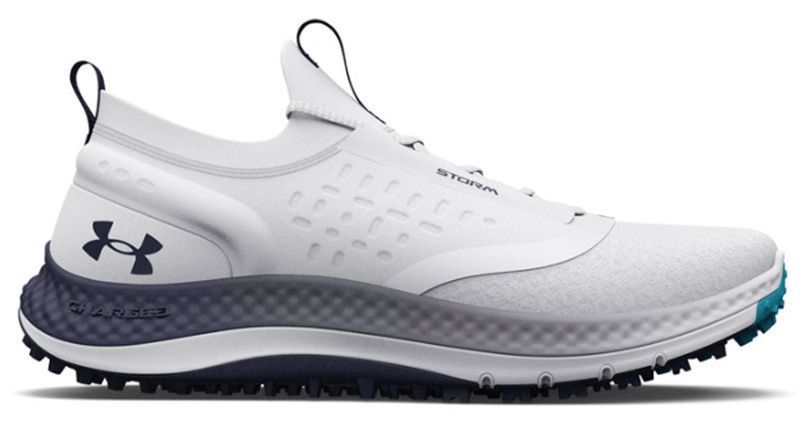 Under Armour Charged Phantom SL Golf Shoe
UA have taken inspiration from the brand's most successful running shoes, while delivering the performance expected from a tour quality golf shoe.
Under Armour HOVR Drive 2 SL Golf Shoe
The HOVR Drive 2 SL is a pretty complete spikeless golf shoe. Good looking, a great outsole and plenty of support through the golf swing.
Best Under Armour Golf Shoes
Why you can trust Golf Monthly Our expert reviewers spend hours testing and comparing products and services so you can choose the best for you. Find out more about how we test.
Spiked
A model used by Jordan Spieth
Specifications
Sizes: 7-12
Waterproof: Yes
BOA Option: No
Colors: 2 (Grey, White)
Reasons to buy
+
Excellent traction in all conditions
+
Creates a 'locked in' and supportive feeling
+
One of the better looking spiked models in 2022
Reasons to avoid
-
Slightly firm out of the box
The Hovr Drive 2 addresses the specific needs of golfers, supporting your feet during the very specific movement of the golf swing. As such, the Hovr Drive 2 has applied the science of biomechanics in the design on its outsole to develop rotational, horizontal, vertical and internal traction. The most convincing of this traction comes from the new 3D molded heel cup construction, which effectively creates a vacuum around the heel, locking it in for incredible levels of stability.
Alongside working on the four-dimensional traction in the Hovr Drive 2, Under Armour has introduced a new upper silhouette that is much sleeker than previous models. The upper has been brought closer to the foot to help increase the locked-in feeling, something we definitely felt in testing.
Despite this locked in feeling, comfort remains a key characteristic of the Hovr Drive 2 as well. While they initially feeling out of the box may be on the firmer side, the Hovr foam quickly softens after wearing the shoes for a round.
Spikeless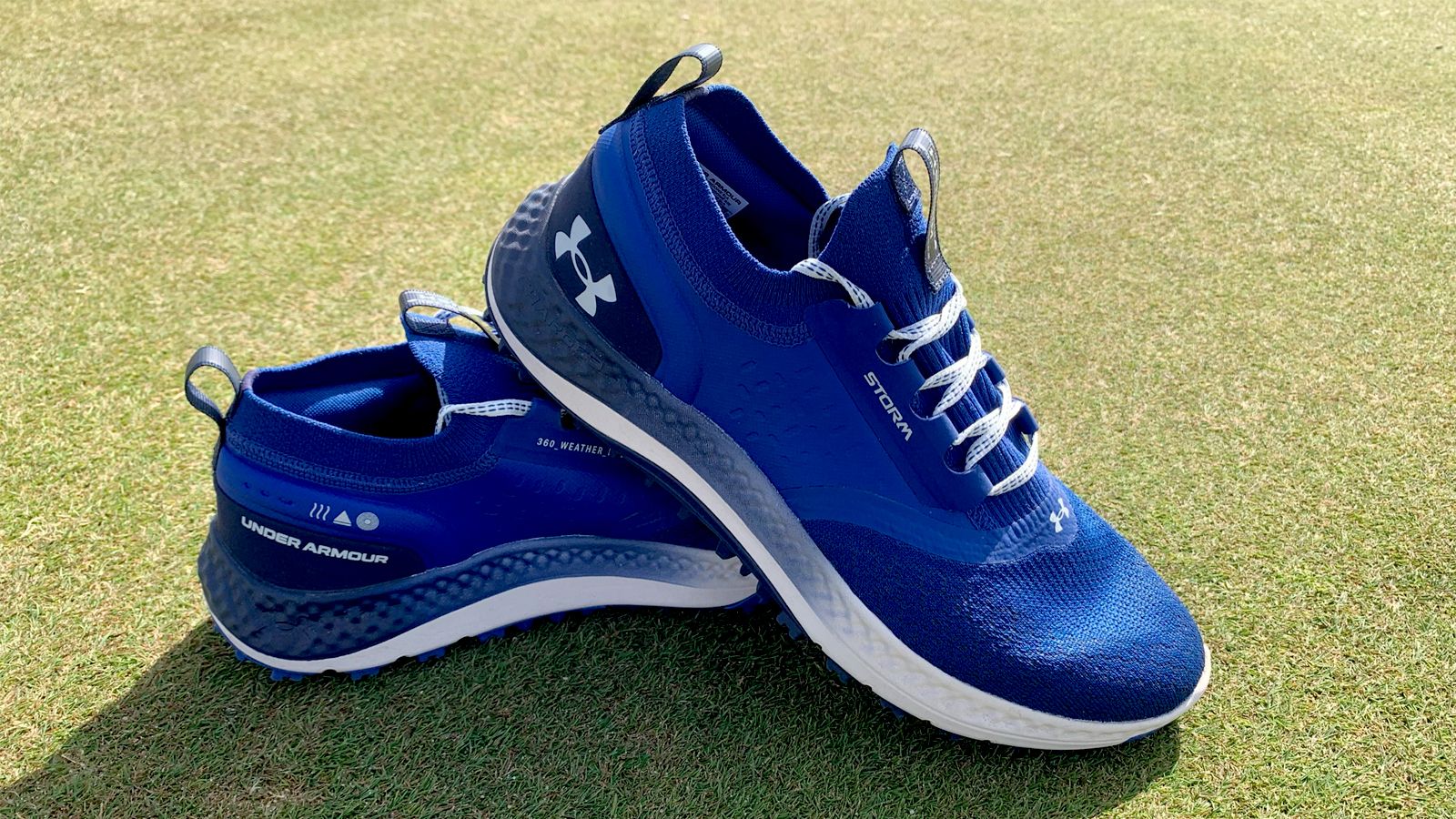 An excellent pair of shoes when it comes to performance and value
Specifications
Sizes: 7-14
Waterproof: Water-resistant
BOA Option: No
Colors: 4 (Black, White, Blue, Grey)
Reasons to buy
+
Machine Washable
+
Extremely comfortable
+
Multi-purpose shoe
Reasons to avoid
-
Style may not be to everyone's taste
While Under Armour refers to themselves as 'The golf brand for athletes' it's no surprise that the brand has created this outstanding crossover shoe. What we mean here, is in testing we noticed we could easily use this shoe at home, to the gym, walk 18 holes, have a drink in the bar and stop to pick up groceries on the way home. We enjoyed the sleek athletic style, with the upper really offering breathability and comfort all day. The Storm Flat Knit Collar around the ankle provides a locked-in feel while also being extremely comfortable.
The Charged midsole that separates the footbed and outsole is something that has featured in many Under Armour running shoes and provides comfort, as well as the ability to help transfer energy created from pushing against the ground, into your swing. We felt very stable even when swinging hard in the Charged Phantom SL however we should say that whilst the shoe performed really well in dry to damp conditions, we would recommend a spiked model if you play more golf in wetter conditions.
Finally style wise we enjoyed the blue color we tested above, but there are three other colors to choose from as well, each of which really look great. Overall when you combine the quality of the performance, as well as the versatility, this shoe is definitely a model to consider if you need a new pair. The price point is also an attractive element here as they are only just over $100 at some retailers.
Under Armour HOVR Drive 2 SL Golf Shoe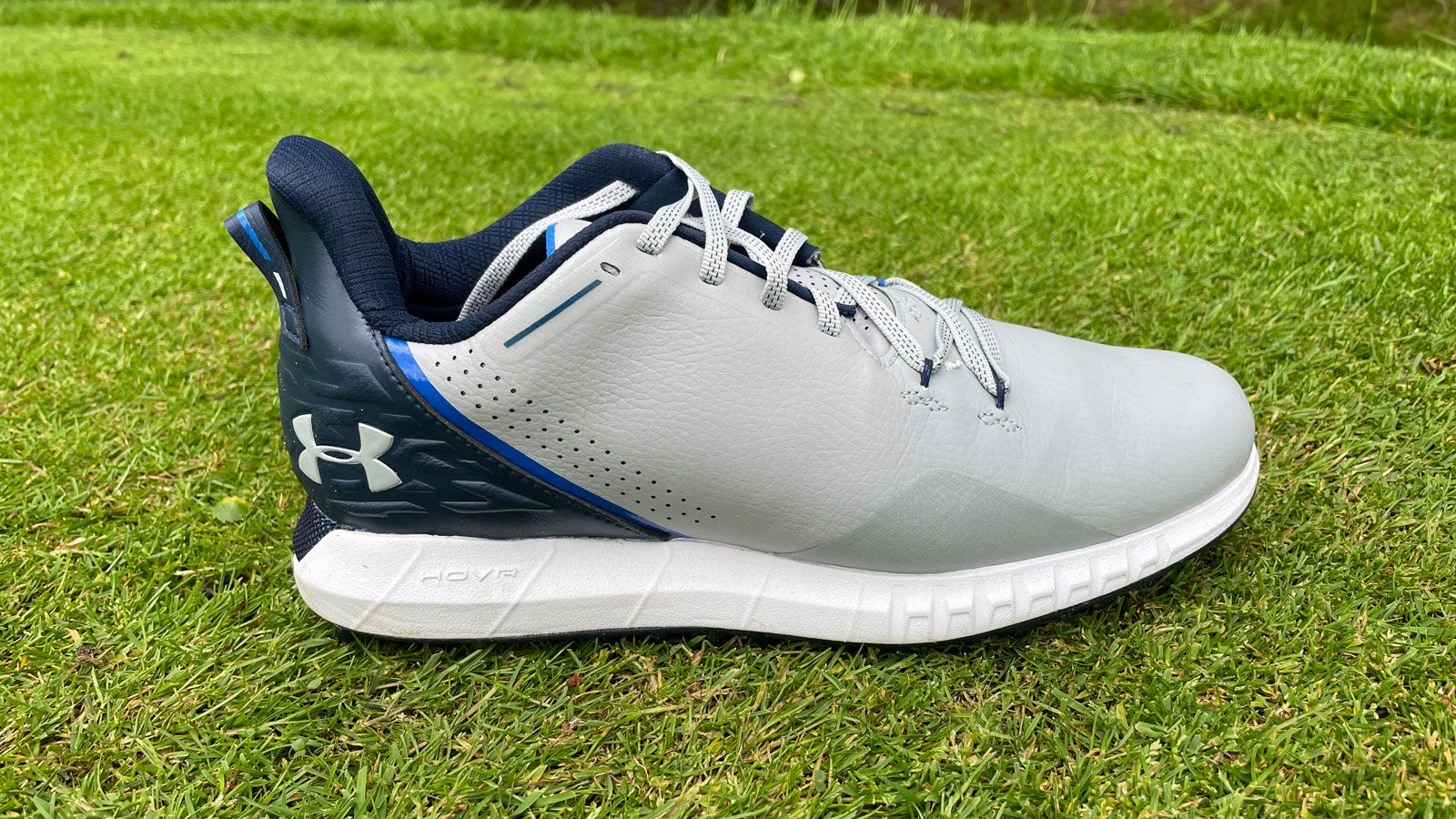 Ideal for those wanting a locked in feeling towards the heel
Specifications
Sizes : 7-12
Waterproof: Yes
BOA Option: No
Colors: 3 (Grey/Blue, Black/Red, White/Grey)
Reasons to buy
+
Provide an athletic, 'locked-in' feeling
+
Look excellent
+
Grippy yet low profile outsole
Reasons to avoid
-
Slightly firm out of the box
The Under Armour HOVR Drive 2 SL, put simply, is a spikeless version of the HOVR Drive 2. This shoe stands out thanks to the spikeless outsole. As was the case with the outsole on the HOVR Tour SL, Under Armour has once again nailed this aspect. Using a mixture of plastic and TPU nubs, the brand has created what might be the most convincing spikeless outsole on the market.
It creates a brilliant 'locked-in' feeling that is both comfortable and supportive. This is all aided by the molded heel cup and, while it looks rather large, does a great job of keeping your heel locked into the sole of the shoe when swinging. It's worth noting how lightweight these shoes are though.
Combined with the breathable nature of the upper, they are an excellent shoe to wear when the weather gets hot. And it'll still be a great shoe for when it gets wet too, being one of the best waterproof golf shoes on the market.
One of the best spikeless outsoles we have tested
Specifications
Sizes: 6.5-12
Waterproof : Yes
BOA Option: No
Colors: 2 (Black, Grey)
Reasons to buy
+
One of the best spikeless outsoles on the market
+
Creates a 'locked-in' feeling
+
Still offers plenty of comfort
Reasons to avoid
-
Slightly firm out of the box
Under Armour's flagship model comes in the shape of the HOVR Tour SL, a shoe with a full-knit upper and the backing of bio-mechanist Jean-Jaques Rivet. It's a bold golf shoe with even bolder claims. The highlight of this shoe is the spikeless outsole. By using a mixture of TPU on the center of the outsole and rubber nubs on the toe and heel, Under Armour has built a shoe on one of the best spikeless outsoles currently on the market. We had to regularly remind ourselves we weren't wearing a spiked golf shoe, such is the grip on offer from this outsole and I truly think this has all-year-round wearability.
The HOVR Tour SL uses Under Armour's proprietary Intelliknit technology that claims to overcome the performance shortfalls of a knit upper. Using 'stretch' yarns and 'lockdown' yarns combined, the shoe gives you support in the parts of the foot where you need it most, and flexibility elsewhere. There is a tendency in golf to forget that all of our golf swings - no matter where you are on the handicap spectrum - are highly athletic movements, and we need golf shoes to support those movements. This was certainly Under Armour's philosophy when crafting the HOVR Tour SL and it feels like it's been achieved.
An incredibly technologically advanced golf shoe
Specifications
Sizes: 7-13
Waterproof: Yes
BOA Option: No
Colors: 1 (White)
Reasons to buy
+
Provides a snug fit that boosts comfort and support
+
Impressive levels of grip
Reasons to avoid
-
Busy design may distract some
This is the fifth iteration of Under Armour's signature shoe designed with insights from Jordan Spieth himself as well as leading biomechanist JJ Rivet to unlock new levels of performance and comfort. The main design feature to talk about is its four-dimension level of traction, which is called internal traction.
This takes the form of a 3D footbed that also wraps over the inside and top of the foot which helps create a unique fit that is tailored to your foot shape. In our testing, we thought it felt a little strange at first but once we got used to it there was renewed confidence and comfort. The HOVR midsole also plays a key role in the comfort as well. Is it any surprise these also made our most comfortable golf shoes guide then?
The grip impressed us too. In fact, levels of traction seemed to be close to that of some cleated shoes because the Spieth 5 SL has firmer TPU nubs for ground penetration and softer rubber nubs in key areas to create friction. There doesn't appear to be any trade-off by going spikeless and the unique insole certainly enhances the connection you have with the shoe and the ground to boost power potential.
A shoe that will definitely stand out thanks to its unique aesthetic
Specifications
Sizes: 6.5-13
Waterproof: No
BOA Option: No
Colors: 3 (Black, Grey, Blue)
Reasons to buy
+
Excellent HOVR cushioning
+
Sole provides good grip
Reasons to avoid
-
Only a couple of colors to choose from
Next up in the HOVR range is the Forge RC SL. In our testing, we loved the modern aesthetic of the shoe with the grey and orange color really popping well together. The comfort here is key though. Thanks to the HOVR cushioning, this shoe supports the natural motion of the foot and provides a soft underfoot feel. It also molds to your foot, thanks to a compression mesh.
We love the low profile feel and the soft feeling underfoot stays the same, round after round. It provides a spring in your step when walking while also helping you stay grounded for longer during the swing. As far as grip and stability goes, the shoe coped well with uneven lies primarily because of the Rotational Resistance outsole which makes it a great shoe for plantar fasciitis.
How We Test golf shoes
Our golf shoe testing methodology revolves around putting models to the test over a number of rounds and in different conditions. This is so we can gain a better idea of overall performance in terms of factors like grip comfort, grip, stability, waterproofing and how they actually look on the golf course. Each of the shoes listed above has been personally used by a member of the Golf Monthly team and golf shoe testing is headed up by Golf Monthly Staff Writer Dan Parker.
This is the best way of testing a golf shoe as using it in the real world over a number of weeks allows us to see how they perform when variables change like weather, ground conditions, different stances and lies, and so on. We think this also gives us information on the little details as well like which brands come up small or large, which models start to rub a bit too much after 36 holes, which designs can be used off the golf course and for the drive home? We are very comprehensive in our tests to the point where we will regularly attend product launches and meet with the manufacturer's R&D experts to understand the new technology. That isn't to say manufacturers can buy a good review though, as all our reviews are made by golfers, for golfers.
How to choose a golf shoe
There are a number of factors to consider when picking out your next pair of golf shoes. So, to help you narrow down your search and inform your buying decision, we have put together some key points below you need to think about when purchasing your next pair of golf shoes.
Spiked or spikeless?
The best golf shoes above are split into spiked (or cleated) and spikeless designs and there are pros and cons of each. Spiked golf shoes offer better grip and stability but don't sit as low to the ground as spikeless models.
Spikeless golf shoes offer off-course versatility. They are perfect for driving in the car to the golf course, playing a round, and then driving home again because they are usually light and comfortable, but most won't offer as much traction as a spiked shoe.
Waterproofing
If you live somewhere that gets a lot of rain then a waterproof shoe is a must. The best designs will keep your feet bone dry however if you play golf in glorious sunshine most of the time, then you may view other factors as more significant. Many players choose to have one pair for winter and another, lighter pair for summer to keep them fresh and suit different requirements.
Getting the right fit
When picking out golf shoes getting the right fit is important because otherwise blisters can build up. Or your feet may slide around inside, which limits your stability.
When trying a pair on for the first time, listen for the 'whoosh' sound when you slide your feet in - that's the sound of all the air leaving the shoe to confirm it is the correct size, but do a walking test to be sure. They shouldn't pinch anywhere, nor should your feet be moving around inside.
When it comes to the right fit it is also worth considering different laces. Normal laces are good for most but for some golfers, BOA laced shoes provide more convenient fastening and shouldn't loosen during the course of a round, but are usually a tad more expensive.
Styling
Thankfully modern golf shoe design has seen many brands not just create traditional, classic-looking shoes, but also modern styles that can be used off the golf course too. Therefore it is important to think about what your shoes look like and what style suits you. Whatever you like or dislike, there is something for everyone these days.
Comfort
Comfort is key on the course. If your feet are comfortable, your mind will be at ease and you will inevitably play better golf. When picking a comfortable pair of golf shoes, it is wise to keep in mind how soft and supportive their soles are, as well as how much heel and ankle support those shoes provide you. You'll also want to pay close attention to the sock lining of the shoe, which should be soft and not cause any blisters on your feet.
While Under Armour make some of the best golf shoes in the game, why not take a look at some of the shoes other brands offer in our guides on the best Nike golf shoes, the best adidas golf shoes and the best FootJoy golf shoes.
FAQs
Is Under Armour a good brand for golf?
Yes it is. The brand's shoes are regularly featured as some of our favorites each year and the brand makes some of the best golf polo shirts too.
Are Under Armour golf shoes waterproof?
Yes, most of them are. Any that aren't specified as being fully waterproof will still be water resistant, meaning they should wick off a light amount of water.
What golfers wear under armour shoes?
PGA Tour pro Jordan Spieth is one of the most well known figures on the professional tours who is regularly seen wearing Under Armour clothing and golf shoes.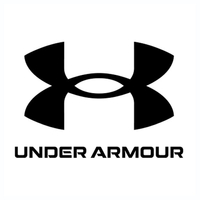 These Under Armour coupon codes could help you pick up sports & golf gear such as trainers, clothing & accessories for less.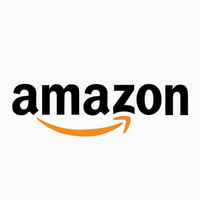 Get saving on those Amazon orders with these coupon codes to help reduce the price in your basket.