Best Under Armour Golf Shoes 2022
Here's our picks for the best Under Armour golf shoes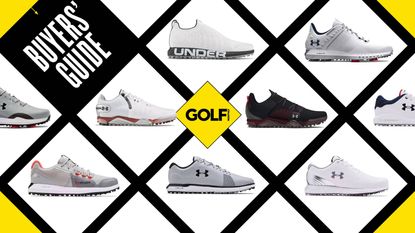 (Image credit: Future)
Golf Monthly Newsletter
Golf tips and expert instruction, golf club reviews and the latest golf equipment.
Thank you for signing up to . You will receive a verification email shortly.
There was a problem. Please refresh the page and try again.
Best Under Armour Golf Shoes
Under Armour is one of the biggest apparel brands in golf and regularly lead the way when it comes to implementing cutting-edge technology into not only golf shoes but apparel too. Acknowledging that, it should come as no surprise to you that we think the company makes some of the best golf shoes (opens in new tab) in the business, why else would a superstar like Jordan Spieth wear them after all? He is not the kind of player to compromise in any part of his equipment setup let alone his shoes. From high-traction, Gore-Tex premium performance models to lightweight, spikeless options, the brand has your footwear needs covered.
Video: Best Golf Shoes 2022
In 2022, Under Armour has honed in on providing golfers with some of the most supportive golf shoes on the market. Many of its 2022 models offer four way traction, creating a truly 'locked-in' feeling that helps support the athletic movement of the golf swing. To help you choose which option is best for you, we've listed the best Under Armour golf shoes. Alternatively if Under Armour is not your thing, we have also created guides on the best FootJoy golf shoes (opens in new tab) too because they are frequently seen out on Tour.
Best Under Armour Golf Shoes
Specifications
Sizes: 6.5-12
Waterproof : 100%
BOA Option: No
Colours: 2 (Black/Red &
Reasons to buy
+
One of the best spikeless outsoles on the market
+
Creates a 'locked-in' feeling
+
Still offers plenty of comfort
Reasons to avoid
-
Slightly firm out of the box
Under Armour's latest flagship model comes in the shape of the HOVR Tour SL, a shoe with a full-knit upper and the backing of bio-mechanist Jean-Jaques Rivet. It's a bold golf shoe with even bolder claims.
The highlight of this shoe is the spikeless outsole. By using a mixture of TPU on the centre of the outsole and rubber nubs on the toe and heel, Under Armour has built a shoe on one of the best spikeless outsoles currently on the market. We had to regularly remind myself I wasn't wearing spikes, such is the grip on offer from this outsole and I truly think this has all year round wearability.
the HOVR Tour SL uses Under Armour's proprietary Intelliknit technology that claims to overcome the performance shortfalls of a knit upper. Using 'stretch' yarns and 'lockdown' yarns combined, the shoe gives you support in the parts of the foot where you need it most, and flexibility elsewhere. There is a tendency in golf to forget that all of our golf swings - no matter where you are on the handicap spectrum - are highly athletic movements, and we need golf shoes to support those movements. This was certainly Under Armour's philosophy when crafting the HOVR Tour SL and it feels like it's been achieved
Specifications
Sizes: 7-12
Waterproof: 100%
BOA Option: No
Colours: 2 (Grey & White)
Reasons to buy
+
Excellent traction in all conditions
+
Creates a 'locked in' and supportive feeling
+
One of the better looking spiked models in 2022
Reasons to avoid
-
Slightly firm out of the box
The new Hovr Drive 2 addresses the specific needs of golfers, supporting your feet during the very specific movement of the golf swing. As much as we may not think it, the golf swing is a highly athletic movement and we all need the right equipment and grip on our feet to aid those movements.
As such, the Hovr Drive 2 has applied the science of biomechanics in the design on its outsole to develop rotational, horizontal, vertical and internal traction. The most convincing of this traction comes from the new 3D moulded heel cup construction, which effectively creates a vacuum around the heel, locking it in for incredible levels of stability. Alongside working on the four dimensional traction in the Hovr Drive 2, Under Armour has introduced a new upper silhouette which is much sleeker than previous models. The upper has been brought closer to the foot to help increase the locked-in feeling created by the heel cup and outsole while making for a more dynamic looking silhouette.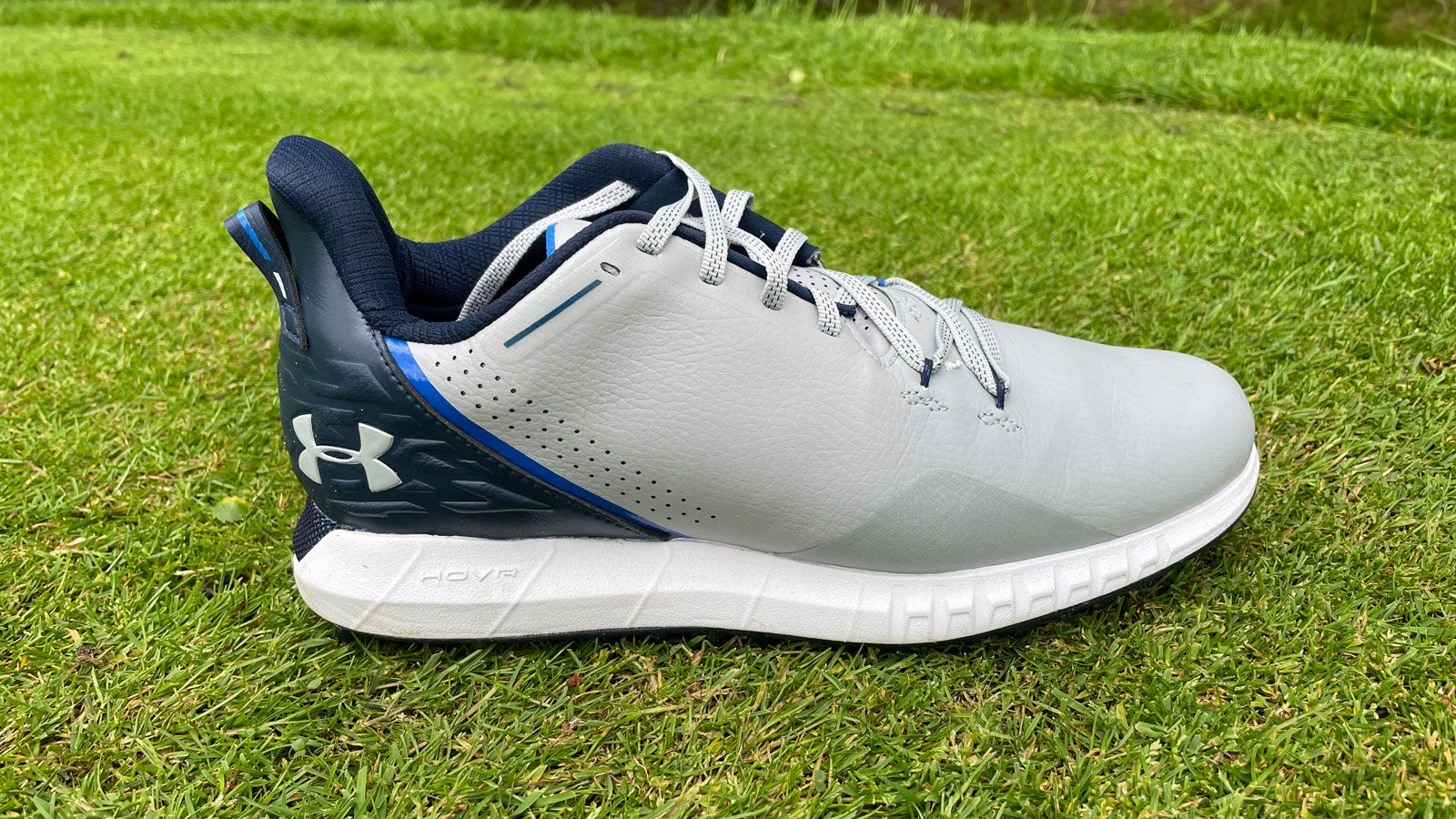 Specifications
Sizes : 7-12
Waterproof: 100%
BOA Option: No
Colors: 3 (Grey/Blue, Black/Red, White/Grey)
Reasons to buy
+
Provide an athletic, 'locked-in' feeling
+
Look excellent
+
Grippy yet low profile outsole
Reasons to avoid
-
Slightly firm out of the box
The new Under Armour HOVR Drive 2 SL, put simply, is a spikeless version of the HOVR Drive 2. This shoe stands out thanks to the spikeless outsole. As was the case with the outsole on the HOVR Tour SL, Under Armour has once again nailed this aspect. Using a mixture of plastic and TPU nubs, the brand has created what I think is the most convincing spikeless outsole on the market.
It's another Under Armour from 2022 that creates a brilliant 'locked-in' feeling that is both comfortable and supportive. This is all aided by the moulded heel cup and, while it looks rather large, does a great job of keeping your heel locked into the sole of the shoe when swinging. It's worth noting how lightweight these shoes are though. Combined with the breathable nature of the upper, these are a great shoe to wear when the weather gets hot. It'll still be a great shoe to wear if it's wet too - the fully waterproof upper and excellent outsole will keep you covered.
Specifications
Sizes: 7-13
Colours: White only
Reasons to buy
+
Provides a snug fit that boosts comfort and support
+
Impressive levels of grip
Reasons to avoid
-
Busy design may distract some
This is the fifth iteration of Under Armour's signature shoe designed with insights from Jordan Spieth himself as well as leading biomechanist JJ Rivet to unlock new levels of performance and comfort.
The main new design feature to talk about is a 4th dimension of traction called internal traction. This takes the form of a 3D footbed that also wraps over the inside and top of the foot which helps create a unique fit that is tailored to your foot shape. In our testing we thought it felt a little strange at first but once we got used to it there was renewed confidence and comfort. The HOVR midsole also plays a key role in the comfort as well. Is it any surprise these also made our most comfortable golf shoes (opens in new tab) guide then?
The grip impressed us too. In fact, levels of traction seemed to be close to that of some cleated shoes because the Spieth 5 SL has firmer TPU nubs for ground penetration and softer rubber nubs in key areas to create friction. There doesn't appear to be any trade off by going spikeless and the unique insole certainly enhances the connection you have with the shoe and the ground to boost power potential.
Under Armour HOVR Knit Shoes
Specifications
Sizes: 7-13
Colours: 1 (White)
Reasons to buy
+
Comfortable, snug-fit
+
Keeps feet cool and dry
Reasons to avoid
-
Textured look not for everyone
If you want to go down the fully-knit upper route then this Knit model is the one for you. Admittedly the design is a bit of a Marmite situation, with many loving it and many not so much. But what cannot be denied is that Under Armour has made a truly unique shoe not only from an aesthetic point of view but in terms of performance too.
The upper gives a sock-like fit and feel, and it has been treated in a couple of ways to ensure comfort. First it has Never-Wet treatment to keep you cool and dry, and the sockliner is also made from an anti-microbial Ortholite fabric which provides a lovely feel and breathability. We won't rabble on about the HOVR cushioning again but it is doing its work here, as is the Rotational Resistance outsole for lockdown traction. One minor complaint is that only one colour is available but we were fans of the white and black finish so it was not a massive issue.
Specifications
Sizes: 6.5-13
Colours: 2 (Black and Grey)
Reasons to buy
+
Excellent HOVR cushioning
+
Sole provides good grip
Reasons to avoid
-
Only a couple of colours to choose from
Next up in the HOVR range is the Forge RC SL. In our testing we loved the modern aesthetic of the shoe with the grey and orange colour really popping well together. The comfort here is key though. Thanks to the HOVR cushioning, this shoe supports the natural motion of the foot and provides a soft underfoot feel. It also moulds to your foot, thanks to a compression mesh.
We love the low profile feel and the soft feeling underfoot stays the same, round after round. It provides a spring in your step when walking while also helping you stay grounded for longer during the swing. As far as grip and stability goes, the shoe coped well with uneven lies primarily because of the Rotational Resistance outsole.
Under Armour HOVR Show SL Shoes
Specifications
Sizes: 7-13
Colours: 2 (White and Grey)
Reasons to buy
+
Excellent grip given spikeless design
+
Premium looking shoe
Reasons to avoid
-
Graphic makes them harder to clean
Updated for 2021 is the HOVR Show shoe. The previous generation made it into our Editors Choice List for 2020 so the new model had a lot to live up to.
We are pleased to announce Under Armour has found a few ways to improve it, starting with the updated aesthetics. The silver finish towards the heel gives a really premium look as does the effect in the middle of the shoe, although this graphic does make them slightly harder to clean. rom a performance standpoint, as you would expect from the name, HOVR technology is involved which seeks to give a 'zero gravity feel'. We are unsure what zero gravity is supposed to feel like but they do feel very comfortable especially when we were out on the golf course all day.
The upper is made from a breathable, Clarino microfibre which is waterproof too, making these ideal shoes to use all year round. The shoe also features Rotational Resistance spikeless outsole for lockdown traction & on-course flexibility. Sporty and versatile, the HOVR Show SL is one of the best Under Armour shoes money can buy.
Specifications
Sizes: 7-12
Colours: 4 (Black, Grey, White, Navy)
Reasons to buy
+
Very lightweight and comfortable
+
Fully waterproof
Reasons to avoid
-
Not as suitable for off-course wear as others
Another spikeless model that performed well for us was the HOVR Fade design above. A model that also featured in our guide on the best golf shoes for walking (opens in new tab), there are several pieces of technology here designed to give a serene walking experience.
First let's mention the microfibre upper which is lightweight and waterproof which make it ideal for most conditions out on the golf course. It is also breathable and not restricting which can be an issue with golf shoes sometimes.The HOVR technology also makes these very easy and comfortable to walk in as the compression mesh energy web moulds to each foot.
Specifications
Sizes: 7-15
Colours: 2 (White, Black)
Reasons to buy
+
Good all-round performance
+
Lots of sizes available
A model that comes in at a lower price point than others on this list, the Charged Draw is new for 2021 and seeks to give a sporty shoe with top performance. What differentiates it is the new Charged Cushioning located in the midsole which provides comfort after each step. This has also been combined with the moulded EVA footbed to create a very comfortable shoe.
It has an engineered microfibre waterproof upper to ensure world-class performance even in the toughest golfing conditions, preventing water from entering the shoe, but allowing perspiration to escape. The upper material has a lightweight feel which reduced the overall weight of the golf shoe as well. From a looks perspective there is not that much going on, which many golfers will prefer. So if you are after a simple, good performing golf shoe then the Charged Draw is definitely one to consider.
Under Armour Draw Sport SL Shoes
Specifications
Sizes: 7-12
Colours: 3 (White, Black, Grey)
Reasons to buy
+
Looks great
+
Shoe also available in extra wide option
Reasons to avoid
-
Some may prefer extra stability of Charged Draw model
This Draw Sport Spikeless model also has Charged Cushioning which gives a comfortable feel. The upper is then made from a microfiber with Never-Wet treatment that helps keep you dry all year round, backed up with a 1 year waterproof guarantee.
What really separates this from the Charged Draw model above is the versatility on offer because the spikeless design means you can realistically use these seamlessly from the course to the concrete too. The shoe features a Rotational Resistance spikeless outsole for lockdown traction & on-course flexibility. Although that being said there will be some who prefer the extra stability and traction provided by the spikes on the Charged Draw shoe.
Specifications
Sizes: 7-11
Colours: 1 (White)
Reasons to buy
+
Provides a solid, stable base
+
Maximises power without sacrificing comfort
The Spieth 4 GTX shoe was designed with the help of three-time Major winner Jordan Spieth. It starts with foot stabilisation and ground contact that form the foundation of an effective golf swing and with Under Armour's traction technology in the shoe, golfers are now able to get more power and accuracy out of each shot.
In fact we tested the shoe on special force plates against multiple competitors of differing styles and the Spieth 4 GTX regularly came out on top in terms of generating the most vertical ground force and then also being able to convert that into additional club speed and distance. With the plastic heel section the weight has increased to just under 400g, so it might not offer that super lightweight feel some golfers desire, but we didn't think they felt overly cumbersome. Finally grip and stability is top-notch here as are the looks. It is also fully waterproof thanks to the Gore-Tex technology.
How We Test golf shoes
Our golf shoe testing methodology revolves around putting models to the test over a number of rounds and in different conditions. This is so we can gain a better idea of overall performance in terms of factors like grip comfort, grip, stability, waterproofing and how they actually look on the golf course. Each of the shoes listed above has been personally used by a member of the Golf Monthly team.
This is the best way of testing a golf shoe as using it in the real world over a number of weeks allows us to see how they perform when variables change like weather, ground conditions, different stances and lies, and so on.
We think this also gives us information on the little details as well like which brands come up small or large, which models start to rub a bit too much after 36 holes, which designs can be used off the golf course and for the drive home? We are very comprehensive in our tests to the point where we will regularly attend product launches and meet with the manufacturer's R&D experts to understand the new technology. That isn't to say manufacturers can buy a good review though, as all our reviews are made by golfers, for golfers.
How to choose a golf shoe
There are a number of factors to consider when picking out your next pair of golf shoes so to help you narrow down your search and inform your buying decision, below we have put together some key points.
Spiked or spikeless?
The best golf shoes above are split into spiked (or cleated) and spikeless designs and there are pros and cons of each. Spiked golf shoes offer better grip and stability but don't sit as low to the ground as spikeless models.
Spikeless golf shoes offer off-course versatility. They are perfect for driving in the car to the golf course, playing a round, and then driving home again because they are usually light and comfortable, but most won't offer as much traction as a spiked shoe.
Waterproofing
If you live somewhere that gets a lot of rain then a waterproof shoe is a must. The best designs will keep your feet bone dry however if you play golf in glorious sunshine most of the time, then you may view other factors as more significant. Many players choose to have one pair for winter and another, lighter pair for summer to keep them fresh and suit different requirements.
Getting the right fit
When picking out golf shoes getting the right fit is important because otherwise blisters can build up. Or your feet may slide around inside, which limits your stability.
When trying a pair on for the first time, listen for the 'whoosh' sound when you slide your feet in - that's the sound of all the air leaving the shoe to confirm it is the correct size, but do a walking test to be sure. They shouldn't pinch anywhere, nor should your feet be moving around inside.
When it comes to the right fit it is also worth considering different laces. Normal laces are good for most but for some golfers, BOA laced shoes provide more convenient fastening and shouldn't loosen during the course of a round, but are usually a tad more expensive.
Styling
Thankfully modern golf shoe design has seen many brands not just create traditional, classic-looking shoes, but also modern styles that can be used off the golf course too. Therefore it is important to think about what your shoes look like and what style suits you. Whatever you like or dislike, there is something for everyone these days.
FAQs
Is Under Armour a good brand for golf?
Yes it is. The brand's shoes are regularly featured as some of our favourites each year and the brand makes some of the best golf polo shirts too.
Are Under Armour golf shoes waterproof?
Yes, most of them aren't. Any that aren't specified as full waterproof will still be water resistant, meaning they should wick off light amount of water.