Best Golf Irons For Women 2023
In this equipment piece we look at some of the best golf irons for women.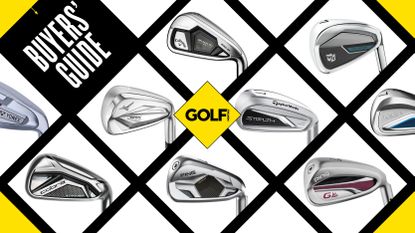 (Image credit: Future)
Best Golf Irons For Women
A set of irons make up the bulk of the clubs you're allowed to carry in your bag, so it's important to make sure you get the best golf irons for you. Most women's models are designed to suit slower swing speeds and come with a graphite shaft with a ladies' flex and smaller grips. Additional weight is also distributed in the head which combines to produce faster ball speeds, easy launch and greater distance.
Oversized cavity-backed clubheads generally suit beginners and mid-high handicappers more, as the wider sole and a low centre of gravity make it easier to get the ball airborne with maximum forgiveness. However, forgiveness is often sacrificed at the expense of workability and precise distance control, so better players who strike their irons more consistently will veer towards shallower cavity designs or a mix of both.
So what are some of the best golf irons for women on the market? Well, we have set out some of our favorite models below and we also recommend taking a look at some of our other irons guides too so you are well informed when it comes to purchasing a full set. For example take a look at our most forgiving irons guide, the best distance irons, or the best game improvement irons too.
Best Golf Irons For Women
Why you can trust Golf Monthly Our expert reviewers spend hours testing and comparing products and services so you can choose the best for you. Find out more about how we test.
A drastic approach to producing a high-launching, draw-biased iron set
Reasons to buy
+
High launch
+
Plenty of draw bias
+
Forgiving off-center and through the turf
Reasons to avoid
-
Unorthodox looks could deter some
Because the Stealth irons aren't suited to the slower-swinging golfers, perhaps the Stealth HD iron will be more to your liking. TaylorMade has gone to fairly drastic measures to achieve a high, draw-biased flight, with the company creating a very low profile head with a shallow face height and a wide sole. It is nearly as wide as it is tall!
You could argue a case that they rank amongst the best golf irons for beginners, such is the ease to get them airborne. What's more, it works very well for those that struggle to flight the ball or suffer with a slice and this iron will certainly help overcome these tendencies. Visually, it's profile will divide opinion and does look akin to one of the best golf chippers, but it's size gives it a commanding presence behind the ball which some slower swinging players may enjoy.
A real standout is the sole of the iron, which features a step down design that means it plays much narrower than it looks while offering forgiveness through the turf. That helps you launch the ball into the air, but doesn't feel to clunky when you strike the ball. In our testing session, it fell only 10 yards short of the standard stealth iron, and flew slightly higher too. Ultimately, it is a fantastic club for any slower swinging player, and would also make a great option for any senior golfer.
A user-friendly, high-launching iron that offers a lot of forgiveness around the course
Reasons to buy
+
Notably longer than G425
+
Impressive stopping power
+
Very consistent off center
Reasons to avoid
-
Badge appearance will divide opinion
The G430 has been billed by the brand as being 'distance competitive, scoring uncompromised' and the High Launch option of this club will certainly help you shave a few shots off your score card. This is a custom option for slower swing speed golfers that boasts the same features as the standard G430, but delivers greater club head speed and ball velocity. Ping have achieved this by lowering the overall center of gravity on the club so golfers can swing faster and also add higher launch angles to their shots.
That in turn means the ball carries further and will get you down the fairways in less shots. A key component to the additional distance on offer here is the PurFlex cavity badge. That adds more flexibility to the clubface, that both helps to make the face more forgiving and add more ball speed. Aesthetically, the shape hasn't really changed much from the G425, but Ping have introduced an extra one degree of bounce that also provides a little more insurance on those extreme misses where the club makes contacts with the ground too early. The club also comes with a shorter hosel that delivers a cleaner look and helps to ensure a cleaner, much more solid impact. Why not combine this high launching set of irons with one of the best golf balls for slower swinging players for additional power off the tee.
Produces optimum ball flights with excellent shelf appeal
Reasons to buy
+
Effortless launch for slower swing speeds
+
Very forgiving off center
+
Powerful feel
Reasons to avoid
-
Some may want to look down on a bigger head
Perhaps one of the best game improvement irons on the market right now the Mizuno JPX923 Hot Metal HL iron is a fantastic option for force-limited players looking strike the ball further and faster. Visually, it comes with the same blade length as the Hot Metal iron but with a wider sole for a lower, deeper CG to help get the ball up quickly. The additional loft is clear at address, and we loved how it sat behind the ball, delivering a confidence inspiring look at address.
We were very impressed with the carry distances during our time on the range with this club. The Hot Metal HL also produces excellent ball flights when struck firmly and well. It is a thoughtful and considered offering that takes into account the needs of any golfer who's speed is diminishing. Annoyingly, it is only available in a right hand option right now, but hopefully will be available to lefties fairly soon.
A high-launching iron that offers a confidence inspiring profile behind the golf ball
Reasons to buy
+
Lightweight but also well balanced
+
Confidence boosting thanks to the thicker topline and wide sole
+
High launching and flying
Reasons to avoid
-
Chunky looks won't appeal to all
The Rogue ST Max OS Lite irons are lighter and have more loft than the equally-impressive Callaway Rogue ST Max OS Irons. Endeavouring to make the game easier for slower swinging players, these were a joy to swing and offered a lot of forgiveness off center. Visually, the styling on offer here is pretty safe. They boast a classic black and silver design that isn't as jazzy as the new Paradym irons but is certainly still a winner as a minimal and fantastic looking club.
Performance was also a winner here too. These irons felt hot off the face and travelled long distances. The traditional lofts and sizeable tungsten weighting inside the head that helps to add more loft and forgiveness to the club. On our testing sessions, we enjoyed the consistency and distance on offer here compared to some of the other best game improvement irons out there. And these are definitely aimed at those progressing in their game, with Callaway specifically designing these clubs to help deliver decent shots from all around the club face.
An excellent value for money golf iron that boasts excellent power off the face
Reasons to buy
+
Fast off the face
+
Forgiving from a wide area
+
Great for slower swinging players
Reasons to avoid
-
Flat ball flight limits stopping power
Wilson have always been a brand that produces some of the best distance irons and most forgiving irons, with their latest offering doing just that as it's an iron that feels faster than most other premium models on the market. What you certainly get with the Dynapower is value for money, with a set costing considerably less than the best Mizuno irons or the best Titleist irons.
These irons are also crammed with technology, as thanks to the use of Artificial Intelligence, Wilson's engineers have been able to optimise the face architecture and reconfigure the Power Holes 3.0 on the sole to perform better for its target player. We found the Dynapower irons to be both long and forgiving during our testing sessions. They come with a metallic, metalwood feel that translates into a lot of power, perfect for any slower swinging player.
A fast, fun-to-hit iron that delivers an explosive feel off the face
Reasons to buy
+
Powerful feel
+
Consistently long
+
Very forgiving off center
Reasons to avoid
-
Limited gains over prior model
Cobra has fine-tuned what they achieved in the impressive Radspeed and King LTDx irons in their latest upgrade, the Aerojet. Having recently got our hands on this iron, I think it might be one of the best distance irons on the market. Visually, the Aerojet boasts several pops of color and a sleek carbon fiber back plate that does add a premium feel to the club. That nestles in behind one of the club's newest features, the PWR Bridge. This is a fully suspended weight on its body that allows the face to be more flexible, while lowering the CG to help reduce spin and improve the launch angles the club delivers.
The Aerojet comes with a generous head size that inspires confidence at address, and when talking about consistency, this iron was hard to fault. Whether I struck it low or high on the face, the ball still travelled well, something we'd expect from the most forgiving irons. The feel was lively but delivered a slightly subdued sound, thanks to the polymer that fills the club head's cavity which wasn't necessarily a bad thing. It does a great job of maintaining the feeling of power while dumbing down any harsh vibrations that often crop up when the ball is struck off center.
Elegant and eye-catching designs are combined with power off the tee
Reasons to buy
+
Elegant, eye-catching design
+
Stable and consistent off center
+
Pleasingly powerful feel
Reasons to avoid
-
A little firm off the face
-
Oversize profile may not suit the eye of lower handicappers
The Kalea Premier women's irons not only look fantastic but, thanks to a clever Cap Back design, perform superbly. The Cap Back Design also works in conjunction with a fancy Speed Pocket, which provides the firepower you don't often experience among the best golf irons for women.
This is not necessarily an iron for the purist, so don't expect a buttery soft feel. Instead, be wowed by the distance gains you'll likely achieve. In testing, we were around one club longer and, best of all the high, towering ball flight meant we could really pepper the pin accurately with approach shots and get the ball to stop quickly.
A large and forgiving club head that inspires confidence
Reasons to buy
+
Large, forgiving clubhead features offset to neutralise a slice
+
Notable distance gains
+
Ultralite graphite shafts help boost your swing speed
Reasons to avoid
-
Some may prefer a softer feel
-
Hard to shape shots and manipulate ball flight
When it comes to irons, most women want something that's lightweight and really easy to use while visually instilling feelings of confidence. The Cobra Air-X women's irons put great big ticks in these important boxes. Not only are they very lightweight, with weight savings being made in both the head and the grip, but they also feature bespoke 'ultralite' women's 48-gram shaft to give you an iron that is totally effortless to swing. What's more, they there is a lot of club head stability, with the main highlight being the distance on offer. This is down to a large, cavity-back head that is akin to many of the fantastic options you'll find on the best irons for high beginner players.
Crammed full of technology this is an excellent distance iron
Reasons to buy
+
Effortless to swing
+
Can generate fast clubhead speeds
+
Impressive accuracy and distance
Reasons to avoid
-
Better players with a fast swing speed won't reap the benefits
An excellent set of irons for mid-to-high handicappers, who have a slow to moderate swing speed. The XXIO 12 Ladies irons are a forgiving and easy to flight set of golf clubs. We loved the aesthetic of this club, which boasts an abstract pattern at the top of the turqoise shaft. It was nicely weighted and felt really comfortable in our hands, which is due in part to the dual technology XXIO have incorporated into the club head.
That in-turn makes this a confidence boosting iron, which helped us strike through the ball faster and and add more zip onto each shot. It also boasts a progressive variable face thickness and a tungsten-nickel weight in the toe, akin to many of the most forgiving irons on the market, that helps golfers power through their shot. We found it very easy to use to attack the ball, but that didn't compromise the control we had with this iron. Shots flew straight and true where we needed them to, but we could also shape each shot, adding draw or fade easily when required.
A punchy set of irons that deliver excellent distance
Reasons to buy
+
Optimal distance even on mishits
+
Solid feel
Reasons to avoid
-
Increased offset not for everyone
Designed for game improvement golfers in an attractive blue and black color scheme, women cannot help but feel confident over the ball with a Big Bertha Reva iron in their hands. The noticeably wider sole is designed with a significant amount of tungsten weighting for a deep center of gravity.
Combined with Callaway's Flash Face Cup technology, which encourages and maintains ball speed, women can launch the ball easily with lower spin and hit longer and straighter shots with ultimate forgiveness. This iron also sounds as solid as it feels thanks to the use of urethane microspheres that absorb unwanted vibration. If you're after more clubs that deliver great distance, why not check out some of the other clubs on our guide to the best distance irons in golf.