Best Golf Irons For Women 2022
In this equipment piece we look at some of the best golf irons for women.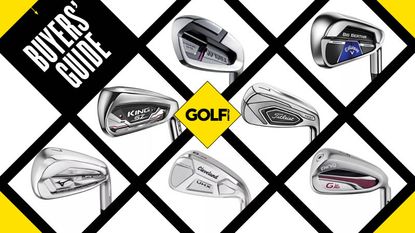 (Image credit: Golf Monthly)
Golf Monthly Newsletter
Golf tips and expert instruction, golf club reviews and the latest golf equipment.
Thank you for signing up to . You will receive a verification email shortly.
There was a problem. Please refresh the page and try again.
Best Golf Irons For Women
A set of irons make up the bulk of the clubs you're allowed to carry in your bag, so it's important to make sure you get the best golf irons (opens in new tab) for you. Most women's models are designed to suit slower swing speeds and come with a graphite shaft with a ladies' flex and smaller grips. Additional weight is also distributed in the head which combines to produce faster ball speeds, easy launch and greater distance.
Oversized cavity-backed clubheads generally suit beginners and mid-high handicappers more, as the wider sole and a low centre of gravity make it easier to get the ball airborne with maximum forgiveness. However, forgiveness is often sacrificed at the expense of workability and precise distance control, so better players who strike their irons more consistently will veer towards shallower cavity designs or a mix of both.
So what are some of the best golf irons for women on the market? Well, we have set out some of our favorite models below and we also recommend taking a look at some of our other irons guides too so you are well informed when it comes to purchasing a full set. For example take a look at our most forgiving irons guide, the best distance irons (opens in new tab), or the best game improvement irons (opens in new tab) too.
Best Golf Irons For Women
Reasons to buy
+
Incredibly accurate
+
Noticeably longer than outgoing SIM2 Max
Reasons to avoid
-
Considerably low spin limits stopping power
The Stealth iron become the single game-improvement iron option in 2022, which simplifies the TaylorMade iron range (opens in new tab) nicely for golfers that want even more distance and forgiveness than what is on offer in the P790 model (opens in new tab). While the enclosed cavity concept continues, the Cap Back design has evolved to where the mid section of the toe has been completely removed to lower the CG of the iron, assisting with both ball speed and launch.
TaylorMade has made across-the-board improvements in Stealth as its game-improvement offering for 2022 over the SIM2 irons. Golfers should notice the extra forgiveness at play while being drawn in by the premium, elegant look on the shelf. The low spin might be a concern but should be able to be managed via a custom fitting. We love the accuracy and distance this club provides, which should help mid and high handicappers, both male and female, find more greens.
Reasons to buy
+
Elegant, eye-catching design
+
Stable and consistent off center
+
Pleasingly powerful feel
Reasons to avoid
-
A little firm off the face
-
Oversize profile may not suit the eye of lower handicappers
The Kalea Premier women's irons not only look fantastic but, thanks to a clever Cap Back design, perform superbly. The Cap Back Design also works in conjunction with a fancy Speed Pocket, which provides the firepower you don't often experience among the best golf irons for women.
This is not necessarily an iron for the purist, so don't expect a buttery soft feel. Instead, be wowed by the distance gains you'll likely achieve. In testing, we were around one club longer and, best of all the high, towering ball flight meant we could really pepper the pin accurately with approach shots and get the ball to stop quickly.
Reasons to buy
+
Powerful distance
+
Offers gentle draw bias
Reasons to avoid
-
Not especially refined visually
The Rogue ST Max OS irons are slightly larger than the Rogue ST Max iron and offer higher launch, wider soles and enhanced offset in a very forgiving design for mid-to-high handicap golfers.They also come in a Lite version for seniors and lady golfers with a graphite shaft to help maximise swing speed.
The lofts aren't quite as strong as on the Rogue ST Max, which is an unusual quirk within the Rogue ST iron range, but if you are looking for a blend of high levels of distance and forgiveness in a confidence-inspiring package, then the Rogue ST Max OS iron is well worth trying this year. They're certainly one of the best Callaway irons (opens in new tab) around right now.
Reasons to buy
+
Effortlessly high ball flight
+
Beautifully crafted
Reasons to avoid
-
Lacks the shelf appeal of some of the other models
GS stands for Graphite Speed, so as the name suggests, this iron is designed to offer distance and control for women with a mid handicap. A revolutionary four-piece graphite-hybrid iron structure helps to generate maximum ball speed and distance, and an enlarged sweet spot promotes greater launch from all areas of the face. Compared to its predecessor, the EZONE GT, the advancement in new materials and technology create 10% greater distance from hits lower on the clubface of this visually pleasing iron. The graphite acts as a damper amongst the harder metals to enhance playability and feel but if you're in the market for something even more forgiving, check out our guide on the most forgiving golf irons (opens in new tab) too.
Reasons to buy
+
Optimal distance even on mishits
+
Solid feel
Reasons to avoid
-
Increased offset not for everyone
Designed for game improvement golfers in an attractive blue and black color scheme, women cannot help but feel confident over the ball with a Big Bertha Reva iron in their hands. The noticeably wider sole is designed with a significant amount of tungsten weighting for a deep center of gravity. Combined with Callaway (opens in new tab)'s Flash Face Cup technology, which encourages and maintains ball speed, women can launch the ball easily with lower spin and hit longer and straighter shots with ultimate forgiveness.
This iron also sounds as solid as it feels thanks to the use of urethane microspheres that absorb unwanted vibration. If you're after more clubs that deliver great distance, why not check out some of the other clubs on our guide to the best distance irons (opens in new tab) in golf.
Reasons to buy
+
Solid and consistent contact
+
Pin-seeking control
Women with moderate swing speeds can get better performance with the T400 irons and enjoy an effortlessly high launch and greater distance. A smooth and easy strike is achieved as a result of the wide body shape with a Split Sole design that provides optimal turf interaction, at the same time as high-density tungsten weighting creates a low center of gravity and works with a super-thin face insert to produce an explosive launch.
The lightweight graphite shaft further enhances higher ball speed, whilst the hollow head construction maximizes forgiveness on off-center shots. One of the best Titleist irons (opens in new tab) in the current range, you should definitely consider the T400's because of the incredible overall performance on offer.
Reasons to buy
+
Long and consistently so
+
Very user friendly for golfers that utilise a lot of the face area
Reasons to avoid
-
Flat ball flight and low spin limits stopping power
The design of the LTDx looks complex. In fact, it has a floating steel bar completely separate from the body and face suspended in a lightweight polymer to get the centre of gravity right behind the preferred striking area. This is said to encourage the face to flex more while also aiding the feel and sound.
Down at address, you'll notice the cut out section from the topline we saw in Radspeed has gone, which will please the traditionalists. It certainly looks inviting to hit although the rear of the sole is visible in the playing position from 7-iron and down, which we'd rather not see. This is likely a product of the fact the lofts have got even stronger here - the 7-iron is 26.5°.
For golfers that want to hit longer, straighter iron shots, the LTDx from Cobra delivers. The number on the bottom of irons has never meant so little, with lofts here getting even stronger to produce a penetrating flight, which could limit playability for those golfers that struggle to launch the ball.
Reasons to buy
+
Balanced and lovely feel
+
Exceptional forgiveness
Reasons to avoid
-
Some might prefer a 5-iron instead of a 5 hybrid
Ping is dedicated to producing clubs that optimize women's swing speeds and this second generation of G Le irons allow players to swing faster with the utmost feel and control.
Overall the club weight is lighter than its predecessor, and by incorporating Ping's COR-Eye Technology with a deep top-rail undercut, which increases flexing across the entire face, means faster ball speeds and maximum height for pleasing distance and accuracy. A tungsten toe weight helps increase MOI by 10% for greater forgiveness and a co-moulded cavity badge ensures a satisfying feel and sound. Highlighted by a rich looking garnet and magenta colorway, the set comes combined with G Le2 hybrids.
Reasons to buy
+
Feel easy to swing fast
+
Inviting looks at address
+
Forgiving off center
Reasons to avoid
-
Not available in One Length
Perhaps one of the best game-improvement iron sets on this list, the Cobra Air-X irons are an impressive and lightweight offering that provides excellent forgiveness for off-centre shots. Having tested these clubs, we found them an absolute pleasure to hit and can help players looking for greater consistency. These irons also really impress on their looks, with their red and black colorway contrasting nicely with the silver sheen of the golf club to give off a very professional look.
If you've been struggling to get good ball flights in your approach play, you'll be glad to hear that this club can offer stability off the clubface. That again makes it great for improving your consistency. You'll find its deep undercut design helps to make miss-hit shots, struck low on the face, still rise to ample launch angles. What's even better about this set of clubs is that they are very affordable too! That makes them a great option for beginner golfers (opens in new tab) and high handicappers (opens in new tab).
Reasons to buy
+
Easy launch
+
Option of a shorter spec for greater accuracy
+
Feels effortless to swing fast
Reasons to avoid
-
Not all will like the chunky looks
Cleveland's Launcher XL Halo irons are said to help develop a better, consistent strike. Gliderails on the long irons deliver excellent turf interaction, while the mid-to-short irons feature V-Shaped Soles to cut through the turf more effectively for cleaner contact. Meanwhile, a new 8g weight placed inside the end of every grip delivers better balance, control, and a smoother swing without extra effort to help square up to the ball at impact.
If precision is what is desired above all else, Cleveland is offering a new Accuracy Build, a custom configuration that is half an inch shorter without counterbalancing to focus on maximum control. Much like the Wilson Launch Pad, this iron is noticeably easy to swing fast and each good distance and accuracy - something beginners crave.
Reasons to buy
+
Highly forgiving on off-center strikes
+
Generates explosive distance numbers
Reasons to avoid
-
Lightweight design takes getting used to
The new D9 women's irons are a game-improvement offering from Wilson, but it must be said that the overall packaging of the D9s has been significantly slimmed down when compared to their predecessors, the D7 irons. That said, from a distance standpoint, the D9s pack every bit as much punch as the D7s, if not more, and have proven to be one of the best distance irons (opens in new tab) we've tested in the game-improvement category.
That distance comes in part thanks to Wilson's urethane-filled power holes, which have been positioned along the sole of the club to maximize face flex at impact. The result is faster ball speeds from across the clubface, as well as higher launch. Aiding in the launch conditions and more importantly the high level of forgiveness that the D9s provide is what Wilson says is the lowest center of gravity it has utilized in an iron, which equates to more stability at impact and improved accuracy on off-center strikes.
Cleveland Launcher UHX Irons
Reasons to buy
+
Superb control through the set
+
Good value
Reasons to avoid
-
Progressive shaped design won't suit everyone
The Launcher UHX long irons, 4-iron through to 7-iron, will appeal to women who prefer the look of a traditional iron but prefer the forgiveness of a hybrid for a blend of distance and accuracy, whereas the cavity back design in the scoring irons, 8-iron through to pitching wedge, help improve shots into the green.
The ability to generate spin is made easier because the face features Cleveland's Tour Zip Grooves and Laser Milling, which means more debris is swept away for a cleaner contact and therefore generating more spin, and better feel. Higher ball speeds are delivered across the entire high-strength steel face to maintain power and distance on off-center hits.
Reasons to buy
+
Explosive off the face
+
Stunning to look at
Reasons to avoid
-
Marginal gains over previous generationt
The Hot Metal iron is part of a quartet of the JPX921 series and the third generation of Mizuno irons to utilize the resilience of Chromoly, which is a high-strength steel that promotes additional energy from the clubface.
Designed for mid-high handicappers, the variable thickness of the sole allows for greater flex and ball speed for impressive launch and carry, whilst extreme perimeter weighting with a toe bias in the cavity back provides forgiveness on off-center strikes. The anti-glare pearl brush finish means no distractions from sunlight. Different shafts and head weights to suit a golfer's swing are available through Mizuno's custom-fit service. Combine these with one of the best women's fairway woods (opens in new tab) and you'll be hitting fairways and greens all around the course.
How we test golf clubs
Here at Golf Monthly, our testing for golf irons is built upon a comprehensive process (opens in new tab) combined with the knowledge and expertise of the entire Golf Monthly test team, headed up by technical editor Joel Tadman (opens in new tab), while contributor Katie Dawkins (opens in new tab) heads up female golf equipment reviews. As far as the specific procedure goes, prior to testing, the team will usually attend product launches and meet with the manufacturer's R&D experts to understand the new technology.
When it comes to testing, we often head indoors first to try clubs in a controlled environment. This usually takes place on an indoor simulator using a premium, reputable launch monitor with premium balls. We also test golf clubs outdoors on real courses to simulate real conditions and get a feel of how these clubs perform in genuine conditions.
We think it is vitally important to do both and continue to test the clubs so they have been comprehensively put to the test in many different conditions. It should also be mentioned that manufacturers cannot pay for a good review and we make our conclusions from the testing and our experiences.
What to consider when buying a new set of golf irons
As golf irons are the most used clubs in your bag, there are several things you need to think carefully about when purchasing your next set of clubs.
1. Type
The first consideration you need to take into account is what kind of golf irons you want to purchase. This is perhaps the most crucial thing to take into account when buying a new set of irons, as there are many kinds of irons that cater to different types of golfers. The most common irons are cavity-backed irons, bladed irons and forged irons. Cavity-backed irons are perhaps most suitable for beginners and high handicappers. Bladed and forged irons are much harder to use and are typically designed for more experienced golfers who are looking for more control and workability. Ultimately, you need to make an assessment of your skills as a golfer before choosing which iron set you want to purchase.
2. Size
Club size is another important factor to consider when purchasing your next set of irons and it is one that many golfers can get wrong easily. The best way to establish what size of golf clubs you want to buy is by attending a golf club fitting session. Here you can spend some time with professional club fitters who can help you purchase the right size of clubs for your height. Purchasing a set of irons that are too long will see you strike the turf before the ball, but too small and you're more likely to top the golf ball. Therefore finding the right middle ground is very important to helping you strike fluid and full golf shots.
3. Shaft flex
Whatever club you have in your bag, the stiffness of your shafts will impact how much distance you're getting on the golf ball, depending on your swing type. Generally speaking, golfers with slower swing speeds should opt to purchase clubs that have more flexible shafts. That allows them to generate more whip on the club helping them to power through the golf ball and create greater club head speeds. Stiffer club shafts are better for players who can generate greater clubhead speeds on their own, with stiffer shafts providing them with greater control over the shot. You can buy an iron set in any type of shaft. So, assess your needs as a golfer and purchase the shaft that is best for you.
4. Forgiveness
Forgiveness is a huge factor to consider when buying any golf club. As you will be striking your irons from many different lies though, it is important to keep in mind how easy it is to play with your irons and how much assistance they offer you when you miss-hit the ball or even hit a shot a little fat. Modern golf club technology means that manufacturers are able to cram a lot of technology into their clubs that can help less experienced players with ball-striking. From larger sweet spots to wider sole grinds, there are a variety of golf clubs out there with many different features that can help you hit better golf shots. We recommend trying them all out and seeing which is best for your swing.
5. Club lofts
When buying a set of golf irons, you will often get the chance to pick and choose what clubs you want. Typically an iron set will come with a group of clubs ranging from a five iron down to a sand wedge. But depending on your game, you may want to consider getting a couple of extras. For example, you might prefer to use a four iron or a three iron over a hybrid and add those clubs to your iron set too.
While your irons may be one of the most important clubs in your bag, you may also want to check out our guides on the best women's fairway woods (opens in new tab), best women's golf shoes, and best women's golf bags (opens in new tab).
FAQs
Can women play with men's golf clubs?
Absolutely yes. While women's golf clubs are designed specifically for female golfers and their swing types, women golfers can also play with clubs that are designed for male players.
How do I know what size of golf clubs to buy?
We always recommend getting fitted properly by a club professional at your nearest club shop. Here they can help you pick out the right type and length of club that will help you strike the ball better. Before you head down to your fitting session, you should take note of your height and the distance from your wrist to the floor. You can then use our guide on what size of golf club to select for your height (opens in new tab) to help you find the best club for you.
What's the difference between women's golf clubs and men's golf clubs?
Generally, women's clubs are slightly lighter than men's clubs, have more flexible shafts, slightly thinner grips and are sometimes a little shorter.