Golf Gift Deals Seen This Black Friday
Check out the best golfing gifts available right now.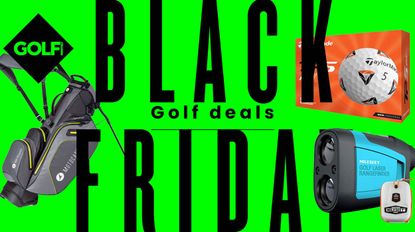 (Image credit: Golf Monthly)
With Christmas on the horizon, now is the time to start purchasing some gifts, with Black Friday (opens in new tab) presenting an excellent opportunity to grab a bargain on some fantastic golf-related presents at some unbelievable prices. If you know a relative or friend who is a golfing aficionado, then you can not go wrong with a golf gift. Here at Golf Monthly we've narrowed down some of the best available deals in the Black Friday rush.
From clothing to technology, there is something out there that will make a perfect Christmas or Birthday present for any avid player. And depending on how much you want to spend, there are a ton of different presents from stocking fillers to game changing items that are the perfect gift for any avid player. If these deals don't suit your eye, then check out our guides to the best golf bags (opens in new tab), golf balls (opens in new tab) and Amazon products (opens in new tab).
Best Black Friday Golf Gift Deals
Best Black Friday Deals - US Quick Links
Best Black Friday Deals - US Quick Links
Today's Best Black Friday Gift Deals
US Deals
UK Deals
Want more of the best golf deals?
Should I buy Christmas gifts on Black Friday?
Definitely! Black Friday presents an excellent opportunity for you to pick up all your Christmas gifts for your golfing friends, for a much lower price than what you would buy them for at real retail prices. And with inflation rising, bills starting to get higher and higher and every one feeling the pinch, it may be a great time to consider buying your Christmas presents on Black Friday. There are plenty of deals to be had on Black Friday with US retailers like Dick's Sporting Goods (opens in new tab), Golf Galaxy (opens in new tab), Rock Bottom Golf (opens in new tab) and Walmart (opens in new tab) all offering excellent value. In the UK, we recommend looking at American Golf (opens in new tab), Scottsdale Golf (opens in new tab), Sports Direct (opens in new tab), Click Golf (opens in new tab) and of course Amazon (opens in new tab). But to get the best value golf balls for your needs, its always best to purchase a golf ball that is right for your abilities and is durable enough for you!
What to look out for when buying golf gifts on Black Friday
Buying golf gifts can be a tricky job. Even when you're not looking to get a bargain in your shopping, it can be really difficult to find the right gift for the person you're buying for. On that basis, there are several things to consider when buying gifts during Black Friday.
Firstly, try to find a gift that's personalized (opens in new tab) for the person you're buying for. Personalised gifts are much better than gifts that the recipient cannot relate too. Plus personalising a piece of golf equipment can be particularly expensive if you're buying that present at its RRP. For that reason, if you want to get something personalised, Black Friday might be the best time to do so.
You also want to ensure that the gift is right for the person you're buying it for. Take a pack of golf balls for example. While it is always great to play with a set of Pro V1 balls, you may want to think of the recipient's, experience level and purchase a set of balls, for example, the TaylorMade TP5 Pix, which can help them improve as a player. The same goes for wedges, irons and drivers (opens in new tab).
Finally, it's not that often that you'll see such great deals on fantastic golf presents, right? So why not plan ahead and pick up a few gifts on the cheap for any birthdays, anniversaries or just general gifts for your golf obsessed friends!