Best Putters On Amazon 2023
We take a look at the best putters on Amazon available right noW, varying in price to suit your eye and budget.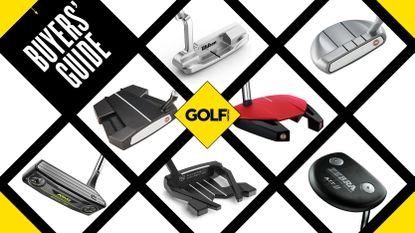 (Image credit: Golf Monthly)
The Best Putters On Amazon
A putter is the club which can save you the most shots when out on the golf course. You could be missing every green in regulation, but if you one-putt every time, then your score is going to be significantly less. Crucially then, it's important you find a putter that you are comfortable with. Whether it is the look, the feel or even a putter that suits your stroke, there are a number of models out there that will get you holing more putts.
However, that leads to another issue, where can you purchase the best golf putters? Well, one place to look is Amazon, with the company one of the largest distributors of golf equipment. Premium brands like Odyssey and TaylorMade are all available on the site, with these manufacturers renowned for high-quality so we feel this guide is definitely worth your time if you need a new flatstick.
It is worth saying though that if you're looking for a deeper dive into the latest models or want something more specific, then be sure to read our guides on the best mallet putters and best blade putters.
Best Putters On Amazon
Mallet Putters
An excellent putter that we put into our Editor's Choice list
Specifications
Loft: 3º
Length: 33",34",35"
Reasons to buy
+
High MOI in a compact head
+
Excellent insert sound and feel
+
Stylish design
Reasons to avoid
-
Alignment line could be longer
The flagship of TaylorMade's new line of Spider putters, the Spider GT recently featured in our Editors Choice awards for 2022, as a high-performance putter that provides excellent stability and responsivity around the greens. The club has been updated from the Spider X which was made of a predominantly steel frame that had tungsten weights in its rear corners. The Spider GT now looks to further improve the distribution of weight on the club, through its two steel wings, which move the weight of the club away from its center, increasing its MOI and making it more stable through impact.
On testing, I felt the putter provides a good roll and felt solid on impact thanks also to its new Pure Roll 2 face insert. The club also interestingly places the shaft towards the central alignment line on the putter, which may or may not be to every golfer's tastes, but it did make it seem like it was easier to line up the putt with our hands.
As for style, TaylorMade have given this club a very sleek, sci-fi finish, which adds to the quality of the club. Its top aluminum plate comes in red, silver or black, and when flipped over, you'll reveal the bright red and yellow Spider logo which completes the great finish this club has. Its sleek design and performance-enhancing qualities mean this is one of the best putters currently available on the market.
Boasting the iconic Odyssey white face insert, this is an excellent feeling club
Reasons to buy
+
Iconic face insert
+
Stroke Lab shaft aids feel
Reasons to avoid
-
Retro look might not appeal to all
Odyssey has brought the White Hot name and its legendary appeal back for 2021 with a range of putters that are made to feel, sound and perform like the White Hot putter of old, but with today's technology. It boasts a classic design that, if you like mallet putters, will certainly catch your eye. Its simplistic look combined with the modern red Stroke Lab shaft gives it a very cool design and will fill you with confidence on the course. The club's half-moon shape is contrasted with a clean black sight line and that helps to frame the ball and get the right line on the golf ball.
The original feel and sound of the old insert has been maintained with the two-part urethane insert bringing the putter right into the 21st century. And we loved the sensation it delivered when you push through the golf ball. There is also a much more premium aesthetic on these putters thanks to the silver PVD finish. We found this club comes in at the value end of the price spectrum with the the putter also available in a blade style with the #1 and #1WS or a mallet style in the 2-Ball, #5 or #7 head, forming some of the best Odyssey putters available right now. All options come with the same fantastic insert, so it's all about picking the head shape that works best for you!
Excellent value for money and a cool crown design
Reasons to buy
+
Great alignment lines
+
Solid sound and feel
+
Good value for money
Reasons to avoid
-
Simplicity of design may lack wow factor
An iconic design in the world of golf, Zebra has introduced the AIT 1 putter to harken back to the days of the Ram Zebra design which won Major titles. Compared to the original, the face is deeper with an insert and the head is larger and rounder to create more forgiveness. In a nod to the past, the AIT 1 sole plate still features the Zebra turning its head and of course the distinctive alignment lines on the crown.
These are now grey on black instead of black on grey, which helps to make the central white line stand out more. The deeper head allows the lines to be longer and this combination creates an alignment aid at address with a strong visual look. Performance wasn't just about looks though as the roll and sound in testing was very good. It is a reasonably forgiving putter too and Zebra has done an excellent job of reinventing the original mallet for the modern game.
A very forgiving putter that delivers a very high MOI and excellent feel off the face
Specifications
Loft: 2 up-2 flat
Length: 33"-37"
Reasons to buy
+
Confidence inspiring shape
+
Good alignment line options
+
Stunning club head design
Reasons to avoid
-
Prefer darker head across all models
The Odyssey Eleven putter, which made our comprehensive list of the best golf clubs, has a composite head design made up of a steel crown with a lightweight TPU & aluminum under-body and heavyweight steel weights in each of the back corners. This gives it a very high MOI to improve forgiveness on off-centre hits. It continues the larger headed mallet shape found in the Odyssey 2-Ball Ten putter, coming with a stunning aluminium crown, that has been carved to improve the weight distribution of the club.
That works with the majority of the club's weight sitting in the back corners of the Odyssey, that helps to move the center of gravity forward and away from the middle of the club, to deliver a very high MOI that made this feel like a very stable putter during our testing sessions. It is in our opinion one of the most forgiving putters in golf, we loved the White Hot insert, as seen in some of the best Odyssey putters, but despite it looking like a heavy club, we found it was surprisingly light. There is also a choice of different alignment lines on the head and hosels for a straight or arc stroke, another great addition to a club that we loved using on the course.
A sci-fi looking putter that comes in at a great price
Reasons to buy
+
Premium performance at a cut price
+
Black finish
Reasons to avoid
-
Quite a large putter and busy head which won't suit all
The Wilson Staff Infinite Buckingham putter has a very recognizable head shape that features counterbalance technology. This combines a heavier head and grip weights to move the balance point closer to the hands for a smoother and more controlled putting stroke.
As such, in testing it felt extremely stable through the strike and impressively twist-resistant, which instills confidence over the ball. The feel off the double-milled face is also pleasant. It's more of a soft, gentle thud than a high-pitched ping which many will enjoy. The Buckingham also comes with an oversize grip as standard which is great for golfers who use a claw grip, or golfers who find themselves gripping too hard on a thin grip and want a softer feel.
Blade Putters
An excellent blade putter that offers classy looks and a great feel
Reasons to buy
+
Milled feel is very good
+
Classy looks
+
Great feeling grip
The Wilson Staff Model BL22 putter is an excellent looking flat stick that delivers nice feel off its face as well as some handy adjustability settings. Akin to many of the Anser style offerings found on our best blade putters guide, the BL22 boasts a stunning 304 stainless steel finish that gives the club a very classy look and feel. We particularly liked the milling on the face of the club, that contributes to its overall soft feel, which ensures there are less points of contact on the ball at impact.
At address the club has a long profile with a short, black alignment line that sits right behind the center of the face. The leading edge is relatively narrow, something more experienced players will enjoy. The BL22 is well balanced and its heel/toe design will suit players with an arc in their putting stroke. One cool point to note here is the two adjustable weights on the sole of the club that can be altered to suit your needs. Overall, this is an excellent putter that looks the business but feels excellent too!
A excellent blend of performance and shot-tracking
Specifications
Loft: 1°-4°
Length: 34"-35"
Reasons to buy
+
Embedded Arccos sensor tracks performance
+
SIK's Descending Loft Technology on the face
Reasons to avoid
-
Some may want a more premium look
Cobra worked with SIK Golf, a company that have developed the Descending Loft Technology, providing Cobra's Vintage Sport-60 with an aluminum face insert that features four descending lofts to produce the most consistent roll trajectory for different putting strokes.
In testing we noticed the feel of the putter itself is quite firm - there is quite a loud, clicky sound off the face - which may not be to everyone's taste but would certainly compliment a softer feeling golf ball. In truth, there isn't much to dislike about this putter, because it felt stable too. It comes with 25g heel and toe weights as standard but you could buy heavier ones from Cobra if you wanted more forgiveness.
The grip is fitted with lightweight polyurethane Lamkin Sinkfit Connect, making the feel of the club softer than a classic blade putter. The club can also be paired with the Arccos Caddie app to receive a in-depth putting data, due to an embedded sensor in the club that sync with the app.
How We Test Putters
When it comes to product testing, our reviews and buyers' guides are built upon a rigorous testing procedure as well as the knowledge and experience of the test team. The putter section is headed up by Martin Hopley, one of the foremost UK equipment reviewers with over 20 years' experience. Other members of the Golf Monthly team contribute to the putter tests as well, and all writers are able to efficiently test the vast majority of the biggest product releases and convey the pros and cons eloquently.
Getting into specifics, we test the putters outdoors on real greens with premium golf balls to get a thorough understanding of design features, feel, sound and looks. Ultimately, we aim to be as insightful and honest as possible in our reviews so it is important to acknowledge that no manufacturer can buy a good review. This is because our team tells it how it is. To learn more on our methodology, see how Golf Monthly tests products in our guide.
How to choose a new putter
When it comes to arguably the most important golf club in the bag, you need to think about what you want and what you like to use when it comes to the putter. A confidence-inspiring design that suits your eye and suits your stroke can save countless shots on the greens and a good flatstick is often a quick way of bringing the handicap down. So then what are the things you need to mull over before purchasing?
Head Design
Putters come in a traditional blade, mid-mallet or a mallet design. All three styles have positives and negatives to them for every player and luckily lots of brands implement technologies across all three.
Mallet putters tend to be much larger than blades and they usually come in various shapes and sizes. This helps in a number of ways. A lot of the time most of the weight in a mallet putter can be found in the club face however because of its design, weight can then be redistributed to other parts of the head which can help stabilize your stroke. The weight of the putter in the perimeter of the club-head offers better balance than what can be offered from a blade putter.
Mallet putters tend to also have a larger sweet spot which can be beneficial if you are a player who struggles to consistently strike your putts out of the middle of the face. The weight in the club-head also helps here because it diminishes the twisting of the putter throughout the stroke too. Additionally if you struggle with alignment, a mallet putter could be the way to go as they usually have longer alignment lines. Alignment plays a crucial part in putting because it is all about accuracy and a mallet putter can be beneficial here by helping your eyes line up the putt.
A blade putter is a lot simpler in terms of design and will suit the traditionalists among you a lot more than some of the mallet putters pictured above. Blade putters also tend to suit players with an arc in their putting stroke because of the toe-weighted nature of the club-head.
Feel
Here, we're talking not just about the feel and sound the ball makes coming off the face, but how the putter feels in your hands.
A quieter sound contributes to a softer feel, whereas a louder sound usually translates into a firmer feel. A firmer feel is often the product of shallow grooves or no grooves at all on the face, where sound can't be dissipated as effectively. They work better with softer feeling golf balls, where as soft-feeling putters work best with firmer golf balls.
You can get putters with adjustable weights in the sole that will alter the feel of the putter. For example, if your stroke is quite smooth and slow, a heavier putter will encourage that more. Jerky putters may prefer a lighter putter, although opting for more weight may reduce it, depending on what your goals are.
Having the best putter grip plays a huge roll in the confidence you feel with a putter. Get one that feels right and sits in your hands comfortably while allowing you to return the putter back to the ball squarely and consistently.
Looks
You should get a putter that you like the look of as the aesthetics can play a role in inspiring or diminishing confidence on the greens.
Blades won't offer as much alignment assistance, but are still popular because of how they feel and the levels of forgiveness are increasing every year.
Mallet putters have more real estate, and can therefore provide more help to set the face squarely. Mid mallets are somewhere in the middle, offering a decent level of assistance without looking too cumbersome.
Value
Our final tip is to think about price because while there are some premium designs out there, there are also some models which offer excellent value. All putters will propel the ball towards the hole, but they do it in different ways. If performance is more important than looks or feel, there are lots of cut-price options out there that will do a good job and you can spend more money on other areas of your bag.
For more advice on getting the right putter for your needs as a golfer, why not also check out our guides to the best left handed putters, best putters for beginners and best arm lock putters.