Best Armlock Putters 2023
Our in-depth look at the best armlock putters on the market right now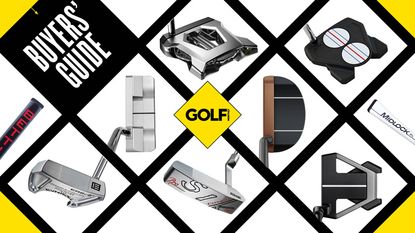 (Image credit: Future)
Best Armlock Putters
Armlock putters are a fantastic way for golfers who struggle to keep their club steady through impact. If you're having issues with your putting stroke then changing the offending weapon can help you shave a few shots off your scorecard. But why not change your grip as well to the armlock method? Armlock putters have a longer shaft and grip which is secured against your leading forearm. That allows you to rock your shoulders like a normal stroke and produce a more fluid movement.
This method has been popularized by Matt Kuchar and more recently Bryson DeChambeau who have used it to great effect as it takes the hands out of the stroke to make your swing more consistent. Dissimilarly to some of the putters featured in our best putters (opens in new tab) guide, armlock putters have shafts that range from 38 to 42 inches. The grips are longer than standard putters and the heads have to be weighted differently to provide a similar counterbalance and swing weight to a traditional model.
In addition, they tend to have more loft on the face and the shaft leans towards the target more compared to a traditional putting stroke where it is usually vertically in line with the ball. Most manufacturers only carry one or two models in the range that have been modified to be armlock putters and generally as they are a very forgiving putter (opens in new tab) they tend to be larger face-balanced mallets. Read on to find out which models should be on your list if you are in the market for an armlock putter.
Why not also take a look at the different putters each manufacturer has available by looking at our guides on the best Ping putters (opens in new tab), the best TaylorMade putters (opens in new tab) and the best Odyssey putters (opens in new tab) for more information about what types of clubs
Best Armlock Putters
Why you can trust Golf Monthly Our expert reviewers spend hours testing and comparing products and services so you can choose the best for you. Find out more about how we test.
A putter so good, we included it in our Editors Choice Awards for 2022
Reasons to buy
+
Sweet Face grooves for consistent ball speeds
+
Large clear alignment lines
+
Forgiving head
Reasons to avoid
-
Sound a little on hollow side
An update on the Evnroll ER11v model, the ER11vx putter is designed to increase the MOI of the ER11v, to provide greater stability, and make it more forgiving on off-centered hits. We found this club had one of the best faces on the market, with its 2º of loft providing a solid feel through impact and a smooth roll. It also features an Evnroll Sweet Face design, which uses variable width and depth of grooves on its clubface, to reduce the dispersion in distance and accuracy that can occur if you don't strike the ball on the sweet spot of the club.
You'll also notice the putter has a hollow circle on its bottom that not only helps to move the weight of the club head to its extremities but is a way to pick up the ball without bending down. For that reason, the armlock version, or as Evnroll call it, their Midlock version, would be a great putter for senior golfers or anyone struggling with a sore back to help reduce the amount you're bending over on the course. Overall, it is certainly one of the most forgiving putters (opens in new tab) on the market and is a great armlock putter for golfers looking to improve their consistency and accuracy around the greens.
Ideal for golfers seeking easier alignment
Reasons to buy
+
High level of customization
+
Long alignment line
+
Provides excellent stability
Reasons to avoid
-
Styling might not be for everyone
There's no doubt that the PXG Battle Ready Blackjack Putter will split opinions on its loud style, but looks aside, this is a very good putter that will help you save shots on the greens. It comes with a host of customization options that help to really dial in your stroke. There are four sole weights on the club's back that can be adjusted to fine-tune the head. They draw the putter's weight to the back to increase forgiveness of the roll of the club. That means you can hit some very sweet putts with this club.
The variable-sized diamond pattern of the grooves on the face aims to create more speed consistency across a wider area. This works by providing more points of contact away from the center than in the middle, which in turn ensures that the initial velocity of the ball is more consistent. The feel from the face is very good and if you like the sound of golf ball on metal then you won't be disappointed. One other point to note about this club is that the armlock edition of the PXG has the heaviest head, weighing 409 grams, of all the different types of Blackjack putters you can buy or customize. That makes it a very good putter for those who are looking for a bit more weight in their club to help stabilize their stroke through impact.
The brand used by Bryson DeChambeau
Reasons to buy
+
Stainless steel head
+
Milled face
+
Descending Loft Technology for better roll
+
Custom heads and length
Reasons to avoid
-
Lower MOI than mallet style
With Bryson DeChambeau as the poster boy of armlock putters, then you would expect his chosen manufacturer SIK Golf to have the widest range and you would not be disappointed. As well as the C-Series face-balanced Flo mallet and DW wide blade they have the Pro blade that Bryson uses on tour. While this is one of few blade armlock putters on this list, why not take a look at our guide on the best blade putters on the market (opens in new tab) for more information on what different golf brands have to offer.
In common with the other models, it is made from stainless steel with a milled face that uses Descending Loft Technology to vary the loft on the face to create the right roll however you deliver it. The standard face varies from 4 to 7 degrees vertically upwards from the sole to the top line and the standard shaft is 41 inches, but as one of the leaders in this field, there are multiple options to customize your SIK Golf armlock putter on their website.
One of the most forgiving, cutting-edge models on the market
Reasons to buy
+
Multi-material head
+
Face balanced mallet
+
Descending Loft Technology on face
+
Optional Arccos sensor in grip
Reasons to avoid
-
Extremely large address profile
In Cobra's 3D printed range there are a couple of models that feature armlock shafts. Continuing the mallet theme to this guide, another model to mention is the Agera from Cobra. As you can see above, it has a large footprint which is a key part of the design because it has been created to offer the highest MOI possible. It does this in part because of the 3D-printed inset and tungsten weights.
It is unquestionably one of the most forgiving putters on the market and this is further aided by SIK Face Technology which uses descending loft technology to produce consistent stroke through the ball. And we've found that technology to be a genuine asset in our testing. It certainly looks very futuristic with all the different components adding something unique to the design. We think it could take a bit of time to get used to but there are very few putters out there that help players as much as this model does. That makes this armlock putter a great option for high-handicap golfers (opens in new tab).
For golfers seeking a forgiving, user friendly armlock option
Reasons to buy
+
Face balanced mallet
+
White Hot insert
+
Face Microhinges for better roll
Reasons to avoid
-
Lines through 2-Ball may not appeal to all
The Odyssey 2-Ball Ten Armlock Putter takes the classic 2-ball style from the high MOI Ten range to create a high MOI mallet ArmLock putter. The new 2-Ball Ten comes with Odyssey's famous 2-Ball alignment and it really helped us to make sure sure the ball was lined up correctly and the face came in square at impact. It is a very useful tool for those who tend to push or pull lots of putts.
Being a mallet, the club is a very forgiving putter and mishits aren't too punishing, making it ideal for the golfer who struggles with consistent strikes. The feel off the face is nice and soft too and that feel is mirrored in the sound it makes. The 2-Ball Ten is also available with Odyssey's Triple-Track alignment and this works very well with Callaway's Triple Track balls if you're looking for even more help with alignment.
The brand that produced our top model for 2021
Reasons to buy
+
Midlock grip promotes less shaft lean
+
Variable length shafts
+
Milled steel head
+
Face grooves for better roll
Reasons to avoid
-
Less face loft than most due to Midlock grip
Evnroll has adapted the armlock style to what they are calling Midlock. The shaft features a wider grip that pushes the shaft more towards the middle of the stance and therefore reduces shaft lean by 5 degrees. Therefore the optional 39, 40 or 41-inch shaft uses a heel/toe balanced face like the ER2v with only 4 degrees of loft.
The head is milled from 303 Stainless Steel and uses grooves on the face to get the ball rolling better. The ER2v head is a standard Anser style design with a wider sole at the back to increase forgiveness. The stock Envroll Tour Tac grip is also a big positive. It has a wide front edge with thumb position markers and a soft, tacky feel that just melts into your hands and makes it feel like you are one with the putter. Having a good grip on your putter is seriously underrated, so for that reason, we've set out a list of the best putter grips (opens in new tab) currently available on the market.
One of the first brands to produce an Armlock option
Reasons to buy
+
Clean head with good alignment lines
+
Quality milled face gives a good feel
+
A very forgiving putter
Reasons to avoid
-
Relatively small head for mallet
The Bettinardi Inovai 8.0 putter is their milled face-balanced mallet that offers a high degree of forgiveness for the size of head. The chrome leading edge combines with a dark 6061 military-grade aluminum body to create some distinctive alignment lines.
As you would expect from Bettinardi, the feel is very good thanks to the milled grooves in the face. There is a wide choice of shaft lengths, grips and hosel types so you can customize the Inovai 8.0 to your putting stroke. The club's armlock editions can be customized to whatever height suits you best and is described by Bettinardi as the perfect mallet putter for players with a straight back and straight-through putting stroke.
How we test armlock putters
When it comes to product testing, our reviews and buyers' guides are built upon a rigorous testing procedure as well as the knowledge and experience of the test team. The putter section is headed up by Martin Hopley, one of the foremost UK equipment reviewers with over 20 years of experience. Other members of the Golf Monthly team contribute to the putter tests as well, and all writers are able to efficiently test the vast majority of the biggest product releases and convey the pros and cons eloquently.
Getting into specifics, we test the putters outdoors on real greens with premium golf balls to get a thorough understanding of design features, feel, sound and looks. Ultimately, we aim to be as insightful and honest as possible in our reviews so it is important to acknowledge that no manufacturer can buy a good review. This is because our team tells it how it is.
Our Technical Editor Joel Tadman (opens in new tab) has also recently been looking into some of the benefits and drawbacks of armlock putters. If you're interested in finding out more about how to use an arm lock putter and how they can help you, take a look at his guide assessing whether armlock putters are the future of golf (opens in new tab).
What to consider
There's no doubt that a lot of high-handicap golfers can benefit from the attributes that armlock putters have. The putter is probably the most important club in the bag because it can save so many shots off your scorecard. For that reason, it is very important when purchasing an armlock putter to keep in mind the following considerations to ensure you get the right club for your needs.
Head Design
Putters come in a traditional blade, mid-mallet, or mallet design. All three styles have positives and negatives to them for every player and luckily lots of brands implement technologies across all three. Typically armlock putters will come in a mallet design, which is built to add more weight onto the end of the club to give the golfer a steadier swing to keep the club steady through impact.
Mallet putters tend to be much larger than blades and they usually come in various shapes and sizes. This helps in a number of ways. A lot of the time most of the weight in a mallet putter can be found in the clubface however because of its design, weight can then be redistributed to other parts of the head which can help stabilize your stroke. The weight of the putter in the perimeter of the club-head offers better balance than what can be offered from a blade putter.
Mallet putters tend to also have a larger sweet spot which can be beneficial if you are a player who struggles to consistently strike your putts out of the middle of the face. The weight in the clubhead also helps here because it diminishes the twisting of the putter throughout the stroke too.
Additionally, if you struggle with alignment, a mallet putter could be the way to go. Alignment plays a crucial part in putting because it is all about accuracy and a mallet putter can be beneficial here by helping your eyes line up the putt. A blade putter is a lot simpler in terms of design and will suit the traditionalists among you a lot more than some of the mallet putters pictured above. Blade putters also tend to suit players with an arc in their putting stroke because of the toe-weighted nature of the club-head.
Feel
This is a very important factor to consider because when putting, feel is everything. Some putters offer a firmer feel off the face whilst others are soft, some are heavier than others too so you need to find a model that fits well in your hands. The putter grip plays a huge part in the confidence you feel with a putter, particularly when playing with an armlock putter.
Pick an armlock putter with a grip that feels right and sits comfortably in your hands and presses nicely against your arm. You may also want to think about the shaft too, for example, think about how much vibration you get from the shaft, whether you like the feel of the ball reverberating along the shaft, or prefer that to be nerfed.
Looks
You have to like what you are putting with because this will give you confidence when you're standing over the ball. In terms of armlock putters, there are loads of classic and futuristic designs above so it is purely a case of finding a model you like the look of.
Alignment tools
It's also worth thinking about the alignment tools the putter can offer you. While some golfers may not prefer to have any aiming guides on the back of their putters, most players can seriously benefit from having an aiming line on the back of their putter which can also help to improve your focus on the ball and help you strike through the shot more square.
Price
Our final tip is to think about price because while there are some premium designs out there, there are also some models which offer excellent value, as the selections above show. Sometimes less experienced players should steer clear of the more expensive offerings currently on the market which may actually not be very forgiving and may not be suitable for your swing style.
FAQS
Who should use an armlock putter?
Players who get the yips on the putting greens should use an armlock putter. If you struggle to control your hands and keep them smooth through impact, armlock putters can help you. Armlock putters can also help you produce more fluid and sweeter strokes as proper loft and alignment are achieved when the club is resting on your arm.
Which professional golfers use armlock putters?
Several PGA Tour professionals including, Bryson DeChambeau, Webb Simpson, Bubba Watson, Xander Schauffele and Matt Kuchar have all used armlock putters at one time.
Are armlock putters legal?
Any putter that is anchored to any part of your body, for example, a chest putter is banned. Armlock putters are not anchored to your body so are legal and okay to use in golf. This is because the club rests against an arm, which is moving independently of your body.
But if you're still stuck on what putter to choose, why not take a look at what some different brands have to offer and check out our best women's putters (opens in new tab) buying guide or our best Scotty Cameron putters guide for more information on the types of clubs different manufacturers can offer.
Martin Hopley is one of the foremost UK equipment reviewers with over 20 years' experience. As the former founder of Golfalot.com he was an early pioneer of online reviews and has also been a regular contributor to other titles. He is renowned for his technical knowledge and in-depth analysis, which he now brings to Golf Monthly.