Toe Hang Or Face Balanced Putter?
It's a big decision when choosing your flat stick. Here's how to make sure you match it up to your stroke...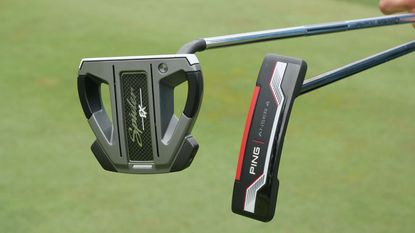 (Image credit: Golf Monthly)
It's a big decision when choosing your flat stick. Here's how to make sure you match it up to your stroke...
Toe Hang Or Face Balanced Putter?
One big decision when choosing a putter is whether you go for a toe hang model or a face balanced one.
All golfers have different putting strokes from straight-back-and-through to a slight arc to a bigger arc.
This will affect which putter is best for your game, so we'd recommend a putter fitting or at least some advice from a PGA Professional.
You'll notice that in the image below, the Ping is a blade putter and the Scotty Cameron is a mallet.
Related: Best Putters (opens in new tab)
However, there is more to it than that.
One of these putters is designed with a straight-back-and-through stroke whilst one is designed for players with an arc to their stroke.
When you balance the putters on your finger, the Ping clearly has a toe hang and the Scotty doesn't, meaning that the bladed putter more suits golfers with an arced putting stroke, whilst the mallet (opens in new tab) is better for the straight-back-and-through strokes.
It's really important that you marry up your putter with your stroke…that's how you find consistency on the greens.
There really is no excuse for having a mis-match in that regard.
You can find bladed putters suited to a straight-back-and-through stroke and mallets for an arced stroke, just make sure that yours is the right one for your game.
Related: 8 biggest golf equipment mistakes
Straighter stroke technique:
If you want to create a straighter stroke you need to make two slight changes.
Stand closer to the ball, your wrists will be higher at address and the heel of the putter might even come off the ground, and stand a little taller at address.
These help the shaft to hang more perpendicular to the ground which will naturally allow the putter to move on a straighter arc.
Arced stroke technique:
For a stronger arc there should be a little bit more shoulder rotation both back and through.
The putter will move on the inside on the way back, return to square through impact and then move inside again on the way through.
It is just like a mini version of your full swing.
For more gear content, check out the Golf Monthly website.
Location: Forres GC
David is recognised as one of Scotland's elite teaching professionals. A former Scottish Golf Coach of The Year winner he coached Russell Knox and Kelsey MacDonald when he was the head pro at Nairn Dunbar in the Highlands. David was also one of the first Scottish Golf coaches to gain the advanced coaching qualification of Level Three Sports Coach UK in 2013.
How best to communicate:
Six years ago I decided to experiment with an idea that I had thought of to ensure that my communication was clear, understood and used. My voice audio clips have led to outstanding results. My students leave our sessions with a short audio commentary in their phone which covers their entire set-up routine and swing words which they can use on the range or the course while practising. I match the speed of my swing control wording to the rhythm of their swing for easy repetitive use.
Biggest influence:
Initially it was Sir Henry Cotton who influenced me to major in coaching while spending an afternoon with him on the practice ground at Bruntsfield Links Golfing Society as a young professional. Henry was 'teaching me to teach'. Since then I have tried to become as good at the art of coaching as I can be. I have been influenced by books I have read, my personal highs and lows with my own game and information shared with fellow professionals I have known over the years.
Greatest success story:
Sandy Scott came to me for coaching at the age of 10, having just started playing golf and 10 years later was selected for the Walker Cup team. He was selected again for the 2021 team but had to decline the invitation to play due to an ongoing wrist injury. Sandy was a skinny wee boy with a mediocre swing when we started and we developed a game worthy of a number one ranking in the UK and top five in the world. Sandy is now based in Texas USA.