Best Odyssey Putters 2023
In this guide, we look at some of the best Odyssey putters currently on the market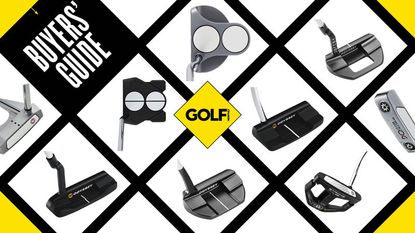 Best Odyssey Putters
When you look at the best Odyssey putters, you are looking at a brand that has become synonymous with designing and manufacturing some of the best putters in the world. They've produced many iconic putters over the years, with the Odyssey 2-ball shape being one of the most memorable models ever created. They've also introduced modern technology like Stroke Lab shafts and Triple Track alignment that appears on their putters and on some of the best Callaway golf balls, plus the premium Toulon Design creations.
Needless to say there's something for everyone here and, through some amazing shaft technology, the feel on all these putters is excellent. If you want one of the best mallet putters, or perhaps one of the best blade putters, then Odyssey will be a regular feature! Alternatively, if Odyssey is not for you, then we have also created guides on other brands, such as the best Scotty Cameron putters, the best TaylorMade putters and even the best Ping putters currently on sale.
Best Odyssey Putters
Why you can trust Golf Monthly Our expert reviewers spend hours testing and comparing products and services so you can choose the best for you. Find out more about how we test.
Best Forgiving Odyssey Putters
A visually excellent putter that offers plenty of forgiveness
Specifications
Face: White Hot
Loft angle: 3°
Length: 33"- 37"
Reasons to buy
+
Confidence inspiring shape
+
Good alignment line options
+
Great grip
Reasons to avoid
-
Prefer darker head across all models
The Odyssey Eleven putter might be one of the most forgiving putters on the market and is a super-high MOI product that is made up of a steel crown with a lightweight TPU & aluminum under-body and heavyweight steel weights in each of the back corners. Featuring three head designs, there are plenty of options for both amateurs and professionals, with the Eleven including a Tour Lined version with a full length single alignment line.
Visually, it is a futuristic looking putter and comes with some excellent milling patterns that contrast the bright White Hot Face insert. Whilst there is no line on the plain version, in the right light you can see a subtle one created by the light reflecting off the raised centre of the crown which is a cool touch. It is also jam-packed with technology, with the Odyssey Eleven one of the best putters on the market. This is because it delivers on its aim for maximum stability in a head shape that is pleasing to look at.
However the Odyssey Eleven is more than a shape as it is composite design that comprises a steel crown with a lightweight TPU & aluminum under-body and heavyweight steel weights in each of the back corners. This keeps the CG forward and Callaway claim it is ¼ inch further forward than other leading mallets. This is combined with a very high MOI of 5,168 g/cm2 so this is a very stable putter that will get the ball rolling well. As such it is one of the most forgiving putters in golf as well.
A very responsive putter
Specifications
Face: White Hot
Loft angle: 3º
Length: 33"-37"
Reasons to buy
+
Easy to align
+
Super responsive feel
+
Encourages a pendulum-style rocking action
Reasons to avoid
-
Some may want a firmer feel with more speed
The Odyssey White Hot Versa 12 S putter features the brand's patented Versa alignment which has been created following feedback from short game coach, Phil Kenyon, as well as a number of the world's top professionals. Along with the alignment, it also has a bold black and white contrast head, which we felt aimed the face at address and helped keep an eye on where it was pointing throughout the stroke. It is in our opinion one of the best looking Odyssey putters in the game right now and comes with plenty of forgiveness.
It has a mid-sized footprint which fills the void between blade and mallet perfectly, although we would personally say it's closer to a mallet style. It's worth noting that the unusual shape won't suit everyone's taste, but the bigger head gave us a greater awareness of where putts were being struck. Aesthetically then the Versa 12 S delivers and, feel wise, it also provides a premium feel, with the urethane material and White Hot insert delivering a pleasing sound and weighty feel that makes the face feel very stable. For that reason it is the one of the best putters for high handicappers.
A consistent and forgiving putter that delivers superb feel and feedback
Specifications
Face: White Hot
Loft angle : 3º
Length: 33"- 37"
Reasons to buy
+
Exceptionally easy to aim
+
Soft, responsive feel
+
Creates a consistent and very true roll
+
Noticeably stable through the hit
Reasons to avoid
-
The soft feel may not suit those that play a soft ball
With lots of shelf appeal, a forgiving club head and some very handy alignment lines, the Odyssey White Hot Versa 3T S putter is an excellent all-round flat stick for anyone looking to improve their consistency on the greens. In this offering, Odyssey has put a futuristic spin on the mallet game, with the Versa 3T S boasting a bold black and white stripe system that delivers a very distinctive and effective visual guide for aiming. We loved the aesthetics on offer here with the simple sight line contrasting nicely against the black top line, that helped us to square up the face through the hitting are.
During our testing sessions, one of the highlights of this club was the soft feel on the putter that was very responsive and offered smooth ball rolls. The club retains the excellent White Hot face insert and that certainly helps to add to the excellent feel on offer. The simple mid-mallet shape of the head really appealed to us too. While it feels compact, it comes with a little bit of toe hang that will suit strokes with a slight face rotation and arc.
The ruby red Odyssey Stroke Lab shaft completes a feature-packed club design that helps to reduce the weight of the club by seven grams - making it more stable. For that reason we think this is one of the best mallet putters going and is a fantastic option for those looking to reduce the amount of putts their making on the greens.
One of the most stable blade putters around
Specifications
Face: White Hot
Loft angle: 3º
Length: 33"- 37"
Reasons to buy
+
Very stable putter for a blade
+
Good feel from White Hot insert
+
Sleek looks
The Odyssey Tri-Hot 5K putter brings high MOI to a blade putter shape. Certainly it is one of the best blade putters on the market, and this is thanks to large amounts of tungsten in the heel and toe of the putter. What's more, it also creates a more forgiving blade that will suit an arc putting stroke.
It features in the #2 shape and also a Double Wide which is excellent. To add to the experience, it lines up perfectly with the stock Stroke Lab shaft for more consistency, with the Tri-Hot 5K masking a lot of forgiveness in a classic style.
In testing, we found that the stability was very good for a blade, especially with a 50 degree toe hang weighting style. Even though it is a standard size, the putter visually felt a little oversized which will no doubt increase confidence.
A visually excellent putter that is great for those looking for more accuracy
Specifications
Face: White Hot
Loft angle: 3º
Length: 34"
Reasons to buy
+
Incredibly easy to line up putts
+
Very stable off centre
Reasons to avoid
-
Triple Track head not as useful without corresponding balls
Whilst this putter doesn't swing itself, it pretty much does the rest for you. Odyssey has added some incredibly useful alignment tools to the 2-Ball Ten, a putter that is surprisingly lightweight, easy to roll and forgiving across the face. Featuring Odyssey's famous 2-Ball alignment to help you line the ball up correctly so the face comes in square at the point of impact, it is also extremely forgiving on off centre strikes, making it ideal for those who struggle to find that consistent roll.
A special mention also goes out to the feel off the face. Although it is soft, it's not excessively so, with a gentle 'pop' sound in no way offending the ears or contributing to a harsh feel. There is also the welcome addition of a larger stock grip which fitted our hands well and, although the feel overall was lighter than we were expecting, perhaps due to the lighter StrokeLab shaft design, our timing was on from the start and this will help golfers with faster tempos.
Best Classic Odyssey Putters
An excellent-looking
Specifications
Face: DFX
Loft angle: 3º
Length : 33"- 34"
Reasons to buy
+
Really well balanced
+
Easy to align and produces a great roll
Reasons to avoid
-
DFX insert is softer than the White Hot OG insert
The Odyssey DFX 2-Ball features the classic shape that also appears in the Odyssey White Hot OG putter range. The excellent balance of this head is immediately noticeable when rolling a few putts and the performance can't be faulted as it is easy to stroke and get putts rolling end over end consistently.
The DFX version features a slightly softer insert than the White Hot OG and the darker color scheme really makes the 2-Ball design stand out. We have to admit that it looks incredible, creating a confidence-inspiring visual when you're standing over the ball. Aesthetically it performs superbly and, whilst we are it, the balance is excellent. It will come down to personal preference, but the weight felt very evenly distributed throughout the whole club and, consequently, it felt easy to control the face and length of stroke, producing really consistent results.
A well balanced putter great for less experienced players
Specifications
Face: White Hot OG
Loft angle: 3º
Length: 33" - 35"
Reasons to buy
+
Very well balanced for size of head
+
Better alignment line
+
Excellent grip
Reasons to avoid
-
Nano head is quite compact
The Odyssey White Hot OG #7 Nano putter is the smaller version of the classic #7 shape. This fang shape is almost as iconic as the White Hot insert itself and is ideal if you struggle with hitting the ball out of the centre of the face consistently. Just because it is a smaller version doesn't mean it is not forgiving, with the #7 Nano putter more forgiving than it looks.
If do you need that extra size though then we would recommend going for the standard White Hot OG #7, but both provide stability with good alignment features. A notable feature is also the new Odyssey pistol grip, with the oval shape making it a slightly wider pistol top section. This grip fitted nicely in our hands and it also looks durable enough to stand the test of time.
A classic design that looks great on the course
Specifications
Face: White Hot OG
Loft angle: 3º
Length: 32"- 33"
Reasons to buy
+
Very easy to use
+
Stylish blue and white gives it all round appeal
+
Fantastic feel off the face thanks to the iconic White Hot insert
Reasons to avoid
-
No alignment line on the back of the putter
Our final classic pick comes from the famous 2-Ball family of putters, the White Hot OG. We tested the women's model which has slightly different color finishes and weight to the men's design. Every surface of the 2-Ball that isn't gifted with that glorious insert or white and blue design is softly milled, and we mean softly, with a rich silver PVD finish.
The performance is amazing as well, as the ball comes off the face so smoothly thanks to the familiar White Hot insert. It is best suited (as with all face balanced putters) to a golfer with a fairly straight back straight through stroke with minimal arc. That being said it does a great job stabilizing a slightly nervy stroke on those shorter putts.
Best Premium Toulon Putters
A sleek blade putter
Specifications
Face: Deep Diamond Groove
Loft angle: 3º
Length: 34"
Reasons to buy
+
Deep blade head has longer alignment line
+
Double bend hosel creates less toe hang
+
Great grip
Reasons to avoid
-
Lighter feel and lower MOI might not suit everyone
The Odyssey Toulon Design Chicago putter comes in the dark emerald finish and is a slider deeper version of the Anser style putter. The Anser style head features a slightly wider back section than the Madison which is the more standard shaped of the Toulon Design range. This blade creates a classy look at address and the new Deep Diamond Groove face creates a lovely sound and feel.
Its premium design is topped off with a Toulon Stroke Lab shaft that combines a graphite shaft with a steel tip for greater stroke consistency. For more customization you can also vary the sole weights and shaft length to suit your stroke.
A new addition is the Deep Diamond Grooves, which combine with the steel head to make this a soft sounding putter at impact. The reason is because there are less points of contact with the ball, so even with a firm ball you get a great feel at impact.
A visually excellent putter that offers plenty of forgiveness
Specifications
Face: Deep Diamond Groove
Loft angle: 3º
Length: 34"