Best Golf Speakers 2023
Soundtrack your round with any of these excellent options among the best golf speakers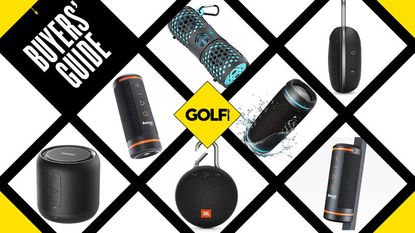 (Image credit: Golf Monthly)
Best Golf Speakers
For the golfing purists amongst us, the idea of taking a whopping great speaker out onto the course is sacrilegious. Indeed, many golfers prefer the soundtrack of birds, rustling leaves and other golfers yelling 'fore right' to accompany their round.
However, for many others, a round of golf can be a major social event with a party-like atmosphere and a high-quality speaker can help add to the atmosphere out on the course and be one of the best golf accessories (opens in new tab). Some of golf's biggest brands have cottoned on to this trend and have started making appropriate devices for the occasion.
A good speaker to take out on the golf course needs to be waterproof; have a strong sound that travels relatively far; have a good Bluetooth range and be portable. Below, we've compiled a list of the best golf speakers out there right now, ranging in price, size and color to offer a wide range of options. No matter how good you think your taste in music is, check before your round whether it is the appropriate kind of golf course to be blasting music out - and make sure not to distract other golfers around you too.
Best Golf Speakers
Why you can trust Golf Monthly Our expert reviewers spend hours testing and comparing products and services so you can choose the best for you. Find out more about how we test.
Our top pick
Specifications
Sound: Omni-directional
Battery Life: 10 hours
Reasons to buy
+
Built in GPS that calls out yardages to the green as you play
+
Great sound quality
Reasons to avoid
-
GPS only offers front, middle and back yardages
Keen golfers will know Bushnell for its top-of-the-range GPS and distance measuring devices (opens in new tab) and this bluetooth speaker combines Bushnell's expertise in on-course GPS technology with a powerful and well built speaker. As a speaker, the Bushnell Wingman excels in its own right and provides a powerful sound that you can still hear when you are a decent distance away from your golf trolley or buggy.
The Wingman speaker comes with Bushnell's Bite technology which allows the device to be magnetically secured to any appropriate surface - we found it best attached to one of the metal pillars of a buggy. Don't worry about the Wingman ever falling off a magnetic surface either as Bushnell's Bite technology is incredibly strong with its seven pounds of pulling force.
The feature that sets the Wingman apart from the competition is its GPS feature that provides accurate yardages on the golf course. A small detachable remote is easily carried in your pocket and - with one press of the button - the speaker will tell you front, back and middle yardages to the green you're about to approach - it really is like having a caddie there with you! A powerful speaker with a great GPS function, it is hard to look past the Bushnell Wingman as the best golf speaker.
Ultimate Ears Wonderboom 2 Speaker
Awesome color choice
Specifications
Sound: Omni-directional
Battery Life: 13 hours
Reasons to buy
+
Waterproof and shockproof
+
Use on and off the course
+
Good range
Reasons to avoid
-
Really struggled to find a negative here, but perhaps it is a bit small
Another top-performing model is the Wonderboom 2. The sound quality is crystal-clear whilst the sound it creates is also omni-directional to the point of 360 degrees. We also liked the 'Outdoor Boost' mode which allows you to crank-up powerful audio that's engineered to be heard outside.
It is also a very convenient size, is waterproof, dust-proof and shockproof, has a range up to 30 metres, and there are loads of cool colors to choose from as well. We also like how you can clip it onto your golf bag as well. If not for the Wingman, this would've been our top pick.
The style and fun that Puma/Cobra are known for
Specifications
Sound: Omni-directional
Battery Life: 10 hours
Reasons to buy
+
Impressive sound quality and range
+
Easy to set up and use
+
Stylish color options to choose from
Reasons to avoid
-
Sounds better outdoors than indoors
Part of the Puma/Cobra marketing strategy revolves around making golf more fun, so it's no surprise to see that the company has partnered with Speaqua Sound to create the PopTop Bluetooth speaker. It's also no surprise given Cobra/Puma's affinity for color that the PopTop is available in some exciting colorways, including a watermelon/lime green combination. But in our testing we found that this Bluetooth speaker offered more than just style.
It also offers impressive sound quality and can pack a punch from a volume standpoint if that's what its owner wants. A silicone exterior has also been implemented in the design to improve durability, and the speaker is also waterproof. Additionally, the PopTop will sit neatly in the cup holder of any riding cart and can be attached to or stored in a golf bag. It also offers the functionality to be paired with another speaker and will provide 10 hours of battery life.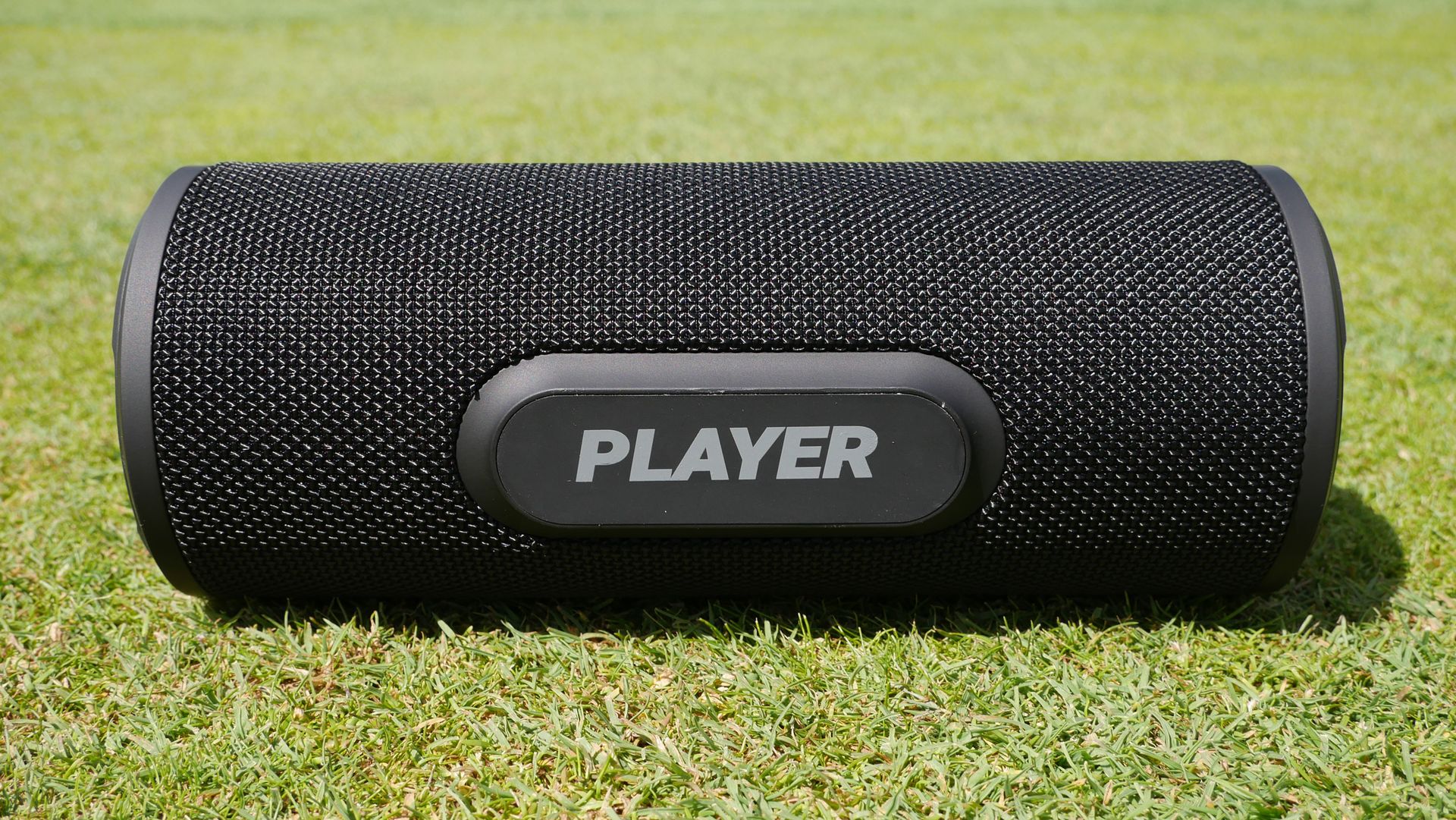 A fun, easy to use option that offers dual pairing
Specifications
Sound: Omni-directional
Battery Life: 12 hours
Reasons to buy
+
Great range and excellent sound quality
+
Magnet for cart attachment works well
+
Offers outdoor and indoor sound modes
Reasons to avoid
-
Not the most compact design
Blue Tees might be best known for its laser rangefinders, but its The Player magnetic speaker is a quality offering from the company as well. The Player speaker has a premium look and excels in terms of its range (100 feet) and sound quality, which is among the best in the golf speaker category. It also comes with a magnetic strip that allows the speaker to be attached to a riding cart during play, and the magnet holds up well in terms of security during play.
The Player speaker is also waterproof with an IPX7 rating, and it offers an impressive battery life of over 12 hours. Also noteworthy is that there are indoor and outdoor modes available to choose from, as this speaker offers more versatility than just being used on the golf course. If there's one downside to The Player speaker it's the size, which is on the larger for this category and can make the device difficult to store in a golf bag.
Diminutive in size but packs an impressive punch
Specifications
Sound: Directional
Battery Life: 5 hours
Reasons to buy
+
Extremely compact
+
Excellent sound quality
+
Easy to set up and use
Reasons to avoid
-
Battery life is not the longest
The Puma PopTop Mini Bluetooth speaker is small in stature but in our testing it delivered impressive sound quality and clarity on the golf course, as well as better range than one might expect. It's also very easy to pair with a phone for use and it offers user friendly functionality. The PopTop Mini is especially great for walkers, as it can easily be hooked onto a stand bag, and its small size makes it easy to store in a golf bag.
But you might not want to keep it in your bag, as we've found it to be great for use away from the golf course as well. The PopTop Mini is waterproof, as well and dust and sand proof, and the back of the speaker functions as a bottle opener. Its battery life isn't the longest in this category but it will last for a full round of golf before needing to be recharged.
Treblab HD77 Speaker
Most rugged speaker
Specifications
Sound: Omni-directional
Battery Life: 20 hours
Reasons to buy
+
Shockproof and waterproof
+
360° HD sound
This is an all-round great outdoor speaker and will confidently accompany you on a round of golf in any weather conditions. Of course you'd rather not be playing in the rain, but if you do get caught in a downpour you won't need to worry about the Treblab HD77 speaker as it IP6 waterproof resistant and shockproof.
The sound it provides is also ideal for the outdoor setting of the golf course as its 25W speaker with 360° allows it to be heard comfortably within your playing group on the course. With an impressive 20 hours of battery life, this speaker should last at least five rounds before it needs charging again, meaning you can keep it in your bag and use it whenever the mood strikes. There is also a separate mounting accessory sold by Treblab to allow it to be conveniently placed on a golf cart.
JBL Clip 3 Portable Bluetooth Speaker
Best for portability
Specifications
Sound: Directional
Battery Life: 10 hours
Reasons to buy
+
Integrated carabiner clip gives clip-and-go functionality
+
Loads of color options
Reasons to avoid
-
Sound is only directional
JBL are a rightly well recognised brand in the portable speaker market, at the JBL Clip 3 speaker is an ideal golf course companion for those looking to supplement their round with some music. The integrated carabiner clip makes this incredibly easy to clip on and off bags, buggies or belts depending on where you want the music coming from. Don't be fooled by its size though, the Clip 3 still comes with JBL's signature quality sound.
It is also Siri and Google compatible, meaning you can change tracks, change volume and even take phone calls hands free while you play golf. Add the fact it is IPX7 waterproof, comes in eight color options and a year's warranty and you have one of the best golf speakers out there right now.
Anker Soundcore Mini Bluetooth Speaker
Best for range
Specifications
Sound: Directional
Battery Life: 15 hours
Reasons to buy
+
66ft Bluetooth range
+
Super simple controls
Reasons to avoid
-
Compact size means sound quality suffers
Golf is an unforgiving game and you might find yourself on a few occasions during a round trying to find your ball somewhere off the beaten track. If you're playing music while you're doing this, you want a speaker with great Bluetooth range and this is where the Anker Soundcore Mini speaker comes into its own.
It's compact size means it sits nicely on a golf buggy and the 66ft range allows you to keep your phone in your pocket when you play and not worry about straying too far from the device. For sure, its compact size means it isn't one of the most powerful speakers in our list, but the Bluetooth range can easily make up for that. It comes in four color options and also has an impressive 15 hours of battery life.
Precision Pro Ace Smart Speaker
Assists with on-course strategy
Specifications
Sound: Directional
Battery Life: 18-24 hours
Reasons to buy
+
Excellent golf-specific functions
+
Easy to navigate
Reasons to avoid
-
Screen could be easier to read
A golf-specific portable speaker that attaches to your buggy frame and can tell you distances to the front, middle and back of the green as well as personal lay ups for any hole.
It comes with a remote control, an LCD display and can play music from your phone via Bluetooth. If you've got a Precision Pro laser rangefinder, like the R1 Smart, it will let you know if you've left it behind.
How we test golf accessories
Our testing for golf gear (opens in new tab) is built upon a comprehensive process combined with the knowledge and expertise of the Golf Monthly test team. Our team usually attend product launches and then when it comes to our actual testing, we test products over a period of time so that we can gauge the performance.
It should also be mentioned that manufacturers cannot pay for a good review and we make our conclusions from the testing and our experiences. This is because we strive to give the best reviews possible so you can get a greater understanding of the products themselves.
How to choose the best golf speaker
What do you need to consider when buying a golf speaker? Let's take a look at some factors.
Sound - Of course the sound on your speaker has to be good and one aspect to this is whether you go for a directional, or omni-directional model. We have found that the latter is better for golf courses because the former is more limited in terms of which direction the sound is coming from. Omni-directional models provide more consistent sound performance and we think they are more immersive, which is good when out on the golf course.
Connectivity - The next factor to think about is connectivity because if a speaker has bad connection, the performance of the sound is meaningless. As such we have found the best models for golf have a connection that can allow you to wander, and yet maintain its connectivity despite being more than 30 yards away.
Battery life - This is also a vitally important factor because if you only get a couple of hours of performance then the back-nine will be a quieter affair. As such be aware of models that can last for at least five hours but there is no reason to go for a low number here because many of the models we picked above can last for more than 10.
Size - How big do you want the speaker to be and what shape? There are lots of different designs out there with many models having a tube like design that can be stored away easily, or some that have round designs. Additionally many of the models we icked above have different sizes so it is worth thinking about how big you want your golf speaker to be.
Color - These days models like the Wonderboom and JBL Clip 3 come in loads of different colors so have a think about if you want a simple black design, or something that looks a little different. Of course this is also something to think about if you see yourself using the speaker at home as well so it is worth picking something versatile as well.
Budget - As you can see above, there are models at different price points so it is merely a case of thinking about how much you are willing to spend on a golf speaker.
Why not take a look at some of our other guides like the best golf luggage (opens in new tab), best golf sunglasses (opens in new tab), best golf net, or best golf mat as well.
Dan is a Staff Writer and has been with the Golf Monthly team since 2021. Dan graduated with a Masters in International Journalism from the University of Sussex and primarily looks after equipment reviews and buyer's guides, specializing in golf shoe and golf cart reviews. Dan has now tested and reviewed over 30 pairs of golf shoes for the website and magazine with his current favorite pair being the Ecco Biom C4. A left-handed golfer, his handicap index is currently 8.5 and he plays at Fulford Heath Golf Club in the West Midlands. His best day in golf so far was shooting 76 at Essendon Golf Club on his first-ever round with his Golf Monthly colleagues. Dan also runs his own cricket podcast and website in his spare time.
Dan is currently playing:
Driver: Ping G425 Max
Fairway: Ping G425 Max
Hybrid: Ping G425
Irons: Ping i59 (4-PW)
Wedges: Ping Glide Forged Pro
Putter: Wilson Staff Infinite Buckingham
Ball: TaylorMade TP5 Pix